Liege Kit Car Review
---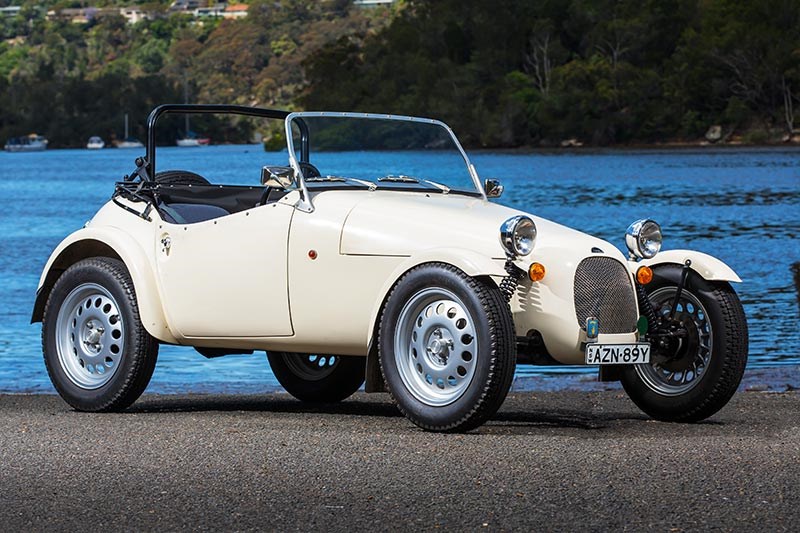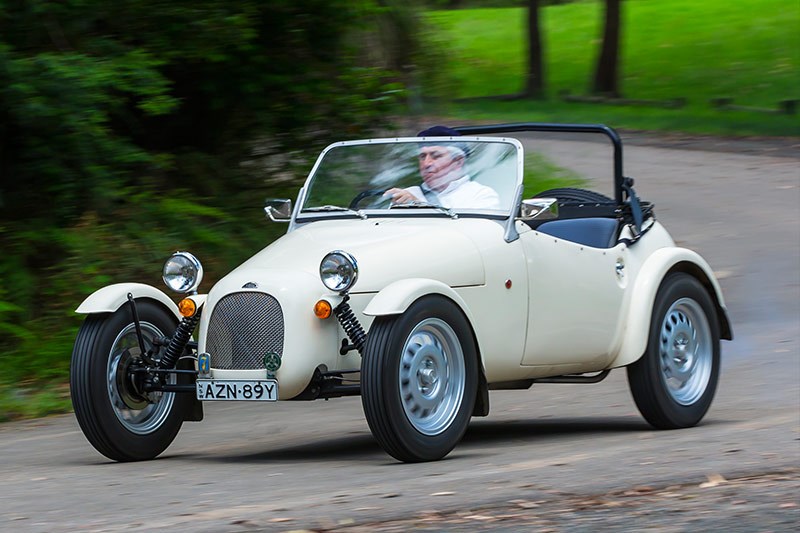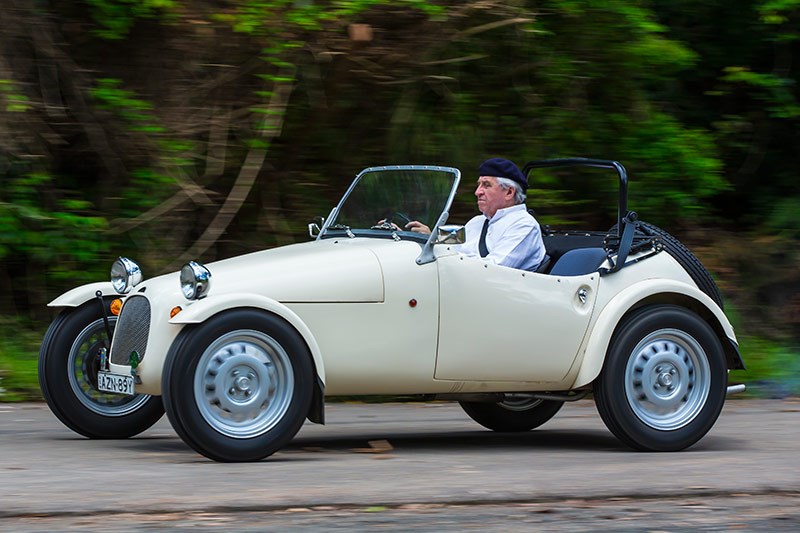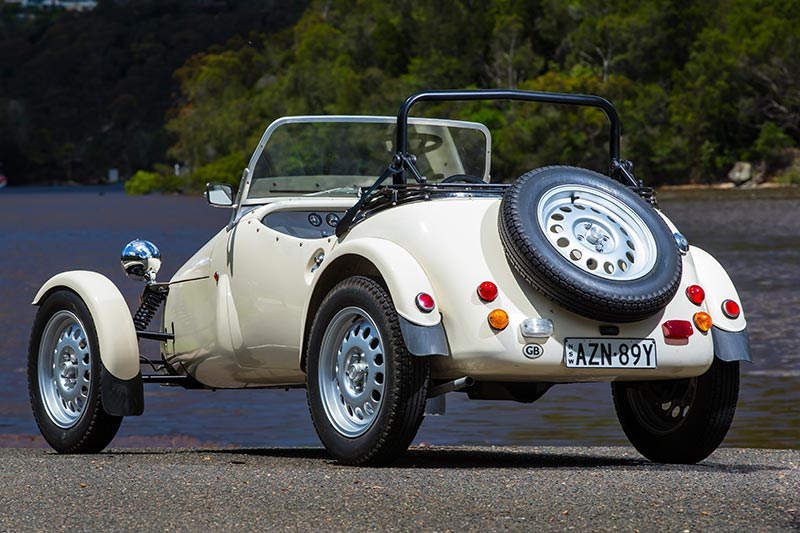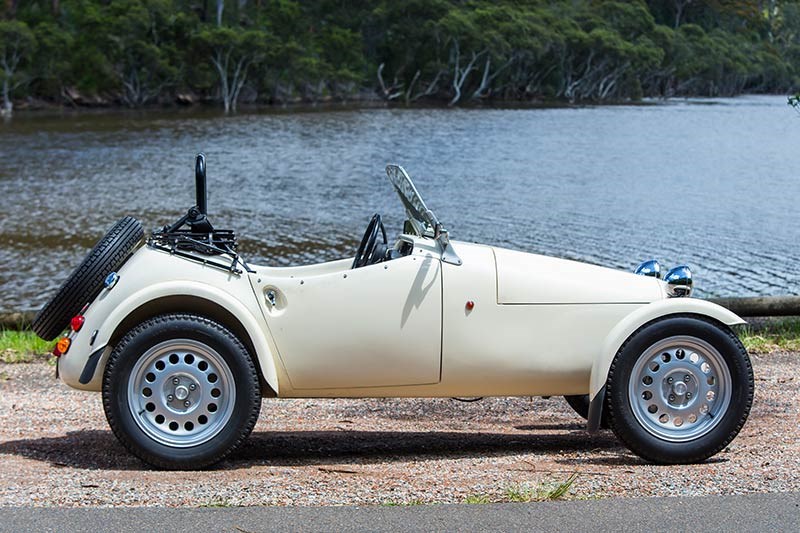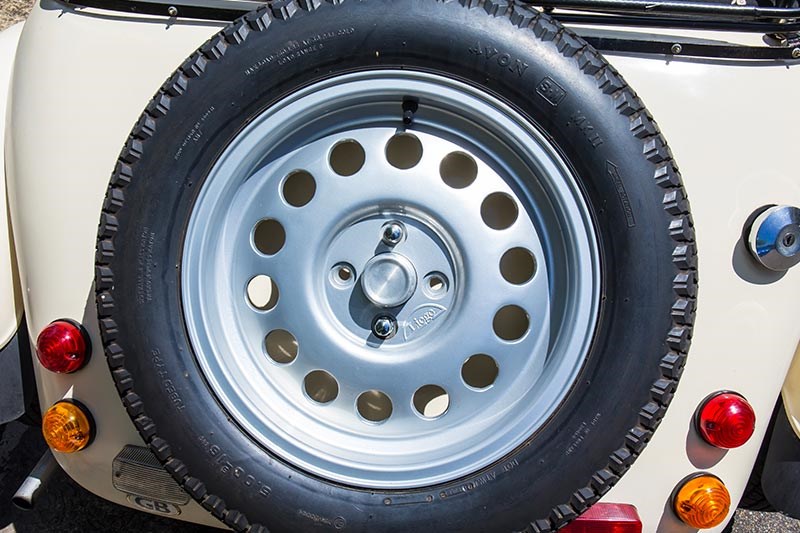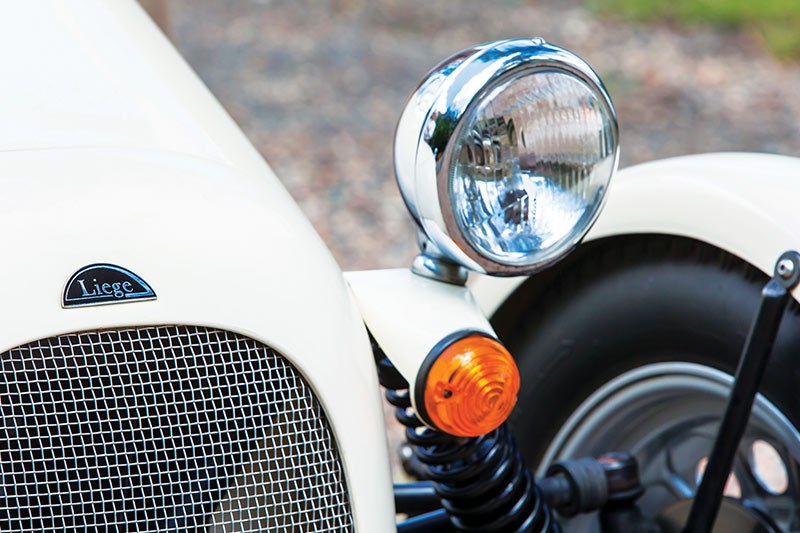 Liege - a unique kit car for all seasons
Small cars have always held a fascination for Robert Riches – from a lifelong interest in Austin Sevens to today's diminutive Smart ForTwo car Robert has always found small wheels more appealing than large.
The 85-year old retired enthusiast has also enjoyed two wheels from an early age with a particular fascination for Vincents, at one time owning two 1952 Rapides and a 1953 Comet. In 1987 he took his family to the U.K. for an extended holiday, participating in an International Vincent Owner's Rally in Europe.
On his return to Britain he read about a rather strange small fibreglass kit car in Motorsport magazine called the Lomax based on mechanical components of the 2CV Citroen.
In production since 1982 the two-seat Lomax, standing for low costs, maximum performance, was simple and affordable. Tipping the scales at just 430 kilos the two-cylinder 26kW roadster Lomax was capable of 140km/hour.
Following a test drive of one in Birmingham Robert was smitten. Early three wheeled variants were actually four wheeled on a slightly shorter 2CV chassis, with two close set rear wheels much like the small Heinkel cars from the 60s.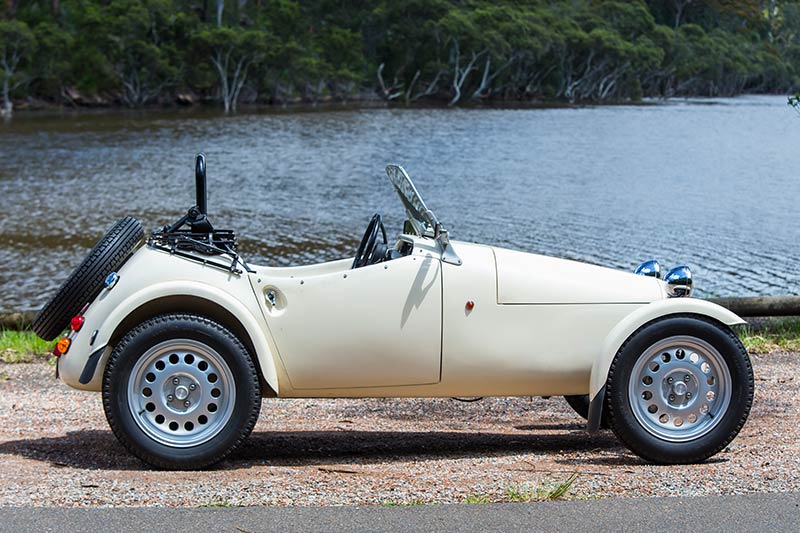 Narrow tyres with plenty of clearance make the Liege a handy trials car
However, later variants were genuine three-wheelers – with a single rear wheel which attracted a lower road-tax rate although some later variants were produced with four wheels sitting on a standard length 2CV chassis.
After retiring in 1989, Riches went back in Britain, ordering a Lomax and joining the Citroen Specials Club. After completing the car in a friend's garage in Kent he headed off the very next day to Dover to participate in a rally in Germany. During the event a pencil sketch in a motoring magazine caught his attention – detailing a rather strange small car called the Liege under development in the UK.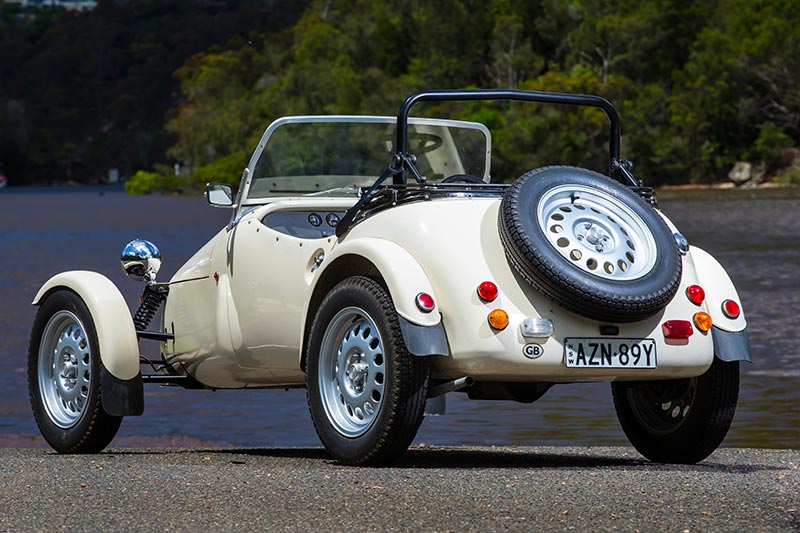 With it still in the early development stages Riches kept in contact with its progress on his regular visits to the U.K. in the early 1990's. The Liege, the brainchild of Peter Davis, took its name from the city of Liege in Belgium.
Designed as a lightweight general purpose sports car it was soon obvious that this was more a sporting all-rounder that could be driven to work during the week and used for motor cross events on the weekend. The prototype was built in the Old Forge next to Peter Davis's home in Bidford-on-Avon in Warwickshire and quickly made a name for itself in competition taking out the Motor Cycle Club's Lands End Trial in April, 1995.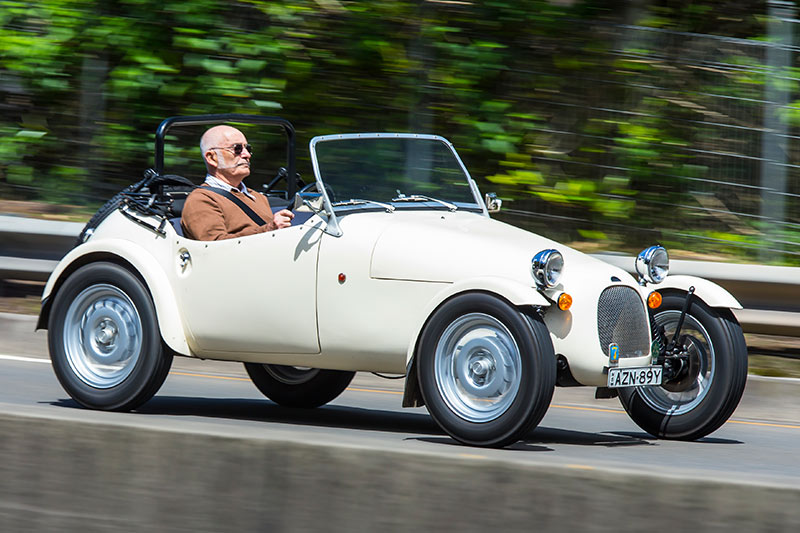 The Reliant Kitten underpinnings keep things simple
Davis developed it around the drive train of the Reliant Robin using its 850cc OHV alloy engine and gearbox while retaining a live rear axle.
A new A-frame chassis carried swing arm front suspension while Davis clothed the Liege in an attractive fibreglass tub fitted with cycle guards. However, the swing arm suspension was modified before serious production to a double wishbone setup while the Reliant back axle would eventually change to a modified Suzuki set up.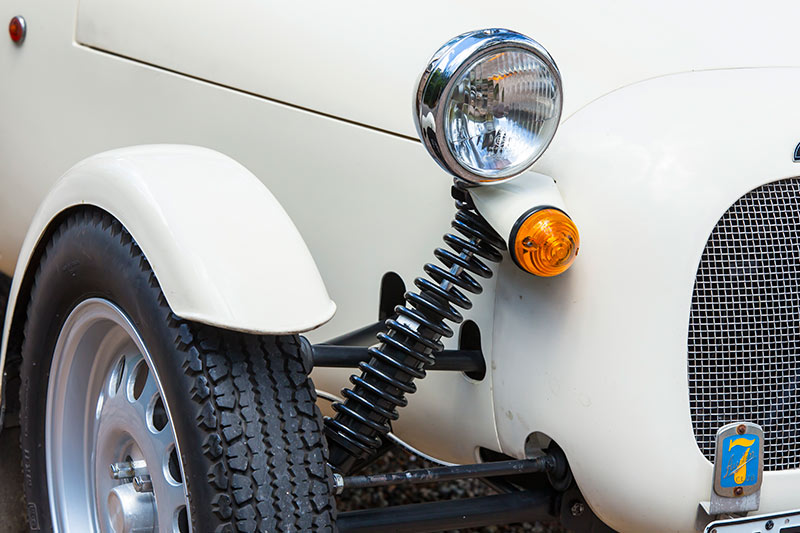 The prototype had been well received at several Kit Car Shows in the mid 90s but before going to market Davis wanted to prove its endurance and successfully took part in a three-week 10,400km trip to Morocco.
Buoyed by this initial success he then left on a reconnaissance trip to establish the route for the 8,000km Liege-Agadir-Liege Endurance Trial. With two people up and with all tools, luggage and camping gear the car ran flawlessly to the edge of the Sahara, returning 5.5L/100km.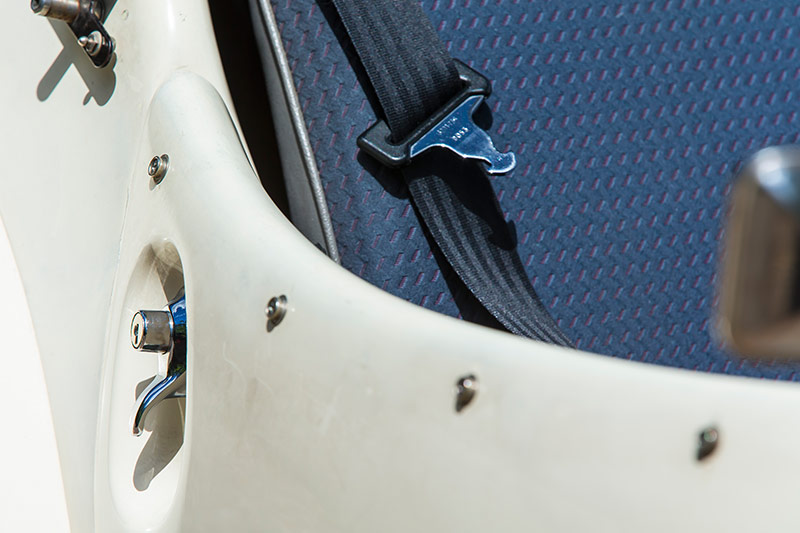 A front page article on the Moroccan Trip in the Motoring Telegraph of December 28, 1996 put the Liege on the map and the subsequent publicity would prove the launch point for the diminutive car. Davis's discussions with the Reliant company regarding full scale production had come to nothing and it would eventually be sold only as a kit car, with customers expected to find their own Reliant component parts for self-assembly.
Robert Riches was keen to buy a kit car but the manufacture of the production kits was a protracted and frustrating exercise and on his yearly visits to the UK he would call and check on progress. He had discussed the exercise at length with his English Vincent enthusiast friend Bill Hansen with the view to buying a Reliant donor car.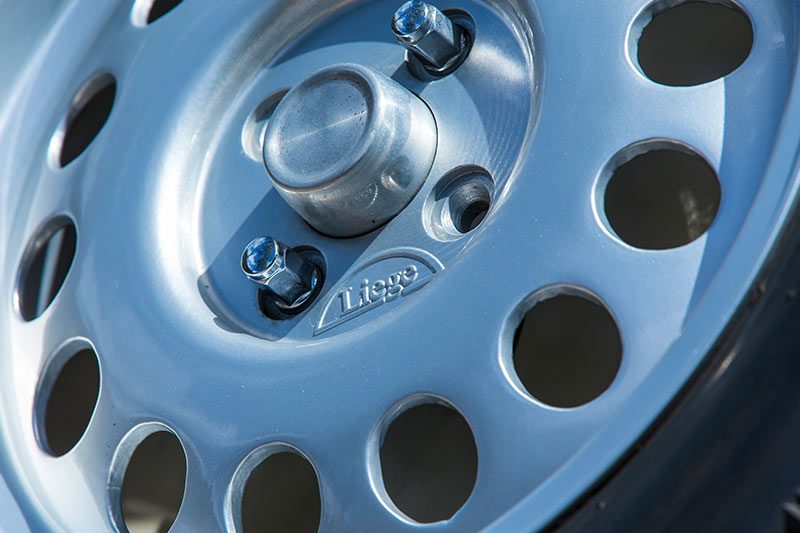 They concluded the donor car for the project would be a Reliant Kitten, a four-wheeled version of the 1970's Reliant Robin featuring an 850cc.version of Reliant's own engine. Relatively unknown is the fact that Reliant were the U.K's biggest British-owned car company from the 1970's to the 1990's and had produced over 1 million vehicles over a 60-year period. As such, there was no shortage of Reliant donor cars.
The duo set about planning the Liege project with Bill given the job of sourcing a Reliant wreck, eventually buying two as well as several engines before settling on a late series 850cc unit. Davis was slow to get production happening but eventually Robert was able to secure a full fiberglass tub with all the necessary bits and pieces to make the body complete.
Interior is spartan but build quality is solid
He would eventually meet Peter Davis and was invited to view the designer's finished car at his new Fladbury premises with an invite to Bill to see how they were built. A drive of a customer car, possibly #2 or #3 also convinced him that his £2,500 investment had been well spent despite the somewhat dis-organised way Davis went about their production. After placing an order in 1999 Riches would eventually secure kit #24 from a production run that would finally tally just 60 cars.
The duo would complete the Liege's assembly in 2002 in Bill's garage and in recognition of his extensive help with the car it was aptly nicknamed Bill – his name engraved on a plaque on the dash.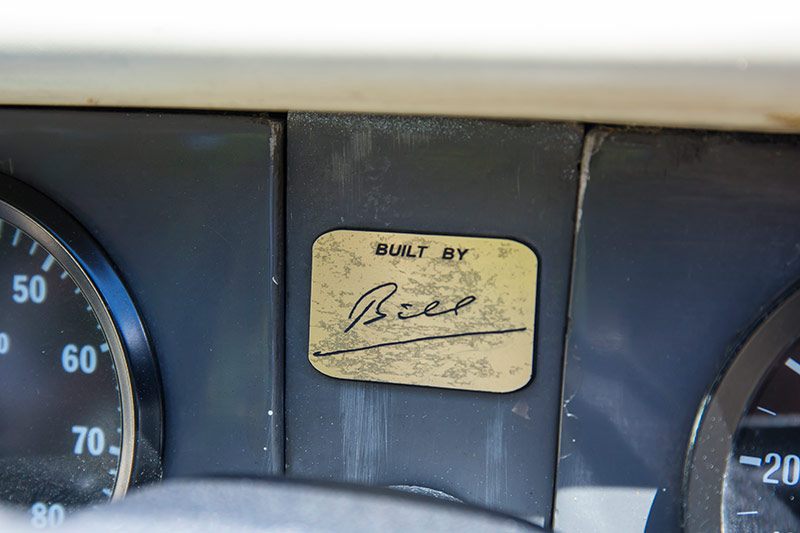 Robert had re-trimmed the Reliant seats with the help of his wife however with extensive touring in mind there was no weather protection so on his return to Australia he set about designing a light hood that could snugly fit over the roll-over bar.
Utilising his engineering skills he designed and completed the hood frame downunder and armed with a roll of double duck, he headed off to the UK a year later to assemble it – the hood sewn together by a trimmer in Cheltenham, provided excellent weather protection.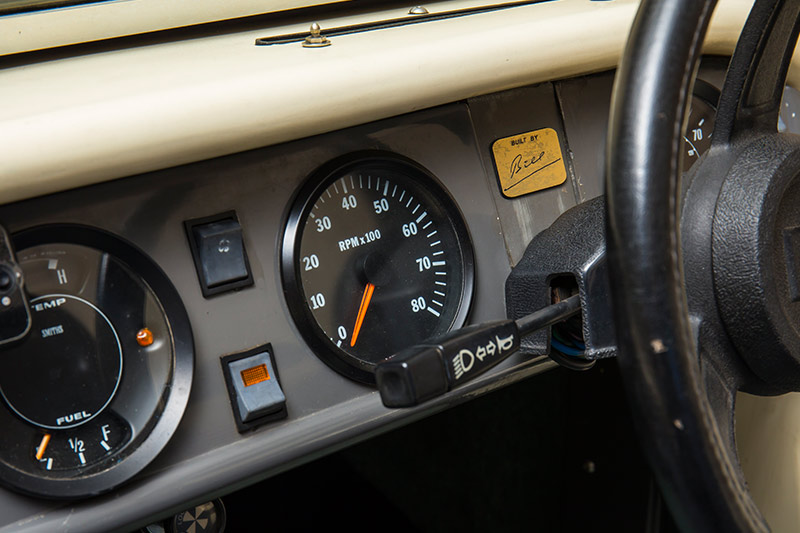 The first shake-down run in the car was up to Edinburgh in Scotland in 2002 and after its first full service at around 1,600 kilometres Robert entered in the 750 Motor Club's Euro Tour No. 2 to Berlin. Luggage space is spartan at best and can only accommodate two small soft bags tucked behind the rear seats and under the rear body.
After several more extensive European tours and a number of local events Robert decided to bring the Liege to Australia in 2006 where it is now believed to be the only example of the marque. By this time production of the Liege kits had all but finished and despite suggestions that Davis would possibly produce a Mark II version there has been no sign of any further development of the little roadster.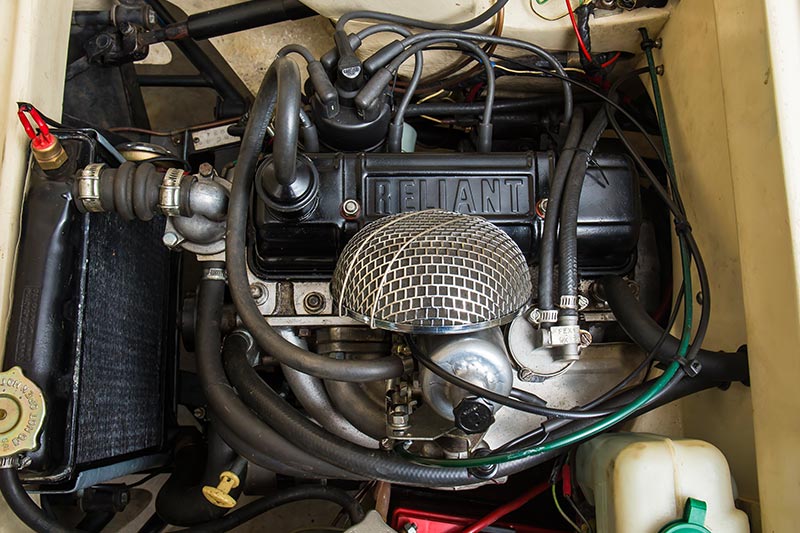 Today, the Liege is still a firm favourite amongst enthusiasts and is a regular competitor in rallies and trials with the odd car selling from time to time for around $10,000.
My initial skepticism about the performance of this lightweight two-seat kit car was quickly overruled – weighing just 460kgs it is extremely lively and easy to drive and an absolute surprise package on-road.
Robert Riches had garnered more performance with it in the UK by adding a supercharger however he recently removed it in the interests of lower oil consumption – after considerable use he now concedes the engine is in need of some valve work.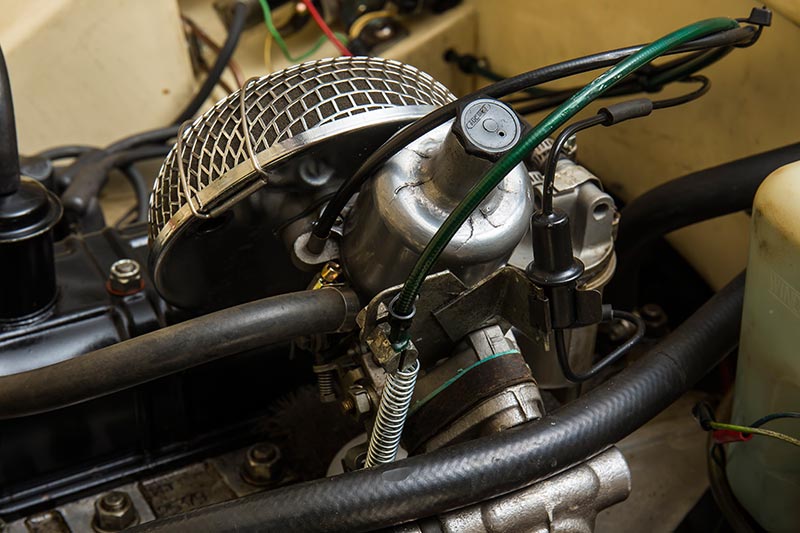 However, despite the lack of forced induction it is still surprisingly eager and quick off the mark. It retains the Reliant long-throw four-speed gearshift which Richards intends addressing – later kits adopted a five-speed Suzuki gearbox with overdrive 5th. and a Suzuki Carry rear-axle with a 4.25:1 final drive providing a more relaxed cruising ability. At the same time it will also benefit from a shorter throw shift lever.
With attractive standard 410mm diameter cast alloy wheels the Liege sits high making entry and exit rather easy and the extra clearance obviously means it's well suited as a trials car. On road it feels tight and reassuring with good direct steering feel and nice long travel suspension control via well damped coils all round.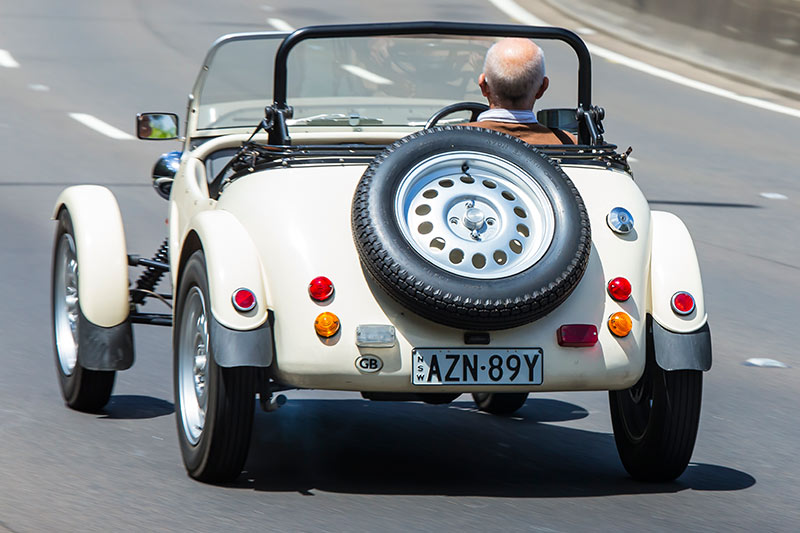 Due to its lightness braking is very re-assuring – the four-wheel 180mm Reliant drum brakes converted on the front to discs several years back, give it real bite.
Today, Robert Riches is a keen member of the Vintage Motor Club as well as the Austin Seven Club and when he's not rallying the Liege he's behind the wheel of his fully restored 1930 Austin Seven Ulster.
Importantly, despite his advancing years he drives both cars today with the verve for which they were intended.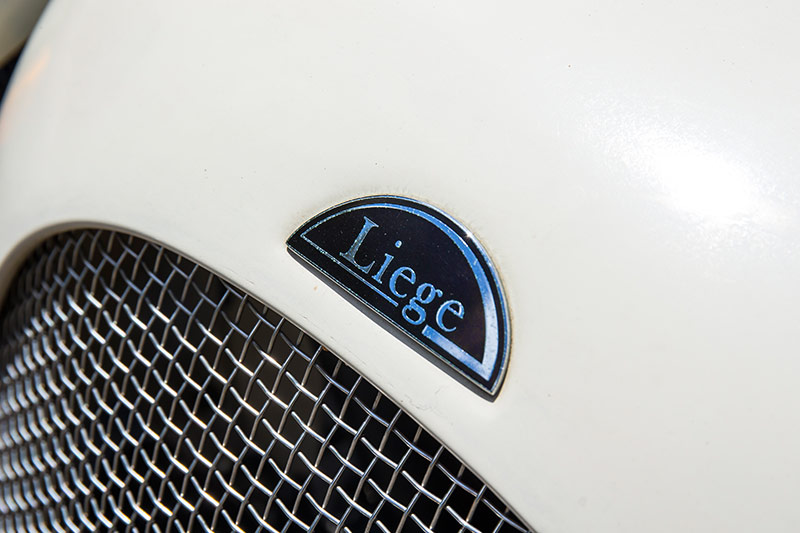 SPECIFICATIONS
Liege Kit car
Engine: 850cc Reliant, single overhead camshaft Two-valves per cylinder. Single SU carburettor.
Gearbox: Four-speed Reliant with synchromesh
Brakes: Hydraulic with 180mm front discs and 180mm rear drums.
0 to 100 km/h – 8-secs
Top Speed: 120 km/h
Wheels: 410mm cast alloy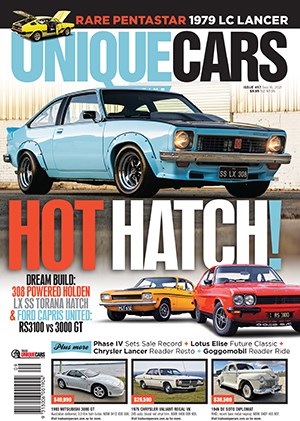 Subscribe to Unique Cars Magazine and save up to 42%
Australia's classic and muscle car bible. With stunning features, advice, market intelligence and hundreds of cars for sale.
Subscribe