Chrysler VH Valiant E55 Charger (770 SE 340) Review
---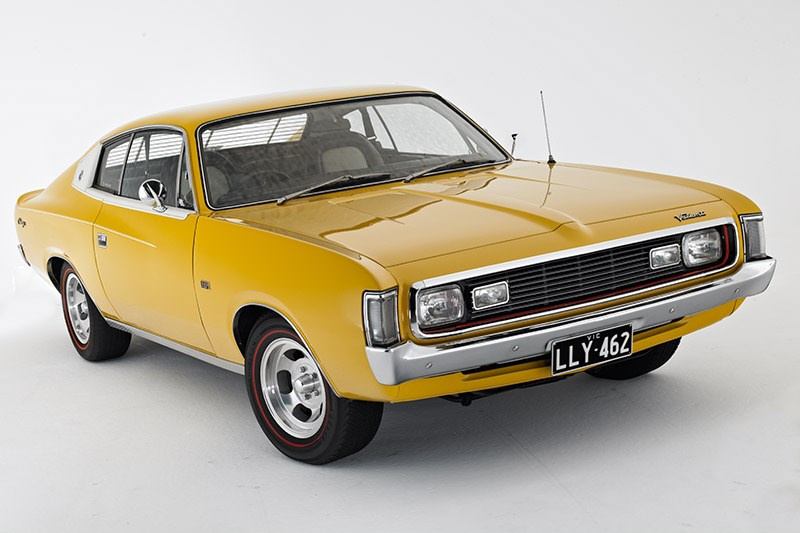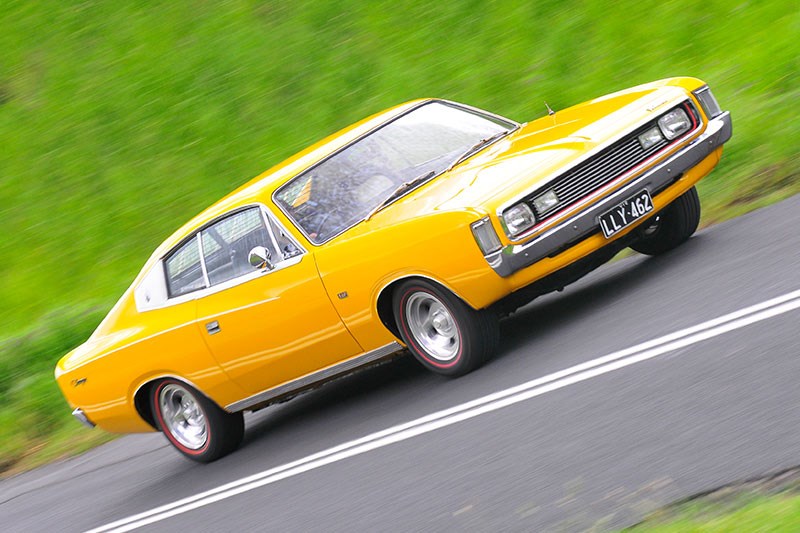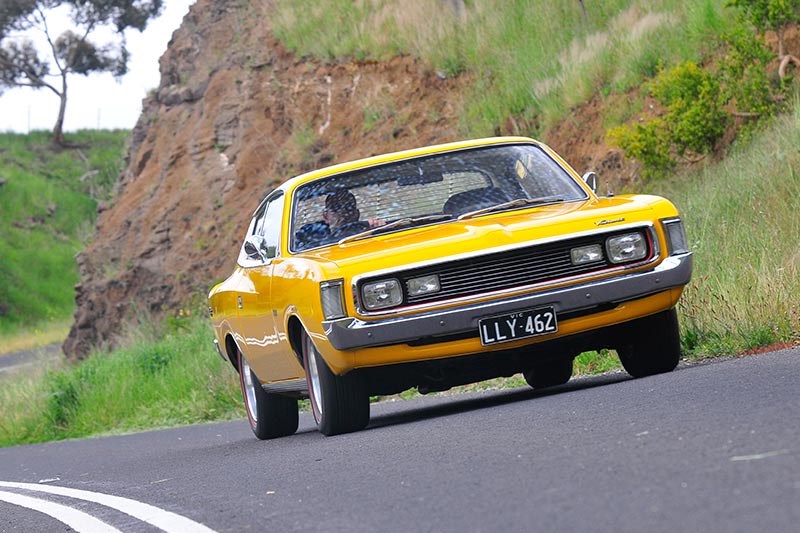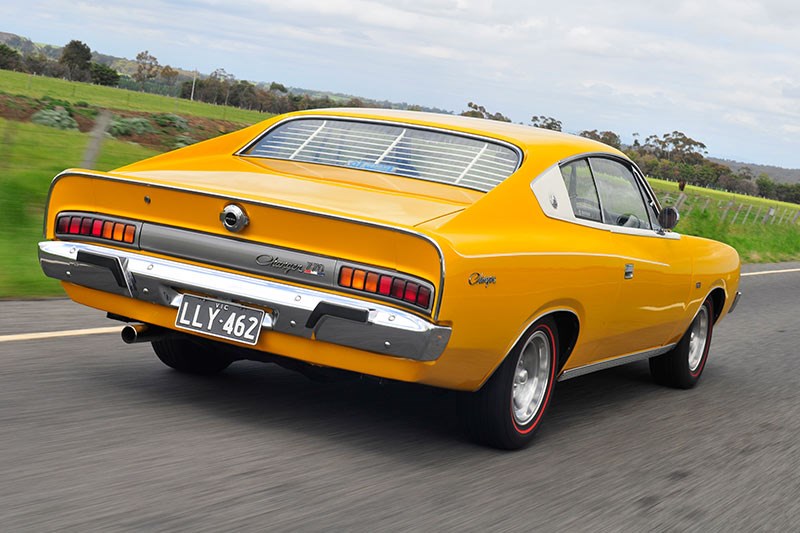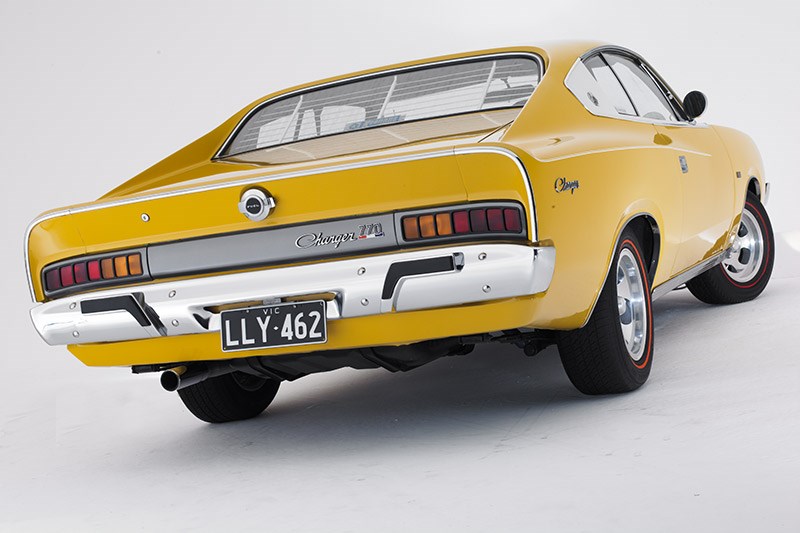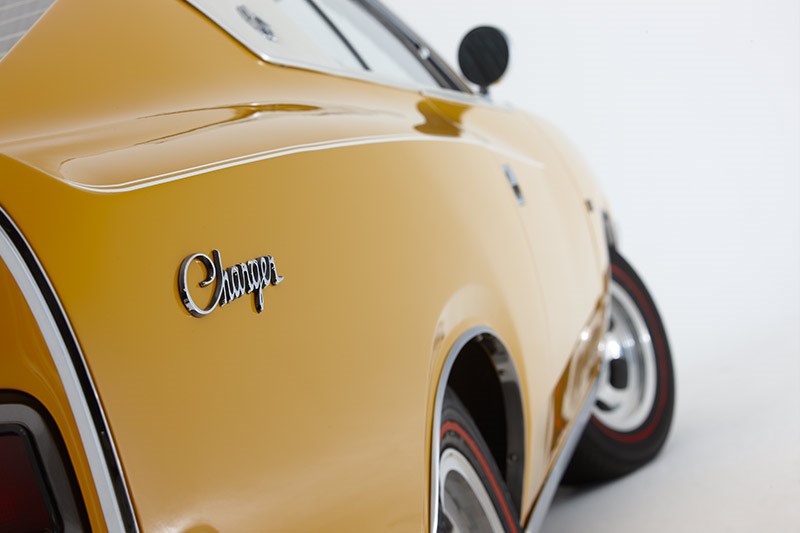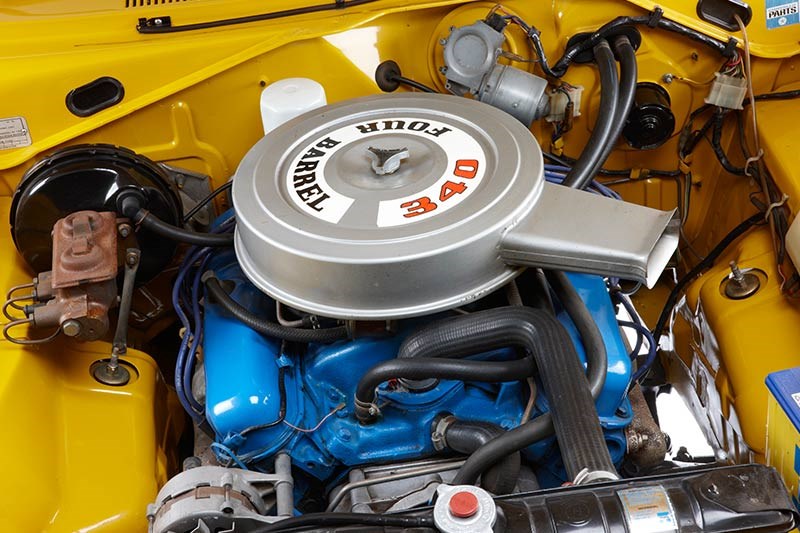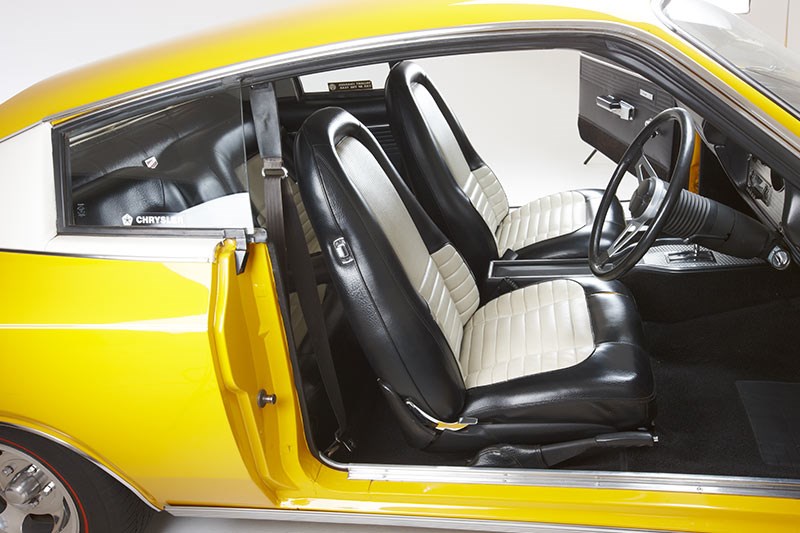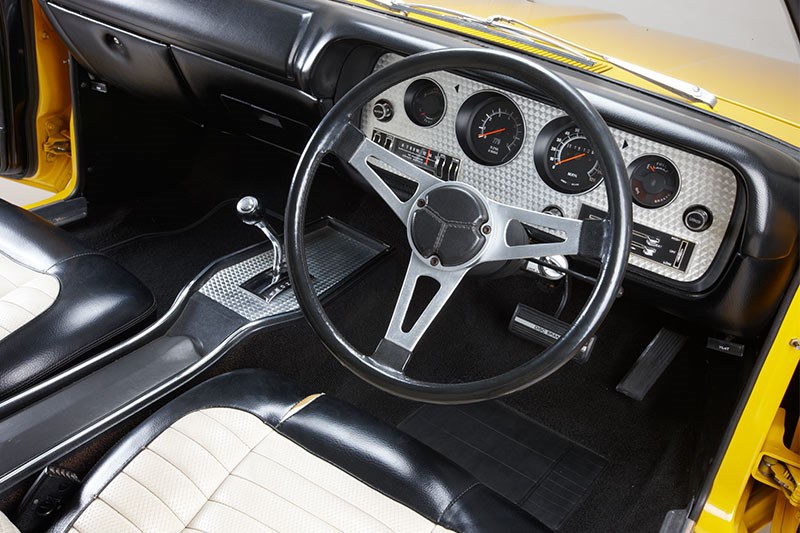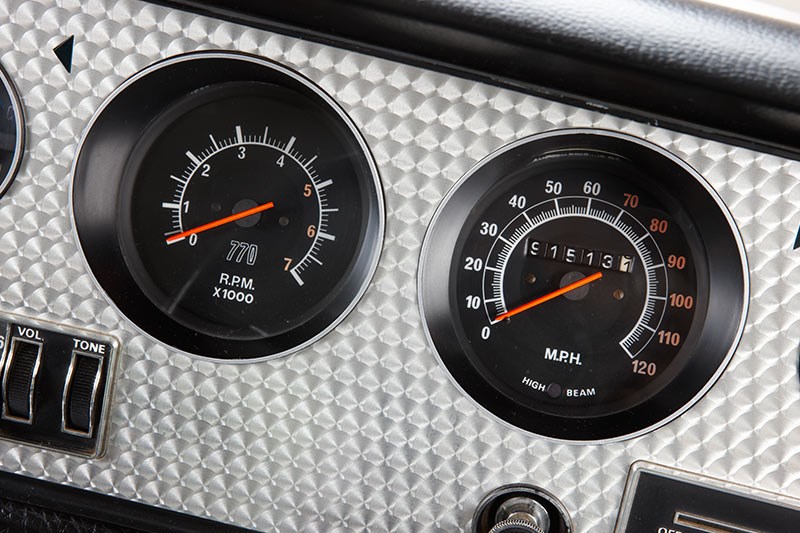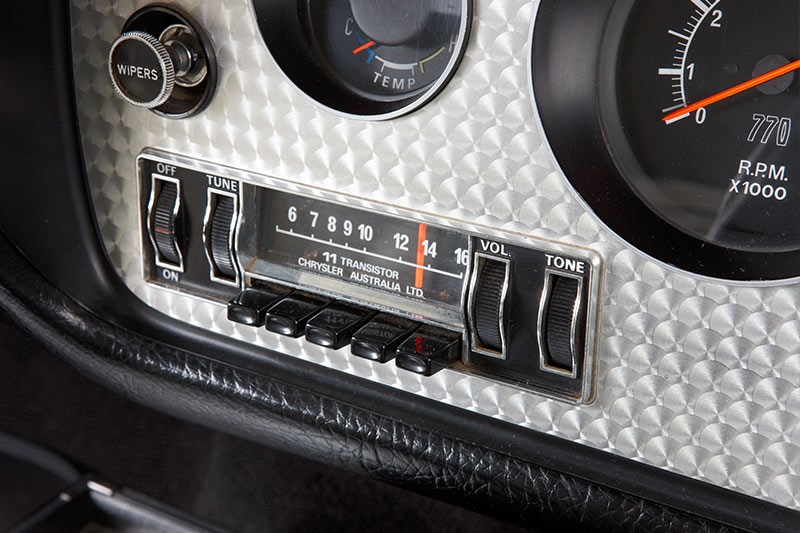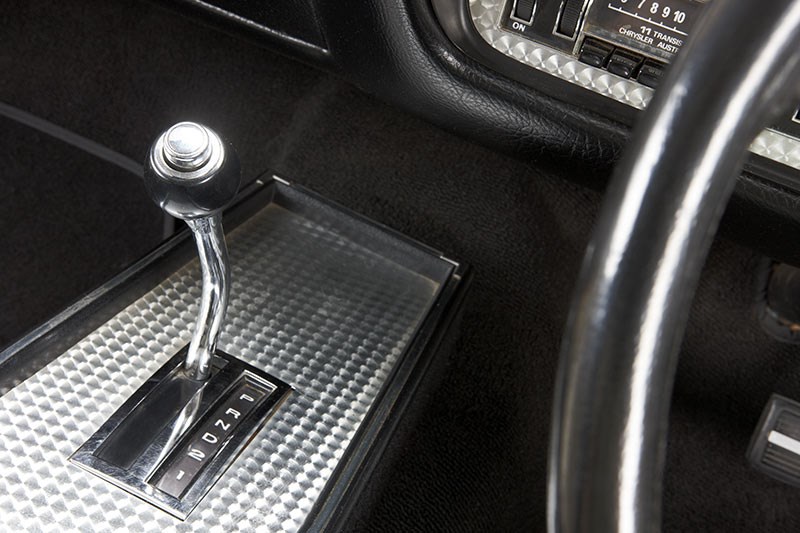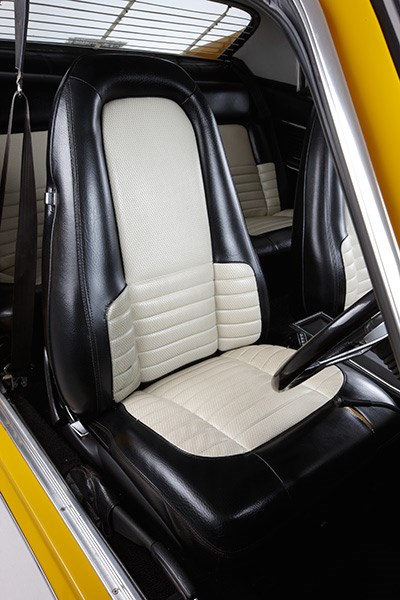 Chrysler's short-lived 340-cube V8 'E55' could go toe-to-toe with Ford's 351 and Holden's 350. But the car was in a league of its own...
Chrysler E55 Charger
It is a measure of the maturity of the Australian muscle-car market that the 1972 VH E55 Charger is now valued on its merits as the low-volume, stand-alone, top-shelf model that Chrysler intended. At last it is no longer regarded as a cobbled-together clearance special of abandoned race parts.
The fact that it continued into the VJ series as an E55 340, then beyond late 1974 as the E57 360 as a VJ and VK, confirms that this premium model was a vital 'get out of jail card' for Chrysler. Along with the successful Charger 770 on which it was based, it was an important niche-filler after the US-imposed CH Chrysler Hardtop bombed – exactly as Australian management anticipated.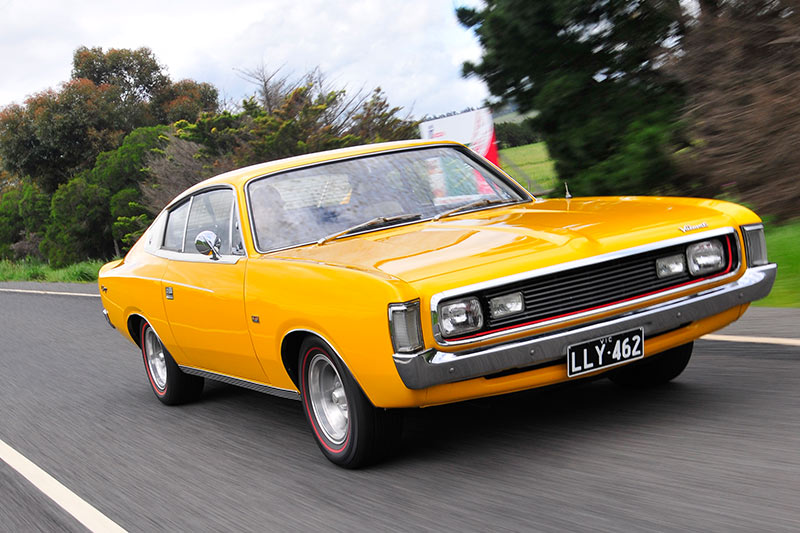 Australian socio-economic changes in 1971-72 are far more relevant to the VH E55 Charger (or VH Valiant Charger 770 SE 340 as it was known in the showroom) than any V8 race special theories.
The new breed of US personal coupes like the Buick Riviera and the first Mustang were too early for Australia. When Ford attempted to replicate the trend locally with the worthy XM/XP Futura Hardtops in 1964-66, too few local buyers could afford a coupe as a supplement to a family car.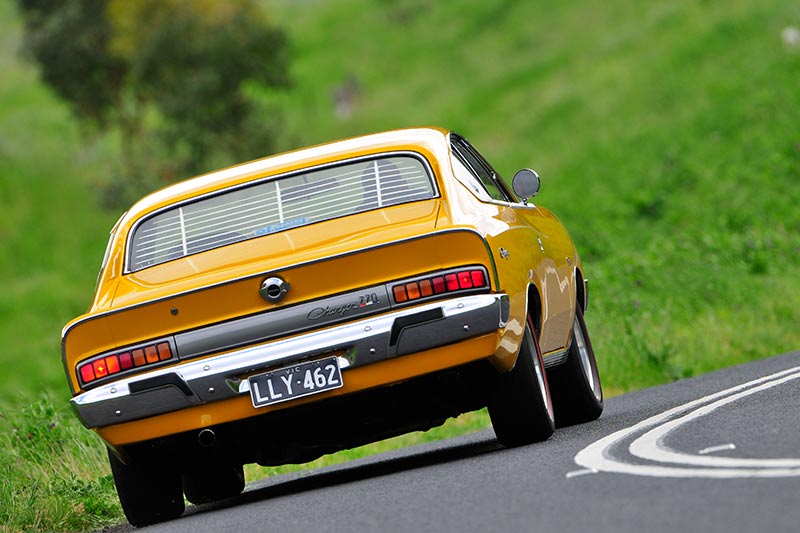 Veteran Ford sales staff recall buyers arriving all pumped-up ready to buy a Hardtop then leaving with a Futura or Fairmont sedan.
By 1971, the mining boom and large real-estate developments left an older generation cashed-up enough to afford both. They were met with a choice of premium European coupes as broad as that offered in the Middle East or Switzerland.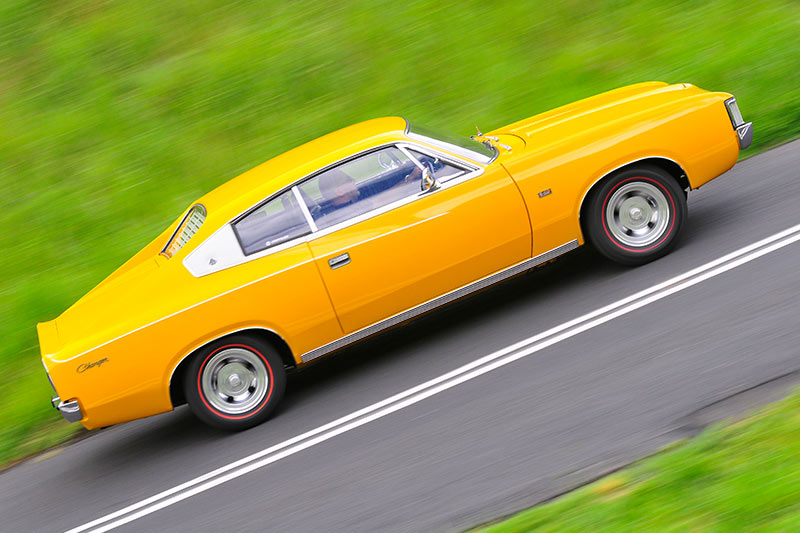 Others within this group, many of whom were migrants, remained loyal to the Australian cars, which saw them through the tough times, not unlike today's HSV and FPV buyers.
Holden offered them an HQ Monaro LS 350, except it looked like a Premier missing two doors. Ford later offered the Landau 351, an inspired XA Falcon Hardtop-based model, yet it could look like an older owner's chopped LTD. And the barge-like CH Chrysler Hardtop was more about elderly US excess than recapturing lost youth.
That left the E55 Charger in a class of its own, priced within $50 of a Falcon GT Hardtop auto. It was a neat blend of the base Charger's fountain of youth, Charger R/T track credibility and premium Regal 770 and Chrysler luxury.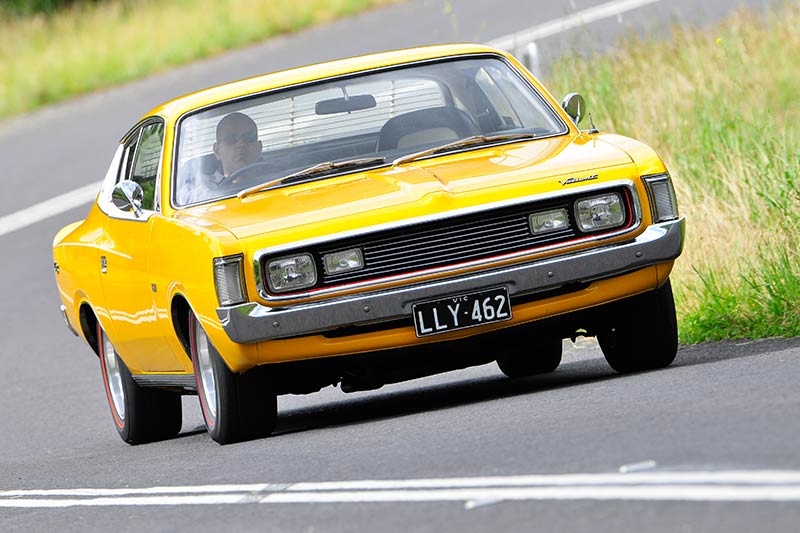 The Charger, mid-corner, looking poised and purposeful. How appealing is the touch of negative camber?
It was then topped by enough cubic inches and claimed horsepower to hold its own in any bragging match involving Ford's Cleveland 351 or Holden's Chevrolet 350 V8s.
WHAT IS AN E55?
In Chrysler parlance, it was an engine option code that applied equally to the 212 VJ Charger 770 examples after it became an engine option until late-'73.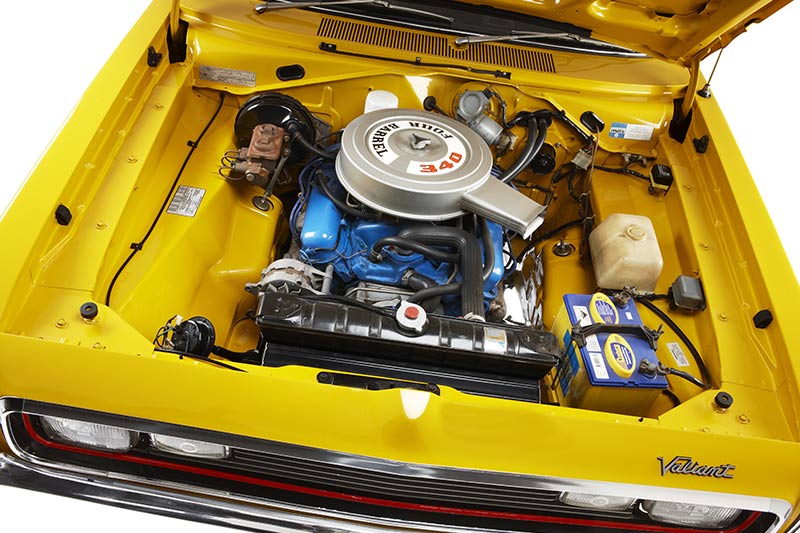 It also applied to two Valiant Ranger experimental pursuit cars that were developed for the Federal Police and at least one Charger XL sleeper that managed to be slipped through the system by a Chrysler employee.
Yet E55 is most often linked to the 125 special-build VH SE 340 examples launched in August '72 but not cleared until after the VJ arrived in April '73. Australia's mild recession in 1972 left the desirable VH E55 version very rare indeed.
SE stood for Special Edition, a badge shared with the 1970 Dodge Challenger R/T Special Edition. It came in only three solid colours: Sunfire (yellow), Lime Light (green) or Vintage Red.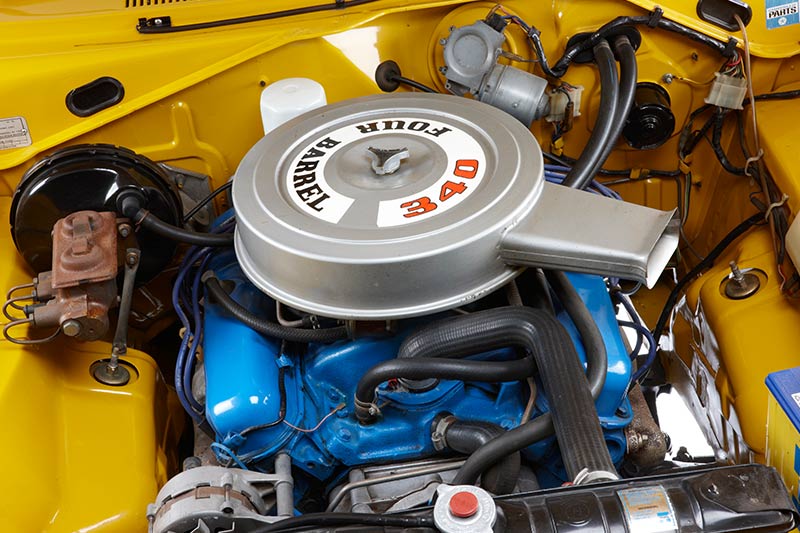 The 340 fits neatly - there's even room to get at stuff like sparkplugs. Nice
The side windows and C-pillars featured white vinyl accents and the matching white pinstripe was painted, not stick-on. The red grille accent and driving lights, 7.0-inch-wide ROH alloys, 70-series tyres and discreet 340/4 Barrel badges positioned it neatly between toupee man's 770 hemi-six and the full-house E49.
The 25 factory air-conditioned cars featured green-tinted glass and a clutch fan for the engine, but not the front quarter vents of the other 100 examples. Rear side windows were fixed on all except four. Inside, the all-black trim featured stark-white or off-white patterned seat inserts, reviving the black and white theme from the first AP6 V8.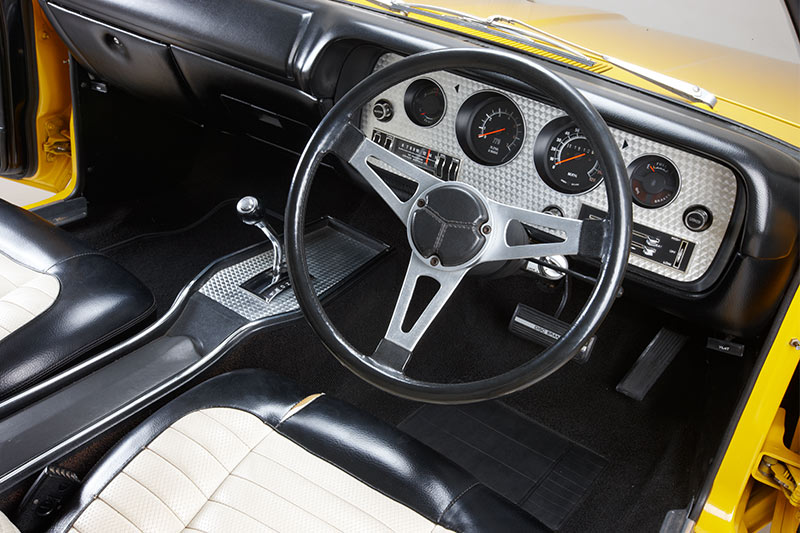 The sports steering wheel and the 'fish scale' instrument surround and centre console insert hit bulls-eye with those old enough to link it to vintage race cars. The flat instrument lenses were also exclusive until Chrysler standardised the dash package across the VJ Charger 770 range.
The 340's big-bore twin exhausts at the engine end were all show, as they were fed into a standard single small-bore outlet capped by a twin tailpipe extension that wasn't what it seemed.
A tall 2.92:1 four-pinion diff replaced the stock two-pinion type, yet the absence of a limited-slip confirmed the target buyer for whom longevity and economy still ruled as king. But the auto had a higher shift point – hanging on up to 5200 instead of 4500rpm – and made the E55 a flier in second.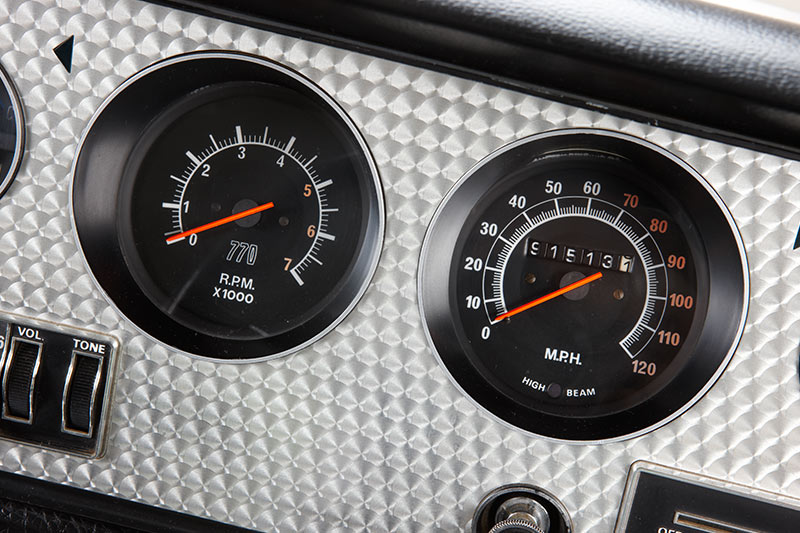 Alloy-style instrument panel adds a classic touch
Because the 340 engine's ability to cause bigger models to swap ends in the wet had already created problems in the US, the local team took no chances with the Charger's short wheelbase, heavy nose and light rear-end. They nobbled it. Scaring the wits out of its patched-on older owners was simply not an option.
The only feature that was potentially a defunct homologation part was the unique front inner splash shields, with extra clearance. These splash shields were a clue to the bigger brakes and premium 15-inch wheels and 60-series tyres on the agenda for the E49.
WHY A 340?
No bigger than the 318-cube 5.2-litre V8 in external size, the small-block LA 340 shared the 318's stroke, but left the factory with a racing wishlist of internals. The forged crankshaft, forged floating conrods, high 10.3:1 compression ratio, double-row timing chain, huge 2.02-inch (51mm) inlet valves and 1.6-inch (40.6mm) exhaust valves, big ports, dual-plane four-barrel manifold, single valve springs with dampers, camshaft with extra duration and lift, and a big-bore 2.25-inch (57mm) exhaust system present a convincing argument that the E55 was meant to be a race car.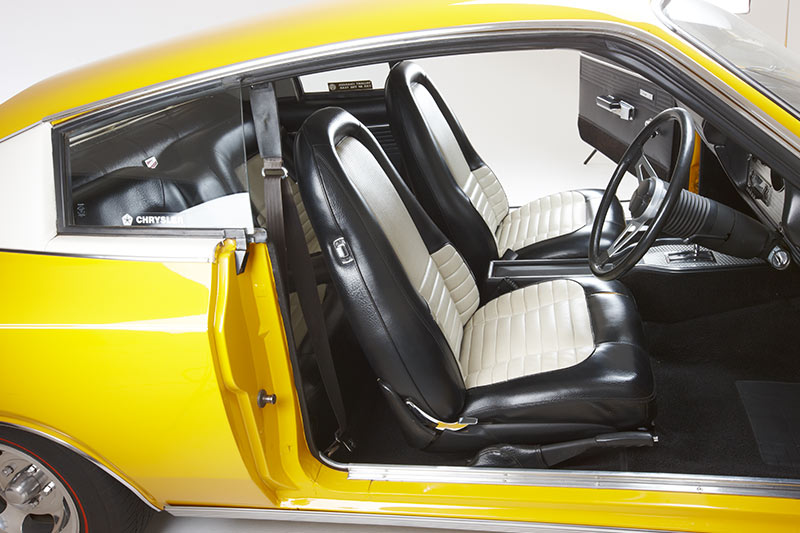 Seat trim design recalled the look of a favourite old rellie - the first AP6 V8 Valiant
The substantial 206kW (275bhp) at 5000rpm and a torque figure of 459Nm (340ft/lb) at 3200rpmwas a fraction of what it could deliver with a decent carburettor and exhaust system. The 340 auto was the Torque-Flite 727 with an extra clutch in the front and a four-pinion planetary gear, which in turn dictated a shorter tailshaft.
Yet this engine was obsolete when the E55 appeared. The US version already had a low-grade, low-compression 8.5:1 internals before it disappeared entirely at the close of 1973.
Your VH E55 could come with an orange 340 engine built in 1969 or a blue one that could only have been built after late 1971. All VH engines were the vintage high-comp version as for 1968-70 US engines.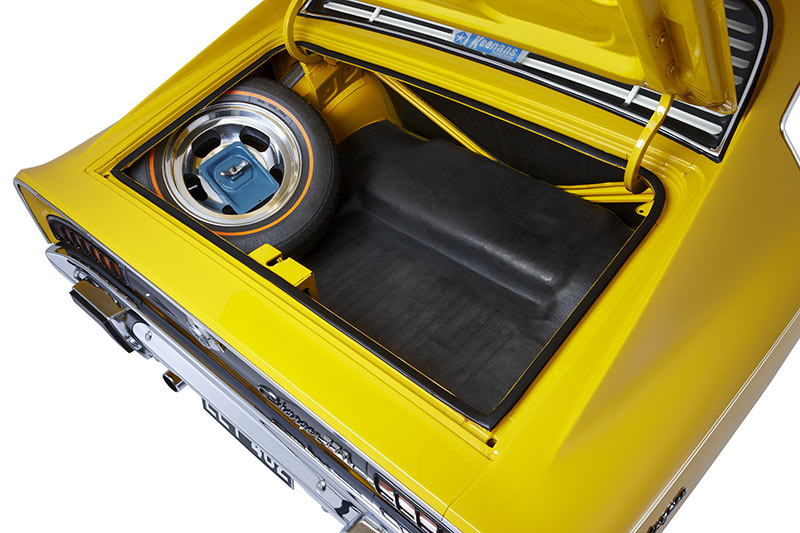 Although these early high-comp engines continued into VJ, what was left of the high-comp blocks and internals was then capped by a random mix of current low-comp and obsolete high-comp parts including the emissions Carter Thermoquad carburettor.
That left the E55 powered by leftover high-comp US engines worthless under new US emissions laws. A case of America's pain, Australia's gain, certainly, but hardly a secure foundation for a new long-term racing program. If the E55 was not an expedient exploitation of redundant engine parts gathered from around the US, then what was it?
NEVER A RACE CAR
Not much annoys John Ellis, Chrysler's man in charge of the Charger racing program, more than the suggestion that the E55 was an aborted homologation race special. It's an insult to the hard-working, responsible management team that found a way to create the Charger initially.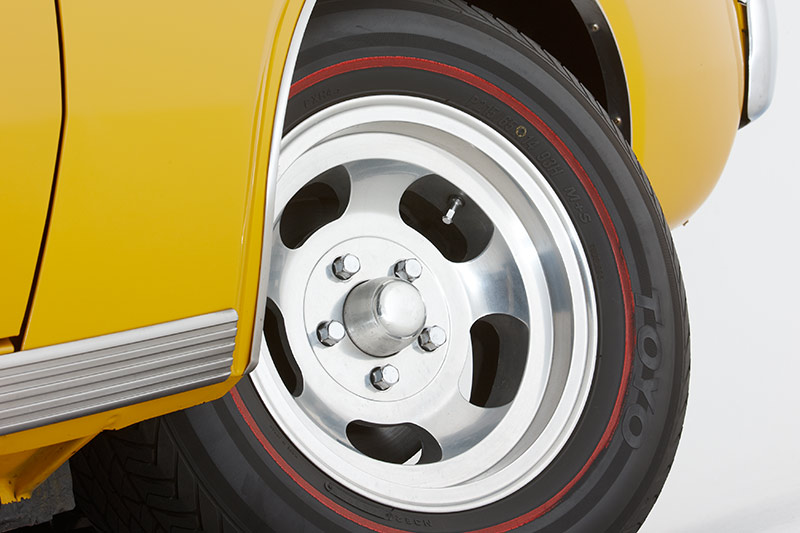 Part of that fantasy is that after this team approved the racing development of the Hemi six and spent scarce funds dispatching six-cylinder engines and staff to Italy, they suddenly changed their minds and scrapped it.
Not only that, they would then lock the company into a crippling sequence of expensive US parts and new centre tunnel tooling for the massive manual gearbox, that would also destroy the company's hard-won local content program on the bread-and-butter models.
Even Holden, with its massive volumes, drew the line at a similar HG GTS 350.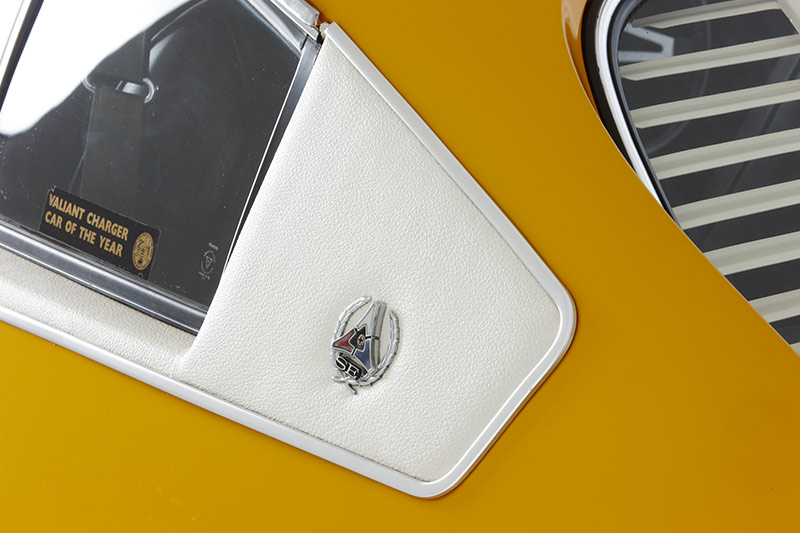 Ellis acknowledges half-a-dozen 340 racing kits were imported from the US for evaluation for a range of competition activities long before the Charger. Because they were still lying around, they were again evaluated for the Charger but its chopped wheelbase only confirmed the list of reasons the 340 V8 was rejected in the first place.
Regardless of the supercar scare, the Charger race program was axed internally in mid-1972 by hard-nosed US management, which left an unfinished E49 to be handed over to dealers to do the best they could.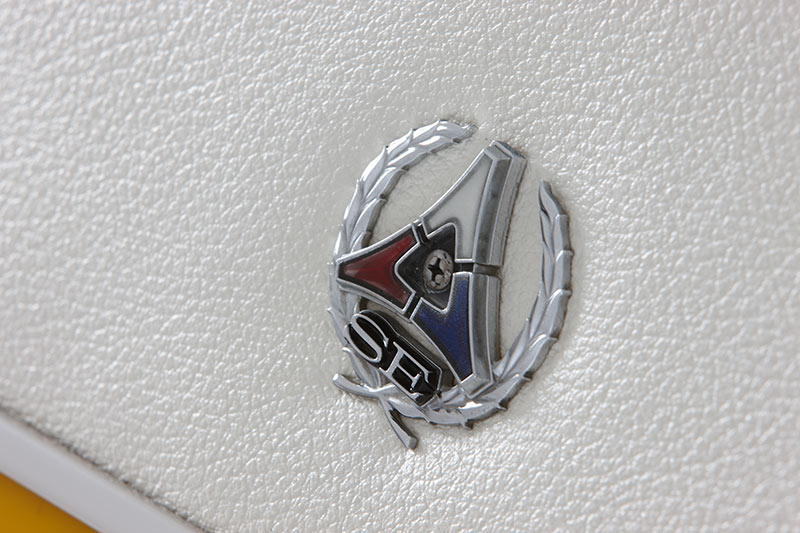 'SE' - a Special Edition
When heavyweights in both Ford and Holden camps admitted that even the three-speed E38 would have dominated if it had decent brakes, Ellis is quite specific where Chrysler was headed.
By 1973, his Charger was to have had lightweight aluminium bumpers and bonnet with venting similar to the A9X Torana as the heat soak from a red-hot set of extractors was killing power.
Extra roll stiffness was essential and six-leaf rear springs to counter fuel load variations would keep the nose level for consistent handling.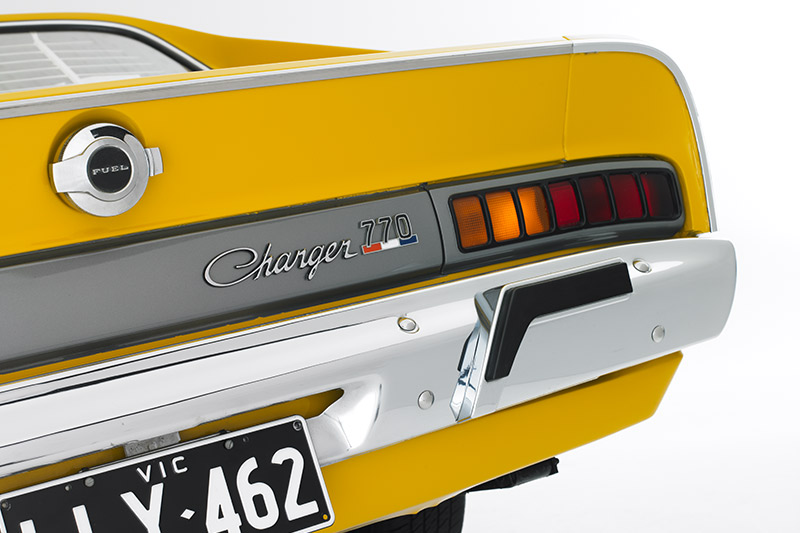 Relocating the E49's big fuel tank option made a real difference. A front spoiler as well as a set of big front brakes and bigger wheels and tyres would then allow Ellis and his team to liberate the well of horsepower still left in the existing engine. All of the above could be sourced locally for a far greater return than a switch to the 340 V8. Once the Charger was fully developed, the plan was to then shift the proven race components into the smaller, lighter and slipperier Centura that shared the same wheelbase.
After the same US forces tore up the engineering budget to move the Centura firewall back for the Hemi-engined production cars with disastrous results, that option was closed-off forever. By that time, unfortunately, the will and passion within Chrysler Australia was gone.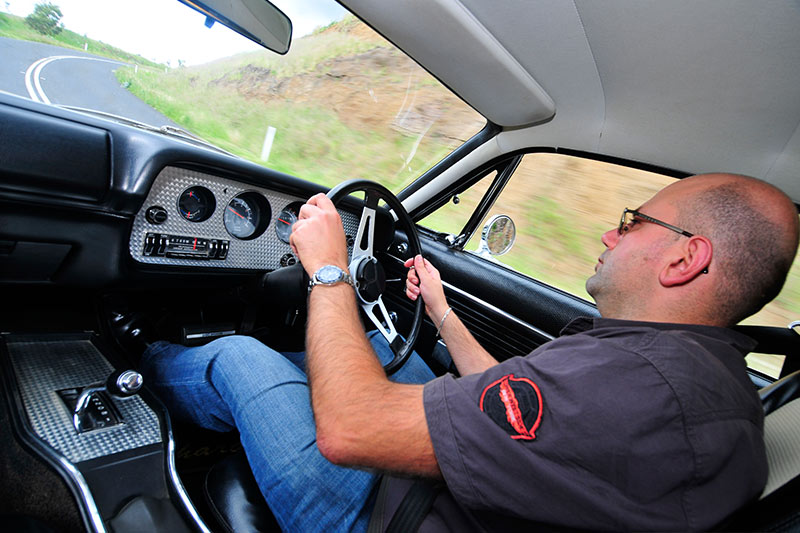 SPECIFICATIONS
CHRYSLER VH VALIANT CHARGER 770 SE 340
ENGINE 5573cc V8, ohV, 16v, four-barrel Carter AVS carburettor
POWER 206kW @ 5000rpm
TORQUE 459Nm @ 3200rpm
WEIGHT 1462kg
TRANSMISSION 3-speed automatic wheels 14 x 7.0-inch alloys
BRAKES 279mm ventilated discs (f), 229mm drums (r)
0-100 KM/H 7.2sec (WHEELS)
0-400 M 15.5sec (WHEELS)
TOP SPEED 201km/h
PRICE $4850 (1972)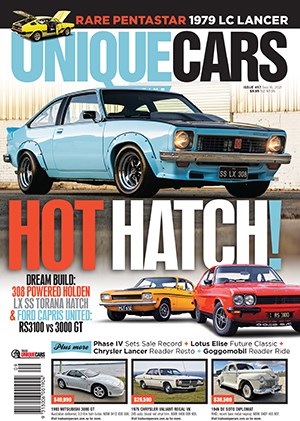 Subscribe to Unique Cars Magazine and save up to 42%
Australia's classic and muscle car bible. With stunning features, advice, market intelligence and hundreds of cars for sale.
Subscribe