1977 Holden Torana SS Hatch Review
---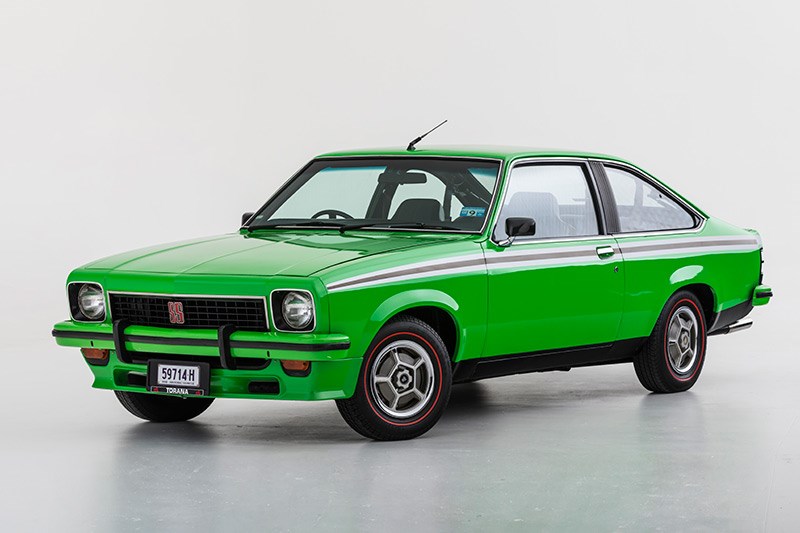 It's become an iconic model and prices for the Torana A9X hero car have gone nuts, but the less exotic SS has a lot to commend it
1977 Holden Torana Hatch
When the LH Torana was first planned, it was to be a back-to-basics Holden along the lines of the EH to be sold for significantly less money than the HQ. But the GM-H executives ought to have heeded General Motors' strategic mastermind, Alfred P. Sloan, Jr., who realised that it cost almost as much to build a small car as a big one, so why build the small one?
In some respects the LH was a grand plan that went awry. Late changes to bring costs down included the very simple dashboard. Even so, a comparably equipped LH Torana cost almost as much as an HQ. It was one of very few cars designed from the beginning to accommodate four-cylinder, six-cylinder or V8 engines and bequeathed this legacy to its Commodore successor.
The LH Torana was always going to be an important car but the really big news had to wait two years until its LX successor hit the market in February 1976. That news was the Hatchback variant. To bring this 4/6/V8 model to market with two different bodies proved to be too massive a task and so the Hatchback was delayed. This was perhaps just as well because there were very few changes to the LX sedans.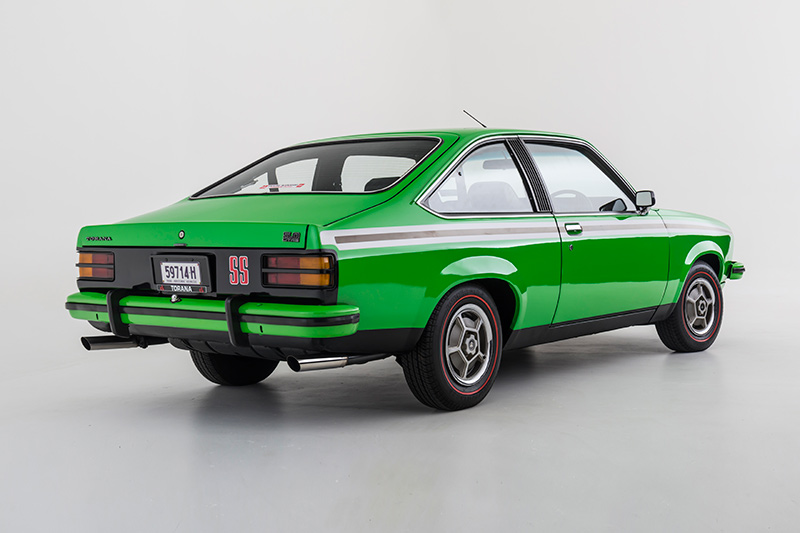 The only hatchback manufactured in Australia before this time was the stillborn Leyland Force 7. Holden's designers, headed by Leo Pruneau, did a brilliant job and most customers were prepared to accept some compromises in load space for the purity of line, which was inspired partly by the Chevrolet Monza and Opel Manta, but also by the Fiat 850. Pruneau himself has made no secret of the similarity of the Torana's roofline and glasshouse to the Fiat's – check especially the kink in D-pillar.
Despite the availability of so many different engines, arguably the product planners missed some marketing opportunities with the LH. When the Hatchback arrived, there was a more interesting model mix. There were just two specification levels, SL and SS. The former effectively anticipated the 1977 Kingswood SL which brought the Radial Tuned Suspension (RTS) revolution to the mainstream Holden range. Reclining bucket seats, carpet, pushbutton radio and other niceties which had formerly been optional joined the standard specification.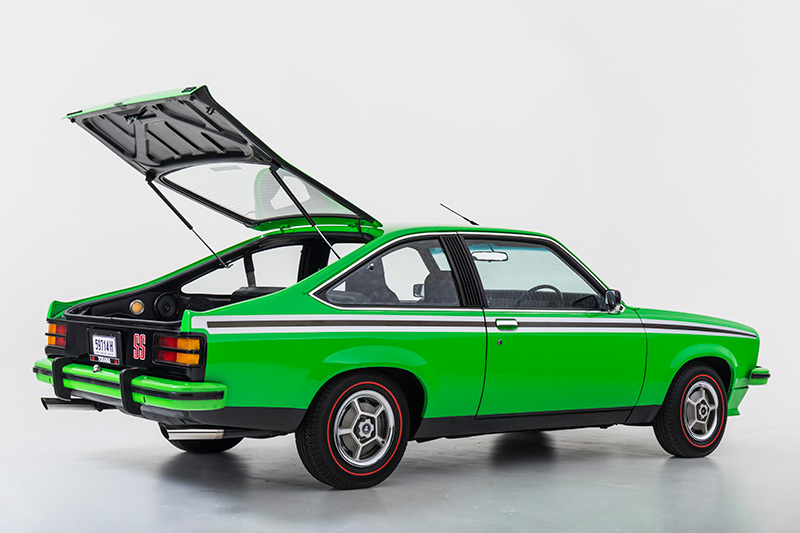 The SS was broadly comparable to the SL/R sedan, which came standard with the 3.3-litre six. Next up was the 4.2-litre variant. But only the flagship SL/R 5000 got a front air dam and rear spoiler. By contrast, all SS variants were outwardly similar.
Wisely, no four-cylinder engine was offered in the Hatchback. Both models came standard with the 3.3-litre six-cylinder engine and four-speed manual gearbox. Six-cylinder SSs never sold in large numbers and the variant's existence is sometimes overlooked but the fact that the marketing people offered the choice is interesting. I picture the customer desperate to own an SS Torana but just not able to afford the extra few dollars per month for a V8. It meant he could own a slower vehicle that looked exactly like the 5.0-litre edition. The advertising for the SS declared:
Under the hood is a spirited '3300' six. Then there's the road-ready combination of wide-track stance, rack-and-pinion steering, sports springs and shocks, front and rear anti-sway bars, radial tyres, and power-assisted braking with front disc brakes.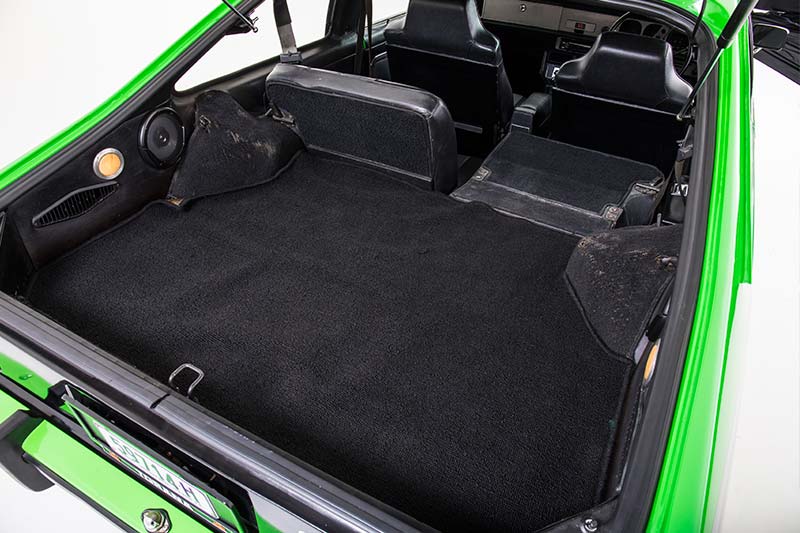 The 4.2-litre and 5.0-litre V8s were optional on all Hatchbacks and so was Tri-Matic automatic transmission.
The now highly desirable Hatch Hutch option cost $65 and was rarely specified. It offered an ingenious gesture towards the panel vans that were cruising rapidly and ostentatiously into fashion: 'if this van's rockin', don't bother knocking!'
This brilliant so-70s streamline came at some cost to carrying capacity. The floor was quite high and the luggage area astonishingly shallow. The spare was housed beneath the floor where there also a small amount of extra space. Bulkier objects needed to be placed near the front seatbacks if the huge hatch was to be shut. There was a split rear seat. But the planning here seemed haphazard because when the seatbacks were folded forward there was an awkward gap (through which stuff could fall) to the front seats. If people actually sat in the back, they had better be less than about 1.7 m tall. A really curious oversight is that the huge hatchback panel which was supported by a pair of gas struts could only be opened with the key outside the vehicle.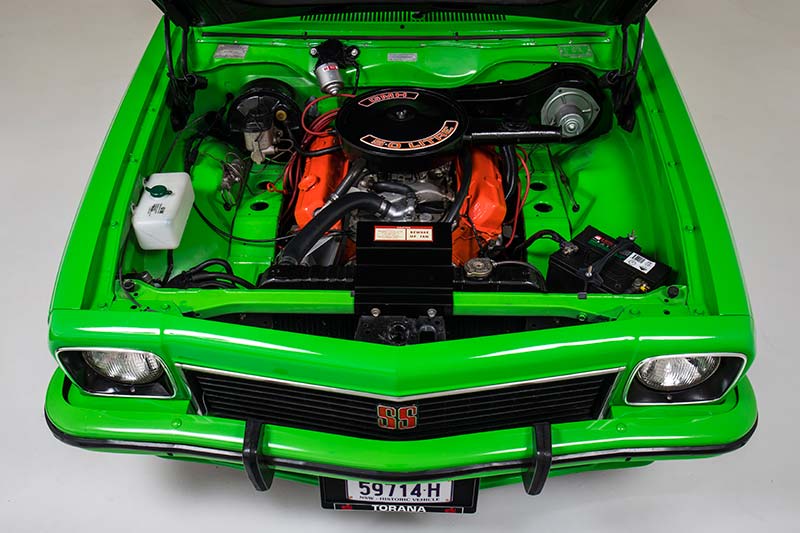 All LX Toranas got a steering column stalk for the wipers and headlight dip/flash functions (the latter being new), soft-feel steering wheel rim, plusher seats and subtly revised use of chrome and blacked-out window surrounds to lower the visual appearance.
The first RTS Holden was the four-cylinder Sunbird (November 1976) but its finest expression was the magnificent A9X which slipped onto the market in August 1977, nicely in time for the Bathurst 1000. This was just before the HZ range, making the A9X the first Holden with disc brakes all round, an amazing four and a bit years after Ford Australia's LTD/Landau.
Hatchbacks are now far more desirable to collectors than sedans and, while the A9X is the ne plus ultra, even an entry level SL 3.3-litre six-cylinder example is hot property.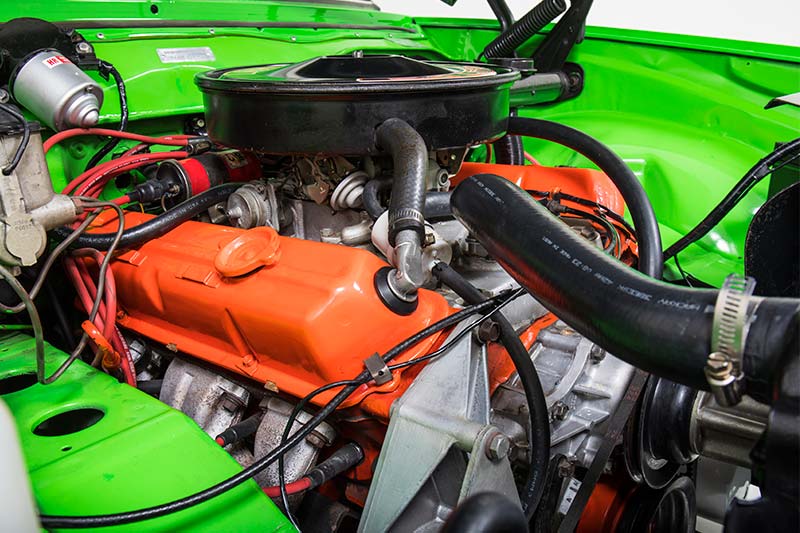 TORANA MARKET GUIDE
- Cliff Chambers
IT IS 40 years since Holden built the first home-grown 3-door Hatch to reach production and created a Touring Car legend.
Reams have been written about that car; the famous A9X. These words are different and dedicated to versions that are more accessible and affordable.
The Hatch came in specification levels ranging from humble to heroic. The cheapest six-cylinder car was a 3.3-litre in SL trim. Lots of six-cylinder Hatchback Toranas were destined to disappear; re-appearing later with transplanted 5.0-litre engines and all the addenda signifying their transformation into an SS or A9X replica.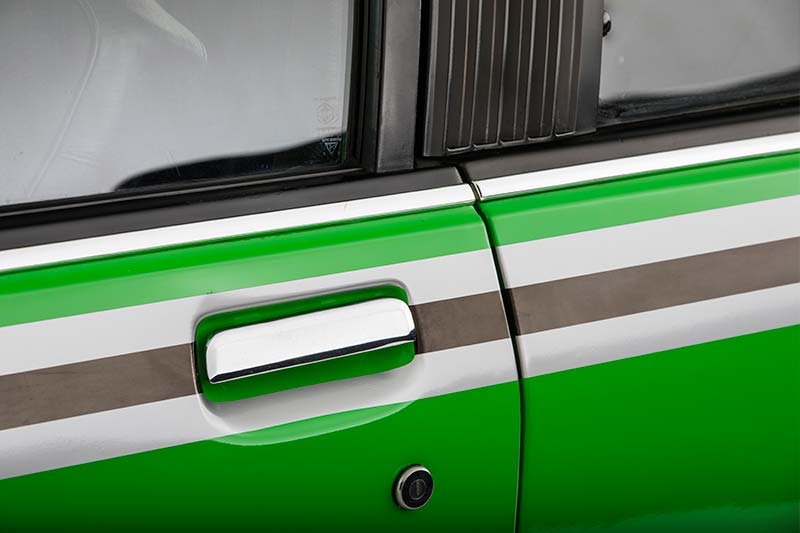 Determining how much to pay for an unmolested six-cylinder Hatch is challenging. A glance back to the Aussie Value Guide of 2006 showed the LX SL 3.3 Hatch in Cond. 1 at $8000. 4.2-litre versions of the SL cost 50 percent more and the SS 5.0-litre a hefty $18,500.
Assuming price relativities have remained constant and knowing that a very good SS will today bring around $70-80,000, the 'six' in similar condition should manage $30-35,000. 4.2-litre V8s in SL trim have hit $45,000 while an SS with the same engine should reach $60,000.
Modifying these cars to go faster than full-on racers doesn't do a lot to enhance long-term value. Factory-correct SS four-speeds in the mould of our superb photo-car are devilishly difficult to locate and values for one in this condition should soon get into six-digit territory.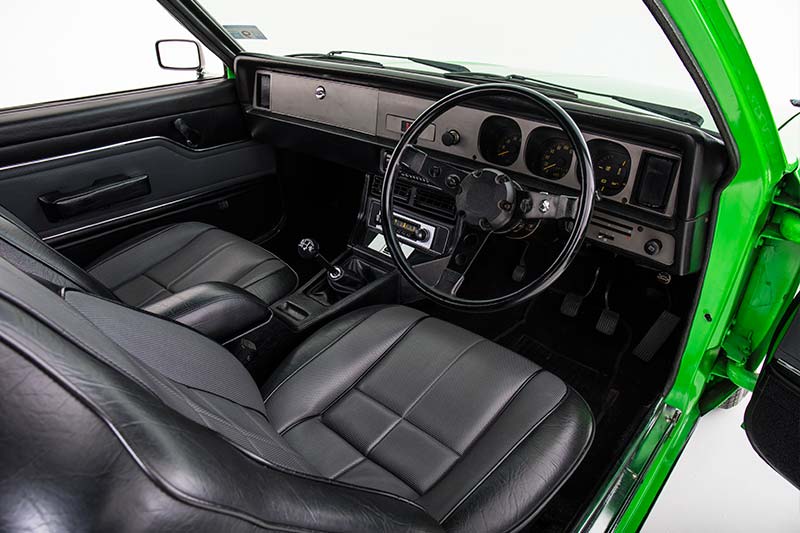 Finding and buying one could prove even more daunting than working out how much to pay. There seem to be more authentic A9X Hatches on offer than SS 5.0 versions. Patience and avoiding any questionable backstories is imperative.
On-line ID guides are useful for initial research but there is no substitute for verification by someone whose credentials to undertake that task are unquestioned. Your local Torana Club knows how to find them.
TORANA OWNER
Emmanuel Mentis, Sydney, NSW
Emmanuel Mentis has owned his gorgeous 5.0-litre Torana SS hatch for a little over two years after buying it from a mate, Con, who found the car, recommissioned it from a long period in storage, cruised it for six months and then succumbed to Emmanuel's pleading to sell it to him.
"I nagged him like a pissed-off wife!" laughs Emmanuel. "As soon as I saw that green, I thought: 'this is the one!'As far as I know, it's one of 530 5.0-litre V8s made. It's a Dandenong car; May 1976."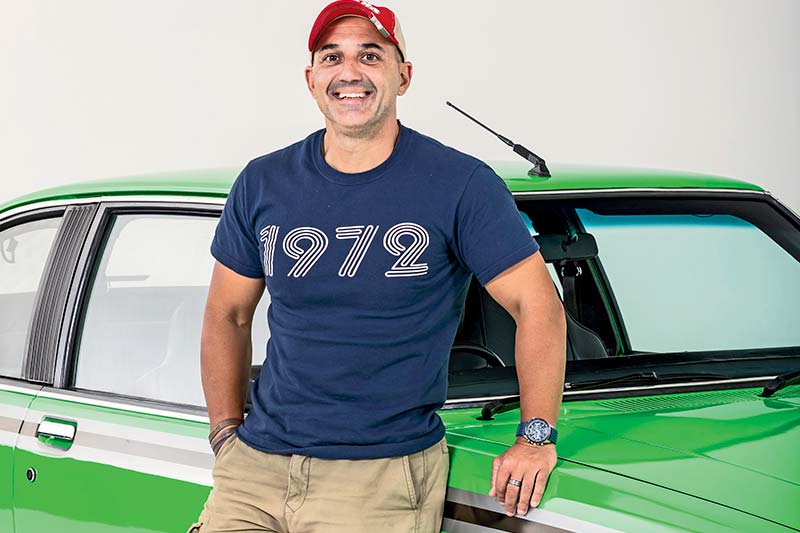 Emmanuel is a life-long Holden enthusiast.
"I grew up with Holden. My grandfather worked on the Bedford line at Pagewood [Holden's Sydney factory – closed in 1980] and I've owned a few: a VB Commodore; a VH Group Three that I drag-raced for a decade. But I decided to slow down; you know - too old, too loud, too expensive!"
The time-warp Torana has had a few detail items refreshed, such as the stickers in the engine bay. The paint has had a few touch-ups over the years. Inside, the stereo is the only item that isn't 41 years old. The red-band tyres are a nod to the cool kids of the 1970s an circle the ultra-rare hubcaps and specific-to-SS steel wheels. With 220,000km on the clock, the car remains mechanically standard and – more to the point – original, right down to the points in the distributor and the terrific hollow burble from the twin exhaust.

"I thought about repainting it," explains Emmanuel. "But it's too nice the way it is and I'd be more worried about it. Plenty have been ruined with two-pack paint."
SPECIFICATIONS
1977 Torana SS hatchback
BODY: Two-door coupe WEIGHT: 1780kg
ENGINE: 5.0lt (308ci) OHV V8
TRANSMISSION:
4-speed M21 (optional auto) SUSPENSION: Radial Tuned Suspension package, coil spring wishbone/A-arm (f) and live axle with coil springs (r)
BRAKES: 254mm hydraulic disc (f), 228mm hydraulic drums (r)
POWER & TORQUE:
170kW @ 4800rpm,
434Nm @ 3400rpm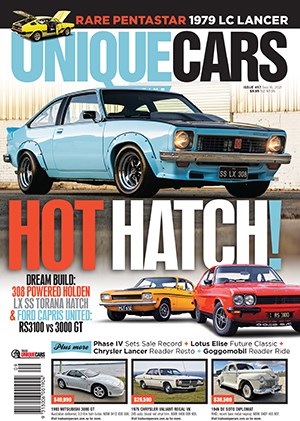 Subscribe to Unique Cars Magazine and save up to 42%
Australia's classic and muscle car bible. With stunning features, advice, market intelligence and hundreds of cars for sale.
Subscribe