1954 Austin Healey 100 BN1 Review - Toybox
---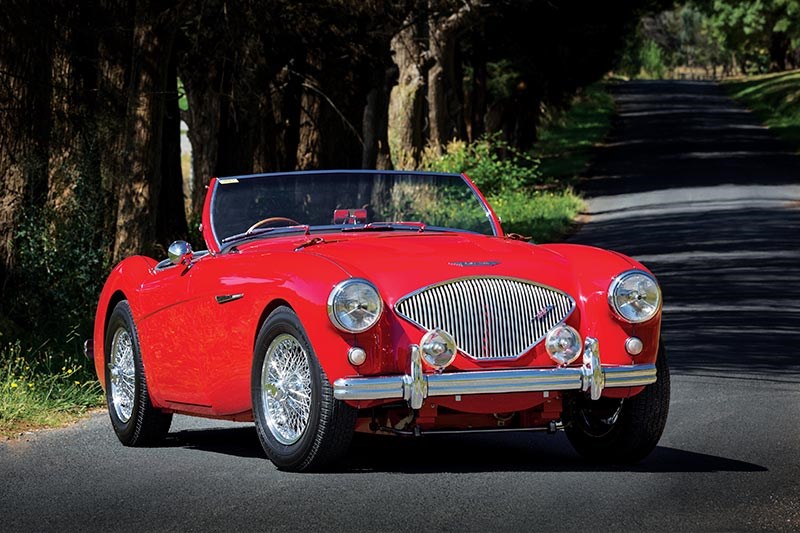 The car that ushered in the concept of the affordable Healey is still a big deal
Austin Healey 100
We all have vague memories of the cars our parents drove when we were little more than carpet grubs. My father's BMW 2002 was the first car I remember. Uncle Michael had a Peugeot 504 wagon that he drove like a berserker but the first actual sports car I have any real recall of was something a bit different. When I was a toddler, back in damp and dismal England, a friend of Dad's used to arrive in an Austin Healey 100. You could hear him coming. He'd always be gunning the engine and would announce his arrival with a four-wheel lockup. He was a bit of a rogue, but everyone loved 'Flashy' Colenzo. Right up until that time he attacked his business partner with a scutch comb and got six years.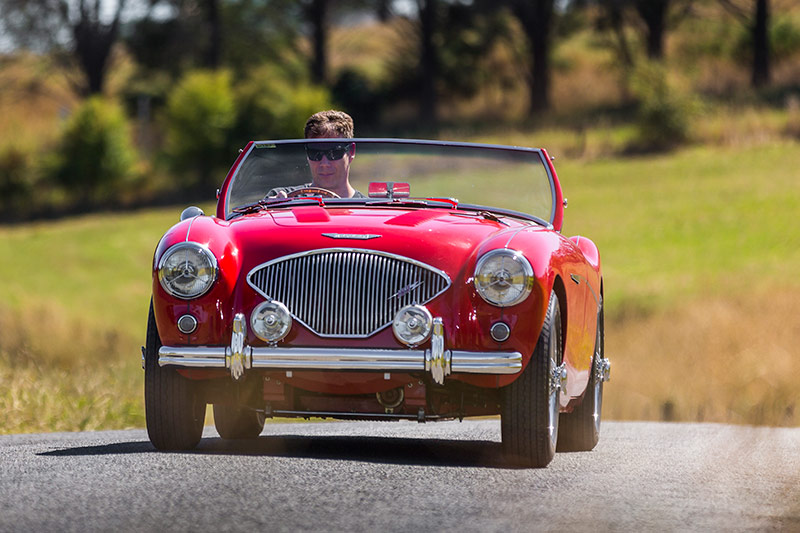 Fast forward more years than I care to recount and I'm back in a red Healey, this time courtesy of The Healey Factory and not a man who ran a string of smoke-filled gambling dens. To most people, Healeys are all about big, brawny straight-six engines and grainy footage of lantern-jawed heroes sawing their way around Goodwood while masticating on a Capstan full-strength. The car that built the Healey name wasn't a six at all though. The 100 Series cars were powered by four-pot lumps, albeit with a fair bit of heft behind them.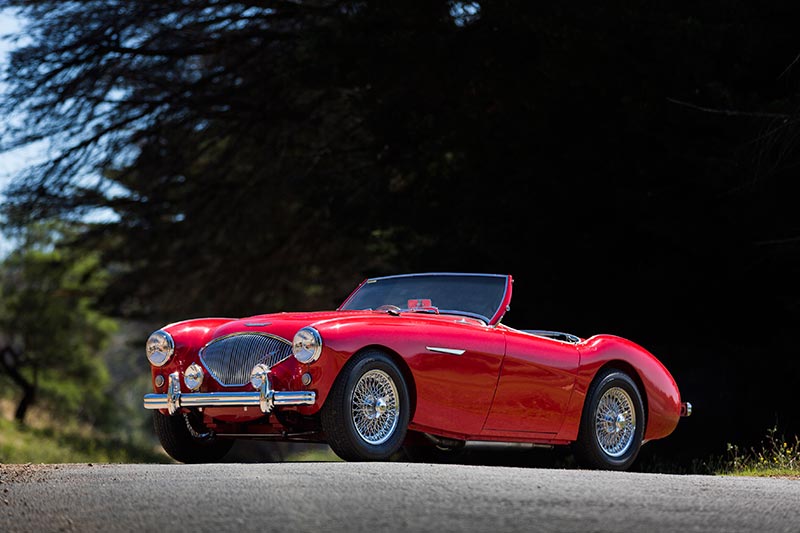 It's clear when this car is wheeled out for inspection that it has had a lot of money thrown at it. Granted, the $115k asking price isn't pocket change, but in this instance it's fairly easy to see where it's been spent. It's enjoyed a full ground-up nut and bolt resto and looks the business in Vibrant Red over black leather with the finishing touch being the chrome Dayton wires. It's had a new hood and tonneau and, along with the beautiful chromework and butter-smooth leather bonnet straps, the cosmetics are right on the money.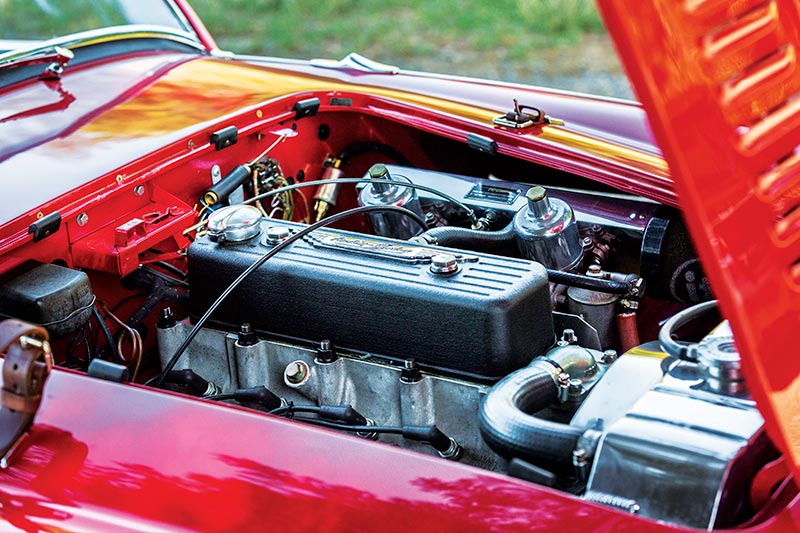 Pop the bonnet and it's clear that this isn't exactly as it once rolled out of the Longbridge plant. This Healey 100 BN1's engine's been built to 1955 BN2 100M spec, getting an alloy head, a screw-on oil filter, an alloy radiator and a custom intake. Most importantly the original three-speed gearbox of the BN1 has been outed in favour of a far preferable four-speed unit with overdrive.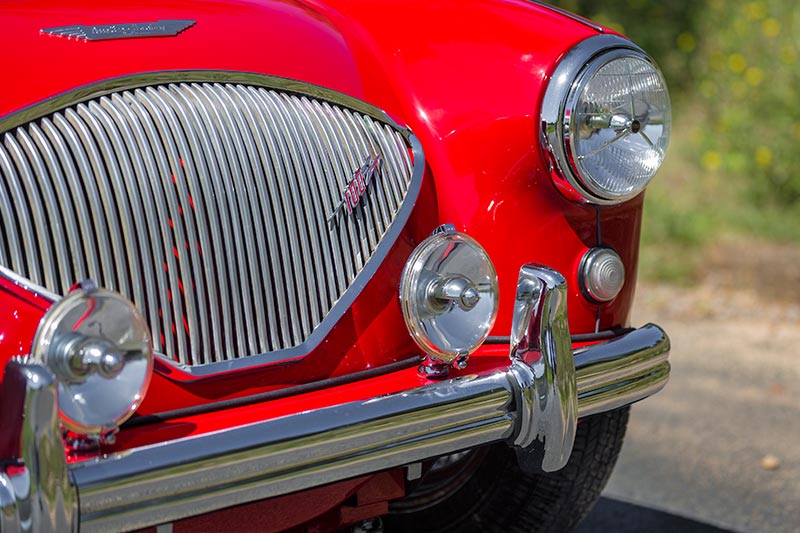 It starts on the button and the generous torque of the 2660cc oversquare four means you only need a tickle of throttle to get it rolling. It's actually quite civilised for a 1954 car, although the driving position is cosy. The big wooden Moto-Lita steering wheel obscures the dials and the worm and peg system doesn't offer much in the way of on-centre feel. You'll drive in a straight line like Chadwick Gates in Blue Hawaii, with plenty of wheel action. Carve a corner though and it feels really all of a piece, the steering weighting up very nicely and the suspension doing a manful job of soaking up road imperfections. The chassis of this one was designed with longitudinal members and cross bracing producing a comparatively stiff structure upon which to mount the body. In order to keep the overall vehicle height low, the rear axle was underslung, with the chassis frame passing under the rear axle assembly.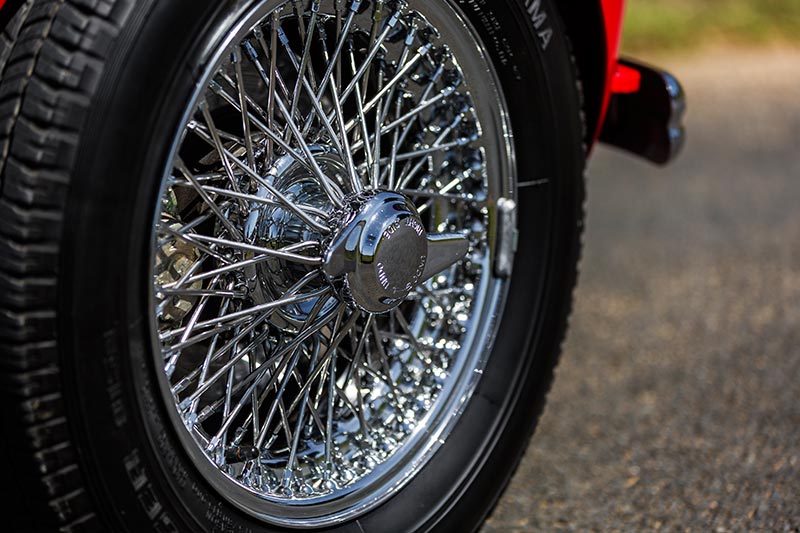 The gearchange takes a bit of care, with no synchro on first and the plane for third and fourth requiring a firm guiding hand. The pedal box isn't too cramped and although there's not a great deal of action in the top half of the brake pedal's travel, the front discs come good with a respectable push. Like any characteristic of an old car, it's something you soon learn to accommodate into the style of driving and after half an hour's acclimatisation, the Healey really inspires confidence.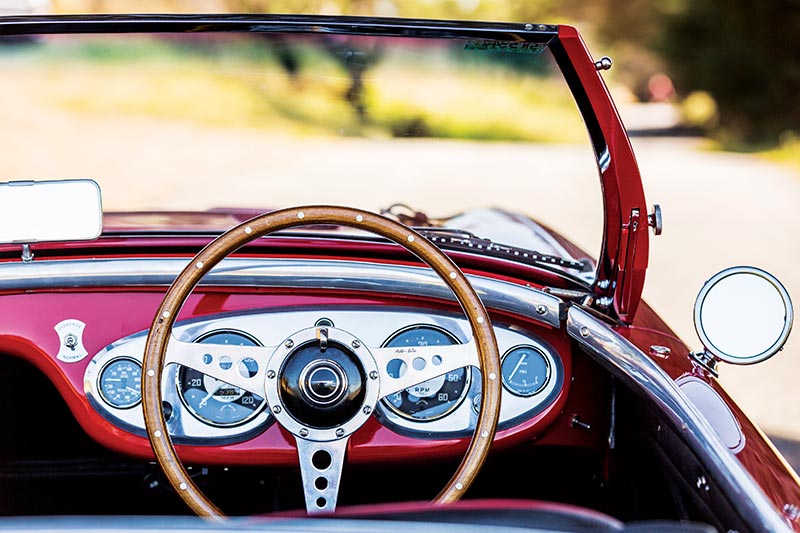 The engine is hilariously fruity for a four-pot, doesn't really need to be given a stack of revs and it feels every bit as quick as the original 0-60mph time of 11.2 seconds. This one feels capable of dipping below ten seconds, although you really don't buy a car like this for its numbers. This one's all about soaking up the sun and throwing some juice down the twin SU carbs on a deserted country road. The exhaust has a barrel-chested baritone roar that never gets old. And that's much of the appeal of these Healeys. They're physical, masculine cars but they never overplay the hand; they don't tip over into macho caricatures. If a muscle car is a bit too mid-life crisis but you find some roadsters a bit fey, you'd like the Austin Healey 100. We do.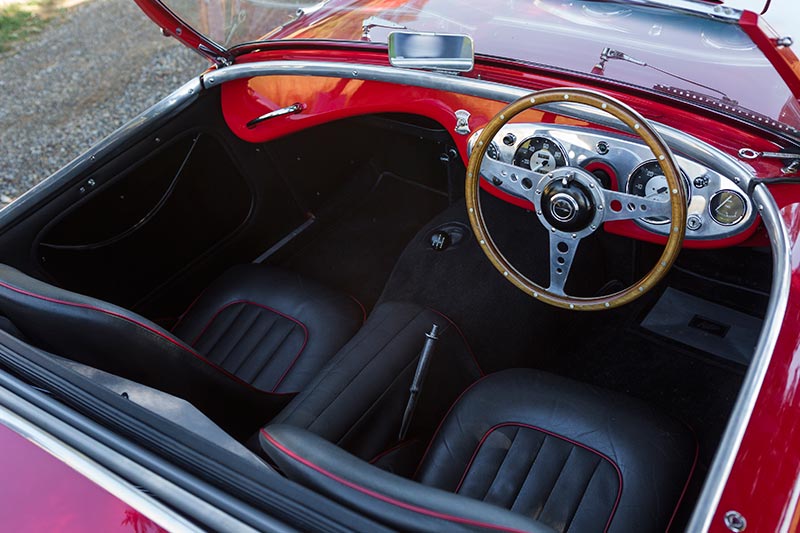 1954 Austin Healey 100 BN1
ENGINE 2660cc 4cyl, OHV, 8v*
POWER 67kW @ 4000rpm*
TORQUE 195Nm @ 2500rpm*
TOP SPEED 171km/h*
0-60MPH 11.2s*
WEIGHT 1041kg*
GEARBOX 3-speed manual w/Laycock overdrive*
BRAKES Drums (f/r)*
* Original Specification
Unique Cars magazine Value Guides
Sell your car for free right here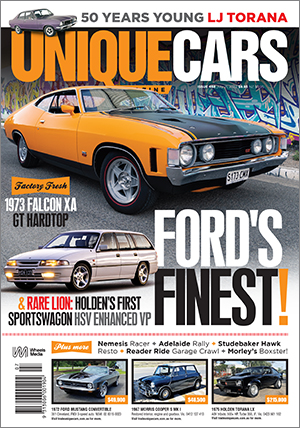 SUBSCRIBE TO UNIQUE CARS MAGAZINE
Get your monthly fix of news, reviews and stories on the greatest cars and minds in the automotive world.
Subscribe