Alfa Romeo SZ and RZ - Racing Rivals
---
Alfa brings the shock and awe with its Zagato sporting twins, the SZ and the RZ
Alfa Romeo SZ and RZ - Racing Rivals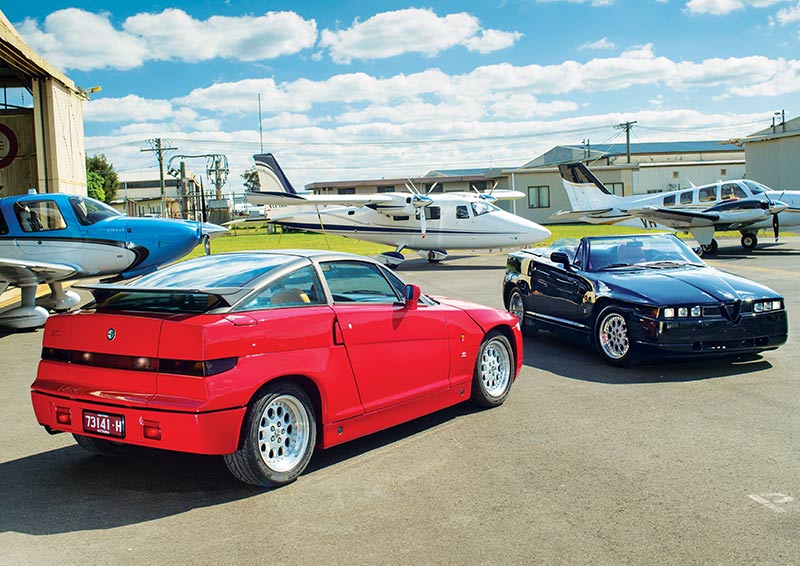 To drive an Alfa Romeo SZ is a wholly frustrating exercise in preparing your excuses early, writing flaws off as character, dusting down a few Latin stereotypes and then realising that you'd completely wasted your time. In fact, it's hard to think of too many sporting rivals that have shucked off more than a quarter of a century quite as well as the SZ. By comparison a contemporary Porsche 911 feels a bit of a relic, a Lotus Esprit closer to its kit-car roots than we cared to admit at the time, while here in Oz the Commodore VN SS represented our brave new world. Now there's some perspective.
By contrast, the SZ coupe looked as if it had beamed in from a parallel dimension; a dimension of creatively demolished shoeboxes. One of the first production cars to be designed with the help of a computer, the SZ project came about through a bit of naked opportunism at Alfa Romeo. During the late Eighties, a boom in the prices of exotic cars saw many delivery-mile Ferraris, Lamborghinis and Porsches being flipped on dealer forecourts for double the list price. With the benefit of hindsight it was clearly an unsustainable bubble, but Alfa saw it as a chance to revive their fortunes, develop a headline-grabbing halo model and, at the same time, revive links with the Zagato styling house.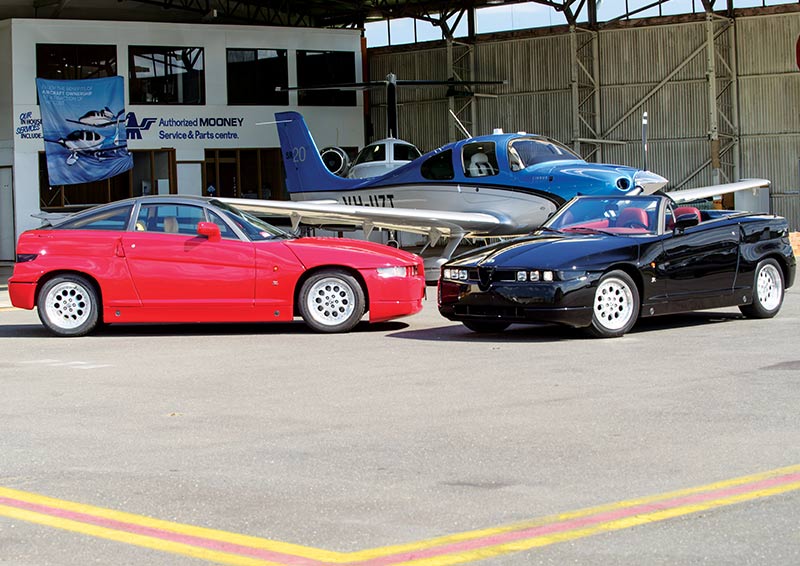 Three rival styling teams were commissioned to work on the coupe. Zagato were actually the first to be rejected, with Walter De Silva then going head to head with a design team headed up by Fiat Centro Stile's Robert Opron, the two concepts dubbed Project A and B respectively. On 31st July 1987, Project B was chosen, with Zagato tasked to assist on detail design of components. Much of the running gear would be shared with the existing Alfa Romeo 75 3.0 V6 sedan to keep a cap on development costs, the first show car, the ES30, being unveiled to a collective thudding of jaws on floors at the 1989 Geneva Show. The production car was readied by the end of the year and hustled onto dealer floors carrying a price tag – in Europe – about that of a 911 Carrera. Unfortunately it arrived just as the exotic car feeding frenzy turned into a famine. Although Alfa reckoned the clever technique of bonding the Modar resin onto the steel frame using the adhesives as a structural component was good for building 10,000 cars per year, little over 1,000 SZs ever left Zagato's premises in Terrazzano di Rho. Its drop top sibling, the 1992 RZ, fared even worse, with only 278 cars of a predicted 350 vehicle production run being built.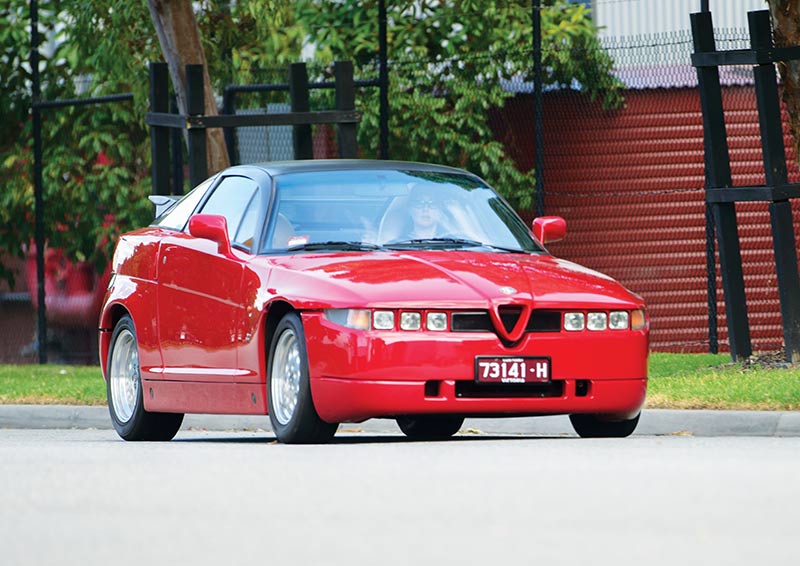 On a purely commercial basis, the RZ/SZ project was an abject failure. What's more it failed to kick start Zagato's fortunes, while a gun-shy Alfa Romeo would take another fourteen years before revisiting the idea of the halo sports model in the voluptuous shape of the 8C Competizione. This failure to hit too many of its pre-development targets coupled with the fact that the styling – for a while at least – dated very badly meant the SZ and RZ twins almost seemed to be excised from Alfa's history for a while. Of late, their reputations have been rehabilitated, although whether that was necessitated by a long run of poor product from Alfa is point for debate.
You might recognise this particular SZ, as it has previously been bringing a dusting of the exotic to Unique Cars''Our Shed' regular, courtesy of Unique's digital diva, Mary Lee. I'm minded of the soaring values of these things as I'm handed the keys.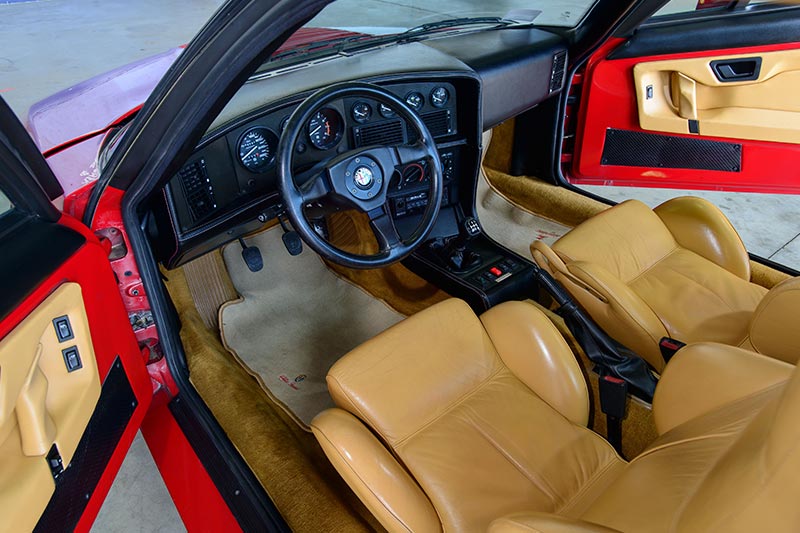 The shape is something that I don't think you'd ever get used to. The bug-like lights, crazy planes, vertiginous haunches and bizarre surfacing shouldn't work and many would say they don't. The panel gaps are so wide that you could probably check the oil without popping the bonnet. The SZ's elegant roofline sweep helps balance the brutal cubist superstructure, a salvation denied the sole RZ roadster in Australia that is also on board for our shoot. Drop inside the SZ and it's all buttery tan leather, with a dashboard angled towards the driver and fantastic visibility courtesy of that show car glasshouse and filament-thin arching pillars. Headroom is a little pinched for taller drivers and the driving position might take a bit of lateral thinking to get comfortable with, but there's no great pedal offset, a lovely Momo steering wheel and a roof lining that looks as if it should house a sunroof but doesn't. Alfa's ballsiness in not even attempting to fit rear seats raises a smile as does the surprisingly burly passenger panic handle built into the front corner of the seat.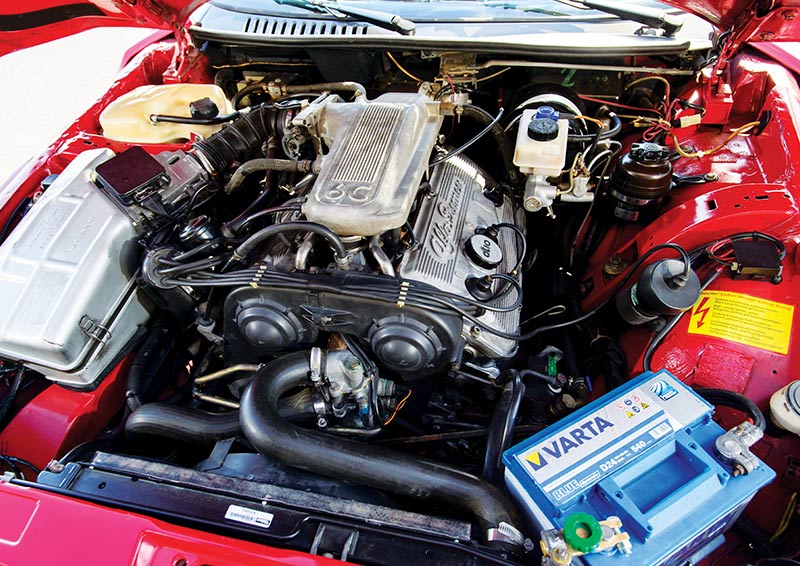 Key the ignition and the car fires on the first attempt, settling back into a tappety thrum. The gearchange action isn't at all bad for a car with its long throw 'box such a long way from the stick, although you can't rush the synchro: one-pause-two between gears. The Busso 3.0-litre V6 makes 210hp, differing from the 75's installation with uprated intake and exhaust manifolds, tweaks to the cooling system and Bosch Motronic ML4.1 electronics. Despite Alfa having a 24-valve version of this engine in advanced stages of development, time was against the SZ and it got the existing 12-valve architecture instead. It's still one of the great engines, pulling sharply from as little as 2000rpm right up to its power peak at 6200rpm, the exhaust note hardening as it comes on cam from 4,000rpm.
By today's standards, the SZ is merely brisk, registering a 0-100km/h time of 7 seconds and a top end of 245km/h, but the design ethos for the car was to create a vehicle that was modern in execution but classic in feel and Alfa nailed that particular assignment. Chassis development was the responsibility of Giorgio Pianta, the man who had fettled Lancia's rally cars for the likes of Markku Alen, Henri Toivonen and Walter Rohrl and his imprimatur is all over the way the SZ drives. He junked the torsion beam rear of the 75 in favour of Koni springs and dampers, and the SZ also got some very meaty Teflon suspension bushings. The chassis is stiffened, shock absorber mount points beefed up and the suspension tuned to the sidewall stiffness of the then-revolutionary Pirelli P Zero tyre. The car has a long-legged suppleness to its suspension that matches the low-end torque response of the engine. Drive it gently and it doesn't feel like a sportster at all, but scruff the car a little and it responds in kind with great body control into corners and tenacious turn-in courtesy of a trademark Pianta front end: aggressive negative camber and zero aerodynamic lift.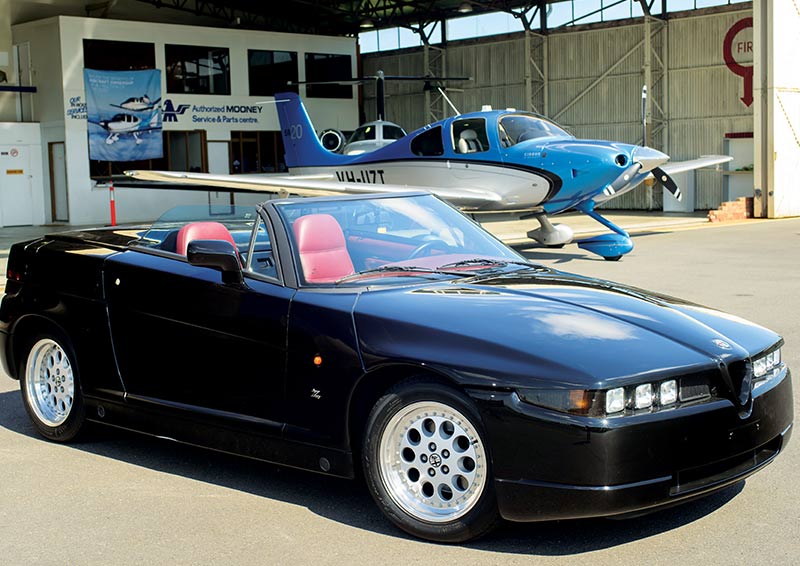 In order to quell lift, the SZ sports a ride height more usually associated with snowploughs which would prove interesting on a typically scabby Aussie country road, but you can press a button in the cabin to raise the ride height by 50mm. It's an imperfect solution, but just one of several work-arounds evident in the SZ. It's hard to fault the hydraulically-assisted steering but the brakes are truly abysmal, with a heart-in-mouth dead feel for a huge arc of pedal travel. Attempt a heel and toe downchange and it turns into a kind of desperate heel and shin contortion before you give up, which is a shame in a car that's otherwise so beautifully tailored to the keen driver. It's nothing particular to this car as all SZs suffer the same delinquent brake feel. Punch them to the threshold of locking and they work well enough, slowing from 100km/h in a respectable 38 metres, but it feels like a clumsy, brutish interaction that jars with the measured tactility of the rest of the car's controls.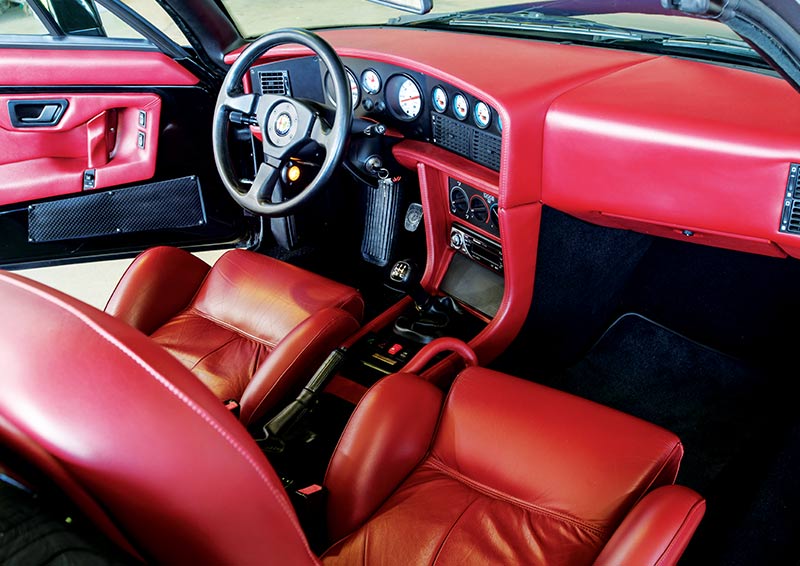 As is usual with Alfas of this period, the interior squeaks and twitters like the queue for a One Direction gig, occasionally throwing in a bit of bulkhead bass note that sounds like the terminal phase of a Bond villain's lair. You won't care. You're too busy laughing out loud. At which point you realise the camera team are all wearing huge grins, as are all the onlookers who might otherwise be calling you in to the local constabulary if you were attempting similar cornering shots in a Falcodore. The SZ is that sort of car. It has a charisma that is infectious and hugely endearing. You know you're making someone's day when you spot them throw a U-bolt behind you and race up alongside, desperately trying to persuade their nonplussed passenger to shoot some pictures.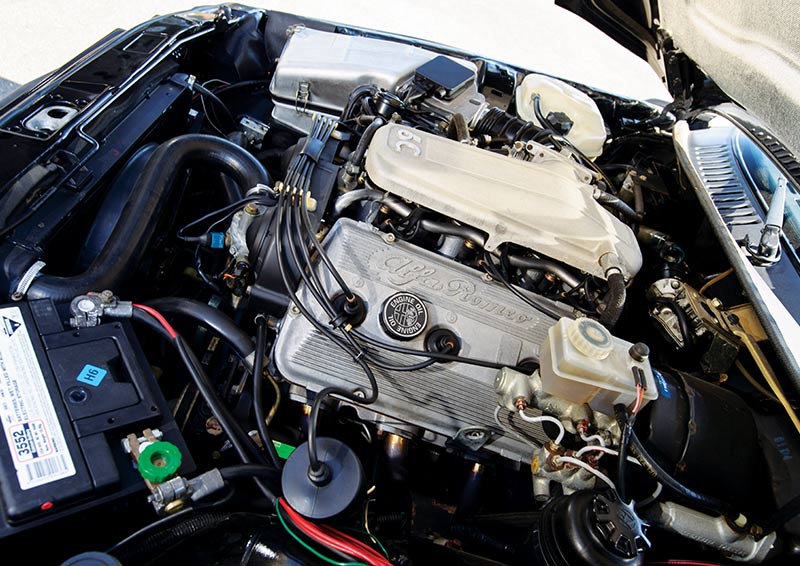 Before driving the car, I wondered if the SZ was a bit of a cynical charade; a 75 in a fright wig that only appealed to some due to its divisive styling. Spend a little time with one and it becomes apparent that you'll love it for the very specific way it drives and the aesthetics become a secondary concern. It's a truly lovely thing, and a car that's wholly underrated by most. Perhaps only the idiosyncrasy of Alfa Romeo could bring us a computer-designed throwback, but though there is some truth in its description by the late Russell Bulgin as 'a fairly creative stroll through the Alfa parts warehouse', make no mistake, the SZ has no issue with its own identity. Although you can detect some Alfa 75 gusto in the way the SZ comports itself, it's only a faint tang. Stiffer, lower and more potent, the coupe stands alone as a great Alfa driver's car in a period where such vehicles were soon to become dispiritingly rare.
It's far from the thuggish bull terrier you might expect, instead offering delicacy and nuance and, like the best sports cars, an ability to mirror your mood in the way it drives.  And that styling? Well, if nothing else, both SZ and RZ prove one simple truth. Things are beautiful if you love them.
For more SZ love be sure to check out our video from last year.
Unique Cars magazine Value Guides
Sell your car for free right here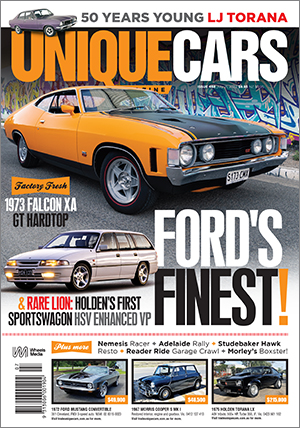 SUBSCRIBE TO UNIQUE CARS MAGAZINE
Get your monthly fix of news, reviews and stories on the greatest cars and minds in the automotive world.
Subscribe