1959 Chrysler Windsor review - Fantastic Fins part 7/10
---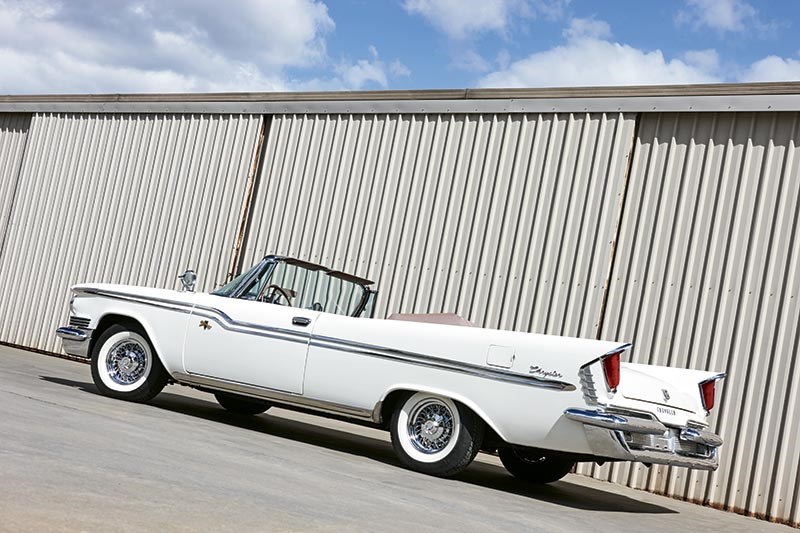 1959 Chrysler Windsor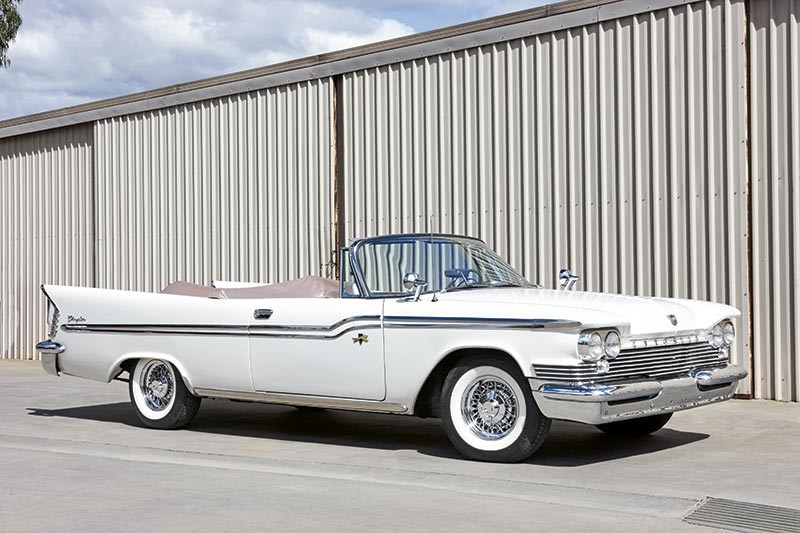 1959 Chrysler Windsor

It's 1959 – the pinnacle of the big fin and lavish chrome era. Here's one of the star cars – the Chrysler Windsor
Chrysler as a brand was in a bit of trouble in 1958, a year when sales had been disappointing. The product was well-regarded – particularly the 57 range – but there had been issues with quality control, blamed to some extent on industrial strife, which hurt the brand's reputation. And there was a recession on.
The response? Among other things, more flash and bigger fins! Seriously. The legendary stylist Virgil Exner dictated the move and, while there were undoubtedly other factors in play, it worked. Essentially the 1959 range was a cosmetic update of its predecessor, however the convertible version of the Windsor was new for that year.
That also happened to be the year before the factory moved to unitary body construction.
Owner Bob Bond has had far more than the normal allocation of Mopar over the years and we'll let him take up the story: "The Chrysler Windsor was a low level entry car. You've got the Windsor, Saratoga, New Yorker then the Chrysler 300. With the Windsor you'd normally get the 383 (aka Golden Lion) engine and bench seats: the plain Jane poverty pack.
"That car (pointing to the one you see on these pages) was unusual because when I saw it online back in 2004 it had factory wire wheels, wide whites, all white car, cloth inserts in the trim, fully carpeted, swivelling bucket seats 413 engine with Torque Flite, which is unusual – you don't normally get that until you get up to the New Yorker range - dual exhausts. It was an optioned-up car – somebody had done a nice job. Plus it had the pink metallic type trim with the houndstooth pattern.
"It had undergone a full rotisserie restoration in South Carolina in the USA."
Standard you got the 383 RB motor, which the corporate historians swear was produced for two years only as a stop-gap for Windsors and Saratogas. It was built at the same time as the much longer-lived Dodge 383, which has led to all sorts of confusion over the years. Chrysler owners have been known to switch powerplants in favour of the Dodge, simply because parts availability is better. That of course has some risks for the long-term value.
Typically both the 383 and 413 fitted to a Windsor would run a single four-barrel carburettor, though there was a dual-carb version of the 413 for the upmarket 300 series.
In single carb form, we're talking good horsepower numbers: 305 for the smaller powerplant and 340 for the larger.
Canadian-built cars are another story again, and generally were fitted with a 361 shared with Dodge and DeSoto.
Now if you're examining the engine on these pages, there's a bit more info to get your head around. This car was originally optioned up with a 413 Golden Lion and has since been modified with a 1960 crossflow manifold with twin Edelbrock carburettors. Got all that?!
As you'd expect, the pushbutton three-speed Torque Flite auto was the transmission of choice for most – it was tough and people loved the whole pushbutton thing.
Because Windsors were the starter car for many, not a lot have been rescued, while examples like this – optioned up to the hilt to effectively get something close to a New Yorker or even 300 series – are rare.
Bob has had to do little to it since, other than the usual maintenance you'd expect for a car that spends a fair bit of time idle.
We reckon it would be hard to beat on the right day, top down, the big eight burbling away…
OPTIONS
Do you reckon you're pretty flash with the cruise control in your latest transport of delight? Chrysler offered it back in 1959. How this one worked is you dialled in (literally) the desired speed, and kept accelerating.
The pedal would push back to signal when you'd reach the desired speed, then you could tap a confirmation button and it would hold it there.
A quick dab of the brakes would disengage it. Pretty neat, huh?
THE OWNER
BOB BOND
IT WAS a nice car – I was bidding on it and contacted the owner. He said he wanted $38,000, which was a fair bit of money and out of my price range. The bidding finished on 25, so I rang and said what would you take, expecting him to say 34 or 35 – he let it go for 28. I thought 'wow, that's good'.
   But the photos weren't all that good. No good close-ups, so I was a little unsure but thought I can't go wrong at that price. While I was paying him he said I have another car here, why don't you buy that one as well – a 1959 Plymouth Sport Fury convertible. Also full rotisserie resto, red on red, you can have that for the same price.
But I was a little dubious because I'd never dealt with the guy before, I didn't want to commit for two cars  and get stung and we didn't have the money anyway.
As soon as the Windsor arrived it was a glamour car – beautiful, exactly as he said. I rang about about the Plymouth and his response was, "I said you should have bought it, it's gone!"
Vital Stats
1959 CHRYSLER WINDSOR
BODY: Two-door convertible
WEIGHT:  1700kg
ENGINE: 383 or 413 RB series OHV V8
TRANSMISSION:
3-speed Torque Flite
SUSPENSION:
torsion bar front, leaf spring rear
BRAKES: power-assisted drums (f/r)
POWER:
227kW – 383ci (6.3lt)
254kW – 413ci (6.7lt)
Unique Cars magazine Value Guides
Sell your car for free right here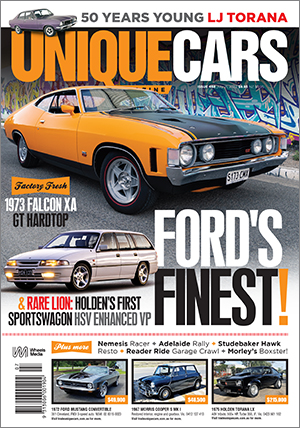 SUBSCRIBE TO UNIQUE CARS MAGAZINE
Get your monthly fix of news, reviews and stories on the greatest cars and minds in the automotive world.
Subscribe