Shelby Mustang 1965 Review
---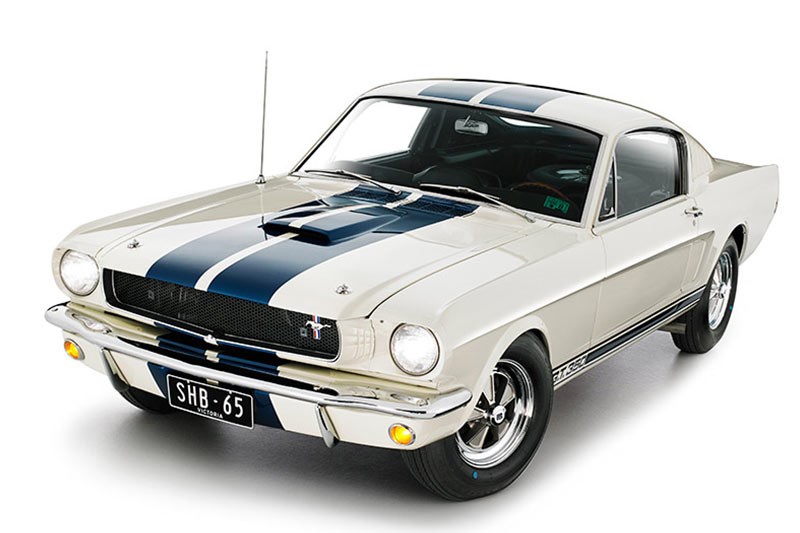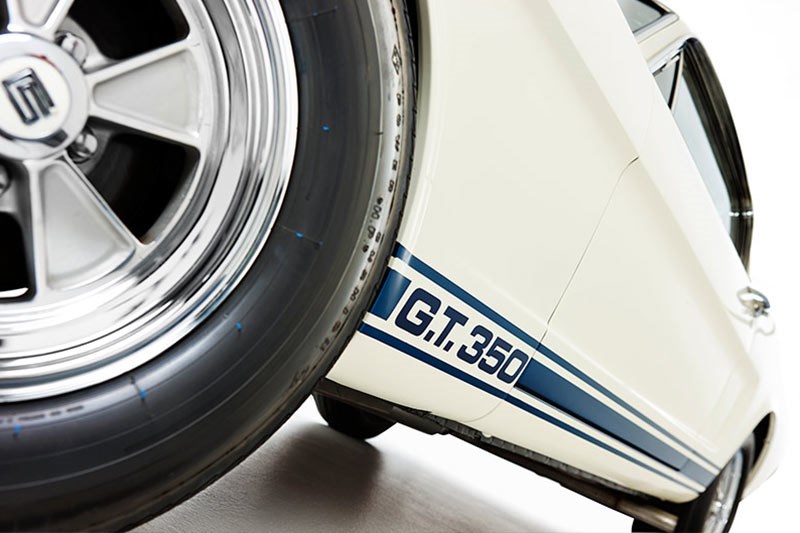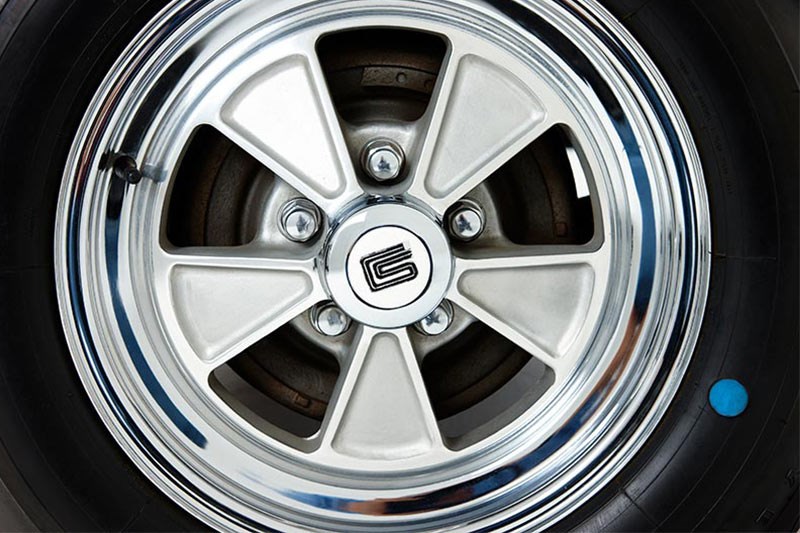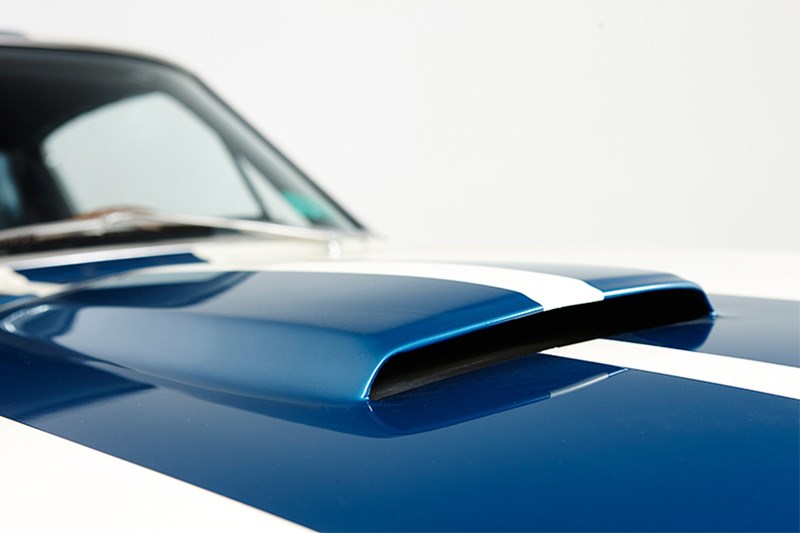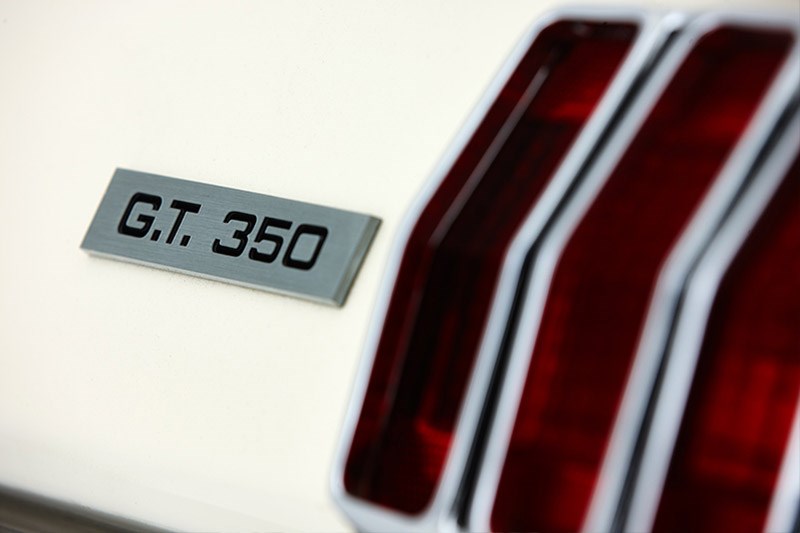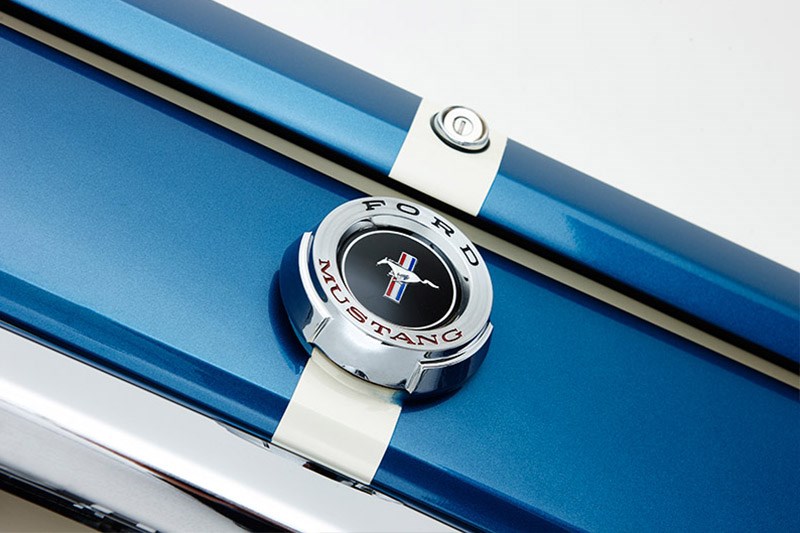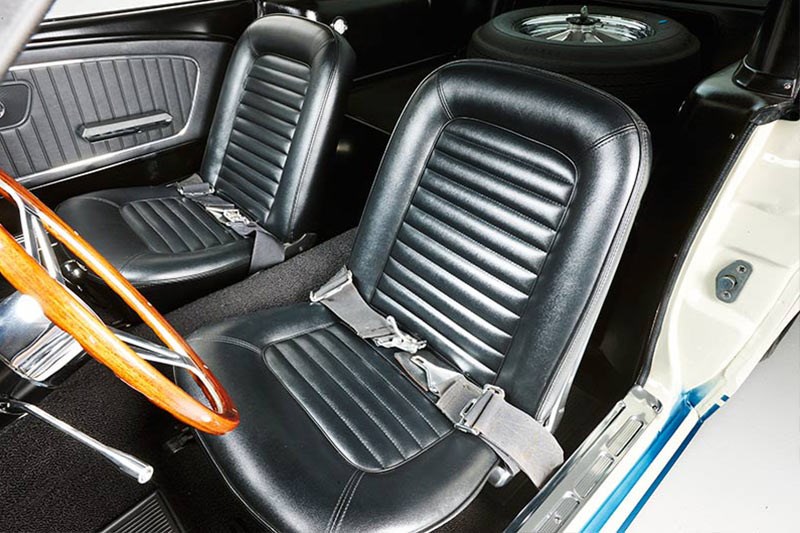 Carroll Shelby's Mustangs are highly-prized among collectors. Here's how they came about
Shelby Mustang 1965
It was a weird time for Ford. In 1964 it had effectively walked away from an industry-wide agreement to stay out of racing. Not only that, but it had swung 180 degrees, adopting a corporate mantra of "total performance", where it aimed to shed any hint of being a staid builder of dowdy family cars and see real performance machines as the showroom heroes. To a significant extent, the wildly successful 1964 launch of the Mustang went a long way towards that goal, but that wasn't enough.
Ford was involved in Carroll Shelby's earlier Cobra project, providing direct tech input, plus it had sniffed around buying Ferrari and subsequently developed the Ford GT40. This was a company that was more than a little serious about changing its image.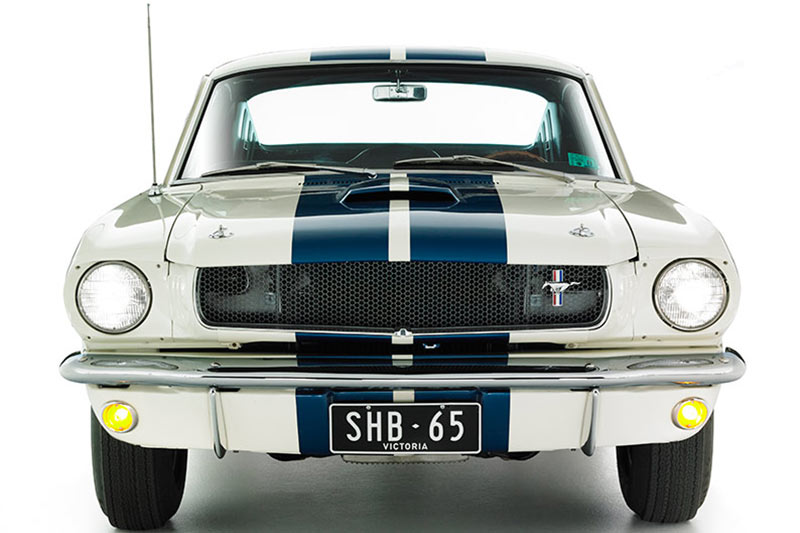 The problem for the Mustang was, though they were selling like the proverbial hotcakes (in fact one hotcake retailer advertised his hotcakes were selling like Mustangs…), they had no race history. Ford's first move was to approach the all-powerful Sports Car Club of America (SCCA) – which ran some hugely influential championships – to have the Mustang accepted as a sports car. It bluntly refused, citing, among other things, that it had too many seats – two or less was the correct number.
Rather than risk a major diplomatic incident, Ford backed off.
Instead, it turned to Shelby, who already had close ties to the company, thanks to the Cobra. He confessed in later years that he was at first dismissive of turning what he described as "a secretary's car" into a race-winner. But there is such a thing as commercial reality. The Cobra was a niche product and, if Shelby American (his race and construction company) wanted to stay in business, maybe he should take a harder look at what could be done.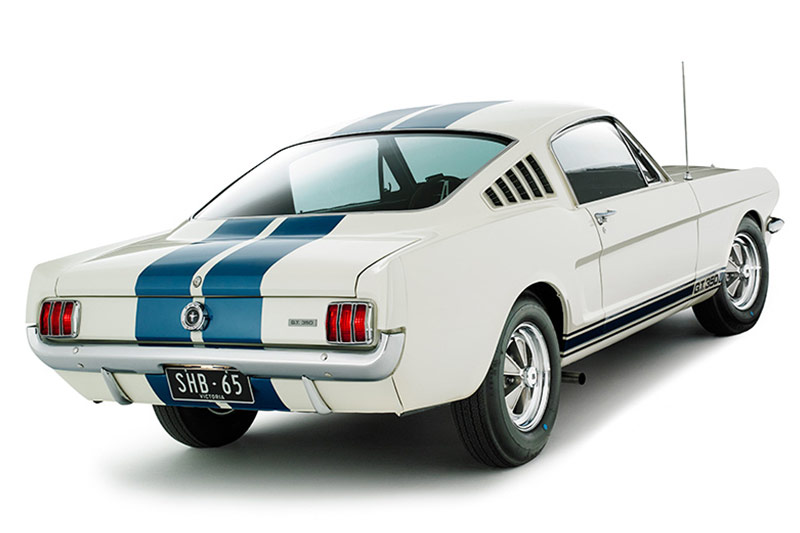 Given his wide and legendary success on racetracks around the world, Shelby's network among the motorsport fraternity was as good as it gets. His first move was to get in touch with John Bishop, who at the time was a friend and director of the SCCA. The question was simple: what do we have to do to make the Mustang acceptable for the sports car championships? Simple, really. Lose a couple of seats, make it fast enough to be competitive, oh, and by the way, you need at least 100 cars to meet our homologation criteria.
That was late 1964, and Shelby wanted a start in the 1965 championship. Time was desperately short. At the time Shelby had his hands pretty full. The 427 Cobra project was about to start, the Sunbeam Tigers (another Ford V8-powered bitsa with Shelby involvement) were about to go racing locally, and the GT40 project – which was in trouble up to this point – was being dropped in his lap.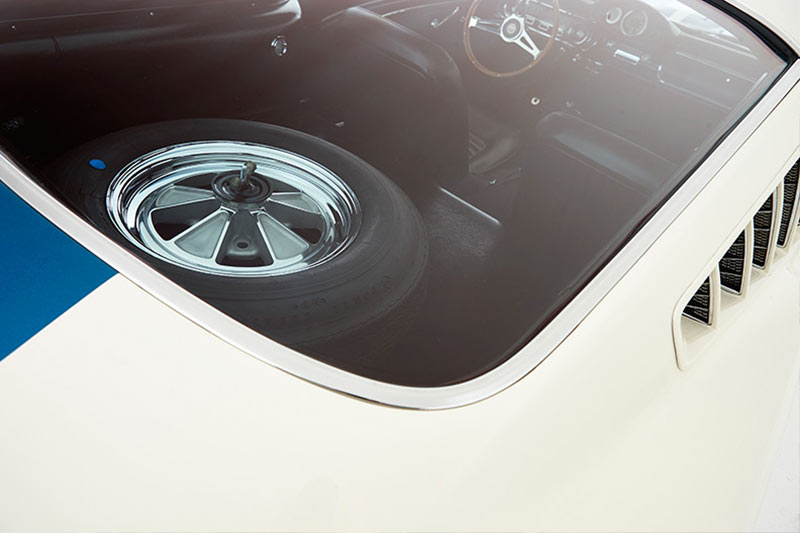 Much of the development of what was initially called the Cobra Mustang project, fell to former GM employee and SCCA director Chuck Cantwell – a recent hire at Shelby American. Another famous name emerged as a key player – Peter Brock. (Not 'our' Brock, but the American version!) Still active today, Brock made a name for himself in the late 1950s as the youngest member of the design team on the Corvette StingRay. He subsequently became one of Shelby American's first employees and, when he wasn't designing car components, was an instructor at the company's performance driving school. It was he who is credited with coming up the white with blue stripes livery.
Just as an aside, white with blue stripes was considered as the American international race livery, something which rose to prominence with famous steerers such as Briggs Cunningham, who was at the height of his fame in the 1950s. However the big stripes across the top of the car were an extra cost dealer-fitted option.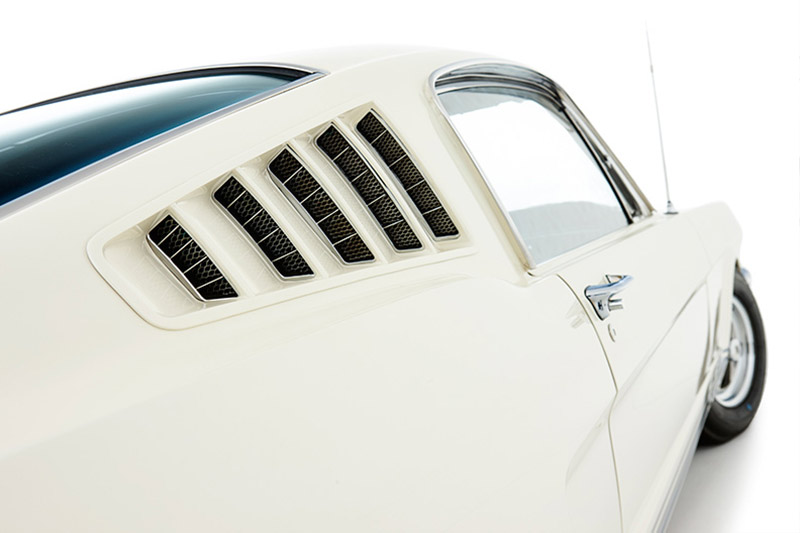 SCCA rules allowed the homologation road cars to have a modified chassis or engine, but not both. The crew at Shelby figured the smartest route was to give both road and race versions the modified chassis. The limited number of hotted-up engines required for the track cars would then run a lower risk of warranty claims.
Road cars were then fitted with the factory hi-po version of the 289 V8, claiming some 306 horses, while the R-spec track-car engines claimed 350.
Tied to that lot was a T10 Borg Warner four-speed transmission, and a Detroit Locker diff with a 3.89:1 ratio.
The chassis received plenty of attention: relocated front suspension arms, bracing for the engine compartment, Kelsey-Hayes 11-inch discs on the front, Fairlane station wagon rear drums, harder suspension rates with Koni dampers, beefed-up shock absorber mounts and rear traction bars.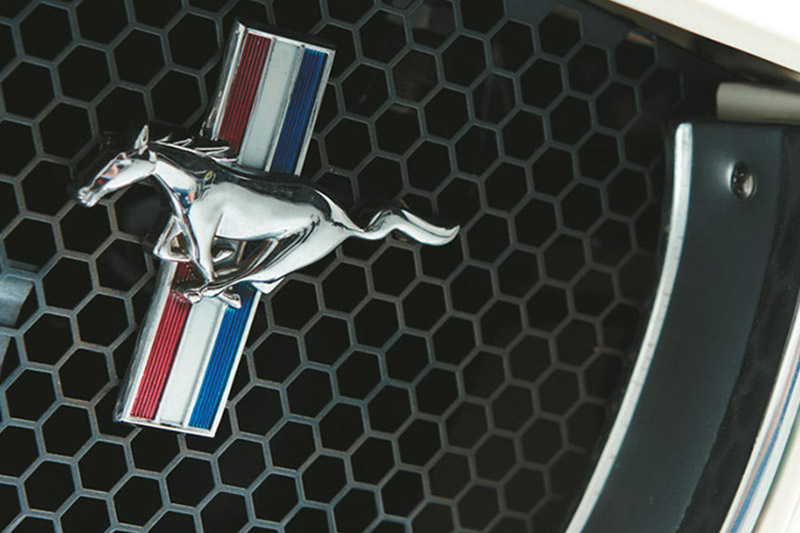 As for appearance the engine bay was dressed up extensively with a 715-cfm 4-barrel Holley carburettor, bigger headers, and bespoke alloy pieces, including Cobra-branded rocker covers. Externally, the side-exit pipes were an immediate give-away, while the Brock-designed Cragar wheels you see here were an extra-cost option. Standard rims were painted steel, which did nothing for the looks of the car and few survive today.
Inside, the road cars were fairly Spartan but scored a centre pod on the dash (again a Brock design) featuring an oil temp gauge and tacho. Gone were the rear seats, replaced with a shelf holding the spare wheel, the seatbelts were three-inch race items while the steering wheel was a distinctive wooden-rimmed item.
How much? When a Hi-Po 289 Mustang would set you back $3400, a GT350 cost $4500, or $5950 for the race-prepped R version.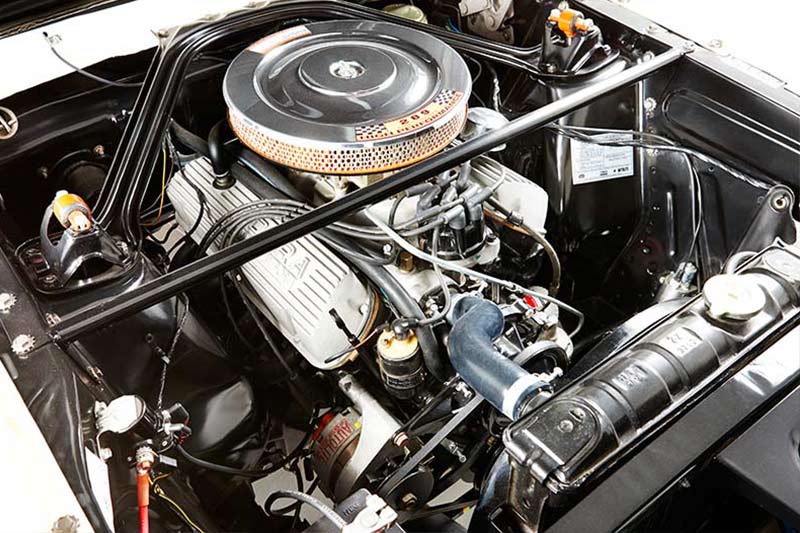 Just 526 of the 1965 road cars were made (less than a quarter of what was built the following year) and 36 racers, including two prototypes.
So what were they like? In Ford's view, they would always be a narrow-focus car with a limited audience – a hero model. Former Car and Driver magazine publisher William Jeanes summed up the difference between a stock Mustang and the Shelby GT350 road car: "One was a mannerly pony car that excelled in popularity, sales and acceptance – a sensible fun car. The other was a loud, rough and scary… a pit bull of a car that stole your heart."
As for the track cars, Ford very quickly got its wish. Despite the modest numbers that actually saw competition, they had a huge impact. Jerry Titus famously won in the car's first outing (in prototype number 2), while he and others went on to considerable further race success with the machines.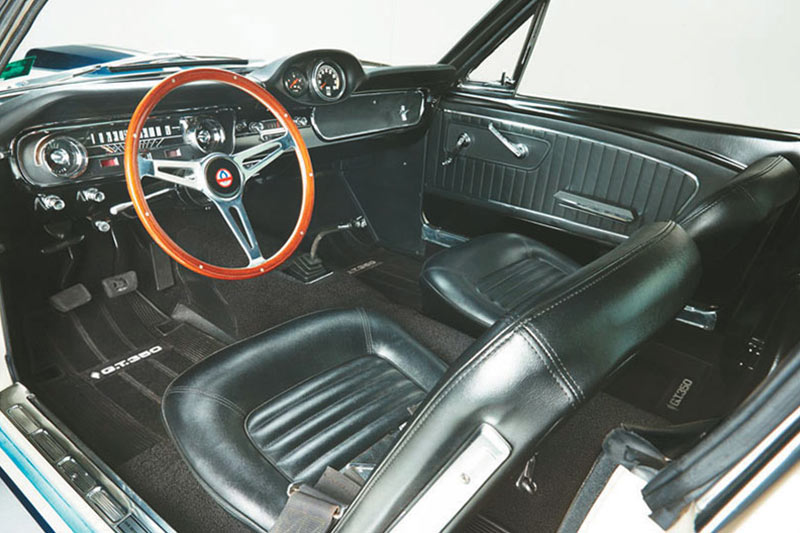 First-Gen Shelbys
First-gen Shelbys are highly-prized for their raw race car feel, but Ford saw an opportuunity to civilise the road cars a little and widen their market.
The first issue however was to make an even bigger visual difference between this and the stock Mustang fastback. While the owner of the latter could mimic the Shelby paint, for 1966 the stylists introduced a rear quarter panel window plus working air ducts for the rear brakes for the Shelby.
In the meantime the factory re-introoduced four seats to the car (the 'old' homologated 1965 models were fine for racing for some time yet) and added a few more creature comforts.
While this added a little weight to the car and offended some purists, sales leapt by a factor of four that year.
Unique Cars magazine Value Guides
Sell your car for free right here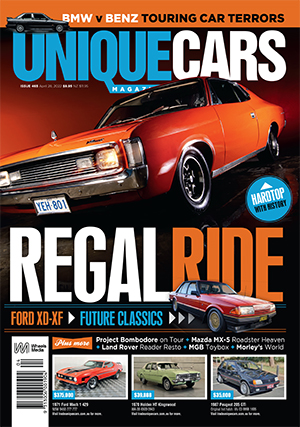 SUBSCRIBE TO UNIQUE CARS MAGAZINE
Get your monthly fix of news, reviews and stories on the greatest cars and minds in the automotive world.
Subscribe