Monaro value guide
---
Join us for a walk through some real word sales results for Monaros
Monaros have been in the news lately, given the stunning result at the Shannons Sydney auction, where a one-owner survivor HT GTS350 scored an incredible $225,000.
However data over 2015-16 suggests that we saw an exceptional result. Below are figures taken from a wider sampling.
Also, you might like to join us for one of our favourite long-term Monaro owner stories, right here.
Market update - November 2016
NOBODY WAS more surprised than Holden and its fledgling Dealer Team when their 350-engined GTS managed an unlikely Bathurst 500 win against purpose-made Falcon GTHOs. The 327 that won a year earlier certainly had the 'wood' on Ford's XT GT but the HT's success was unexpected.
Equally surprising was the general lack of interest in competition Holdens that prevailed pretty much until 2003-04. That was when 'Bathurst' Monaro values took off like they had a cracker up their clacker.
Some vendor expectations at the time were beyond ludicrous but cars in outstanding condition deserved to sell for $200-240,000 and some did. However the market since 2008 has contracted to the point where outstanding examples will be hard pressed to currently better $180,000. Genuine show winners or cars with potential to bag trophies at the pinnacle of concours d'elegance competition will do a bit better.
Manual cars cost $15-30,000 more than automatics - these available only in HT trim. However the two-speed auto is an excellent choice for owners who just want to cruise around in their Mountain Tamer. Scarce colours add a little to value but condition is the factor that will ensure a 327 or 350-engined GTS generates maximum money. Documents that track a car's history right back to its original selling dealer make a difference too.
Understanding the chart
Numbers: these figures are drawn from actual sales, not advertised prices.
Condition 1:
Original car in very good overall condition, no work required (not concours).
Condition 2:
Functional, all there, but minor repairs and refresh needed.
Condition 3:
Structurally sound and working, but in need of repair.
I/D 
insufficient data, approximate price range shown.
Concours cars and exceptional survivor cars may attract a premium.
Model                           Year      Cond 3      Cond 2      Cond 1
HK MONARO V8             1968-69 $18,500 $43,000 $62,500
HK MONARO GTS V8       1968-69 $20,000 $54,000 $72,000
HK MONARO GTS327      1968-69 $55,000 $100,000 $165,000
HT-HG MONARO V8        1969-71 $16,000 $40,000 $55,000
HT-HG MONARO
GTS V8                          1969-71 $35,000 $70,000 $100,000
HT MONARO GTS350       1969-70 $55,000 $100,000 $165,000
HG MONARO
GTS350                         1970-71 $25,000 $60,000 $110,000
HQ-HJ MONARO
GTS 4.2 COUPE              1971-75 $18,000 $39,500 $55,000
HQ-HJ MONARO
GTS 5.0 COUPE             1971-75 $22,000 $48,000 $63,500
HQ-HX MONARO
GTS 4.2 SEDAN             1973-77 $9500 $24,500 $36,000
HQ-HX MONARO
GTS 5.0 SEDAN              1973-77 $11,500 $29,000 $42,000
HQ-HJ MONARO
GTS350                         1971-74 I/D $65,000 $92,000
HQ-HJ MONARO LS
V8 COUPE                      1971-74 $9500 $26,000 $35,000
HQ-HJ MONARO
LS350 COUPE                 1971-73 I/D $48,000 $70,000
HX MONARO
LE COUPE                       1976 $16,000 $39,000 $54,000
Unique Cars magazine Value Guides
Sell your car for free right here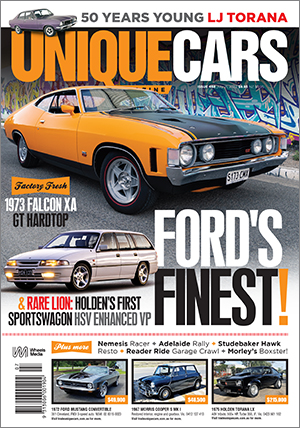 SUBSCRIBE TO UNIQUE CARS MAGAZINE
Get your monthly fix of news, reviews and stories on the greatest cars and minds in the automotive world.
Subscribe