Porsche 996 Turbo Cabriolet - Video test
---
Often overlooked, the first-generation liquid-cooled Porsches are starting to look like very good value for money. Here's one that offers a lot of performance and fun...
It's not every day we get to say that $125k is not a lot of money, but in this case that's about right. Look at it like this: premium Euro soft-top, all-wheel-drive, five-speed Tiptronic shifter, over 300kW on tap and a top speed of over 300km/h.
See what I mean? It is actually a lot of bang for the buck.
This represents the last of the 996 generation Porsches, which all too often is overlooked by enthusiasts. There were two issues: one was a resistance by the 'traditionalists' to make the leap from air-cooled to liquid-cooled engines; The other was there were some mechanical teething issues on the early motors.
The latter would have been well and truly fixed by the time this car came along and, overall, Porsche has an enviable reputation for reliability
As for air-cooled versus liquid-cooled, air-head prices have gone ballistic and the fact is you can get a better-performing waterjacket car for much less expense.
We borrowed this one from Lorbek Luxury Cars in Melbourne for a quick squirt. Impressions? Luxurious, surprisingly supple ride given the enormous performance potential, and overall something that you'd have no drama with in day-to-day traffic. And yes, nail the throttle and the thing goes like a scalded cat.
One aspect that's really worth highlighting is the all-paw drive. This negates the usual 911 reputation for being tail-happy in rear-wheel-drive form. I'm not sure I'd lend it to my 21-year-old nephew, but anyone with a few more miles under their belt will have no issue with it. I'd take the all-wheel-drive option any day.
The growl of the boxer-six twin turbo engine is addictive and overall the car is a very happy place to be. This example is a low-miler at around 65,000, so it will have a lot of life left in it. Very, very tempting…
Know your 996
INTRODUCED IN 1999, the 996 series lasted to 2004. It was a major remake for the 911 series, including a liquid-cooled powerplant and a complete make-over of the body with a more raked windscreen. Turbo variants appeared at the 1999 Frankfurt show and went on sale in 2000.
SPECIFICATIONS
Porsche 996 Turbo Cabriolet
2004 Porsche
996 twin turbo
ENGINE 3.6lt 24 valve twin turbo boxer 6
MAX POWER 309kW @ 6000rpm
MAX TORQUE 560Nm at 2750-4750rpm
TRANSMISSION 5-speed Tiptronic
WEIGHT 1540kg
0-100KM/H 4.4sec
TOP SPEED 306km/h
WHERE lorbek.com.au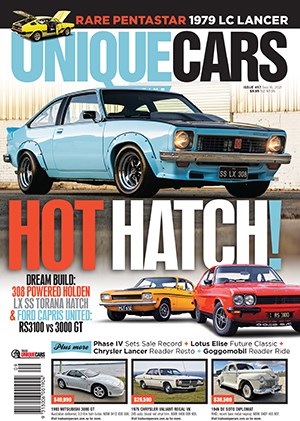 Subscribe to Unique Cars Magazine and save up to 42%
Australia's classic and muscle car bible. With stunning features, advice, market intelligence and hundreds of cars for sale.
Subscribe