Driven: 1985 Renault 5 Turbo 2
---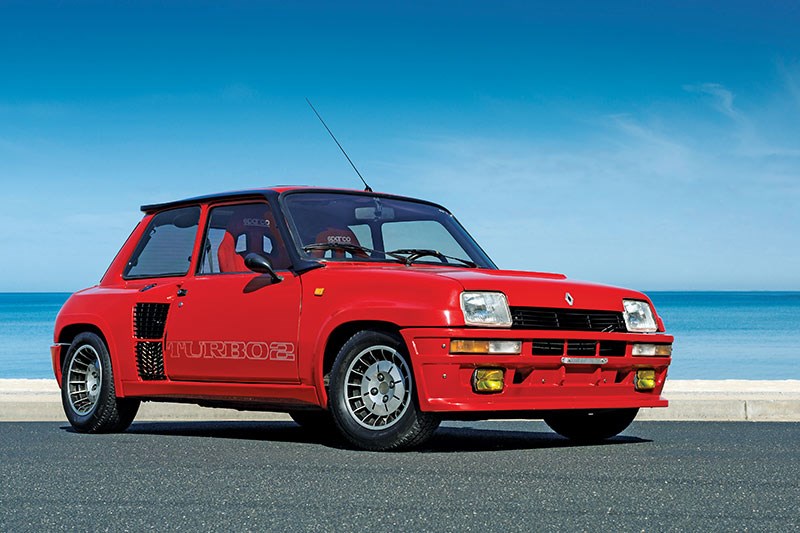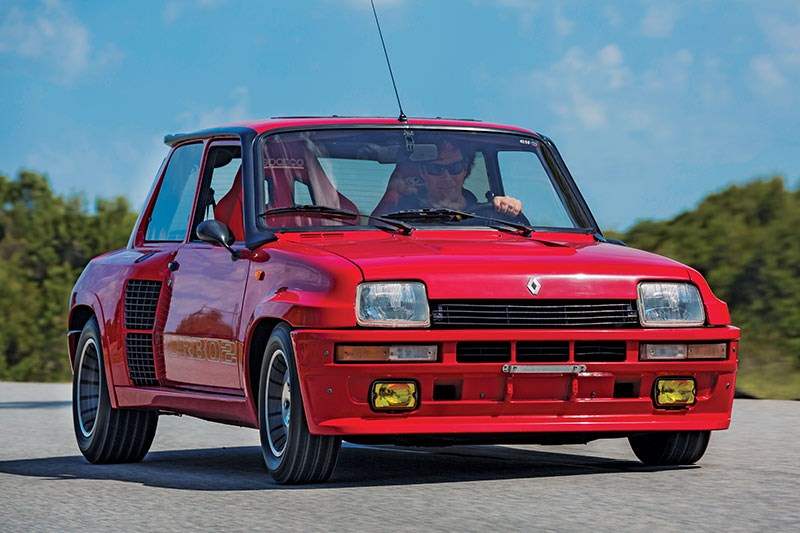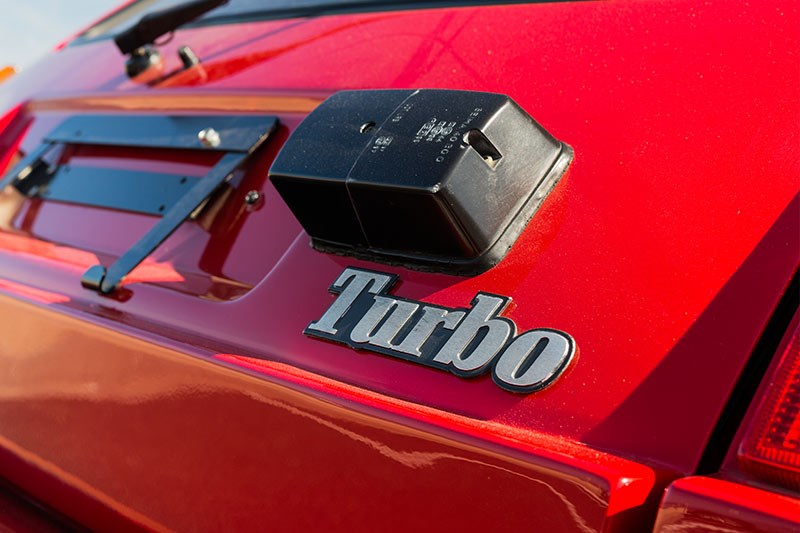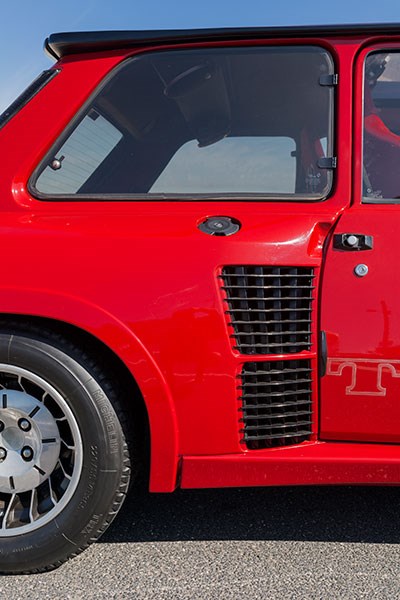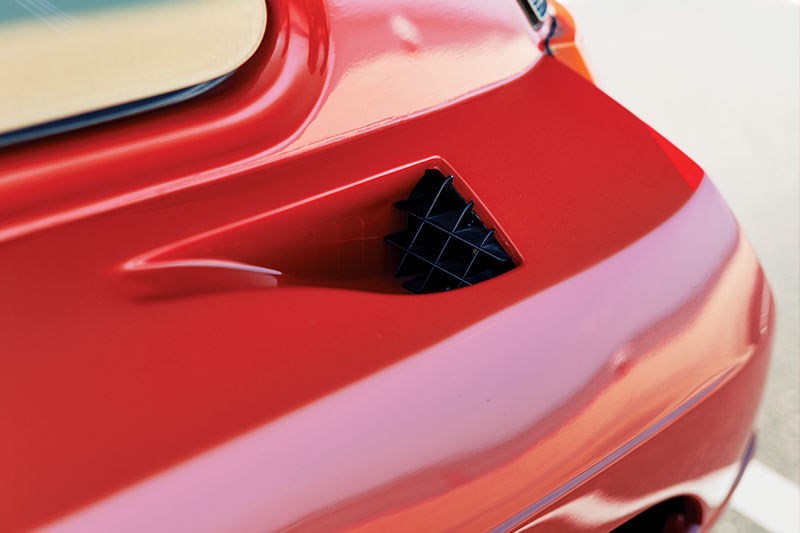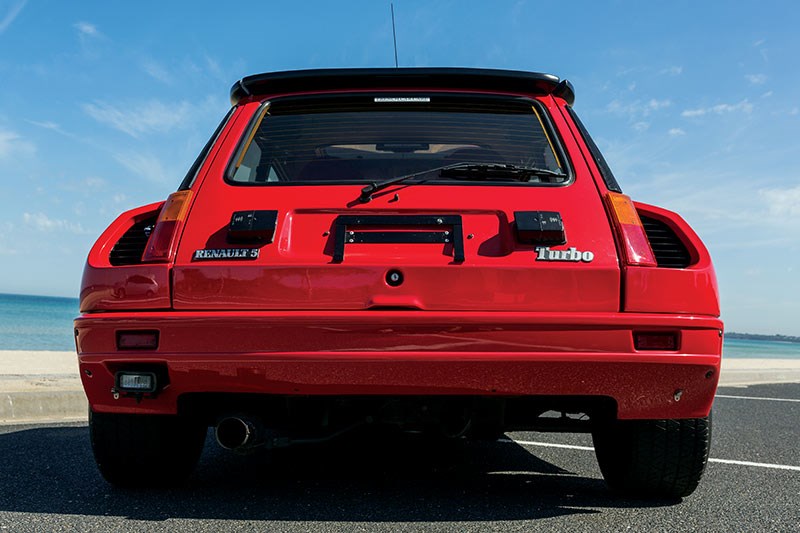 Andy Enright meets a childhood poster car in the quirky 1985 Renault 5 Turbo 2
1985 Renault 5 Turbo 2 
On the face of it, this car shouldn't really be keeping me awake at night. It's a hatchback with a 1.4-litre four cylinder engine that cranks out a mere 119kW. Yet the Renault 5 Turbo II comes with a certain amount of baggage; a reputation as a malevolent ditch-seeking missile that requires the reflexes of Ragnotti to tame. What's more, this one has just been sold for the sum of $89,990, which brings a little more consequence to 'you bend it, you buy it'.
Small wonder the palms are a bit clammy when I accept the tiny key from Paul Sabine at Brooklands Classic Cars in leafy Cheltenham.
The fat, oversquare footprint of the R5 Turbo II brings to mind another famously spiky mid-engined handler, the Lancia Stratos, and the comparison is apposite. Back in the 70s, Renault 5 Alpines driven by Jean Ragnotti and Guy Fréquelin punched well above their weight in international rallying, scoring second and third places in the Monte-Carlo Rally, but it was clear that the front-wheel drive Alpines were fighting a losing battle over the course of a season.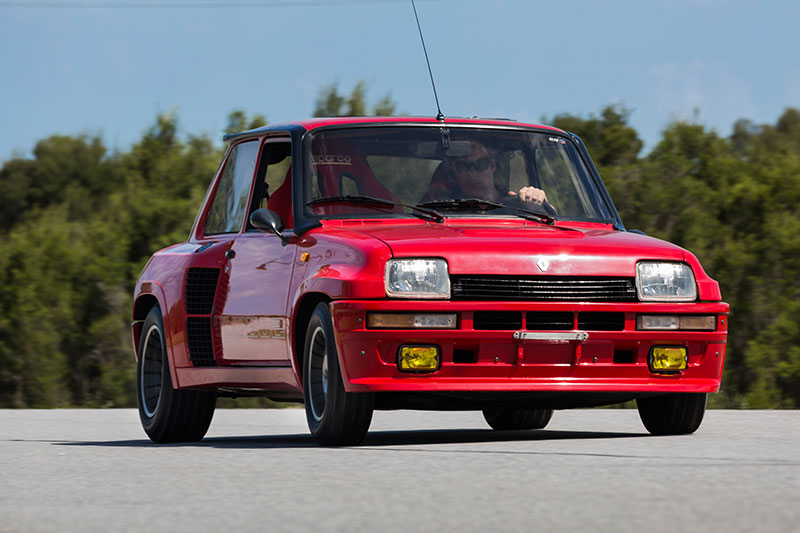 The Gandini-styled Stratos proved the inspiration. As Lancia cleaned up the 1974, 1975 and 1976 rally championships, Renault felt it needed a riposte and copying a winning formula seemed as good a solution as any. In 1976, Marc Deschamps, head of Renault's design centre at Rueil, was commissioned by Renault's production VP, Jean Terramorsi, to design a mid-engined rally weapon based on the Renault 5. Sadly, Terramorsi never saw the plan to fruition, passing away within the year, leaving his successor, Henri Lherm, to carry the project on. Dubbed Project 822, the homologation car was was developed at the Alpine works in Dieppe by a close-knit team of four. Lherm headed up the skunk works, with former Le Mans winner Gerard Larrousse in his role as head of Renault's competition department, and engineer Michel Tetu working hand in hand with engine guru Bernard Dudot.
The brief for the project was simple. Renault wanted "a powerful manoeuvrable car, with excellent road holding. It must not exceed a weight of 810kg."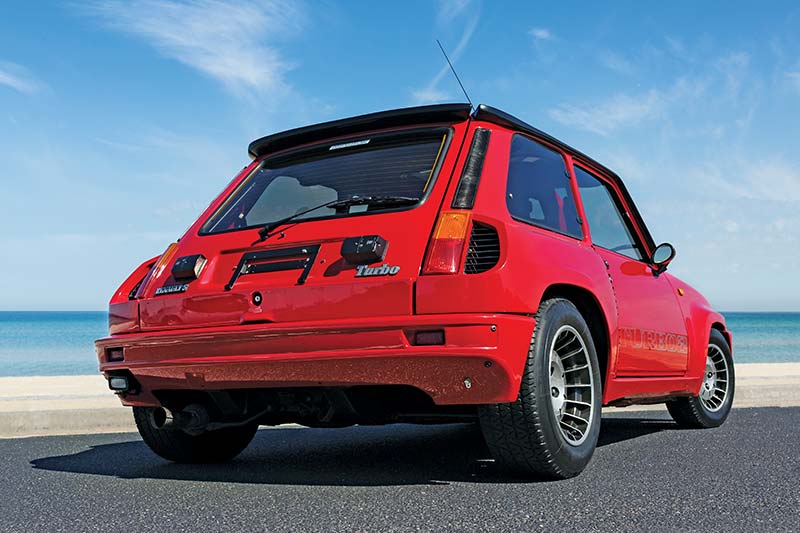 Several engines were considered, from the hefty 2.7-litre Douvrin in the Renault 30, to the 2.0-litre lump from the 20TS. Eventually Renault settled on a turbocharged 1397cc four, which would comply with the 2.0-litre rallying regulations of the time, which applied a 1.4x multiplier to forced induction engines.
Marcello Gandini at Bertone fettled the initial Deschamps design and coachbuilder Heuliez also weighed in, the car making its public debut at the 1978 Paris motor show. Straight off the bat, the 5 Turbo had a bit of a weight problem. The Group 4 regulations stipulated a minimum weight of 845kg, but even with its plastic fenders and aluminium doors, hood, roof panel, and hatch, the street version tipped the scales at a big-boned 970 kg. It was also about as aerodynamic as a blimp shed, with a drag coefficient of 0.44.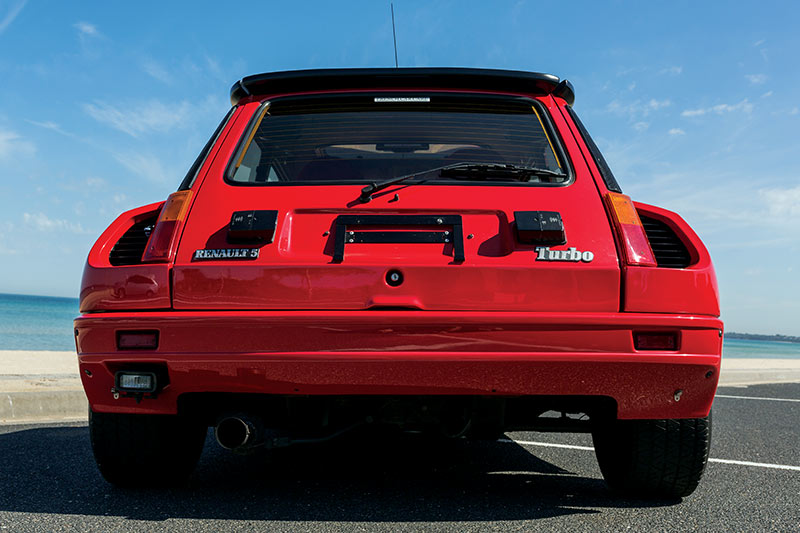 Despite the lairy styling, the engine work wasn't anything too adventurous. The old Weber carbs were ditched for Bosch K-Jetronic mechanical fuel injection, but otherwise the 1397cc engine featured only a pair of valves per cylinder and used neither overhead cams nor dry-sump lubrication. The compression ratio was eased back from 10.0:1 to 7.0:1 to handle the 0.9 bar assistance from a single Garrett T3 blower. The single NACA duct on the car's nearside rear guard directs air to an intercooler, the other flank housing the filler neck for the centrally located 93-litre fuel tanks, sited where the rear footwells would be.
That original R5 Turbo was a specialist thing that cost a huge amount to produce. After some effort, the requisite 400 cars were built by the end of 1980, allowing the car to complete its Group 4 homologation in time for the 1981 Monte Carlo Rally, in which Jean Ragnotti achieved the mid-engined Five's first WRC victory. He followed that by winning the Tour de Corse in May 1982.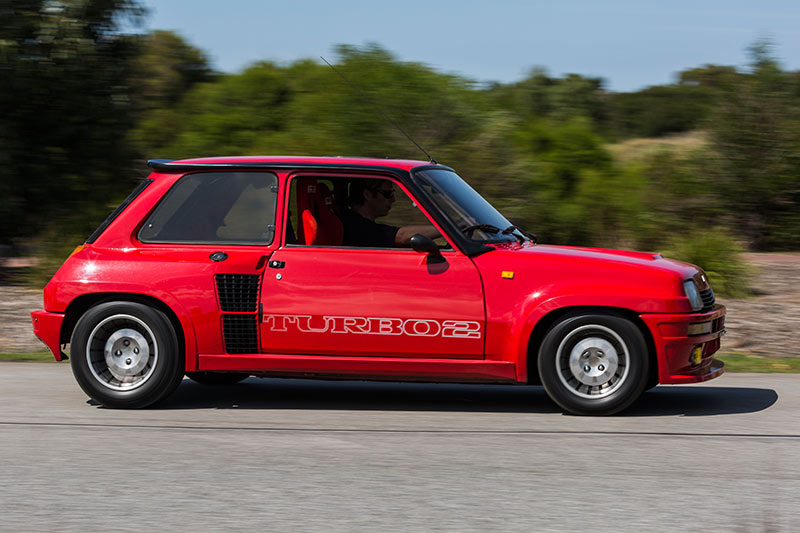 In that same year, Renault replaced the R5 Turbo with the car you see here, the cheaper Renault 5 Turbo 2. It used the same engine and layout as the original but it ditched the custom interior for a version of the R5 road car's and a also exchanged the expensive aluminium exterior panels for steel, bringing kerb weight up to 1050 kg.
So much for the backstory. Does the Turbo II really deserve its reputation as a tricky handler? The engine takes a little coaxing into life, the revs rising and falling at idle. First impression? This thing is loud. The engine sits right behind the small of your back, underneath a carpeted plywood box which does little to prevent heatsoak and noise filling the cabin. Visibility out is good with plenty of headroom, although the tiny door mirrors just
provide a view of the rear haunches. The Sparco bucket seats are cut more generously than they look and the pedal positioning on this left-hand drive car is spot-on.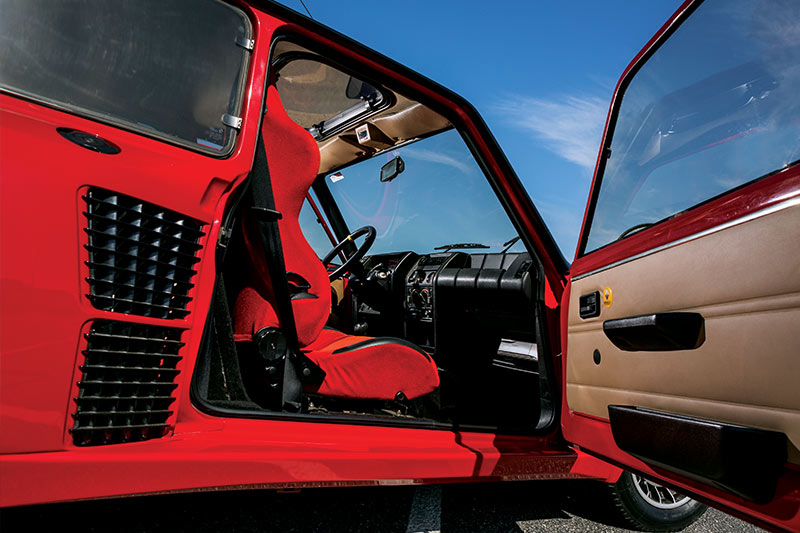 Gear selection is a trickier process than anticipated. The lever naturally detents to the third/fourth plane but move it to the left by about a centimetre and you're selecting reverse. Somewhere between those extremes lie first and second. Even when shifting up and down the gate, it's possible to hook fourth from first. Pulling away from lights is a lucky dip between first and third. I guess it would get easier with familiarity, but it's not a car that's instantly forgiving.
Successfully select a suitable gear, negotiate the high clutch and it's game on. The unassisted steering jinks and bucks in your hands, the 40/60 front/rear weight distribution giving it a perky feel. In certain regards, the initial impression is not dissimilar to a second-gen Toyota MR2 Turbo, another mid-engined car that enjoyed a reputation for 'interesting' handling.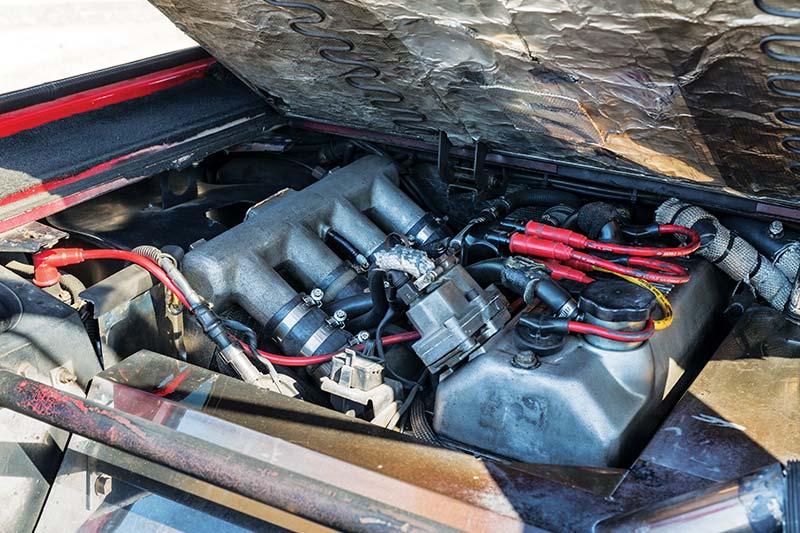 Ride quality is very good, with the double wishbones rear suspension and balloon-sidewalled Michelin TRX metric-fit tyres (190/55HR340 up front and 220/55VR390 at the back) offering plenty of compliance. Turn up the wick and the fun starts at 3,500rpm. Turbo lag is predictably hilarious, but get the Turbo II into the latter half of the tacho and it flies. Okay, so it probably seems quicker than it actually is, recording a 0-100km/h time of 6.6 seconds and a 205km/h top end, but it pulls with real verve from 4,000-5,500rpm although in the best traditions of early hot hatches, it always feels as if it has more engine than brakes, the four-wheel vented disc setup from a Citroen CX requiring a hefty shove.
Body roll is well contained, surprisingly so if you're a fan of French cars. Push a little harder and you start to feel the masses in the rear starting to take precedence. Keen to tweak its tail a little, I dip the throttle on an off-camber roundabout and sure enough, the Five rolls into a quick jab of oversteer. You need to be very quick with the admittedly excellent steering to catch it and I'm not keen to provoke the car too much further. All of which
just makes this Renault an intriguing thing to pedal. I can't escape the notion that I'm just clumsily operating the thing, not driving it. Mastering this car's quirks would be enormously rewarding.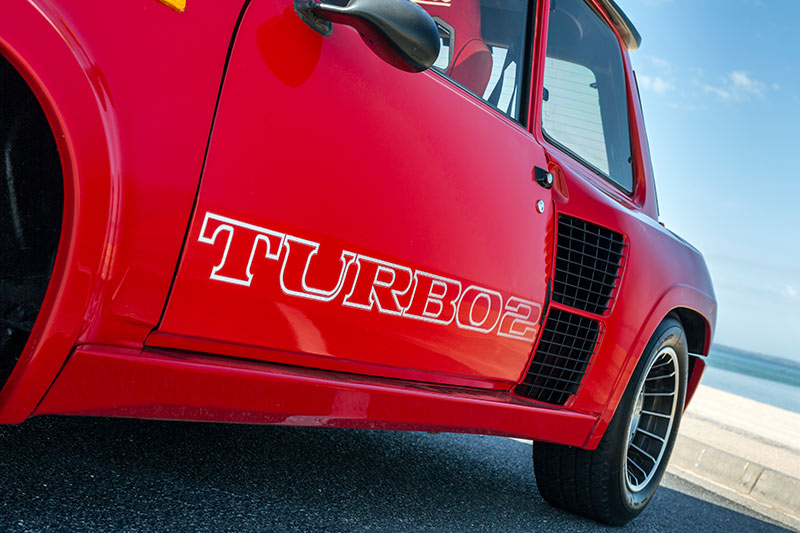 I find myself watching old Ragnotti videos and even the car chase at the start of Bond flick "Never Say Never Again' which features a red R5 Turbo not being driven by the luxuriantly overstuffed Barbara Carrera. Ninety grand might seem like a fair stack of cash for a modestly-powered hatch, but it's been a while since I've driven a car with such a sense of occasion. It attracts grins, waves and cameras. Heads swivel as it rolls past, a sudden fleeting recall of something people hadn't seen since childhood. It's a fantastically feel-good thing.
So where would you put your $90k? Into a depreciation-proof icon like the Renault 5 Turbo II or a specced-up superhatch like an Audi RS3 or a Mercedes-Benz A45 AMG? For me it's an easy decision. They say you should never meet your heroes. That's pure bull. They're heroes for a reason.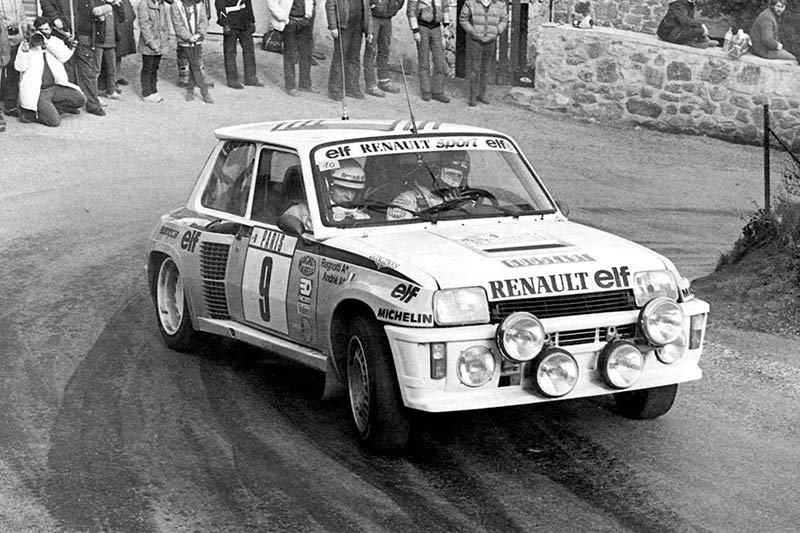 RALLYING CALL
Despite its larger than life legacy, the R5 Turbo's rally success was fleeting. As Renault was busy developing the car, the brains trust at Ingolstadt had started work on the all-wheel drive Audi Quattro, a car that would come to dominate Group B. The last major competition version was the limited-edition MAXI 5 Turbo, of which Renault Sport built 200 copies for Group B homologation. The MAXI 5 featured aluminium roof panels, broader fender flares to allow wider rubber, and a retuned 1,527cc version of the familiar turbo four with less lag and substantially more power: a nominal 350 PS (257 kW).
Jean Ragnotti used versions of the 5 Turbo to win the Monte Carlo Rally in 1981 and Tour de Corse victories in 1982 and 1985, gamely getting the better of many AWD rivals. It proved to be the R5 Turbo's WRC swansong, although the cars continued to compete until the curtain finally came down on Group B in 1986. Thereafter they proved popular in rallycross and ice racing events although today values have risen to such an extent that they've become highly-prized by collectors.
SPECIFICATIONS
1985 RENAULT 5 TURBO 2
ENGINE 1.4 inline 4-cylinder mid-mounted fuel injected petrol
MAX POWER 119kW @ 6000rpm
MAX TORQUE 221Nm @ 3250rpm
TRANSMISSION: Five-speed manual
WEIGHT: 1050kg
0-100KM/H 6.6s
0-400m 15 s
PRICE $89,990
ON SALE Sorry, it's just been sold by Brooklands Classic Cars
Unique Cars magazine Value Guides
Sell your car for free right here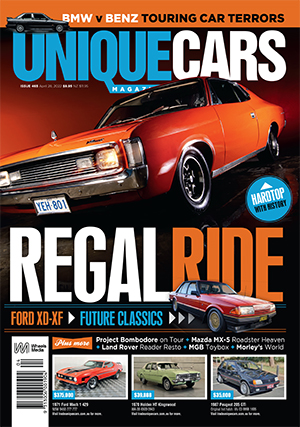 SUBSCRIBE TO UNIQUE CARS MAGAZINE
Get your monthly fix of news, reviews and stories on the greatest cars and minds in the automotive world.
Subscribe