John Mann's 1964 Mustang Racer
---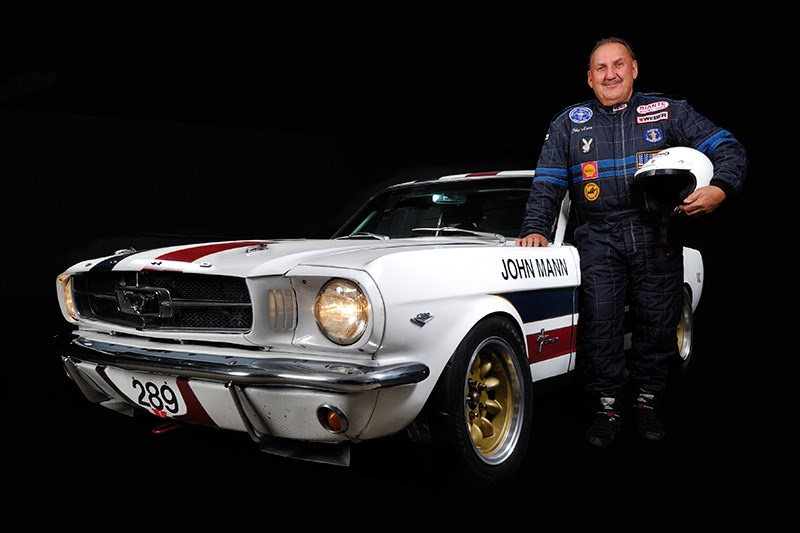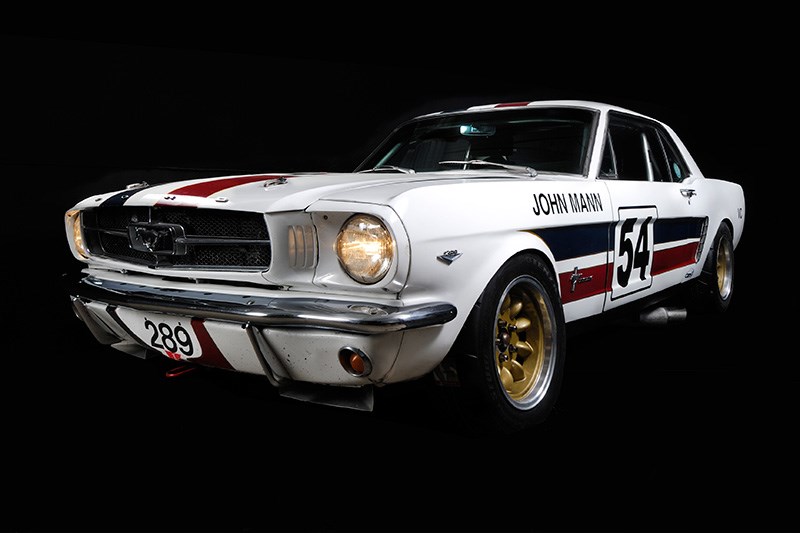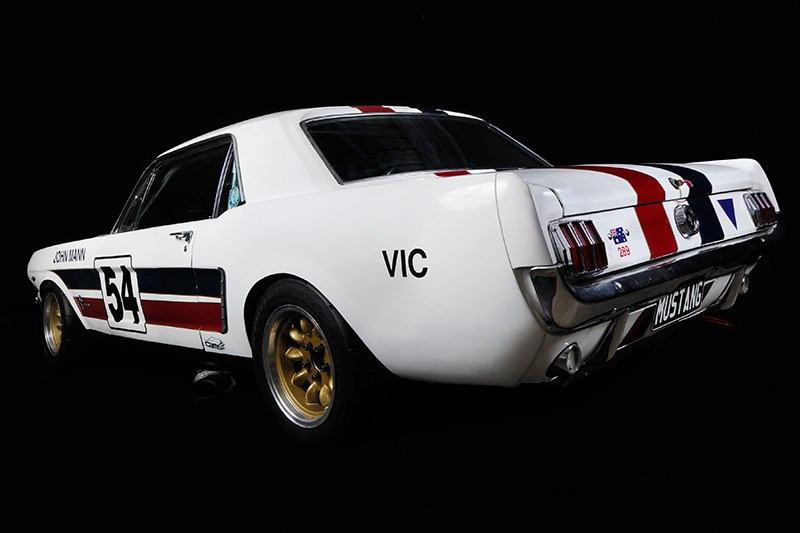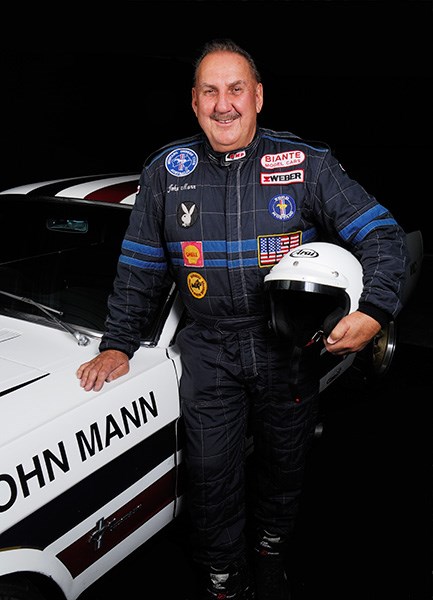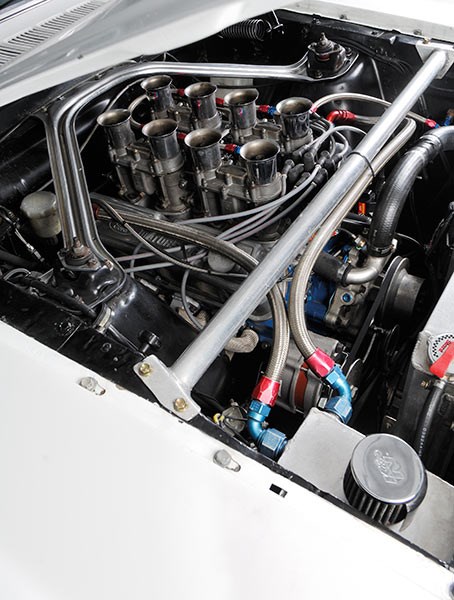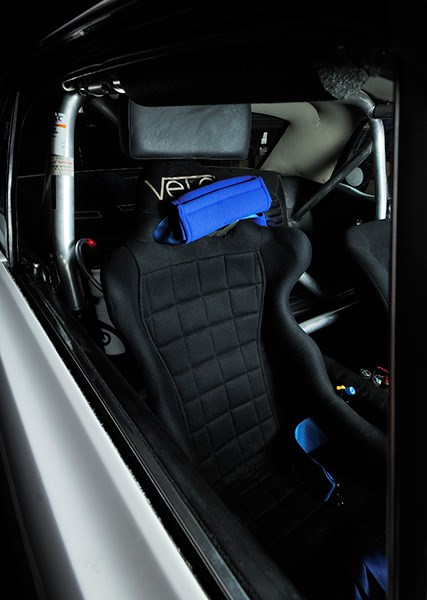 Former Shepparton car dealer John Mann became the world's most prolific winner in a Ford Mustang
John Mann's '64 Mustang Racer 
John Mann is a larger-than-life character, a hard-as-nails tin-top dynamo whose career was only ended by illness four years ago at the age of 70. If not for that he'd probably still be flinging his beloved 1964 Mustang around racetracks and still winning. From 1983 to his retirement, Mann and his Mustang were almost unbeatable and amassed over 440 victories, a feat reputedly unmatched by any other driver and car combination, anywhere.
A contemporary of Brock, Bond, Grice, Geoghegan et al, Mann should probably be a household name like them, but he never sought a factory team drive and only ever contested four Bathurst enduros, choosing instead to live in country Victoria for much of his life and concentrate on business during the years when drivers like Brock became stars in the Australian racing pantheon.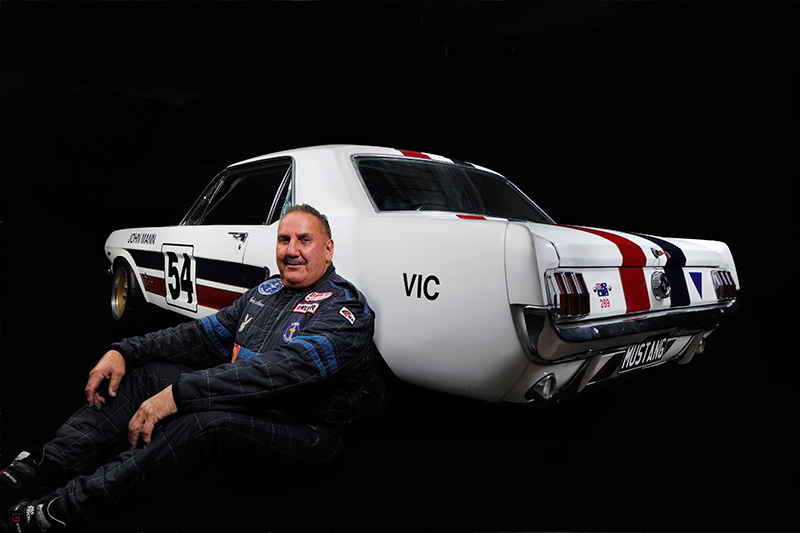 Born in the small town of Jingellic in NSW, he lived on a farm where horsepower meant the beast he rode to school. For fun he had a billy kart powered by a goat, which used to tow him around. When he was 13, the family moved to Katandra-West outside Shepparton, Victoria, and he spent his formative years there. With a welding certificate earned at night school, his first jobs were making hot water services and working in a garage as a "grease monkey". Cars were always on his radar, though.
"My first car was an MG TC that I got on my 18th birthday," Mann smiles. "I paid £45 for it and it took me a year to pay it off. It didn't have a roof, just aero screens, a tonneau cover, a duffel coat and an umbrella. All the boys would go out on Saturday night and race around The Boulevard in Shepparton. I guess I got in trouble with the local coppers a couple of times; well, a few."
The TC was followed by a Morris Major with a bored-out 1500cc engine and Holden pistons. He had his first race in that Morris at the Templestowe Hillclimb where he put it on its side. He also built a Cooper-inspired open wheeler he dubbed the JM Special.
"I'd go to races and measure cars and mark up the design with chalk on the floor of the garage I worked at. It had a 1500cc BMC engine with an upside-down Volkswagen gearbox and rear suspension and Triumph Herald front suspension." He raced it at Winton once but says he went "shithouse" because the front suspension geometry was wrong. "I drove it home to Shepparton, through the SPC cannery grounds and around the streets, but I lost it and put it backwards into a policeman's fence. He told me to get the fence fixed or he'd lock me up." In those days you could get away being a larrikin.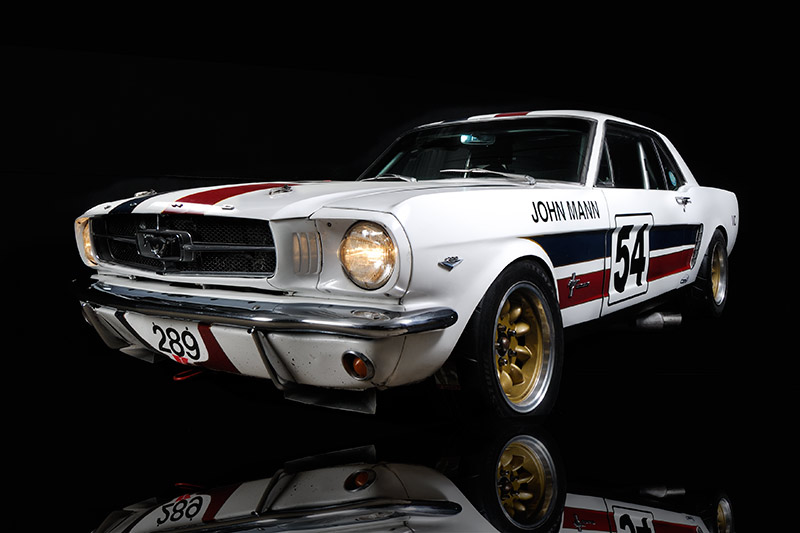 From his earliest days Mann was driven to "get somewhere in life". He remembers looking into a cake shop window when he was a kid and not having enough money to buy a jam tart. He would work days at the garage then do the night shift at the SPC cannery or load semi-trailers to get money. That hunger made him a natural car salesman and after selling cars part-time at the garage he got a job with Shepparton Ford dealer, Smith Motors, in 1964 as an apprentice salesman. He was soon the sales manager making sharp deals, as he recalls.
"When Ford launched the XR Falcon GT, all the country dealers had to take a GT and sell it by a certain date so the car could be homologated for Bathurst," Mann recalls. "But they had no use for gold V8 Falcons with four on the floor, so I went around and swapped their GTs for utes and station wagons. When the GT was released we had 10 in stock and I advertised them in The Age. [Melbourne Ford dealer] Bib Stillwell got on the phone to [Ford president] Bill Bourke and screamed his head off, wanting to know how a dealer in Shepparton could get 10 GTs. Bill rang Bib to say he should employ a young bloke in Shepparton!"
Eventually Mann went out on his own and set up John Mann's Country World of Cars in Shepparton, starting with just five cars on his lot and eventually stocking Jaguar-Rover and other prestige makes. He relocated the successful business to Melbourne in 1982.
While his sales career was taking off Mann hit the tracks in a couple of Appendix J cars, starting with an FJ Holden. "We used to wind the windows down a bit then wrap a leather strap around the B-pillar to stop the doors coming open if you rolled because we had no roll bars, just a lap-sash seatbelt," he winces. The FJ was followed by the ex-Graham 'Tubby' Ritter FX Holden. "We had so much success in that car and still hold the short circuit lap record at Calder," Mann says proudly.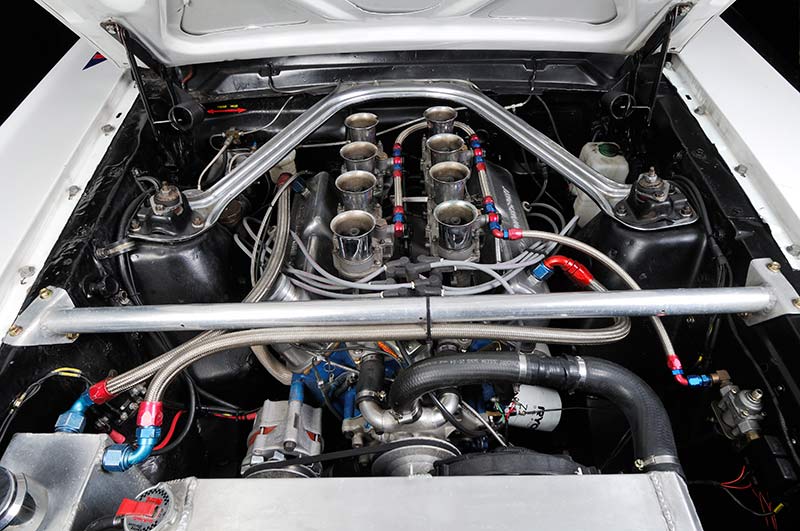 When the Super Six Sports Sedan series started at Calder in 1972, attracting the likes of Brock and Dick Johnson, Mann built a quick but heavy XW Falcon. "I could last in front for six laps then the brake pedal would go to the floor and I'd see four Torana bumpers coming at me in the mirrors." He changed to the smaller TC Cortina, with parts backing from Ford, then at Bob Jane's suggestion went V8 for the new Marlboro Cup series for Sports Sedans. Like Ron Harrop (EH Holden) and John McCormack (Charger), Mann went with the fire-breathing Repco Formula 5000 engine.
"It was a hairy car to drive," Mann smiles. "I was up against Bryan Thompson's Volkswagen, Allan Grice in Frank Gardner's Corvair, Jim Richards' Mustang and John McCormack's Charger but I could never afford new tyres so I'd buy second-hand rubber from Bob Jane." Where did he see himself in the '70s driver pecking order?
"The big names had the money," he shrugs. "They'd have new tyres and brake pads and we couldn't afford them every meeting; we were always off their pace because of money. If I had left Shepparton… Brockie said to me once, 'Why don't you get down to Melbourne, you'll probably get a [factory] drive' but I had my business and it came first."
Mann had just four tilts at Bathurst but only finished the race once, in 1979, when he and Jim Keogh brought their Falcon XC Coupe home in 14th, the first Ford to finish. In 1971 he and Bryan Thomson entered an Alfa Romeo Gulia Super and they teamed up again in a Chevrolet Camaro Z28 in 1984. His last Bathurst blast was with Murray Carter in a Ford Sierra RS500 in 1989. They were all low-budget privateer entries. "They wouldn't have had a race if it wasn't for privateers in those days," Mann reminds us.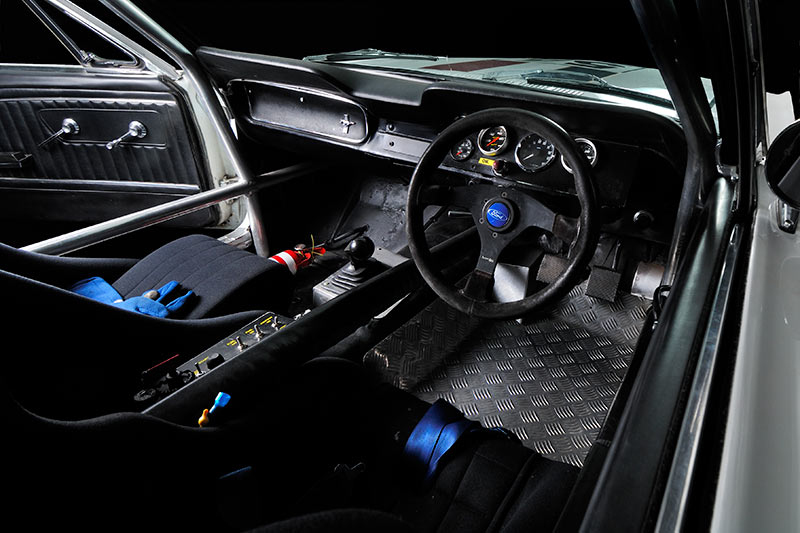 How Mann came to race the world's winningest Mustang goes back to a pub meeting with Denis O'Brien, Paul Trevethan and Barry Jupp in the early '80s. Dismayed that Appendix J cars had morphed into Improved Touring Cars then Sports Sedans, they wanted to get old touring cars back on the racing radar and formed the Appendix J Club. Mann started in a very rapid EH Holden but soon realised he needed more firepower. History was about to be written.
"I bought my '64 Mustang from Des Gibbs for $4800 on June 16, 1983," he says, waving the receipt. It was in pretty sad condition but it was rebuilt and repainted in Pete Geoghegan's racing colours, Mann's tribute to the great man. Mann's son Anthony worked on its screaming Weber-fed 289 V8, which would eventually make almost 500hp and the car's speed and win rate constantly raised eyebrows. Mann says it was 100 per cent legit.
"I used to have my engine inspected all the time then have it sealed," he says, annoyed at imputations that his engine was 'fat'. "Other blokes wouldn't have sealed engines and were cheating but they still couldn't catch me! I drove the tits off it!"
Mann's driving style was wild and exciting and the only time the Mustang seemed to have all four wheels on the deck was on straights. It's hard to imagine such a competitive car being referred to as a French dessert. "A lot of people referred to my '64 as the 'old blancmange' because it used to wobble and move around a lot, but on the tyres we ran on you had to make the car loose to make them handle," he laughs. The fact is, Mann could bloody drive and he was a wily character, too.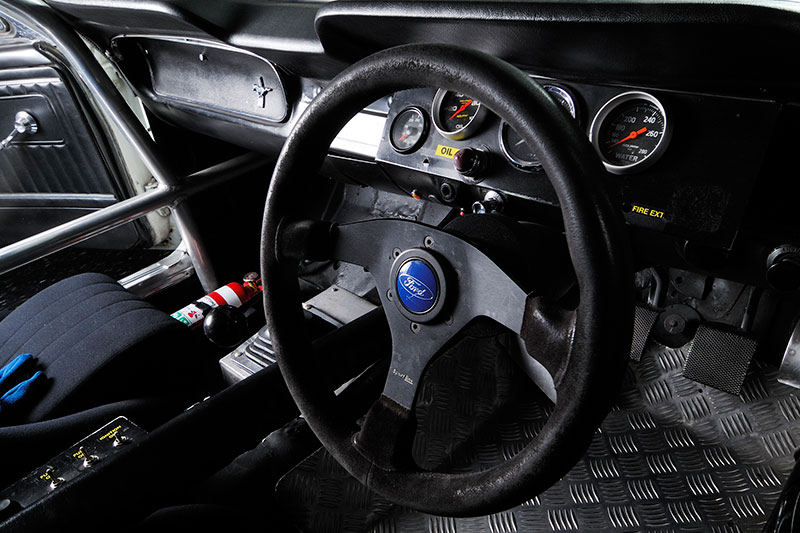 "We always won everything when it rained. I loved the rain but a lot of people didn't know what I did [to the car]. Frank Gardner told me he won in the rain in England one day with a sandbag strapped over his differential. So I used to put 50-60kg of lead weights on the floor and we could beat the Minis in the rain!
"One time, I didn't bring the weights with me to Winton and it started raining. So I raced into town and got a bag of cement and put it in the boot but the bag split and the cement got into the cabin and when I went past the pits the boys thought I was on fire! Then the cement got wet and it took us weeks to get it out of the car!"
Mann has as many Mustang stories as the car has wins, but the fairytale came to an end when he was diagnosed with throat cancer and he had to sell it. He was adamant it would go to the right person (see sidebar) but parting with it was still a wrench.
John Mann would like to thank his partner Suzie Rowe, his children and grandchildren, and all the friends he has made through motorsport here and around the world.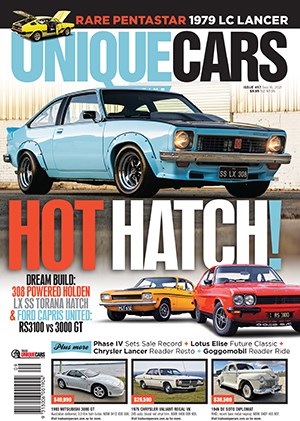 Subscribe to Unique Cars Magazine and save up to 42%
Australia's classic and muscle car bible. With stunning features, advice, market intelligence and hundreds of cars for sale.
Subscribe