1968 Chevrolet Camaro SS 427 L88 Racer Review
---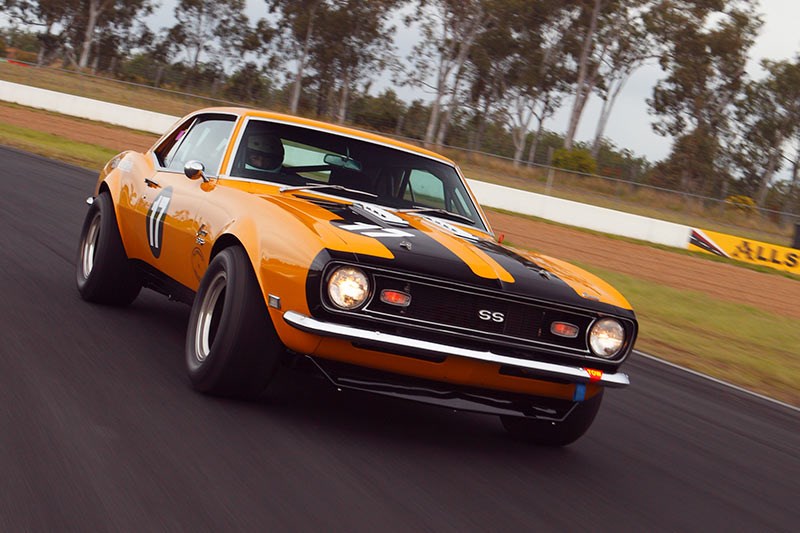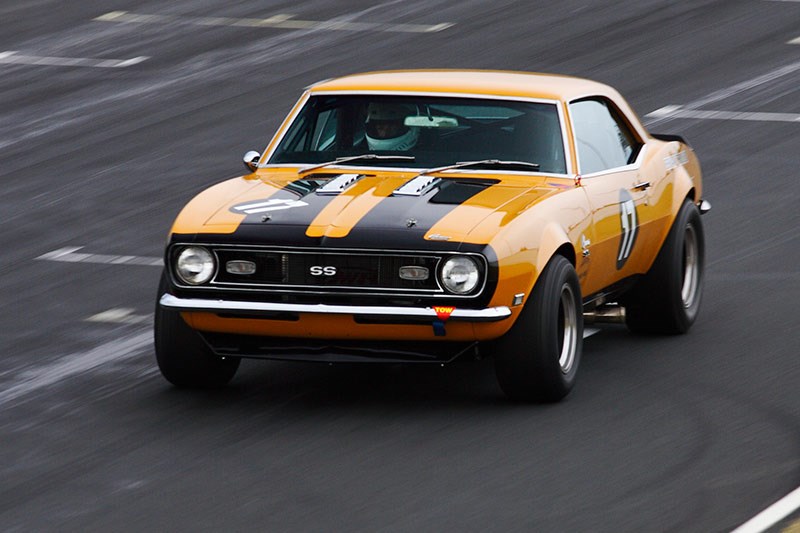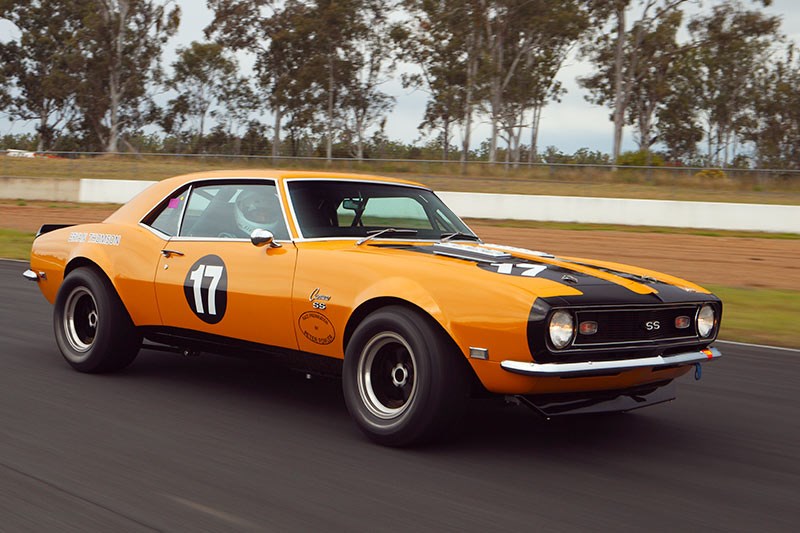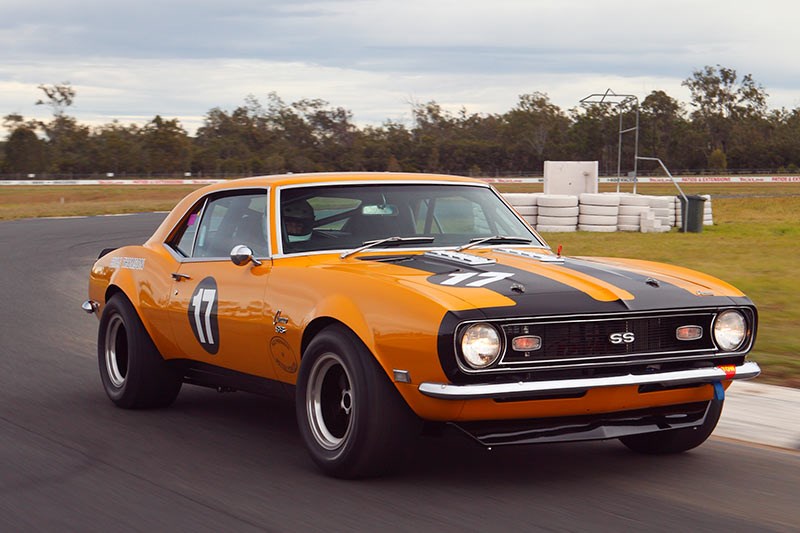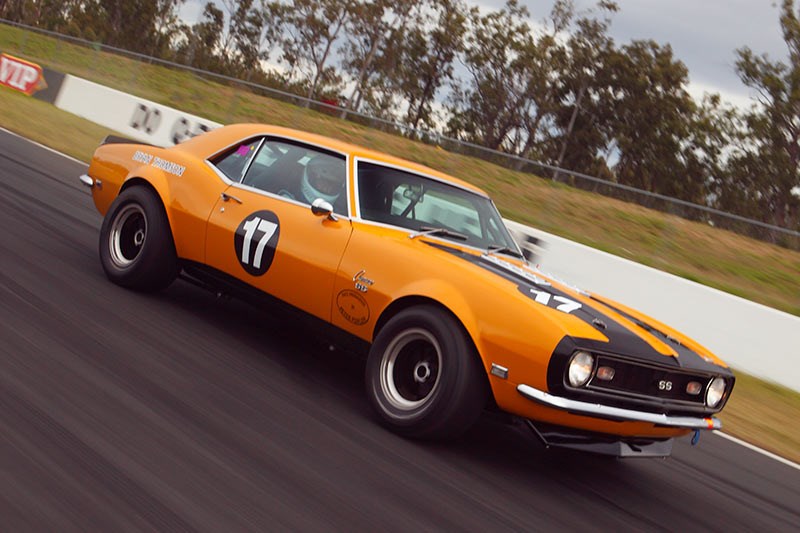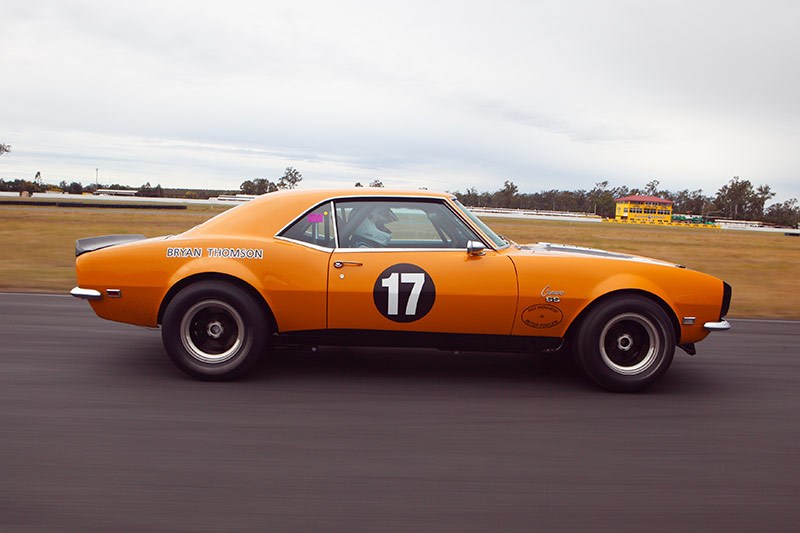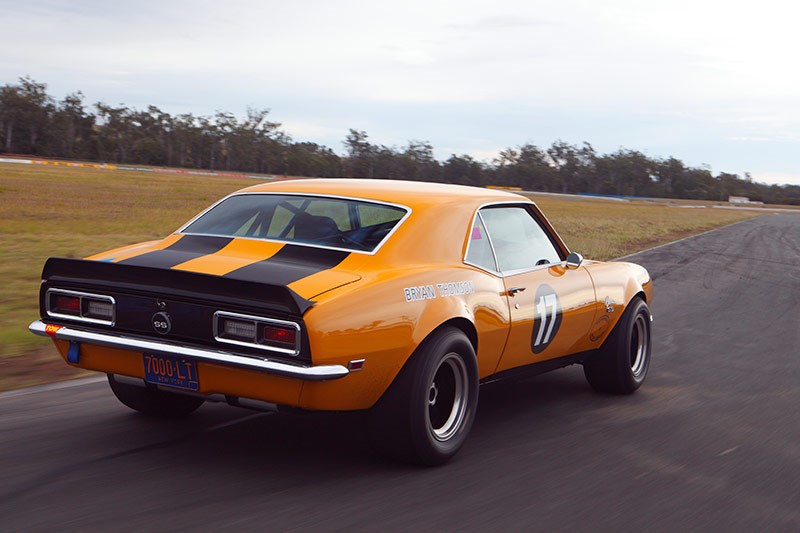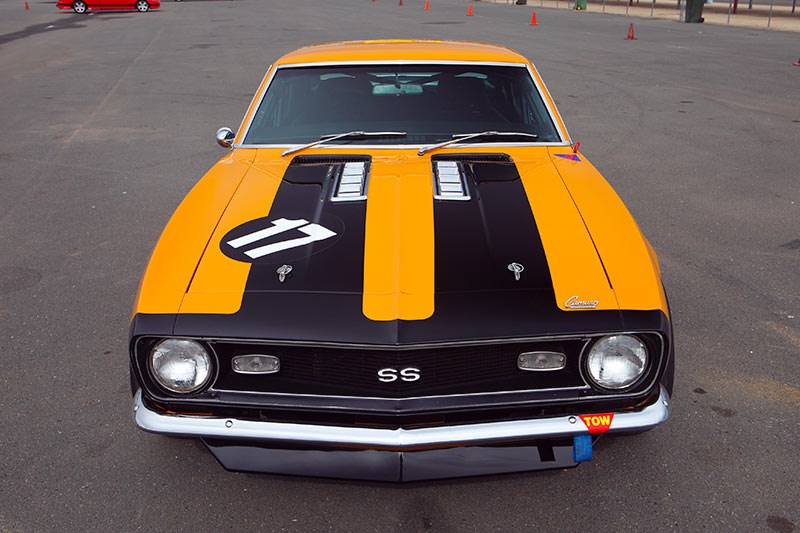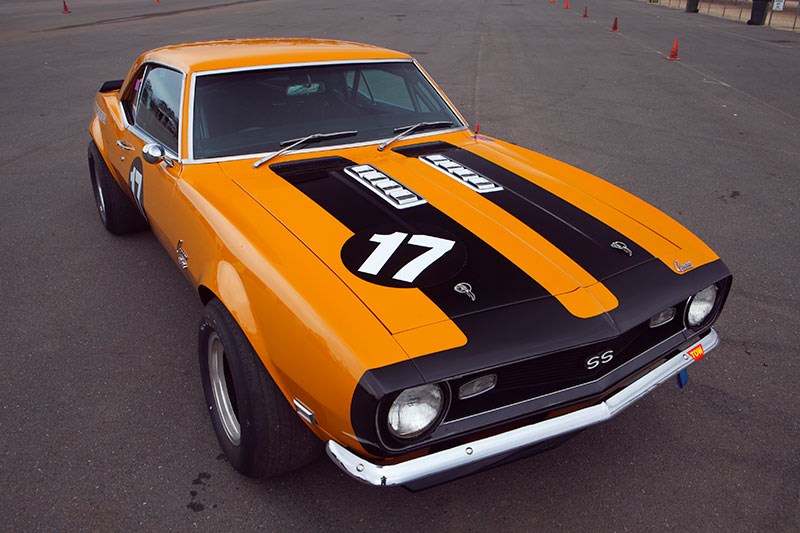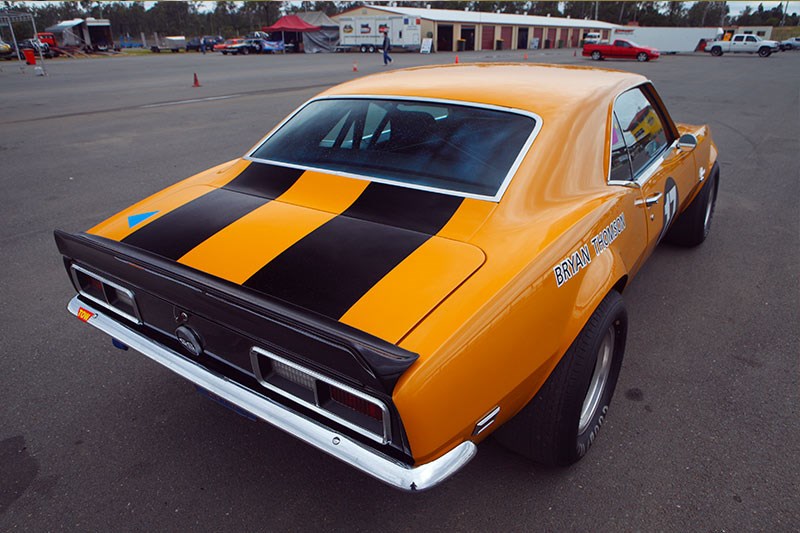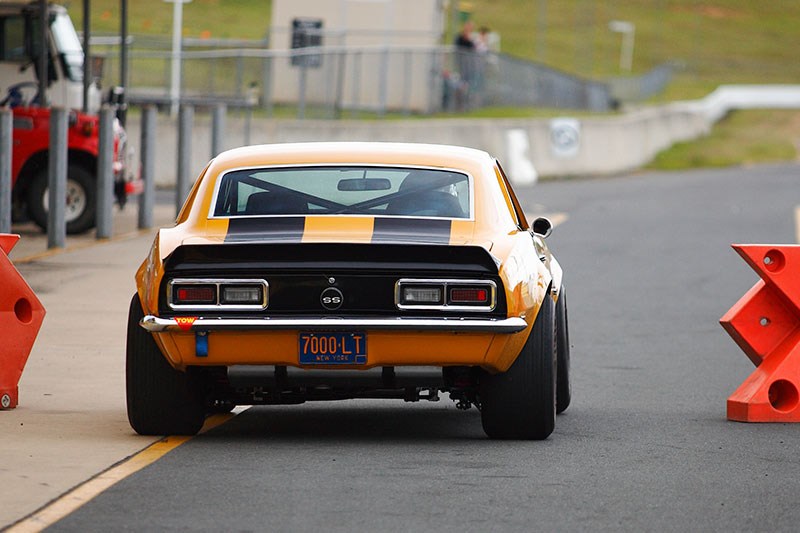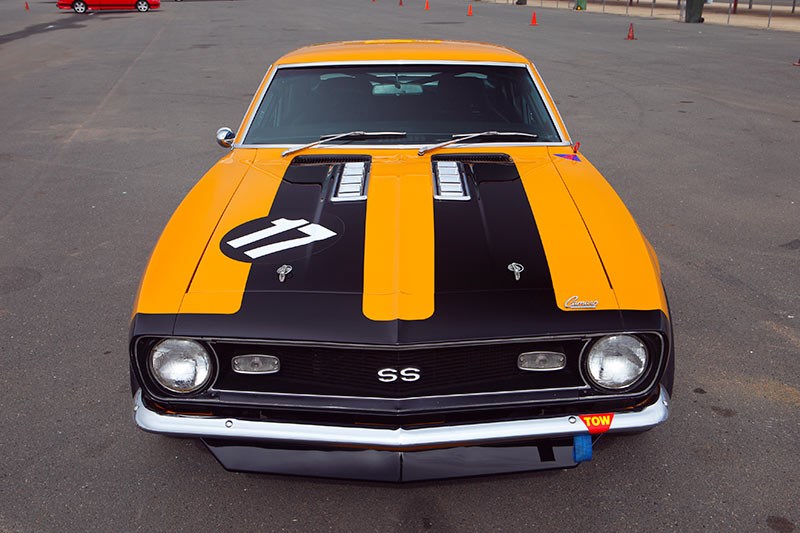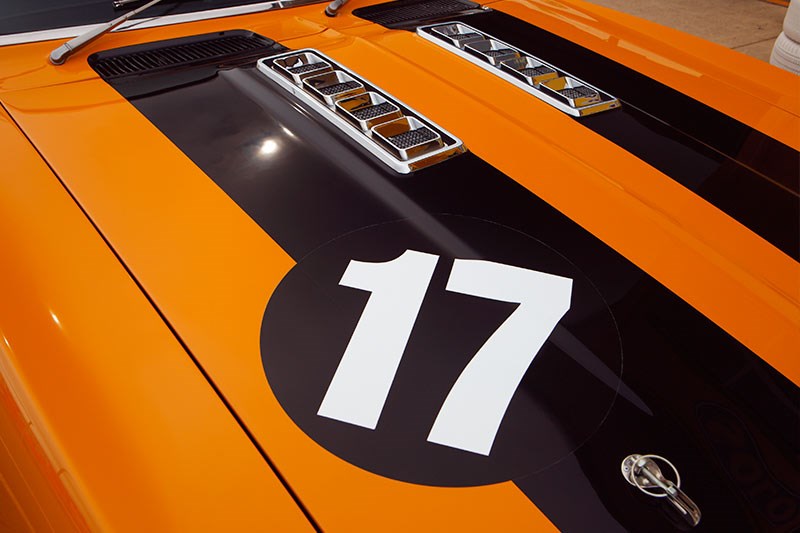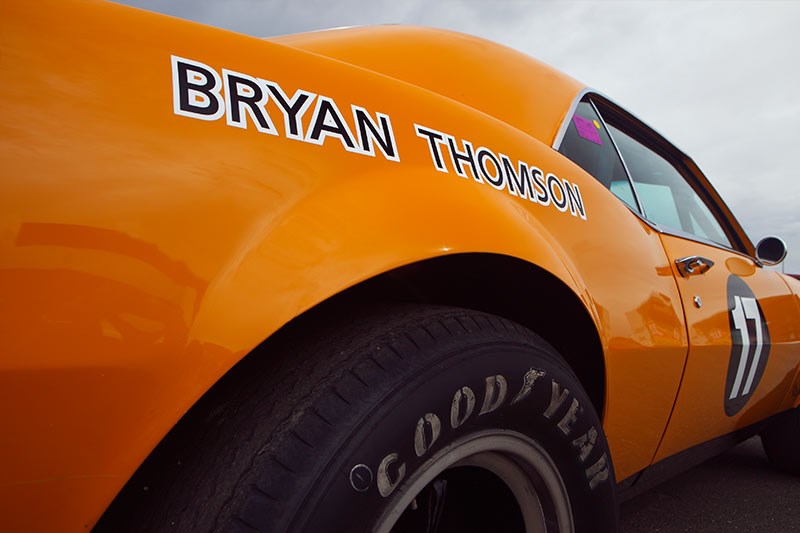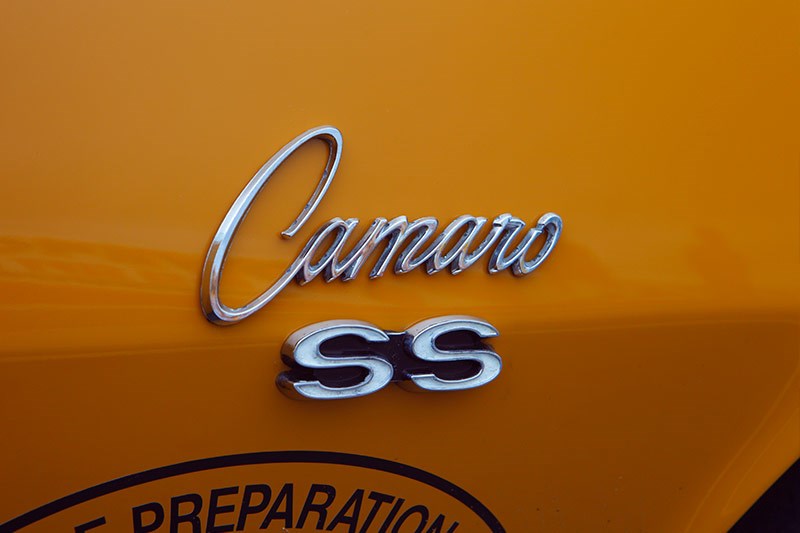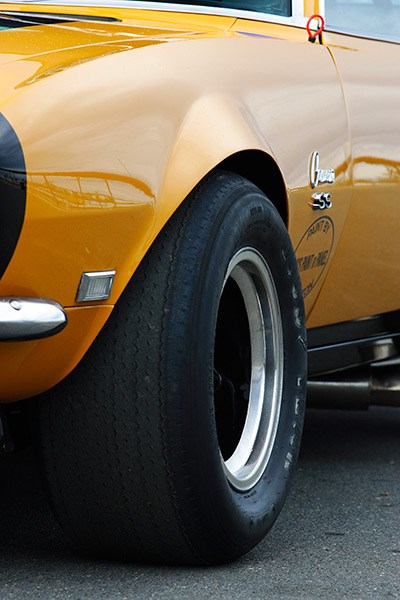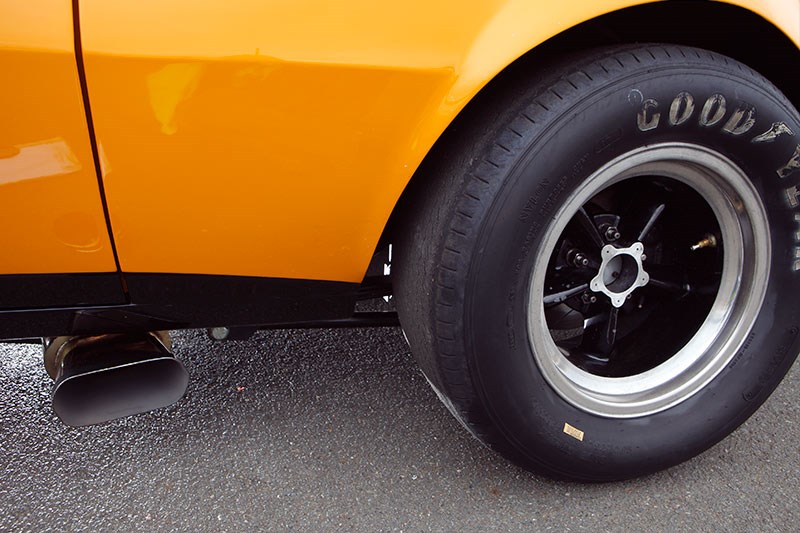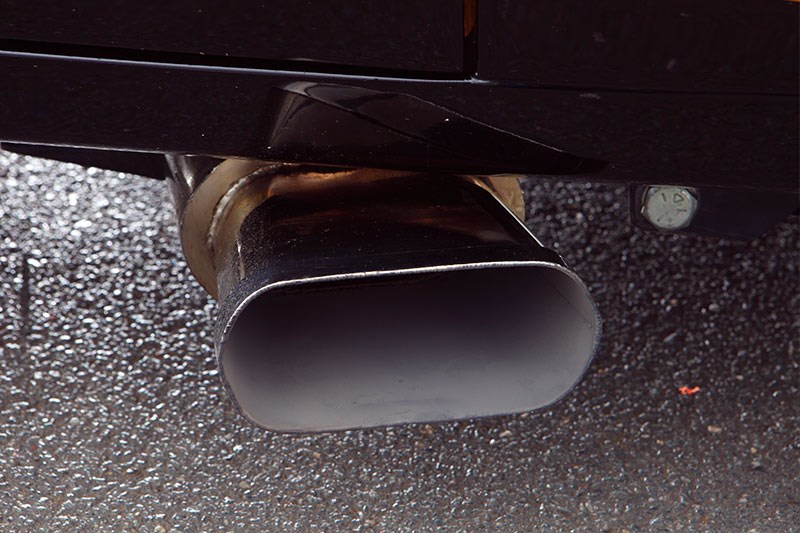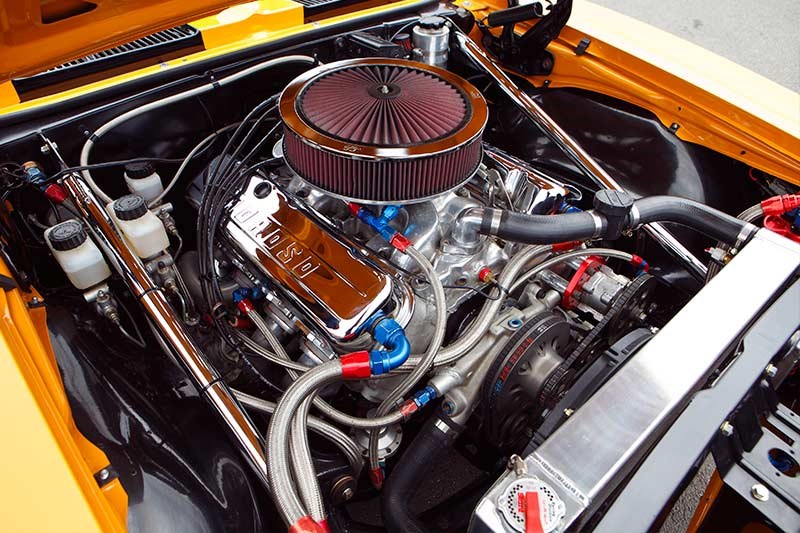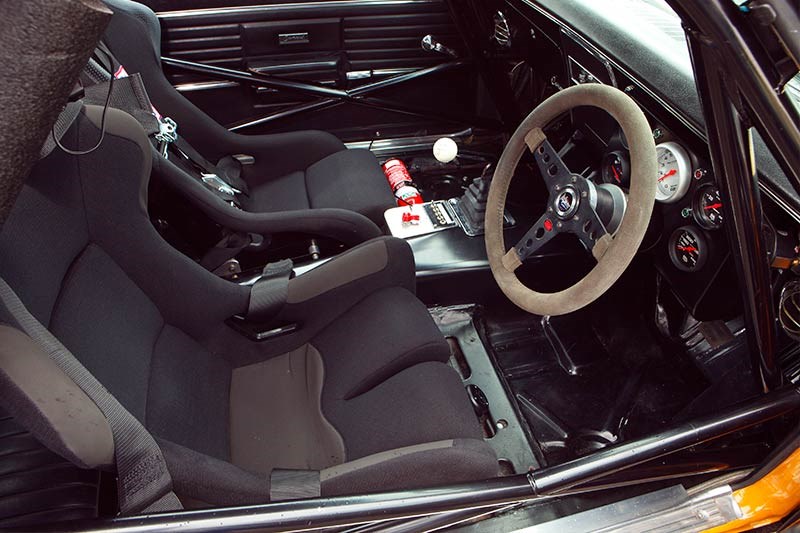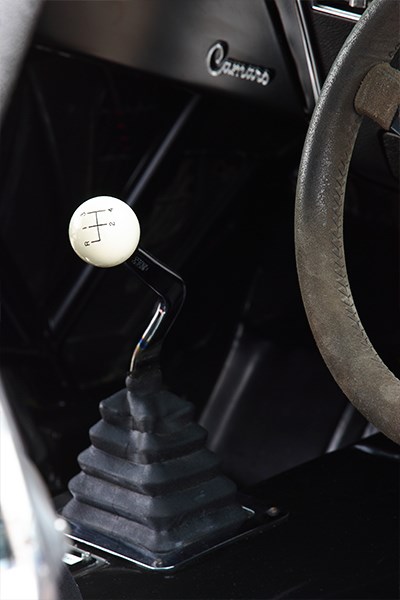 Looking back on a legendary Camaro L88 racer as it hit the track after a 25 year absence
From Unique Cars issue #302, Sep 2009
Chevrolet Camaro SS 427 L88
Australia's first 7.0-litre Camaro L88 race car is back on the track after an absence of 25 years and it's sensational!
In the early 1990s, with a large rusting hunk of classic American muscle car wearing out its welcome in a friend's garage, Peter Sportelli put an intriguing proposition on the grapevine: "Big block former racing Camaro L88 free; $10,000 for its CAMS log book."
Amazingly, he got just a couple of phone calls and one tyre-kicker who wanted to 'steal' it, Peter recalls. "So I decided that if anyone was going to rebuild it, it might as well be me!"
There must be a lot of people kicking themselves blue today when they see the result of that decision.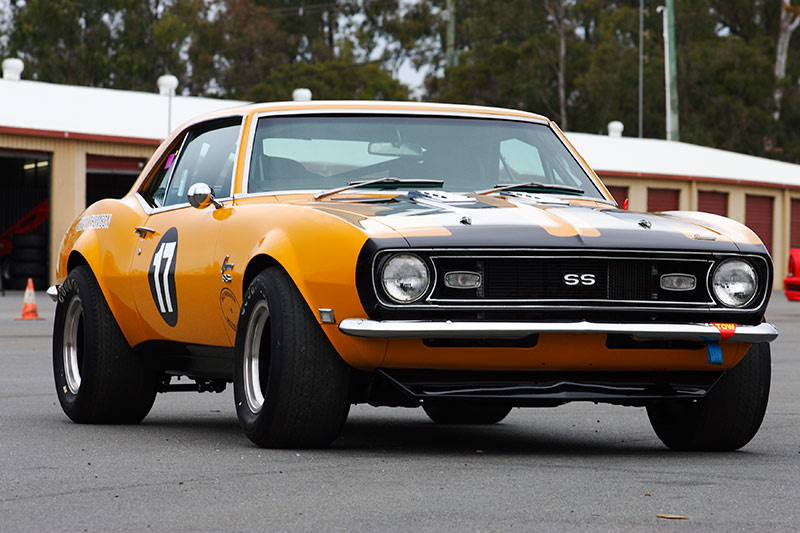 Now pristine in its familiar Alfa Romeo 'Yellow Ocre' and black stripes with the #17 it carried when it was one of Australia's front-line touring cars in the late-'60s, it has morphed into one of the country's most desirable muscle cars.
BIG-HEARTED PONY
Flashback to 1968, the final year of the single-race Australian Touring Car Championship before it moved to a national championship.
Ian 'Pete' Geoghegan had his familiar 289 Mustang, while Bob Jane was just coming to grips with his similar Pony Car, but it was the new 6.7-litre Camaro SS – firstly in the hands of Terry Allan in 1967 and then Norm Beechey in early-'68 – that looked like future winners.
Shepparton truck dealer and part-time racing driver Bryan Thomson was in the market for a big V8 touring car to replace the ex-Beechey Mustang he had campaigned in Australia and the UK over the previous two seasons and he didn't have to look far. Australian Pro-Stock Drag Racing Champion Neville Thompson, who ran a wrecking yard nearby in Shepparton, had his potent big block Camaro drag car with its all-iron 396ci V8 up for sale and Bryan Thomson did some quick calculations.
"The main Victorian circuit where I planned to run it was Melbourne's Calder Raceway, which was then a one mile circuit with two quarter mile straights linked by a couple of squiggly bits," 'Thomo' explains.
"To be competitive with Beechey and Jane, I needed a car that could lap well under 50 seconds. The Camaro could run 11-second standing quarters, so I multiplied that by two and that gave me less than 30 seconds to get around the rest, so I bought it."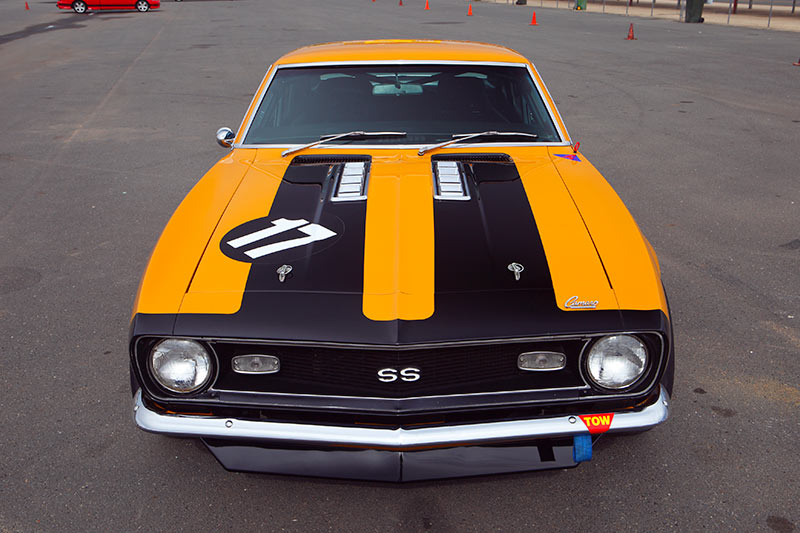 To get the Camaro on track, Thomo invited top touring car racer and mechanic Graham 'Tubby' Ritter and his wife to spend a year in Shepparton, where Tubby worked as service manager in Thomson's Alfa Romeo and Volvo dealership and prepared the race car.
Along with being converted from strip to circuit specs, the Camaro was also repainted in the same muddy 'Yellow Ochre' used on Alfa Romeo GTV coupes of the era, while he slapped his 'lucky' race number 17 on its flanks.
But the competition had moved on. Beechey had parked his Camaro after Holden knocked on his door and was running a new GTS 327 Monaro, and Alan Hamilton's rapid new 2.0-litre Porsche 911TR was another serious rival.
So in July 1969, Bryan Thomson, Neville Thompson and friend Peter McPherson made a three-week shopping trip to the US and returned with a 427 V8 crankshaft and conrods, a pair of aluminium open-chamber ZL1 heads, an 850cfm double-pumper Holley carburettor and a pair of exhaust manifolds in their luggage!
Australia's first 7.0-litre racing Chevrolet Camaro SS 427 L88 was about to be born…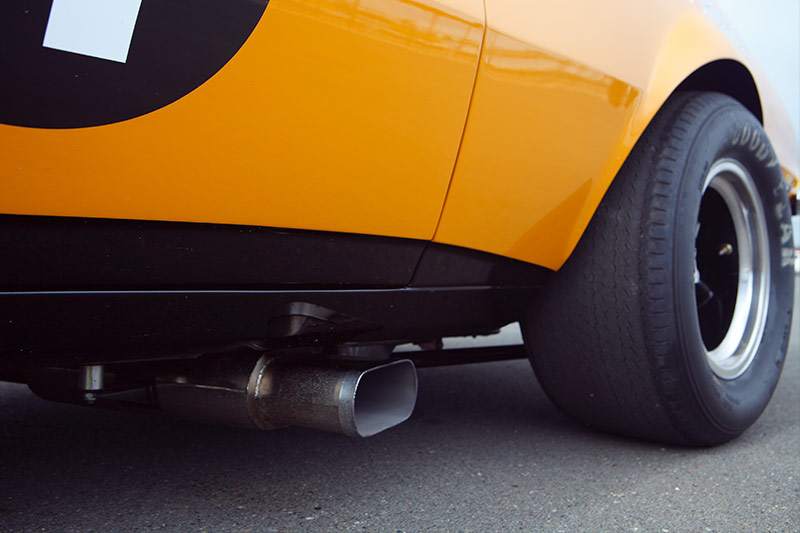 CAMARO TAKING FLIGHT
According to Thomo, the modifications added about 100hp (75kW) to the Camaro's 520hp (388kW) but, thanks to the alloy LS1 heads, only 20kg to the weight of the Camaro, while new rear disc brakes greatly improved stopping power.
"It had phenomenal performance," he recalls. "It accelerated like a 747, but the standard M21 Muncie gearbox just couldn't handle it and we used to spit one out the side in every session we ran – and there were three sessions every meeting!
"However, when that happened in a race we just left it in top gear. It had so much torque (880Nm) that while it would lap Calder with all four gears working in the low 49-second bracket, we could still run mid-50 second laps in top!"
To get around the gearbox problem, he acquired an M22 'Rock Crusher' and gave it to emerging transmission guru Peter Holinger to modify. It was Holinger's first touring car involvement and the problem was solved.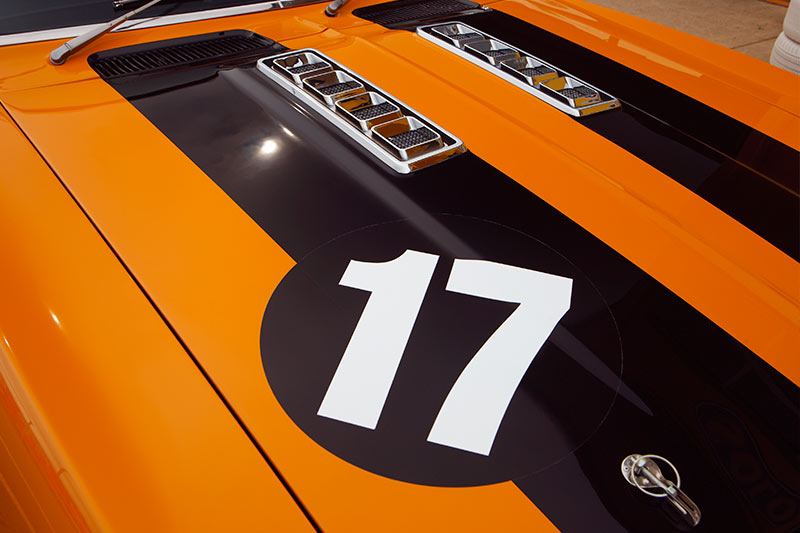 Later, Hollinger built the entire 'dog box' internals for Bob Jane's Camaro, as in those days the Touring Car regulations only stipulated that you had to use the production housing.
Ominously, Bob Jane was very interested in the Camaro.
"He was our most ardent supporter for the two years we ran the car," Thomo recalls. "He clearly saw it as the way to go."
So much so that in 1971, Jane bought two new Camaros fitted with the ZL-1 all-aluminium 427 V8 developed for CanAm racing to replace his Mustang and won back-to-back touring car titles in 1971 and '72.
At the Sandown ATCC round in 1969, Thomson had a bad accident in the Camaro when he spun and hit the Armco right on the driver's A-pillar and the cost of the repairs combined with the time pressure of running his growing truck and car dealership made him decide to sell the Camaro.
Tasmanian businessman Don Elliot put his hand up and, in the hands of local driver Robin Pare, the car enjoyed considerable success over a three-year period, setting lap records at Symmons Plains and Baskerville.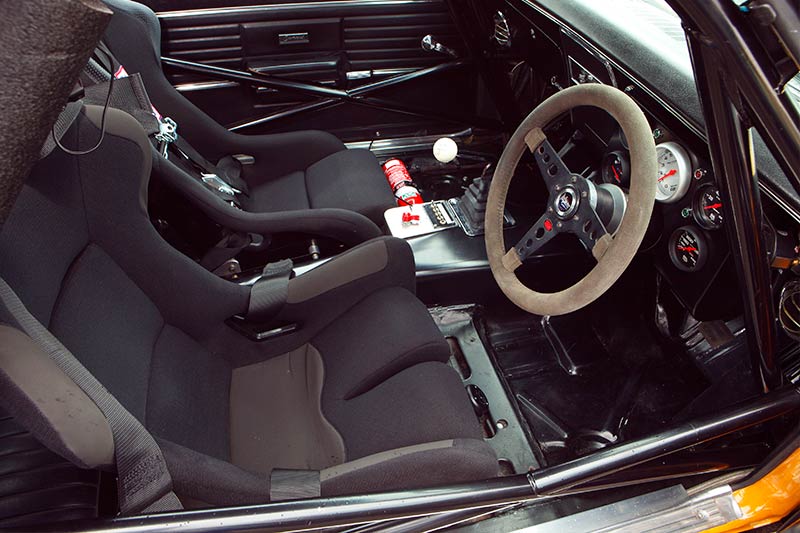 CAMARO'S NEW OWNERS
When Elliot purchased the ex-Neil allen Elfin ME5, the Camaro was sold to Peter McKinley who campaigned the car sparingly during 1973-74 before it was in turn sold to Hobart mechanic Peter Sportelli.
He ran the car for a couple of seasons, but the new Sports Sedan regulations made the car with its 427 engine uncompetitive, so he sold the big block engine to a friend in the late-'70s and installed a fuel-injected 350ci Chevrolet V8 in its place.
In 1984, he ran out of budget and the Camaro sat in his Hobart backyard under a tarpaulin for seven years before he moved to Melbourne in 1991 to prepare NASCARs for Tropic Coast Racing to run at the Calder Thunderdome, with drivers like Jim Richards, Charlie O'Brien and Goeff Brabham at the wheel.
The Camaro was relocated to a friend's backyard, but it was clearly a nuisance and that was when Sportelli entertained the idea of selling it.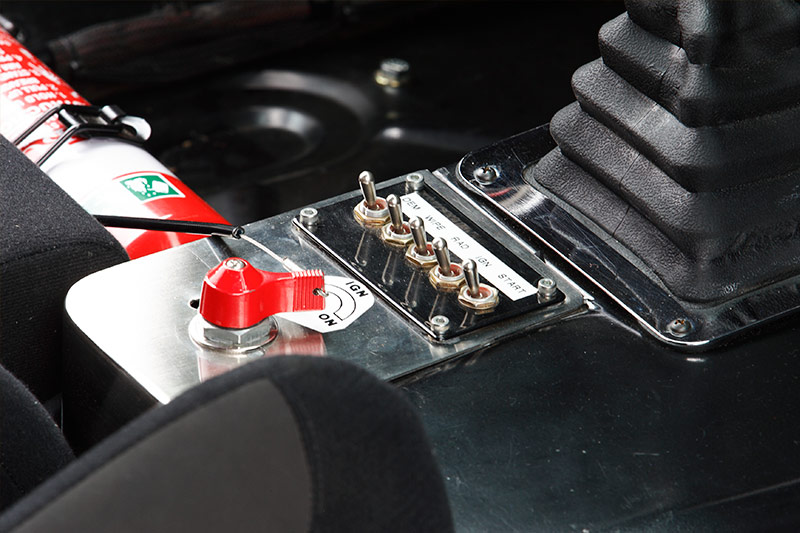 After not getting any takers and deciding to restore the Camaro himself, he began finding out more about the car's early history, chatting regularly to Bryan Thomson when they met up at Nations Cup races in the mid-to-late'90s.
"Bryan was running his Toyota Supra and I was preparing Rusty French's and Darcy Russell's Dodge Vipers, so we saw quite a bit of each other," Sportelli recalls.
"He had all the original documents and remembered all the details and this really inspired me to rebuild the car properly to the way it was at its peak in 1969."
After his Nations Cup stint, Sportelli returned to Tasmania, took the Camaro out of mothballs and began its painstaking restoration, which was completed in December 2007.
RESTORATION
An essential ingredient of course was the original big block engine, which Sportelli was fortunately able to buy back from the friend he'd sold it to for $5000. He was not so lucky with the car's original 10-inch wide US Racing magnesium wheels, which he had also sold 15 years earlier in Tasmania; he got them back all right, but at a substantial price premium!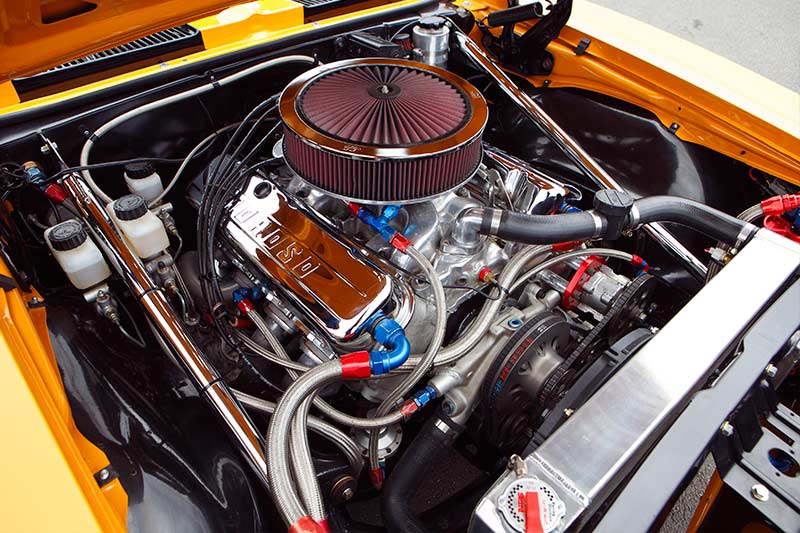 As the Camaro had been neglected for many years, it needed a full body restoration, which involved a new firewall and new floors. "We basically startd with a bare, sand blasted shell and went from there," he says. "Once we started there was no turning back."
All the work was carried out in Tasmania, by Tony Steele of Hobart's Steele Panels, who also replaced the doors, bonnet and rear quarters and flared the mudguards to original specifications, working from photographs. They then re-applied Thomson's original Yellow Ochre livery, covering up the faded red paint the car had worn in the last phase of its life.
Although, amazingly, the car never had a rollcage (or bucket race seats!) in Thomo's hands, Jason White (of Targa Tasmania face) fabricated a full CAMS-compliant 'cage and exhaust' system as a labour of love. Carey 'Reggie' Coulson rebuilt the 427 to full 600hp-plus original spec; Cliff Campbell did the driveline and installed a new Super T10 gearbox and 12-bolt fully-floating rear end; Chris Minehan of Hobart's Minehan Sheet Metal did all the fabrication; Rodney Howell looked after wiring and dyno work and Peter's brother-in-law Jason Laycock helped all 'round.
On its first competitive outing in Tasmania after the restoration, the car recorded lap times just a second off the class record, confirming that Sportelli and his enthusiastic team had 'got it right'.
Its 'coming out' party was at last year's Muscle Car Masters in NSW, when Thomson was invited to drive it for the first time in 38 years. "We had to twist him out of the car," says Sportelli. "He had a huge grin on his face."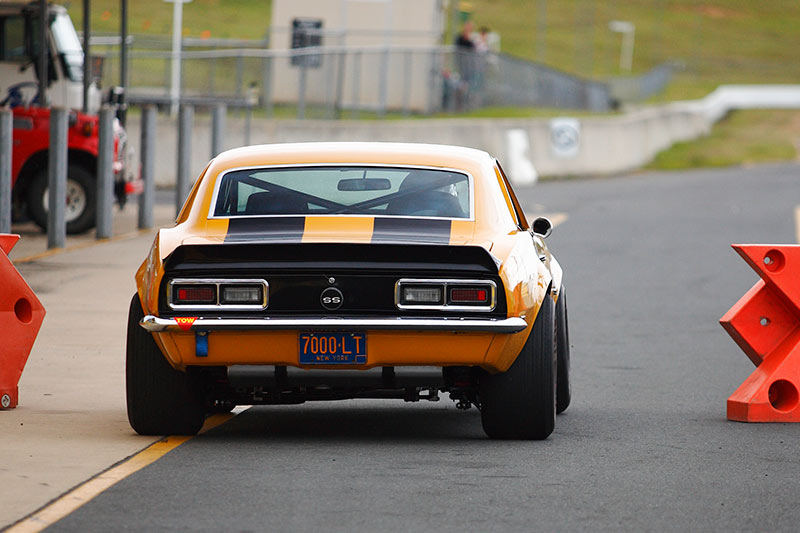 "It was just as I remembered it," Thomo recalls. "An awesome machine. Peter has done a fantastic job restoring it."
As a thank you for the opportunity to reacquaint himself with one of his most memorable racing cars, Thomo presented Sportelli with a full dossier of every document and receipt for the car since new, which he formally handed over at Eastern Creek for a job well done.
However, Sportelli's magnificent Camaro could soon be looking for a new caretaker. "I've had the car for 35 years and finally got it back to the same or even better condition than when Bryan raced it, so it's mission accomplished."
So how much is one of only two current CAMS log booked and ready-to-race '60s V8 Australian touring cars worth, when the other – the late 'Pete' Geoghegan's 1967 Ford Mustang GTA – sold for $320,000 nearly four years ago?
"Let's just say the car is still free," said Sportelli with a smile. "But the log book is now worth a tad more!"
SPECIFICATIONS
1968 Chevrolet Camaro SS 427 L88
Body: two-door coupe, steel
Engine: 427 ci V8 Chevrolet L88 'Rat' engine, iron block with alloy LS1 heads, aluminium intake manifold with 850cfm double-pumper Holley carburettor
Power/torque: 620hp (463kW) at 6000rpm/880Nm
Transmission: Super T10 four-speed manual
Wheels: US Racing magnesium rims 10 x 15in
Performance: Standing quarter mile 11.0 seconds
Unique Cars magazine Value Guides
Sell your car for free right here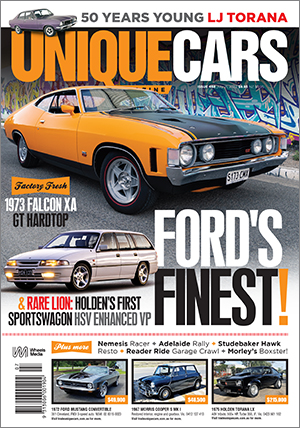 SUBSCRIBE TO UNIQUE CARS MAGAZINE
Get your monthly fix of news, reviews and stories on the greatest cars and minds in the automotive world.
Subscribe