Holden HG Premier vs Ford XW Falcon GT Review
---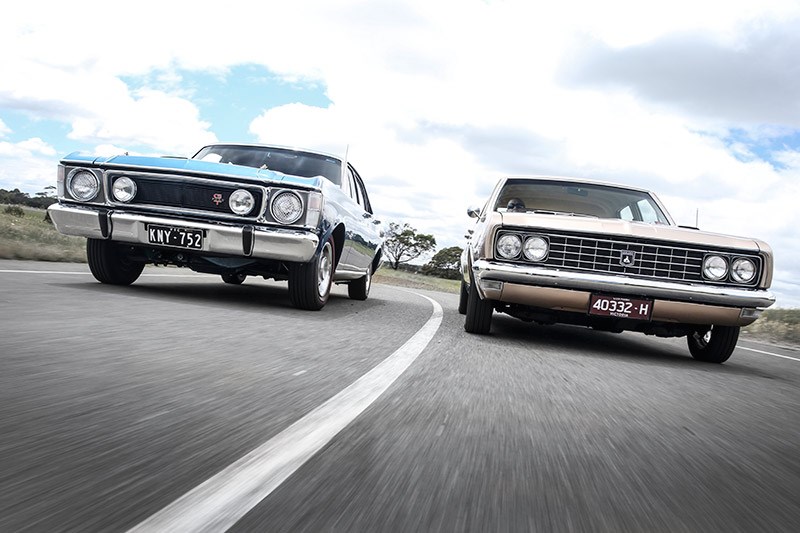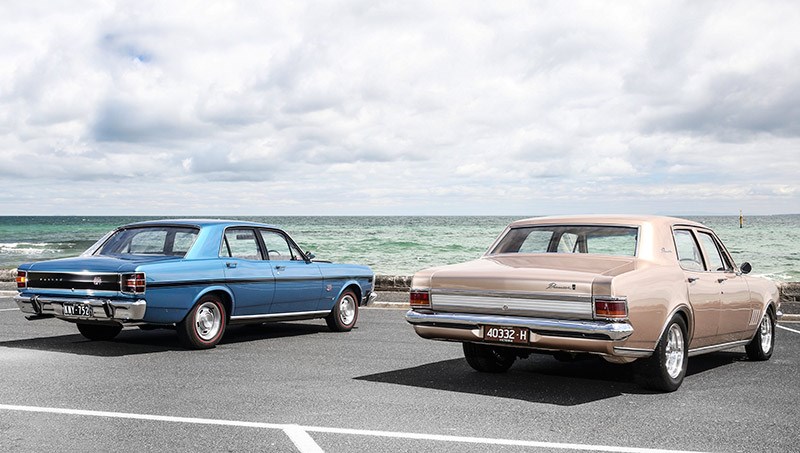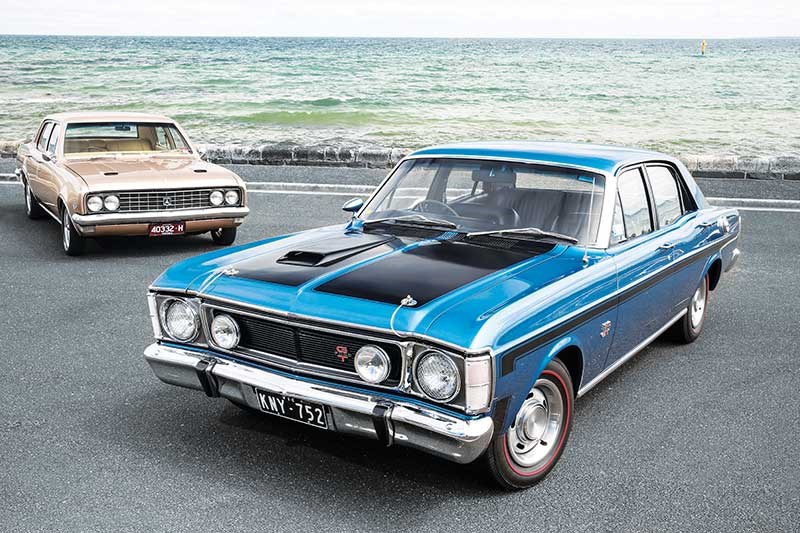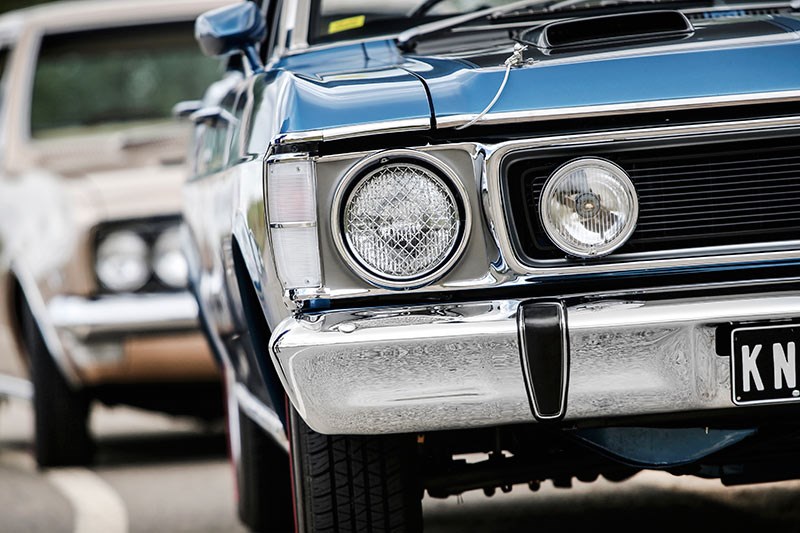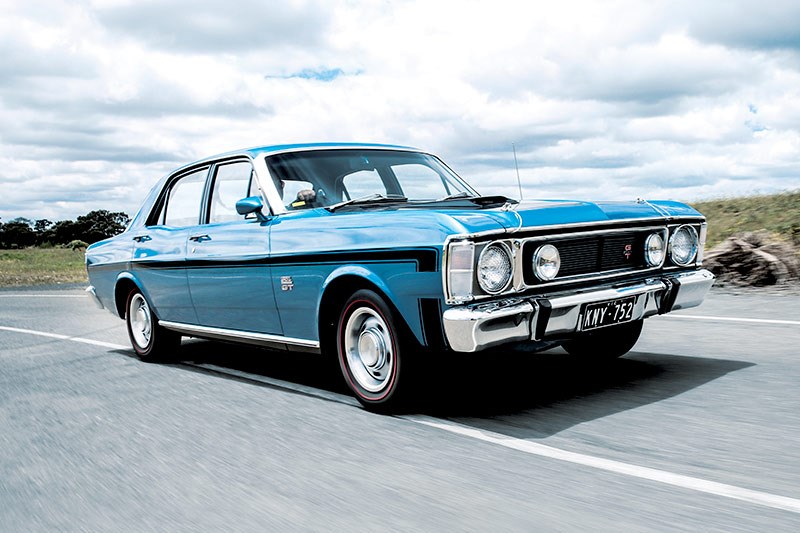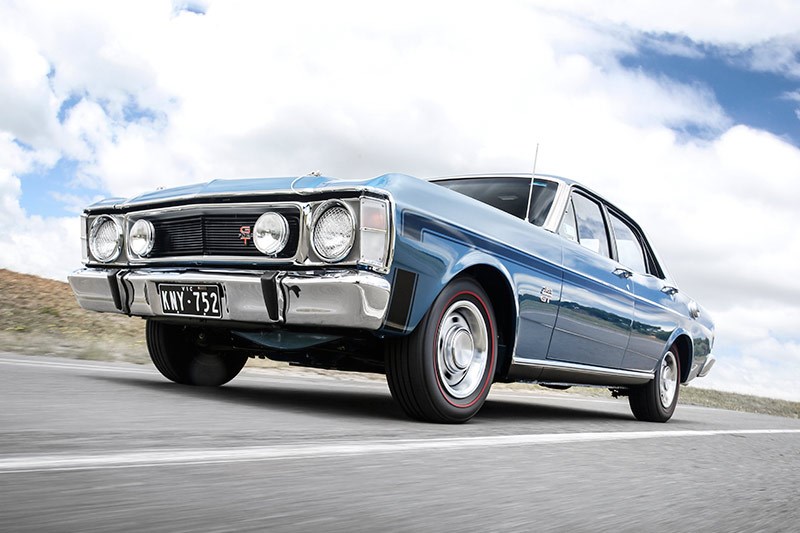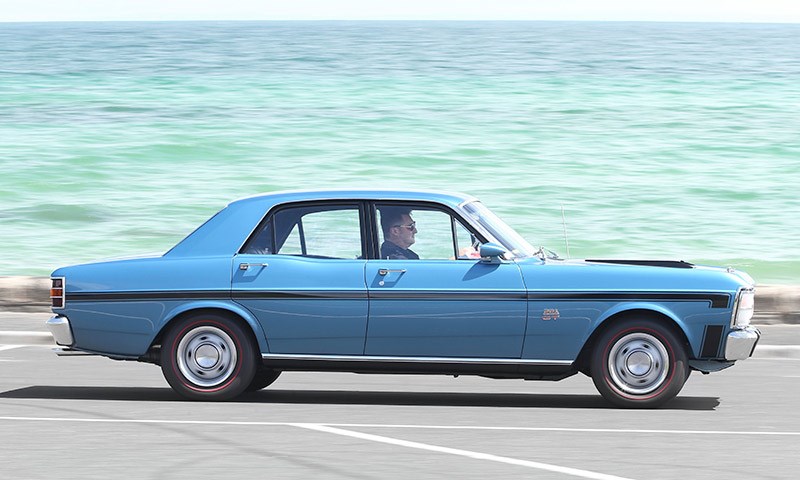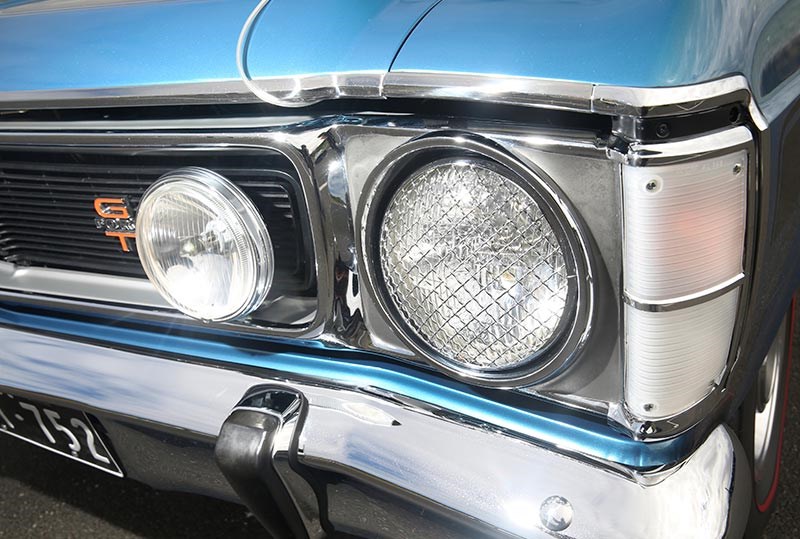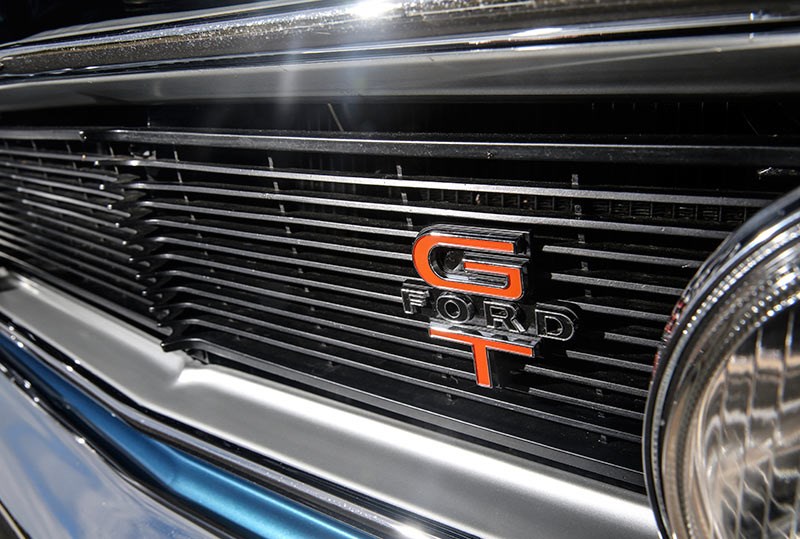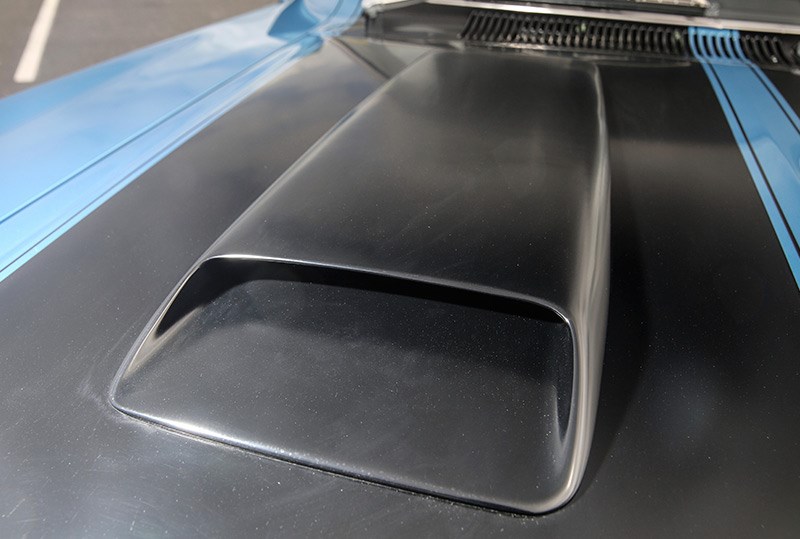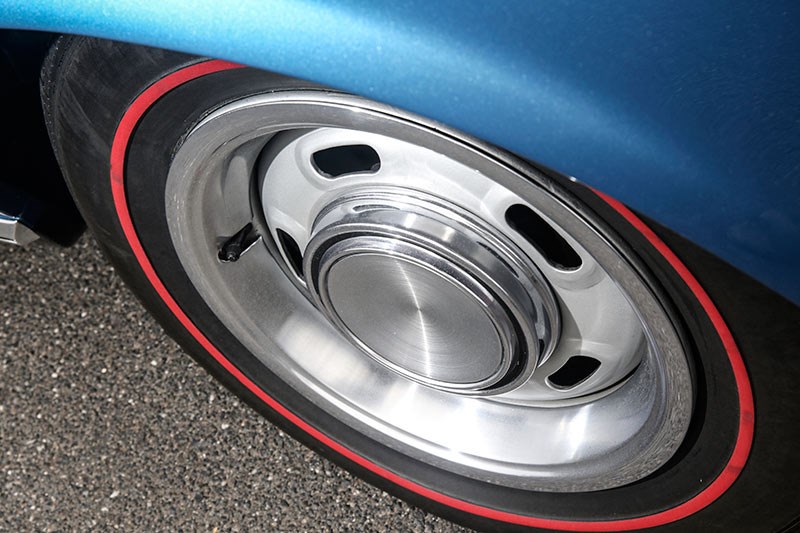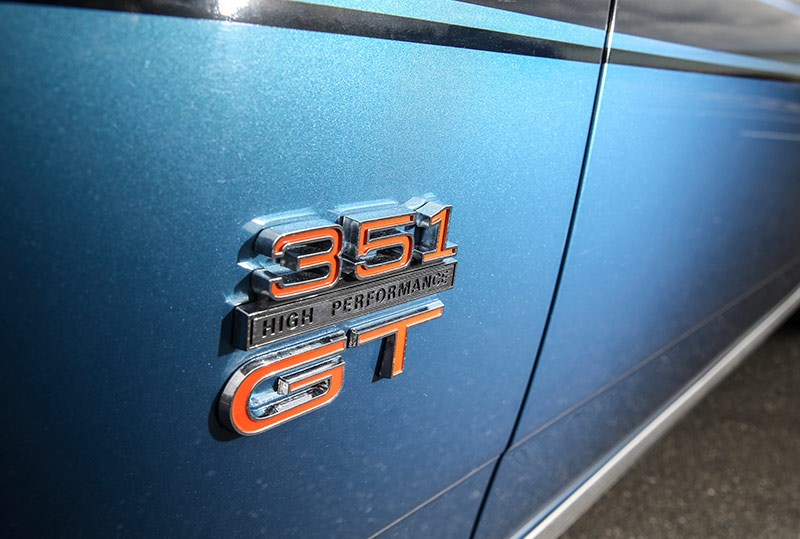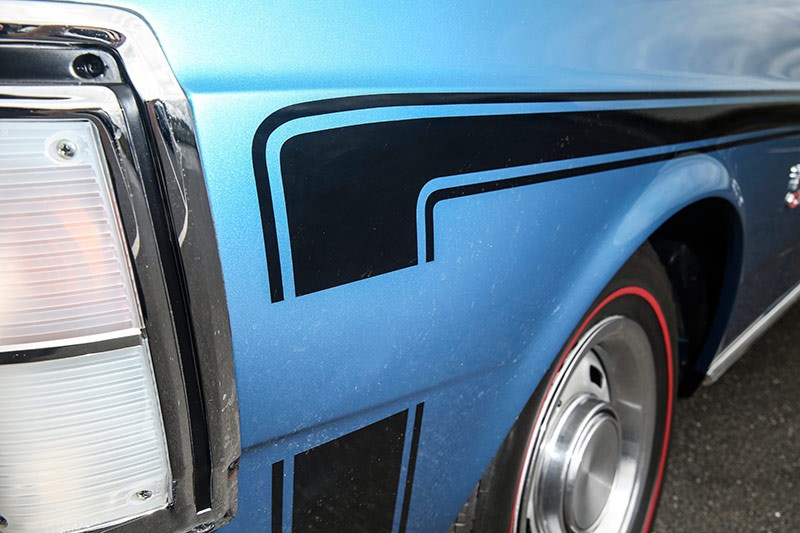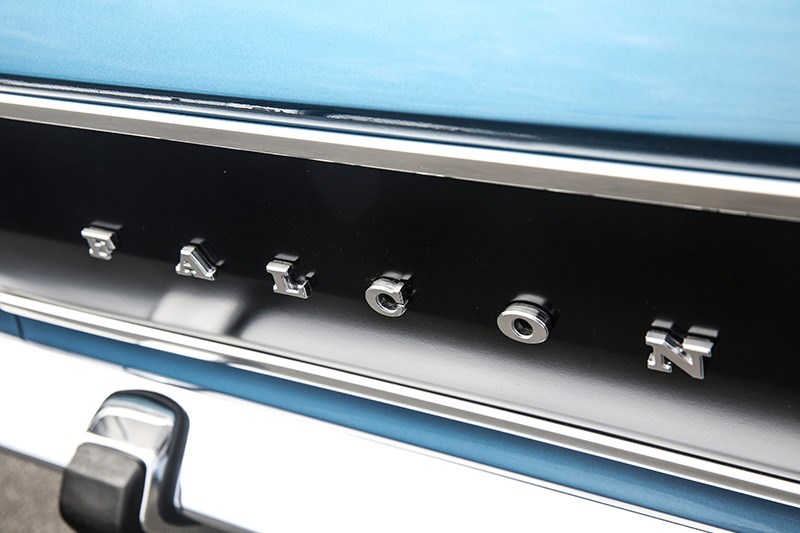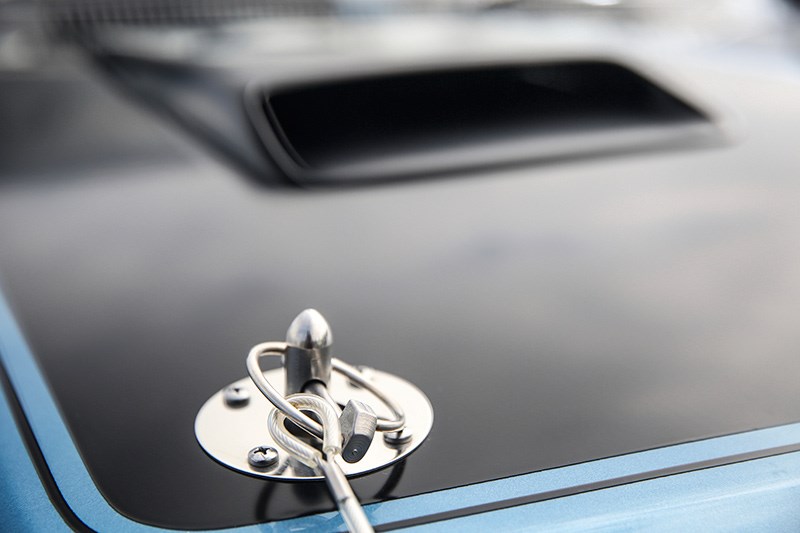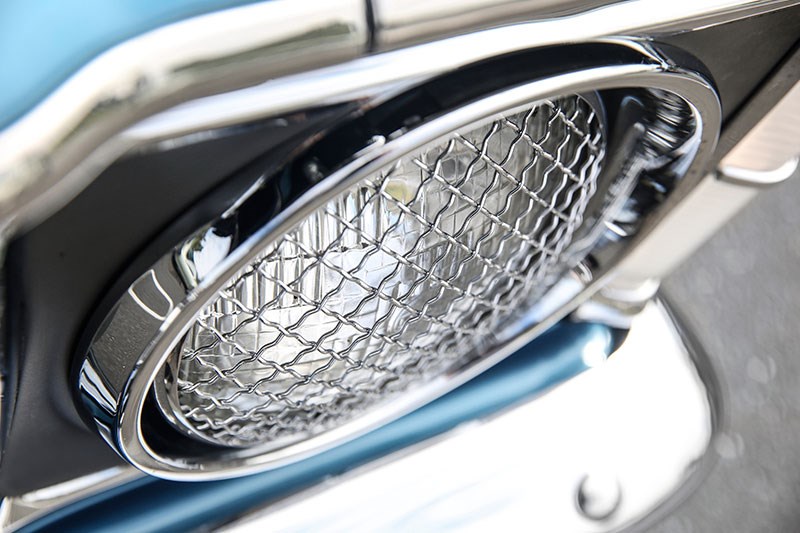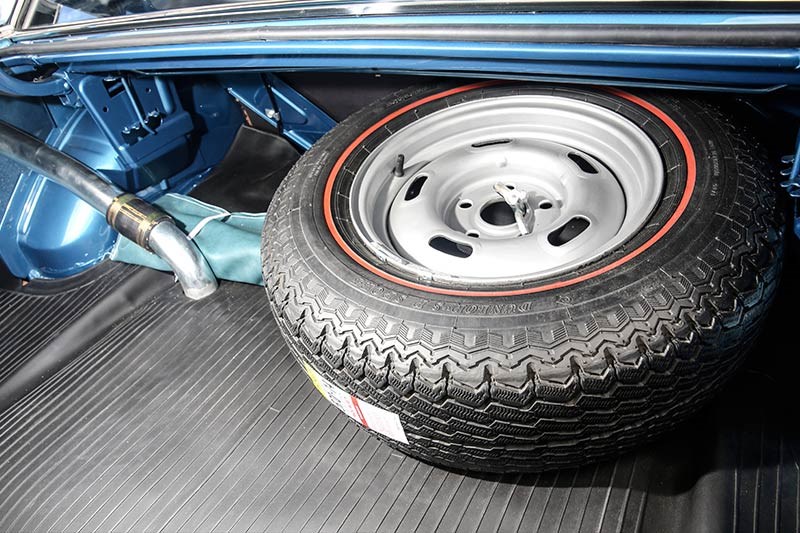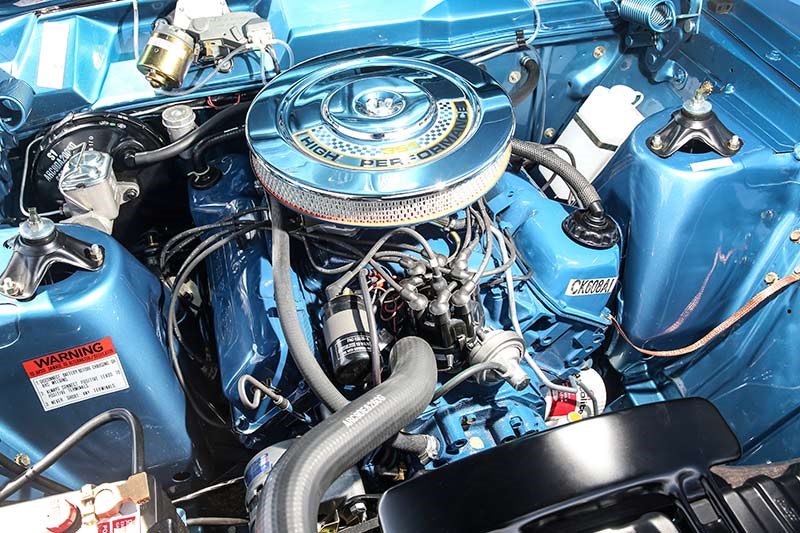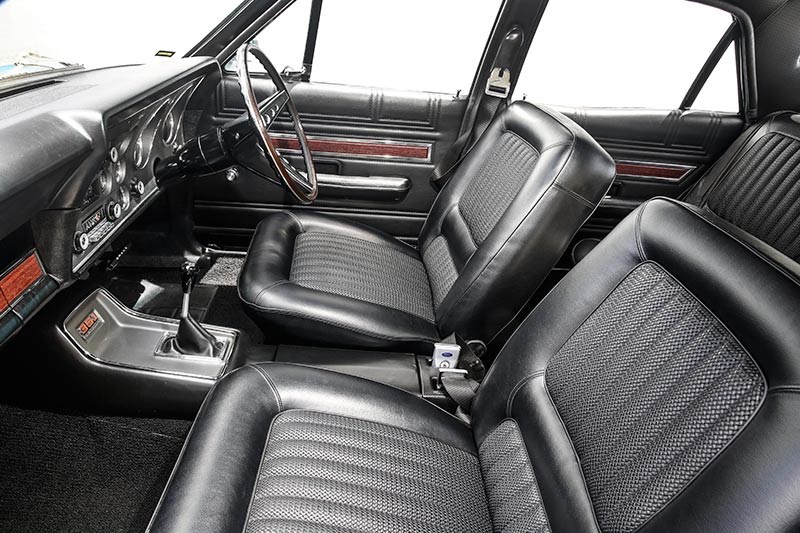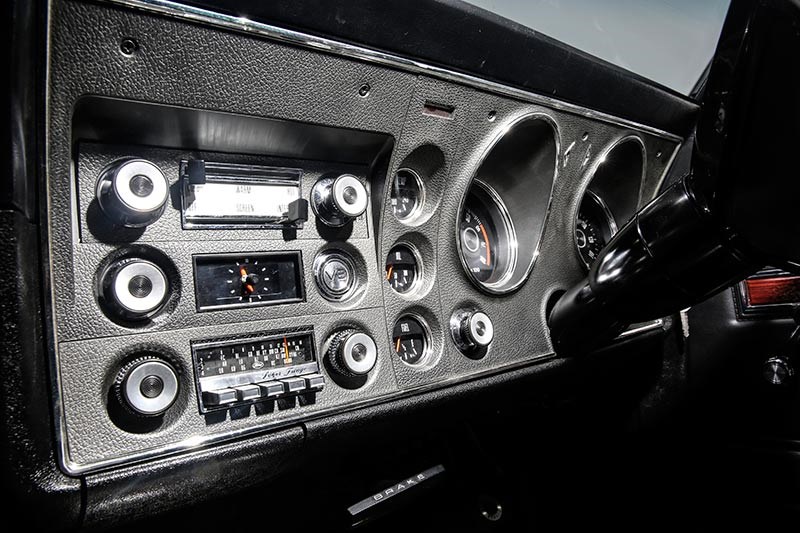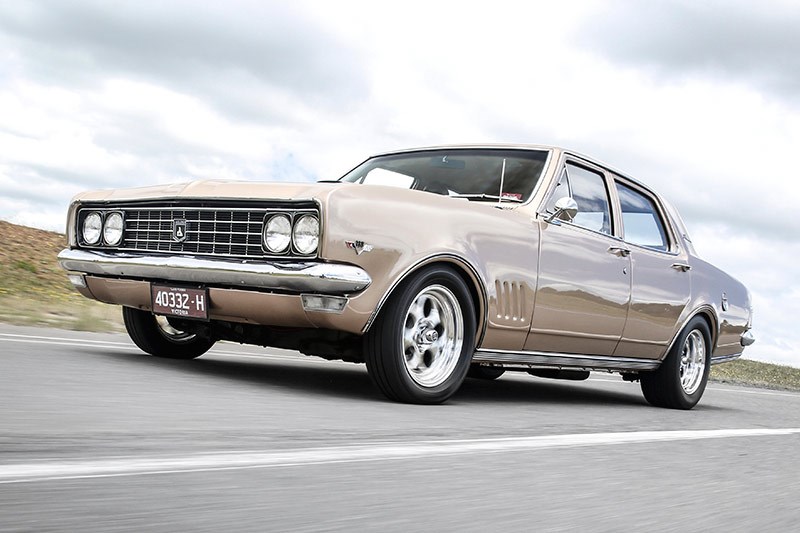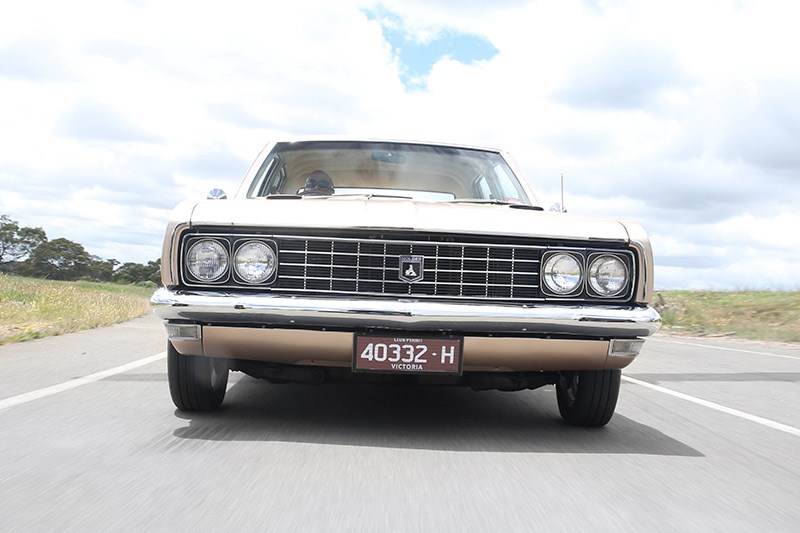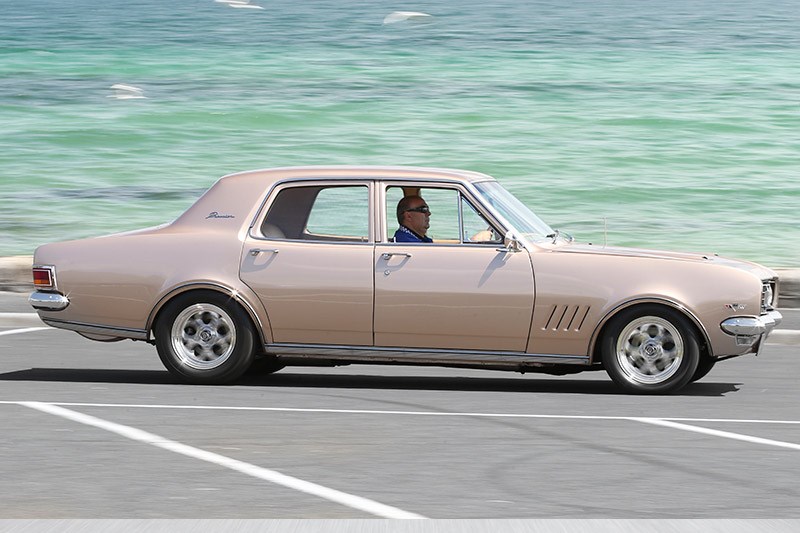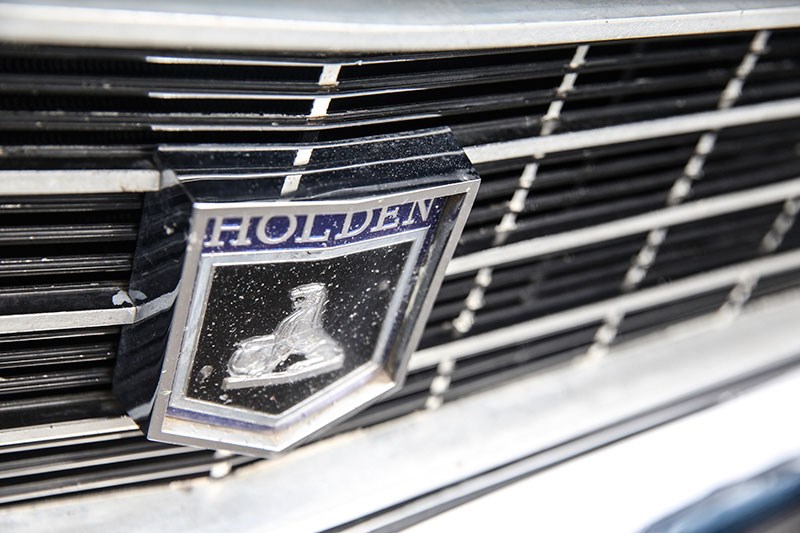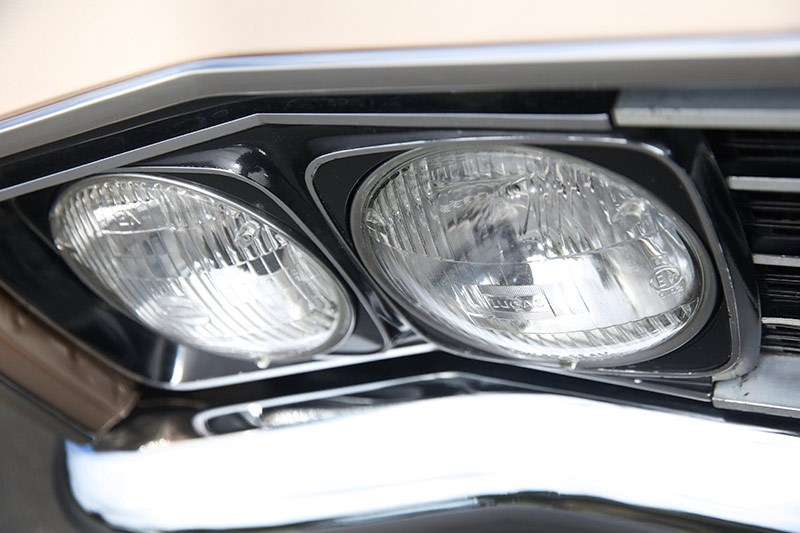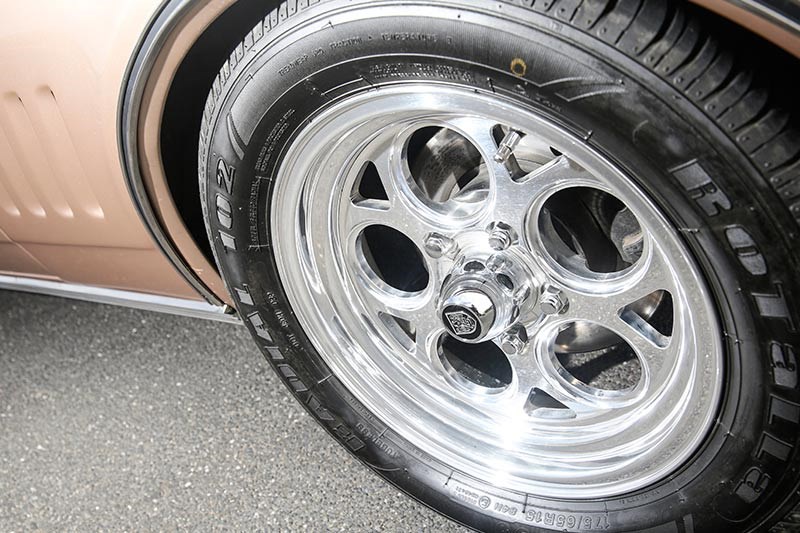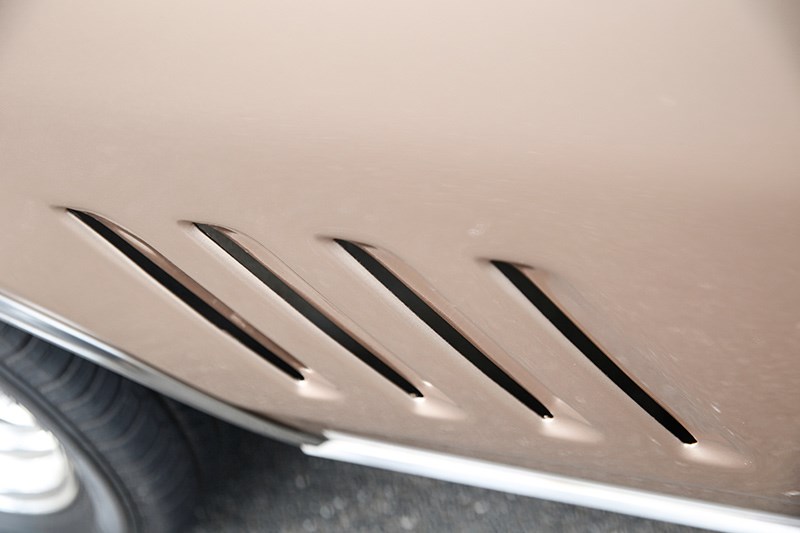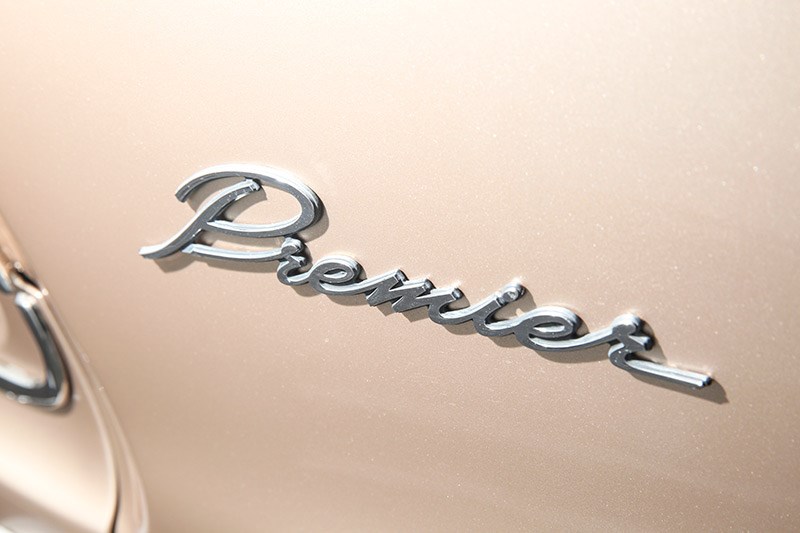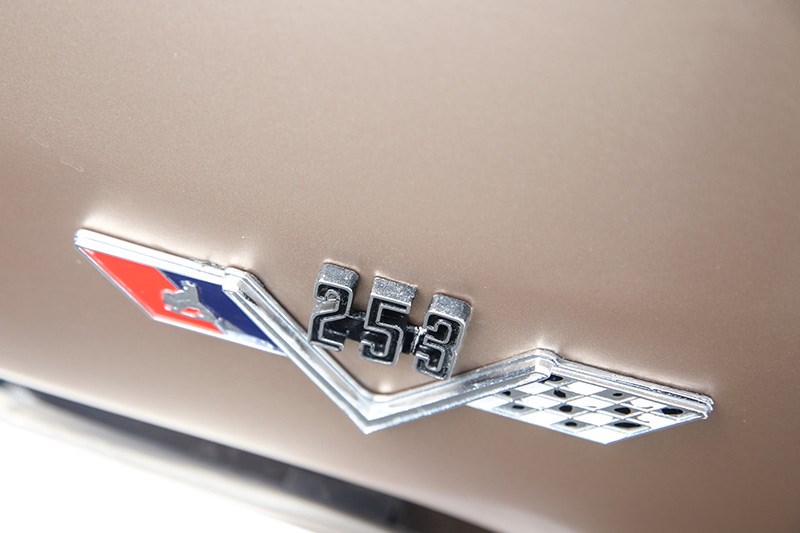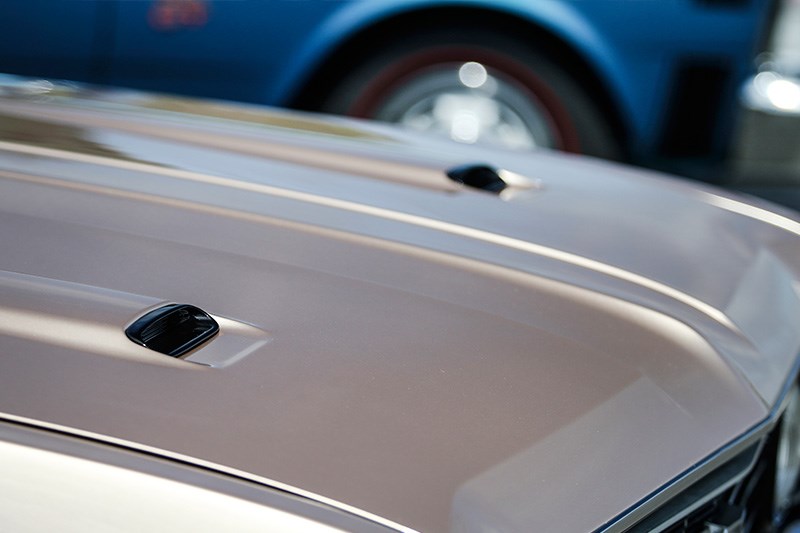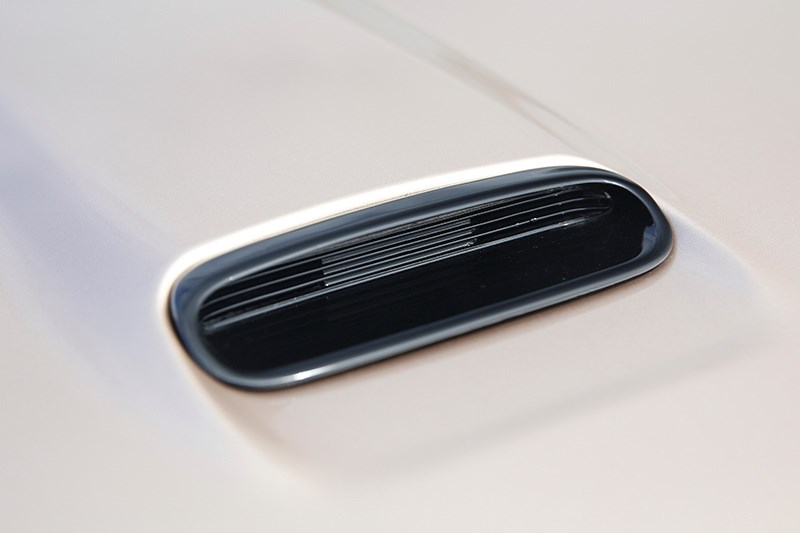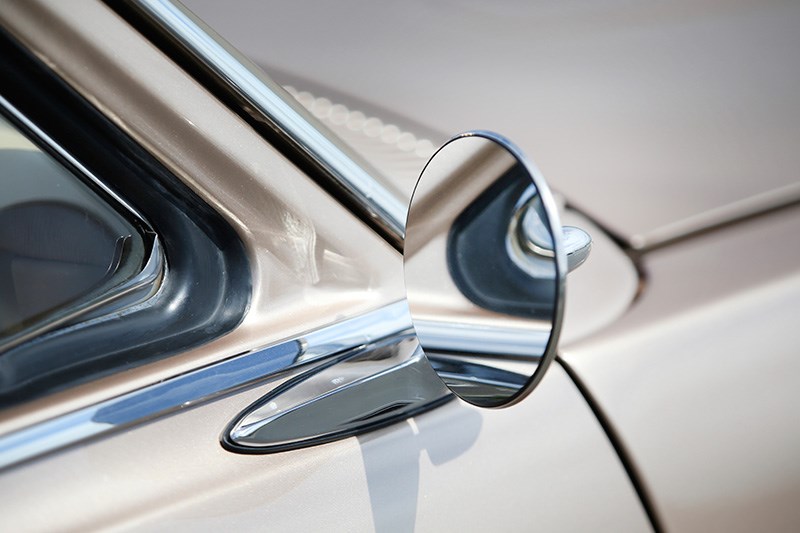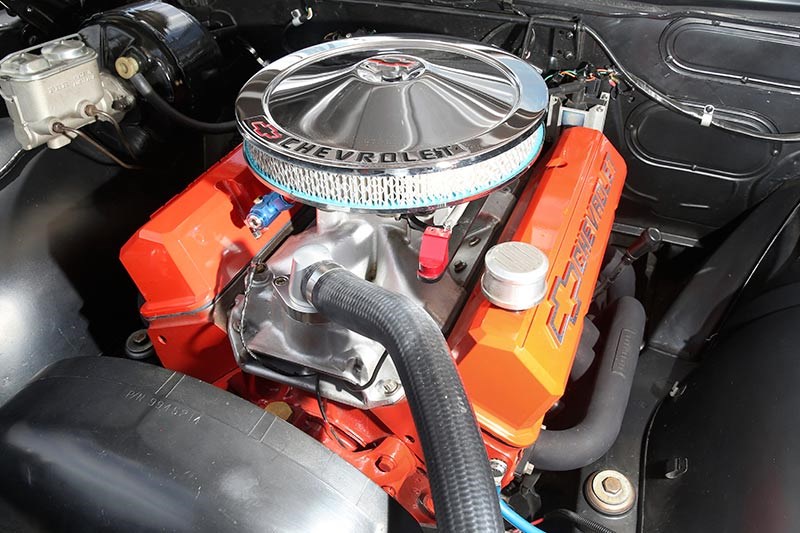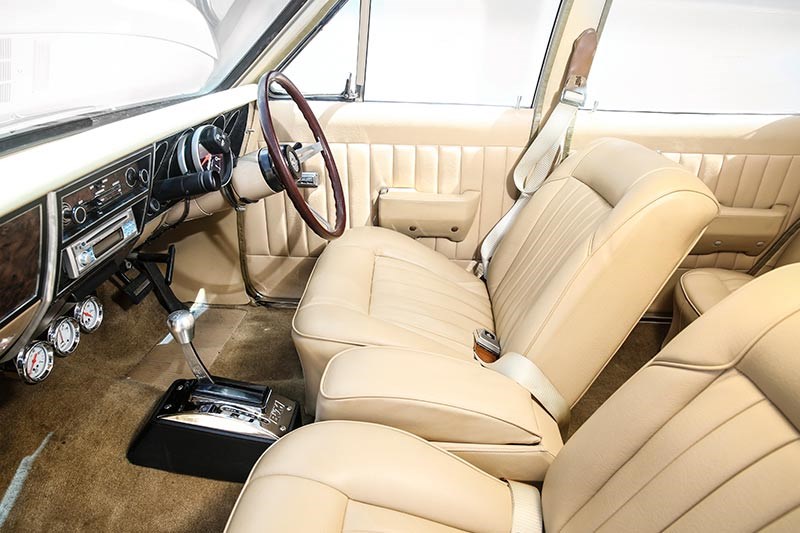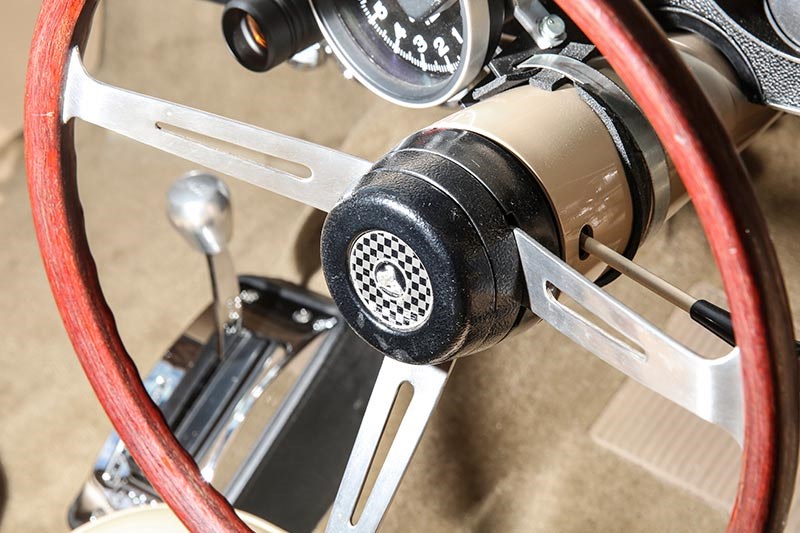 Two trophy-winning muscle cars, Holden's HG Premier and Ford's XW GT, go head to head to show how it's done
Holden HG Premier vs Ford XW Falcon GT
This is not so much about the good old Ford versus Holden rivalry as it is about building a big fast retro car that will hold its value better than most other things you could spend the same money on. And you'll probably have a whole lot more fun along the way.
Our two owners have gone in near enough opposite directions with their builds. Cameron, the owner of the stunning GT Falcon you see here, has gone the traditional long-term collector route, which is to keep it dead stock.
Frank, the gent with the sparkling HG has taken a different approach. While an HG Premier in stock form has very real collector appeal, it doesn't rank as high up the values scale as the GT. Instead, this car's been modified in a way that keeps the original spirit of the car very much alive, – it started life as a big boofy V8 family car, and still is.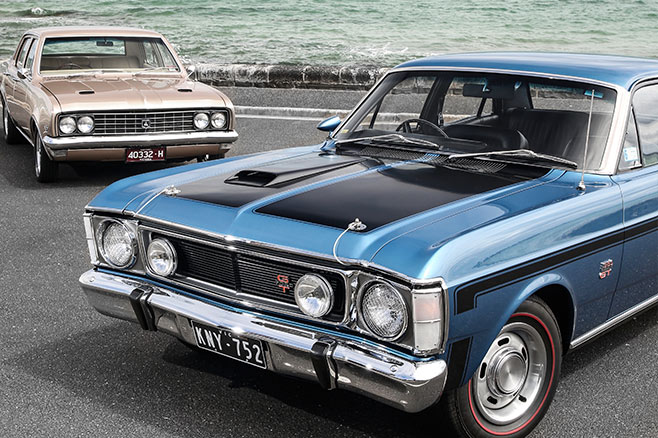 In a market where a GT-HO Ford or a good Monaro of similar vintage can cost the same as a decent house in many places, you can get your hands on toys like these for well under $100k. Think more like $80k for a good GT (maybe a little higher for the one you see here) and around the $65k mark to build something like the HG.
Both of these machines are award winners. The Ford took out Best Restored XW at the GT Nationals this year (a very highly coveted award), while the GMH car won the best modified Premier at the All-Holden Day in Geelong.
THE FORD
Though he probably has a fair number of the required skills, Cameron Smart pulled in outside expertise to get this project humming, including John Serrano at Classic Restorations. Bought for a shade over $10k around 22 years ago (yes, go on, you're allowed to weep at the thought of a GT for ten!), and laid up for most of the intervening time, the car was in reasonable shape.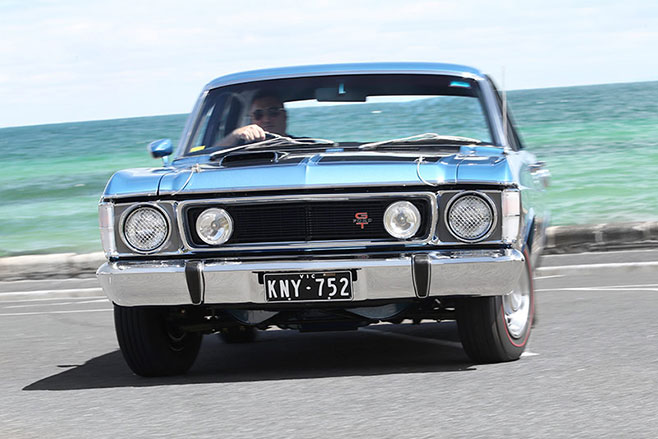 The body and interior refit was more or less straightforward, though those with a keen eye might pick up that every sticker and trim piece is correct – pretty much all of it is new old stock. As is often the case with this style of resto, the devil really was in the detail and some minor bits proved elusive. Frank says the advice from Daniel at the GT Shop was invaluable in this area.
Much of the engine work was done by Racecomp Motorsports, with a brief to build a healthy version of an original. To that end a stock 4MAB Boss crank is in place, topped by 302 rods and Keith Black pistons. Howards cams are driving the valve gear, breathing through 4V big port heads and a Scott Cook manifold.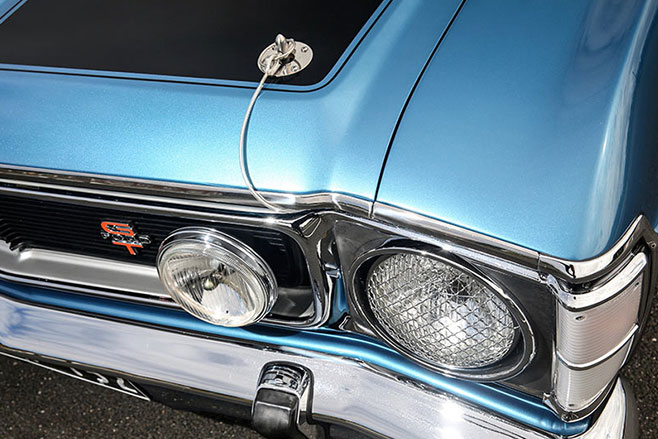 That lot scored an impressive 439hp at the crank and 432ft-lb with a 750cfm carburettor.
Cameron has pulled the car back to dead stock externally (standard carb, exhaust and even points!) for shows, which robs a little power – but in any case there's plenty of life under the right pedal. But he swears it's well-sorted and civilised to drive. "It's very smooth, you can do your shopping in it."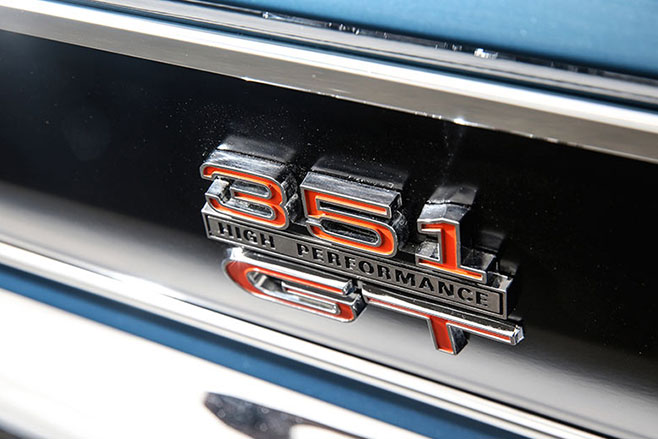 Behind the crankshaft is typical big Ford architecture: the top-loader four-speed gearbox and nine-inch diff with a 3.25 ratio.
One thing we were intrigued by was the report he obtained from Australian Classic Car History Services, which claims a Ford association. It confirms the identity of the car, based on info supplied by the owner, and how it left the factory. This unit was scheduled as number 840 in a build of 1111 and, by the time you narrow down the mechanical, paint and trim specification, it's the only one with that particular combination of goodies.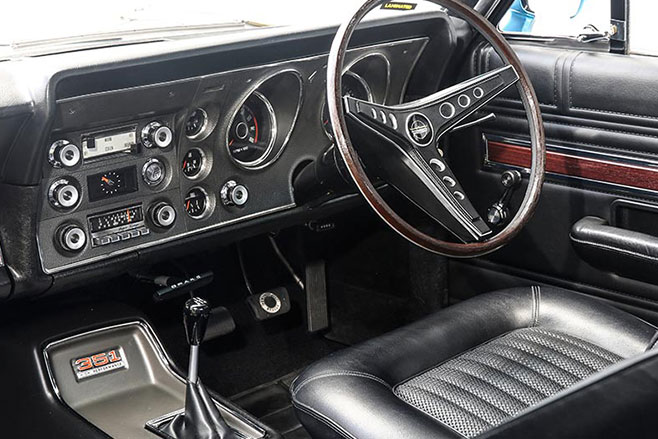 It's not entirely surprising that it can claim to be a one-off, given the huge list of options typically listed by the maker in 1970, but it's good to have it confirmed. There are two little quirks worth noting, one being the tiny brass tag on the number plate, reading '3997'. That means it's either a Ford executive or press car. In this case it was almost certainly an exec car as it had the 'super-roo delete' option, which means the lairy kangaroo with the
spinning wheels logo was dropped from the nose. Evidently it was too much for what must have been more conservative tastes.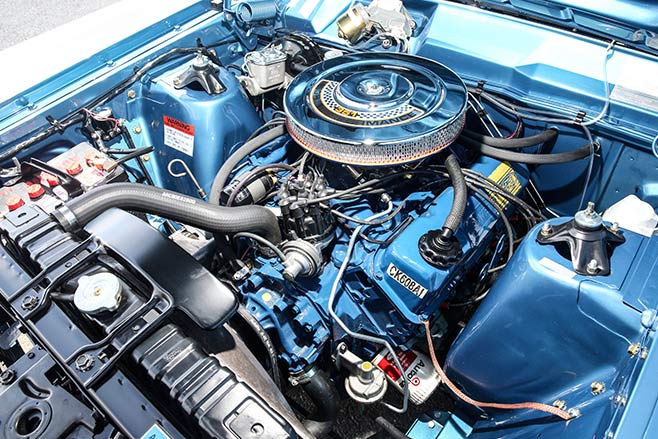 Cameron reckons you can get a rough GT for around $60k, while a good one will set you more like $80-plus. One thing history has proven is they generally hold their value well and the trick is to ensure you get a real one – not something built up out of bits. That's where you need expertise. "I would join a club," warns Cameron. He says the experience (he's with the GT Club in Vic) is rewarding and you immediately get access to a bunch of people who know what they're looking at, plus the cars that change hands privately.
THE HOLDEN
Frank Presti is in the unusual position of actually building and fixing cars like this for a living, so doing one for himself must seem more like work than play. Get talking to him, though, and he's got an infectious enthusiasm for getting these 'old girls' up and roaring.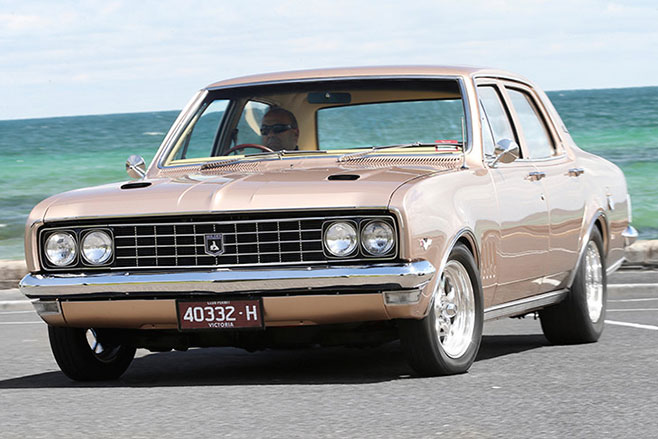 Nope, he decided he wanted something with a bit of muscle and a few comforts.
Rather than mess with the original powerplant, Frank went straight for a 400 small block Chev powerplant, running a Scat crankshaft and rods, forged TRW pistons running at a relatively conservative 9.8:1 compression ratio. The Crow cam is fairly lumpy and there's an 825 annular discharge Holley sitting up top, backed by an Ice Ignition system.
Getting that lot to the ground is a Turbo 350 transmission mated to a Ford nine-inch diff.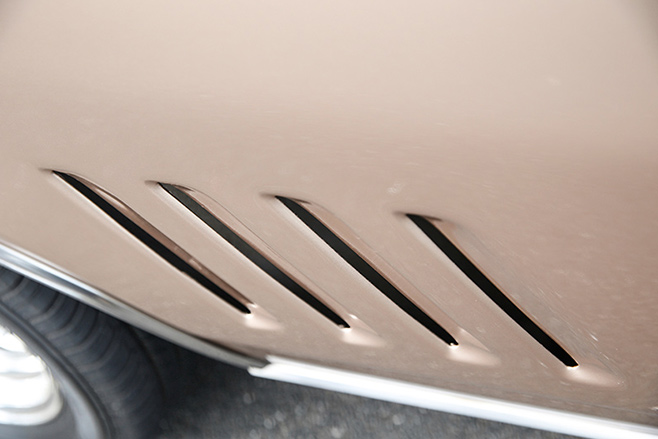 The car sounds aggressive and claims 490 horses on the dyno. With slicks on board, Frank reckons he's scored a very respectable 11.4sec down the strip.
Apparently it also loves its fuel…
When you look back, the stock brakes on these things were pretty marginal. Frank has addressed this with updated four-wheel discs.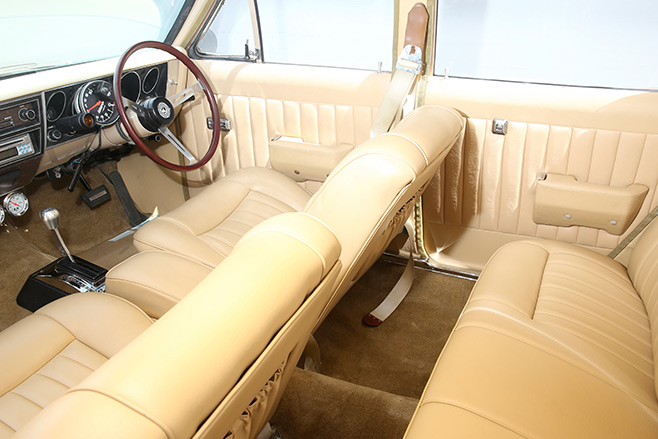 He reckons there is a lot more you can update, including power steering and air-con, while he's thrown electric windows into his car. The trim and body colour have some Holden references but combine to make a stunning one-off whole.
What's it like to steer? "It's a really street-able car to drive," he says, "I enjoy driving it – it goes really well." He adds that it needn't necessarily cost an absolute fortune to build one. A good workable HG can be had for $10-15k, he says, and to do something big and impressive like his car would add another $50k. Not a fortune if you say it quick enough!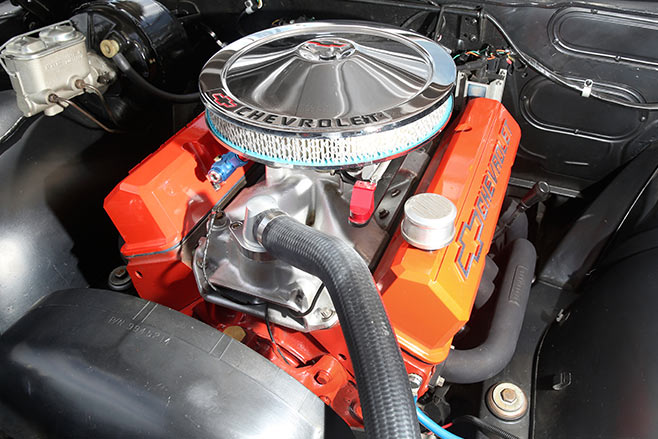 What really appeals about this HG is it keeps much of the spirit of the original car, while delivering a whole new level of performance and comfort. It's a tempting concept.
So what's it to be for your next family classic: original recipe or modified?

THE OWNERS:
CAMERON'S XW GT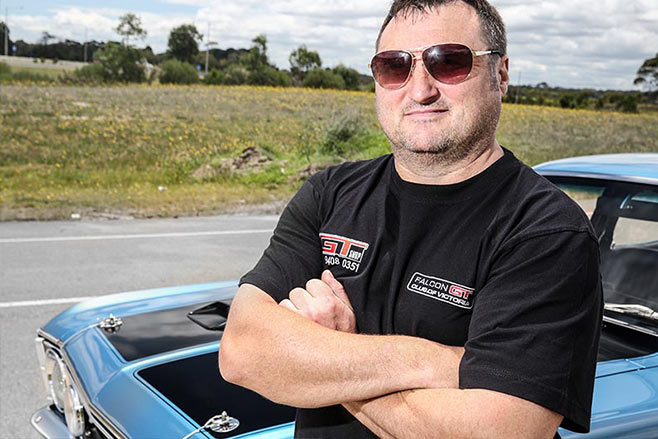 CAMERON SMART has had a long-term relationship with this car, though the refurbishment is very fresh. Some components were barely dry when it turned up at the GT Nationals earlier in the year.
"I bought it in 1993 for $10,400," he says, "drove it until 1995 and then laid it up in my dad's factory until 2005." The full rotisserie restoration took several years.
What got him into XW GTs? "I did my apprenticeship at Speed Pro engine centre in Frankston, the old drag racer joint, started there at 14 after school. My love of Fords goes a long way back – my dad was into Fords. He had an XW Falcon 500 wagon, a K-code ZF wild violet Fairlane, a pepper red XB Falcon 500, so we were always in them.
"Then I went and worked for a mob that did Ford engine reconditioning, they did a lot of GTs.
"I switched trades from mechanic to carpentry. There was a period there when people were getting out of the rev-head scene and things were becoming disposable and I thought there's no money in this, so I got into the building industry. Now everyone is into the old cars!"
What's good about owning it? "The thumbs up when you drive a GT – 'nice car mate'. You think 'thank you', it makes you feel good."

FRANK'S HG PREMIER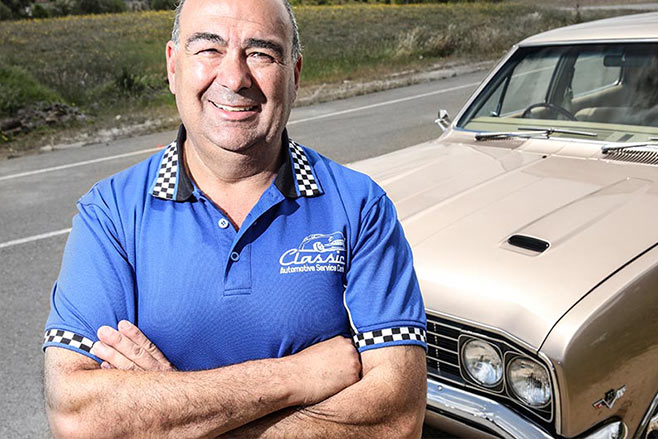 HG OWNER Frank Presti has more in common than he realises with his Ford-driving counterpart in this story. He too left school to work in the car trade, although in this case it was auto machining. "When I left school and was looking for a job at 15," he says, "I saw something on a jobs board that said 'auto machining'. I didn't know what that was, but knew I liked working with cars, so I gave it a go and got the job."
He's still working on cars full time, running a workshop specialising in the older gear, called Classic Automotive Service Centre, in Williamstown. "We restore old cars, so we drive what we do," he says.
Why choose an HG? "My dad drove Holdens for years – FJ then FB, until he went in for little Toyotas.
"I always had a passion for the old Holdens. I saw this one tucked away when I had my other business, just sitting in a shed and wasn't being moved. I asked the owner if he wanted to sell it and he agreed and I went to work on it.
"I like the body shape with the small window on the back, and it's a four-door family car. I just enjoy driving them."
This car was bought in 1997 for around $5500, with a 307 V8 in the snout, and a four-speed Muncie gearbox replacing the original Powerglide. The finished product is about a year old.
SPECIFICATIONS
1971 Holden HG Premier
NUMBERs BUILT 155,787 (all HG)
BODY 4-door sedan
ENGINE 400 small block Chevrolet
POWER 365kW PERFORMANCE
0-400 metres: 11.4s
TRANSMISSION 350 Turbo automatic
SUSPENSION Front: independent – wishbone with coils, tele shocks. Rear: live axle with semi-elliptic springs, tele shocks
BRAKES discs
TYRES 6.95 x 14 cross-ply or radial
PRICE RANGE $10-65,000
CONTACT
holden.org.au
1970 Ford XW Falcon GT
NUMBERS BUILT 1111
BODY 4-door sedan
ENGINE 351CI Windsor V8
POWER & TORQUE 216kW @ 4800rpm, 522Nm @ 3200rpm
PERFORMANCE 0-100km/h 6.4s, 0-400 metres: 14.8s
TRANSMISSION 4-speed Top Loader manual
SUSPENSION Front: independent – wishbone with coils, tele shocks. Rear: live axle with semi-elliptic springs, tele shocks
BRAKES disc/drum
TYRES 185 x 14 radial
PRICE RANGE $60-85,000
CONTACT
thegtclubinc.com
Unique Cars magazine Value Guides
Sell your car for free right here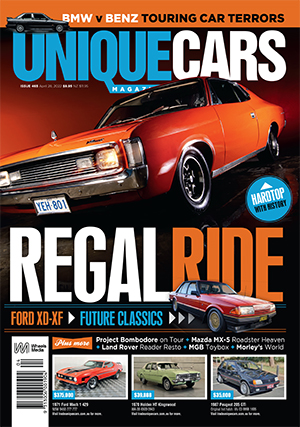 SUBSCRIBE TO UNIQUE CARS MAGAZINE
Get your monthly fix of news, reviews and stories on the greatest cars and minds in the automotive world.
Subscribe