1930 Rolls Royce Phantom II Review
---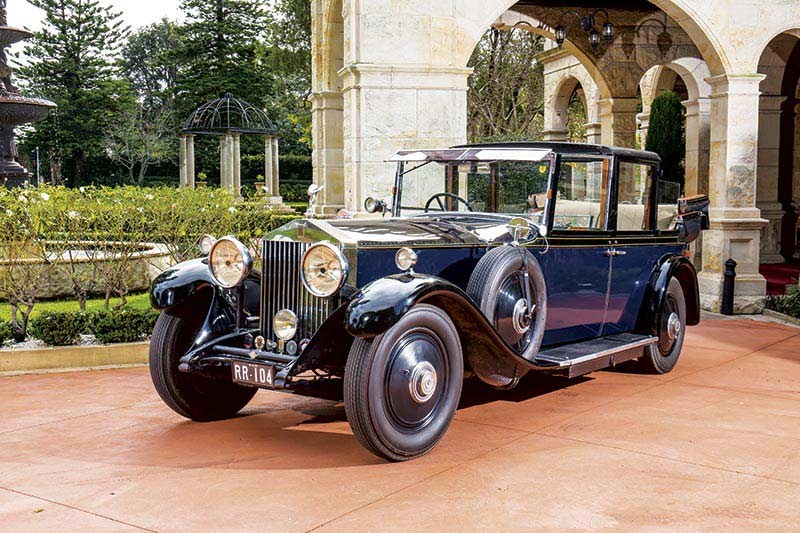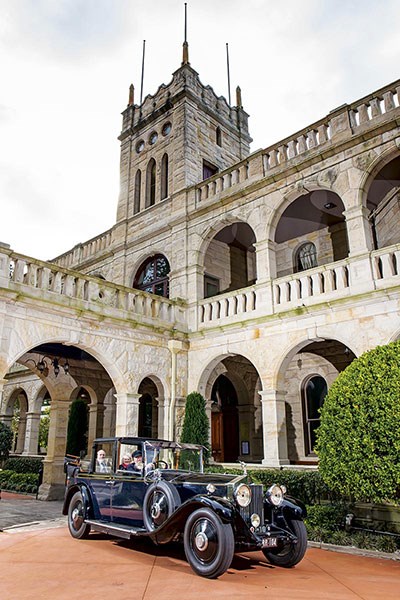 Curzon Hall is a suitably elegant backdrop for the stately Rolls-Royce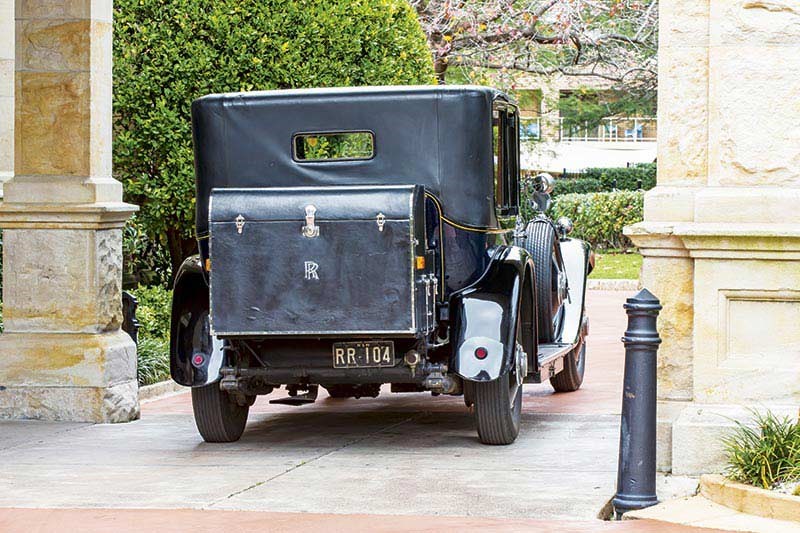 Now you know why the Yanks refer to the boot as a trunk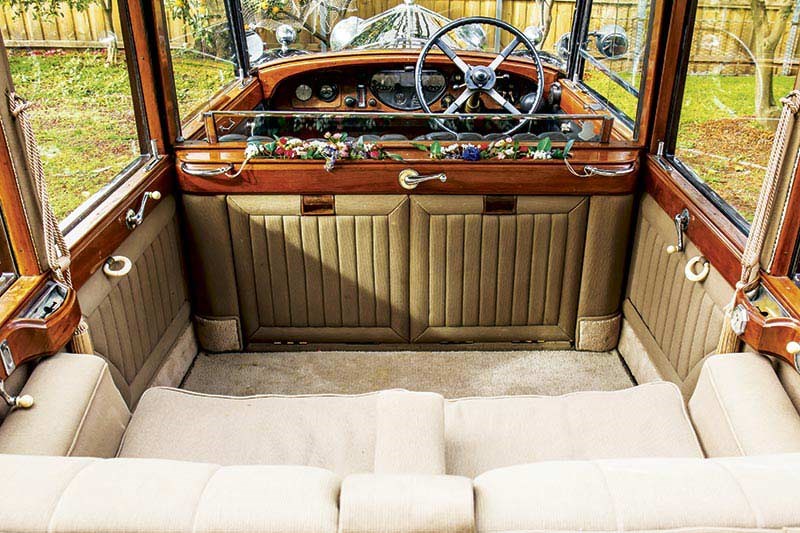 Not surprisingly, the Phantom is in big demand for weddings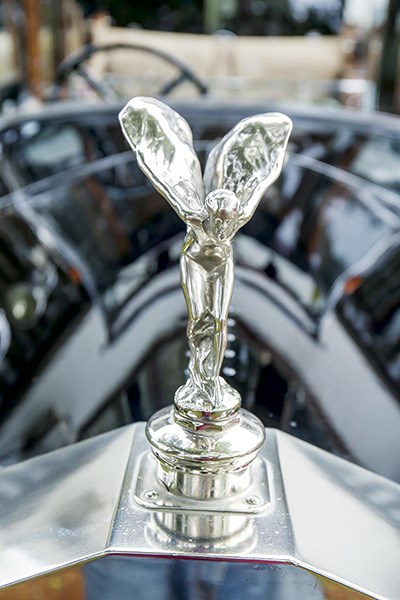 The good lady Eleanor Thornton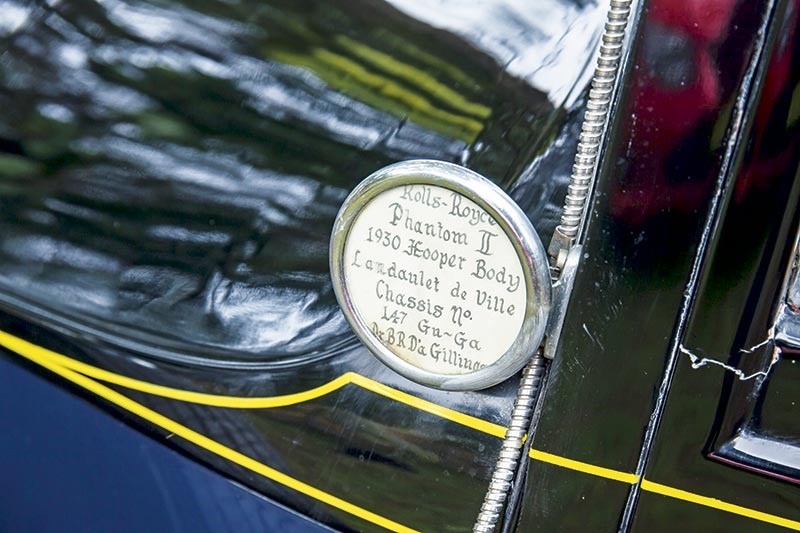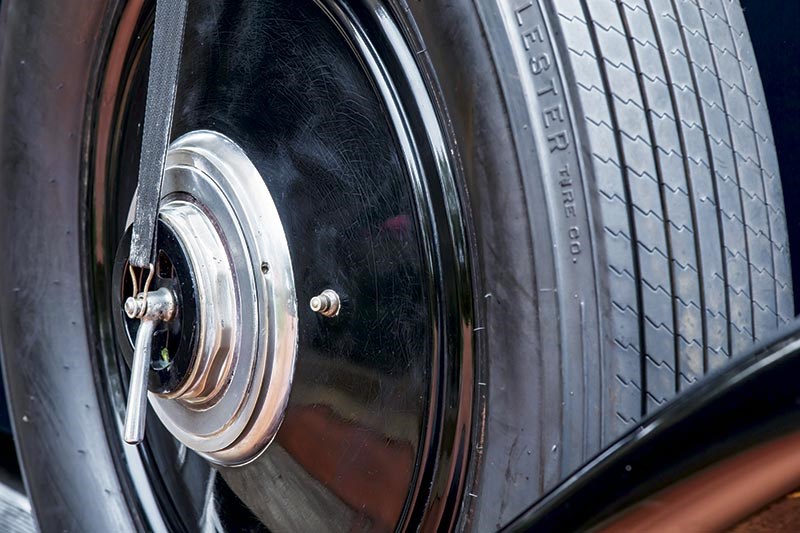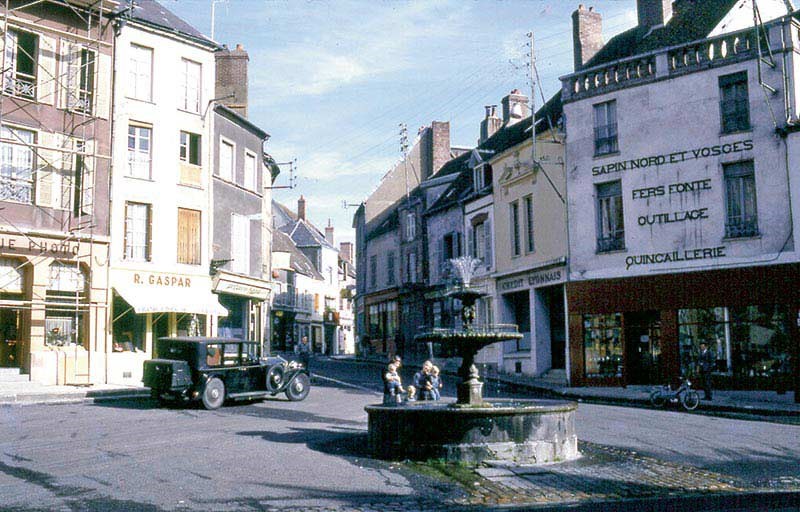 France, 1961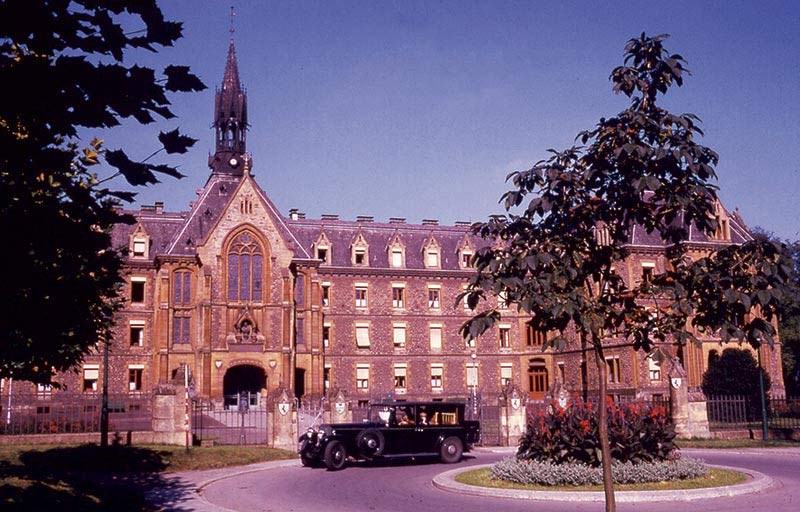 Stopping for a quick photograph in Luxembourg, 1961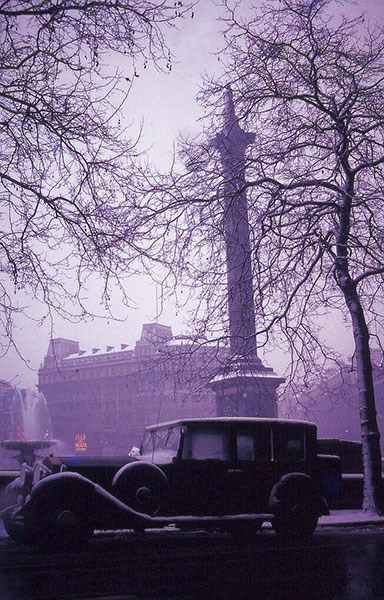 Nelson's Column and Trafalgar Square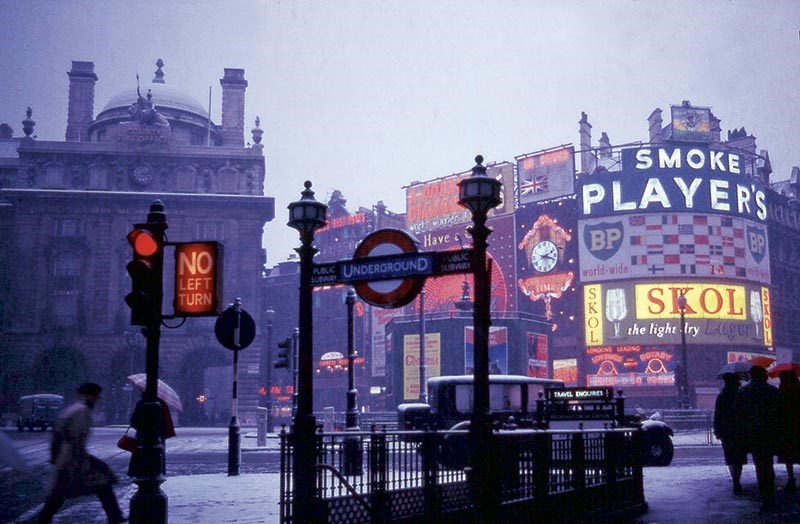 Cruising below the neons at a snowy Piccadilly Circus, London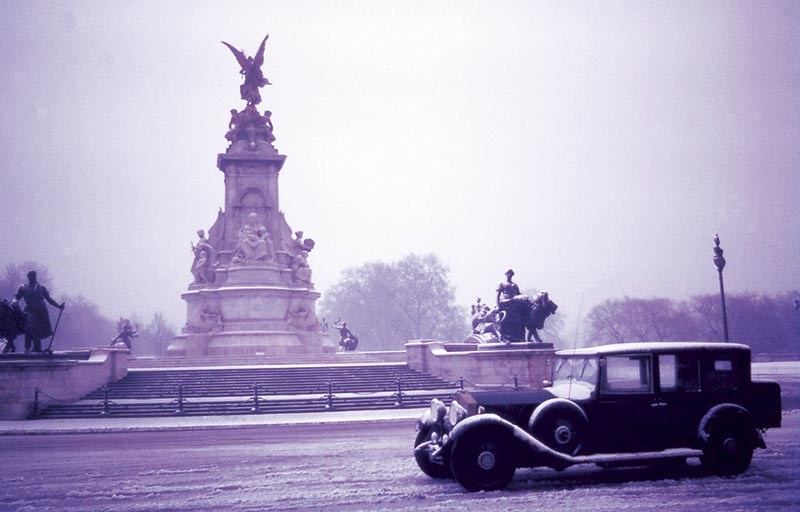 Queen Victoria Memorial, London

This Rolls-Royce Phantom II has been with the same owners for the last 56 years. It had 100,000 kilometres on the clock back in 1960 and it's seen many, many more since then. Meet Mona...
1930 Rolls Royce Phantom II
Rolls-Royce has been a lifetime passion for Sydney enthusiasts Professor Barrie Gillings and wife Margaret. The octogenarians, founder members of the Rolls-Royce Owner's Club of Australia formed in 1956, own no less than three early examples of the British upper-luxury marque.

Their earliest Rolls-Royce collectable, a 1910 Silver Ghost Landaulet is the fifth oldest Rolls-Royce in Australia and has been in the family since 1956, travelling well over one and a half million kilometres.
The Gillings interest in Rolls-Royce began in 1954 when Barrie purchased a 1923 20HP chassis for the princely sum of $120 and fitted it with an oversize body from an eight-cylinder Mercedes.
The Silver Ghost followed in 1956, found as a hearse in the NSW country town of Uralla. Following their wedding later that year the young dentistry graduate and his new bride set off on a graduate study trip to Britain and the US selling the 20HP to fund it and entrusting the Silver Ghost to a friend to restore.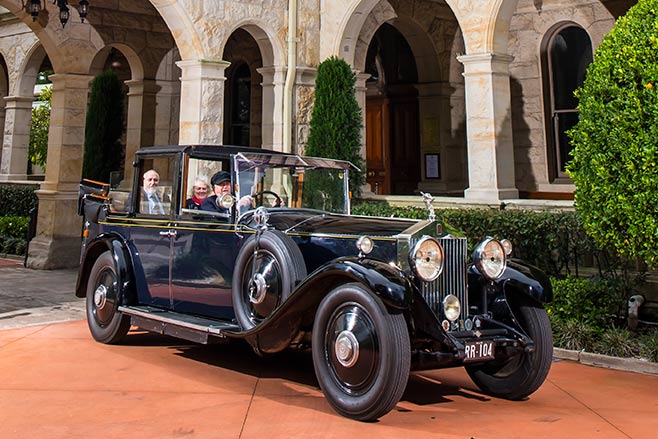 After making countless contacts with enthusiasts in both countries over a five-year period the duo decided to find an appropriate collector Rolls-Royce to bring home. A small advertisement on the front page of the London Times in 1960 yielded more than 20 replies with the couple hoping to secure a nice original vintage Silver Ghost.
However the revered model by this time had outstripped their budget and they were forced to settle on a well maintained 1930 Rolls-Royce Phantom II for $825. In good condition it had travelled 100,000 kilometres and was fitted with impressive Landaulet de Ville coachwork by Hooper.
An extensive European trip followed, the car proving a perfect set of wheels for tourist duties travelling many kilometres on the Continent and proving a very reliable and comfortable mode of transport for the family in all weather conditions.
Today, fifty-six years on, this impressive collector car, affectionately called Mona, because the brakes have a tendency to moan, has given the Gillings family sterling service.
Importantly, Barrie and Margaret's fascination with the Rolls-Royce marque has rubbed off on their six children, several of whom now own models in their own right. Understandably so, given they spent a large part of their early lives living their parents' dream – all have driven or rallied at some stage in the Phantom 11 as well as the family Silver Ghost.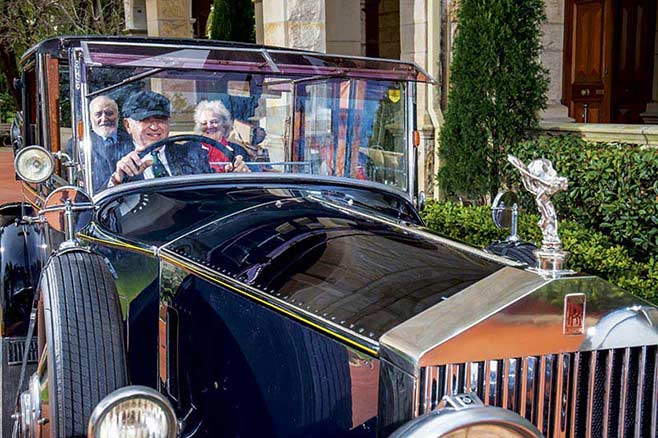 For this motoring scribe this imposing Edwardian Landaulet holds special memories – it's a car I learnt to drive in back in 1960 and the trigger that fostered my own interest in early Rolls-Royces. So the chance to take the wheel of the family's well-travelled Phantom II was quickly accepted.
The Rolls-Royce Phantom 11 arrived on the motoring scene at a difficult time in 1929 during the onset of the Great Depression following the Wall Street Crash. It was a far more sophisticated design than the Phantom 1 model it replaced and a total of 1402 were built between 1929 and 1936. It would be the last complete model created with Henry Royce at the head of the design team.
Importantly, it introduced a much lower chassis line with semi-elliptic springs front and rear and with a standard wheelbase of 3800mm it was able to carry some rather exotic and heavy coachwork. With a lower centre of gravity the P11 handled better and was generally more nimble to the taller Phantom 1 it replaced.
Amongst other things, Henry Royce further refined the Phantom I's 7668cc six-cylinder OHV engine by adding a crossflow cylinder head and bolting the four-speed gearbox directly to the engine for the first time.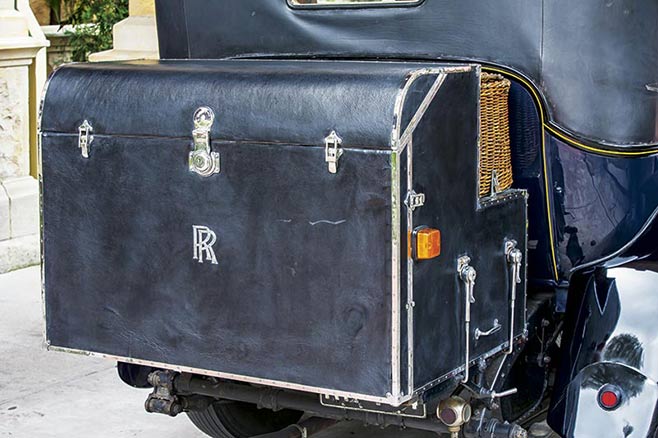 The chassis itself was an all-new design and the sophistication extended to a one-shot pedal-actuated central lubrication system to a number of locations including the spring leaves.
In the '20s and '30s Hooper was very much a favourite of the Royal family – its coachwork characterised by a low waist line and large windows and the Gillings car carries extensive glass that would very much suit Royal duties.
The Landaulet body style has the ability to fold down at the rear while the leather roof over the front compartment can be rolled up and stowed within the roof space to provide open motoring for the chauffeur. A wind up glass division separates front and rear compartments.
Jump in behind the rather large diameter steering wheel and the Phantom's overall size is immediately apparent. This is big car by any measure and you are sitting roughly amidships. Compared to some chauffer driven cars room in the front compartment errs on the side of comfort, with the gear lever easily accessible beside your right leg.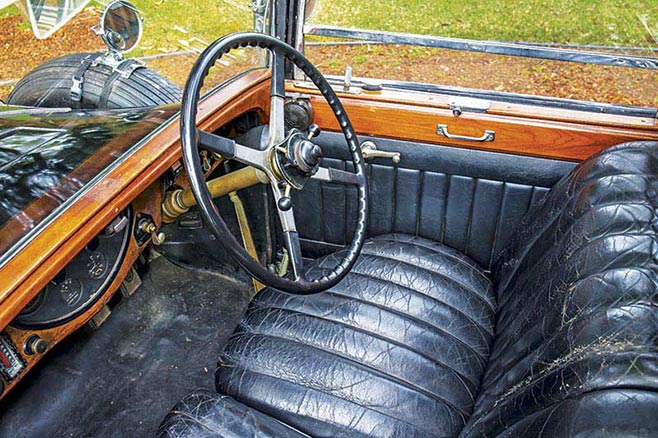 The overall appearance of this car is a little tired yet it still has a remarkable feel of quality. Henry Royce knew how to build quality into his chassis and the fittings and prestige of this big Rolls-Royce set it apart. Hooper too was highly respected as a coachbuilder and the construction, innovation, fittings and features on this body including ivory embellishments around the window winders are first class.
The rear compartment for 1929 is decidedly luxurious with West of England cloth on very accommodating seats while two jump seats pull down from the centre division.
Barrie Gillings has carried out considerable maintenance on the PII in recent years fitting a replacement cylinder head, a new radiator core, new pistons and relining the clutch twice and the brakes once.
Aluminium cylinder head replacement on Rolls-Royce Phantoms can be an expensive business with corrosion a constant problem and this area alone requires vigilant maintenance. The cylinder heads also have a penchant for growing onto the studs and cars that have not had their head removed for some time invariably become difficult to repair. New alloy heads are available in the UK, however they can cost around $20,000 landed and are not cheap to fit.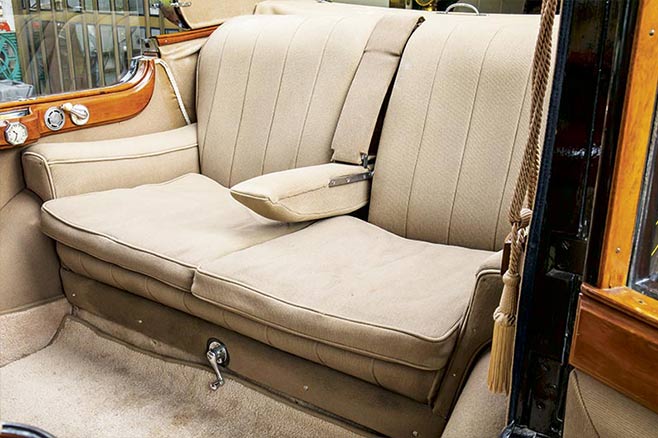 With such significant body weight, the gearing is very much designed for getting such a large mass moving but once on a roll you quickly run out of revs as you gain momentum. On slight slopes starting in second gear is far less tedious.
Early PIIs like this one came with a crash gearbox that requires double-shuffling – sharp, fast gear changes are the order of the day, however on cold mornings, the heavy gearbox oil makes it difficult to perform quick and clean changes. Despite the Phantom's strong torque and its overall weight the single dry plate clutch is surprisingly light with excellent feel.
It wasn't until 1932 that Henry Royce added synchromesh on third and fourth gears while it took another three years for second gear to gain this welcome feature. Once moving this powerful late vintage car has an effortless gait, best on a smooth surface where its cruises with style.
Braking by servo-assisted 400mm drums is powerful and needs to be – when cruising this car has the weight of an elephant on the run and when travelling with un-sympathetic modern traffic not familiar with the dynamics of a period car you need very good brakes.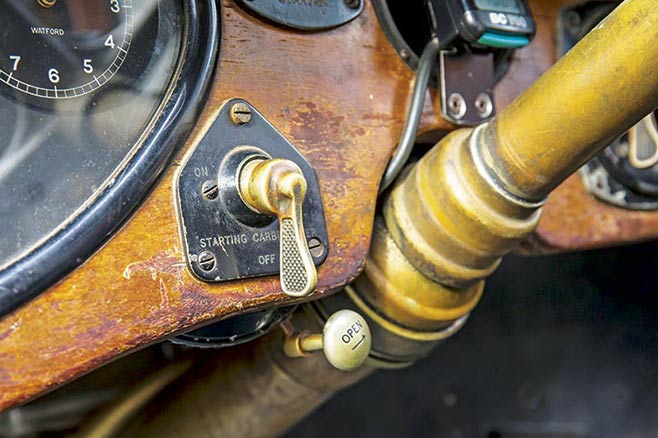 Henry Royce may have justifiably received criticism for the slow adoption of servo-assisted four-wheel brakes on his acclaimed Silver Ghost but the brakes, further refined on this model, are not only powerful but have the pedal feel of a far more modern hydraulic system.
Maneuverability of such a large car from rest requires arms like Popeye but once on the move it lightens up and apart from some wander dependent on road camber is easy to handle.
Few cars have the on-road presence of this big Rolls-Royce and it attracts eyes wherever you go. Understandably, it has been the transport for countless brides over the years and with its Landaulette body open it is extremely photogenic.
Today, the Gillings don't drive it as much as they did in days gone by but the car holds great affection to them and is cherished by the extended family. Few old car enthusiasts have gained so much enjoyment over such a long period as the Gillings' but importantly, few collectors have given so much help and encouragement to fellow club members and enthusiasts as well.
SPECIFICATIONS
1930 Rolls-Royce Phantom II

Engine 7668cc pushrod-OHV straight six
Gearbox 4-speed non-synchromesh
Differential open driveshaft to a hypoid bevel final drive.
Brakes four-wheel servo-assisted drums.
Steering worm and wheel unassisted
Top Speed 140km/hour (estimated)
Unique Cars magazine Value Guides
Sell your car for free right here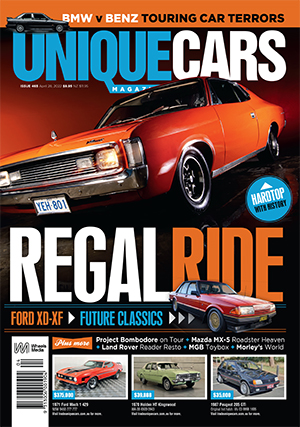 SUBSCRIBE TO UNIQUE CARS MAGAZINE
Get your monthly fix of news, reviews and stories on the greatest cars and minds in the automotive world.
Subscribe