Ford Edsell review
---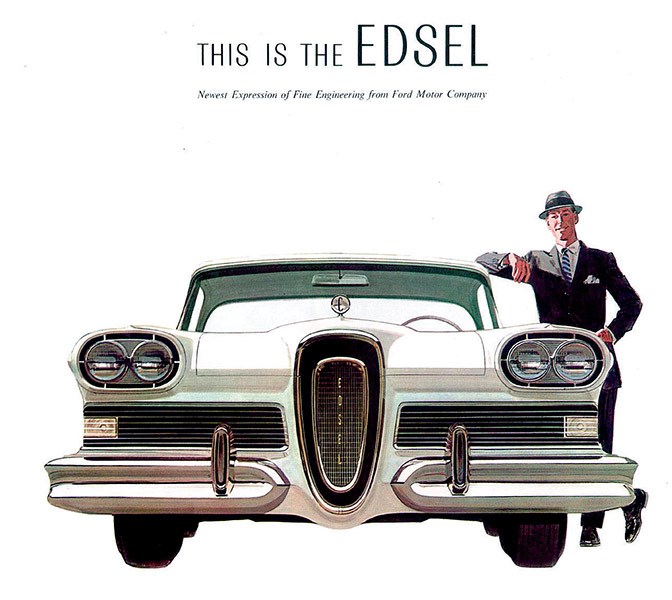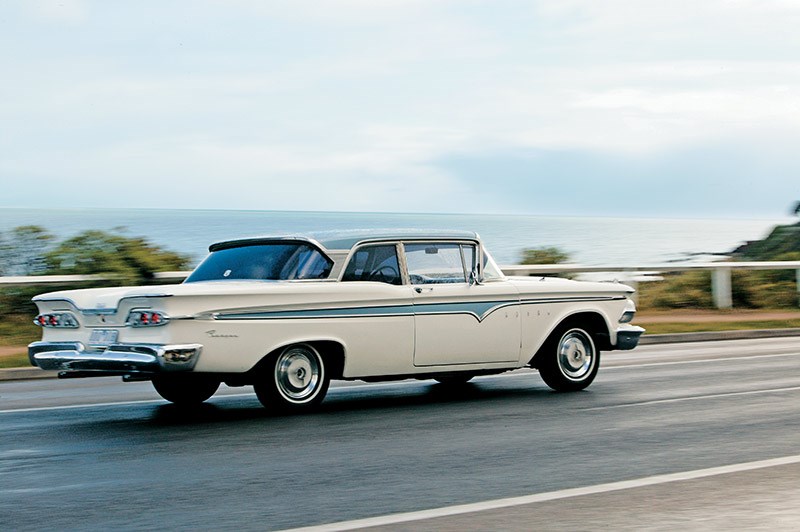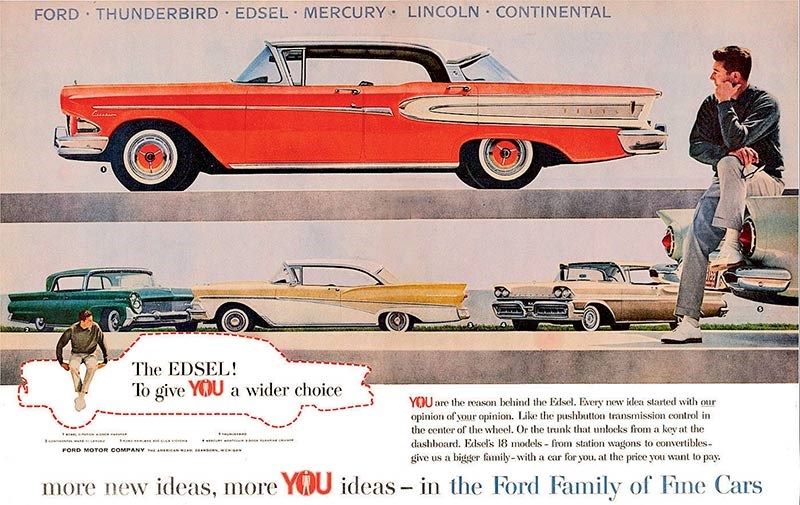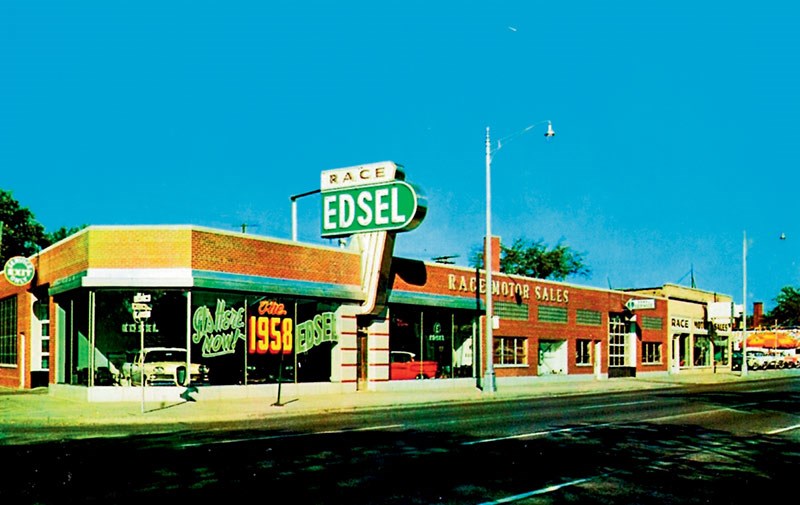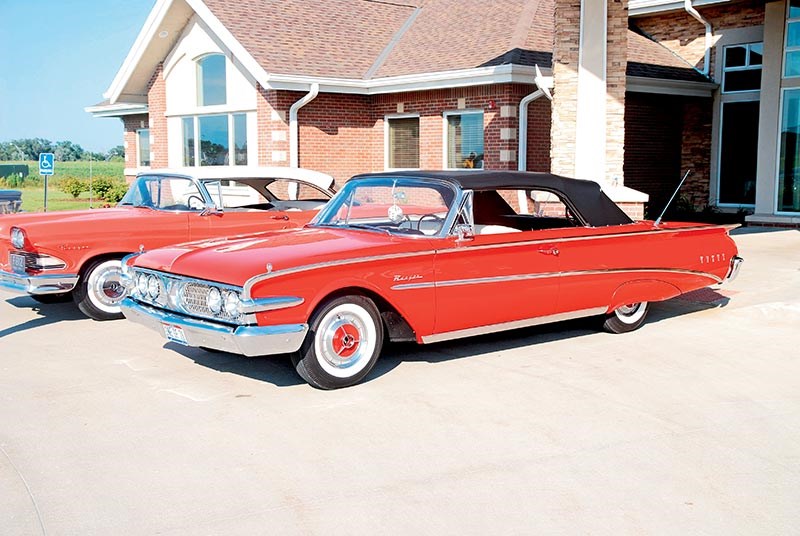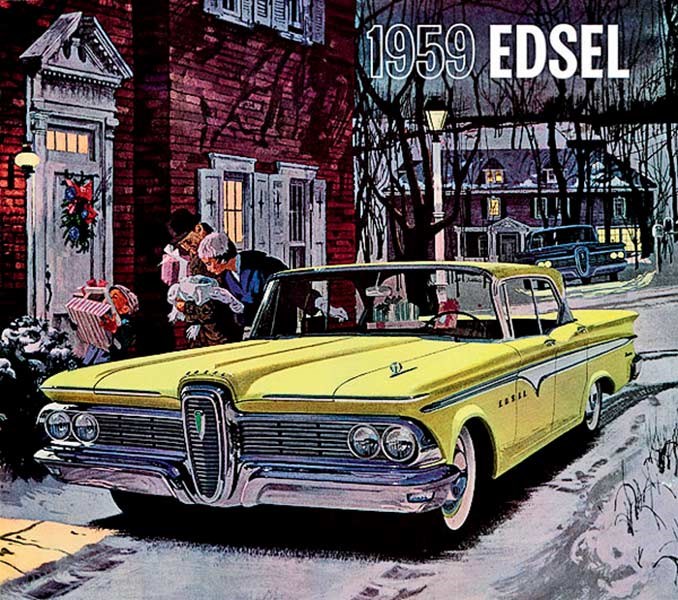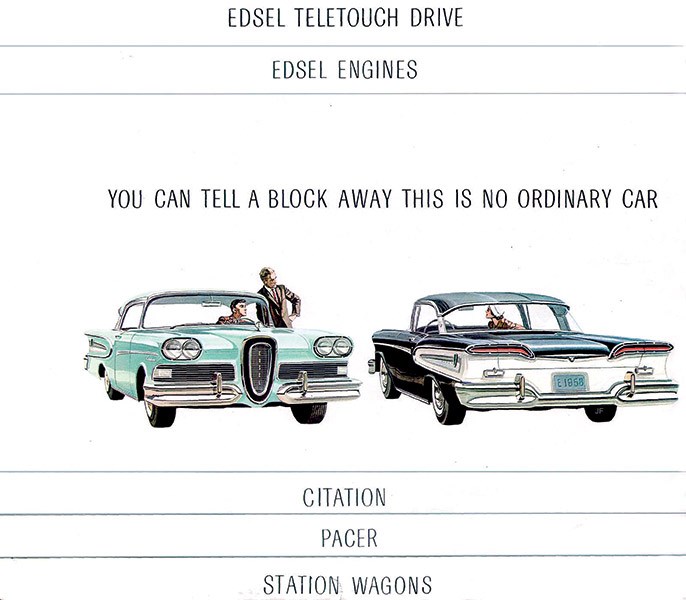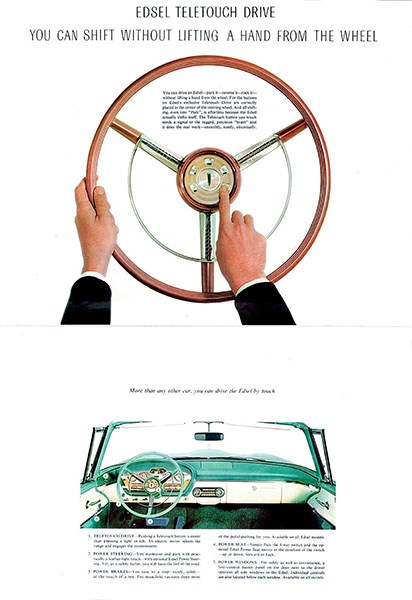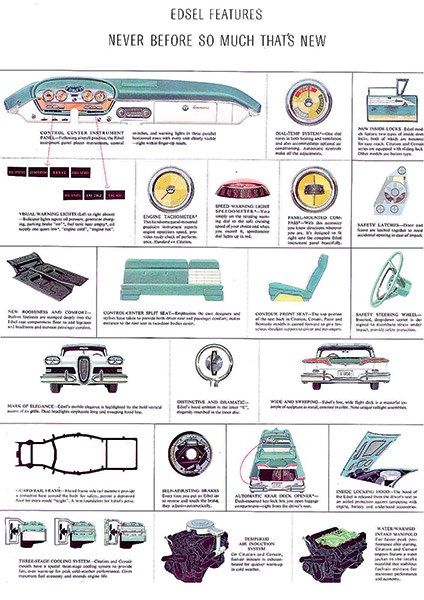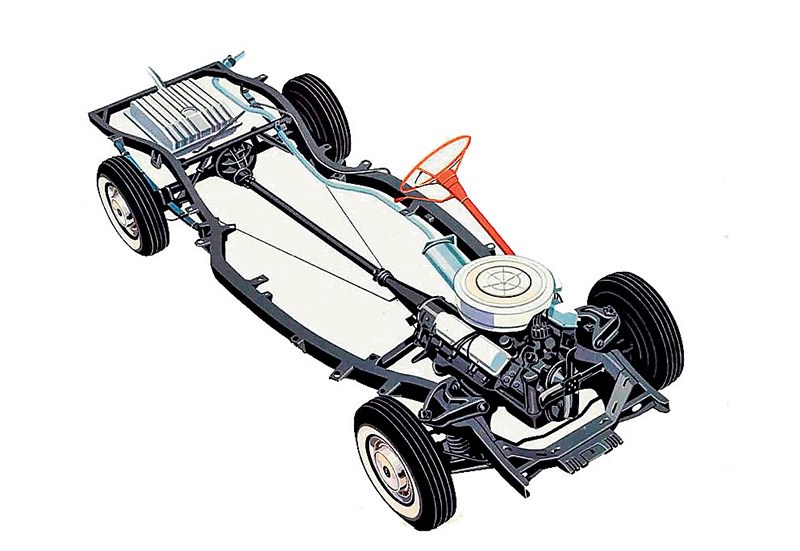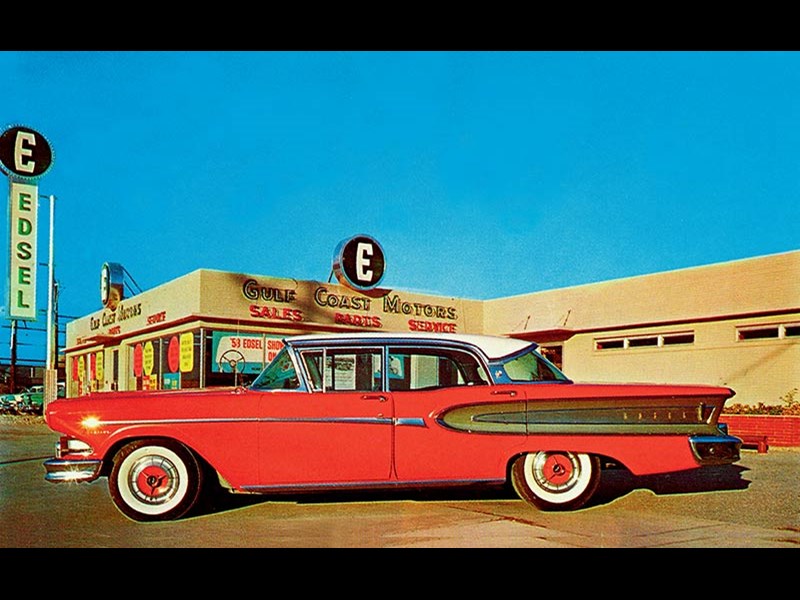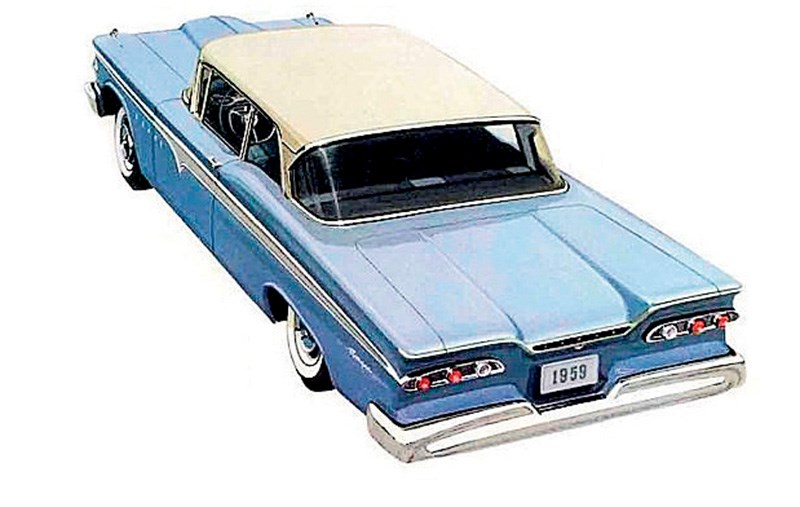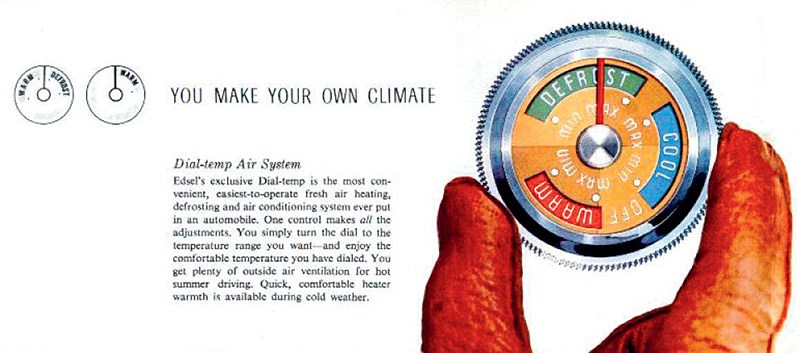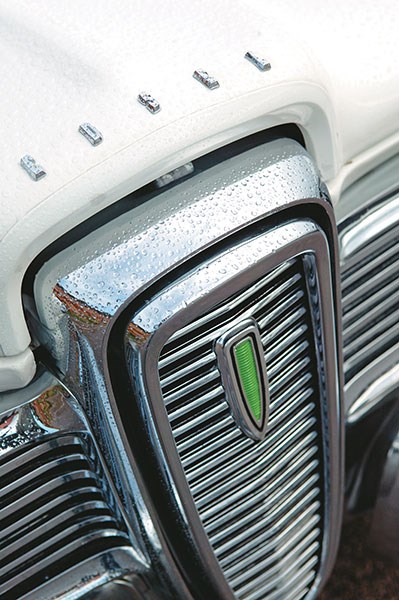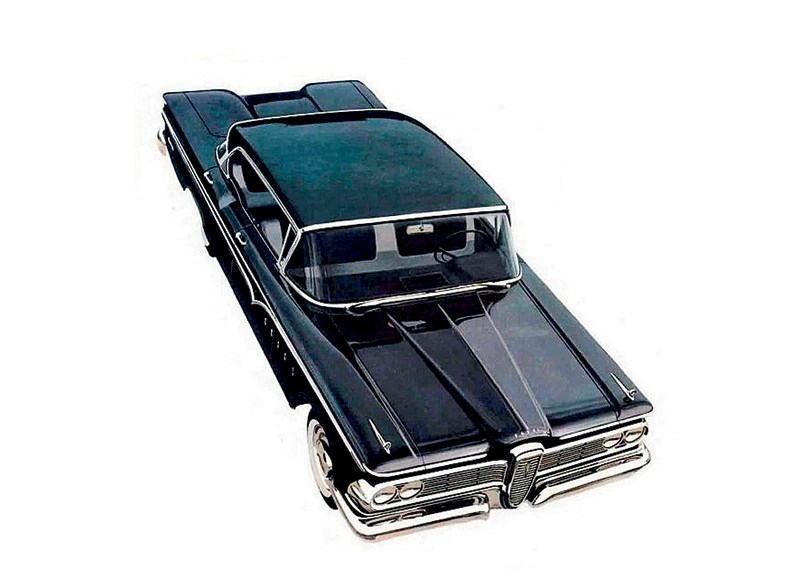 Ford's innovative Edsel marque ought to have flourished, but internal wrangling and poor timing were enough to see it implode
Ford Edsell
On 19 November 1959, just 26 months after its gala launch, the Edsel marque was pronounced dead. Emotions within the Ford world ran high. We don't know precisely how John Dobbyn, the executive in charge of the Edsel Division's testing facilities, felt that day. But we do know that he ordered that the engine oil be drained from the last four Edsels awaiting their final test. Dobbyn then stepped into each car, fired up the V8, and walked away.
Ford had itself walked away from one of its boldest ever marketing initiatives and certainly among its most important of the 15 years after World War II, up there with the introductions of the '49 Ford, Thunderbird and Falcon. In the end just 118,287 Edsels were sold across three models years with 1960 models totalling just 2846.
The Edsel was conceived when Ford was on its biggest roll since the heyday of the Model T. In 1949 the company sold one million cars and with its 1953 Anniversary models, Ford was hoping to knock off Chevrolet as number one for the first time since 1931. There was even the prospect that total sales across all divisions could rival General Motors.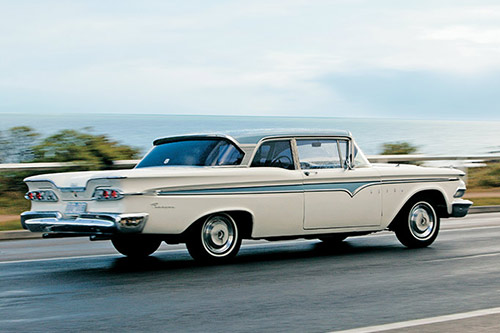 Henry Ford II, who took over control of the company from his grandfather on 20 September 1945, moved quickly to make the corporation more like GM. In the early 1920s Alfred P Sloan, Jr. had instigated his 'car for every purse and purpose' policy. Sloan saw that there was much more profit in building big cars rather than small ones and in building Cadillacs rather than Chevrolets. But while GM had – in ascending order – Chevrolet, Pontiac, Oldsmobile, Buick and Cadillac heading into the postwar boom, Ford had just three divisions – Ford, Mercury and Lincoln. Even Chrysler had four brands; Plymouth, Dodge, DeSoto, and Chrysler, and would turn the premium Chrysler variant, the Imperial, into a fifth for 1955.
Much of the market growth in the half decade from 1949 was in the medium-priced sector. Oldsmobile sales rose from 172,500 in 1948 to 288,000-plus for '49 and almost 408,000 the following year. Buick was fourth outright in 1949 (behind Chevy, Ford and Plymouth) with 324,276, rising to more than 550,000 for 1950. In 1954 Buick trailed only Chevrolet and Ford.
The same success story did not apply to Ford's mid-range Mercury and Lincoln never got close to Cadillac. Ford's strength had always been in its eponymous division. Sloan's product policy had proved hugely successful with Chevy buyers aspiring to a Pontiac and Buick buyers craving a Caddy.
Significantly, the top-end Ford models were performing strongly. An early proposal had been to introduce a new high-spec Ford but the decision was taken to create a whole new division whose cars would be sold through the Lincoln-Mercury dealer network.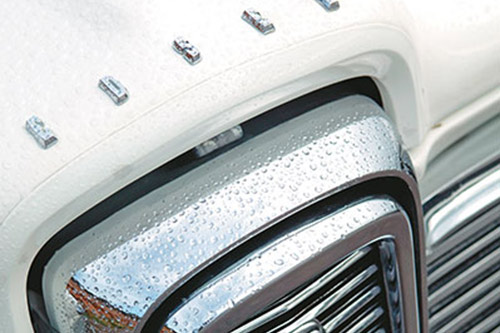 Lewis D. Crusoe was, by 1955, effectively number three in the Ford empire hierarchy and revered the GM way of doing things. He reckoned Ford needed not just a new car but a whole new brand. On 15 April 1955 he fronted the Ford directors with his proposal. He pointed out the $700 gap between the dearest Mercury at $2400 and the cheapest Lincoln at $3100. When Ford buyers 'traded up' they were being captured by GM who had three brands in this price bracket or even Chrysler with two. What was needed was an altogether new car.
Initially referred to as the 'E' car project, this plan came into effect in 1955 but 'E' emphatically did not stand for 'Edsel' but 'Experimental'. Internal friction quickly followed. Ford Division's boss, 'Whiz Kid' Robert McNamara saw the Edsel as a threat to the up-spec Fairlane. It seems likely that he played a large role in decisions that directly contributed to the Edsel's demise: McNamara was a formidable opponent and his personal taste was for less extravagance, a taste which found expression in the Falcon.
Almost from the commencement of the E-Car project, timing was a major problem. Simply, there was never going to be enough time to produce the significantly new car that this one – long before it was given a name – was intended to be. The Edsel was never intended to be an exercise in styling alone. Rightly, the product planners realised that some advanced engineering features would be needed to make it stand out from rivals. Even without all the other problems the Edsel encountered there was not enough time to develop and test the pushbutton automatic transmission, air bladder suspension and new air-conditioning system to the stage where they reliable.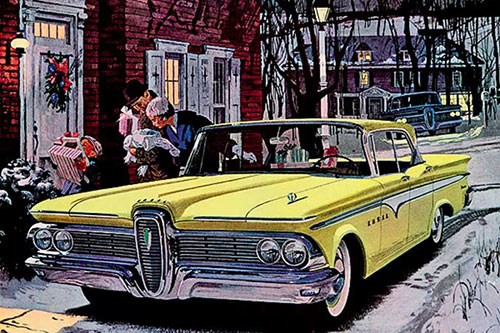 Chrysler already used buttons for its Torqueflite transmission but the Edsel engineers faced a more difficult task installing them on a fixed hub steering wheel. The air bladders which were to have been inserted into the springs were ditched altogether.
Even worse, the Edsel was resented not only by some senior executives but also by many of the assembly line workers who had to build it. There was no dedicated Edsel plant and cars went down Ford and Mercury lines. It was, as it were, an orphan within its own family. In one Ford plant three Edsels went down the line per hour. According to Warnock in The Edsel Affair:
"When line speed increased to permit three Edsels per hour foremen and assemblers alike began to resent this stranger that made an appearance once every 19 minutes and on which they had 57.14 seconds to perform their assignment. The rhythm that assembly workers develop in their daily task was being interrupted and they grew to hate the car, not because it was an Edsel, but because it represented a blip in the heartbeat of the assembly line. The result was inevitable. Launch cars from Ford Division were not built well at all…Rangers and Pacers left many line stations with no work done on them at all. When these got to Quality Control, they were shunted to the 'boneyard', where cripples were stored until they could be worked on by individuals who had no more than a minute to make repairs."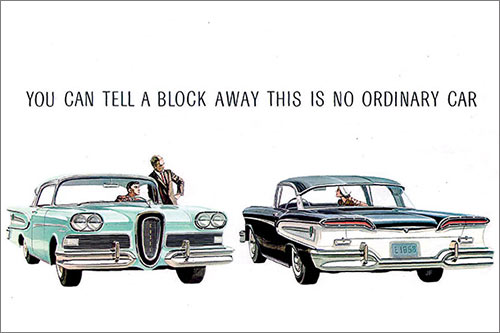 Some Edsel executives had hoped to launch the car in June 1957, three months ahead of the normal launch season. The date was set for the first week of September, which still allowed the Edsel to precede all other 1958 models. Even then the cars weren't right. Seventy-five green and white Pacer two-doors were driven in formation. Sixty-eight of these were to be taken home by journalists for extensive testing. Behind the scenes, numerous other Edsels were robbed to get these test cars into good enough shape.
Price as much as quality was another factor in the poor timing. The Edsel came to market just as the recession was starting to hit and hefty discounting applied to most runout 1957 models. The entry level Fairlane-based Ranger was priced at $2519 while discounted '57 Fairlanes were on offer at $1900. After Ranger came Pacer, Corsair and Citation. Wagons were Villagers. For 1958 Corsairs and Citations rode on 124-inch wheelbases, while the rest were 118-inchers.
In virtually all respects the launch timing was disastrous. When the E car was conceived, the US economy was booming with medium cars such as Oldsmobiles, Buicks and even Dodges selling strongly. But by 1957 the move was on to smaller cars with the Beetle climbing the sales charts and Detroit's homegrown 'compact' models on the drawing board; Robert McNamara's dislike of the Edsel's ostentation had perhaps proved prescient.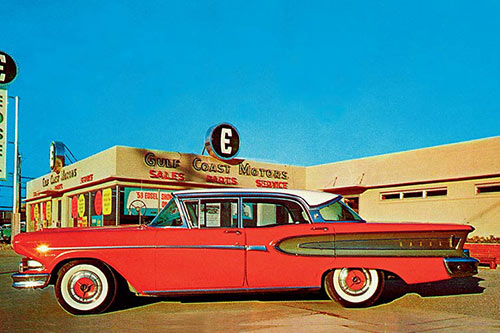 News of poor build quality and unreliability preceded the Edsel to market and it was a goner almost from day one. Many cars arrived at dealerships with rectification instructions tied to the steering wheel. But the dealers, still keen to believe the Edsel propaganda, often refused discounts and didn't routinely offer test drives. They viewed the newcomer as an invitation to easy profit: 'take it or leave it', and most prospective buyers did the latter.
Warnock summed up the Edsel: 'A good car, boldly styled and zealously promoted, introduced too late for the market for which it had been planned.' There was some impressive technology, including Detroit's first self-adjusting brakes, an optional compass and that fixed hub steering wheel. The bench seat was split (40 per cent for the driver) and the two sections were individually adjustable. Overdrive was available with the three-speed manual transmission. And whether you liked it or not, the Edsel was styled to stand out from the mainstream. The '58s had two V8s of 361 and 410 cubic inches, both of which gave excellent performance. It's difficult to resist two conclusions. Had a broadly similar car come to market two years earlier it might have worked. And much of the reason for the Edsel's poor acceptance was a defeat from within Ford Motor Company's own ranks in the guise of the 1957 Ford Fairlane 500. Ultimately the Edsel adventure proved a humiliation that had Ford licking its wounds for years.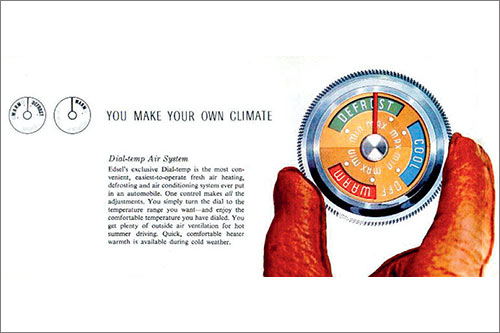 EDSEL OWNER: PHIL SKINNER
I grew up in Southern California and have always loved cars.
I bought my first Edsel in 1979, a 1958 Villager station wagon. Since then I have owned more than 20 Edsels of many different types. At present I have three and perhaps the most notable of them is a 1959 Corsair convertible.
During the mid-1990s I was President of the Edsel Owners Club. The club maintains a registry of Edsels by their serial numbers and now has more than 11,000 on file. Our goal is to hit 10% of total production, 63,110 for 1958 model year, 44,891 for 1959 model year and 2846 for the 1960 model year, plus just over 7450 more produced in Canada.
With my passion for cars I am fortunate to be the Senior Market Editor for Kelley Blue Book (kbb.com).
The Edsel story is a fascinating one and I will always have a special place in my heart for these cars.
By the way, did you know that EDSEL stands for Every Day Something Else Leaks?
Unique Cars magazine Value Guides
Sell your car for free right here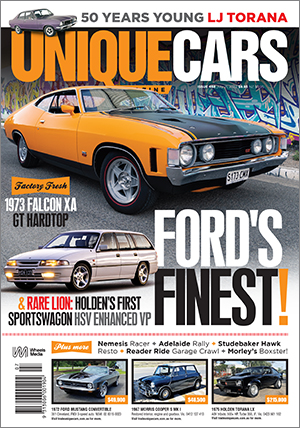 SUBSCRIBE TO UNIQUE CARS MAGAZINE
Get your monthly fix of news, reviews and stories on the greatest cars and minds in the automotive world.
Subscribe