Flying B Racing Bentley Continental GT3 review
---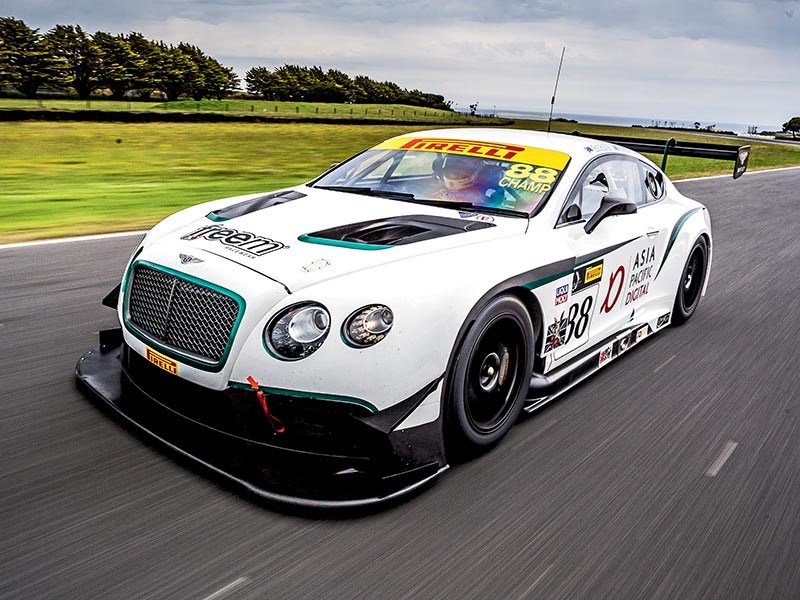 Bentley Continental GT3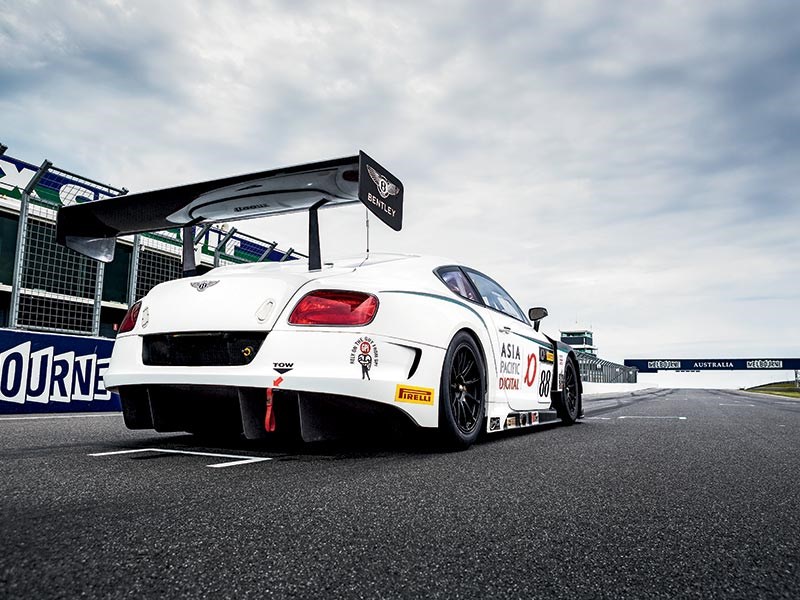 Bentley Continental GT3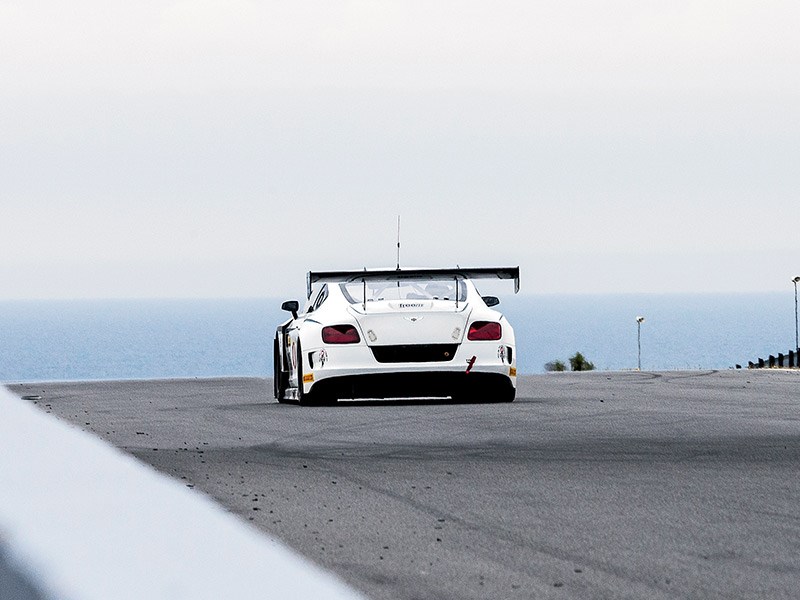 Bentley Continental GT3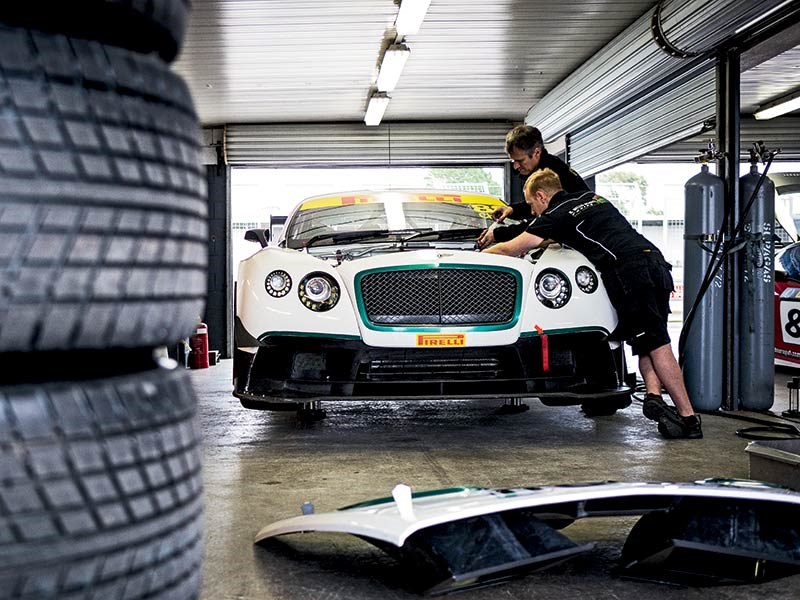 Bentley Continental GT3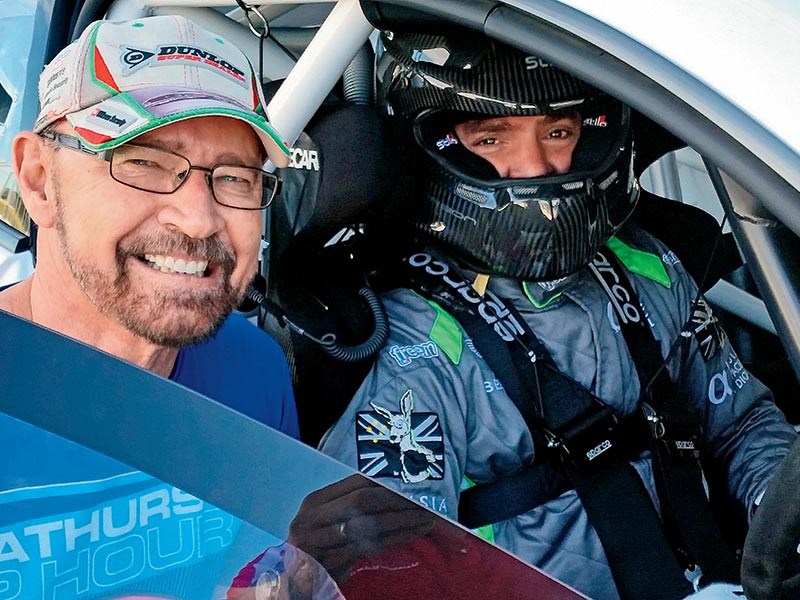 Bentley Continental GT3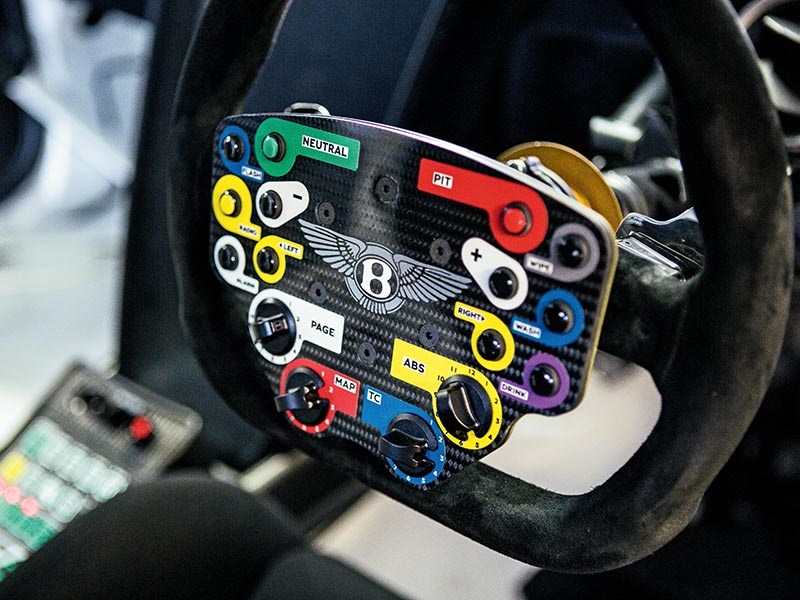 Bentley Continental GT3

Flying B Racing's Bathurst 12-hour demonstrated genuine potential in the Continental GT3 but ended up as a story of what might have been. John Bowe reflects on some hard lessons and one huge challenge.
Flying B Racing Bentley Continental GT3
> View the full image gallery here
When the end came, it came with a bang rather than a whimper, David Brabham leaving his Bentley-sized imprimatur on the concrete wall at the Cutting. At least Stefan Mücke was good enough to later apologise for the 'misunderstanding' that saw his Craft Bamboo Aston Martin nerf the big Flying B Continental GT3 out of contention and send Brabham off to hospital on a back board.
Of the three Bentleys that took the start – two works cars and the Flying B car – only one saw the chequered flag. Even that was touch and go, Mücke again indulging in a highly questionable final corner stunt where he nudged the rear three-quarter of Matt Bell's Conti to deny him a solid second and demote him to fifth. The Bentley was leading the field after the final safety car restart with two laps and four minutes to run which, for a first stab at Mount Panorama, was beyond the factory's most optimistic expectations.
At first glance, a Bentley Continental GT doesn't seem like ideal racing material, bringing to mind the old punchline 'if I wanted to get there, I wouldn't start from here'. For a racing car, it's a behemoth. The GT3 version is 4,950mm long and 2,030mm wide, so its footprint on track is around ten per cent bigger than something like a Ferrari 458. In a sport where differences are measured in thousandths, that's a vast deviation from the norm. It gives the car enormous presence though. Say what you will about the Bentleys on track at Bathurst, but they were the undoubted stars, the cars that as viewers you couldn't tear your eyes away from.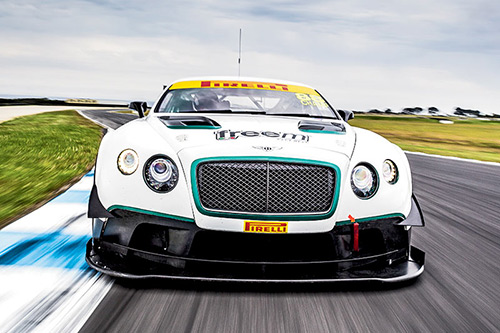 "The amount of interest on social media has been phenomenal," says Brabham's team-mate (and Unique Cars staffer)John Bowe. "It's a car with real presence and there's that guttural sound. It does feel big when you first get in but it gives you good messages through your hands and feet though, so I think the potential's there. It's incredibly complex. Coming out of a Touring Car Masters Mustang, it's a re-education. This has got a Cosworth engine management system, eight-position traction control and eight-position anti-lock brakes."
"It's ultimately not as quick as the old Mustang along a decent straight because of all the aero. Downforce equals drag, but it brakes in half the distance," he says. He's not exaggerating either. "At the end of Phillip Island's straight, I'd be on the brakes at the 200m board in a Touring Car Masters racer. In this you wait until 100m. You think your eyeballs are going to fly out of your head. The brakes make this horrible grinding noise but
the deceleration is incredible," he explains. "You can feel yourself hanging from your belts."
"The paddle shift gives you a lot of brain space. You can brake when you see the whites of the crowd's eyes!" he chuckles. Race engineer Campbell Little's telemetry leaves his drivers nowhere to hide and his feedback on JB's driving came with a surprise bit of advice. "I found out that I'm much too gentle on the throttle after driving V8 Supercars where you need to be gentle otherwise you just overwhelm the tyres," he admits. "With this thing you can be 
aggressive because it's got a great traction control system. Last time we tested it, Campbell told me that I wasn't even worrying the traction control, so I laid awake at night mentally practicing getting aggressive on the throttle! I've got to unlearn stuff I've learnt, so it's actually quite a challenge."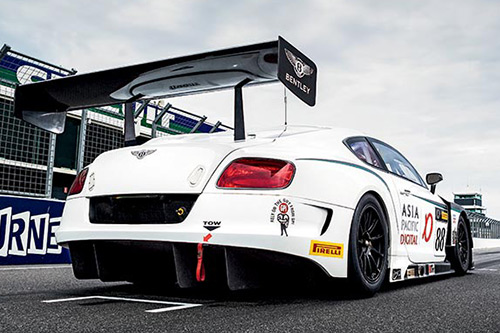 It's amazing to hear a racing driver of Bowe's pedigree wrestling with the sort of mental challenges that many of us would face on track, albeit at a far higher level. "A TCM car hasn't got a lot of grip, hasn't got great brakes, and no real aero to speak of. You get this Bentley on the straight at Phillip Island and you have to say to yourself 'Stop being a pussy. You're being a pussy.' You really have to force yourself past your comfort zone," he admits.
Testing didn't go anything like as well as it should have. Despite being a pre-prepped GT3 car brought straight from the factory, the car had developed a terrible high-frequency vibration through the steering column. "That really set us back in the amount of testing miles we could run," JB points out. "The steering issue meant that as far as testing went, we were a bit underdone. Medium-rare," he smiles.
"We tried everything to fix it. We changed the power steering pump, the reservoir, the hoses and it was still there. You could drive about four laps before your hands went totally numb and you couldn't feel what the front end of the car was doing. I don't think Bentley believed us. They hadn't encountered the problem on any of their other cars and probably thought we were just a bunch of Aussie tossers!" he laughs. "We were on the verge of
pulling the pin on Bathurst, but to their eternal credit M-Sport (Bentley's GT3 car fabricators) went beyond the call to help us out. They sent an engineer and a mechanic and an entire front end from their test car."
The race itself showed that the car had plenty to offer. "Our times were between those of the two factory cars, so we were doing okay. We're going to get more out of the car as we progress with it. Although it is pretty big, it's not too difficult to place on the track. The only place where I had to modify my line was at Forrest's Elbow. The seating position's very low in the car and I had to angulate the corner a bit to sight the exit better onto Conrod,"
muses Bowe. "I'm still not 100 per cent happy with the steering though. That'll come good in time."
Get John onto the subject of driving standards in the 12h and he's not so sanguine. Stefan Mücke really isn't his favourite person. "Next time I see him, there'll be no gentlemanly behaviour from me. I'll shove a German sausage up his… um, nose." Team owner Peter Stevens must have nightmares that feature Craft Bamboo Astons. In Friday practice the other Craft Bamboo Vantage sent a Maranello Ferrari 458 into the wall, destroying it. "They were responsible for at least four crashes on race day," says JB.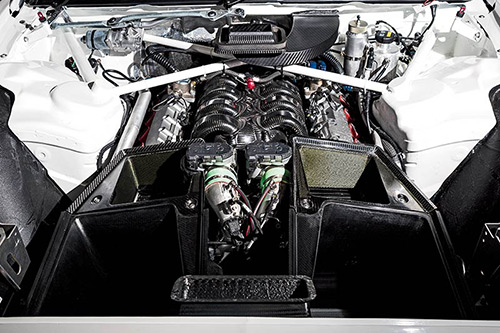 "That stunt on the last corner (where Mücke dive-bombed Matt Bell's Bentley) would have seen him heavily penalised in an event like V8 Supercars. They have the best driving standards in the world right now." Bowe's on a roll now. "The Bathurst 12-hour has a massive future but it's changing. The European pros coming in drive the 12-hour like a 12-lapper, intimidating the non-professional drivers. I'm no twenty-year old, David Brabham's not a kid and Peter Stevens is an amateur driver, so we were being pretty circumspect in the traffic. But the driving during the race was like V8 Supercars from a few years back. Anyone can dive-bomb people into a corner. It's not clever. There needs to be a really good driving standards person at Bathurst, with a no-nonsense briefing for all 160-odd drivers."
But what of the Conti? Permanently out of commission? "It is pretty badly damaged. Body, suspension; we're definitely going to miss the Clipsal 500 at Adelaide. I reckon it'll be sorted in time for the second round of the Australian GT Championships; the Phillip Island 101 – that'll be May," he figures.
Bathurst might have come a little too early for this big Brit bruiser, but the Bentley's going to be back, and better than ever. They've got history, you
see.

SPECIFICATIONS
Bentley Flying B Continental GT3
Race manufacturer: M-Sport (UK)
Engine: 4.0-litre twin-turbo V8
Displacement: 4000cc
Bore/Stroke: 84.5mm/89mm
Horsepower: 600bhp (restricted)
Torque: 660Nm
Inlet restrictor: 2x 38mm (2014 FIA GT3 BOP)
Gearbox: Xtrac six-speed sequential transaxle, paddle mounted pneumatic shift
Brakes: ventilated iron discs (Brembo), 6-piston front calipers, 4-piston rear calipers
Wheels: 18"x13" OZ Racing
Tyres: Pirelli 325/705-18
ABS: yes
Traction control: yes
Suspension: double wishbone front and rear
Dampers: four-way adjustable
Weight: 1310kg (2014 FIA GT3 BOP)
Length: 4950mm
Width: 2030mm
Height: 1350mm
Wheelbase: 2746mm
Weight dist: (front/rear) 52:48
Unique Cars magazine Value Guides
Sell your car for free right here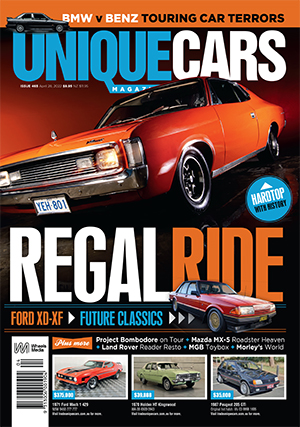 SUBSCRIBE TO UNIQUE CARS MAGAZINE
Get your monthly fix of news, reviews and stories on the greatest cars and minds in the automotive world.
Subscribe