1960 Type 14 Karmann Ghia Coupe review
---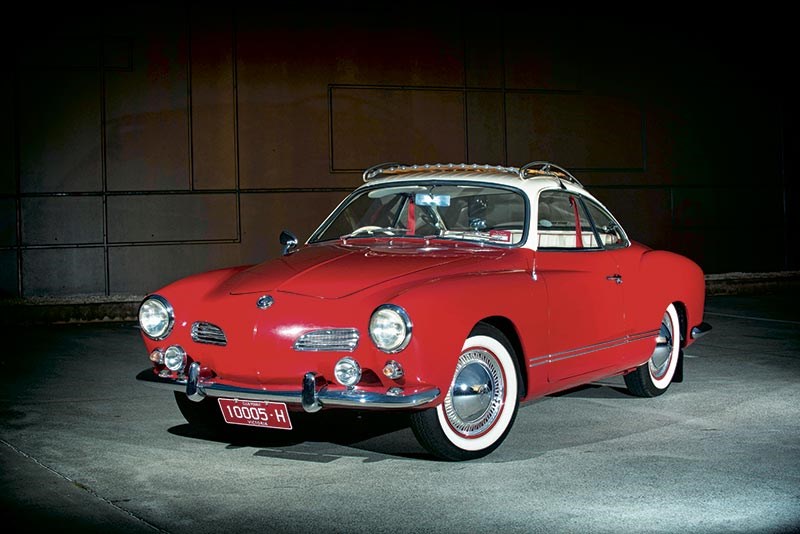 1960 Type 14 Karmann Ghia Coupe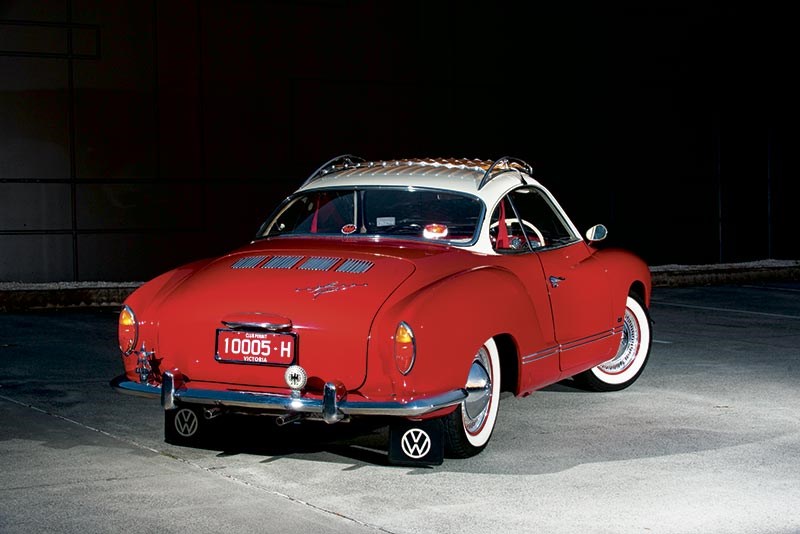 1960 Type 14 Karmann Ghia Coupe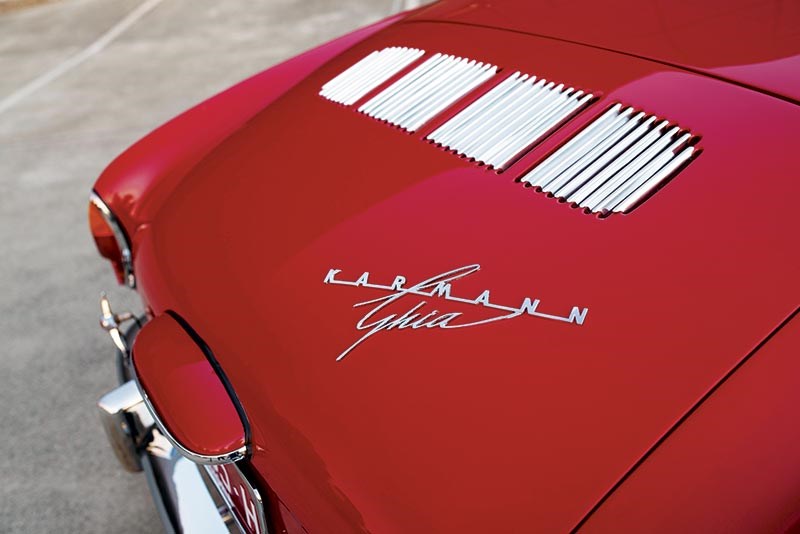 Stylish badge on the 1960 Type 14 Karmann Ghia Coupe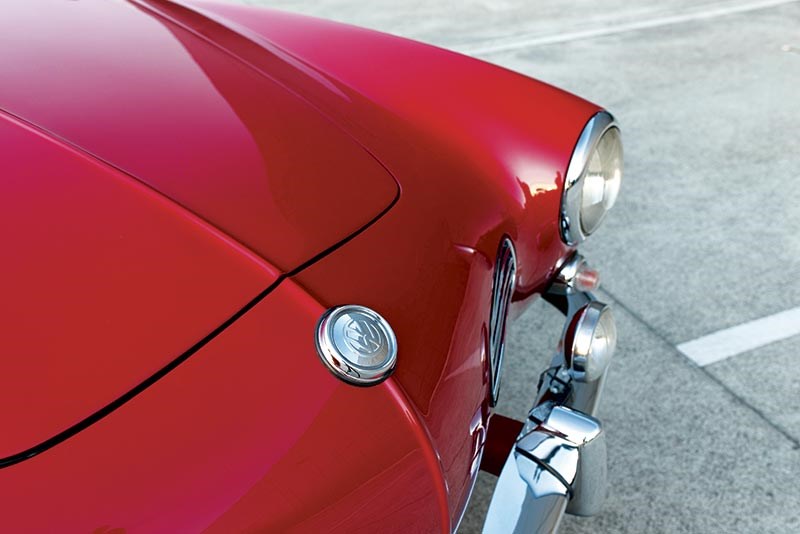 Eye-catching combo of red paint and lots of chrome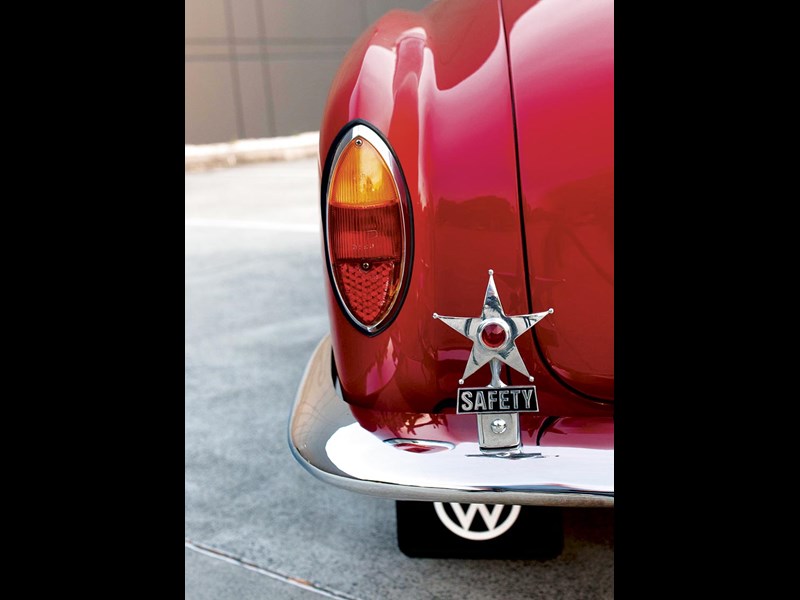 Karmann Ghia Coupe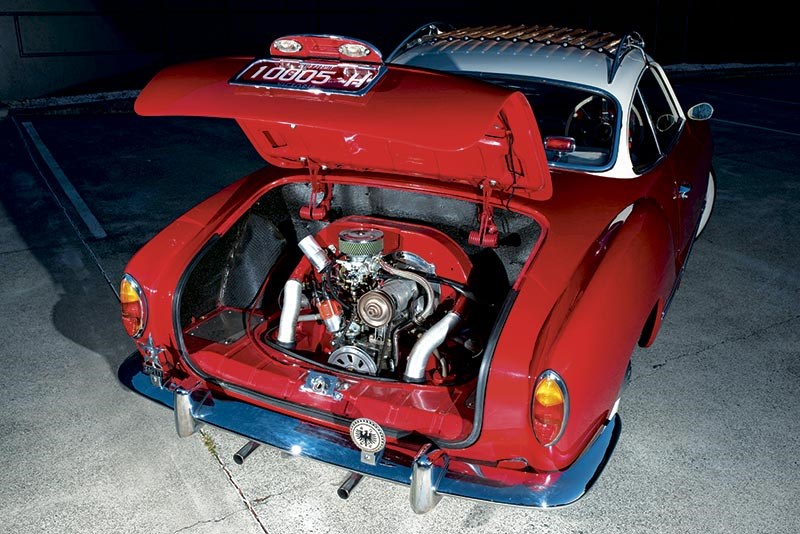 The Ghia's original 1.2-litre engine slashed over 10 seconds off the Beetle's 45 second 0-60mph time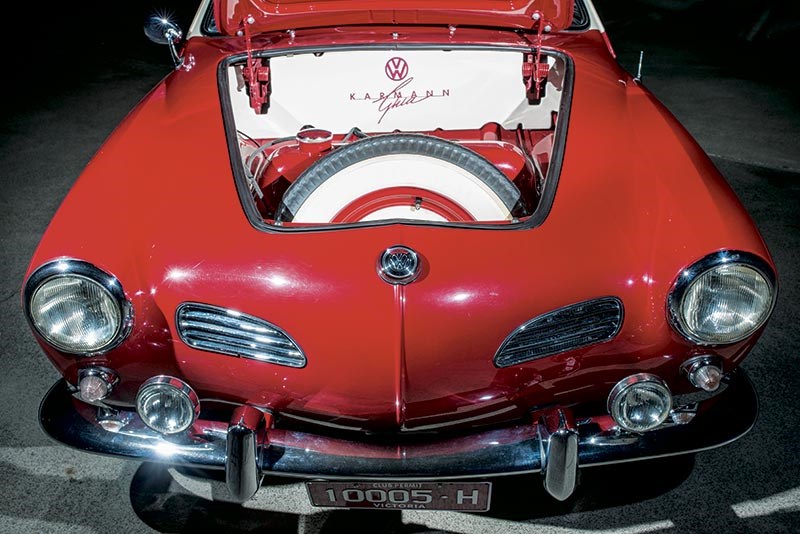 Not a space saver, they're all that narrow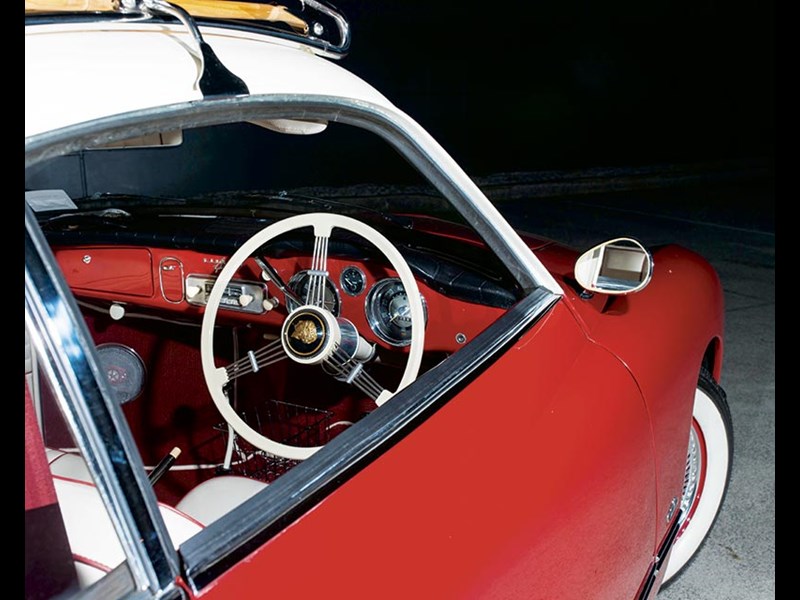 Banjo steering wheel finishes the interior beautifully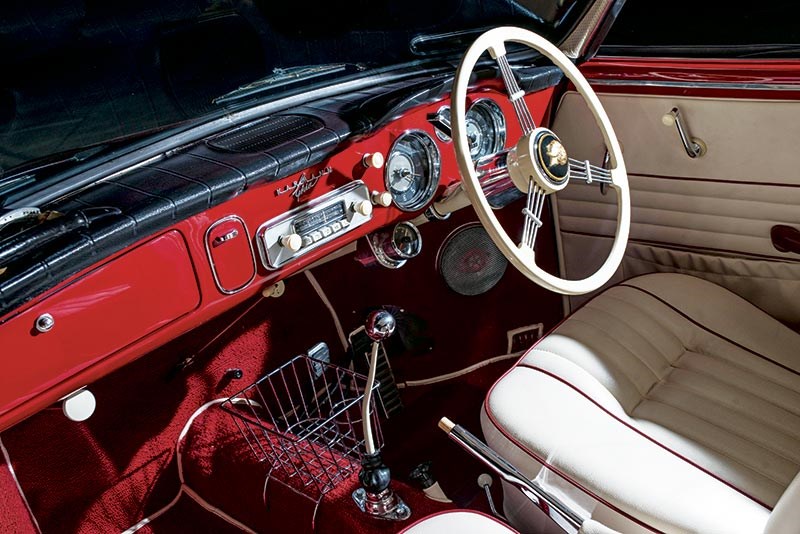 Accessory stow-away basket is an elegant solution for cups and oddments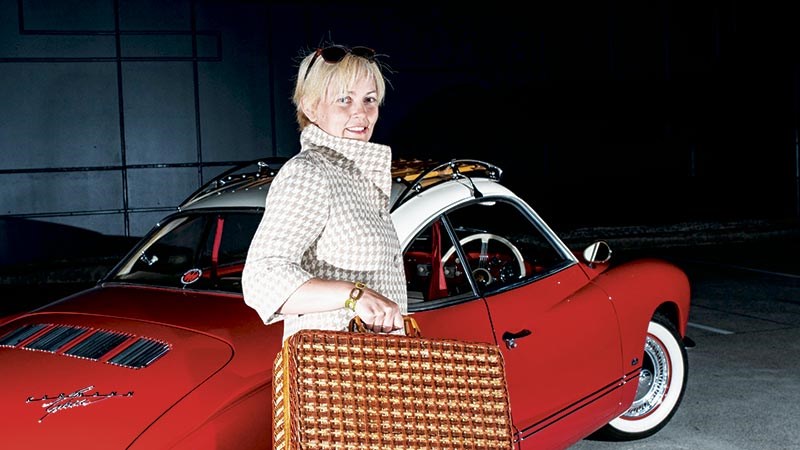 Anastasia Stone and her 1960 Karmann Ghia coupe

Sixty years on, Volkswagen's head-turning coupe still looks as fresh as the day it was unveiled. But the stylish Karmann Ghia wasn't Volkswagen's idea...
Karmann Ghia Coupe
I saw a flash of red out of the corner of my eye as Anastasia Stone arrived for the shoot in her 1960 Karmann Ghia. With the setting sun glinting off the chrome, it cut a glamorous path through the motoring mundanity of a typical Aussie car park. I reckon the Karmann Ghia must have swivelled heads all over Europe and the US in the late '50s and '60s.
Sometimes referred to as the "most beautiful Volkswagen ever," the Karmann Ghia body is a triumph of the automotive stylist's art, because underneath its sexy curves is nothing more exotic than a widened floorpan and running gear from the humble Beetle.
The 'Beetle in a sports coat' –  as it has been dubbed – was initially an unofficial Volkswagen. The idea for a sexier Beetle, and what would become Volkswagen's second model line, came from long-time VW coachbuilder Wilhelm Karmann. In early 1953 he contracted Luigi Segre of Italian styling house Carrozzeria Ghia, to design a sporty body to fit the Beetle chassis. The original idea was for a convertible but Ghia drew a coupe.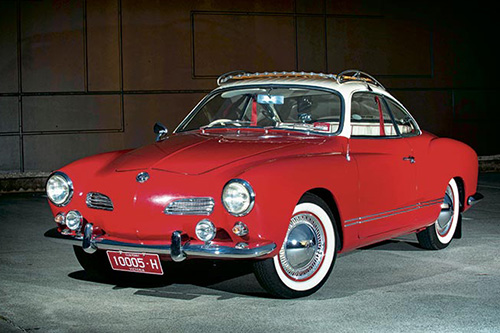 The prototype was finished by October '53 and shown to a delighted Karmann who then presented it to a, no doubt, surprised Volkswagen managing director Heinrich Nordhoff in a back room at the Paris Auto Salon. The normally conservative Nordhoff nevertheless gave it the green light and the Type 14 Karmann-Ghia went into production in 1955.
Two years later a convertible went on sale. When production ceased in 1974, 362,601 coupes and 80,881 cabriolets had been built in Germany and a further 41,689 built in Brazil between 1962-75. The Karmann Ghia was not only a commercial success but added real pizzazz to Volkswagen's hitherto staid image.
Volkswagen legitimised the collaboration between Karmann and Ghia by naming its new car after the two companies but it could also have been called the San Remo, Corona, or Ascona!
But the Karmann Ghia's birth was not without some controversy, it seems. According to some reports, celebrated Chrysler Advanced Styling Studio chief, Virgil Exner, accused Ghia of ripping off his beautiful d'Elegance concept, which sounds a bit apocryphal as the d'Elegance was one of five European-inspired concepts commissioned from Ghia by Exner to revamp the US giant's image. But there are definitely similarities in the roof line and rear quarter panels and this was due to Ghia designer Giovanni Savonuzzi scaling down the d'Elegance's cabin to suit the Beetle chassis.
Mechanically, the Karmann Ghia was all-Beetle and its spec changed in line with the Beetle's evolution. With engines ranging from the original asthmatic 1200cc flat-four, through to 1500 and 1600cc versions and the Beetle's rudimentary swing-arm suspension, the Karmann Ghia was hardly a sports car but that didn't seem to matter. It looked like one and the public loved them. And so did owner Anastasia when she first saw one.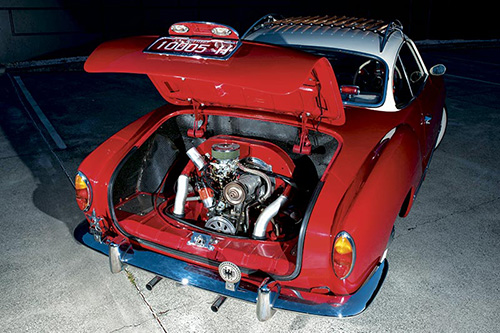 "I was 17 or 18 when I spotted my first Karmann Ghia. I didn't know what it was but I fell instantly in love with it," she smiles. That first heart-racing glance was stored away in her memory while she got on with her working life and marriage and bought her first car, a new Chrysler Neon. The Chrysler was sensible but dull and soon Anastasia had pangs for her first automotive love. She found it in the classifieds. A total classic car rookie, she got lucky.
"It had been a daily driver but the guy had really looked after it and the previous owner had done a bare metal restoration. The only thing I didn't like was the interior, which was blue," she recalls. "I had limited knowledge back then and I winged it. I thought, 'Red and white! Pretty! Buy it!' But prior to that I had only ever driven an automatic and all Karmann Ghias are manual, so I had to have lessons and get a manual licence. When I picked up the car I literally 'bunny hopped' away down the road," she laughs.
But it's funny how dreams can sour after a while and new stimuli are needed to keep relationships alive. "About a year after I got it, I decided to have the bumpers re-chromed. Then I thought the hubcaps looked a bit sad too, so I took all the chrome off the car to get done. Then I could see the condition of the paint. Six months after I told my husband I was only going to get the chrome done, things had just snowballed!"
Luckily the car's body was in good nick with virtually no rust and it needed minimal work prior to being resprayed. Anastasia found a guy who paints hot rods and gave him specific instructions. "I wanted it to be pure red, so he mixed a few colours up and found one I liked and I didn't want a stark white roof, either." The result is a deep high-gloss red with a soft white roof offset by gleaming chrome. It's a stunner. But the blue interior had to go.
"I always wanted a white interior but I didn't want the car to look like a lollipop, so I went for red carpet and red piping on white vinyl upholstery," Anastasia says, but she wasn't finished yet. "I'm known as the Accessory Queen in the Karmann Ghia Club and I like my bling so I added 'beauty rings' on the wheels, VW mud flaps, a chrome engine grille, a parcel shelf brake light, German road safety badge, a 'safety star' brake badge that lights up, and a Vintage Speed roof rack."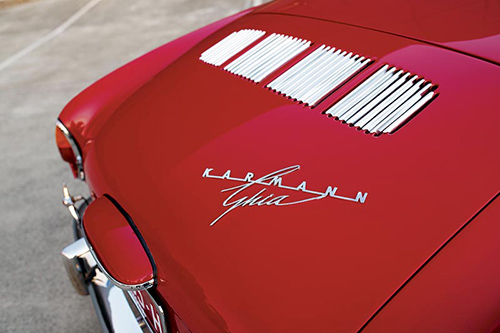 The spotlights were found at a swap meet in the UK and are wired in and the boot houses a spare Firestone whitewall and a custom vinyl panel embroidered with Karmann Ghia logo, which is also replicated on the parcel shelf. The interior is immaculate with a period face plate for the original radio, beautiful 'banjo' steering wheel, chrome shifter knob, tacho and custom kick panels for stereo speakers. The stereo's artfully secreted away in the glove box so as not to ruin the period aesthetic.
"I wanted to look like it had just come off the showroom floor in 1960 but just a little more modern, I didn't want to modify it," Anastasia stresses. To that end, the car features a non-original 1600cc engine (1960 models came with a 1200), four-speed manual 'box, standard suspension and drum brakes. As with the rest of the car, the engine bay has her stamp on it. She moved the battery to under the rear seat because it wasn't "aesthetically pleasing" and had a plate made up to cover the hole the battery left. Then she balanced the look by adding a matching plate to the other side of the engine bay.
A car this good deserves to be shown and it has picked up a swag of trophies but awards are just a by-product of ownership, Anastasia reckons. "It's not about awards, I like people appreciating the car. I love driving around and seeing people's faces light up when they see it, whether they are adults or kids. The best experience? I was stopped at the lights at the corner of Collins and Elizabeth Street in Melbourne one busy weekend with a Ferrari right next to me but everyone was pointing at my car. The Ferrari driver gave me a thumbs up before he roared off."
Upstaging a Ferrari? All in a day's driving for a Beetle in a sports coat.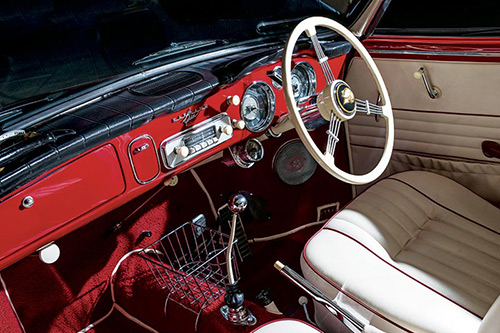 KARMANN GHIA OWNER: ANASTASIA STONE
My love of cars came from my dad who bought an HT Holden Kingswood when I was born, which he still has. He has never bought another car, which wasn't too cool when he would rock up to my all-girls high school to pick me up. I used to ask him to park it around the corner. I swore then that my first car would be off the showroom floor and my first car was a new Chrysler Neon. I loved it but I had my first mid-life crisis at 30 and started looking for a Karmann Ghia in 2002.
I was super-lucky, as my car was the second one I looked at. It was red and white, the same colours I first saw when I as a teenager and within 48 hours I'd bought it for $16,000, which was a lot of money for the time. I think I'm the fourth owner.
SPECIFICATIONS
1960 Type 14 Karmann Ghia Coupe
Power: 37kW @ 4000rpm
Torque: 106Nm @ 2800rpm
Gearbox: 4-speed manual transaxle
Brakes: drums (f/r)
Weight: 870kg (approx)
Length: 4140mm
Width: 1634mm
Height: 1330mm
Wheelbase: 2400mm
Number produced: 443,482 (total 1955-75)
Top Speed: 130km/h
Assembly: Osnabrück, Germany
São Bernardo do Campo, Brazil
---
> Find Volkswagen cars for sale.
---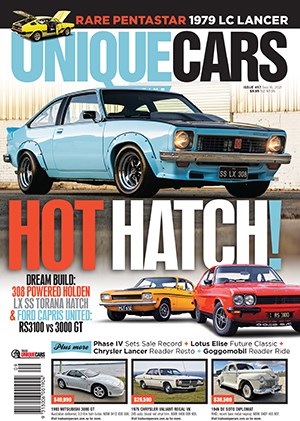 Subscribe to Unique Cars Magazine and save up to 42%
Australia's classic and muscle car bible. With stunning features, advice, market intelligence and hundreds of cars for sale.
Subscribe