1924 Minerva 30HP Type AC review
---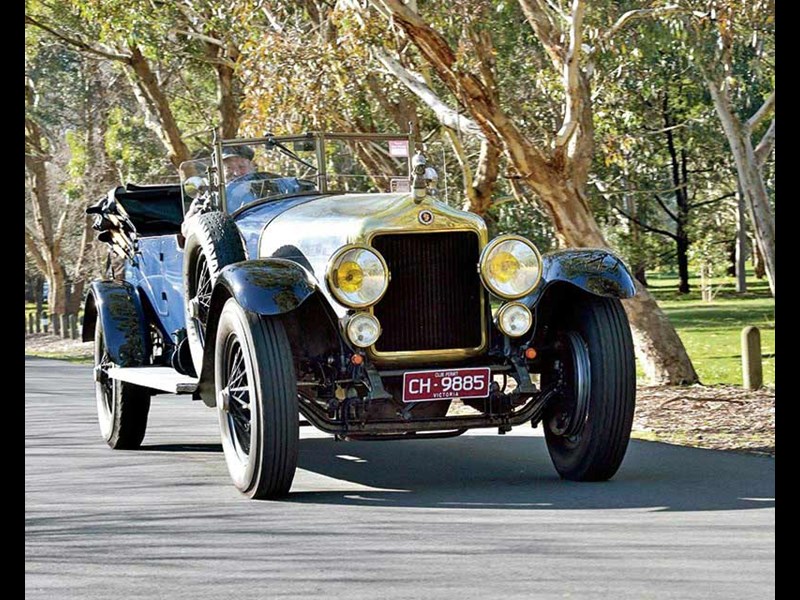 1924 Minerva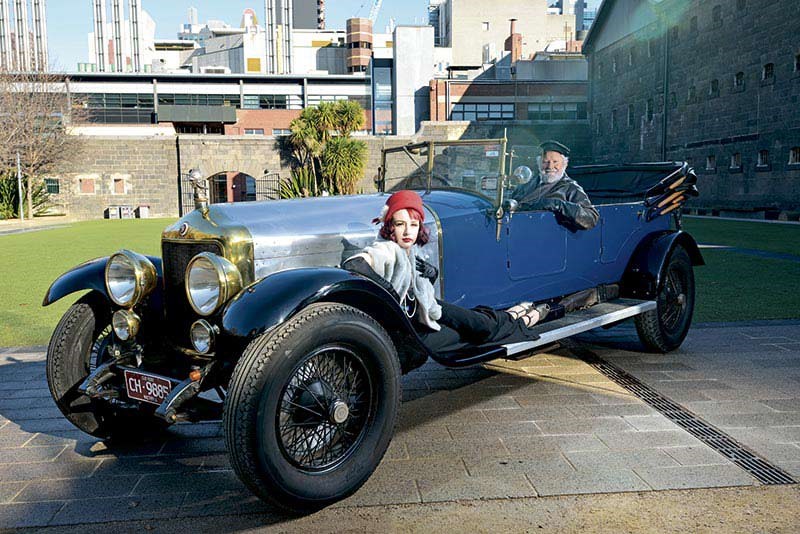 1924 Minerva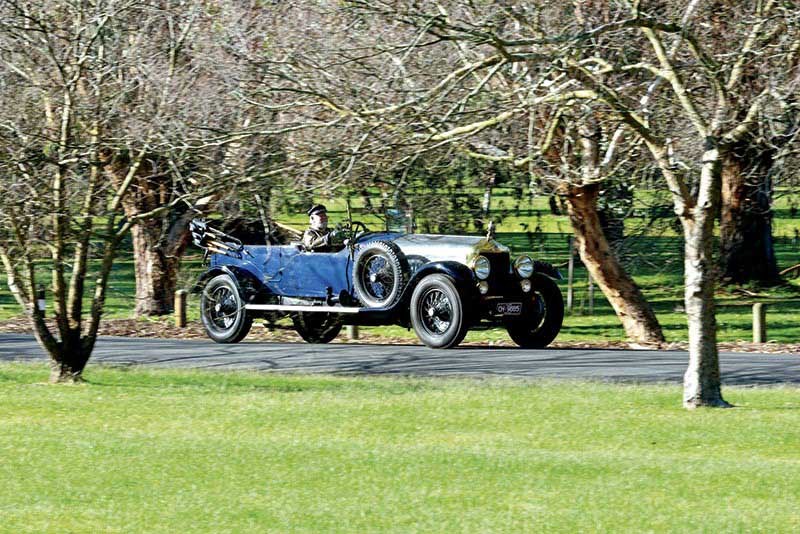 1924 Minerva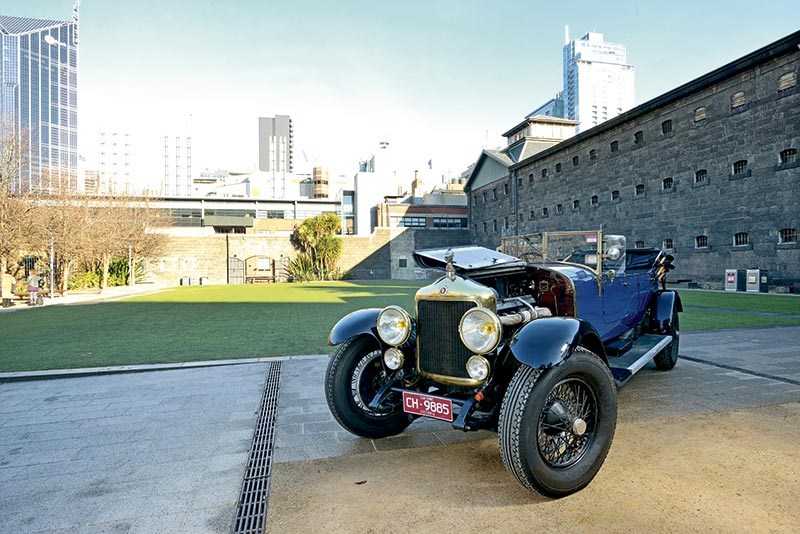 1924 Minerva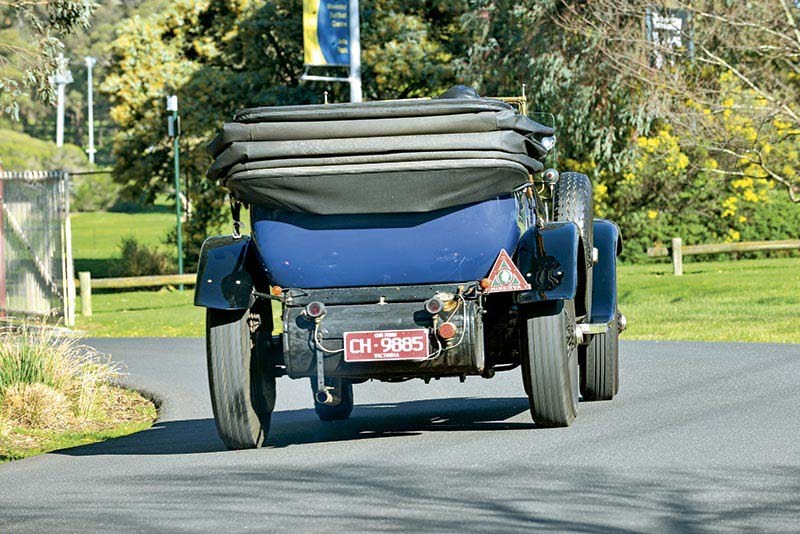 1924 Minerva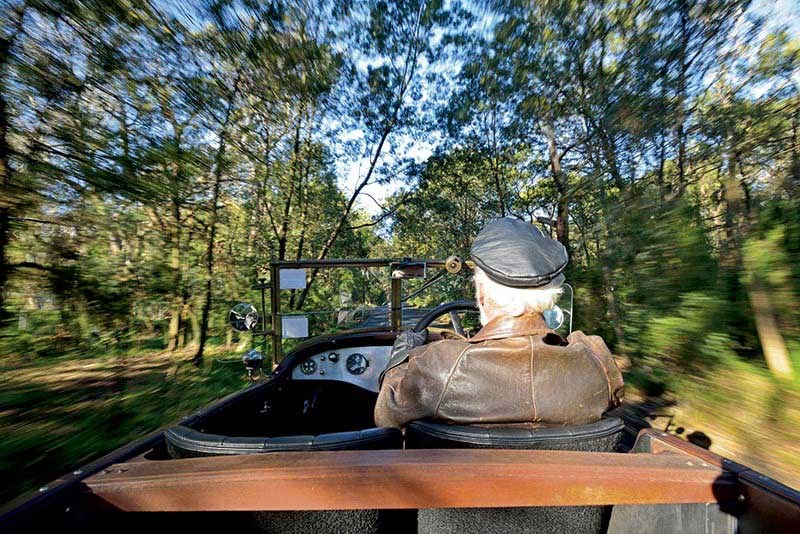 1924 Minerva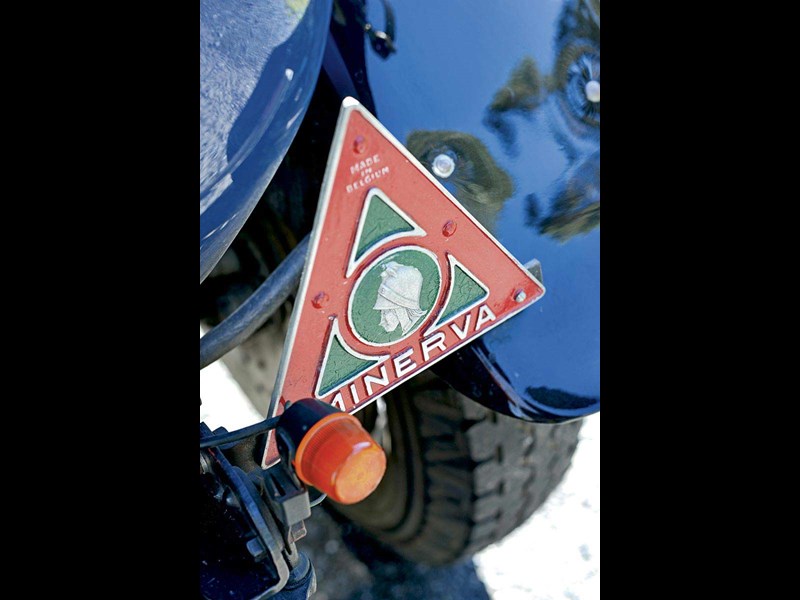 1924 Minerva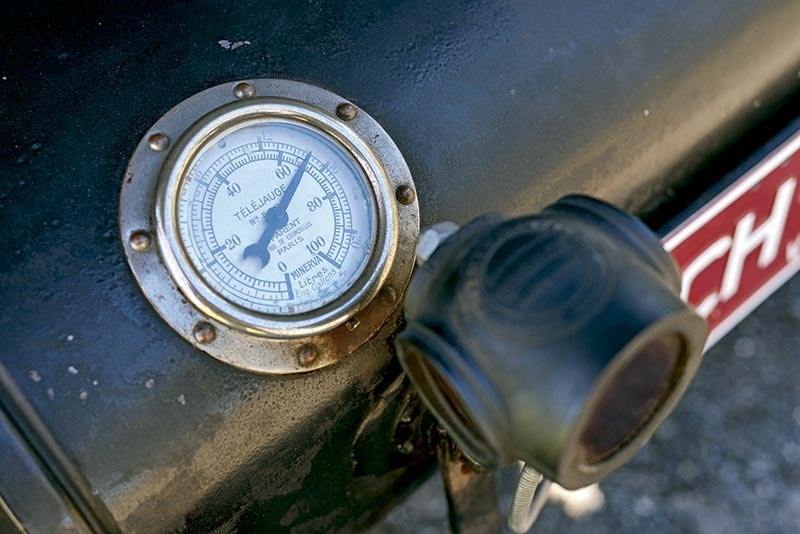 1924 Minerva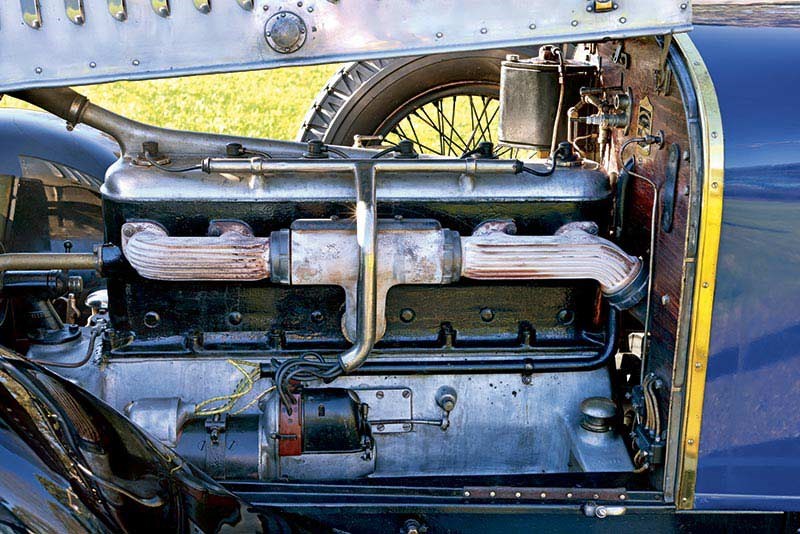 1924 Minerva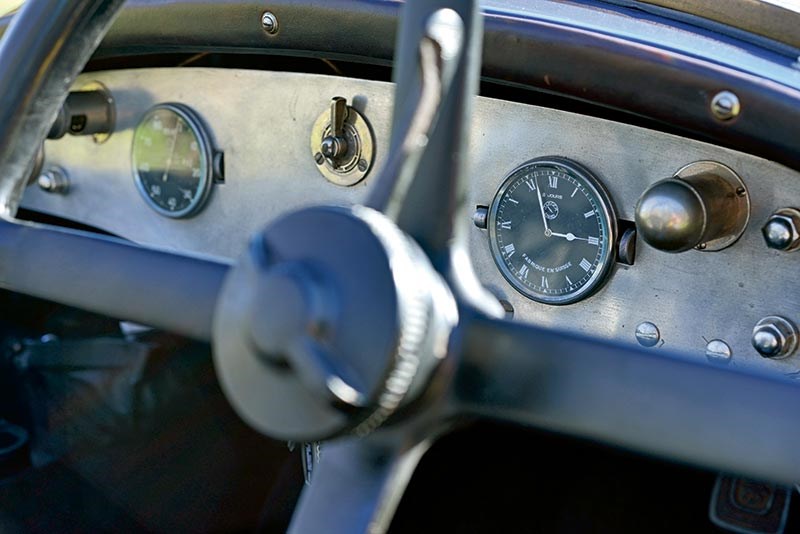 1924 Minerva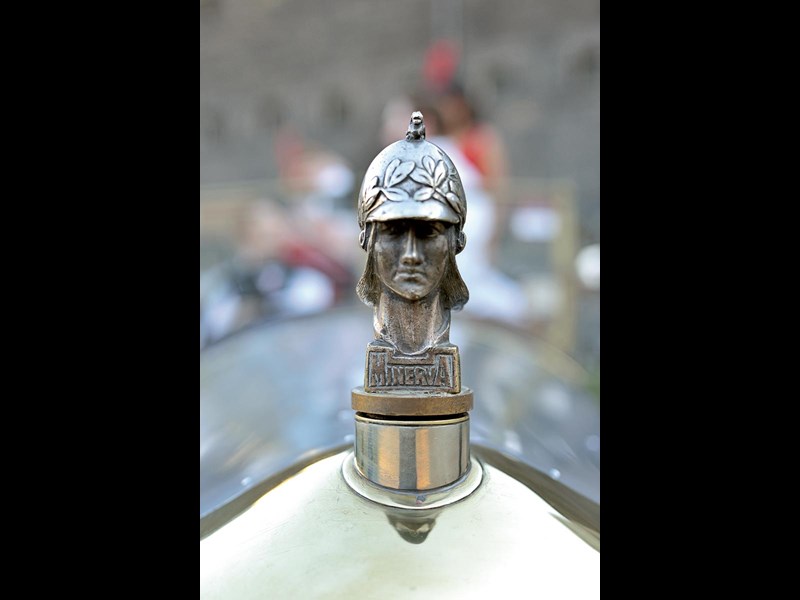 1924 Minerva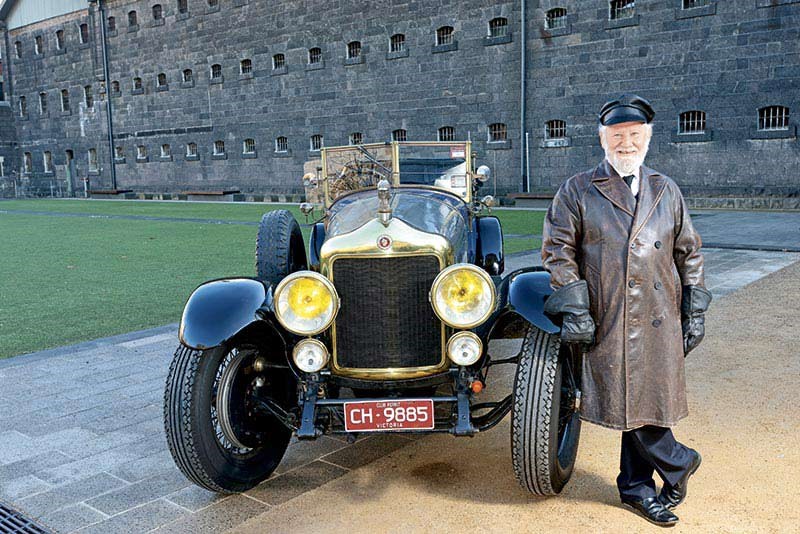 1924 Minerva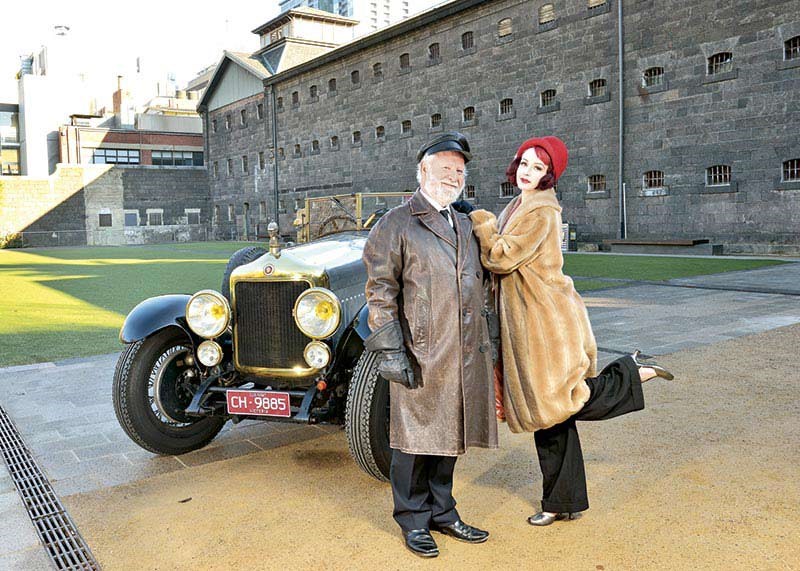 1924 Minerva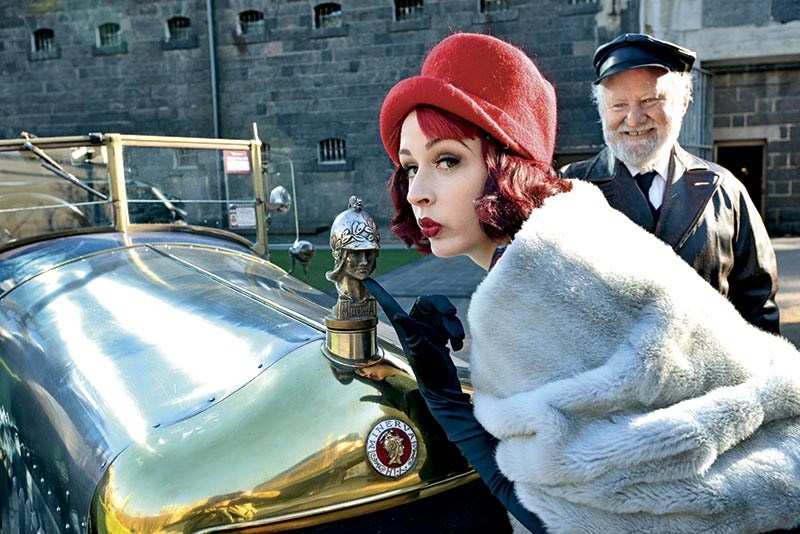 1924 Minerva

This technologically-advanced Belgian Rolls-Royce rival appealed to criminals and captains of industry alike and is named after the Roman goddess of wisdom...
1924 Minerva 30HP Type AC 
What do Henry Ford, the industrial giant who built the Ford Motor Company, and infamous Melbourne gangster, Squizzy Taylor, have in common? Well, they both drove a Minerva, a Belgian-built car arguably the equal of Rolls-Royce, in its heyday of the 1920s.
Ford, who brought motoring to the masses with his inexpensive Model T, was said to be impressed by his 1912 Minerva's design excellence and innovation.
Squizzy, a rat-with-a-gold-tooth crim, was probably more taken with its bulletproof engineering. Literally.
This 1924 AC 30HP Minerva Tourer is the same model in which Squizzy roared around the streets of Melbourne and was featured in the recent TV drama about the notorious hoodlum. It's owned by retired mining engineer Bill Sides, who has the third largest collection of Minervas in the world and the biggest in the Southern Hemisphere and is not at all shy about giving his 90-year-old convertible a good caning. Like Squizzy, he knows it's almost impossible to kill a Minerva.
And people have tried to kill this car. Before 1930, Minervas were popular in Australia due mainly to their ruggedness, reliability and ride quality on the poor roads of the time. Their sleeve-valve engines were also impressively quiet, which made them excellent limousines. Sides' then limo-bodied Minerva was delivered new to Launceston where it was used as a 'service car' between Launceston and St Marys on the island's east coast. That's a 260-km round trip today on modern roads so imagine what it would have been like 90 years ago.
After that its body was removed, extra rear springs fitted, and it was converted into a truck gutsy enough to carry 10 full 44-gallon drums (about 2000kg) , thanks to its 20-inch tyres, big brakes and torquey engine. Its final indignity was when a crane was mounted to the chassis and it became a tow truck! Around 1970, it was purchased by a collector in Sydney for spares, then sold to Bruce Burge in Armidale, NSW, who restored the car over a decade and fitted a replica Vanden Plas touring body. It became part of Sides' collection in 2006 and, so sure was he of Minerva quality, he didn't even bother to test drive it first.
He first saw a Minerva in 1963, when he was a schoolboy at Scotch College in Melbourne and on the way to the annual public school boat races on the Barwon River in Geelong. "I saw this old car with people in it wearing Wesley [opposition college] colours throwing flour bombs," Sides laughs. "When it parked in Geelong, the bonnet was up and the motor was still running and there was a crowd around it. I was taken by its remarkably clean engine and how sweetly it ran; I'd never seen anything like it. My father said: 'It's a Minerva, with a sleeve-valve engine, and they are very, very good'".
Thereafter he was intrigued by sleeve-valve engines and, in 1977, went to the first Bendigo Swap Meet to try to find a sleeve-valve engine to tinker with.
There he found a 1914 2.1-litre Model JJ Minerva, sort of. Three hundred dollars bought him the remains of two four-cylinder engines that he thought he could cobble into one, half a chassis, no accessories, three wheels and a radiator. It took him six weeks to get the seized engines apart and built into one oil-leaking version that ran. Now he had to find something for the engine to do, so he ran a small ad in a few magazines and got a reply from Budapest, offering a photocopy of a manual, various bits and pieces, and a photo of the car. Bingo! After a few more years of parts hunting, Sides was vintage-rallying his bitsa Minerva, sitting on a wooden box for a seat!
"Thirty-five years later, I've done 45,000 miles in it and still haven't put a single part in its engine," Sides says, with a jovial laugh. "What my father said was true: Minervas are very, very good. It seems that the people who used to run them down were those that didn't have the licence to produce sleeve-valve engines, like Claude Johnson, who was the first managing director of Rolls-Royce. In 1909, the sleeve-valve engine was the best in the world.
A few years ago that same Minerva averaged 50mph up to Sydney and back; that's not bad for a 100-year-old car that has never even had a new set of rings." So, Sides was hooked on Minervas and over the years he has acquired 10 Minerva cars, motorcycles and sheds full of parts. He's also saved many local cars from being sold to overseas collectors, including the 'Squizzy' Minerva.
"I had no hesitation buying the Squizzy car and I drove it home to Melbourne from the Blue Mountains in Sydney," he says. "It drove well but it had done a lot of miles in that form and the side of the car was peppered with stone marks. One of the big mistakes with sleeve-valve engines is most people put them together too tight, but Bruce hadn't and I haven't touched the engine since."
It's that big straight-six that fascinates Bill. The first sleeve-valve engine was demonstrated by Daimler but Bill suspects Minerva made and sold the first sleeve-valve engines because Belgium had the best foundries at the time. Minerva sleeve-valve engines have three conrods per cylinder, six normal pistons and conrods like any other six, but the valves are actuated by two extra conrods each, as Bill explains.
"In the early days, valves used to burn because metallurgy technology was in its infancy and it wasn't unusual to have to grind 'normal' valves every 1000 miles. Charles Knight patented sleeve valves in America but nobody in the US would take the concept into production. Frederick Lanchester – of Lanchester car and Daimler fame – met Knight on a trans-Atlantic steamer and was convinced it was the way to go. But Lanchester could see there were design problems and he decided to change it 'round."
Sleeve-valve engines have two cylinder liners that move up and down about one inch at half engine speed, with ports cut in their sides which act as intakes and exhausts, a bit like the transfer ports in a two-stroke. The top end of each inner sleeve is plugged by a cylinder head which is fundamentally a piston, and the spark plug is at the centre of a hemispherical combustion chamber. The engine has no hot spots, because the valves are against the water jacket and with no pre-ignition problems, it can run a much higher compression ratio. The valves are opened and closed by an eccentric shaft – effectively a miniature crankshaft – that runs at half engine speed. It's a very efficient valve operation, with large ports, so the engine breathes very well.
Why didn't sleeve valves take over? Bill says it's because they were more expensive to make and because metallurgy improved dramatically during and after WWI, valves started to have acceptable lifespans. As a result, conventional or poppet-valve engines could be made more cheaply than sleeve-valve engines, which have very few parts but they are very large and have to be beautifully made with extremely good tolerances. Actually, a lot of Minerva commercial vehicles used rotary valves running at one-sixth of engine speed.
During a quick top-down fang around his neighbourhood, the Minerva impressed with its smooth ride, flat cornering and bags of torque. It also makes a great noise, similar to an unblown Bentley of the same era; Bill's a pretty handy steerer too, chucking the two-tonne leviathan into roundabouts with abandon.
"It's a heavy car but powerful and fast," Bill enthuses. "The steering is heavy, as are the brakes, which are very strong but the clutch is quite light.
The accelerator is the middle pedal but you get used to that. It has a four-speed manual 'box with the gear change on the right-hand side and the handbrake works on a big finned drum at the rear of the gearbox and stops the tailshaft turning; it's a very powerful brake in itself.
"It would have been a supercar of the day and will cruise at 60-65mph all day and with 20-inch wheels and a 3.7:1 diff ratio, it's quite highly geared, with a maximum speed of about 70 mph (112km/h). It's a very restricted engine but it revs quite freely and is probably doing about 2600rpm at 60mph (100km/h), which is nearly flat out. It has a very long stroke so it makes huge torque and has quite high piston speeds, much higher than a modern engine's. It's actually more efficient than a modern engine but performance is limited due to a very low 5:1 compression because fuels were very low octane when it was made."
Sides knew about the Minerva/Squizzy Taylor connection long before the TV drama was mooted and he immediately offered his car to the show's producers.
"Many years ago a guy in Ballarat was purported to have the remains of Squizzy's car, which I have seen.
It's not much more than the chassis and axles, but it was enough for me to verify that mine is the same model, give or take a year. Fundamentally, Minerva engines and chassis barely changed from 1919 to 1932, with the exception of the introduction of four-wheel brakes, then servo-assisted brakes."
What delights Bill most is the Minerva's zest for kilometres. It's no trailer queen and is not fazed by weather, distance or terrain. Bring it on, he reckons.
"It's a car that is meant to be driven, it loves to be driven, and they are far happier when you push them along," he smiles.
"I handed over the car to the production team for six weeks and said, "Just drive it," then went overseas. When I got back they rang to say that it wasn't going that well. I hopped in, it started up all right, they all piled in and we went round the block. But, of course, I drove it, and it went like the wind. Then I looked at the fuel gauge and it was almost empty: I'd put almost 100 litres of juice in it before I left!
"Then they admitted they hadn't had it out of first gear and had been tilt-traying it everywhere! It had been idling and starting and stopping all this time. I said: 'Drive it!' A week later they asked me to come to the set just in case there were problems, and I arrived in time to see the car flying down Arden Street in North Melbourne and the driver grinning from ear to ear. The car was perfect." See, even film production companies can't kill a Minerva.
SPECIFICATIONS
1924 Minerva 30HP Type AC
Years Built: 1919-27
Body: Vanden Plas Sports Tourer
Engine: 5355cc, 6cyl, sleeve-valve
Power: 30hp
Torque: N/A
Transmission:  4-speed 'crash 'box'
Suspension: semi-elliptic springs, Houdaille lever-type dampers (f), cantilever springs, no dampers (r)
Brakes: 4-wheel Perrot-actuation drums 18-inch (f), 20-inch (r); 11-inch finned handbrake
Weight: 2 tonnes
Top Speed: 70mph
Unique Cars magazine Value Guides
Sell your car for free right here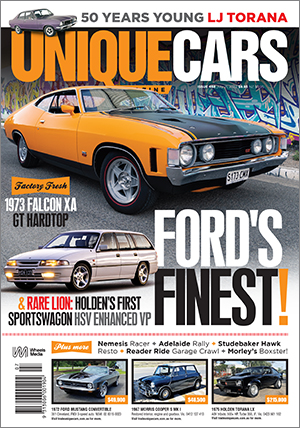 SUBSCRIBE TO UNIQUE CARS MAGAZINE
Get your monthly fix of news, reviews and stories on the greatest cars and minds in the automotive world.
Subscribe