1957 Chrysler Saratoga review
---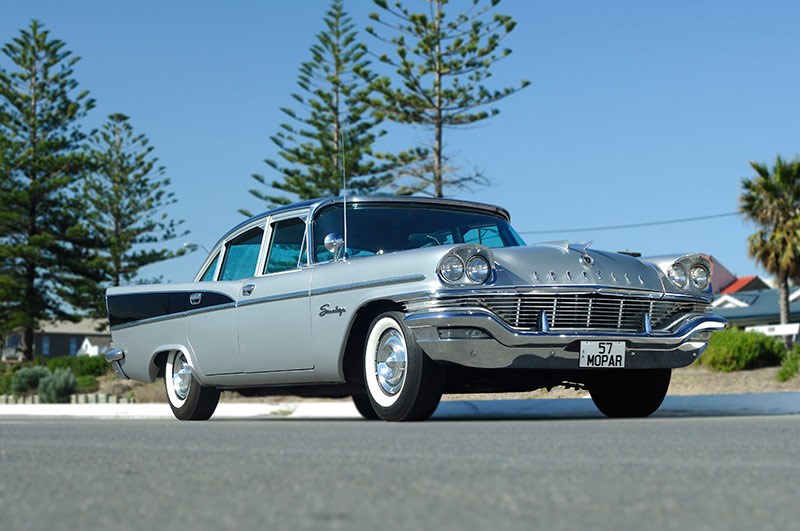 1957 Chrysler Saratoga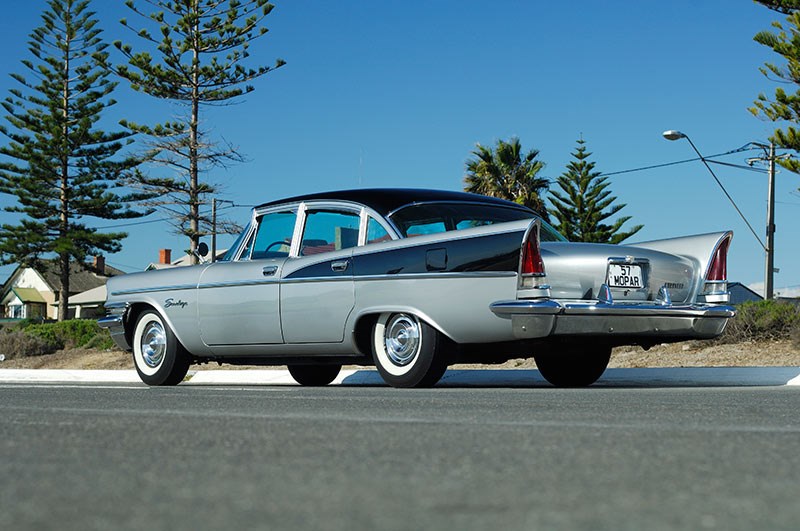 1957 Chrysler Saratoga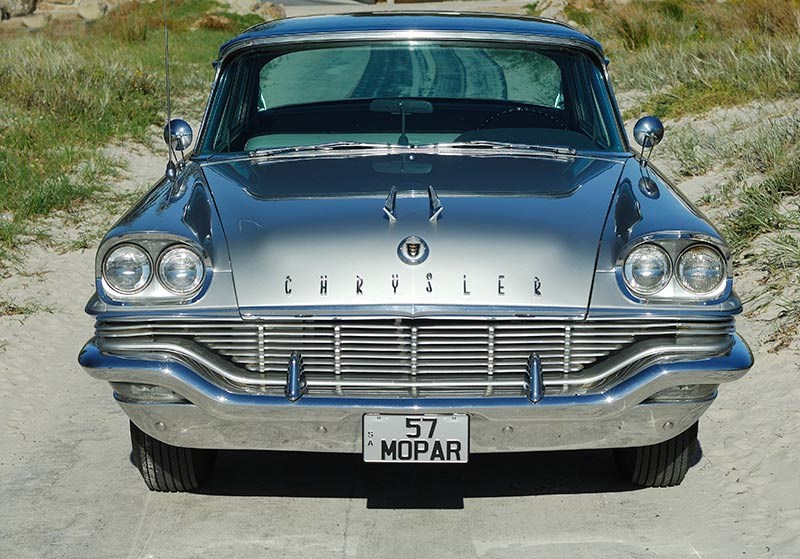 1957 Chrysler Saratoga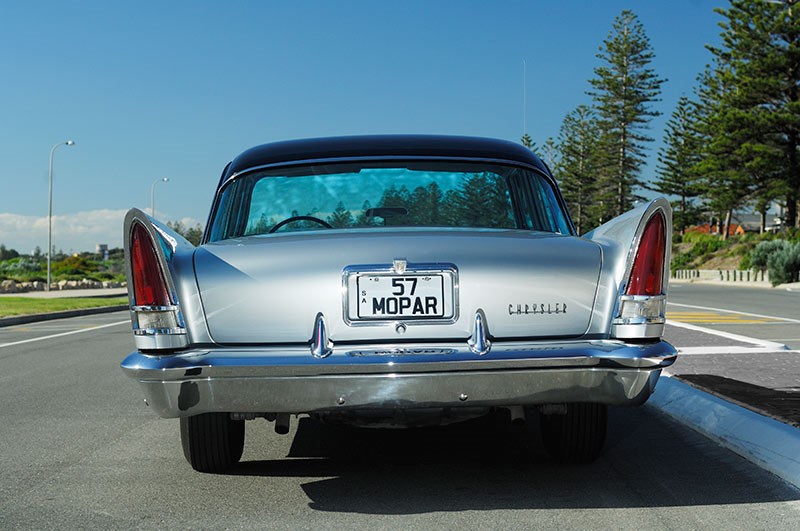 1957 Chrysler Saratoga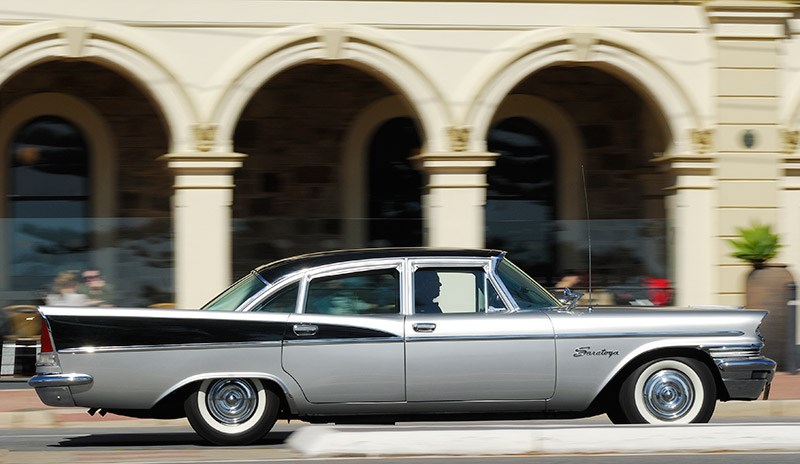 1957 Chrysler Saratoga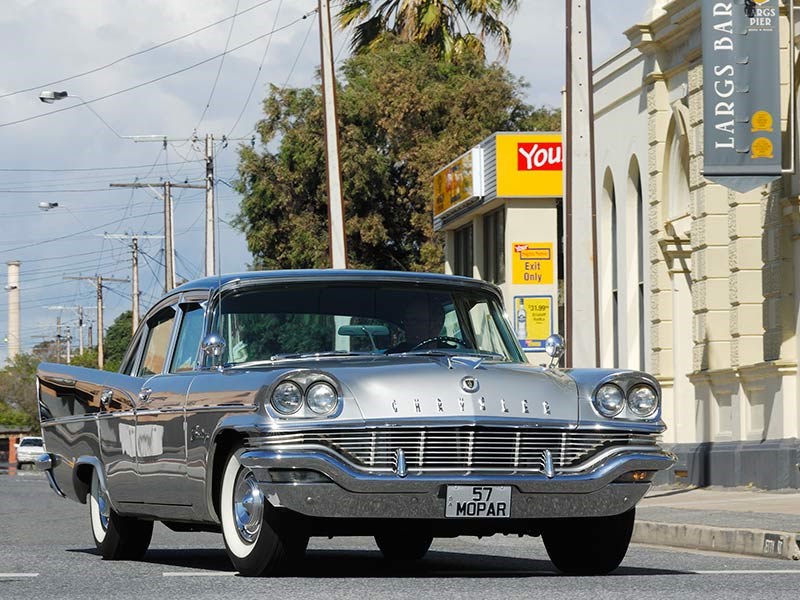 1957 Chrysler Saratoga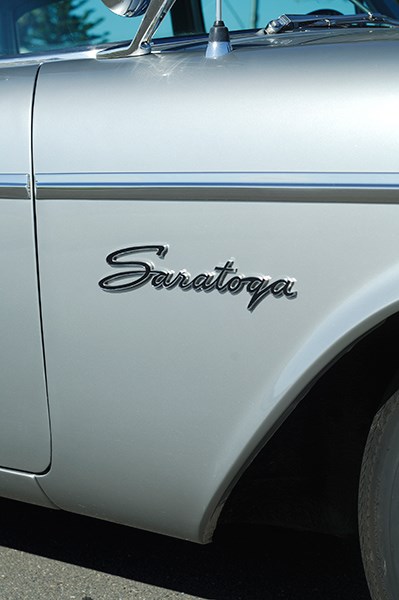 1957 Chrysler Saratoga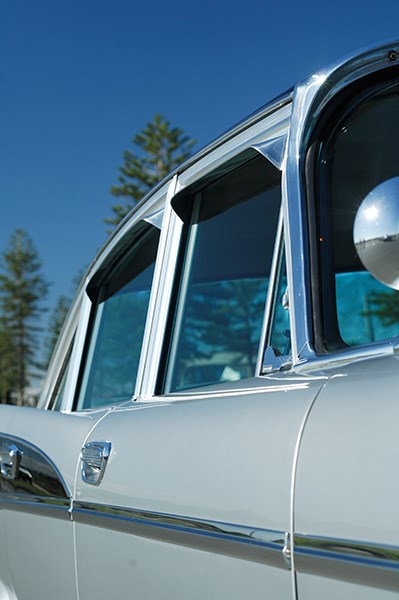 1957 Chrysler Saratoga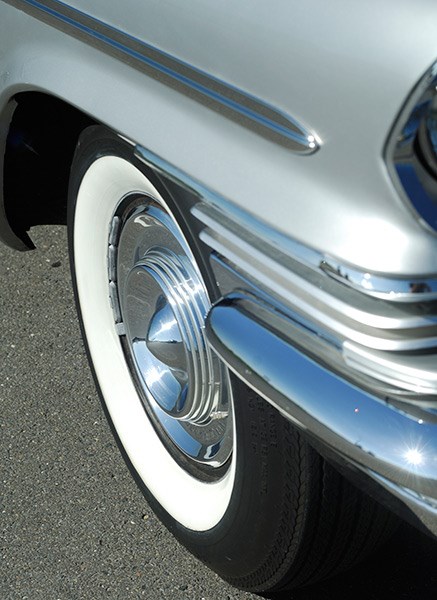 1957 Chrysler Saratoga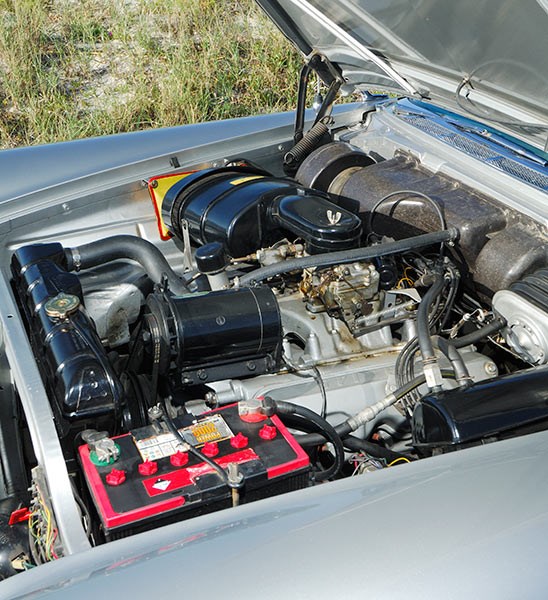 1957 Chrysler Saratoga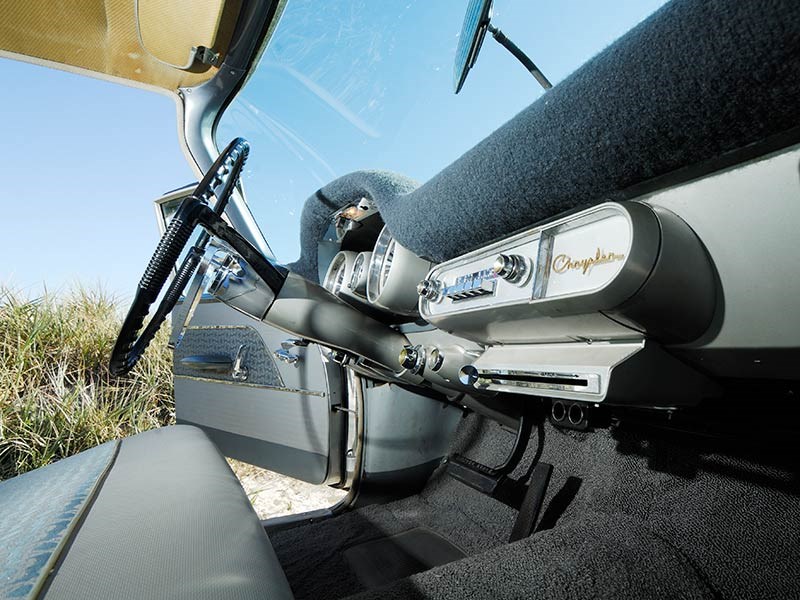 1957 Chrysler Saratoga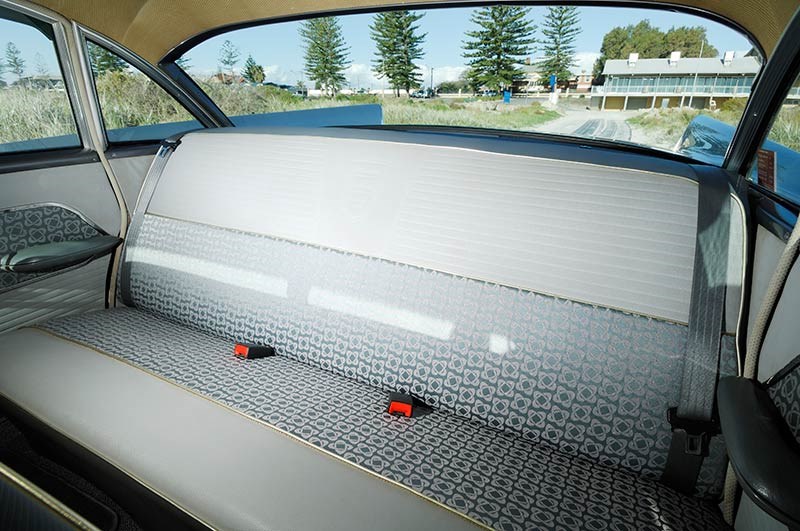 1957 Chrysler Saratoga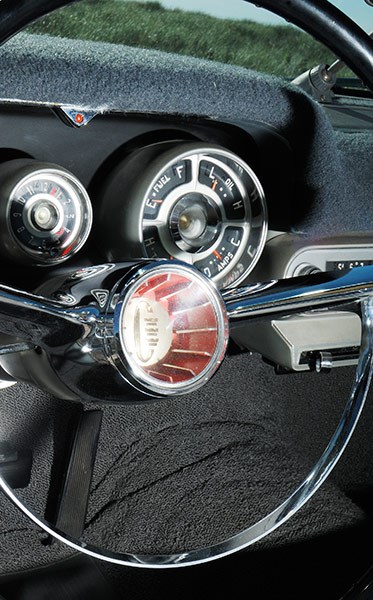 1957 Chrysler Saratoga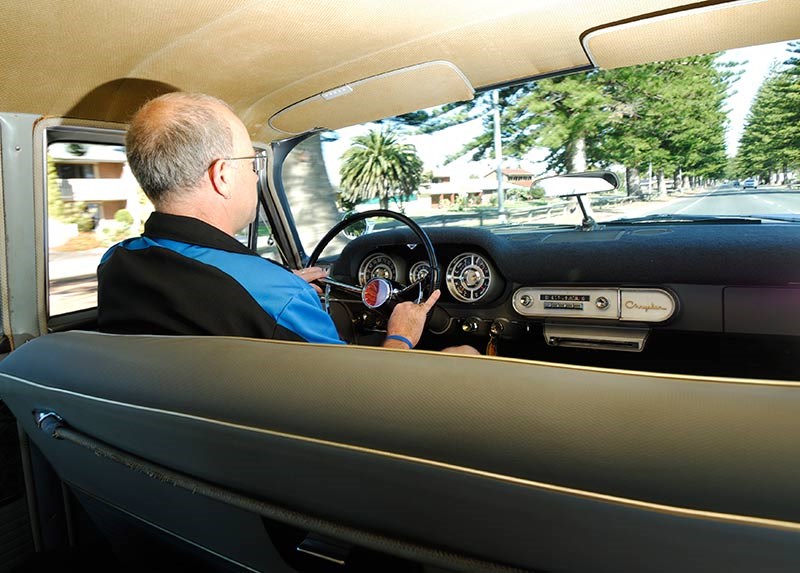 1957 Chrysler Saratoga

Billed as 'the most glamorous car in a generation' this 1957 Chrysler Saratoga hasn't lost an ounce of its original allure...

1957 Chrysler Saratoga
TOGA PARTY
Maybe it's a style thing, maybe it's recognition of a design or engineering philosophy that just clicks, but whatever it is, it's no secret that some guys and gals just naturally gravitate towards a particular make and/or model. You know the sort of stuff: I'd rather push my Holden than drive a Ford. And vice-versa, of course. And for South Australian electrician Steve Drury, an equally familiar mantra applies: It's Mopar or no car.
But here's the twist. While most folks start out with older versions of their chosen marque (usually through fiscal circumstances, it should be said) and then work their way towards newer and improved models, Steve has gone about things from the other direction. See, his previous Mopars have included new-age stuff like the PT Cruiser and the gangsta-approved 300C and, until a handful of years ago, all his Mopars came with a current factory warranty.
And then things changed. Big time. Steve heard about this car, a 1957 Chrysler Saratoga, then-owned by another SA resident who had purchased it via an online auction site from the US of A a few years before that. The car had been resident in Dallas, so it wasn't a rusted out hulk and, in fact, had a genuine 30,000 miles showing on that ornate odometer. By the time Steve got wind of it, the mileage hadn't been increased significantly and the old girl was looking good with just a new coat of paint in n-e-a-r-l-y the original shade of blue to show for her time on the planet. So a deal was done and here's the proof that Steve was anything but dudded: "I didn't know the guy selling it at the time, but we've since become really good friends".
But why a Saratoga? "Um, I wanted something different." Mission accomplished there, pal. "And it had to be a Chrysler…I'm a Mopar boy. But this was my first old car. Other than that, I reckon it's the fins. This car was the start of the whole thing with fins in the US and I just love that rear three-quarter view of it, especially looking up at it."
Power for the not insubstantial Mopar comes from a 354 cubic-inch V8, named by Chrysler the `Spitfire' engine. Also known as the Poly range of engines (because of the combustion chamber being polyspherical – made of more than one sphere), the Spitfire was designed to be a lower cost alternative to the mighty Hemi. A Carter four-barrel as fitted at the factory remains, as does every other piece of the running gear. Transmission is a three-speed, cast-iron Torqueflite automatic with gear selection via the famous Chrysler push-buttons.
And Steve reckons the engine itself has never been touched, an entirely possible scenario given that the odo has only just now clicked over 40,000 miles. The tranny has copped some lovin' care, however, and was rebuilt a couple of years ago and the car was repainted before it ever arrived in Australia. But everything else is pretty much as she rolled off the production line 57 years ago.
The 1957 Saratoga was the first of the `Forward Look' models dreamed up by none other than Virgil Exner, a design philosophy that was extended across the entire range of models from Chrysler, Plymouth and Dodge. Actually, the Saratoga name dates back to 1939 but the badge was dropped at the end of the 1952 model year and reinstated just in time for the new '57 models. Exner's design language for 1955 and beyond essentially removed the styling duties from the engineering department and placed that responsibility with a bunch of what we'd today call hipsters. And instantly, the whole Mopar line-up went from being a pretty stodgy-looking bunch to the just-fired-out-of-a-cannon stuff like Steve's '57 Saratoga.
Future plans for Steve's car include the possibility of tugging the engine and giving it a freshen up. Not that it's worn out or even showing the first signs of wear, but Steve is keen to convert the V8 to run on unleaded petrol with no long-term ill effects. "And then we'll just keep driving it," he says.
Even now though, the big Mopar gets plenty of exercise and it's definitely no trailer queen. "We use it at least once a month and probably twice a month in the nicer weather. It's used mainly for cruising and going to car shows, but a while back, I drove it from home to Melbourne for Chryslers on the Bay and then to Albury for Chryslers on the Murray. I reckon we covered about 2000 miles in that time." This isn't a car to be left in the shed…it's there to be driven."
Aside from the actual driving, Steve rates the Saratoga as a real ice breaker. "We're always meeting new people and making new friends when we're out in the car. You don't drive a car like this if you don't want to talk to people, that's for sure." Yep, you'll never pump gas alone again with a '57 Saratoga on the other end of the nozzle.
While Steve is keen to rate the ownership as better than he ever imagined, does the future include an even older Mopar as his own personal journey backwards thought time continues? "Hmmm, space in the shed is the issue. I'd like a race car…maybe something like a modified AP5 or AP6; purely a track car." Whether that ever happens probably depends on a lot of things, of course, but two things are for dead certain: Any additional car in the Drury collection will have a Mopar badge of some sort, and; it'll be sharing garage space with this here Saratoga.
SPECIFICATIONS
1957 Chrysler Saratoga
Engine: 354ci V8, OHV, 8v,
Power: 210kW @ 4600rpm
Torque: 529Nm @ 2800rpm
Weight: 1930kg
Gearbox: 3-speed auto
Brakes: drums (f/r)
Top Speed: 189km/h
Value: c.$35,000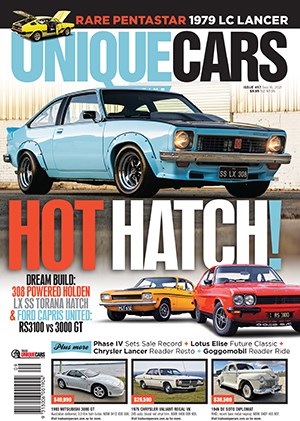 Subscribe to Unique Cars Magazine and save up to 42%
Australia's classic and muscle car bible. With stunning features, advice, market intelligence and hundreds of cars for sale.
Subscribe