Jaguar E-Type: UK Classics part 3
---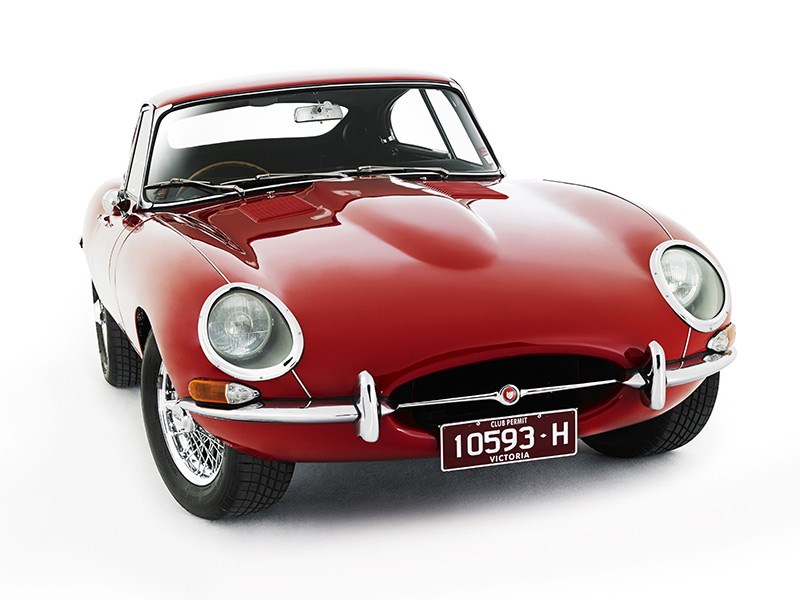 UK Classics: Jaguar E-Type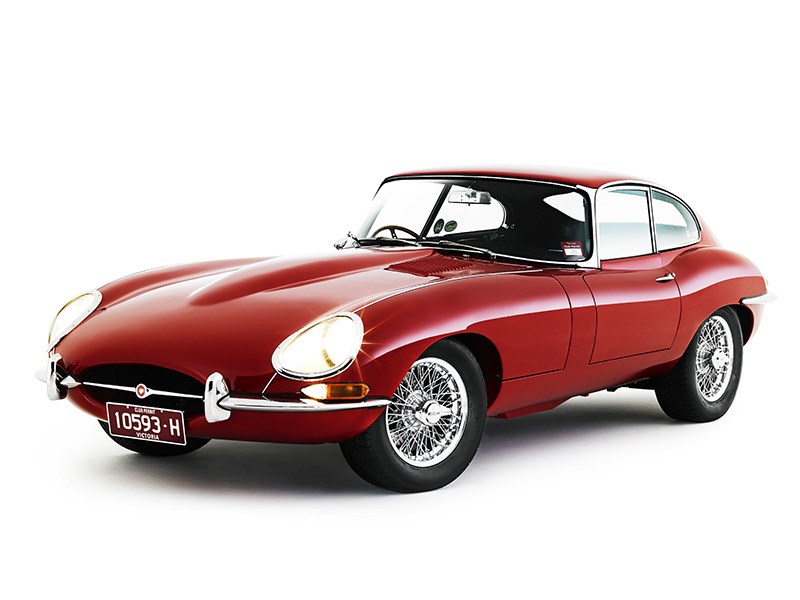 Jaguar E-Type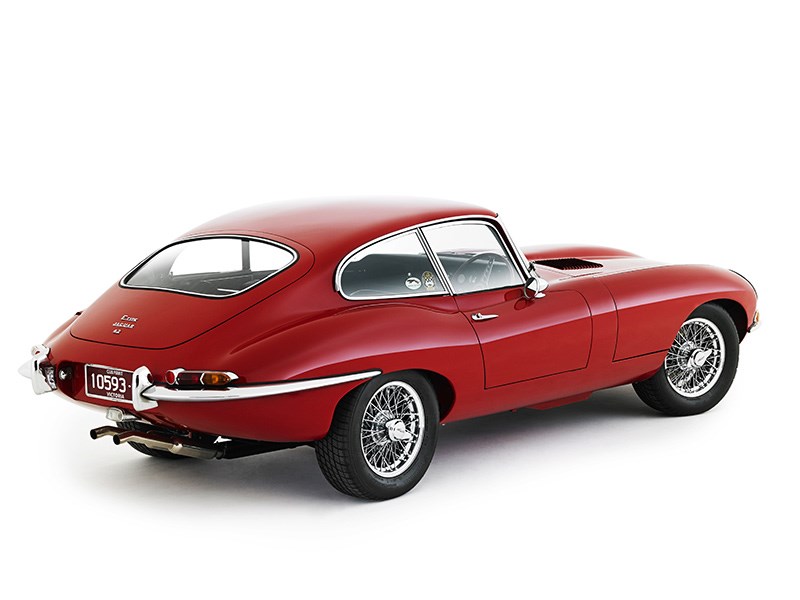 Jaguar E-Type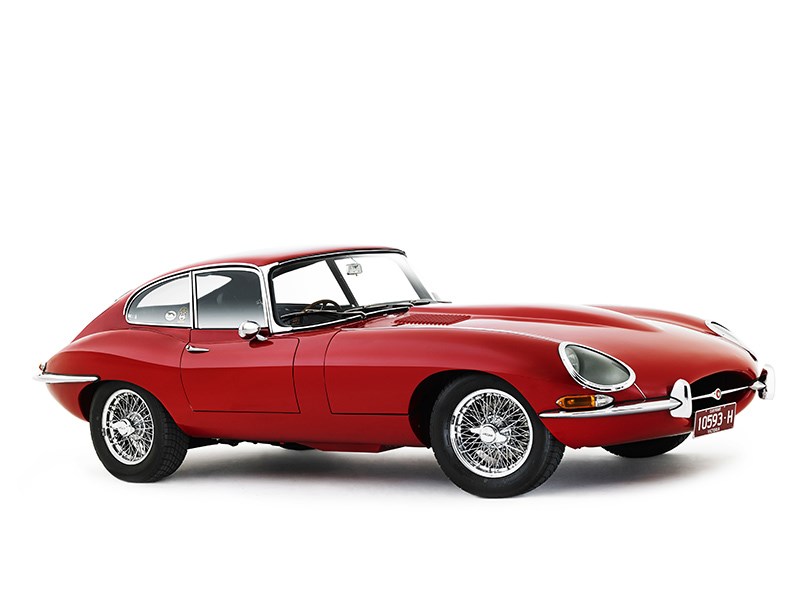 Jaguar E-Type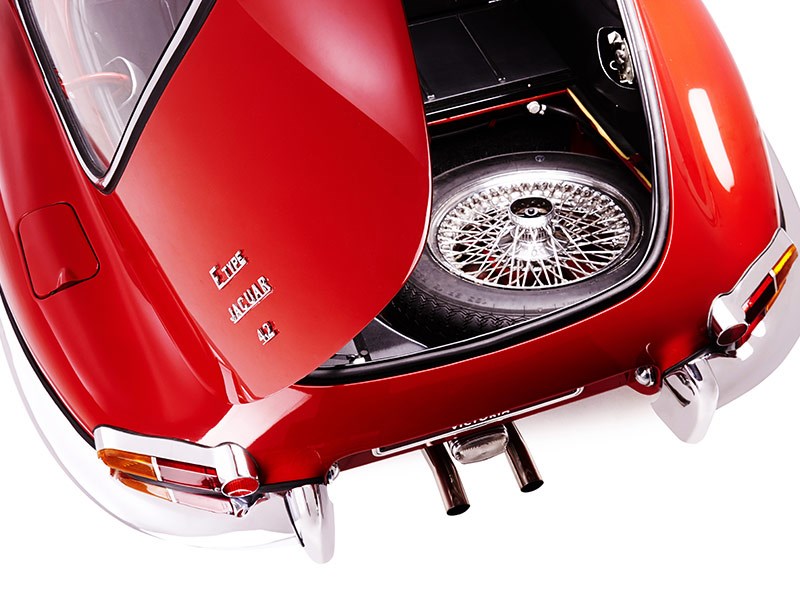 Jaguar E-Type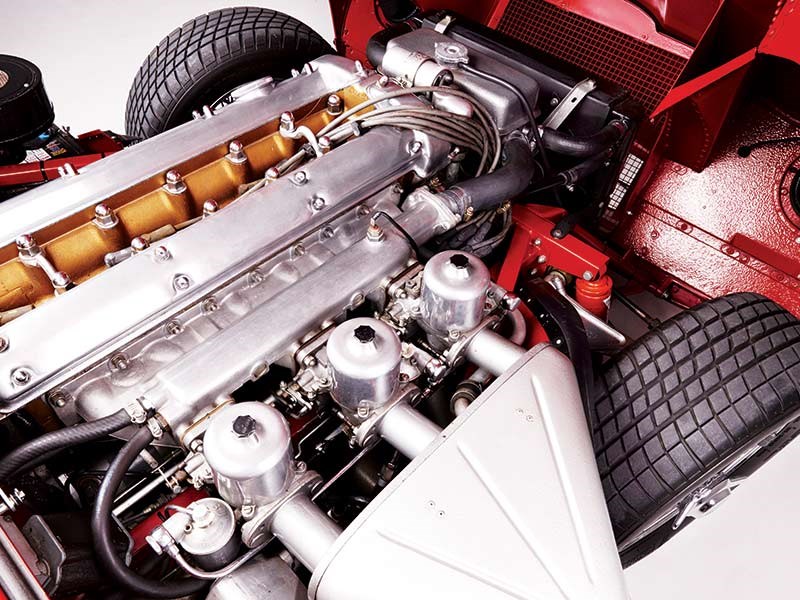 Jaguar E-Type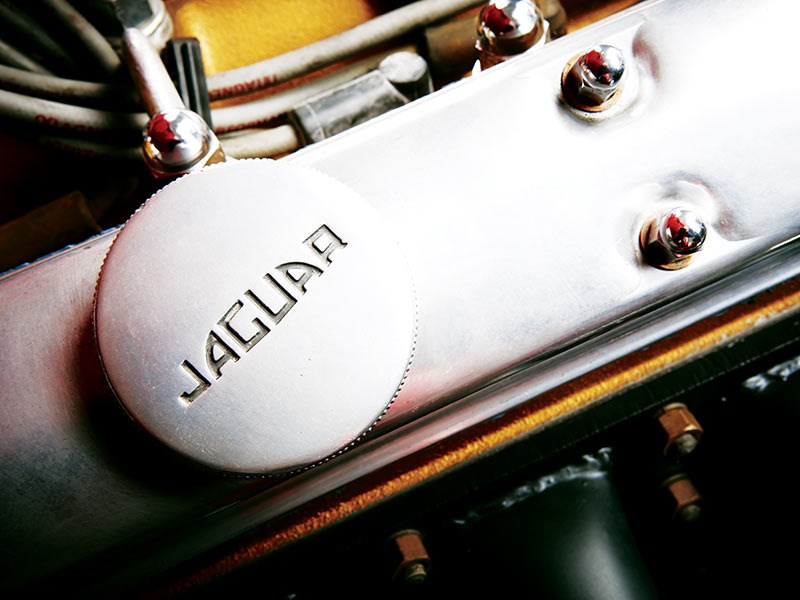 Jaguar E-Type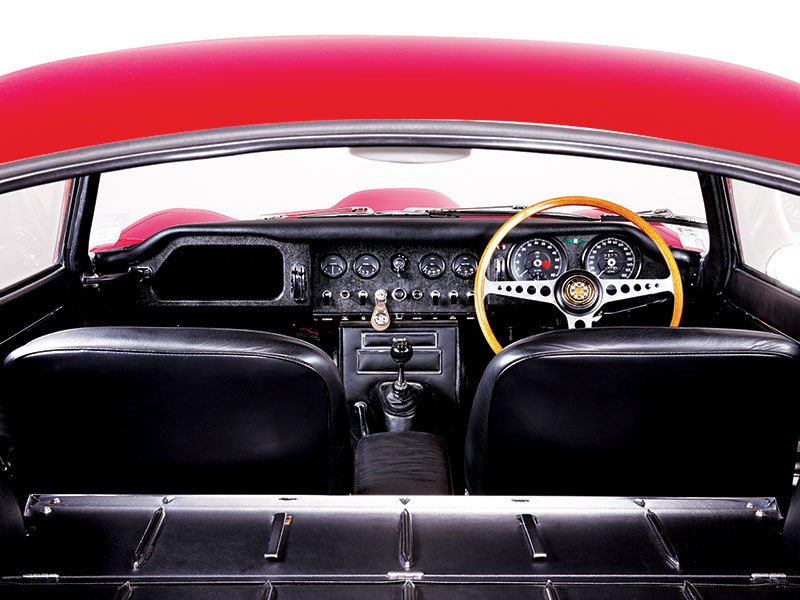 Jaguar E-Type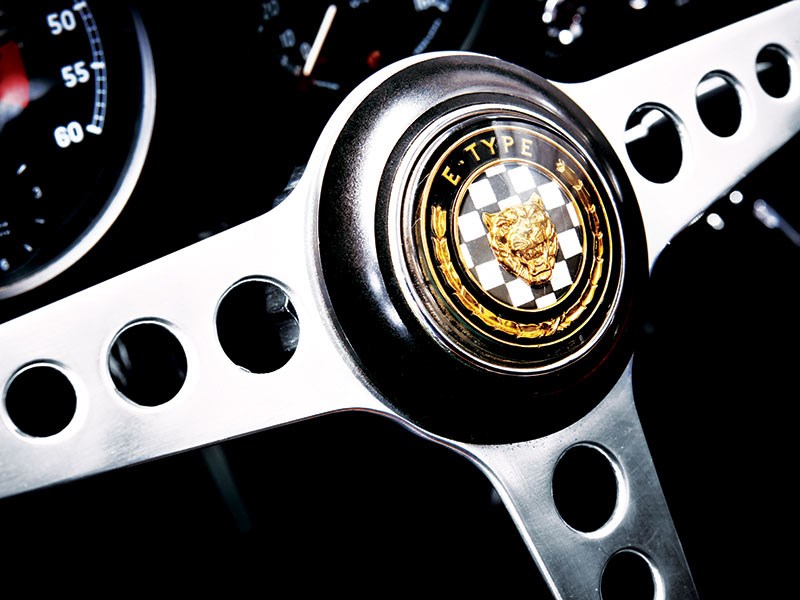 Jaguar E-Type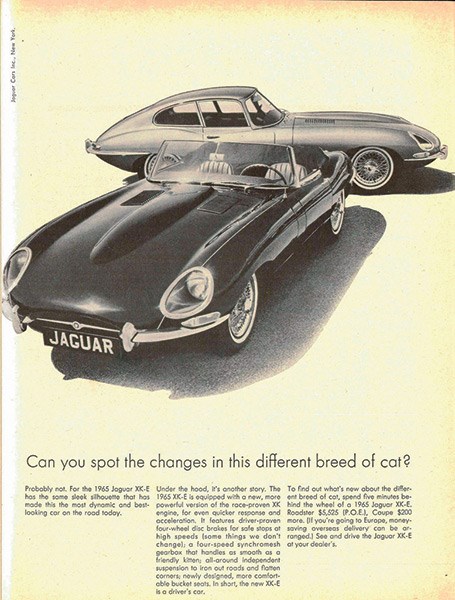 Jaguar E-Type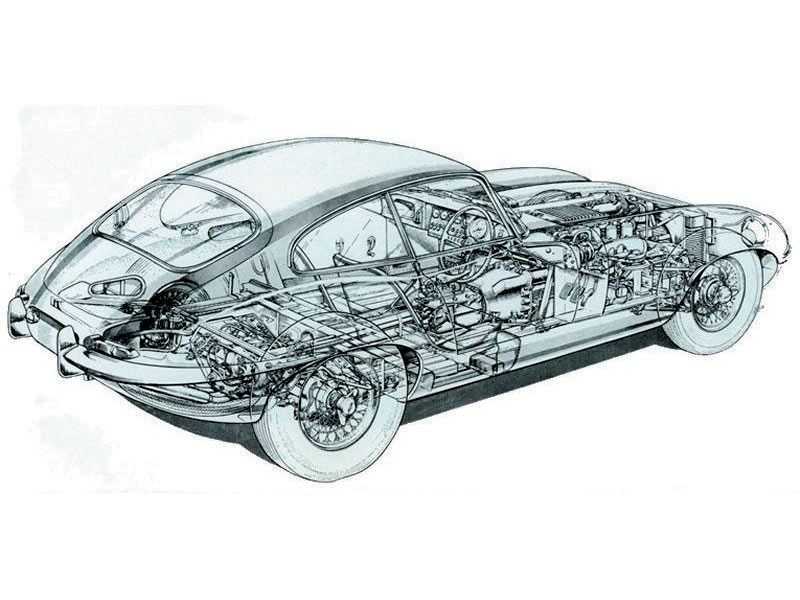 Jaguar E-Type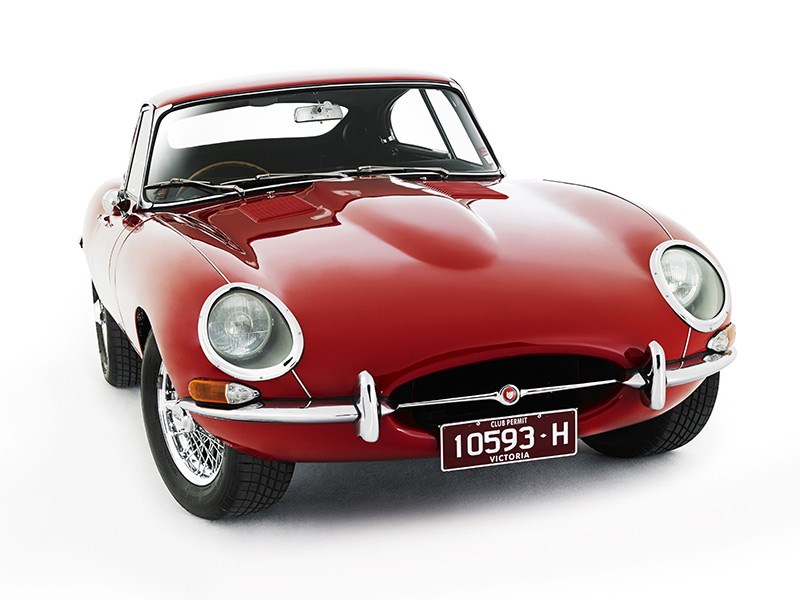 In part 2 of our two Euro classics, we look at the Jaguar E-Type. For many enthusiasts, the best-looking car ever made...
UK Classics
Mini Cooper S and Jaguar E-Type
- Read part 1: Mini Cooper and Jaguar E-Type overview
Part 3: Jaguar E-Type
The success of the Jaguar E-Type was, despite Jaguar's place in the world back then, an amazing Cinderella story. Jaguar had been dominant in sports-car racing back in the 1950s with its XK120 touring car spawning the Le Mans-ready C-Type. The D-Type racer followed and, between them, the race-oriented Jaguars brought innovations such as independent rear suspension and disc brakes to a world where major competitors including Ferrari used drum brakes for most of the 1950s.
When the E-Type arrived in 1961, it brought all these motorsport-derived developments with it, but in a sleek road car that even the redoubtable Enzo Ferrari was heard describe as the most beautiful car in the world. With a mythical claimed top speed of 150mph (it wasproven to be closer to 140mph) and handling and braking that was benchmark for the day, the E-Type shone brightly.
The most influential aspect of the E-Type was perhaps its value for money; it offered pretty much all the performance of exotic Italians, but at about half the price or even less. Suddenly, those super-exotics were looking a lot less convincing.
 
That helped make the E-Type the superstar of the 1961 Geneva Motor Show, where it made its debut, and kicked off an order book that would not quit. Which is where things got a bit squirrely for Jaguar and the E-Type.
While there's no denying that the design – featuring inboard rear brakes and a spaceframe front structure tied to a monocoque passenger cell – was novel, there's speculation now that it's not how Jaguar would have done things had it imagined the enormous demand for the E-Type. In fact, those same speculators reckon the E was designed to be assembled by two blokes in a Cotswold potting shed in between cups of tea (as was the case with many race car-inspired designs).
The spaceframe front end called for a huge bonnet-wing assembly made from three major sheet-metal sections that took those same two blokes two full days to align correctly, and the inboard rear brakes meant the whole rear suspension unit had to be dropped out of the car to change the rear brake pads. In any case, it sounds as though nobody was more surprised than the factory itself at the huge demand for it, and even Jag boss Bill Lyons himself never dreamed he'd build 72,000 of them between 1961 and 1975.
If the Mini marked Britain's emergence from the post-war gloom, the E-Type's arrival punctuated modern England's habit of snatching defeat from the jaws of victory. While the UK motor industry should have been all smiles about a success story like the E-Type, the workforce was, in fact, becoming quite militant, including throwing tantrums and instigating non-union-sanctioned wildcat strikes. Smiths (which supplied instruments for the E-Type) and carburettor supplier SU experienced industrial disputes in 1961, limiting E-Type production to just a few hundred when dealers were holding orders in their thousands.
THESE DAYS
Like any thoroughbreds, both the Mini Cooper S and the E-Type Jaguar have prevailed and these days offer up two of the best Euro-collectibles anybody could wish for. Both are truly great to drive and own, but for disparate reasons.
The E-Type experience is equally foreign to young 'uns raised on Mazdas and Hyundais, but in terms of top-gear lunge factor, there's still not much that gets near a 4.2-litre E-Type with a manual gearbox.
The steering is very dependent on how the car is set up and how tight the steering rack is, but even with big ticks against those things, the E-Type still feels a bit tippy-toed in 2014, thanks to that narrow track.
Inside, very early models (known as 'flat-floors') are cramped and feature little or no foot room. The seats are tiny and low-backed, but at least the rest of the gear is in roughly the right place, including the pedals and tiller. It's an impressive just to sit; that row of toggle switches and the vast array of reflective Smiths gauges (economical with the truth though they may be) are straight out of a WW2 fighter plane. This cannot be a coincidence.
The claimed 265hp (195kW) of the 4.2-litre engine is debatable, but it is smooth and torquey, even if the effective redline is just 5000rpm. In any case, a healthy E will still go like the clappers and turn heads like very few other cars.
MAINTENANCE
An E-Type Jaguar is less likely to be considered unviable due to the amount of work needed to fic it, but that's only because it's more valuable to start with, not because the work will be any cheaper or easier to carry out.
Like the Mini, rust is the big bogey and it's here that an Australian-delivered E-Type might just be worth the extra money it commands in the first place.
Private imports are often from cold, wet (or humid) parts of the world, and a rusty E-Type is definitely not what you want, regardless of the good availability of replacement panels. This is a complicated bodyshell and it takes an expert to properly repair rust in one, so the best advice is to buy a sound one.
Rust-prone areas include just about every part of the E's structure. The floors commonly rust out and those big, structurally important sills tend to rust from the inside out, so take care. A real big problem is rust in the firewall (often caused by leaking brake fluid, which strips the paint and allows the rust monsters to get hold). If that occurs, you could find the front and back halves of the car parting company at the worst possible time, and the fix is a big one involving a complete disassembly of the car.
Don't ignore the wheelarches, doors and roof pillars, and check the tubular front sub-frame at the very front where the bonnet hinges off it. In some cars, the coolant overflow was directed down the left-hand down-tube, which then becomes blocked with dirt and debris, traps water and rots the tube.
Like we said, the E-Type driving experience is linked directly to how taut the front end is. The good news here is that the Jag's front set-up was designed with servicing in mind, so the steering rack is quite easy to rebuild. Unlike what the workshop manual says, you don't need to remove the radiator to remove the rack; a bit of fiddling and swearing will soon have it free. The front upper and lower ball-joints are also rebuildable. You can tighten up a slack ball-joint by taking it apart and removing enough shims to make it solid again. Okay, if the hard chrome on the actual ball is starting to wear off, then you need a new unit, but if it's just loose, the 'shim thing' should work.
The calipers are also rebuildable (once you get the rear ones off), although the complex power-assistance system might leave you scratching your head. Shock absorbers are readily available, but bear in mind you need six of them (four on the rear).
The XK engine is tough, but high-milers may have plenty of wear, with a smoky exhaust and rattling top-end to tell you all is not well. Some timing chain noise is often apparent, but not harmful, while a major thrashing noise from the top end would suggest a seriously worn or broken timing-chain tensioner that needs to be fixed immediately. The good news is that there are local companies around that specialise in these engines and offer a full reconditioning service from about $5000 drive-in, drive-out. Value. Even so, you need to understand that oil leaks carry a Jaguar part number.
MARKET TREND
When Jaguar's William Lyons revealed the shape of his XK sports car, commentators believed that nothing could ever equal its blend of pace, grace and price. Thirteen years later, the E-Type proved them wrong.
Students of automotive design could tell at a glance that this narrow-track, nose-heavy car wasn't going to score points for cornering prowess, but that was hardly the point. The E-Type was about style, presence and affordable performance – attributes that after 53 years still attract buyers and increasing amounts of money.
Early 3.8-litre cars went primarily to LHD markets; fewer than 1000 pre-1964 Roadsters and 1798 fixed-head Coupes from a total approaching 15,500 were sold outside the US and Europe. Top examples of the early Roadster are the ones that have traditionally generated big prices; some are now above $150,000 and continuing to climb.
But it was the recent sale of a 1966 model for more than $A500,000 that may influence E-Type values for some time to come. This US-owned car came with a cabinet full of concours trophies, but no competition history, the factor that had until now has generally driven E-Type values beyond the $250K mark.
Some coupes were rebodied as Roadsters, so it is essential to verify before buying that the car and body numbers are correct for that vehicle.
OUR FEATURE CAR: JOHN WILSON'S 1966 JAGUAR E-TYPE
Like a lot of boys who grew up to be E-Type owners, John Wilson first clapped eyes on the sexy Brit back when still in short pants.
"My attraction to the E-Type goes way back… I remember them coming out new when I was just a lad," he recalls.
"There was nothing quite like it back then, either; they were virtually a supercar in their day. And the style and the performance for the time was what made them special, but it was the look of the thing that attracted me first."
John grew up and got on with life, but about 11 years ago was cruising through the showroom at Melbourne's Healey Factory and spotted this red 1966 short-wheebase car. Being a 1966 model, it's fitted with the 4.2-litre six and has the synchro gearbox, so it's one of the most liveable versions. And it now wears that lovely coat of red, but John says it wasn't always that way.
"The car was restored when I bought it and the restoration had been carried out by a fellow I knew. Knowing his work, I figured it would be a good car. It's an English import, although I have no idea when it was brought to Australia, and the restoration was done in the early Eighties. It was pulled right down, and just as well because back then it was a dreadful yellow colour with, would you believe, a vinyl roof."
Ah, the good old Eighties, eh…
So was his hunch correct? Was it a good car to buy?
"Absolutely. A good E-Type still performs really well. They can really move. It's not temperamental, either; you can trickle it down to about 20 or 30mph in top gear and it'll still pull away. It doesn't overheat and it's not too heavy to drive in traffic."

SPECIFICATIONS
1966 Jaguar E-Type
Engine: 3781cc 6-cyl, ohc, 12v
Power: 198kW @ 5500rpm
Torque: 353Nm @ 4000rpm
Weight: 1315kg
Gearbox: 4-speed manual
Brakes: discs (f/r)
Top Speed: 241km/h (claimed)
Value: $122,000
*****
Search used:
>> Search Jaguar E-Types for sale
Unique Cars magazine Value Guides
Sell your car for free right here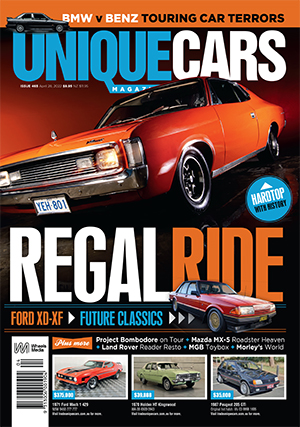 SUBSCRIBE TO UNIQUE CARS MAGAZINE
Get your monthly fix of news, reviews and stories on the greatest cars and minds in the automotive world.
Subscribe