Ford Sierra Cosworth RS 500: Top Ten Fords #9
---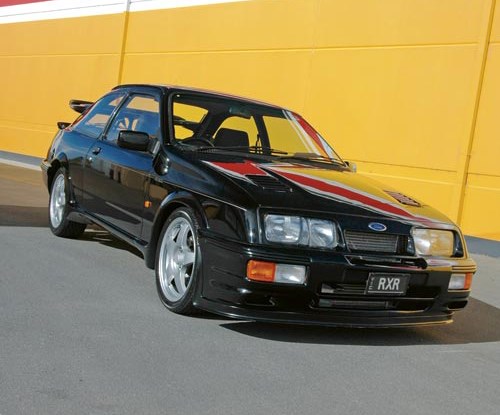 Ford Sierra Cosworth RS 500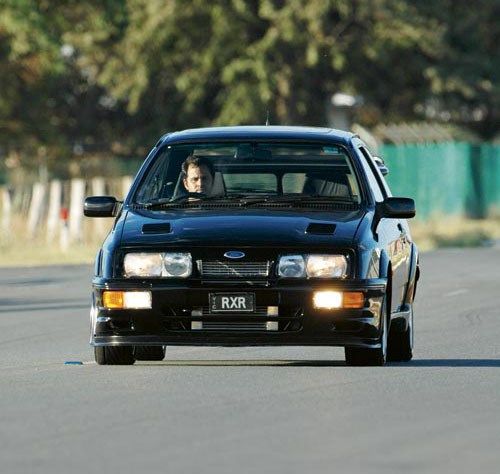 Ford Sierra Cosworth RS 500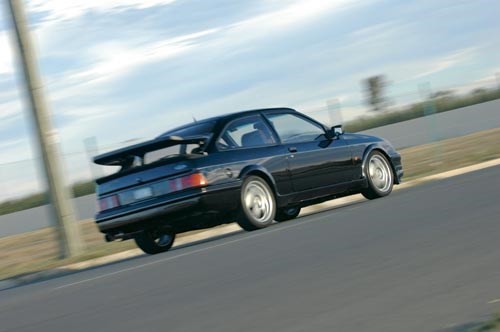 Ford Sierra Cosworth RS 500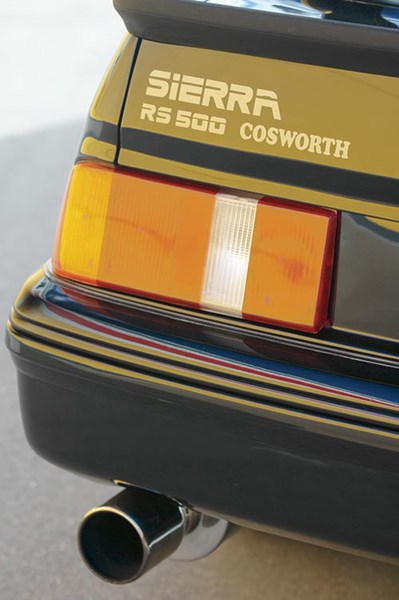 Ford Sierra Cosworth RS 500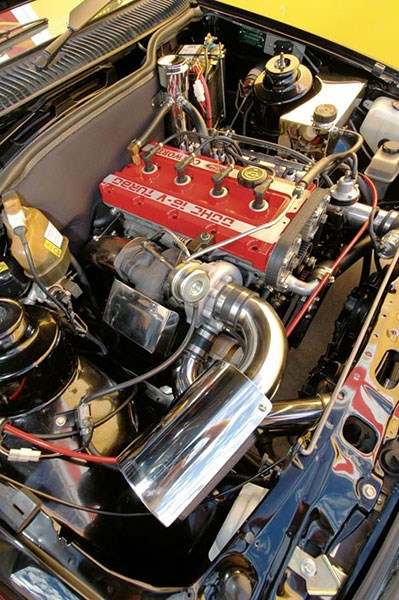 Ford Sierra Cosworth RS 500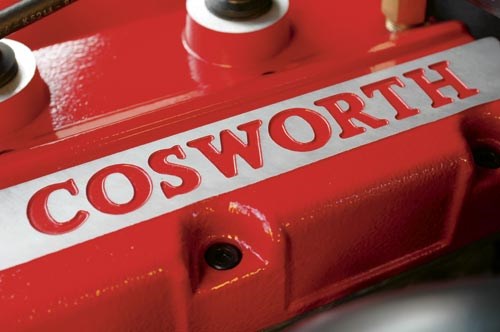 Ford Sierra Cosworth RS 500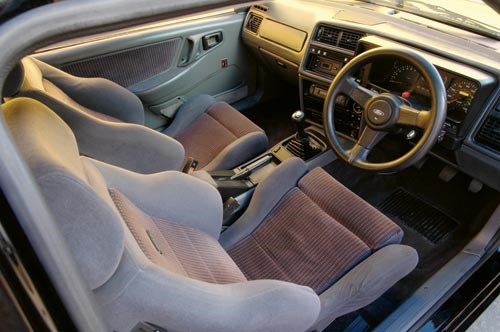 Ford Sierra Cosworth RS 500

The ultimate turbocharged homologation special...
Ford Sierra Cosworth RS 500
Though never sold here new, the Sierra RS500 is instantly recognisable, thanks to its Bathurst and ATCC victories...
Bathurst 1988 and I was crewing in the big race for a mate running a Walkinshaw Commodore Group A. The pit box right next to us was occupied by a bright yellow Sierra RS 500 in cigarette company war paint with the names Longhurst and Mezera on the front guard. We finished a fighting 13th outright on an engine running on seven cylinders; our pit buddies stormed home to take the Bathurst 1000 classic in that yellow Sierra.
After the controversy of the year before, when the Eggenberger Sierras finished one-two at the mountain but were subsequently rubbed out for technical infringements – handing P Brock his ninth win after months of legal argument and robbing Eggenberger of a world championship because Bathurst was part of the world series that year – Longhurst and Mezera's win was proof to Aussie race fans that the Ford Sierra Cosworth RS 500 was indeed a world-beater, something the rest of the world already knew.
A few months later, I discovered exactly how ferocious the Group A Sierra really was. At a press day at Calder Park, I was strapped into the jump seat of the Dick Johnson/John Bowe Sierra with none other than our own JB at the helm.
The two-litre turbo motor sounded grumpy and too rich at idle, and was especially underwhelming as we headed out pit lane and Bowe stomped on the gas. Until the turbo spooled up, that is, at which point the Cosworth lost its mind and I nearly lost my lunch. Before I could breathe, we were at Turn One and hard on the picks as JB wrestled the Sierra around and out the other side, wailing into it once again and sending 500 angry horses to the rear slicks. Strewth… so that's how it won Bathurst.
It won Bathurst again in 1989, this time with Johnson and Bowe sharing the drive, and lots more races and championships. Internationally, the Sierra RS 500 won just about every touring car event going. In fact, many claim the Sierra was the most successful touring car ever, and its dominance led to the organisers changing the rules to outlaw the car. That's what can happen when you develop a car so good that it wins 40 straight races in the British Touring Car Championship, a record that is yet to be broken and probably never will.
The RS Cosworth was also a pretty handy rally car when the conditions suited its rear-drive layout considering the rallying world had discovered all-wheel drive. Its finest on-stage moment came in 1988 when Frenchman Didier Auriol claimed top spot in the Rally of Corsica.
In road trim, the Sierra RS 500 was also a headline-grabber. The two-litre engine was based on the old Pinto four-banger, but the Cosworth head, electronic injection and monster turbocharger meant it was good for a claimed 170kW and 0-100 in six-and-a-bit. It had so much grunt and revved so hard that the gearbox – a toughened version of the Borg-Warner T5 – had to be specially built on a separate assembly line.
Sadly, the road-going Sierra was not officially sold here, but a few have since been privately imported and still stop traffic wherever they're parked.
JB SAYS...
I should know all about these, having raced them for the great Dick Johnson (above) from 1988 to 1992. That's a lot of racing. I've also done some street miles in them, and they are wonderful cars – a latter-day Lotus Cortina in many ways.
The RS brand in Europe was like our FPV brand here in Australia. Like the Cortina, the Cossie was developed to polish the nameplate of a common rep's car. Developed to race from the beginning, it had all the tools required, especially in RS 500 form.
If ever there is a Ford to put away as an investment, I reckon this is the one. They stopped well, handled well and were well equipped for the real driving enthusiast.
As a race car, they dominated Group A racing worldwide, but boy did they have turbo lag. It was like having a time delay; push the throttle and some time in the future the huge kick in the back would happen. It sure required a special style to drive it; fond memories indeed.
VALUE AND DESIRABILITY...
Co-opting a specialist mechanical tweaker to turn your boring rep-mobile into a race winner isn't a new concept, and Ford had a long and glorious history of collaborating with Cosworth.
Even in RS 500 form, the Cossie isn't spectacularly quick and certainly isn't a joy to live with. Values have accordingly remained flat over the course of several decades and apparently don't offer hope of a massive surge any time soon.
Cars with proven competition history are valuable and it's a tribute to the people who raced them that so many of Australia's Group A Sierras have survived. Some are still fronting up for historic events despite being worth $250,000 or so.
VALUE MOVEMENT
1990 - $45,000
1999 - $33,500
2005 - $38,000
2010 - $45,000
2014 - $52,000
SPECIFICATIONS
Ford Sierra RS 500
Production: 1986-1992
Body: Two-door coupe
Engine: 1993cc 4-cyl, DOHC, turbo
Power: 170kW @ 6000rpm
Torque: 277Nm @ 4500rpm
0-100km/h: 6.1sec
400m: 15.5sec
Gearbox: 5-speed manual
Suspension: MacPherson struts (f); independent, coil springs (r)
Brakes: Discs
***** 
More reviews:
- Bathurst Sierras (Dick Johnson and John Bowe) 2013
- VIDEO: Bathurst Sierras (Johnson and Bowe) 2013
- Bathurst legends: Ford Sierra (2012)
- Past blast: Ford Group A Sierra (2012)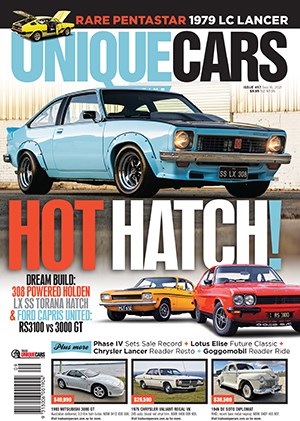 Subscribe to Unique Cars Magazine and save up to 42%
Australia's classic and muscle car bible. With stunning features, advice, market intelligence and hundreds of cars for sale.
Subscribe