1964 Holden EH Special
---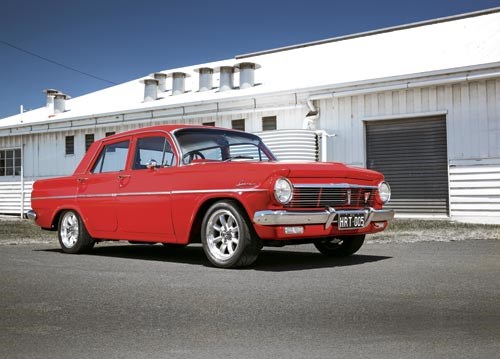 1964 Holden EH Special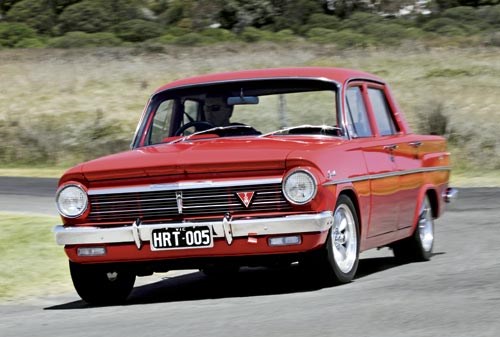 1964 Holden EH Special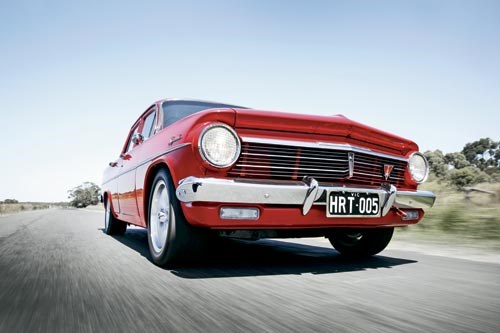 1964 Holden EH Special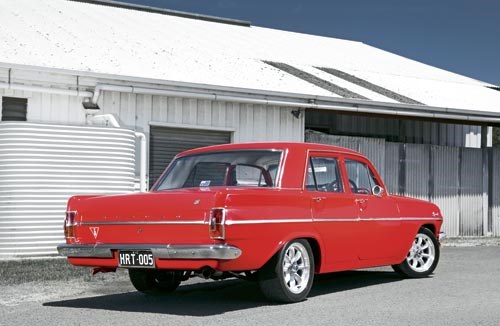 1964 Holden EH Special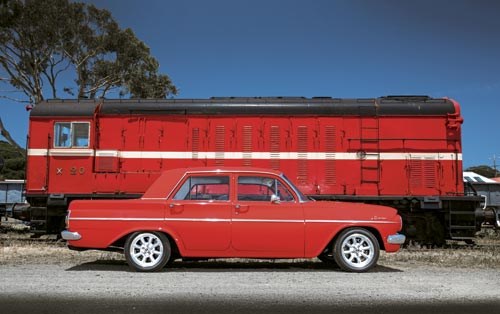 1964 Holden EH Special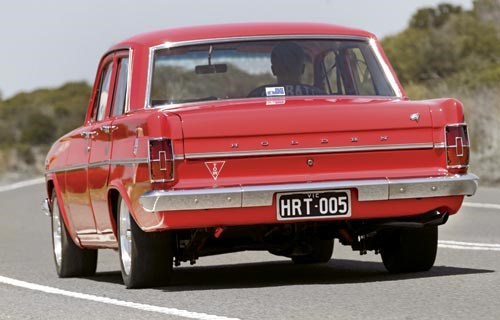 1964 Holden EH Special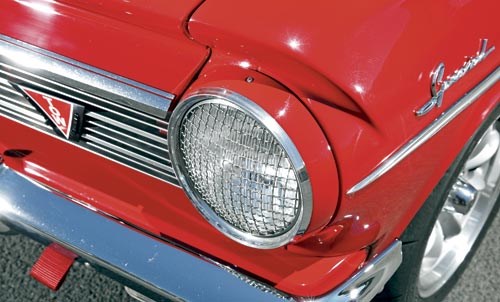 1964 Holden EH Special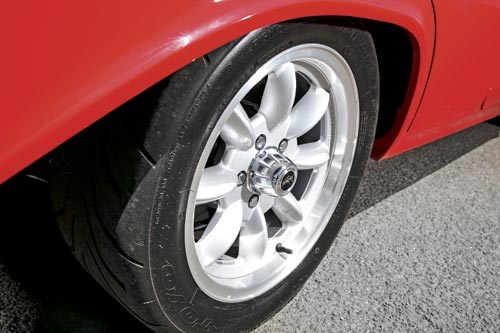 1964 Holden EH Special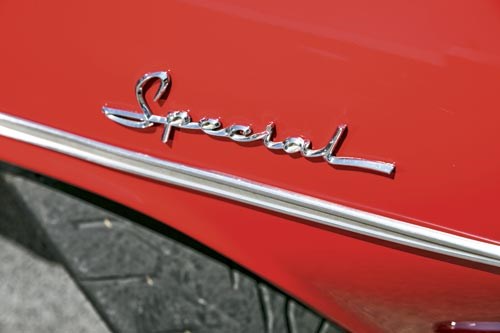 1964 Holden EH Special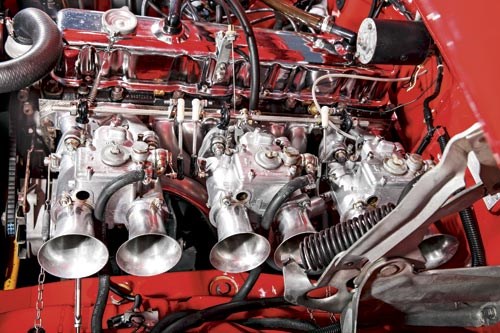 1964 Holden EH Special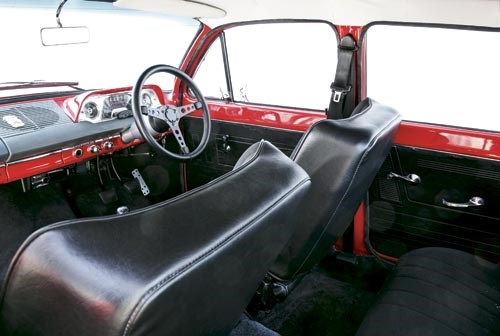 1964 Holden EH Special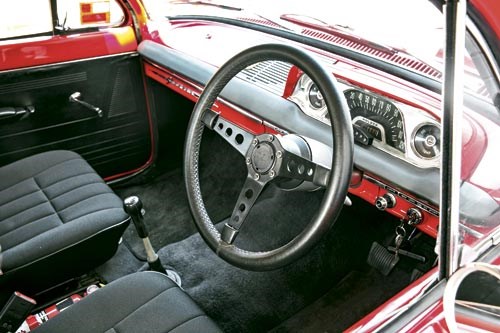 1964 Holden EH Special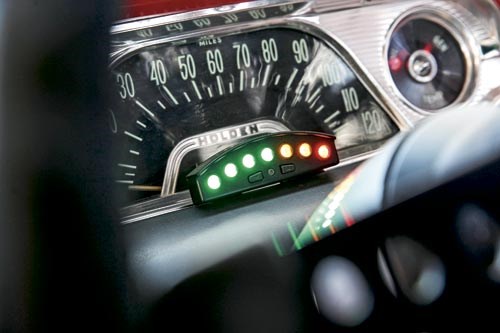 1964 Holden EH Special

A racey EH with plenty of history and character wins our heart...
Holden EH Special
LADY IN RED
To the untrained eye, this looks like a tidy, bright red and relatively standard EH. That's because, on the outside, it's almost exactly that. But look a little closer and you notice features that suggest this little redhead has a bit of history and is hotter than most.
A little blue triangle on the boot that indicates the location of the battery is the first clue that it has seen a few scrutineering bays in its time. Look closer and you'll notice little tongue-like tow straps poking from the front and rear bumpers, and with a touch of steering lock, there's the semi-slick face of a front tyre peering from behind the front guards. Get the picture?
This is Craig Stillman's hillclimbing, rally-prepped, yet road-going EH Holden, which caught our eye at the Geelong Revival late last year. It looked quite comfortable in the pitlane, at home on the start line, and Craig did some enthusiastic runs along the foreshore to prove its sporting credentials.
This little lady once did battle with Lotus Cortinas and Mini Coopers in the early days of Group Nc Appendix J racing. Its last major race was the 1994 Albert Park Classic, where it sported a yellow and white livery. It still wears a little gold badge on the dashboard from that event.
It still has the original 179 cubic-inch engine, which was built by legendary Holden Dealer Team engine builder Ian Tate, although Craig has since added a solid Crow camshaft. It runs a steel crankshaft, roller rockers, pushrod guide plates, a high-volume oil pump, and an XU-1 Torana-style harmonic balancer protection plate to prevent the radiator copping massive damage should the balancer break at high rpm.
The cylinder head is a VK Commodore 12-port item, as is the electronic distributor, which has been re-graphed to suit Craig's set-up. A trio of 45mm sidedraft Weber carburettors and Jetcoated pacemaker headers complete the package.
The car's revival story began many years ago in the hands of Adelaide HSV guru Graeme Rutgers, who did the majority of the work.
Having had an EH as his first car, Graeme bought the car after it was spotted in Albury by an employee of his vehicle transport company. It was transported to his base in Adelaide, where the hard work began.
All the running gear was stripped, so the rebuild basically started from scratch, but not without a specific plan of attack. Graeme wanted the outside appearance of a standard-looking and tidy 1964 EH with the innards of a reliable, more modern car, yet without spoiling its race-car roots. And road-legal, of course.
Testament to the success of this plan is that Craig has been able to teach his daughter to drive in the manual-equipped car on his quiet street in Geelong, doing plenty of first gear stop-starts without any complaints from the car or his pupil.
Craig took over the project before it had been completed and finished it with elbow grease and through deals with friends and the right people, rather than by emptying his wallet.
"What I had to do, really, was put the jigsaw puzzle back together," he said.
Having sat for eight years untouched, it had no fuel lines and no exhaust system. The interior was mostly done, but there were no seats or carpet.
"When you look at the body closely, it's got ripples and dents, it's got a patch where the fuel filler nozzle has been welded over, and the doors don't line up perfectly, but that was always the intention; to show its history, its battle scars. But we still take it down to Queenscliff and have fish and chips on the beach with the family."
The aptly named Sting Red paint may look pristine on these glossy pages, but the truth about the car's adventurous history is obvious, especially from the passenger seat.
Craig wanted to reveal the EH's personality on the short drive from Drysdale to Queenscliff, and that didn't mean breaking the law or the car because just getting to 100km/h was fun.
The Mitsubishi Starion-sourced five-speed box required a hydraulic clutch conversion to mate with the rest of the driveline. It has a short first gear that eagerly revs toward second, but this little lady doesn't blast through the revs like a thoroughbred race car. Instead, it picks up pace with the verve of a much bigger engine and the composure of a traditional sports car.

The soundtrack of the drive fills the cabin courtesy of ceramic-coated Pacemaker headers and a 2½-inch steel exhaust with a sports muffler that Craig sourced – along with plenty of metal fabrication help – from old friend Andrew Darby at Moolap Mufflers in Geelong.
The straight six's estimated 220kW is sent through the hearty five-speed to a tough and easily-integrated Volvo diff and onto the road via 15x7 Superlite rear wheels that are matched on the front.
As the semi-slick Toyo 205/50s push off the hot bitumen, you can hear the tick of the odd stone hitting the underbody and the whistle of air hitting surfaces that were not designed to be aerodynamic.
The whole set-up feels nimble, but equally solid, like you're a part of a Spanish flamenco dance, where the sound and energy feel faster than the actual velocity of the car.
As we approached Queenscliff, cruising at 100km/h in fifth at a sedate 2000rpm, and down the main drag at 60km/h in the hot sun, it's still as quiet as any well-maintained VK/VL Commodore six-cylinder. This is appropriate since it contains a number of other VK components including brake calipers, rack-and-pinion steering and the re-trimmed seats.
Coming to a halt is undramatic and comfortable for an old car, thanks to a Hopper Stopper brake conversion with braided lines, utilising Torana discs that wipe off speed quite late without any drama. Craig also attributes the car's braking ability to Euro-style soft-compound pads.
Low-speed potholes reveal what Craig describes as "firm but not uncomfortable" suspension, particularly due to the leaf-sprung rear.
Pootling around the picturesque Bellarine Railway station to get these shots against the spectacular heritage carriages, easily forgotten race-car characteristics emerge. Craig comments that the wide turning circle makes manoeuvring into position a bit tricky and, while the rack-and-pinion conversion from Old Oldens (Lonsdale, SA) is much better than the original recirculating ball system, he still laughs at the arm pump he got from doing slaloms at an MG Motorkhana.
The car also idles a little rough for his liking, but he smiles when he says it comes good on track days.
Other racey features can be noticed throughout the car, some obvious and others quite discrete.
Each carby is marked with white dots from the initial engine rebuild so Ian Tate could identify which carby went where. And there's an aluminium panel welded in behind the back seat to prevent cabin-exposure to fire or fumes in the event of a fuel leak in the unfinished boot.
During an afternoon of stop-start driving in considerable warmth, not once was Craig fazed about overheating and the car never complained about doing run after run at low speed for our photographer. Rutgers' original plan seems to have worked.
There is a quiet synergy between the historic Bellarine Railway and Craig's gorgeous but feisty EH, and it's not about the car handling as if on rails. Because it doesn't. It's really a case of the opposite due to the EH having foibles. We know they're both old, but we keep the passion alive by appreciating their idiosyncrasies.
Neither the train and its carriages nor the EH are designed to be aerodynamic or fuel-efficient. They don't have perfect bodies, and they have plenty of roll to remind you of their vintage. Nor do they run anywhere near as smoothly as their modern counterparts.
These machines remind us of ourselves, and we appreciate them for surviving until now with their unique and flawed qualities. So if you see this energetic redhead at a hillclimb, local rally or
track day – and you probably will – give her a minute of your time and thank Craig for reminding us why we love such unique cars.

SPECIFICATIONS
1964 Holden EH Special
Engine: 2996cc inline-six, sohv
Power: 220kW (est.)
Torque: N/A
Weight: 1132kg
Gearbox: Mitsubishi Starion 5-speed manual
0-100km/H: 6.0sec (est.)
0-400m: 14.0sec
Top Speed: 170km/h (est.)
Price new: $2102 (Standard)
 

*****
More reviews:
> Aussie original: Holden EH turns 50
> Oz v Euro: Holden EH S4 v Jaguar Mk II

Search used:
Unique Cars magazine Value Guides
Sell your car for free right here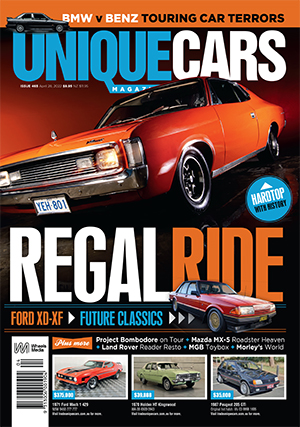 SUBSCRIBE TO UNIQUE CARS MAGAZINE
Get your monthly fix of news, reviews and stories on the greatest cars and minds in the automotive world.
Subscribe