Mercedes-Benz 450SEL 6.9: World's greatest cars
---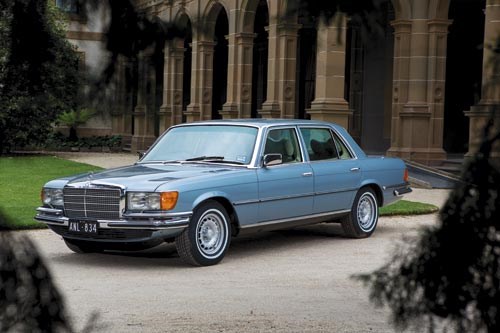 Mercedes-Benz 450SEL 6.9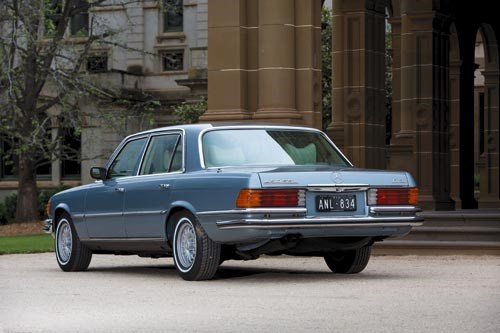 Mercedes-Benz 450SEL 6.9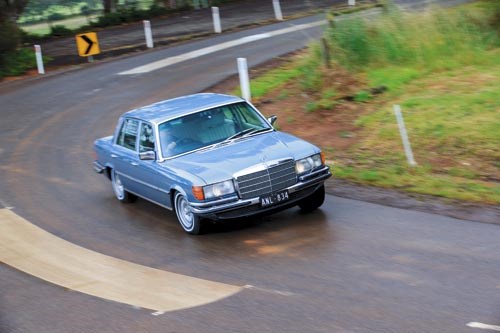 Mercedes-Benz 450SEL 6.9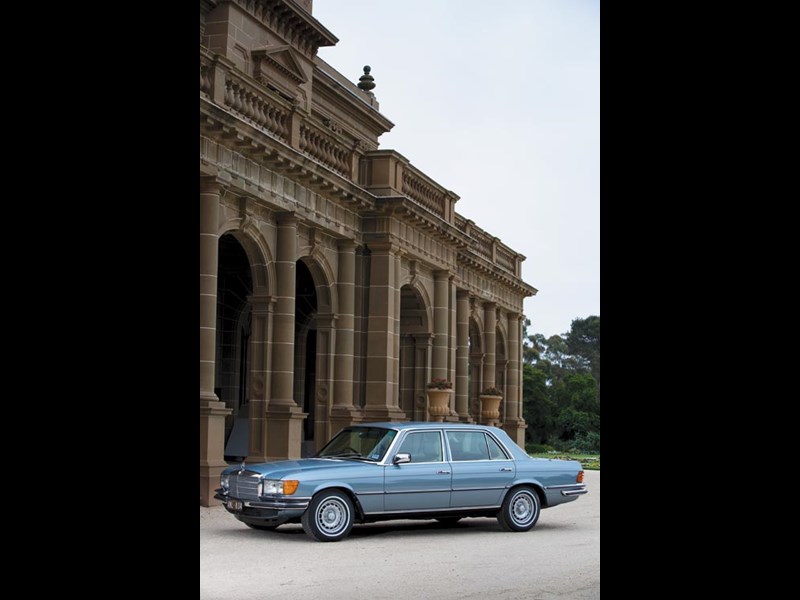 Mercedes-Benz 450SEL 6.9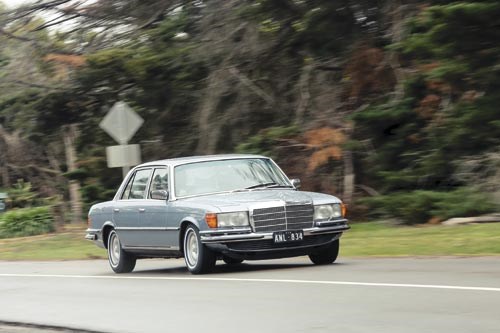 Mercedes-Benz 450SEL 6.9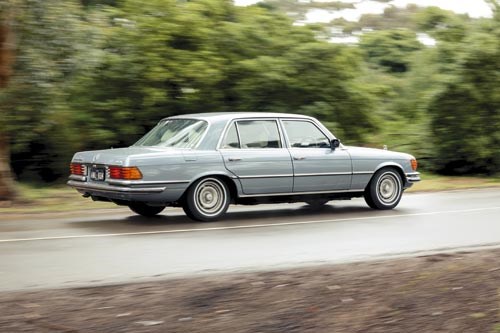 Mercedes-Benz 450SEL 6.9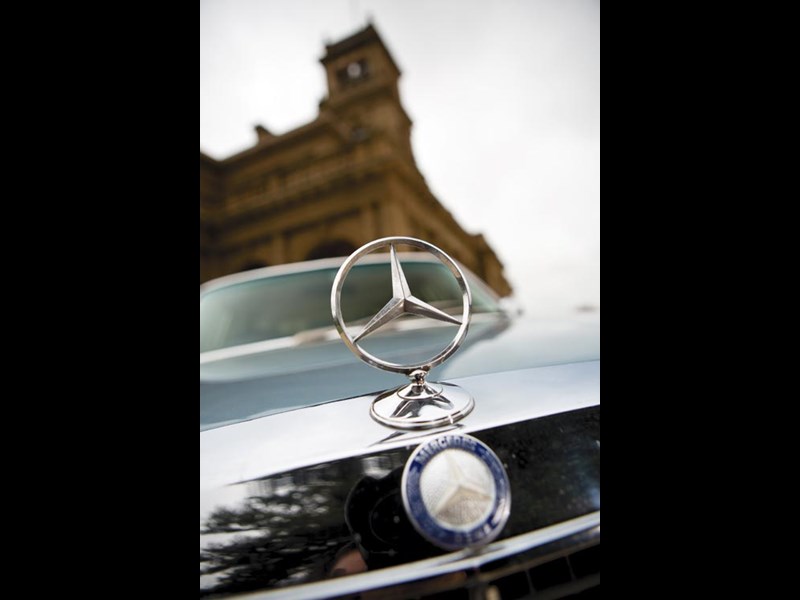 Mercedes-Benz 450SEL 6.9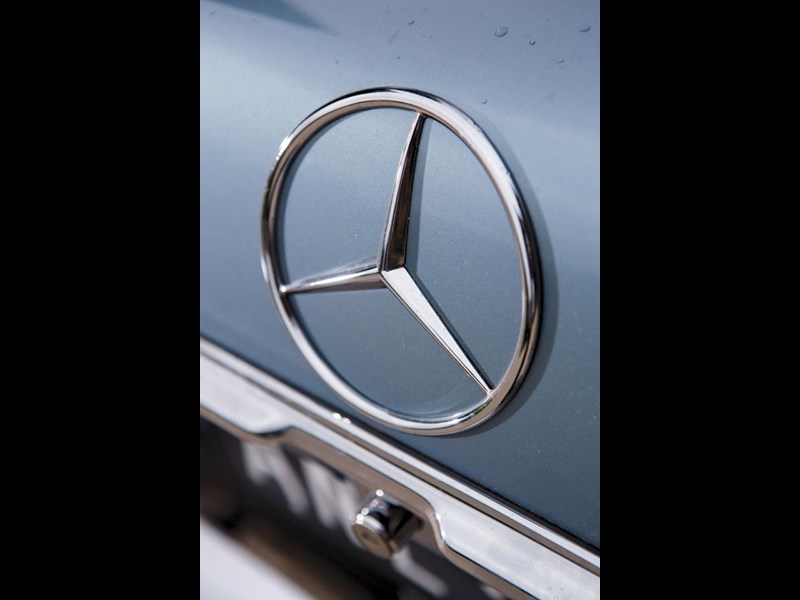 Mercedes-Benz 450SEL 6.9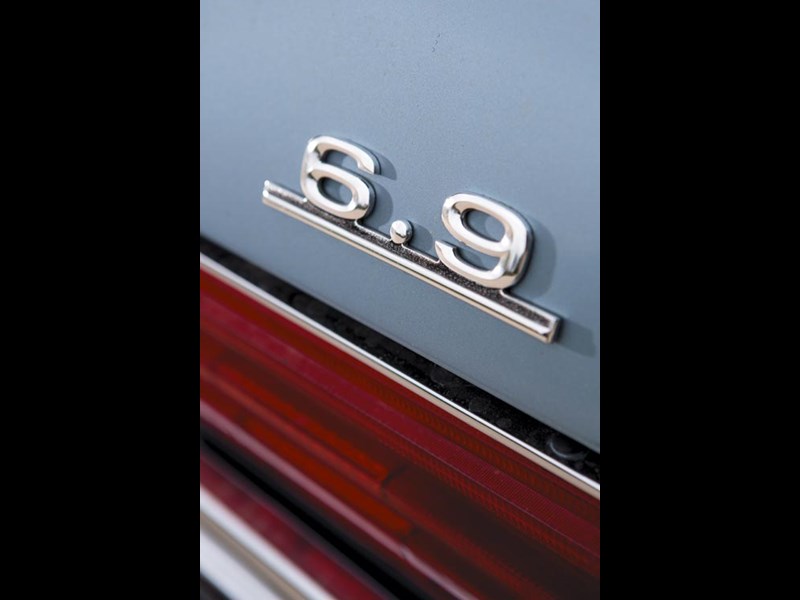 Mercedes-Benz 450SEL 6.9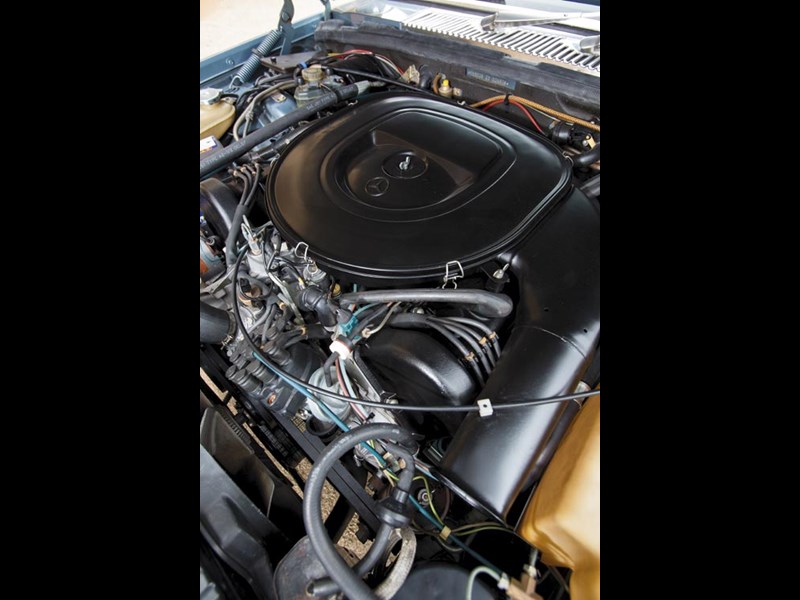 Mercedes-Benz 450SEL 6.9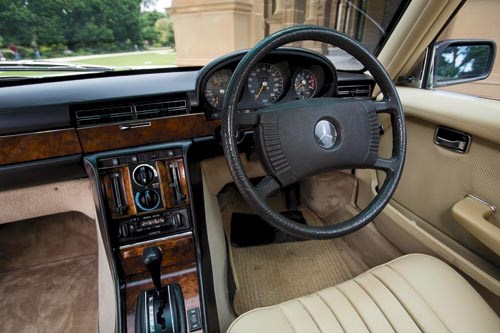 Mercedes-Benz 450SEL 6.9

WGC - four-door category: Mercedes-Benz 450SEL 6.9...

World's Greatest Cars Four-Door Category:
Mercedes-Benz 450SEL 6.9
Arguably the greatest mass-produced super-saloon ever built...
 > Watch the video: Mercedes-Benz 450SEL 6.9
WHY IS IT HERE?
After the first S-Class hot rod – the 300SEL 6.3 of 1969 – it kind of figured that M-B would have another dip at building a world-beating limo that could really hustle. And so, when the W116 chassis we now know as the S-Class arrived in 1973, it was less of a surprise when Benz shoehorned its 6.8-litre (regardless of the 6.9 badge) SOHC V8 between its front shock towers.
But the shock and awe returned the moment you drove the big guy because once again Mercedes had pulled off a technical tour de force and wrapped it in a sumptuous limousine body that suggested refinement and luxury rather than the car's sledgehammer performance.
Suspension was by hydropneumatics rather than the pure air-suspension of the earlier 6.3-litre car, and everything from the seats to the windows and central locking were powered by another complex network of hydropneumatic lines, compressors and diaphragms.
The real legacy of the 450SEL 6.9 can be seen in every modern AMG car. And when you look at global sales of the AMG line-up, you can clearly see why cars like the 6.9 are now so historically important and beloved of shareholders.
BEHIND THE WHEEL
One of the nicest things about the latest long-wheelbase Benzes is what's become known as the waft factor. That sensation of being in control but disconnected from all the unpleasant bits of the world like speed humps, potholes and even cats-eyes. But, believe it or not, this car, now in its fourth decade, has exactly the same thing going on.
Thing is, it doesn't actually feel as fast as the hype suggests it should. Sure, there's loads of torque, but the real problem, I reckon, is the gearbox, which is typical for M-B from this era. And by typical I mean slow to shift up or down, and reluctant to take off in first gear unless you absolutely mash the pedal into that beautiful carpet.
You also got the Benz-standard huge tiller and plenty of steering assistance. But as a car to go interstate in, it would surely take a lot of beating.
This particular example is a stunner, too. It's had a nut-and-bolt resto, but still looks original and dead-set lovely. In fact, the whole car smells of having been looked after and driven sensibly, which is not necessarily the fate that befell every one of these road-burners in the day.
THE OWNERSHIP EXPERIENCE
Running a specialist Mercedes-Benz workshop means Peter Lennox knows his Benzes. And he's known this particular car for for a long time because he serviced it for many years before buying it from a customer about three years ago.
This 6.9 had an auspicious start in life, too; it was one of three bought brand new by the famous Grollo family on the same day, at a time in history when the big Benz was worth roughly the equivalent of two houses. Its appeal to high-rollers remains, too, and when Peter took his new purchase into Mercedes-Benz of Melbourne to show a few mates, Lindsay Fox just happened to be there. Lindsay was so knocked out by the car, he offered Peter a blank cheque for the SEL there and then. Peter declined.
The car looks perfect, but also original, and that's because the restoration process was so painstaking, with much care taken to ensure it was not over-restored.
"It started with me thinking I'd just fix an aerial hole from a telephone and paint the boot," says Peter.
"Then that small fix became a general tidy-up. Then we just got carried away. And now it's perfect.
"I even replaced the 6.9-specific valves in the wheels with new ones from Germany at $39 apiece."

THE RACER'S VIEW: JOHN BOWE
The Mercedes-Benz 450SEL 6.9 is one imposing machine. I've driven many of its lesser siblings, but never encountered the 6.9; nonetheless, I was already a fan. Once the fastest four-door car in the world, it was craved by fat-cats the world over.
Behind the wheel, it feels more like a limo than a sports sedan, but it's highly capable and has that Mercedes-exclusive 'carved from stone' feel.
Guiding the car on country roads is easy and rewarding, using the Fangio-styled steering wheel at a 20-to-4 hold. Why, you may ask. Well, it's because the steering wheel is so big that your arms ache at the usual 10-to-2 position.
The car is not super-quick by today's standards, but it must have been something else back in the late '70s. It has a road presence much greater than a modern S-Class.
If I had one, I'd make mine black with tinted windows and burgundy trim! There I go, dreaming again...
Despite loving it, the complexities would scare me if I were to own one.
VALUE GUIDE
1979 Mercedes-Benz 450SEL 6.9
$24,000-30,000
Summary: The 6.9 was once the fastest four-door sedan in the world and quite likely the best. Cheaper to buy today than plenty of lesser cars, but still hideous to maintain.
SPECIFICATIONS
Mercedes-Benz 450SEL 6.9
Years of production: 1975-1980
Body: Unitary
Engine: 6.8-litre V8
Power: 210kW @ 4250rpm
Torque: 550Nm @ 3000rpm
0-100km/h: 7.2
400m: 15.4
Gearbox: 3-auto
Suspension: Hydropneumatic (f and r)
Brakes: Disc/disc
ROBBO'S REAR-VIEW MIRROR...
You'd rightly doubt the credibility of any list of the World's Greatest Cars without a Mercedes-Benz. The problem quickly becomes: which Benz? A 300SL Gullwing, perhaps, an E55 AMG, Ferdinand Porsche's supercharged SSK from the late '20s, a Pagoda-roofed SL. Or this, the mighty 450SEL 6.9, in 1974 rated the world's fastest and most accelerative four-door sedan (although any Australian enthusiast knows its 225km/h top speed was just shy of the also faster-accelerating Phase 3 GT-HO).
The W116 6.9 was the successor to the 300SEL 6.3, the hot-rodded version that combined the 600 limousine's engine with the W108 body. Mercedes built only about 6500 examples before production stopped in 1971, but the 6.3's impact on enthusiasts and Mercedes' image far exceeds its sales.
For the next generation S-class, Mercedes slotted a big-bore version of the cast-iron and now dry-sump M100 V8 into the long-wheelbase W116 to create the 6.9. The new 6834cc engine made 286bhp (213kW) at 4250rpm and 405lb-ft (549Nm) of torque at 2500rpm, though US versions of the car dropped 50hp and 45lb-ft due to more stringent emission controls.
Mercedes famously bench-tested each engine for 265 minutes, including 40 minutes at full load. Bosch K-Jetronic mechanical fuel injection featured and the engine drove through a three-speed torque-convertor automatic.
To help contain the power, Mercedes added a Watts linkage to the semi-trailing-arm rear suspension (self-levelling hydropneumatic suspension was an option) and offered electronically controlled anti-lock brakes, a first (the Jensen FF's ABS system was mechanical).
Visually, the only way to pick the 6.9 was by the rear badge and the wider wheels and tyres.
Maybe just over 100 'six-point-nines' (as it has always been known) came to Australia.
From 1972, Mercedes-Benz Australia began proper drive launches of new models and was generous in providing road test cars. However, in 1978 the motoring press was happy to be driven when the 6.9 was launched. Their chauffeur was the celebrated Juan Manual Fangio, five-times world driving champion. For months afterwards, those who'd ridden with the 'Maestro' adopted Fangio's favoured, highly unusual, 20-to-four driving position, the huge wheel held loosely in his fingertips.
Understandably, the rare and mega-expensive 6.9 was never loaned for a serious road test in Australia. However, former Wheels staffer Mel Nichols (then editor of the UK's Car magazine) drove 5720km across America with Car & Driver boss David E. Davis in a 6.9. Nichols wrote: "In the final analysis, the 450SEL 6.9 is a driver's car and not a limousine: you take it and open up that big silky V8 and it gets up and responds. It shrinks around you and is perfectly behaved, edging into power oversteer where you want it, or staying perfectly neutral where you'd prefer that mode. So you're paying for on-the-road ability with the Mercedes, not extreme comfort or luxury or status, and those who seek such visible trappings would do better to look elsewhere."
In C&D, Davis wrote: "How does it all work? Superbly. The 6.9 feels more nimble, more agile than any other Mercedes we can remember. The new suspension, combined with the extra power, makes it possible to toss the big sedan around like a bug-eye Sprite. It is rock-solid and practically silent on the road, at any speed, and the engine's mid-range performance makes serious high-speed mountain driving a positive joy.
"The car defies you to justify its purchase on any grounds other than its performance. It is a four-door machine for going fast, nothing more."
 

*****
 
More reviews:
> Watch the video: Mercedes-Benz 450SEL 6.9
> Mighty Mercs: 1970s Mercedes-Benz V8s
> Buyer's guide: Mercedes-Benz W124
Unique Cars magazine Value Guides
Sell your car for free right here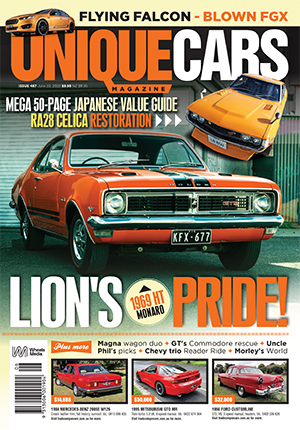 SUBSCRIBE TO UNIQUE CARS MAGAZINE
Get your monthly fix of news, reviews and stories on the greatest cars and minds in the automotive world.
Subscribe