Dick Johnson & John Bowe at Lakeside Raceway
---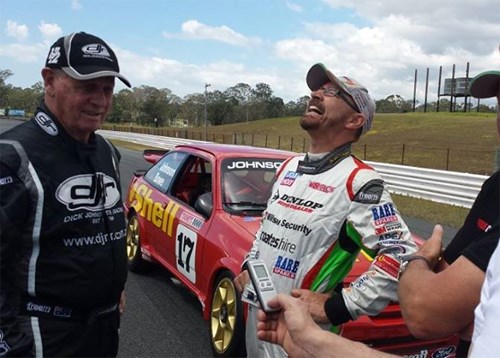 Dick Johnson & John Bowe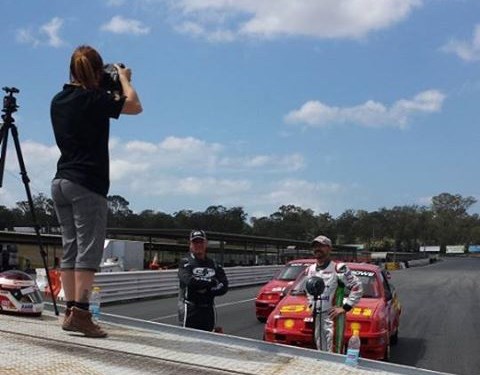 Dick Johnson & John Bowe

Motor racing royalty reunited: Dick Johnson and John Bowe with their Bathurst winning Ford Sierra RS500 at Lakeside
Bathurst Ford Sierra RS500
A little excerpt from our current issue, where we reunite Dick Johnson and John Bowe with their Bathurst winning Sierra RS500.
Reunited!
Motor racing royalty comes together one last time to wheelspin down memory lane...
The lines that crease his instantly recognisable 68 year-old face are deeper these days, carved by a frenetically busy life, w...ell-lived. A life spent toting the dual weights of orchestrating a professional racing team along with the expectations of a demanding racing public – a public that has watched him rise from loved underdog to high-flying front-runner and settle back to somewhere in-between.
What hasn't changed is that slightly hang-dog look and the knowing smile. It starts in one corner of his mouth and quickly defines his entire face. He's smart, dry as a Dubai dusk, and just a little suspicious when meeting people for the first time. Until he reckons you are alright. Pass that test and he's engaging, brutally honest, and happy to talk. Fail it, and you'll get very little.
He's Dick Johnson.
With us is Dick's celebrated offsider, John Bowe. He's energetic, charismatic and whip-smart. He's 59, but could pass for 50.
He looks as though he still belongs in a race car. Because he does. Bowe is a career racing driver, as excited by the thrill of competition as ever. He openly suggests he "lives to race". He's the reigning Touring Car Masters champion in his wild '69 Mustang (his second title and consecutive), he races all sorts of things and is the man to beat almost every time he pulls on his race suit. He's fast, determined and hungry. His manner is calm, friendly, but he's not a man to cross.
Different personalities, different career paths, but there is clearly a great friendship here. Forged in success, case-hardened in the heat of the fever-pitched world of top end motor racing and tempered by the years. They are glad to be in each other's company. They like each other.
And so does history. This formidable duo placed itself at the very top of the Australian motorsport tree. It was a pairing that endured as the on-track component of the Dick Johnson Racing team for 11 full years, representing a partnership that is by far the longest lasting of any in the top echelon of Australian motor racing.
It sits proudly in Bowe's psyche. "In all the time I was with Dick we never had an argument, and there were no team orders. I was simply told to race," he says.
Johnson notes fairness as a cornerstone of the respect he has for Bowe. "We ran a two-car team from Day One and there was never, ever any favouritism from one car to the other. The cars were then and to this very day, identical," he adds.
But wait, there's more. Today, there is an all-important third player in our story. We've brought the Dick and John show to Queensland's car-destroying Lakeside Park (formerly carrying the much sexier title of Lakeside International Raceway) to reunite them with the very car that defined the Dick Johnson dynasty. In anger too.
Indeed, as the sun wakes there is that unmistakeable cackle on overrun as Johnson goes down two cogs before setting up to come down the hill and back on the straight at full noise, setting the local waterfowl aflight. An uncompromising four-pot yowl rings through the mid-morning air in Lakeside's slightly scruffy, but very authentic grounds. Magnificent.
Read a whole lot more in this fascinating tale in the current issue of Unique Cars, on sale now.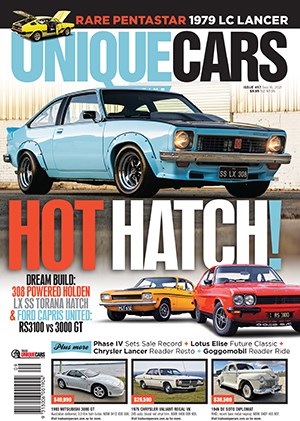 Subscribe to Unique Cars Magazine and save up to 42%
Australia's classic and muscle car bible. With stunning features, advice, market intelligence and hundreds of cars for sale.
Subscribe