Allan Grice's Torana A9X
---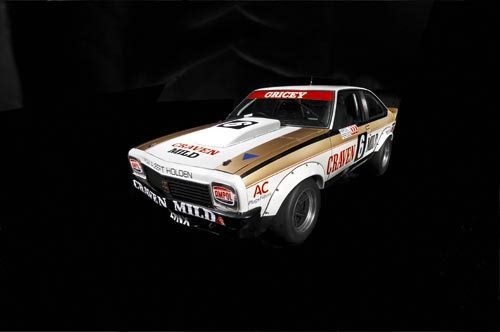 Allan Grice's Torana A9X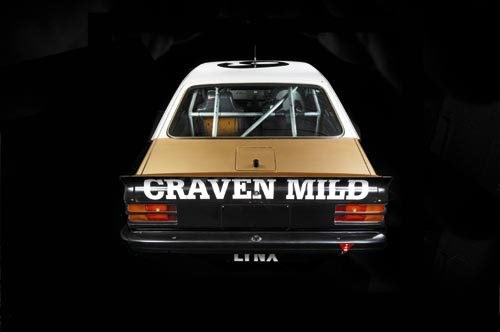 Allan Grice's Torana A9X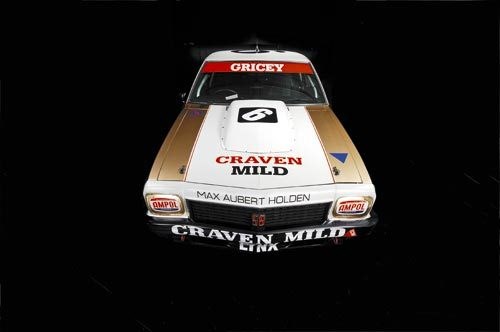 Allan Grice's Torana A9X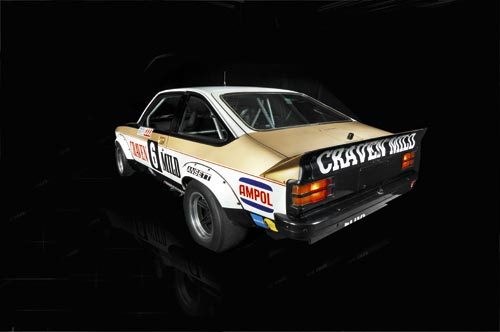 Allan Grice's Torana A9X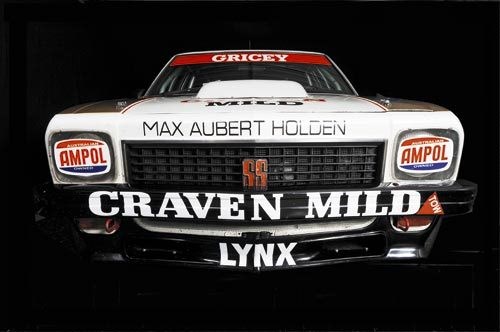 Allan Grice's Torana A9X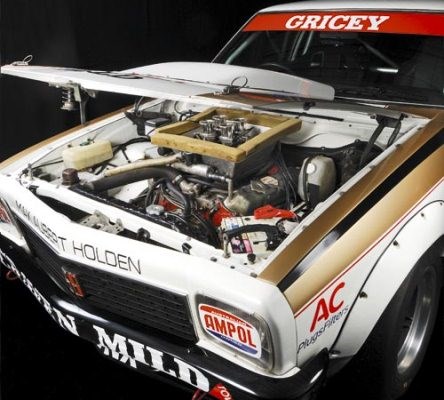 Allan Grice's Torana A9X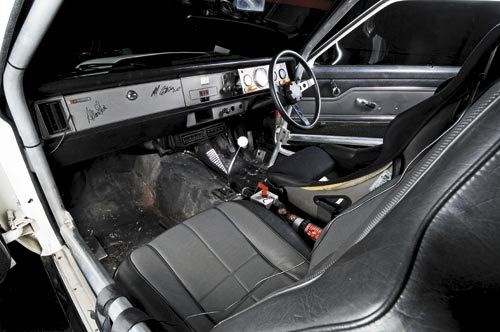 Allan Grice's Torana A9X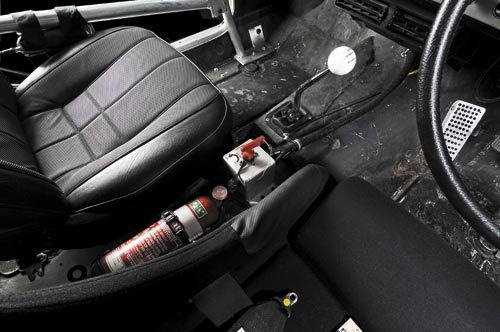 Allan Grice's Torana A9X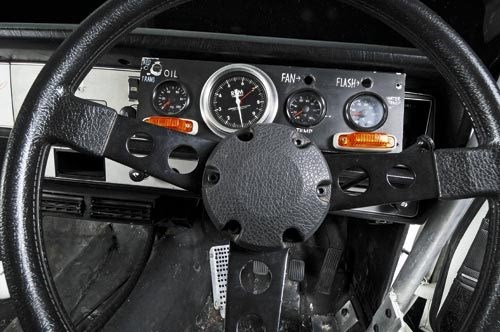 Allan Grice's Torana A9X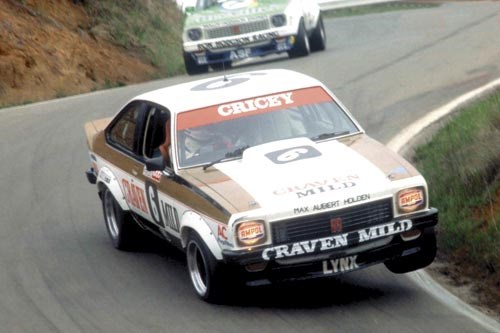 Allan Grice's Torana A9X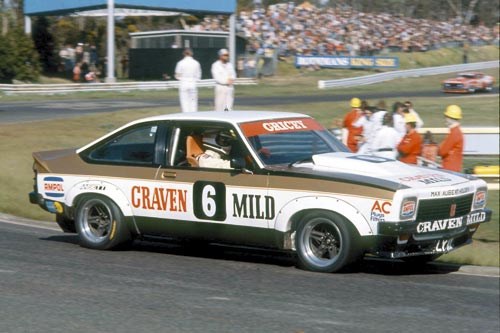 Allan Grice's Torana A9X

Plucky privateer, Allan Grice, made a racing career out of being a thorn in the side of wealthier, factory-backed outfits
Gricey's A9X Torana
BATHURST BATTLER 
Peter Brock's victory in the 1979 Hardie-Ferodo 1000 was perhaps the most famous of his illustrious career. Who could forget those television images of the final lap? You had to imagine the black eyes but all the Brock driving cues were evident: The arm insouciantly on the window sill, the perfect lines, and all the while the car perfectly balanced on the limit. Peter Perfect had never been more so (and never would be again), setting a new record of 2:21.1 on the final lap.
So you have to feel a little sorry for the man who was mostly seen as a kind of heroic underdog, Allan Maxwell Grice, who took the chequered flag second that year in his Craven Mild A9X, a massive six laps down. (He'd also finished second to Brock the previous year, but only one lap behind.) Indeed, the chapter for 1979 in Bill Tuckey's Australia's Greatest Motor Race: 1960-1989 is entitled 'Brock first, daylight second'. So, call Grice 'Sunshine'!
Perhaps not, for the Queenslander is feisty and not suffering of fools. 'Gricey' the privateer often played foil to the factory-backed Brock. It was even noted that there was an odd juxtapositioning of the words 'Gricey' and (Craven) 'Mild' on the one car. The number six Craven Mild A9X in its imposing gold and white livery is the counterpoint to the 05 Marlboro-Holden Dealer Team car, even if its story remains largely untold.
There can be no doubting the advantages enjoyed by the factory-backed A9X Toranas, especially after the debacle of 1977, of which more later. While the MHDT 05 A9X usually finished ahead of its Craven Mild rival, Grice still succeeded in covering himself with plenty of glory. He He was generally seen as the maverick and he would likely agree with this assessment.
In their 1986 book, Australian Touring Car Championship: 25 fabulous years, Graham Howard and Stewart Wilson wrote, "Grice somehow seems destined never to win at Bathurst". That same year, partnered with sponsor Graeme Bailey in the Chickadee VK Commodore, Gricey upset that prediction. He later reinforced the point by winning races in Europe ahead of Brock, Moffat and Harvey. Arguably, that Bathurst-winning Commodore is as important as the 1979 05 A9X.
"I think I was as quick as Brock in an equal car," says Grice. "I had the first average 100mph lap [at Bathurst] in Group C cars (1982) and again in Group A cars (1986)."
Tim May, whose father Phil "put the Craven Mild thing together in 1975", and who met Grice when he was a boy, has put together an excellent YouTube compilation of Grice highlights and says that the privateer beat Brock into his A9X by a week, having bought it from Max Aubert Holden in Canberra.
A batch of 500 A9Xs was produced in September, 1977, ready for the first weekend in October. Officially, the A9X was never a car in its own right but an option pack known as the 'performance equipment package' offered on the Torana SL/R 5000 sedan and SS Hatchback (capital 'H'). The list price of an A9X Hatchback was $10,751, up some $3000 on the standard car. Then-Wheels editor, Peter Robinson, concluded his road test in the February, 1978, edition: "Perhaps somebody at the Bend does understand cars after all for the A9X doesn't have a radio, neither does it need one."
The A9X built on the L34, which was itself an option pack, and both racing specials served to underline the inadequacy of the standard LH SL/R 5000 that replaced the XU-1 in March, 1974.
Let's start with the L34 pack, which was announced just five months after the LH's debut. The 'L34' referred to the racing version of Holden's 5047cc V8 developed by Repco that incorporated components derived from Formula 5000. Highlights were Crane roller rockers, Repco flat-top 9.8:1 pistons, Carillo-like machined conrods, a baffled sump and a different inlet manifold amenable to Webers or Holleys as well as the standard four-barrel downdraught carburettor.
The flywheel was lightened, brakes and suspension uprated and ride height lowered. Those bolt-on flares provided instant street cred (and the ability to fit wider wheels). Round headlights were housed in the square apertures and the centre console was deleted.
In 1974 the last thing Holden suits wanted was a rekindling of the supercar flare-up of two years earlier and the L34 was not readily available to average punters. No additional power was claimed but it probably climbed from the SL/R 5000's 179kW to about 200 on road cars equipped with the L34 option pack. Race cars typically had 262kW+ (350bhp) at 6000rpm. But there was this ominous warning: 'Car must not be used in oil surge condition or engine failure will result.'
Plenty of engine failures dogged the L34's racing career, including a holed piston in the Peter Brock/Brian Sampson 1974 Bathurst car. The M21 gearbox was marginal and rear axle breakages also occurred. It now seems quite remarkable that the Torana still used rear drum brakes even though Ford had stuck four-wheel discs on first LTD and Landau, then the XB GT more than a year before the L34 was available.
All these issues were addressed with the A9X 'performance equipment package'. The M21 gearbox remained standard on road cars but the Borg Warner T10 was optional (and effectively mandatory for circuit work). A modified HX Salisbury rear axle, taller limited-slip diff and rear disc brakes addressed other L34 shortfalls.
There were plenty more gains, such as that awesome 'reverse flow' bonnet scoop and the new frontal design with air ducts for the brakes. With only 500 A9Xs available, small wonder the black market saw asking prices as high as $19K within weeks! The Hatchback in particular gave Holden fans a new high point of aspiration.
Peter Robinson wrote: "The Radial Tuned Suspension that has now been adopted across the board on all Holdens – apart from the Gemini – has been further improved on the A9X and the result is a taut, neutral-handling sports sedan that can out run virtually any similar car from Europe." Yes, but the real point of the A9X was to realise the potential of the LX Torana as a race car.
The time was not auspicious for GM-H to maximise the marketing potential of the SS A9X hatchback but it now looks as if it might have been seen as a local alternative to a Porsche!
Grice duly put his Craven Mild A9X Hatchback on pole for the 1977 Sandown Hang Ten 400, ahead of the second MHDT car of John Harvey. But Brock stormed through from sixth in qualifying (due to brake problems) to win with Grice second, two laps ahead of Moffat's Falcon.
Grice then won the Phillip Island 500-kilometre race ahead of Peter Janson (A9X) and Jim Richards (Falcon).
These successes did not presage a happy hunting day at Mount Panorama, where 13 A9X hatches and three sedans were entered. Colin Bond lifted to allow team boss Allan Moffat to stage the 1-2 Falcon finish and the nearest Torana was the Janson/Larry Perkins car, a lap behind.
The absence of Brock, who had set up his own team with backing from Bill Patterson, was a factor but the A9Xs suffered myriad mechanical issues. Harry Firth's last year with the Dealer Team was an unhappy one to say the least, and one can only imagine the mood among the Holden executives, just six weeks or so after the introduction of their A9X.
Much more factory money and a reorganisation of the Dealer Team – headlined by the return of Peter Brock and John Sheppard replacing Firth as team manager – brought high hopes for 1978. Brock won the Australian Touring Car Championship by two points from privateer Bob Morris in another A9X (55 to 53). Grice placed seventh on 22, winning the third round at Amaroo.
The Craven Mild A9X scored no victories in the 1979 ATCC but Grice took points in three rounds – Symmons Plains, Oran Park and Wanneroo – to place seventh in the ATCC with 21 points. Morris (69) won from Brock (62), with Harvey third (53) and Charlie O'Brien fifth (26) in yet another A9X.
At Mount Panorama six other Toranas followed Brock and Grice home to give Holden its most dominant result in (pre-V8 Supercar) Australian touring car history.
COUPE COUP TOO LATE
Looking back, the LX Torana SS A9X came too late. Despite the celebrated one-two formation finish by Allan Moffat and Colin Bond in their big white Falcon XC Hardtops in 1977 and the Torana Hatchback Brock wins in 1978 and 1979, Australian buyers were turning away from coupes.
The GT Hardtop had already gone when XC replaced XB in August, 1976, (the race cars were officially GS 500 Hardtops) and the death knell tolled for the Monaro a year later when the parts-bin special LE made its debut to much media cynicism. So the introduction of a hatchback version of the LX Torana was almost anachronistic in March, 1976.
Yes, the Torana was smaller than a Falcon or Monaro but not by much. Nor was the solid LH/LX (which felt to be carved from a billet) that much lighter. The Hatchback was also some 50kg heavier than an equivalent four-door variant.
From the SS's discontinuation in March, 1978, we'd wait more than 23 years before getting another Aussie sports coupe – Holden's VX Monaro.
SPECIFICATIONS
1979 Holden Torana A9X
Engine: 5047cc V8, OHV, 16v
Power: 300kW @ 6000rpm (est)
Torque: 480Nm @ 3400rpm(est)
Weight: 1192kg (CAMS min.)
Gearbox: 4-speed manual
Brakes: discs (f/r)
Top Speed: 260km/h (est)
Cost new: $10,800 (Hatch)
*****
More reviews:
> Bathurst legends: Torana A9X review here
 Search used:
>> Search Holden cars for sale
Unique Cars magazine Value Guides
Sell your car for free right here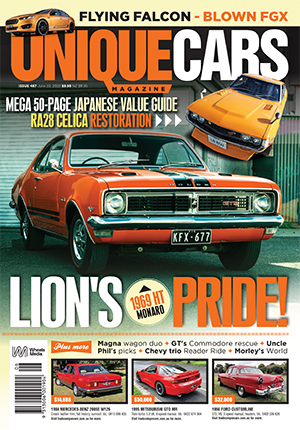 SUBSCRIBE TO UNIQUE CARS MAGAZINE
Get your monthly fix of news, reviews and stories on the greatest cars and minds in the automotive world.
Subscribe