1970 Chevrolet Chevelle SS454 LS5
---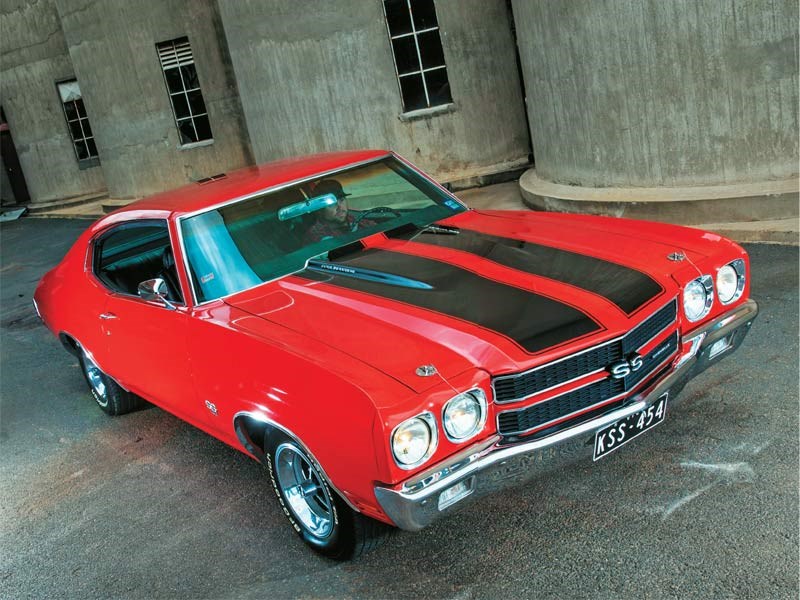 1970 Chevrolet Chevelle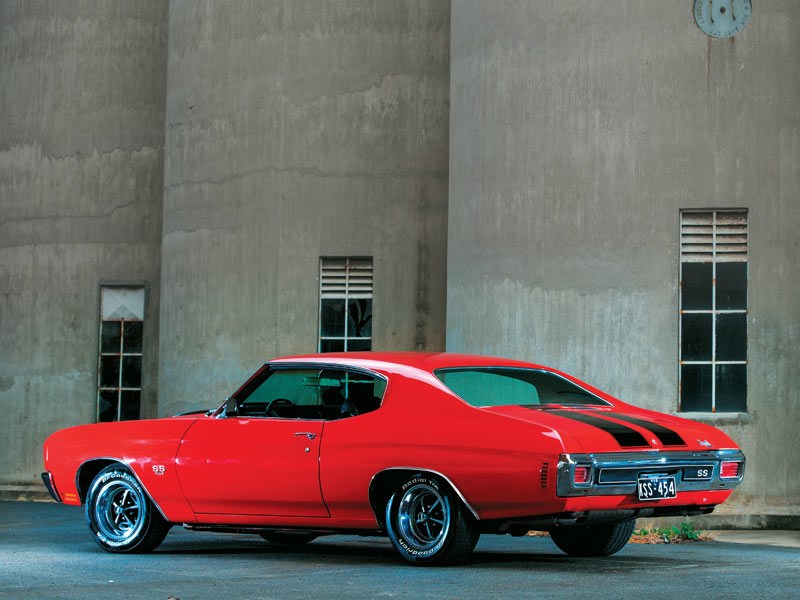 1970 Chevrolet Chevelle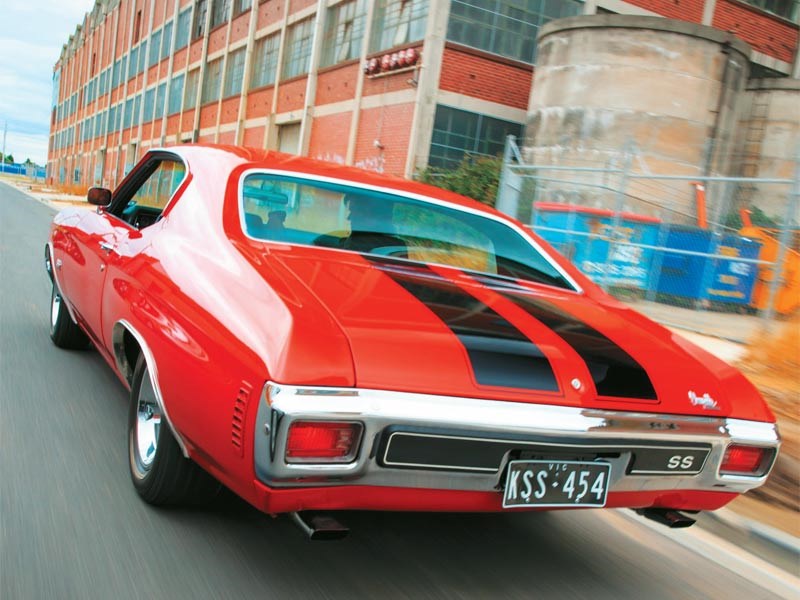 1970 Chevrolet Chevelle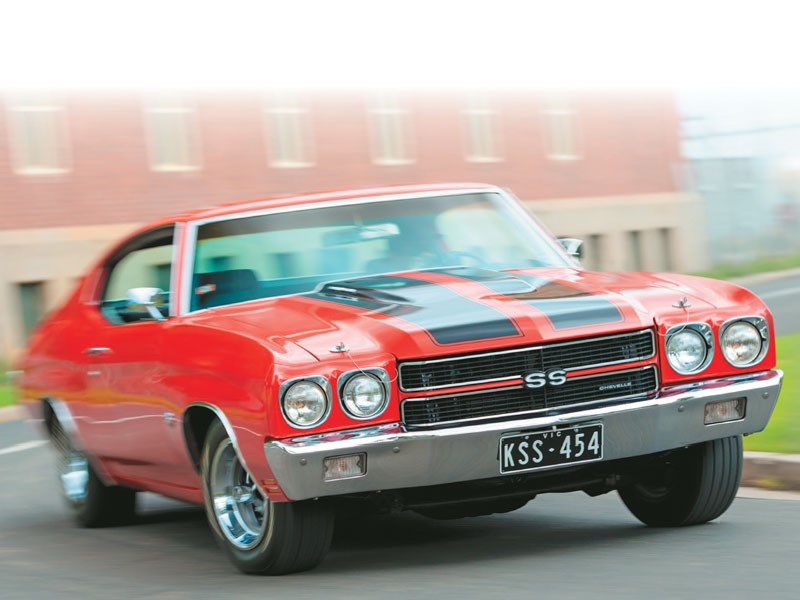 1970 Chevrolet Chevelle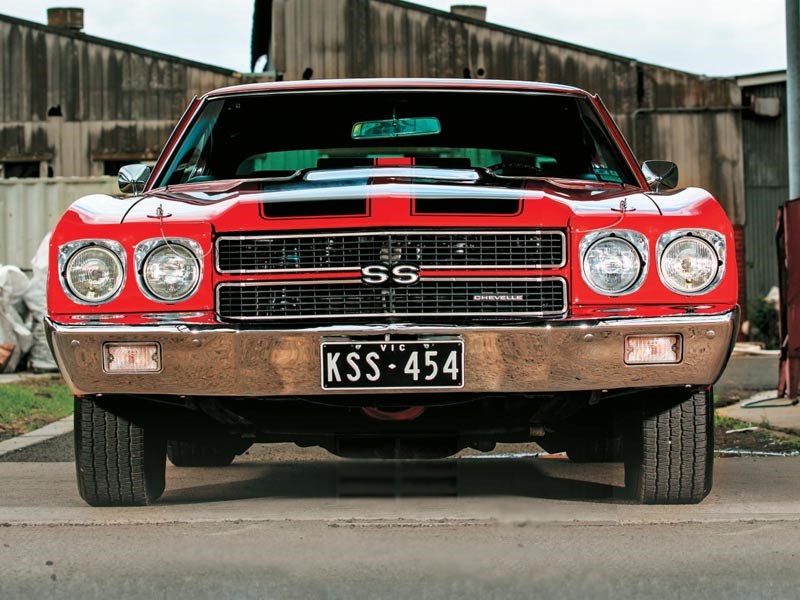 1970 Chevrolet Chevelle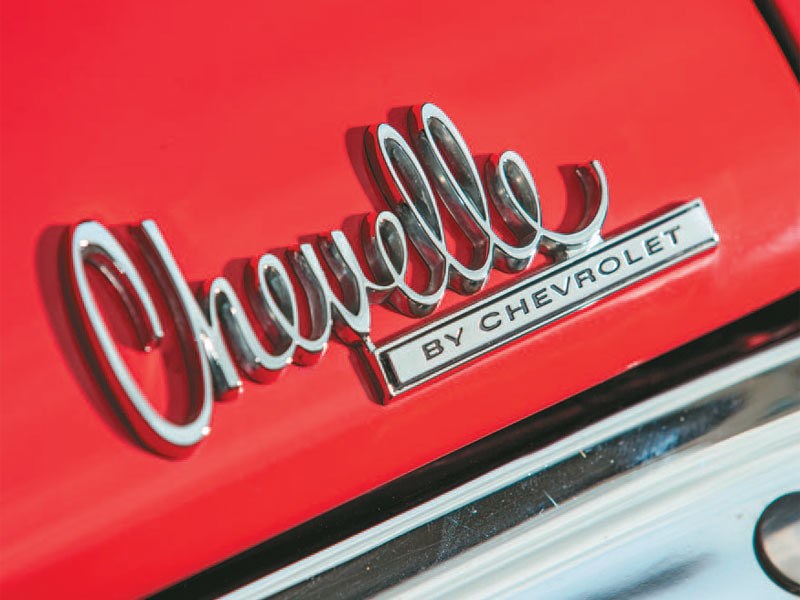 1970 Chevrolet Chevelle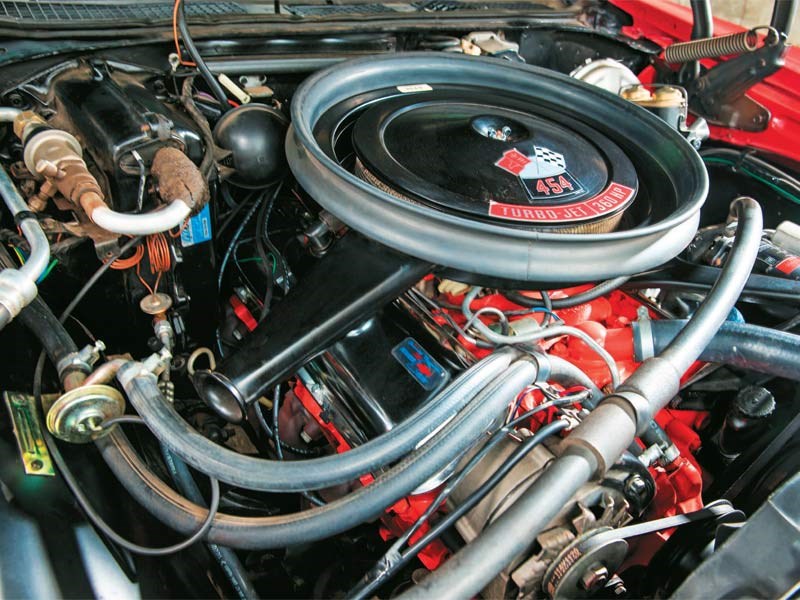 1970 Chevrolet Chevelle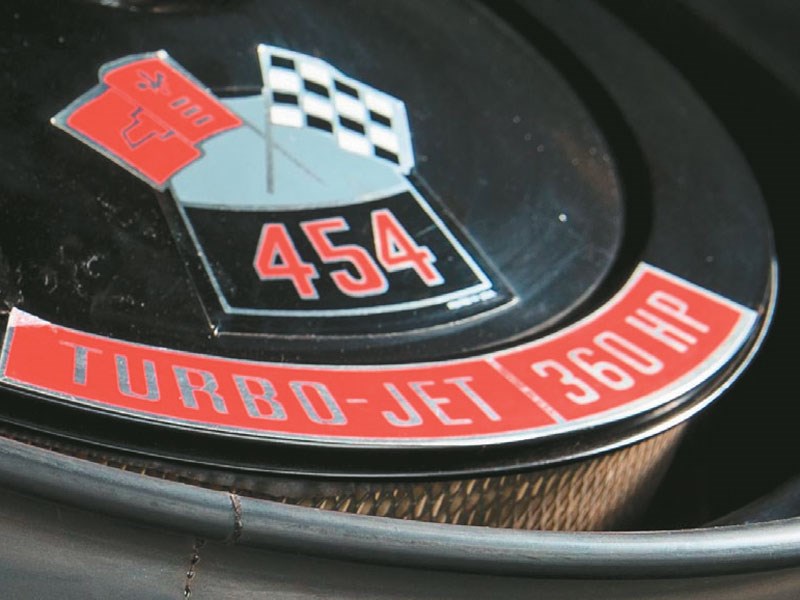 1970 Chevrolet Chevelle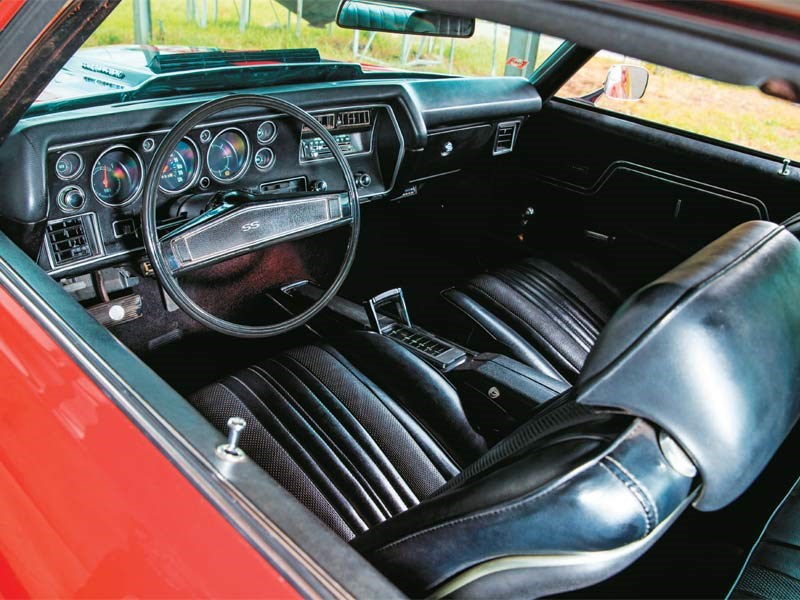 1970 Chevrolet Chevelle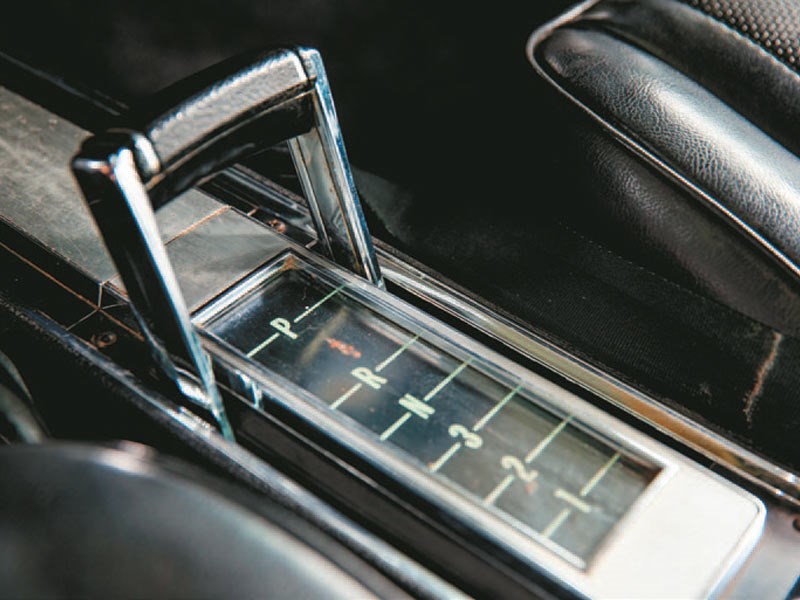 1970 Chevrolet Chevelle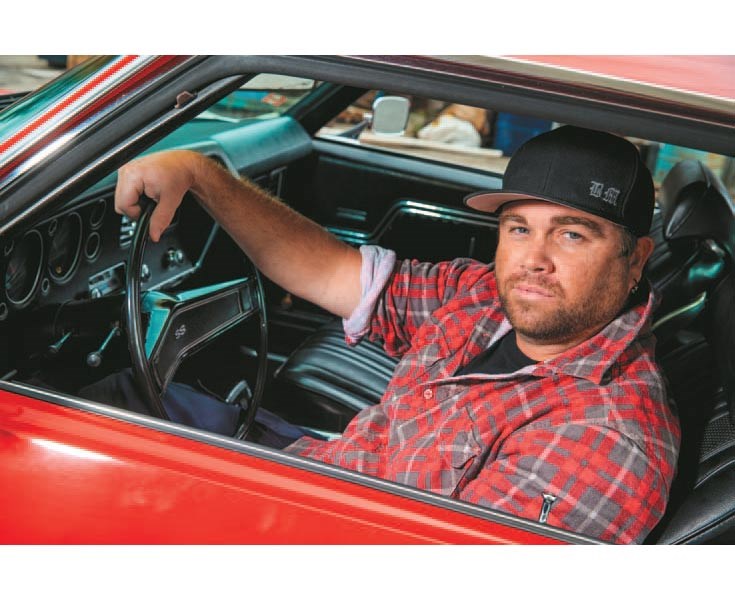 1970 Chevrolet Chevelle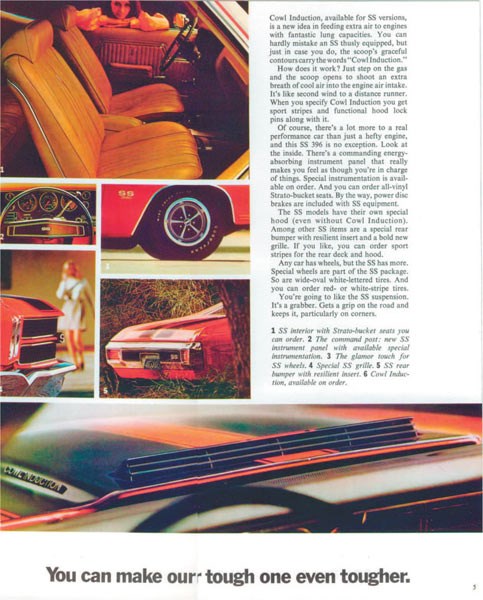 1970 Chevrolet Chevelle

Detroit's monster-muscle alternative
1970 Chevrolet Chevelle SS454 LS5
Big, tough, fast and very red, this monster coupe is a great option for the petrol-head looking for an alternative to a mustang or camaro...
It's good to see a man happy in his work. Uncle Phil had just emerged from somewhere in the depths of the massive classic car park at the Picnic at Hanging Rock Show, looking extra pleased with himself. "I've found it," he announced, "Jeez it's hard to find something that really stands out." Given the task of nominating the recipient of the Unique Cars magazine car of the show award, he'd just spent the best part of five hours trawling through some very tasty machinery.
The eventual winner was the car you see here, a 1970 SS454 Chevrolet Chevelle in LS5 trim. If you're thinking you haven't seen one quite like it before – or at least not locally – you'd be right. Nor has Brent Matheson, the owner.
Walk around the bright red monster, which has enormous presence, and you start to wonder why we don't see more of them. Thanks in part to exceptional exchange rates, Aussies seem to have bought pretty much America's entire classic Mustang fleet and I reckon we've probably got more Camaros and Corvettes than they have. But Chevelles? There are one or two over here, but sod-all when it comes to premium examples like this.
Only an American could call this a mid-sized car and keep a straight face, but that was the intention. Also, for the would-be shopper, there is plenty of opportunity for confusion. Chevelles ran
across three major generations, spanning from 1964 to 1977, with lots of sheet metal variations and changes within each of them. Plus, the series included Malibu coupes and rag-tops, humble four-door family sedans, plus wagons with two or four doors.
Then there was the powertrain.
At least three straight sixes were offered, with the smallest displacing 194 cubes (3.2 litres), plus there was a long line of bent eights, ranging from 283ci (4.6-litre) small blocks through the 454ci (7.4-litre) fire-breathers in various states of tune. Behind them (depending on the engine chosen) you could opt for the good old two-speed Powerglide, the Turbo 400 three-speed or a manual in three- or four-speed configuration.
Confused? Imagine what it was like filling out an order form at your local Chevy dealer! By the time you covered powertrain, colours and the baffling array of extras, you'd be too old to drive…
Which brings us to Brent's beast. It's got the 454 in the snout, in LS5 tune, with the cowl induction set-up in the bonnet. The latter is an additional cold-air intake, which opens when the driver sinks the right pedal into the firewall and supplies a little more breathing room. You can see and hear the flap working from the front seat – an interesting distraction in a car that demands some concentration when you cut it loose.
He's also got the Turbo 400 auto transmission. "I would rather have a manual, but the auto makes it easier to drive," he says.
An LS5 designation means the car is in the second highest available state of tune. Chevrolet claimed a mere 360 horses for this engine – a gross understatement that was common across the industry at the time. With a 10.25:1 compression ratio and four-barrel carb, the very same powerplant claimed 390 horses in the Corvette of that year. Those in the know, including Uncle Phil, reckon the real figure for a healthy one is comfortably over 400.
If you had the cash, you could order an LS6. That ran 12.5:1 compression plus solid lifters, and claimed 450 horses – the aficionados reckon the real number was more like 500. It was popular, with more LS6s than LS5s rolling off the factory floor. The LS5 is widely regarded as being a more user-friendly car, however.
Don't expect any rocket science when it comes to the chassis. The Fischer body scores a dual wishbone front end, while the rear is a solid axle on leaf springs. Braking is by a power-assisted  disc/drum combo. Steering is by a rising rate rack and pinion. That lot is propped up on period skinny Magnum steel mags with SS branding.
When it comes to creature comforts, you got power steer, air, radio/cassette combo and an adjustable (tilt) steering column.
Uncle Phil is clearly a fan. "In the era of the 1960s and '70s when the muscle cars were right out there, this was in the mix," he says. "Cowl induction, Turbo 400, beautiful car, just balls on wheels.
"They're not as popular as a Mustang and Camaro, but as far as raw power and brute strength go, they're right up there. This car is one of the best examples I've ever seen.
"We went around and looked at all the cars at Hanging Rock and this one stood out.
"My mate had one in America. I had the pleasure of dropping a wheelie all the way through first and second – they're just brute force and ignorance; beautiful!
"They're a bit of a hidden talent. Anyone that owns one, they'll tell you how good they are. They've all got a Fischer body. I'd have one in a heartbeat."
There's no doubt the car gets your attention. With the right boot planted firmly into the carpet, the thing gets a little torque twist happening, sits up on its haunches and bellows its way towards the horizon at a very rapid rate. It's certainly not a slug.
As for handling, Brent reckons it's a typical American muscle car. "It goes well in a straight line, but when you go to brake or hit a corner, well, that's another thing…"
It's a big block, and a hot one at that, so what is it like to live with? "You could actually drive that every day if you wanted to. It's not too good on the fuel but it's an easy car to drive. The only issue is how much it bloody drinks!"
Looking through the international classifieds, you'll soon discover there's a plentiful supply of Chevelle coupes, but the myriad variations offered ex-factory – not to forget what the owners have done to them since – means you're stepping into a potential minefield.
Prices vary from a few grand for a very rough resto project, with the numbers hitting $50,000 and beyond for something special.
So is it worth the money? I reckon so. The car has enormous street presence, makes all the right noises and has more than enough performance to get your attention. Plus, for the moment at least,
you're in no danger of suffering matching T-shirt syndrome at the next car show. Maybe we should leave the final say to Nina, the publishing intern who helped us out on the shoot. She was offered a ride at the end of the day and Brent couldn't resist finishing off with a bit of a flourish – a dirty great burnout. So, Ms N, what was it like? Grinning from ear to ear, she was speechless…
I OWN ONE
Brent Matheson works in construction and freely admits to having a serious car addiction. But why pick on the Chevelle? "I just reckon it's a tough-looking car," he says.
"I've been into that stuff for years and years, since I was young, and now I have the money and the time."
He has a mate over in the US who he trusts, and sourced this car for him, which he reckons is a whole lot less risky than going over there himself.
"As soon as you go over there, the more you see the more you want to buy, so if you stay away you keep a bit of extra money in your pocket!
His pride and joy is a 1968 R/T Charger, 440 four-speed, with original paint. "I'm a big Mopar fan (he also has a 1970 'Cuda), I just like big-block American cars." He reckons a 1969 Super Bee is next on the list. "I've had a lot of cars," Brent says, "[but] that's my ultimate car."
SPECIFICATIONS
1970 Chevelle SS454 LS5
Engine: 7446cc V8, OHV, 16v
Power: 269kW @ 4800rpm
Torque: 678Nm @ 3200rpm
Weight: 1597kg
Gearbox: 3-speed auto
Brakes: disc/drums (f/r)
Top speed: 225km/h (est)
Value: $65,000-plus*
*Condition 1
*****
Search used:
>> Search Chevrolet cars for sale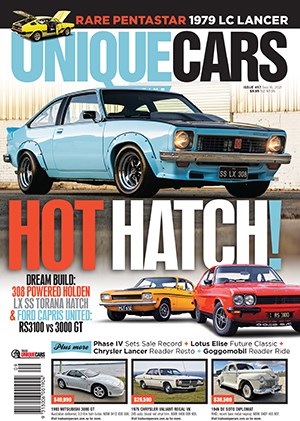 Subscribe to Unique Cars Magazine and save up to 42%
Australia's classic and muscle car bible. With stunning features, advice, market intelligence and hundreds of cars for sale.
Subscribe