Ford Fairlane (1960) Review: Classic metal
---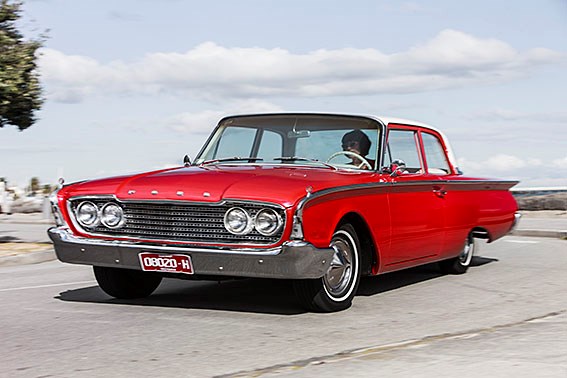 Classic metal: Ford Fairlane 1960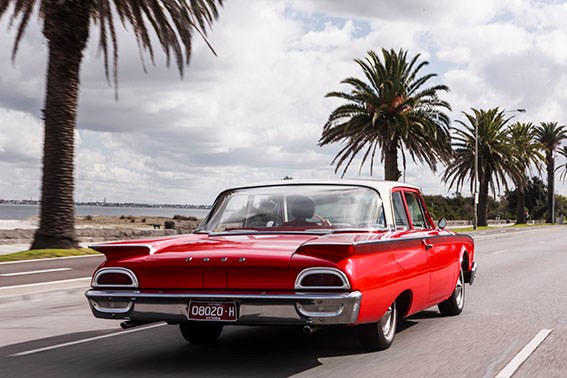 Classic metal: Ford Fairlane 1960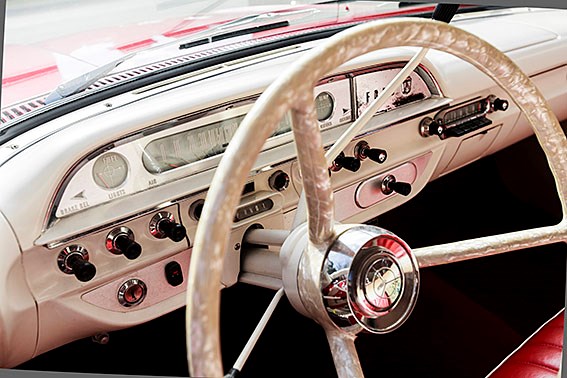 Classic metal: Ford Fairlane 1960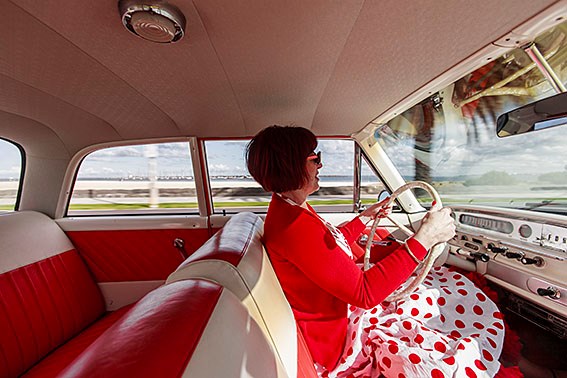 Classic metal: Ford Fairlane 1960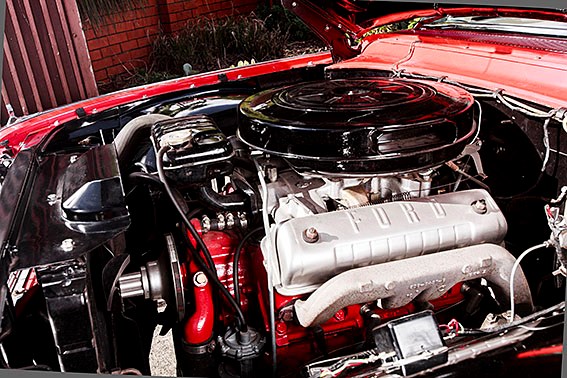 Classic metal: Ford Fairlane 1960

The 1960 Fairlane was Ford's radical riposte to Chevrolet's new design language
1960 Ford Fairlane 
In the late-1950s, America was locked in a bitter Cold War with Russia, but in the halls of US automotive powers, a different cold war - for hearts, minds and 'greenbacks' - was being fought between Chevrolet, Chrysler and Ford. Like the Yanks and the Russkis, espionage was an invaluable weapon, but as the saying goes, in war the first casualty is truth, so the following may be a great urban legend … or true.
According to this war story, Ford executives were close to signing off on the styling of its 1959 Fairlane range when word arrived from its Detroit insiders (read spies) that arch-rival Chevrolet was about to go with a radical new styling language for its '59 Bel Air. Minor panic erupted in the corridors of Ford HQ.
Based on detailed reports from its Motor City operatives, Ford stylists quickly knocked up a clay model of what they thought the new Chev would look like, and when it was presented to management, jaws dropped. It was too late to change the design for 1959 and Ford lost the annual styling skirmish to Chevrolet.
But it wasn't a complete case of 'back to the drawing board, fellas, and make it snappy', as Ford already had its own futuristic concept car in clay. Dubbed Quicksilver, it looked a lot like the 1961 Thunderbird eventually would and became the basis for a radical new styling direction for Ford's mainstream, full-sized model.
The third-gen' Fairlane (named after Henry Ford's Michigan estate, Fair Lane) was a ground-up redesign and would be longer, wider, lower, and look much leaner than its predecessors, but its 'flattened' styling, smaller tail fins, and half-moon taillights polarised the Ford faithful. The following year, round taillights returned.
Still, the 1960 range sold pretty well. Ford shifted 739,210 Custom 300, Fairlane, Fairlane 500 and Galaxie sedans and hardtops, of which this Fairlane Club 2dr sedan made up 93,259. Biggest seller was the Fairlane 500 4dr sedan (153,234), while the sought-after Galaxie Starliner 2dr hardtop did 68,641.
Only the drivetrains were carried over from the '59 cars and five engines could be specified in six different two- and four-door sedans and station wagons: the 145hp 'Mileage Maker' 223ci six, and four 'Thunderbird' V8s: the 185hp 292ci, and 235hp, 300hp and 360hp 352ci eights - the latter two with four-barrel carburettors.
The sporty Thunderbird was also invoked in brochures when it came to describing the "road-hugging ride" of the new 'Wide-Tread Design', with both front and rear wheels "five feet [1.52m] apart" and five-foot long rear leaf springs. Brochures boasted about how the new Fairlane "corners, rides and handles like a Thunderbird".
"The 1960 Fairlane was a lemon," laughs owner Nikki Brazil, a marketing and promotions consultant, looking out a cafe window at the big, red two-door filling a carpark space. They may have all rusted away now, but for this stylish aficionado of the '60s (Nikki was born in 1960), her Fairlane Club Sedan is a thing of beauty.
This fully restored Fairlane is rare and one of only a few in Australia. Combine that with its short production life and its unpopularity in the US and it is even rarer. And yet Nikki's car is one of the bargain basement models, a "value leader" according to the brochure, which sold for US$2334 when new. The only models lower than hers in the Fairlane totem pole were the Sedan and the lowly Business Sedan, and all three were mainly bought to be used as taxis, rep-mobiles or police cars.
Nikki's is powered by a 292ci (4.8-litre) V8 backed by a two-speed Fordomatic transmission with drum brakes all 'round. With the exception of a dual-exhaust system fitted during its resto, it's pretty original right down to its 'Sun Dial' hubcaps.
"I'm always in a good mood when I get in the car," Nikki smiles. "I put on some Latin American music, wind the windows down and cruise - you can't beat that. I love its V8 burble. It's a gorgeous car. I like it because you really know you're driving a car.
"It hasn't got power steering and radials make the steering heavier, but when you're going at a decent speed you don't feel anything. It hugs the road, it's good to drive, and being left-hand drive, you can chat to people! Everyone wants to know what it is. Even Ford freaks don't know what it is."
How Nikki came to own the car, and it's dubious history, is another good war story. In 1989 she was working in London and regularly attended the Chelsea Cruise - a monthly gathering of car fanatics - and it was there that she was bitten by the American car bug.
"I saw a cream Lincoln convertible with suicide doors and I wanted that, but they were asking £11,000 for it. My boyfriend had come back from the US with a '72 Cadillac Coupe DeVille and I wanted a car that was bigger than his! So I went to the States," she laughs.
"I really wanted a Ford Torino and saw one in New York but the guy wouldn't sell it. I found my car in a car yard in San Carlos [California] with a US$1600 sticker on it."
The one-owner Fairlane, in black and white with a spearmint-green cloth and black vinyl interior, had originally been cream with a spearmint vinyl roof and hailed from Reno, Nevada.
"I took it for a test drive and it didn't have power steering and it was sorta scary," Nikki recalls. "I remember thinking, 'What am I doing? This is ridiculous! A little girl trying to drive this big car.' I got them to fix a hole in the muffler, and put new tyres on it and got $200 off it. Then I drove it back to San Francisco, about two hours away, sitting on my leather jacket because the seat had sagged. I ended up going across the Golden Gate Bridge four times because I kept missing the exit."
Next, Nikki drove it to Mexico.
"I was in the US for three months and everyone loved it - the car looked like a cross between the Batmobile and a highway patrol car, sorta tough, and once I got the hang of the length and width of the car, I was fine [driving it]."
That US driving experience would come in handy because Nikki shipped it back to the UK - where for four years it was her daily driver in London - and drove it all over England and to Scotland, the south of France and Amsterdam.
"I went back to London a few years ago and I thought, 'My God, how did I drive it there?'" she laughs. "I put 20 quid of fuel in it every day because I just couldn't bear working out how much petrol cost me," she grimaces. "It gets about 10mpg around town but on a trip it's not too bad." During this time it was repainted spearmint green.
In 1992, she was offered a job back in Australia and knocked back a company car, instead getting her new boss to ship the Fairlane over. Not able to register the car in Victoria at the time, she registered it in South Australia and got an SA licence. It now runs historic rego.
After three years of (wo)man-handling the Fairlane around narrow inner Melbourne streets, Nikki decided it was time to make it her weekend car and opted for another colour change, this time to a brilliant Persimmon red. The red and white re-trim was entrusted to her father, an upholsterer, and here the story gets murky.
"When Dad pulled the cloth off the back seat there was a massive patch of dried blood on the coconut fibre filling in the back rest, so it had already been reupholstered once. It looked like someone had been shot in the car. Well, it did come from a casino town…"
The Fairlane's final bumper-to-bumper tart-up was started in 2008 and took 18 months at a cost of around $50,000. Again the car had to be resprayed as, with no space at home, Nikki had been storing it in a container and the paint had started to bubble. This time there would be no colour change. The engine was reconditioned, suspension and brakes rebuilt, and the car now looks and drives better than ever.
But with a 1948 Packard convertible restoration underway, Nikki is reluctantly selling her beloved Fairlane.
"I never ever wanted to sell it, which is why I spent so much money restoring it.
I wanted it to be a brand new 1960s car," she says. "It probably owes me $90,000, but you don't think about it like that, do you?"
Not when you're in love, you don't.
SPECIFICATIONS
1960 Ford Fairlane Club
Engine:   4778cc V8, OHV, 16v, two-barrel carburettor
Power: 138kW @ 4200rpm
Torque: 396Nm @ 2200rpm
Weight: 1740kg
Gearbox: 2-speed automatic
Suspension: wishbones, coil springs, anti-roll bar (f); live axle, semi-elliptic leaf springs
Brakes: 11-inch drums
0-400m: 19.5sec
---
Sign up to one our free weekly newsletters:
Receive more Unique Cars reviews and features here or get the latest unique and classic cars for sale here.
Subscribe to Unique Cars magazine
- Print edition
- Digital edition
Unique Cars magazine Value Guides
Sell your car for free right here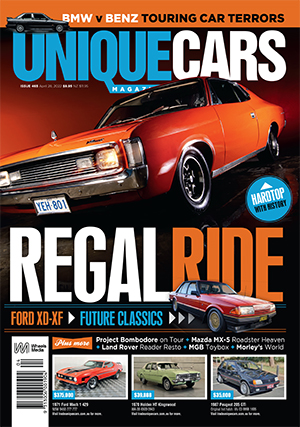 SUBSCRIBE TO UNIQUE CARS MAGAZINE
Get your monthly fix of news, reviews and stories on the greatest cars and minds in the automotive world.
Subscribe