Chevrolet Impala 409 - Norm Beechey
---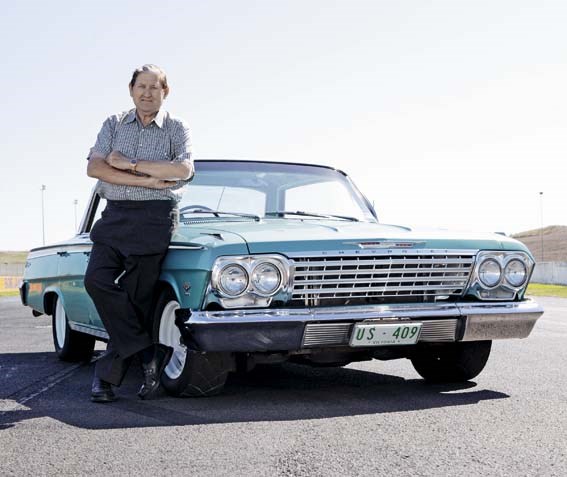 Norm Beechey with the Chevrolet Impala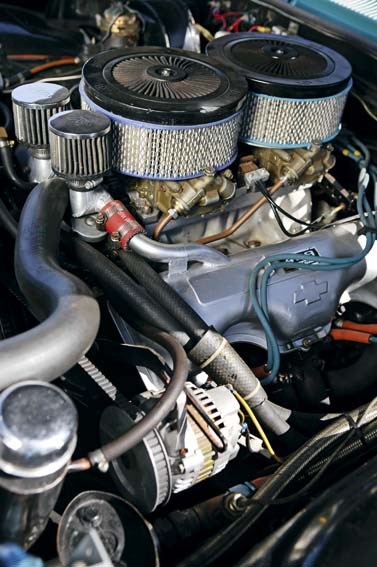 Chevrolet Impala engine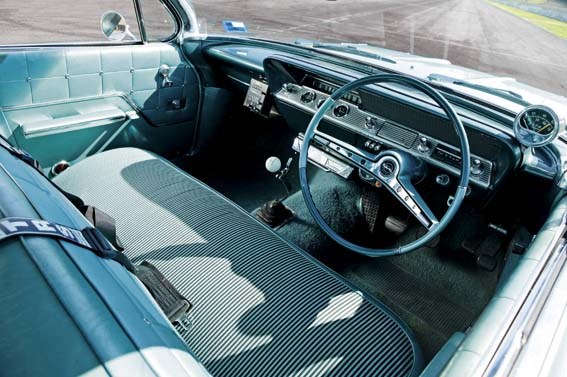 Chevrolet Impala Interior

There was only ever one car driving legend Norm Beechey wanted to buy back
Chevrolet Impala 409 - Norm Beechey
They called him Stormin' Norman but maybe Australian touring car legend Norm Beechey should have been dubbed Mr Muscle, because the tin-top king really kicked off the Aussie muscle car boom when he imported his famous 1962 Chevrolet Impala 409.
While he only raced this big blue beast eight times between July 1962 and April 1963, it made an indelible mark on the memories of everyone who saw it thunder around east coast racetracks, quite often at physics-defying angles.
It also left its mark on Beechey's psyche too. Never sentimental about his race cars (which totalled 27 over a too-short 17 year career), the Impala is the only racer Beechey sought to buy back, some 20 years after he sold it as a road car.
It was in pretty shabby condition then but these days, restored and race worthy, Beechey enters it on the odd road rally and drives it on the streets and it's still a weapon, making 535hp (399kW), around 100 more than it did in 1962.
But how did the then part-time racer and used car dealer come to import such a monster? Beechey had already tasted American iron having raced a Ford Customline in the late-'50s, but during this era 3.4-litre Jaguars ruled the racing jungle and his biggest nemesis was a nuggetty bloke named Bob Jane, who would have a quicker 3.8-litre MkII Jag for 1962.
Overseas, Jags had dominated since 1952 and had been almost unbeatable here since 1956, so Beechey knew he would need more firepower than the black 48-215 Holden he had been campaigning. But it was no use buying a Jaguar to beat a Jaguar; he had to find something else.
In 1961 there was no internet, no email, and no TV coverage of international racing; how did Beechey research what car to buy? Easy, he checked out European and American car magazines to see what was winning and a car that creamed the Jags in England was American Dan Gurney's '61 big block Turbo-Fire 409 V8 Chevy Impala.
Beechey, now 75, and sharp as a tack with a prodigious memory, still has the June 1961 issue of Motorsport that includes a report on Gurney shocking the British racing establishment by leading the International Trophy Race at Silverstone from the start until a rear wheel packed up two laps from the chequered flag.
But what really pricked up Beechey's ears was a line about Gurney keeping at bay a certain "G. Hill in a 3.8-litre disc-braked Jaguar". A photo of the Impala leading Hill's Jag sealed it for Beechey. Interestingly, Gurney would not race his Impala again, due to bureaucratic problems, and the car was reportedly sold to Laurie O'Neil in Australia.
Gurney's car though, is not Beechey's. Gurney's was a two-door SS with a single four-barrel carburettor, making some 50hp less than Beechey's twin carby, pillarless, four-door hardtop. Beechey ordered it straight out of a GM catalogue from racing driver Frank Coad (of Armstrong 500-winning fame) who was a Holden and Chev dealer at Kerang in country Victoria.
"Nothing had beaten a Jaguar (for years)," Beechey recalls. "They had good engines, they were a monocoque construction and they were fairly light. There was nothing (else) to choose from back then; you had to buy a Jaguar (to win). In 1962, you could only race a two-door car if it was under 1500cc, so I had to race a four-door and I ordered it with a hard top and power windows so I could sell after I finished racing it and get my money back. This car cost a lot of money in 1962, £2750. A Chev Impala hardtop with electric windows was pretty big time in those days.
"You've got to remember that buying this car was a very entrepreneurial decision in 1962. It was a huge luxury car but in that era if you were a bookie, wealthy businessman, or a farmer you had a Pontiac Parisienne, a Buick or a Chev and the Impala wasn't considered big in those days. I used to tow it with another Impala, a 'four-door '61."
"Back then the fields weren't very big. Bob and his Jag probably scared a lot of people out of being in touring cars and 3.4-litre Jags were just not competitive against Bob's 3.8-litre car. Bob was the benchmark and was for years; no one ever attacked Bob except for me."
The LHD Chev arrived by ship in Brisbane and Beechey, Coad and GM motorsport man, Peter Lewis-Williams (he formed the Holden Dealer Team with Harry Firth) drove the car back to Melbourne to run it in.
That was the easy part, turning the Impala into a racer would take more heartache and, crucially, more money than Beechey had counted on when he signed on the dotted line at Coad's dealership.
In fact, it took Beechey six months to get the car running reliably. The big Yank had numerous Achilles heels, ones that wouldn't show up on a US interstate. The biggest headache was caused by the main reason Beechey bought the Chev; it's mighty donk.
"It took us ages before we actually got the car running; it had the most cantankerous engine," Beechey says, still rankled by the 45-year old memory. "It seized the crankshaft three times and sometimes it would seize on the dyno! It was dyno tuned by Jack Wilson - whose son Craig now runs Walkinshaw Racing - and he used to say, "Boss, if it won't live on the dyno it won't live on the track." I was driving for David McKay's Scuderia Veloce team and David had to write to Dan Gurney and ask him for advice.
"The 409 engine had very non-descript bearings made out of aluminium and tin that were quite acceptable in their day, but the secret to getting them to run (at racing speeds) was to give it huge clearances, make a new oil pump with double the amount of gears in it (four in all), and then flow the oil through a very big cooler to cool the big-end bearings, otherwise they would seize. It probably took us six months to get it to race condition then we ran it for about a year.
"We used to run the engine to 7000rpm. The compression ratio was 11:1 and each piston weighed two pounds (900g). We only ever raced it with Chev conrods - it's got Carillos in it now - but we never had conrod problems, only bearing trouble." Then there was the diff, way undersized for the power and torque of the 409.
"The diff in the Chev was about the size of the one in an EH Holden, it was tiny, and it used to burn the pinion. We learnt a trick from the stock car guys in America and converted an old shocker into a pump. Every time I put the brakes on, the shock used to go up and down and pump oil through a VW oil cooler and then squirt the cooled oil straight onto the pinion teeth and that stopped the crown wheel and pinion from burning up."
Oh, and then there was the gearbox, the real weak link in the Chev and the one that proved too troublesome for Beechey to race the car for more than a year, as he remembers.
"It had the first Borg-Warner four-speed, aluminium-cased gearbox with very thin gears and it wasn't strong enough. If you'd put a fresh gearbox in every time you raced you probably would have got away with it but there was no alternative: the engine was too powerful for the 'box and the car was using money faster than I could make it, that's why I stopped racing it." Ironically, the single-plate clutch never gave trouble.
There is no mention of the Chev's kerb weight in Beechey's catalogue and why should there be? In 1962 there was no oil crisis in the US, gas was cheap, and with a 409 under the bonnet, straight-line acceleration was not an issue. Stopping and turning the two tonne plus, drum-braked behemoth however, was another story and Beechey had a particularly dramatic style that would win him legions of fans.
"There was a genuine technique to driving this car fast and I think my style suited this car because I grew up driving big fast American cars," he says. "You had to rush down to the corner, hop onto the brakes firmly and then start rowing it down through the gears. As soon as you got it slowed to a reasonable speed you would throw it sideways to wash off more speed then stand on the throttle as soon as she got lined up.
"But if you rushed up and braked at 200 yards every time, you'd only get about two stops out of the sintered metallic linings before the brakes would be on fire and you'd fall off. The brakes weren't too bad but they used to give up. We used to weld metal gussets on the brake shoes to make them stronger." And that made the brakes much better.
"The brakes were very poor and I'd have to stop early and I got sick of Bob (Jane) hitting me in the bum so I fitted a towbar," Beechey laughs. "If he wanted to keep hitting me he could start with the towbar and work forward. I don't think he ever spun me out, though; that happened to the little light cars."
Despite the Impala's imposing size, brawny Beechey says it wasn't physically hard to drive, (even though he didn't use the road car's power steering) due to skinny, hard tyres and short races.
"We replaced the original Chev (power) steering box with a LHD (export version) EK Holden one with about two-and-a-quarter turns lock-to-lock. Because the R5 racing Dunlops of the day were only narrow, you couldn't turn the steering wheel when the car was stationary but once you got it rolling it was okay. We had a four-point harness that held us in place a bit, but I used to grab a cushion off the lounge at home and tuck myself into that. All my cars had bench seats.
"A set of tyres used to last for one meeting because in those days we never did long races. We did a half-hour classic at Calder and at the end of that my car was exhausted and so was Bobby's Jag. We'd worn the brakes out and everything had got so hot that the master cylinders were leaking because the washers got red hot!"
The greatest source of technical information for the Impala came, naturally, from the States but not from road racers. It was drag racers and NASCAR teams that really exploited the big block Chev and Beechey picked up a lot of tricks from direct contact with US racers and tuners. One tip involved the suspension.
"American stock cars used two shockers per wheel. Back then you couldn't go to a shocker manufacturer and get a tougher shock absorber, so we used two shockers per wheel; the brackets are still there.
"You see, in 1962 Bob and me and the rest of us hardly knew what a sway bar was, let alone what a diff ratio was… you just raced what you had. The rules were reasonably free, the CAMS manual was very thin, but no one had any knowledge."
Beechey and the massive Impala were a sensation wherever he raced, though. "During the first practice session at Catalina (in Katoomba) there was no one left in the pits when I went out because they'd all run to see this big ol' thing go 'round," he grins. (Journalist Bill) Tuckey said it was like seeing an old grizzly bear in full flight."
Two decades later, when Beechey had rebuilt the Chev, he took it to Winton for a shakedown and, guess what? It was still breaking parts, rear wheel bearings. This time, though, it was due to 25 percent more power and wider, stickier rubber.
It was a monster and still is and one of Beechey's favourite pastimes is blowing off Falcon GTHOs. "This car used to do the standing quarter in 12.2secs," he boasts. "I've been up against GTHOs on Dutton rallies and this car just chewed them up and spat them out; they weren't even in the contest and didn't that break a few hearts.
"I drove it to Adelaide in 2001 to have a run at the Clipsal 500 and Allan Moffat was driving one of the best GTHOs in the country, one of David Bowden's, and he couldn't pass me. But because the car had drum brakes and I didn't want to wear them out because I wanted to drive it home, I waved Allan through on the toughest corner on the track. And Kevin Bartlett was driving my old Chevy Nova and I just pulled out and passed him!"
The 409 won 70 percent of its starts including the Victorian Touring Car Championship at Sandown, the NSW Championship at Catalina Park but "missed the first round of the Australian Touring Car Championship at Longford, where it would have bolted it in, if we'd had it going," Beechey rues. Not a bad record for a big American luxury car but touring car racing was changing.
"When I switched to the S4 Holden, Bobby had got his Jaguar going faster and it still dominated; the Jag's reign only finished when I brought the Mustang out in early-1965. But the Impala was the first of the muscle cars." Hear, hear Norm.
Unique Cars magazine Value Guides
Sell your car for free right here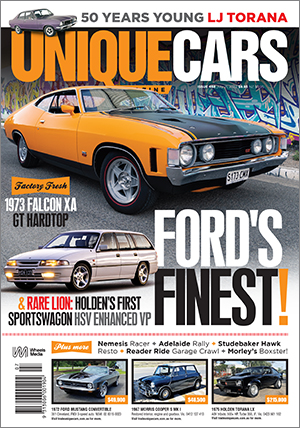 SUBSCRIBE TO UNIQUE CARS MAGAZINE
Get your monthly fix of news, reviews and stories on the greatest cars and minds in the automotive world.
Subscribe