Volkswagen Kombi (1976) Review
---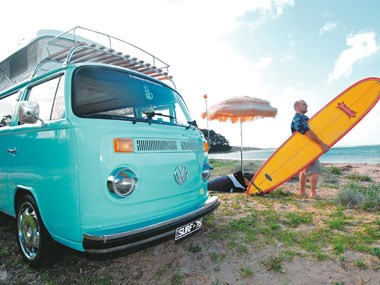 1976 Volkswagen Kombi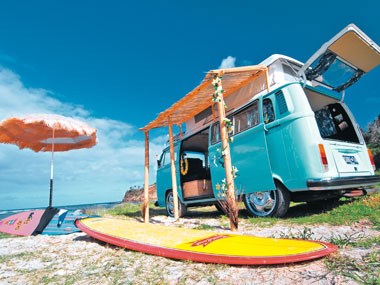 1976 Volkswagen Kombi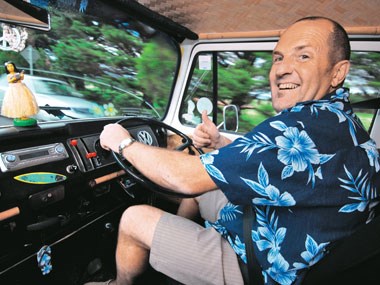 1976 Volkswagen Kombi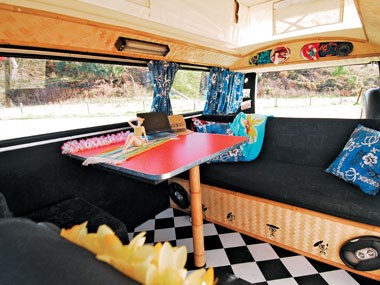 1976 Volkswagen Kombi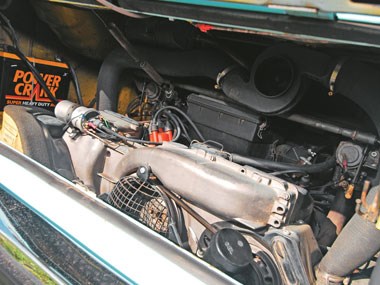 1976 Volkswagen Kombi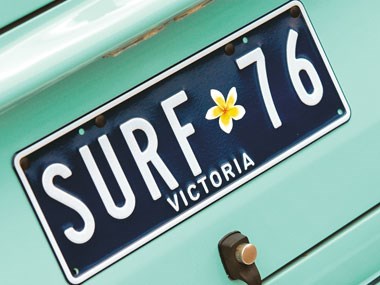 1976 Volkswagen Kombi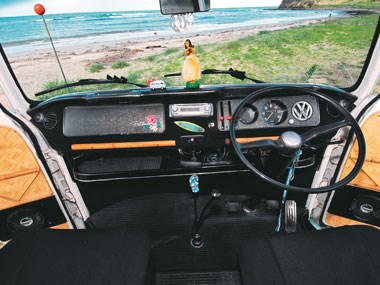 1976 Volkswagen Kombi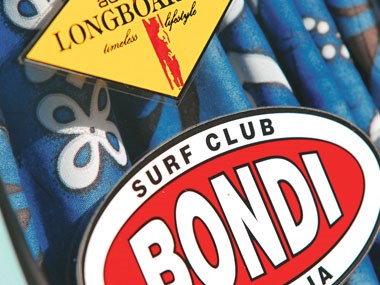 1976 Volkswagen Kombi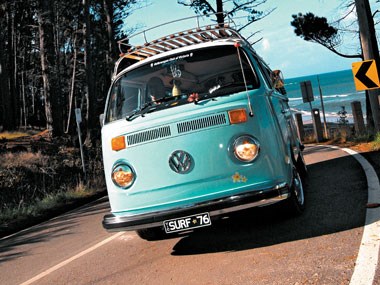 1976 Volkswagen Kombi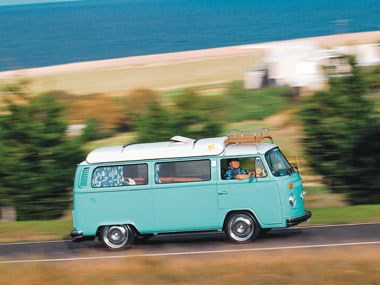 1976 Volkswagen Kombi

People groover: Surf Kombis. A new generation of 'hippies' is discovering the appeal of classic air-cooled VeeDubs.
Volkswagen Kombi (1976)
[Jun 2008] If you want to get people's attention with a car these days, you don't want a Rolls-Royce or a Ferrari. Nah, you want a Volkswagen Kombi, you do.
Nostalgia and a generational shift in who's calling the cultural shots these days has seen to it that just about all old-school, air-cooled VWs are regarded as pretty cool. But Kombis... man, Kombis are the new black.
Companies looking for a promotional vehicle are buying old Kombis and refurbishing them, and everybody from Yokohama to Telstra has been featuring the old air-cooled buses in their latest advertising. So it stands to reason that punters want a piece of the action, too.

One such bloke is Ian Armstrong from Melbourne and, as a long-time surfie, has spent decades watching Kombis come and go from his favourite surf spots.
And eventually, in 2002, he decided it was time he bought into the dream.
But Ian's infatuation with old Volksies wasn't as simple as that; his family were habitual VW owners (his mother had four Beetles over the years) and his first car was a '63 Beetle that he bought for a few bucks.
"This bloke I knew told me about the old Beetle he had in his backyard and I was a kid and looking for my first car," Ian explains. "I asked him what he wanted for it and he said: 'Oh, I dunno, 40 bucks?'"
"Sounds stupid now, but back then, that was four weeks worth of working Sunday mornings at a service station."
Despite making his life-savings disappear, Ian soon developed a real affection for the Beetle and its habit of keeping on keeping on.
So, when you stack it all up, it was really only a matter of time before he was back behind the wheel of an air-coolie of some sort.
The Kombi materialised in the classifieds back in 2002 having been driven to Melbourne by a group of Irish backpackers who were soon to fly home. Ian took a look at the bus and soon recognised its potential.
"The rust spots all looked repairable, at the time, so I figured it was worth a punt," he recalls. "The problem was that the guy selling it wanted about $3500 for it, and I only wanted to spend about $2000. So I went home.

"But about two weeks later, the Irish bloke rings me back to say that he's flying home in a few days. And since I was the only person who'd looked at the car and made a firm offer, I could have it for $2500."

So, the price was right, but the Volksie was definitely not in the sort of nick it is now. As well as all that lovely 'repairable' rust, the Kombi was fitted with a bull-bar that "looked like it had come off a Kenworth and other bits were held together with fencing wire".
Neither was it the rather attractive shade of home-brewed blue.
"It was mainly wattle yellow but there were patches of green and blue and all sorts," Ian says.
The interior was no better and the intrepid band of backpackers had constructed a rear seat from spare tyres covered with a blanket; must have been a long trip to Melbourne from Cairns!
The rust turned out to be mainly in one rear quarter, but working part-time on the bus meant that preparing the body for paint took many months.
"I was sanding the body for two years," says Ian, "that and digging out bog."
But eventually it was ready and the shell was sprayed with a colour that is almost the same as Volkswagen's contemporary 'flipper blue' but actually contains a little more blue and even a splash of green to liven it up.
The roof remains white to break up the slab-sided view and help make the fibreglass pop-top disappear although the roof's appearance is dominated by the decidedly retro timber and steel roof rack anyway.
All new window rubbers, refurbished bumper bars and headlight 'eyebrows' that give the car a slightly drowsy look complete the exterior.
Inside, Ian's decision to give the Kombi a surf theme has resulted in a stunning result. But even that happened a bit out of the blue. Travelling through Byron Bay, Ian happened to spot an import shop with lots of bamboo furniture. Figuring it was the right look for his bus, he got talking with the shop's staff only to discover that a type of bamboo matting was available in large sheets.
His job as a designer for a packaging company allowed him to make cardboard patterns for the interior trim and then cut the bamboo mat to fit, trimming the edges with small bamboo strips.
There's a full-width bed in the back, some carpeting to keep noise levels down and plenty of electrical gear including a stereo, DVD-TV and lots of LED convenience lighting.
The standard 1.8-litre engine had been replaced by a 2.0-litre by the time Ian got hold of the Kombi, so that was rebuilt with reliability rather than horsepower in mind. Even so, it sits on the legal freeway limit with no problems and definitely doesn't hold up the traffic.
Brakes are standard with discs up-front and drums at the rear but the suspension has been lowered to give the Kombi a definite stance.
The front suspension beams were fitted with an adjuster to allow for the ride height to be set wherever the owner wants it and the rear trailing arms were moved one spline on their torsion bars. That's had the effect of giving the rear tyres quite a bit of negative camber, but it doesn't affect the way the bus drives.
By any standards (but especially considering the power the engine provides) Ian's Kombi is over-tyred. Those huge wheels were finally chosen after plenty of false starts, but when Ian saw them on the car, he knew they were the ones to have.
The trick was to find wheels that would physically fit under the wheel arches as well as have the correct offset for the car's suspension geometry. And bling though they may be, the polished AMG-copy alloys look fantastic.
Then again, a knockout first impression is just what a show car needs, and Ian's Kombi is no stranger to the show circuit. Plenty of time has been invested in the show display, too, complete with a bamboo awning, a frilly beach-umbrella and plenty of air-cooled must-haves like old tin eskies and period surf shop decals.
But a trailer queen this car definitely is not and Ian is happy to drive it wherever he pleases. It has the shape he wanted, modified to his own tastes and it perfectly makes the statement he always had in mind.
Throw in absolute versatility, reliability, a non-threatening ownership experience and the fact that Ian doesn't have a million bucks tied up in the VW and you can start to see why Kombis are such a fashion statement.

You see, in an age where reality is allegedly delivered via television and people meet and form relationships via the internet, a cool Kombi with big wheels and a trick interior is very much the real thing.
SPECIFICATIONS
1976 VOLKSWAGEN KOMBI
BODY: pop-top van
ENGINE:  2.0-litre, air-cooled, flat-four
DRIVELINE:  rear-engine, RWD
TRANSMISSION:  four-speed manual
POWER: 45kW
PERFORMANCE: 0-100km/h - Who cares?
VALUE:  $15,000-plus
Unique Cars magazine Value Guides
Sell your car for free right here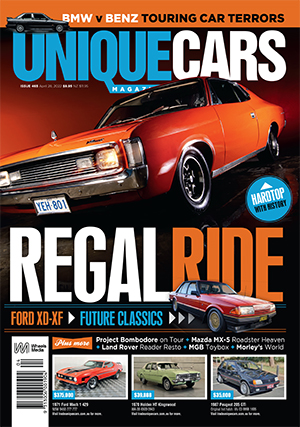 SUBSCRIBE TO UNIQUE CARS MAGAZINE
Get your monthly fix of news, reviews and stories on the greatest cars and minds in the automotive world.
Subscribe