Brock LJ Torana GTR XU-1 Review
---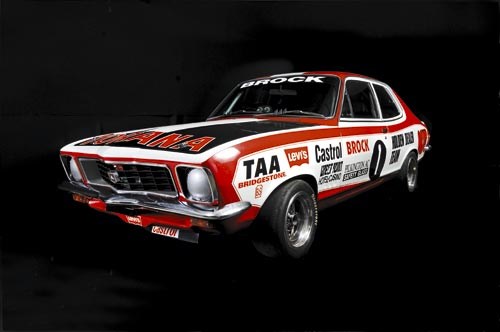 Brock LJ Torana GTR XU-1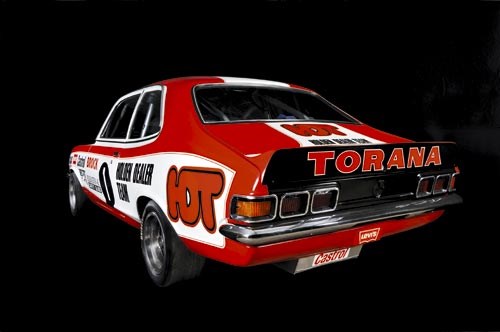 Brock LJ Torana GTR XU-1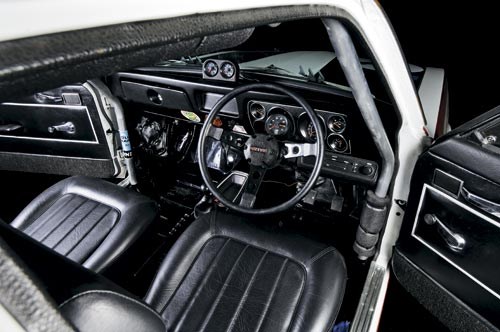 Brock LJ Torana GTR XU-1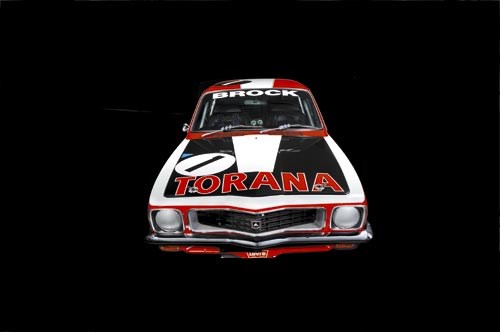 Brock LJ Torana GTR XU-1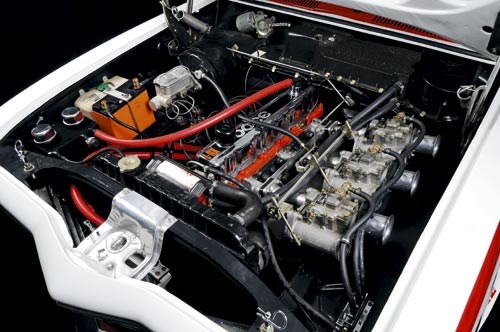 Brock LJ Torana GTR XU-1

Brock Torana XU-1: Meet the car that made the legend
Brock LJ Torana GTR XU-1 
[2012] This year's Bathurst 1000 will be the 50th running of Australia's Greatest Race. In that time, Mount Panorama has served up plenty of legends, but none loom larger than the late Peter Geoffrey Brock.
The celebrations will rightly include names like Moffat (four-time winner), Johnson (three wins), Perkins (six), Richards (six), Skaife (six), Murphy (four) and Lowndes (five). But while he may be absent in person, the Brock aura will be felt by all on the Mountain. The Great Race may be celebrating its half-century at Bathurst (not forgetting the three years at Phillip Island), but for Brock fans, it's 40 years since Peter took his first step towards Mount Panorama perfection.
It's also 25 years since Brock won his last Bathurst 1000 - the controversial 1987 race where he finished third on the track but eventually took the chequered flag in April the following year when the courts expunged the one-two finish of the German Texaco Ford Sierras. For those not too handy with maths, that means Brock's nine Bathurst crowns came in an incredibly fruitful 16-year period (one in which he also collected three Australia Touring Car Championships, nine Sandown enduros and the 1979 Repco Round Australia Trial).
Of the seven races in that period in which Brock 'failed' at Bathurst, he nearly won two or three more, including 1973 when his leading XU-1 famously ran out of fuel with co-driver Doug Chivas at the wheel, and in 1974 when he was leading by six laps in an SL/R 5000 before his engine let go 43 laps from the end.
Brock's Bathurst odyssey began in 1969 when Harry Firth, boss of the newly-formed Holden Dealer Team (HDT), threw him the keys to one of three HT GTS 350 Monaros entered under the HDT banner. Partnered with Des West, Brock brought his pale yellow Monaro home in third, while HDT team leader Colin Bond took the win with co-driver Andy Roberts. Ford and Allan Moffat dominated in both 1970 and 1971, but October 1, 1972, was the date that really put P. Brock, and the six-cylinder Holden Torana GTR XU-1, on the map.
Following the 'Supercar scare' of June 25, Holden had abandoned its well-developed plans for a 5.0-litre V8-powered LJ Torana, which had run at Bathurst during the Easter races disguised as a sports sedan. Ford had also dropped its Phase IV version of the new XA Falcon and returned to the Mountain with its 1971-dominating Phase III XY. Though they weren't the cars their manufacturers had hoped to take to Bathurst, both the Phase III and the XU-1 featured new, wider Globe alloys (15x7-inch for the Ford, 13x6 for the Holden). Only Chrysler's bigger capacity, four-speed E49 Charger offered anything truly new over the 1971 line-up. Extra grip from the wider tyres helped Moffat to pole position in 2:35.8 seconds, an improvement of 3.1 seconds over his pole time from the previous year - itself a 10 second leap from 1970.
In fact, Moffat's fastest lap of the '72 race - a 2:36.5 - was marginally quicker than the 2:36.7 that John Goss nailed to qualify his Phase III in second. GT-HOs filled the first four spots on the starting grid, with Brock the first of the Toranas in fifth with a 2:38.2 - a yawning 2.4 seconds behind Moffat. Leo Geoghegan's Charger lined up beside Brock with a 2:39.1.
Race day dawned wet (for the first time in Bathurst history) and it stayed largely that way for the 500 miles (805km), swinging the advantage from the thundering Phase III to the relatively nimble Toranas. But Moffat was going for three-in-a-row and he often demonstrated a blend of luck, skill and tremendous confidence at Bathurst that Brock would later earn and develop - Peter's version was often referred to as the Brock Crush.
Though Moffat and the other Falcons got off the line well, in an almighty spray of water, Brock and Colin Bond (whose lead HDT XU-1 had started in seventh) quickly passed three of the Phase IIIs and were hassling Moffat for the lead by the close of the opening lap. In post-race interviews, Brock said it wasn't easy:
"I just couldn't see. I could only see the stop lights. I was following Moffat and I had to rely on his brake lights and my memory of the circuit to figure out where to go. I couldn't have picked anyone better to follow, though. He's dead safe. I knew he knew what he was doing."
HDT was dealt a tremendous blow when, on only the second lap, Colin Bond's Torana hit standing water on the run across the top of the Mountain - between Reid and McPhillamy Parks - slammed into an earth bank and rolled. Brock was HDT's only hope and he was content to bide his time behind Moffat.
Then on lap 20, Epping newsagent Bill Brown proved once and for all that he was the unluckiest racing driver in Oz when he rolled his Torana on top of the Mountain.
Even those who aren't trainspotters of Bathurst trivia will have heard the phrase 'Bill Brown roll-over'. Brown's 1969 first-lap inversion as the field tumbled down off Skyline triggered a chain reaction that wiped out a quarter of the cars that had taken the starters' orders only a few minutes earlier. But Brown's best effort was to come in 1971 on lap 43 when he had arguably the Mountain's most famous crash. A burst tyre put Brown into the wooden fence at McPhillamy and his GT-HO rolled four-and-a-half times along the fence, narrowly missing a marshal (worth the YouTube search). The broken car came to rest upside down. At Bathurst hospital in an adjoining bed, Brown met the luckiest marshal in motorsport, whose elbow had been grazed by the tumbling Falcon's nose. Brown suffered a mild concussion and a black eye when he could easily have been decapitated.
On lap 28 of the 1972 race, with a dry line emerging as the rain eased, Moffat led Brock up the Mountain again - the LJ glued to the rear bumper of the Falcon. But the Canadian moved off line and onto the wet tarmac, resulting in a huge spin near the Reid Park gates. The Falcon came to rest (undamaged, though covered in mud and grass) not far from the wrecked Colin Bond XU-1. Brock was through into the lead for the first time.
The little Torana would lead until lap 46 when it entered the pits for its first stop. Geoghegan's Charger assumed the lead for two laps until he too pitted and Brock vaulted ahead again. After this flurry of stops, a three-way tussle - covered by just six seconds - took place between Brock, John French and Doug Chivas (Brock's co-driver for 1973).
Despite the spin, caused more by an ill-handling Phase III than the wet track, and a developing brake issue, Moffat wasn't done yet - passing Brock for the lead on lap 75. In a crushing display of outright pace, Moffat opened up a 12-second lead while consistently lapping under 2:37 - quicker than anyone else would go all day.
It was all for nought though as Moffat's troubles - a blown tyre, two separate one-minute penalties for starting the car before refuelling had been completed, and terminal brake problems - dropped him down the order to finish in ninth outright, eight laps off the lead.
Brock had to wear his own one-minute penalty, also incurred for restarting the lusty straight six before refuelling had finished (on lap 90). Harry Firth always maintained this was wrongly applied as the fuel cap hadn't been screwed on properly and they were simply refitting it when observed by the marshals.
Despite the penalty, Brock had a relatively easy run to the flag and took the win with a lap in hand over the John French Phase III. The Doug Chivas/Damon Beck E49 Charger was a further lap down. Given the money and effort poured into touring-car racing at the time, 1972 was the only year the big three of Holden, Ford and Chrysler were all represented on the same podium.
Years later, HDT team boss Harry Firth would recall this first Bathurst win among Brock's finest-ever drives, ranking it alongside the 1979 Repco Trial victory and the six-lap crushing he and Jim Richards handed out at Bathurst the same year. Of the 1972 race, Firth said, "The race was a turning point in his life. He went from nobody to King of the Mountain."
When the flag fell at 4:09pm on October 1, 1972, everyone knew it was the last 500-mile race, as well as the last race that permitted solo drivers. But what nobody understood, probably not even the man himself, was that Peter Brock would go on to dominate the annual Bathurst enduro like no other driver.
(Thanks to John Basso, who owns this LJ XU-1. It was restored and previously owned by Paul Tate, son of original HDT engine builder/mechanic, Ian, who built it and other race winners in the '70s.)
SPECIFICATIONS
LJ Torana GTR XU-1
ENGINE: 3298cc 6cyl, OHV, 12v, triple 58mm Weber carburettors
POWER: 175kW @ 6500rpm*
TORQUE: 305Nm @ 4500rpm*
WEIGHT: 1100kg
GEARBOX: 4-speed manual
BRAKES: discs (f), drums (r)
TOP SPEED: 240km/h
* Bathurst trim; now makes 212kW
Unique Cars magazine Value Guides
Sell your car for free right here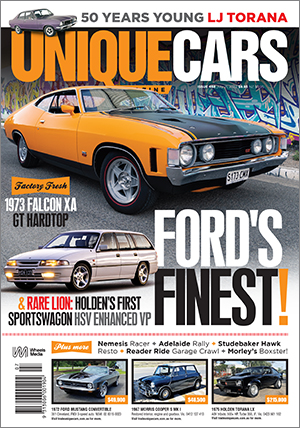 SUBSCRIBE TO UNIQUE CARS MAGAZINE
Get your monthly fix of news, reviews and stories on the greatest cars and minds in the automotive world.
Subscribe