1967 GTA 'Geoghegan' Mustang Racer Review
---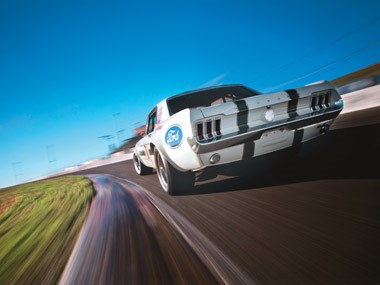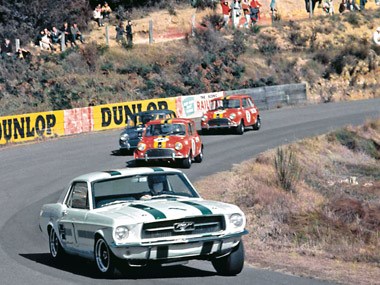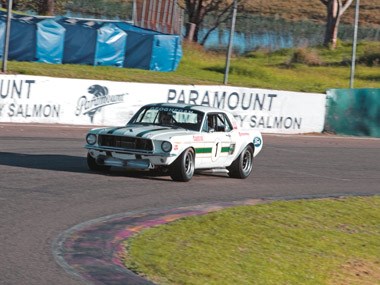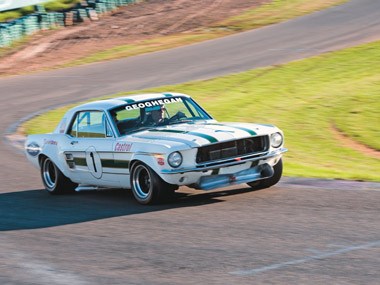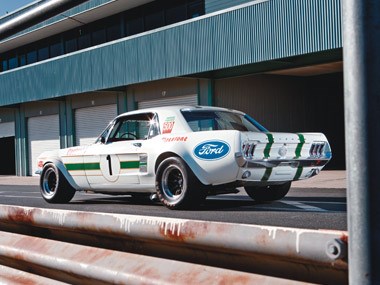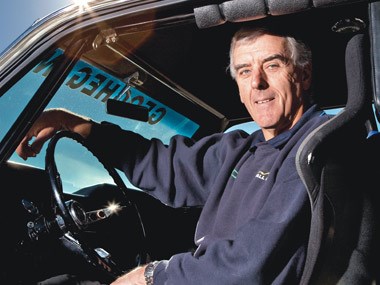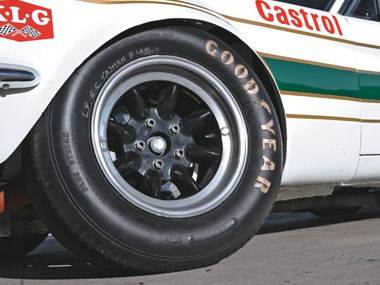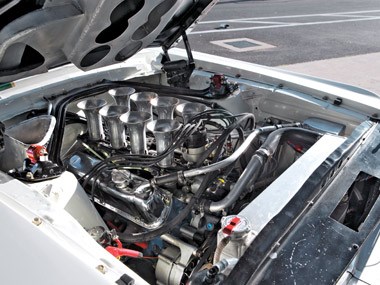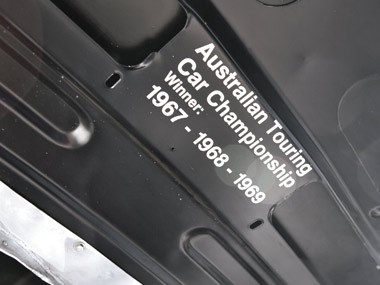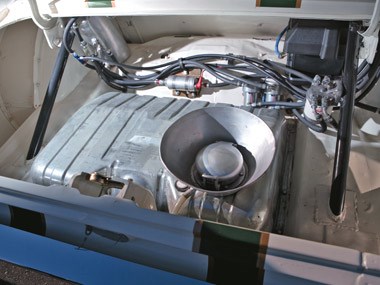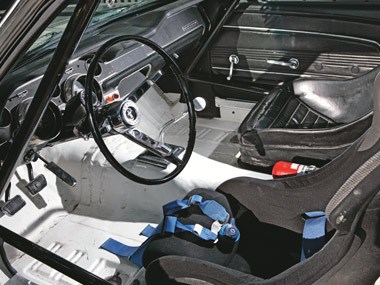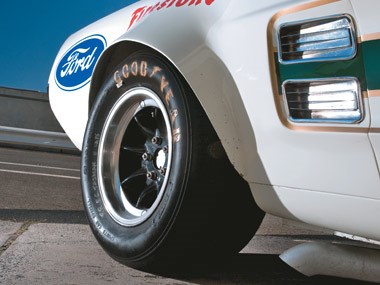 Legendary 1967 GTA mustang racer. Ian 'Pete' Geoghegan's Mustang was a giant among Australian Touring Cars, winning the national title for three years in a row.
1967 GTA 'Geoghegan' Mustang Racer
[Sep 2008] Shell Corner, Sandown, 1969: We rose as one, as the big bangers crowded into the fast off-camber left hander, big 'Pete' Geoghegan already winding on armfuls of opposite lock in his familiar white and green Castrol Mustang, while some of his rivals were still braking.
The Mustang's tail squatted low as Pete booted it through the corner, its long bonnet rising skywards, its right front wheel squarely planted on the hot-mix and its opposite number hanging limp and lame like a maimed steeplechaser.
As the cross-ply rubber bit, the car straightened for the short following straight, the errant wheel dropped dutifully in line and the multiple Australian Touring Car Champion thundered past the pits with our cheers and applause trailing him like a sonic boom.  Even better, he did it every lap.
In stark contrast, Allan Moffat's stunning new Coca-Cola Trans Am Mustang braked and cornered faster and flatter and despite all Geoghegan's skill and the Mustang's crowd-pleasing theatrics, won all three Touring Car races on its debut. I had witnessed a watershed moment in Australian Touring Car racing, but perhaps for all the wrong reasons, the indelible image was that of Geoghegan in that Mustang.
Creek Corner, Warwick Farm, 1970: The infamous bugler was there and so was a young and impressionable Des Wall, as the Castrol Mustang performed its familiar three-wheel party trick.
'Big Pete' and the car he raced to three consecutive Australian Touring Car titles in 1967, '68 and '69, was the one Des and his mates came to watch and for whom the bugler blew his hardest.
"It was the first time I'd seen it race and I was amazed at how sideways Pete drove it," recalls Wall. "If one single thing inspired me in motorsport, that was it!"
Recaro Corner, Oran Park, 2008: That famous image of the Mustang three-wheeling onto the Oran Park main straight is seared into our brains, but today we're on all four, taking the same corner and still fascinated by the impact this iconic vehicle has had on Australian motor racing.
Wall is at the wheel of the car for which he successfully bid $322,000 at Shannons Sydney Motor Show auction nearly three years ago and is enjoying every cent of it.
This car knows the Narellan short circuit even better than its now-owner and the fabulous rumble of its fuel injected V8 echoing off the pit wall sounds just the same as it did nearly 40 years ago, when the car was in its prime.
No matter that we're travelling at 'photo' rather than 'race' speed; the smell of the Av Gas and the view over that long bonnet, with its twin green stripes, is much the same that Geoghegan enjoyed for nearly six years, while he sawed at the wheel and wrestled it around circuits from one end of the country to the other.
By the time Des Wall clamped eyes on it at Creek Corner in 1970, the Geoghegan car was already the stuff of legends.
Mustangs arrived on the Australian race scene soon after its introduction in the US, with Victorian Norm Beechey winning the (single race) 1965 Australian Touring Car Championship at Sandown in a notchback model that was so stock, he initially raced it on steel wheels.
Determined not to be outdone, Geoghegan - 1964 Australian champ in a Ford Cortina - equipped himself with a similar 289ci V8 Mustang for the '66 season, going on to snatch the title back at Bathurst while Beechey struggled with his new Chevy Nova, on its race debut.

Geoghegan sold that original Mustang at the end of 1966 and replaced it with the latest '67 model to take advantage of its larger 302ci V8 engine, beginning an amazing partnership. In fact, he imported two Mustangs in April 1967 - a Fastback fitted with a manual four speed close-ratio Top Loader gearbox and a GTA Notchback with road specs and automatic transmission.
Geoghegan and his engineer, John Sheppard, wanted to run the Fastback as they thought it would be faster but, as they half-suspected, CAMS knocked it back because its rear seat didn't measure up to FIA Touring Car requirements. So all the good bits, including the manual box, were quickly transferred to the notchback for the 1967 ATCC on July 30.

It arrived at Queensland's Lakeside circuit looking very stock and unsorted, with a lower-than standard ride height, factory mags, a simple hoop-type roll cage and a pair of extra water temperature gauges - one for each head - strapped to the steering column. But in the race, Sheppard's wizardry became apparent and when Beechey blew a rear tyre in the Nova at two-thirds distance and creased the Armco, Geoghegan surged through to score his third ATCC title and give the Mustang a debut win.

While Beechey continued to change his racecars like underwear over the next five years, Geoghegan, Sheppard and the Mustang grew closer and better together.
"Pete and I had a deal," Sheppard recalls. "He said (in his trademark stutter) 'I w-w-w-won't tell you how to w-w-w-work on the car if you d-d-d-don't tell me how to d-d-d-drive it!' "
Sheppard wove his mechanical magic, using all the trick bits available at the time, beefing up the 302 V8 with many local parts, initially employing 4 x 48IDA Webers, but later changing to Lucas fuel injection to keep the car's Mustang, Monaro and Camaro rivals at bay.
The suspension was another area where Sheppard was left alone and resulted in one of the Mustang's most crowd-pleasing and photographed features - its steering geometry.
"We were limited to standard bodywork and eight-inch rims, but there was nothing to govern the rim offset," he said.  So to widen the track legally and fit the fattest tyres available, Sheppard shortened the Mustang's top wishbones by an inch, to ensure the unladen wheel leant in when cornering and didn't foul the front mudguard.
"Most of the circuits then were stop-start affairs and it was more important to get off the line and out of the corners fast, than to carry speed through them. So we left the rear springs pretty soft, so that the car would squat and get its power down," Sheppard said.
"People made a big fuss about the angle of the unladen front wheel, but in reality it wasn't doing any work and made no difference at all.
"I suppose if Pete hadn't been so naturally talented we might have gone testing and developed the suspension more, but he could drive around any problem and rarely complained. And if the driver was happy, then so were we!"
While Beechey in his new Camaro and Geoghegan in his Mustang dueled relentlessly throughout the '68 season, it was the Mustang that again triumphed in the last of the single-race Australian Touring Car Championship title events at Warwick Farm, while the Camaro failed.

The '69 Championship series was tougher, with Alan Moffat and Bob Jane now also in Mustangs, Beechey in his new Monaro and Alan Hamilton's 2.0-litre Porsche all capable of winning outright. Yet after a tight five-round contest and a thrilling finish at Tasmania's Symmons Plains, Geoghegan was the winner by a single point.
After that, the three-year-old Mustang was clearly on borrowed time. Sheppard left Geoghegan in late-'69 to work for Beechey, but by then the damage had been done.
As Geoghegan soldiered on with the car until late 1971, the growing challenge of Moffat's Trans Am and Jane's new Camaro became a mountain too high, for even 'Big Pete' to climb. But even when it was replaced for the 1972 season by a factory-built 620hp GT HO 'Super Falcon', it was still scoring points in the hands of its new owner Clive Green, after six full seasons of racing.
With the arrival of the new Improved Touring Car regulations in 1973, there was only one place for the Mustang to go - into sports sedan racing.
'Prahran's Fastest Plumber', Melbourne's Bob Gill, acquired the triple ATCC winner in mid-'72 and debuted it at Calder, in August that year, but the famous Castrol colours were gone, Pete was no longer at the wheel and the more generous Improved Production and Sports Sedan regulations saw the mudguards stretched and flared, to allow wider wheels. This made the shorter upper wishbones no longer necessary, allowing the Mustang to corner as flat and unspectacularly as everyone else. An era had passed.
Gill owned and raced the car off and on for 13 years, until it was retired in 1986. It remained stored in Melbourne until 2001, when Sydney enthusiast Ross Donnelly purchased it and returned it to Sydney for a painstaking and correct restoration.
Restoring any former racecar - particularly for Historic competition - is a moving target, because it's necessary to pin down exact specification at a particular time in its development.Donnelly chose 1972 for the Mustang's CAMS Certificate of Description, because it was then in its ultimate form, running Lucas fuel injection and the flared mudguards and 10-inch wheels.
Fully rebuilt and restored to its former glory, the car re-emerged in his hands at the Eastern Creek Round 6 of the Biante 2003 Historic Touring Car Series, topping the charts in both qualifying sessions and winning two of the three races, straight out of the box. More than three decades on, the veteran Mustang was still special.
Donnelly continued racing the car for the next two years before deciding to sell it and that's where Des Wall was connected to his Creek Corner memories.
But when in late 2005 he saw the Geoghegan Mustang being auctioned by Shannons at the Sydney Motor Show, he knew immediately that he had to have it. He wasn't the only one with such ideas, but when the hammer fell at $322,000, Wall Racing was the new owner.
"I know it's a lot of money, " he said, "but it's also a lot of car. It won 75 times and finished second 20 times out of 118 starts between 1967 and 1971 and that makes it not just a car, but an important part of Australian motor racing history."
After acquiring the Mustang, Wall Racing went through the engine, transmission, brakes and suspension, crack testing, replacing and rebuilding where necessary.
"Ross had done a great job restoring the car, but it's still an old race car so we wanted to check everything for our own peace of mind," he said.
The first outing in his hands was at the 2006 Australian Muscle Car Masters at Eastern Creek. Then they took it to Bathurst, where Wall put it on pole for the Historic Touring Car race, going on to take a win and a second before an axle broke in the third race.
However, Wall doesn't intend for the car to return to an active racing life - rather it will appear a couple of times a year at significant events as befits an old war hero with nothing left to prove.
"I met him, but never really knew him well," Wall said of the late Pete Geoghegan, who died in late 2003 after having the satisfaction of seeing the Mustang re-born, "but my admiration for him has risen immensely since I acquired the Mustang.
"Having raced it, I don't know how he did so well.  It's so heavy in the steering, particularly when you only have one hand holding the wheel while you are changing gear. Like the car, he was also special. They were truly a dream team together." 
SPECIFICATIONS
1967 GTA 'Geoghegan' Mustang
ENGINE: 302ci wet-sump Ford V8. Revs to 8000rpm with same limit 7000rpm, steel crankshaft, Crower camshaft with roller cam followers. Lucas Fuel Injection on Globe-modified Shelby Cobra manifold. Alan Standfield-designed extractors and cold air collection box. Aluminium cross-flow radiator without cooling fan
POWER: 500hp (est.)
TRANSMISSION:  Four-speed close-ratio Top Loader with Hurst shifter
BRAKES: Alloy callipers, 12-inch diameter Waggot ventilated front discs; rear 10 x 3 inch drums with sintered metal linings
SUSPENSION: Front by shortened top wishbone, coil springs, telescopic shock absorbers and sway bar. Rear by four shock absorbers and a Watts-linkage, adjustable sway bars and over-the-axle Shelby-style tramp bars
WHEELS & TYRES: 15 x 10inch Minilite magnesium alloy wheels with Goodyear period racing tyres
Unique Cars magazine Value Guides
Sell your car for free right here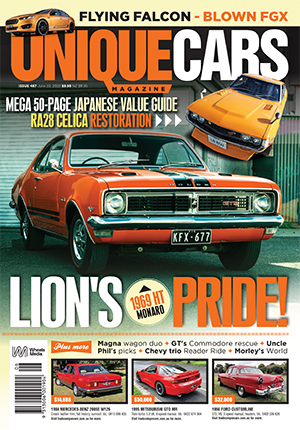 SUBSCRIBE TO UNIQUE CARS MAGAZINE
Get your monthly fix of news, reviews and stories on the greatest cars and minds in the automotive world.
Subscribe