Ford Customline Range
---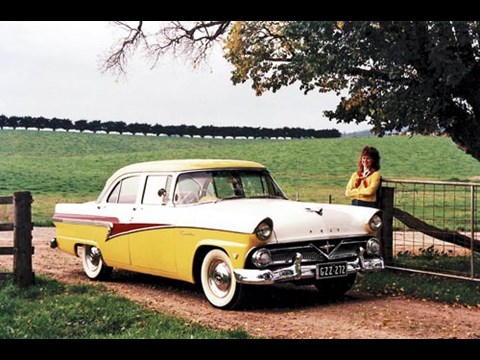 Ford Customline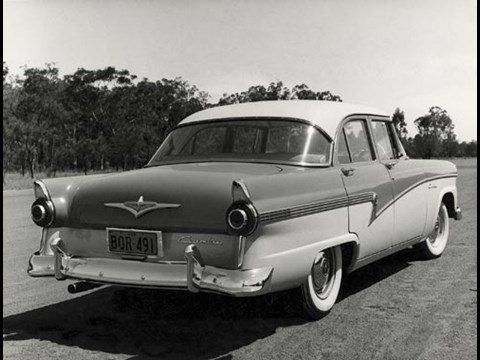 Ford Customline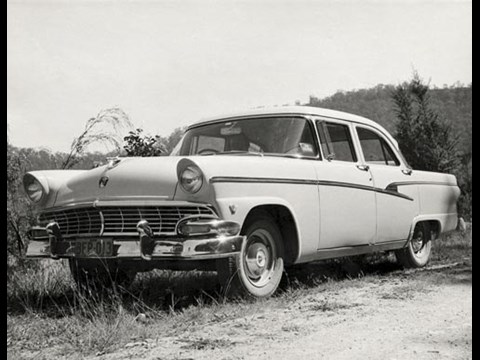 Ford Customline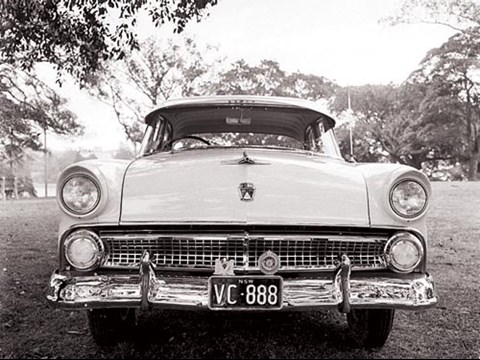 Ford Customline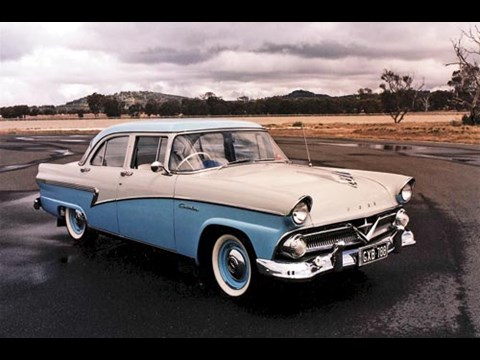 Ford Customline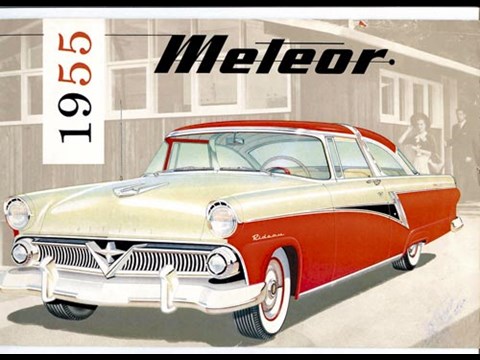 1955 Canadian Meteor Brochure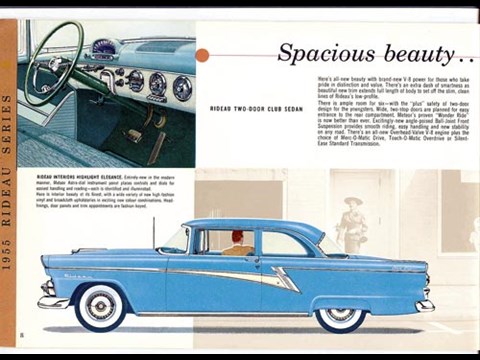 1955 Canadian Meteor Interior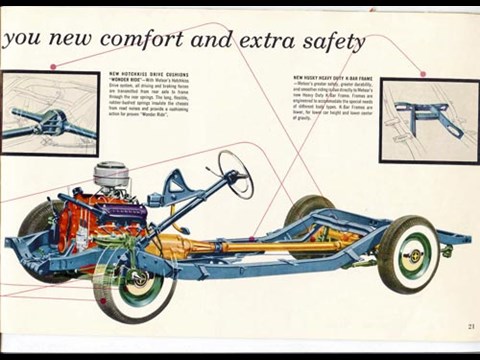 Ford Customline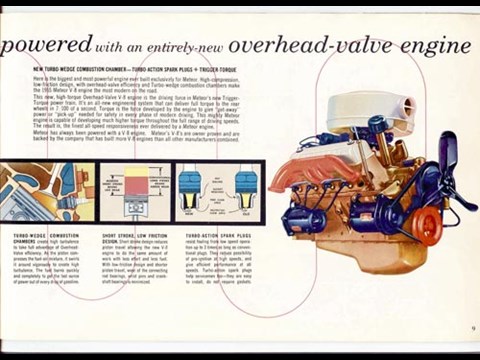 Ford Customline

Aussie originals - this much-revered big sedan produced a unique local variant
Ford Customline Range
The first Holden was a bitter pill for Ford's Geelong arm, considering it had been making cars in Australia since 1925. Because Ford's Dearborn HQ was imploding with bitter politics, Ford had nothing to match the 1940s General Motors proposal to build a modern, unitary-bodied sedan with an overhead-valve, six-cylinder engine specifically for Australian conditions.
Ford's proposal to earn government support - increasing the local content of its rehashed 1930s V8 models - had no chance, but Geelong had to make it work anyway. By the release of the first Customline in 1952, however, Ford was building its side-valve V8 in Australia and keeping pace with US updates while Holden was locked into its original body shape until 1956.
With parity close enough to today's VE Commodore/FG Falcon and Toyota Corolla/Mazda 3, the '52 Aussie Customline V8 at $2800 was a value-packed alternative to the $2100 Holden, with its extra size and grunt. When the four-cylinder Austin A70 cost $2740 and the Dodge/DeSoto/Plymouth side-valve sixes cost at least $3200, Ford's Customline was soon etched into local 'Big Country' culture and became a force in local motorsport - way beyond its base US family car origins.
The plan was to then apply extra pressure on Holden with locally-assembled British Fords until Ford Australia was ready, in 1959, to build a home-grown, six-cylinder rival. A last-minute switch from the Zephyr to the Falcon delayed this until 1960.
This strategy first shifted up a gear in 1955, with an all-new Customline range. This car cleverly side-stepped costly annual US changes from 1957 and supported a unique Australian range until early '59. By starting with the up-to-the-minute 1955 US model and facelifting it every year, Ford avoided Chrysler's doomed and dogged dependence on dated 1953 US models.
Before the local '55 Customline was even released, Ford had already started the smoke-and-mirrors process that achieved so many low-cost facelifts in this new shape. Although our 1954 Customline looked the same as the US model, the local version was no more than a '52 model with a '54 grille.
After bypassing the 1954 US model's new backlit dash and brand new Y-block overhead valve V8, Ford could get an extra year out of its side-valve V8 tooling and the 1952 RHD dash. It didn't hurt sales as the 1954 grille was a slick update of a shape still only two years old in Australia.
Ford used this extra year to source local components for partial local production of the new Y-block V8 to maintain the Customline's duty-concession pricing. By postponing the 1954 US dash until the Australian 1955 model, the '55 Customline arrived with a new body, a new dashboard and a new engine whereas in the US, only the exterior styling was new. This gave Ford Australia an extra year or two before it would have to tool up another RHD dash.
As a result, the '55 Customline was the only model from the Australian 1955-'59 series to line-up directly with its US equivalent. Its wraparound glass and tail fins were a generation ahead of local and British alternatives, yet its old-school six-volt electrics left at least one good reason to move into a later version over the next four years. Local trim, paint and three-piece bumpers that cut tooling costs were the main differences. It made the FJ Holden look ancient overnight.
The local 1956 Customline exterior was then given the striking '56 US facelift. Distracted by a new Fordomatic option and 12-volt electrics, no one noticed its 1954 US dash, which was barely a year old locally. As domestic Customlines were pushed into duty for Royal tours and the Melbourne Olympics, Australian streetscapes looked almost as modern as the US. Although the 1955-'56 Chevrolets were equally stylish, their basic six-cylinder engines and drab local presentation failed to inspire the same awe as the local Ford Customline.
After 1956, Ford took a big risk. The 1957 US Fords gained a massive 118-inch (2997mm) wheelbase with longer overhangs, lower ride height and smaller wheels - exactly what the Customline's rural buyer base didn't need. For 1957, Ford applied the 1956 US Fairlane's lavish body details to the local '56 Customline, changed the lettering in the US Fairlane's rear emblem to Customline, chromed the headlight surrounds and added a large V8 badge to the grille. A special tri-colour option, which added extra chrome and a third colour to the body sides, stopped Aussies in their tracks. Even if it was still US 1954 inside, it was the most revered of this Customline series.
It didn't end there. In Canada, the Ford network offered the 1955-'56 US Customlines while Mercury stocked 1955-'56 Meteor versions of the same car, with a distinctive four-pointed star instead of the Ford badge. This not only freed the Canadians from tooling-up different US Mercury bodies, it generated a store of interchangeable parts for Aussie Customlines.
For the 1958 Customline, Ford Australia lifted the front of the 1955 Canadian Meteor Rideau, hence the round parking lights and central star motif in a grille that looked more like a '55 Customline's. The more elaborate side flash from the 1956 Meteor was added to look like an evolution of the 1957 local model's Fairlane trim. It was never clear why Australians were robbed of the spectacular 1956 Canadian Meteor front. Was it because more parts from the local 1955 model could be recycled, or were three models in a row with the 1956 horizontal park lights too much of a good thing? The 1958 'star model' was therefore totally unique to Australia. Local buyers didn't know they were missing the 1956 Canadian front as no one covered the Canadian industry at the time.
The 1958 'star model' was badged as a Customline or Fordomatic, with two trim levels. The Fordomatic had an extra side strip which could be combined with a wide selection of spectacular Styletone tri-colour paint schemes. Along with new trim patterns, a variation of the more substantial 1956 US dash filled with local Smiths gauges, and a special heater control panel for the local heater option, it was still a big facelift in local terms.
By 1959, it was all over. Ford was forced to release an interim local Mark II Zephyr range and assemble the 'tank' 1959 US Custom 300/Fairlane 500 range until the Falcon was ready. Because none could match the Customline beyond city limits, the first local ZA Fairlane 500 in 1967 was a welcome revival of the Customline's size, ruggedness and value for money.
THE BIG COUNTRY HAULER AND TRACK KING
Government departments quickly discovered the full-chassis 1955-'59 Customline could be used as a first-class prime mover to haul massive mobile medical and dental clinics into the outback. Its V8 grunt was an equaliser for the police.
No self-respecting race horse owner, gun shearer, stock and station agent or country singer would arrive at a remote outpost without one. Slim Dusty was renowned for buying the latest Customline to haul his entourage and van beyond the bitumen.
Len Lukey, of Lukey muffler fame, did well with Y-block exhaust upgrades and was quick to exploit its dominating track performance in 1955. A 22-year-old Norm Beechey launched an outstanding motor racing career by winning the 1956 Olympic support race at the AGP in a new Customline. After Len Lukey taped over the apertures on his car, he won his class at the 1957 Coonabarabran land speed record event with an impressive two-way average of 123mph (198km/h).
One of the last successful local Customline outings was Murray Carter's 1956 entry in the 1960 Armstrong 500 where it won its class - an honourable postscript for such a heavy and rugged all-rounder.
Unique Cars magazine Value Guides
Sell your car for free right here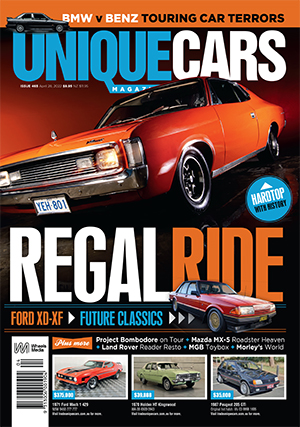 SUBSCRIBE TO UNIQUE CARS MAGAZINE
Get your monthly fix of news, reviews and stories on the greatest cars and minds in the automotive world.
Subscribe