Bathurst Legends Pt.4: Ford XC Falcon Hardtop
---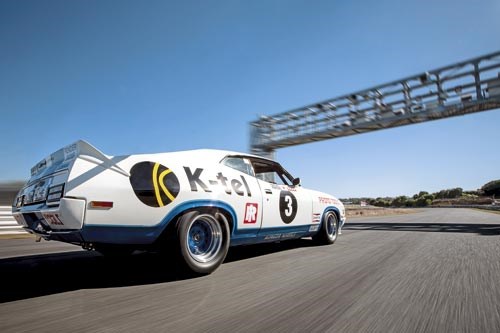 Bathurst legends: Ford XC Falcon Hardtop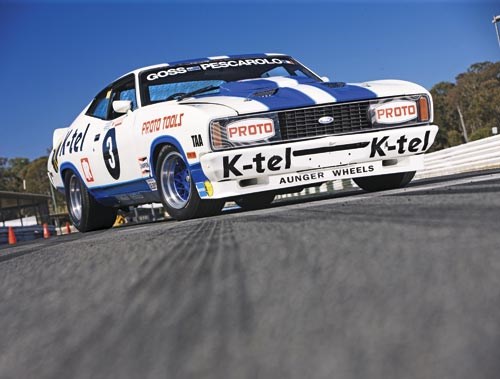 Bathurst legends: Ford XC Falcon Hardtop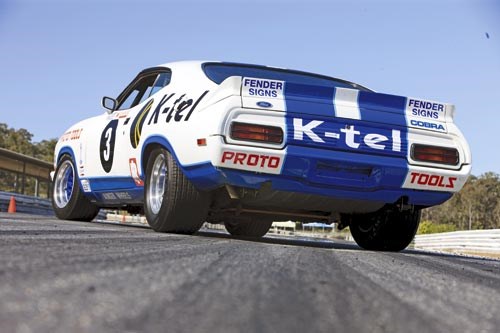 Bathurst legends: Ford XC Falcon Hardtop

Bathurst legends: Ford XC Falcon Hardtop. Part 4 of our series on Mount Panorama hero cars
Ford XC Falcon Hardtop
Five years on, there was a very different look about the Bathurst grid. Peter Brock was no longer a member of HDT, having left at the end of 1974 following disagreements with Harry Firth. Even more sensationally, neither was Colin Bond, who had committed the cardinal sin of defecting to Allan Moffat's Ford Works Team at the beginning of 1977.
Ford had ceased providing factory involvement in 1974, but by 1977, it was back - attacking Australian touring car racing with all guns blazing. American engineer Carroll Smith was appointed team manager and his skill with car preparation helped the Moffat Ford Dealer Team record six one-two finishes during the 1977 ATCC. The controversial Canadian won seven of the 11 rounds on his way to his third ATCC title, with teammate Bond a distant second.
"I think people under-estimate how important Allan Moffat was to the whole scene," says JB. "He brought a level of professionalism and focus to motorsport in Australia that I honestly don't think he's given credit for. He was the first true professional driver."
This increased level of professionalism was plainly obvious. Cars were now delivered to race meetings in transporters and the cars themselves now looked like proper racers with huge slick tyres. Bathurst 1977 rules also allowed drivers and pit crews to communicate with each other for the first time through the introduction of two-way radios.
Overseas interest in the Australian endurance race had never been higher as 11 international drivers (not including our Kiwi cousins) lined up on the grid. International co-drivers were a hot pre-race topic, particularly as one would be sharing Allan Moffat's No. 1 XC Hardtop.
With just a month to go until the race, Ford senior management informed Moffat that - contrary to the race team's plans - he and Colin Bond would not be allowed to share the same car. Incensed, he immediately contacted Belgian Jacky Ickx, an eight-time Grand Prix winner and regarded at the time as the finest endurance driver in the world, having just won his fourth Le Mans.
"I'd met and driven with Jacky Ickx a number of years earlier at Fuji," explains Moffat. "I wrote him a letter and gave him the sales pitch. I told him what a fine car we had and that Bathurst was a great trackand would he consider being my co-driver? He rang back instantly and said 'When do I leave?' It was really a very nice, pleasant association but I was still unhappy that the whole plan in my mind was that Colin and I would be the teammates in the lead car and that wasn't to be."
Ickx's most recent Le Mans success had come at the wheel of the Porsche 936 Spyder, a 540bhp/740kg sports prototype capable of 350km/h. It's fair to say that driving even Australia's best-prepared touring car was a bit of a culture shock.
"When Jacky arrived, we picked him up and we got to the track early in the morning," recalls Moffat. "He went out and did one lap and came in [to the pits]. I walked over and said 'Jacky, what's wrong?' He said (Moffat mimics Ickx's Belgian accent) 'Allan, the car, it does not stop!'
"At Le Mans they only stopped about 350 yards from the end of the Mulsanne Straight. Well, he thought he was on a pretty Mulsanne-y type of straight so why wouldn't he go down to 350 yards. He only did it once," laughs Moffat.
Another famous sportscar name adorns our featured XC Hardtop. Henri Pescarolo had won the 1972 Le Mans 24 Hours and was a veteran of 64 F1 Grands Prix by the time Tasmanian John Goss invited him to co-drive at the 1977 race. The pair also competed together in 1978 and '79 (the car you see here is in 1979 livery) but they failed to finish each time.
Moffat and Ickx were much more successful. Holden's new Torana A9Xs were expected to challenge strongly, but in the race, nothing could match the Fords. Not that the win came easily, however. Moffat struggled with brake problems for much of the latter stages of the race, allowing Colin Bond to close on to his tail with only a handful of laps remaining.
The resulting imagery of the two works Fords running down Conrod side-by-side before crossing the line inches apart - handing Ickx the first and only win by a Bathurst rookie until Nick Percat's victory with Garth Tander in the 2011 event - became one of Australian motor racing's defining moments.
"The helicopter was the greatest thing Channel Seven ever did," says Moffat. "They came down lower than I'm sure aviation standards permitted them to to follow us down Conrod on the last lap. "On that last lap, Colin came parallel with me under brakes for the left-hander at the end of the straight and then a quarter of a bonnet in front. I sent a psychic message to him, 'Colin, remember who is signing the cheque tomorrow morning'. I must hand it to him, it was beautiful teamwork. He could have got a little bit over-excited and gunned it but he didn't do that."
JB succinctly outlines the scale of the achievement, "Those cars were probably the pinnacle of [Moffat's] racing organisation. To be able to manage a form finish after 1000km of racing is a huge achievement."
Thanks to the Bowden Family, Terry Ashwood, and Lakeside International Raceway
Career highlights: Ford XC Hardtop
· 1977 Hardie-Ferodo 1000 - 1st (Moffat/Ickx)
· 1977 Hardie-Ferodo 1000 - 2nd (Bond/Hamilton)
· 1977 ATCC - 1st (Allan Moffat, 7 wins)
· 1977 ATCC - 2nd (Colin Bond, 1 win)
Unique Cars magazine Value Guides
Sell your car for free right here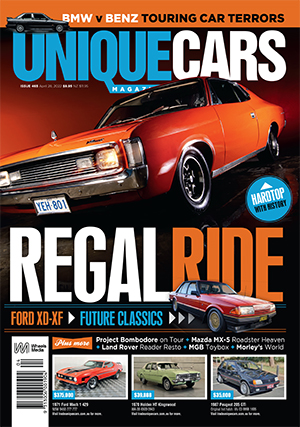 SUBSCRIBE TO UNIQUE CARS MAGAZINE
Get your monthly fix of news, reviews and stories on the greatest cars and minds in the automotive world.
Subscribe