Pontiac Firebird TransAm - Knight Rider Replica
---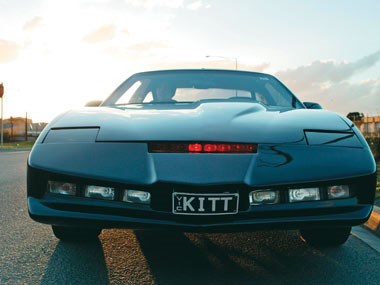 Knight Rider replica: Pontiac Firebird TransAm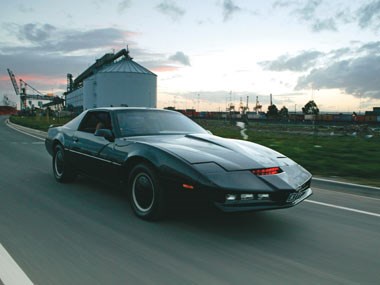 Knight Rider replica: Pontiac Firebird TransAm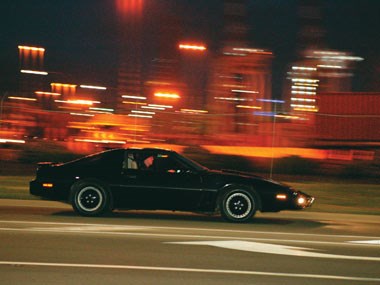 Knight Rider replica: Pontiac Firebird TransAm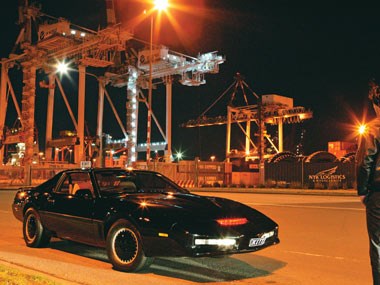 Knight Rider replica: Pontiac Firebird TransAm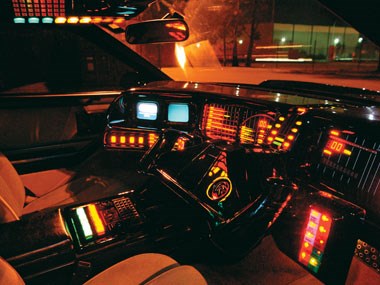 Knight Rider replica: Pontiac Firebird TransAm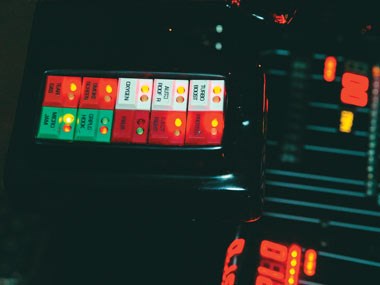 Knight Rider replica: Pontiac Firebird TransAm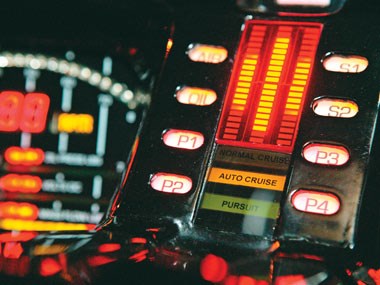 Knight Rider replica: Pontiac Firebird TransAm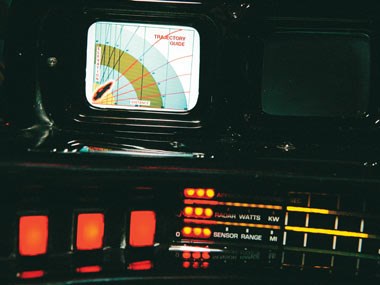 Knight Rider replica: Pontiac Firebird TransAm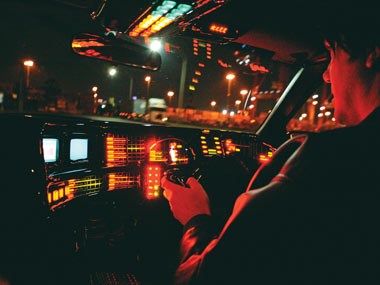 Knight Rider replica: Pontiac Firebird TransAm

It may not have a molecular bonded shell or a talking computer but this right-hooker 'KITT' is a dead ringer for the 1980s TV star.
Pontiac Firebird TransAm - Knight Rider Replica
[Aug 2007] Along with Top Gear, which features a bunch of crazy Poms test-driving the latest supercars, hot hatches and tractors before deciding which is the 'coolest', my favourite small screen car shows at the moment are those American 'makeover' dramas which involve turning old rust buckets into SEMA show beauties.
Anyone hooked up to Foxtel will have seen episodes of Wrecks to Riches or Overhaulin which take you step-by-step through the build-up of a wild modified car before presenting it either to an excited mob or its unsuspecting owner.
But customising gurus Barry White and Chip Foose have nothing on Devon Miles who with the aid of the Foundation for Law and Government (FLAG) transformed a pretty average Yankee sports car into a crime-fighting vehicle with magical powers. Devon who, you ask?
Those close to 40 and who spent countless hours of their misspent youth in front of the idiot box watching such 'classics' as Knight Rider and The A-Team will know what I'm talking about.
In the pilot episode of the American TV series Knight Rider which aired in the early-1980s, Devon tries to explain to Michael Knight (David Hasselhoff), a cop who has just been 'reborn' with a new face and identity, how his black 1982 Pontiac Firebird TransAm has been radically transformed courtesy of a few unusual mods.
"What's this? A new paintjob… feels like baby skin," Michael quips to Devon, rubbing the glistening black paint. "Those boys did a nice job on it. There's not a ripple on it, it's like a mirror."
"It's not paint. It's a finish bonded into a molecular structure of a new substance," Devon explains to his new pupil. "You mean the metal?" Michael asks.
"It's not metal, and it's not fibreglass," Devon continues. He then proceeds to whack the bonnet of the armour-plated car as hard as he can with a hammer, leaving no visible marks, as Michael looks on aghast.
Sliding behind the steering wheel, Michael is then confronted by a dash with more flashing lights and switches than a Boeing 747. In his typical upbeat manner, he tells Devon it looks like "Darth Vader's bathroom".
"It's a one-of-a-kind car," Devon explains, setting Michael straight. "It's the safest, fastest, strongest car in the world. It is also completely fuel efficient and is operated entirely by micro-processors, which make it virtually impossible for it to be involved in any type of mishap or collision, unless of course specifically so ordered by its pilot. Its primary function is the preservation of human life… your life," he concludes.
And so a world of couch potatoes was introduced to the fantastical scenario of a talking car - KITT (Knight Industries Two Thousand) - and his human sidekick, who together over four years and 90 episodes took viewers through a series of improbable adventures, saving the world from the baddies with their unique blend of daredevil stunts and deadpan humour.
A far cry from CSI: Miami, it was typical '80s low-budget schlock, with repeated use of 'stock' footage, cheesy plotlines and stiff acting. But with a spunky bloke up-front sporting a permed mullet, tight pants and turtle neck skivvy bantering away to a car that could see, smell and sense things around it, as well as print its own money, the show was irresistible.
One of its many millions of fans was Melbourne's Rod Unsworth, who with a pack of Burger Rings and can of Fanta would settle back on his plaid-patterned sofa for his weekly dose of auto-escapism.
But after the show was canned in 1986, Rod went on with his life (he wasn't interested in actor David Hasselhoff's next gig on the ground breaking Baywatch - or Babewatch!), until a few years ago when some junk mail lobbed in his letterbox advertising a DVD of old Knight Rider episodes.
"It got me thinking again," Rod recalls. "But I couldn't remember what the dash looked like. So I went on the internet and had a look and came up with a few pictures. Then I started wondering if people made replicas out of these?"
They did, and after sending an email to one company in the US, they fired a message straight back saying they even had a right-hand drive fibreglass version of the dash available. The nose cone with the flashing red scanner and other bits and pieces necessary to turn a TransAm into a self-driving, crime-fighting unit were also available, he discovered.
Inspired, Rod sprung into action, and started searching for the right car. It had to be a black '82 or '83 right-hand drive converted TransAm, with the T-top roof and original wheels. About five months later, he located a suitable, rust-free car in Nowra, NSW.
The first thing he did after buying it was get the steel body repainted but a molecular bonded shell was not in the budget! He also had a couple of leaks fixed on the 305ci V8 engine (unfortunately no-one is currently supplying a version of the hydrogen-fuelled 300mph turbine engine that 'whooshed' through the opening credits of every episode).
He also sourced a new set of hubcaps for the 15x7inch wheels while for the interior he ordered from the US the correct PMD (Pontiac Motor Division) seats in tan velour with the 'cut out' headrests that were fitted to KITT.
After a few months the very convincing fibreglass wrap-around dash custom-made by Marks Custom Kits in Florida arrived and Rod, a bowling alley technician, proceeded to pull out the old dash and fit and wire up the new one.
Apart from some minor steering wheel adjustments and the addition of some extra brackets for added strength, Rod said it was a fairly basic DIY job, aided by an instruction booklet that came with the kit. While most of the dash and centre console is literally 'eye candy', the speedo had to be rewired and converted from analogue to digital for everyday driving.
Next job was to add the new longer nose cone, with a slight modification required in order to fit the red 'scanner', which runs off a couple of switches in the cockpit. Rod's scanner uses conventional light bulbs, although you can now purchase halogen or even high-output LED versions, to really dazzle the neighbours!
In fact, Rod admits there are a growing number of specialists in the US that offer all sorts of KITT 'bits' and he was recently tempted by a new set of button switches, that not only light up but make noises just like the original. Those set him back $1000. The replica has so far cost him around $26,000, not including the purchase of the car.
So how close in appearance is his replica to the real KITT? "I would say it's 80-85 percent accurate. The centre console is a little bit different to what we saw on the show," he says, pointing to a row of buttons that are missing some vital identification marks.
But one thing he has over most other KITT replicas is a 'voiceover' CD that plays a set of KITT 'commands' as spoken by the original actor, William Daniels, and works in tandem with a flashing 'voice modulator' in the dash. Originally used for promotional purposes, Rod managed to acquire a copy from another fan on the proviso that he wouldn't make any other copies for others.
Another neat feature is a DVD that runs on one of the screens, recreating some of the original graphs and readouts from the show.
"I got the DVD from another fanatic… he worked for Disney and he actually went through all the episodes and saw what came up on KITT's scanner, and he duplicated that on a computer. It took him a long time."
Finally, what is believed to be Australia's only KITT replica and the world's only right-hand drive version, hit the road in May 2005. He's since taken it to a few local car shows and been amazed at the reaction especially from kids who weren't even born at the time.
"I was surprised how young the children were that actually knew what this car was and what it represented," he says. "They'll come running up to the car, very excited, and say, 'Look, it's KITT. It's KITT." And they'll ask 'is this the car from the actual series'?"
While others "look at the front and say, 'Look, it's KITT', and then look inside and say, 'Oh my God!' because they were probably like me; they remember the show but not what was inside the car. Once they see it, it brings back the memories."
Rod, who has also owned a De Lorean to which he added a Back to the Future-style 'flux capacitor', says the appeal of the car is "having something you're not going to see in your neighbour's driveway".
He also likes the fact that many of KITT's 'features' like Auto Cruise, and 'GPS' preceded similar technologies that are now available or close to becoming available on production cars, although it's unlikely 'passive laser restraints' will ever replace seatbelts.
Rod's car has also brought KITT to the attention of millions of Generation Y 'YouTubers' when it starred in the music video for David Hasselhoff's cover version of Jump in My Car. The music video was shot in Sydney in late-2005 after the 'Hoff' had discovered the car during an earlier visit to Australia to promote an upcoming singing tour.
"I was unsure what (Hassellhoff) would think of the car, he was probably past Knight Rider and didn't want anything to do with it. But he was really excited to see the car, he played around with it and asked lots of questions," Rod recalls.
The video has since had around 6.5million downloads over the internet, while the song also did well in the Charts in Britain and Australia.
If you haven't yet seen the music video and want a laugh, go to YouTube.com and type in 'Jump in My Car'. You won't be disappointed…
THE REAL KITT
About four-five cars were used during the filming of each season of Knight Rider, which aired from 1982-86. Of the cars used during filming, some were wrecked during stunts and it's now believed about five original cars have survived.
We've seen at least one of these in the metal, when Unique Cars visited the Cars of the Stars museum in Keswick, England in mid-2006. At the time, the museum's owner, Peter Nelson, claimed to have three KITTs, including a convertible that was used in the later episodes.
The one on display was purchased from the 'Hoff' himself (for what is believed to be around $7000!) after he used it as a stage prop during a singing tour through Europe. "It does talk; normally we have it switched on," Nelson said at the time.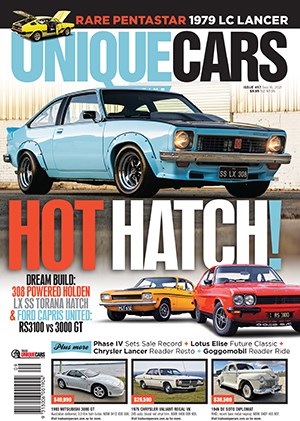 Subscribe to Unique Cars Magazine and save up to 42%
Australia's classic and muscle car bible. With stunning features, advice, market intelligence and hundreds of cars for sale.
Subscribe