Chrysler Royal: Aussie original
---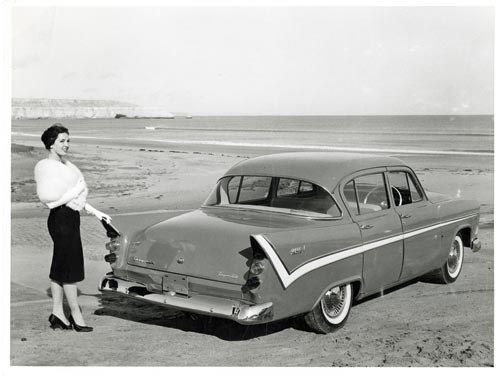 Chrysler Royal Review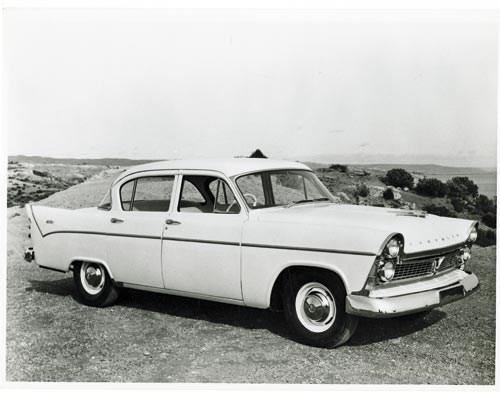 Chrysler Royal Review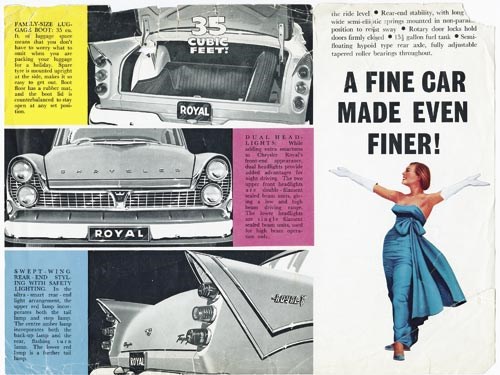 Chrysler Royal Review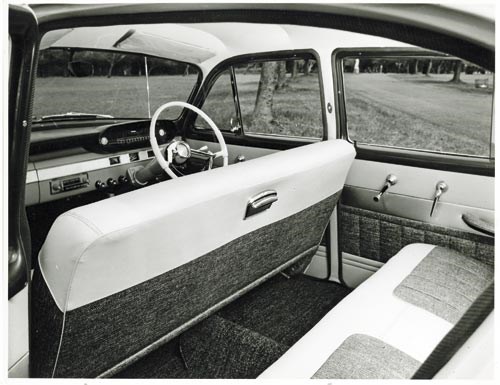 Chrysler Royal Review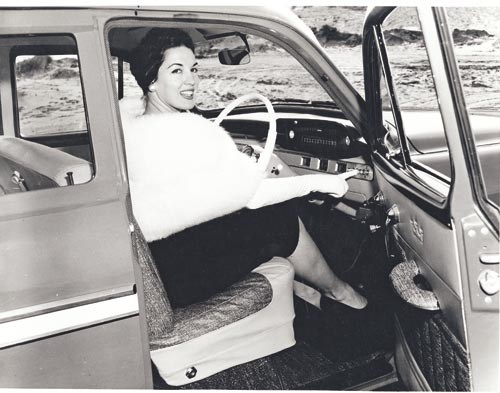 Chrysler Royal Review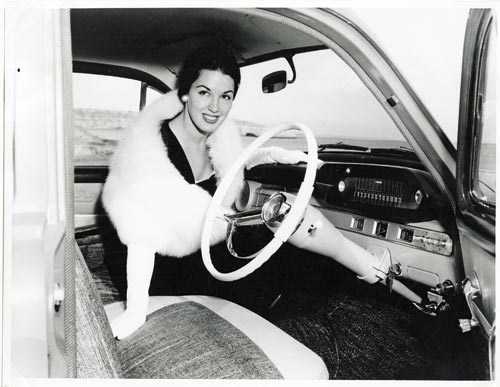 Chrysler Royal Review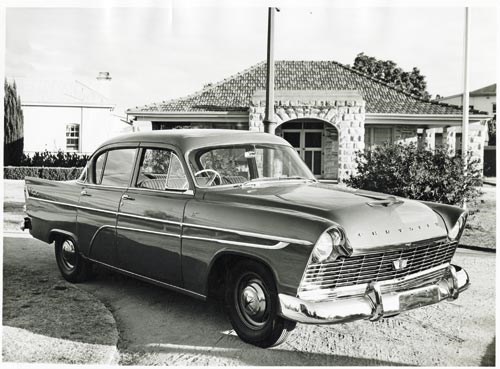 Chrysler Royal Review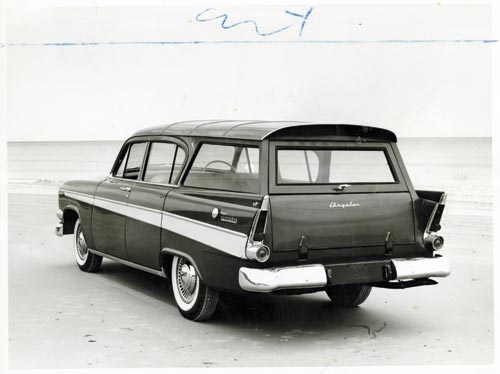 Chrysler Royal Review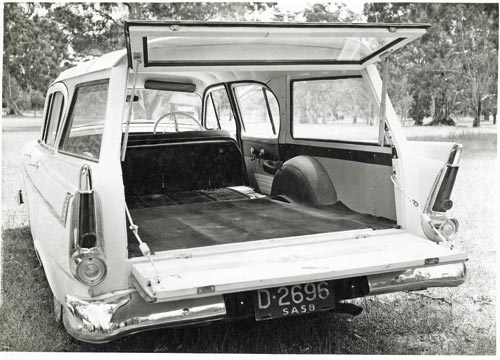 Chrysler Royal Review

The bastard child of a bunch of old models, this car tried to look modern and relevant
Chrysler Royal
The year was 1961 and the long, steep climb between where my family lived and the big smoke had yet to be flattened.
As our 1952 Morris Oxford struggled gallantly up what was known as Birts Hill, there was ample time to contemplate what it would be like riding in our neighbour's new Chrysler Royal V8, always visible across the valley.
By 1961 Australian standards, the big Royal - resplendent in pale green with a burgundy side flash and its rocket-launcher taillights - still looked like it came from another world.
Few realise the Chrysler Royal was unique to Australia - there was nothing remotely like it elsewhere. Even fewer would know that it was a 1957 rehash of an American model that had its origins in the '30s, with chassis technology at least a decade behind our long-since-obsolete '52 Morris.
The Royal's standard side-valve six remained frozen in time until 1962. Only the V8 option, with its later three-speed Torqueflite press-button auto, allowed the Royal to match the promise of its looks before the last one left showrooms in 1964.
The Royal's crowning achievement was to keep Chrysler's South Australian doors open long enough for long-suffering management to deliver a car that Aussies wanted. As Royal sales plummeted to barely 1000 a year in the early '60s, it was left to the Simca range to keep Chrysler bouyant until its local revival with the Valiant in 1962.
Australians were still skeptical of the US way and the Royal's arrival in 1957 seemed to parody US excess without the benefits. The old World War II adage about visiting US servicemen - "overpaid, oversexed and over here" - still had some currency.
More than any other local model, the Chrysler Royal represented everything that was good and bad about our local industry. There were several striking parallels with the Leyland P76. Both were far better cars than they were given credit for, yet both failed for similar reasons. People knew intuitively that the Royal was not quite the real deal.
Cars parked outside suburban rock 'n' roll dances in the early 1960s were the barometer for long-term cool. A hot early Holden or Zephyr rated, and still do. Any Customline after 1955 was to die for and if someone rolled up in Australia's first Chevrolet V8, the 1960 Bel Air, they had already died and were in rock 'n' roll heaven. Only a bonafide star like Johnny O'Keefe could aspire to one of the few locally assembled US Chrysler models such as the Plymouth Belvedere. A Royal was, and still is, a rare sight in this context.
So how did the Royal miss the mark?
Like Ford before its stylish new British Prefect and Zephyr ranges arrived, Chrysler was in trouble locally by 1953. Nothing in its US range could rein in the Holden juggernaut and generate enough sales to support local production, or win the big tariff concessions to keep prices competitive. It was either build the 1953 US Plymouth P24 bathtub, with badge-engineered Dodge and De Soto spin-offs for each dealer network, or face oblivion.
In the first year or two, the trio forged a local niche as tough rural cruisers on poor local petrol amidst a chronic shortage of new cars. Almost double the price of the Holden, the P24's pre-war, full-chassis origins left a weight of 1512kg versus the Holden's 1003kg. And its old-school 3.8-litre side-valve six could only offer an extra 22kW over the Holden's modern 2.2-litre overhead-valve six.
Left almost unchanged until 1957, the final local P25 models were exposed by annual US updates from Ford and GM-H that were sleeker, wider, cheaper, fresher and significantly more powerful. Ford's sharp new Zephyr Mark II and Holden's FE also upped the ante at just over half the price.
Unable to match Ford and GM-H investment, Chrysler Oz added 1955-'56 US 'Forward Look' cues to keep the old P25 alive beyond 1957. Intended for full-size US models, they seemed to highlight its 1953 origins, not hide them, as slick new Ford and Chevrolet rivals hogged the limelight.
The AS1 De Soto and AD1 Dodge proposals were quickly abandoned, and the AP1 Plymouth version was hastily rebadged as the Chrysler Royal to harness scarce resources for a tough fight.
Initially standing for Australian Plymouth, the AP tag would later denote Australian Production. The door for the Valiant to appear as a Chrysler had opened.
Despite the hype on its early-'57 release, the Royal soon faded into the scenery. Was it the carry-over, side-valve sixes compared to Ford's new Y-block V8 and Chevrolet's overhead-valve six? Or did the Chrysler badging generate expectations that it couldn't meet?
Thanks to visiting US stylists, the Royal's detailing was bang up to date and looked fabulous in isolation. Yet its dimensions, the old roof, bootlid, doors, screens and cabin would soon confirm that their context couldn't be further removed from any 1957 US Chrysler, or Plymouth for that matter.
What Royal buyers got was a variation of the US 1955-'56 Plymouth front styling overwhelmed by a tall single-headlight grille better suited to the much wider 1957 Plymouth that inspired it. The wraparound rear screen failed to make the old rounded roof, carry-over doors and shallow front screen look like they belonged. The tall fins and taillights from the 1956 Plymouth invited ridicule, towering above the old, rounded bootlid, and the chunky bumpers and rounded hubcaps belonged to another era. Even if the side stripe from the 1956 US De Soto added visual kudos, the Royal languished in no man's land - just like the P76 after Leyland tacked-on extra length and lobbed it between Falcon and Fairlane.
Like the P76, a decent V8 option added credibility. But the early Canadian 313ci (5.1-litre) V8 was a tight fit and its old-school heavy casting highlighted the Royal's front weight bias, poor brakes and soft front suspension. The early two-speed auto and poor brakes might explain why the Royal never appeared on race grids - robbing it of street cred.
A desperate AP2 facelift late in '58 with its 1957 De Soto-style front and 1958 Dodge fin-on-fin rear further overwhelmed the 1953 starting point, precipitating the AP3 facelift introduced in early-1960.
This final Royal, with its 1959 De Soto-style fins, triple taillights and side strips, plus a clean new stacked-headlight front and slimmer grille, could have made a big difference in 1957. The Plainsman wagon, a worthy ploy to cover missing Ford Customline and Chevrolet wagons, had already gone - its tacked-on looks limiting sales to just over 300. The AP3 version of the Wayfarer ute survived as a tougher full-chassis alternative to Holden and Falcon utilities after Ford's Mainline ute ended in 1959. The AP3 maintained a profile beyond its numbers as a tough, long-lived and quick ambulance platform ... as long as no one got in the way! With five-and-a-half turns lock to lock, the Royal steered about as sharply as a Sydney Ferry.
By 1960, the Royal's days were already numbered as Chrysler's own Dodge Phoenix, Ford's tank Fairlane, and the bat-wing Chevrolets defined the next look. Then in 1962, the compact Fairlane hit local headlines as a return to sanity in US cars - pinpointing exactly how a Royal-sized model needed to be packaged for Australian tastes.
It then took a successful local Fairlane (the '67 ZA) - itself a product of the same thinking - to validate the Royal's intentions, if not its execution...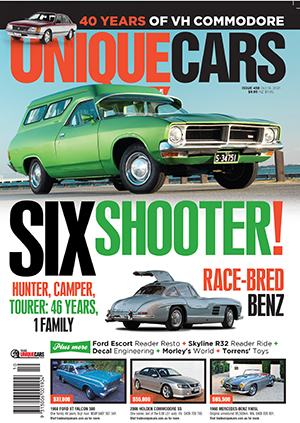 Subscribe to Unique Cars Magazine and save up to 42%
Australia's classic and muscle car bible. With stunning features, advice, market intelligence and hundreds of cars for sale.
Subscribe