Volkswagen Beetle (1969) Review
---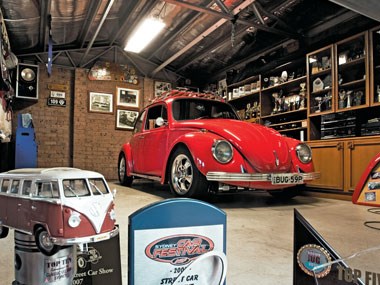 VW Beetle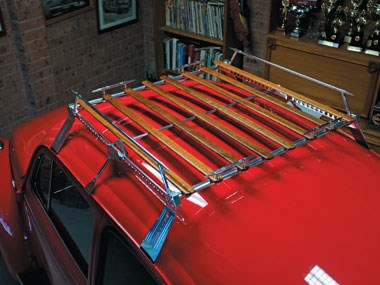 VW Beetle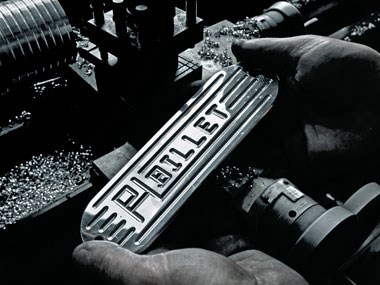 VW Beetle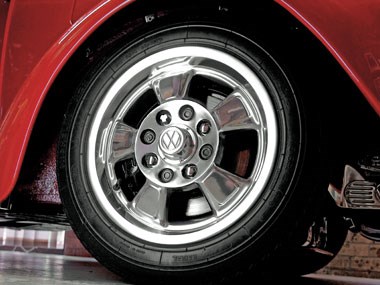 VW Beetle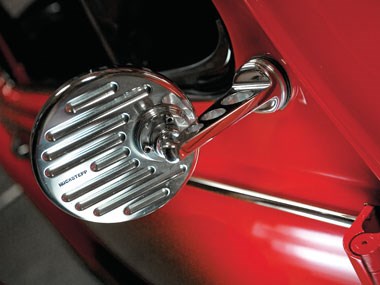 VW Beetle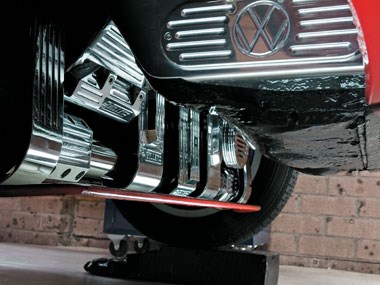 VW Beetle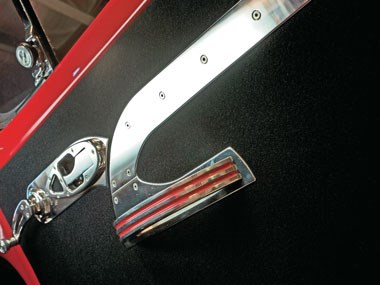 VW Beetle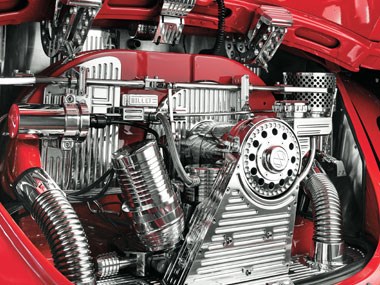 VW Beetle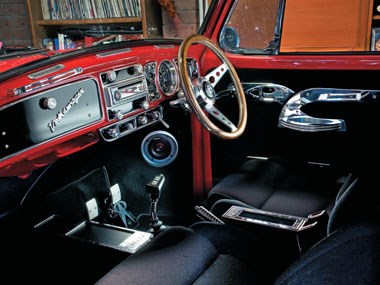 VW Beetle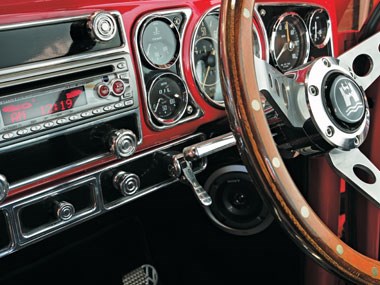 VW Beetle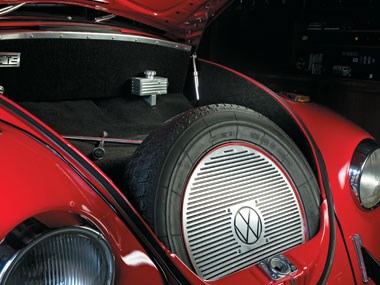 VW Beetle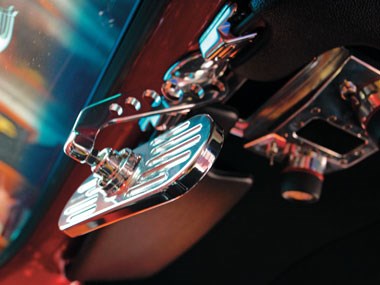 VW Beetle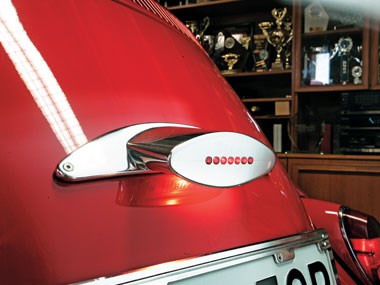 VW Beetle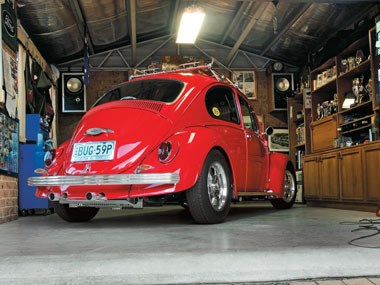 VW Beetle

Billet Beetle: VW hot rod. Professor Ferdinand Porsche could never have imagined what Sydney's Peter Huckstepp has done to his 'people's car'.
Volkswagen Beetle
[Oct 2007] Michelangelo Buonarroti and Peter Huckstepp have a lot in common. The famous 16th century Italian artist would regard a solid block of white Carrara marble and see yet-to-be shaped figures trapped within: a group of tormented slaves craving freedom; a brooding David about to slay Goliath.
Peter Huckstepp looks at a billet of aluminium and sees Volkswagen Beetle parts: dashboard knobs, mirrors, distributor housings, wiper arms and maybe a dipstick.
If Michelangelo had owned a 1969 1500 Beetle like Peter, maybe he would have felt the same.
Huckstepp's obsession with Beetle bling has its roots in his chosen trade as a machinist and tool maker. But where most of his fellow practitioners would be glad to leave their lathes, drills and buffing pads at work, Peter has always played with billets of metal, mainly aluminium, in his spare time.
He started off whittling billets down to make model aeroplane parts when he was a 16-year old apprentice and built his own racing bike in 1984, fashioning the joints and lugs in his tiny home workshop and still enjoying it to the present day. But it was when he acquired his current VW Beetle around five years ago that his hobby took a manic turn.
He had been into Model A Fords for a while by that stage, with his interest spiked by his father-in-law, who lent him and his wife Dawn a Model A Tudor for the 1996 National Series.
He then acquired his own Model A, showing it and making some replacement blinker lights from billet. But it soon became obvious that it was not the ideal car to take the kids to school, so he decided to buy a VW Beetle as a family car, snapping up a beige 1500cc '69 model for $2500.
"That's when I got the bug - literally," he says. "I remember looking at it and thinking, 'I can make that better' and things went crazy from then on."
His first piece of customisation was a new sump plate, which he fashioned out of billet, then a series of knobs, bumper over-riders and so on, followed.
But soon his 'bling' overshadowed the rest of the car and in 2003 he stripped it down and gave it a full bare metal respray in GMH Sting Red.
"I saw the colour I wanted on a car and followed the driver to his home on my bike, knocked on his door and said: 'What colour is your car?' At first he looked quite shocked, but then told me."
Immediately after its dramatic colour change, the VW won the Flat Four Volkswagen Club of Sydney's trophy for Best Engine Bay in the Late Modern (post-1967) class and since then the car has only failed to bring home a trophy on three occasions in literally scores of shows.
Enthused by the growing trophy collection and swarms of admirers surrounding the Beetle wherever it appeared, Peter worked even harder after hours on his lathe and polishing wheel.
"I decided to get that swooping, retro look on every possible component," he says. And he has.
So far he has lavished an estimated 3000 hours to make up to 1000 special and replacement parts for the car. They include his own 'Huckstepp' three-spoke wood-rimmed steering wheel, a 'Mr Bubblehead' accelerator pedal, dashboard instruments and knobs, console, an under-seat storage bin, interior spotlights (removable for outside use), a new handbrake cover, a third brake light, replacement door linings, sunvisor clips, window winders and so on.
There are even (billet) VW emblems on the quarter window locking knobs. Basically, everything plastic has been replaced by billet.
And while the seats are re-trimmed items from a 1992-3 Honda Prelude, all their adjustment knobs are made from billet.
Outside there are billet wiper arms, billet taillights, billet mirrors, billet radio aerial and fully-polished Riviera alloy wheels with billet centres. He has even made his own superb period-style roof-rack - also from billet.
And when it's on display, it sits on special (billet) wheel stands of course.
But it's when you lift the engine lid that everyone says 'Wow!' The engine bay is one big billet, made from dozens of individual hand-crafted parts.
The oil filter housing, generator pulley cover, fanbelt cover, fuel pump cover, air cleaner and even the carburettor linkages are all made from billet, lovingly fashioned and polished in Peter's shed.
Many-a-night he would come inside to Dawn after a long evening there, his face black with dust from hours of buffing that would wear large pads down to tufts in the pursuit of perfection.
And he's not yet finished. He is continually replacing earlier billet items with others as new ideas come to him.
"I always tell people that the car is finished, but my mind is always going, so in reality it is still a work in progress," he admits. Dawn nods sagely!
The rewards are tangible - shelves of trophies from shows all over Australia. Top Street Machine in the two-door class at Rickshaw's Hot Rod Club 40th Anniversary Show in Newcastle earlier this year was a recent highlight, while other trophies include Top 5 Overall at the Sydney Car Festival in Parramatta and runner-up, Best Small Car, at the 2006 Summernats.
"Building the car has been very satisfying," he says. "It's something I have done myself. There are lots of companies in the US that sell billet parts that you can just bolt on, but that doesn't appeal to me."
Yet as obsessive as Huckstepp's billet binge has been, his Beetle doesn't look ridiculous. In a strange way, the Retro look of his work blends well with the car's post-Art Deco styling and you can almost imagine German enthusiasts in the late-1930s and '40s heading down the same path had the War not halted the model's roll-out. Even the good Professor Porsche might have approved!
Keeping all this brightwork clean almost warrants a contract with Mr Sheen. Being air-cooled, the engine bay is largely sealed from dust, but it requires periodic attention to stop Peter's handiwork tarnishing. Yet he is not in the slightest bit discouraged: "Polishing it is very therapeutic!" he claims.
Like many enthusiasts who love to tinker with and restore vehicles, Peter laments the classic car scene in the years to come.
"Increasingly, cars have been made of plastics since it began taking over from Bakelite in the 1960s, but in 50 years' time these plastics will degrade and won't be restorable," he proposes. "You can't re-create or polish them, so what will people do then?
He has answered his own question. They will replace the bits with billet, of course.
Unique Cars magazine Value Guides
Sell your car for free right here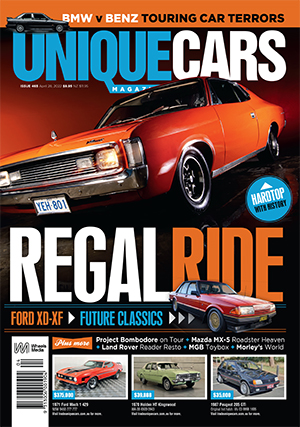 SUBSCRIBE TO UNIQUE CARS MAGAZINE
Get your monthly fix of news, reviews and stories on the greatest cars and minds in the automotive world.
Subscribe