Ford Thunderbird (1957) Restoration
---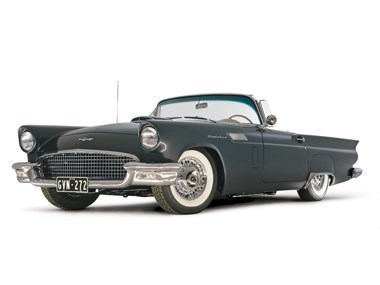 1957 Ford T-Bird Restoration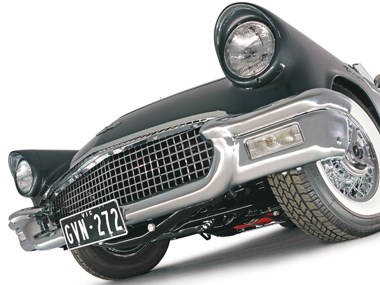 1957 Ford T-Bird Restoration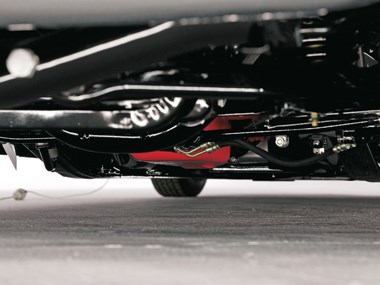 1957 Ford T-Bird Restoration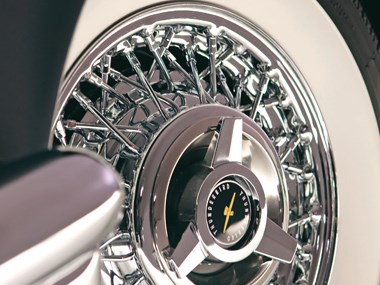 1957 Ford T-Bird Restoration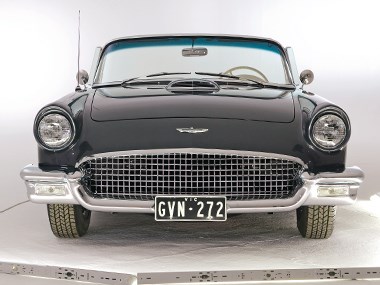 1957 Ford T-Bird Restoration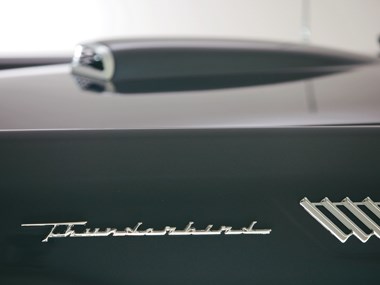 1957 Ford T-Bird Restoration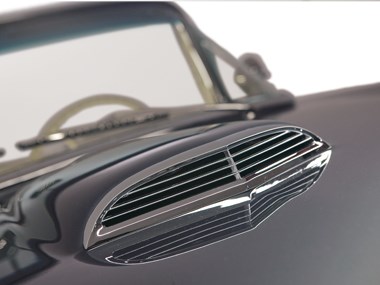 1957 Ford T-Bird Restoration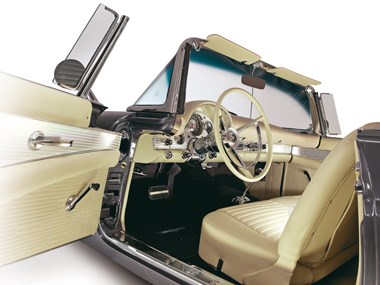 1957 Ford T-Bird Restoration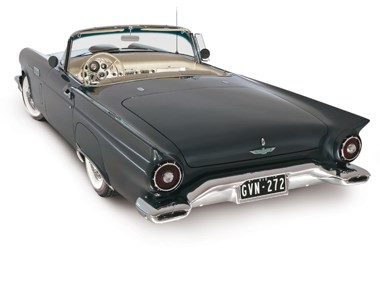 1957 Ford T-Bird Restoration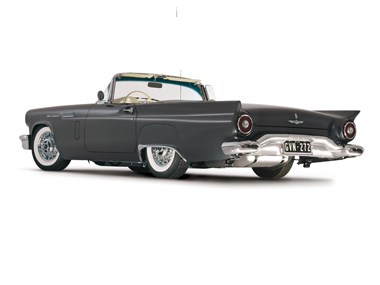 1957 Ford T-Bird Restoration

Dream wheels: '57 T-Bird Restoration. This diminutive roadster is making big waves.
Ford Thunderbird Restoration
[Oct 2007] Sydney's Motorex is a technicolour highpoint on the calendars of those who love to play it left of field. The big indoor car show is an anything-goes fantasy world where almost everything is welcome; as long as it's not bog standard. But this year a show stealer came pretty close.
Rick Bugeja's lovely '57 Ford Thunderbird caught the eyes of most showgoers and they liked what they saw. It's not the usual crowd pleaser; 1000hp '57 Chevies, iridescent purple '32 Ford rods and wildly-kitted Skylines are more the norm. But this little gunmetal grey roadster ran against the stream.
Its first outing was at the Melbourne hot rod show earlier this year; a last minute entry confesses Bugeja and while it wasn't quite ready - the exhaust system hadn't been completed - it finished Show Car runner-up. The gong came as a complete surprise for Bugeja who didn't even attend the ceremony.
"Meguiar's picked it as a finalist in the Superstars competition at MotorEx," he says. "That's the reason I went there. People were unbelievable; so many said it was one of the best cars at MotorEx. Older people, younger people, women; they all liked it."
After years in the automotive business MotorEx was the crescendo in Bugeja's motoring journey; he's had a life that seemed predestined to be heavily involved in cars with both his father and grandfather owning American classics as he grew up.
Bugeja's dream Thunderbird was advertised for sale in Unique Cars back in 1999. When the 20-year-old mechanic saw it he realised he had to move a few 'toys' to raise the cash but he knew he just had to have it.
"It was for sale for a while in Kyneton (country Victoria)," he says. "It started out at $65,000, then $50K, then $45K, then $35K. I spoke to dad and he is just as bad as me: 'Let's go have a look at it', he said. I bought it and sold my other two cars to help pay for that one."
Bugeja says that while the Baby Bird was a neat looker his keen eye quickly found minor faults and before long he was sorely tempted to restore it properly. "Where do you stop and start?" he asks. "So we pulled it apart and started virtually as soon as I got it."
It took Bugeja two years to find the right person to start on the metal fabrication so the project didn't begin big time until early-2002.
"The car had had an accident and it wasn't a nice repair. The left-hand door had been hit and not repaired properly. Floor-wise the car was spot on. It was just the lower quarters that we had to make up. That took all of 2002 at the coachbuilders to get done.
"When it was back home I bare metalled it; there was no sandblasting, (it was) all done by hand in the garage. Me and dad stripped it by hand; it has been treated and primed properly. Then we took (the body) off the chassis, stripped it, rubbed it and painted it, starting in early-2004.
"My mate Mathew Peeters painted the Thunderbird," continues Bugeja. "He left work to stay on my car for six months. It is factory Gunmetal Grey; the only difference now is that it has a touch more metallic in it to give it a bit of a lift.
"We put the body on the rotisserie. We worked on the gaps to make sure everything fitted just right. When new the wheel spats and headlight buckets never fitted very well so we fixed that."
Painting underneath the car, in the boot and inside the engine bay followed. The body was then left in 'high fill' for four months to allow for any shrinkage.
"Then we painted the car with all the panels off," he says. "We cleared the car and then rubbed it back again, then re-cleared it and polished it. That all took six months.
"We put the body back on the car and started fitting it all up. Then we noticed a few bits and pieces in the paint. We felt we could do a bit better so we stripped the car again, rubbed it all back, took all the parts off it but left it on the chassis.
"Then we blocked the car back again and painted it but the hardener in the clear was faulty and it looked terrible. We pulled it out of the booth, tried to polish it but it wasn't coming up. So we had to strip all the paint off virtually back to bare metal. We painted and polished it again but it was all worth it in the end."
Bugeja confesses that several people, including his experienced father, inspected the first paint job and "thought we were nuts for doing it again". But he reckons that when he's not satisfied it has to be done again.
"I just wanted it to look right for personal satisfaction," he insists.
A lot of very good repro gear for Thunderbirds is available from Concours Spares in the US according to Bugeja and he sourced as much from them as he could: brake drums, brake shoes, hand brake cable, steering components and ball joints. The car was then assembled and put back together.
"(All the brightwork) was triple plated with show quality chrome by Nunawading Platers," he says. "Things that were stainless steel are now chrome-plated, just to give it a nicer look."
Bugeja possesses the car's original set of rims and hubcaps with their conventional whitewall tyres but propping the car up now are Kelsey Hayes wires wrapped in Coker whitewalls. Also in the garage ready to go is a 'porthole' hardtop but he has no plans to attach it as it would mark the paintwork. Finishing off the 'Bird's exterior are the number plates from Bugeja's grandfather's Customline.
The car was trimmed by Pat Masetti at Sunshine Motor Trimmers in Victoria with the trim kit and carpet sourced from the US.
"Everything on the inside has been done," says Bugeja. "The column stem has been stripped and chromed. It has a new steering wheel with a new/old stock horn ring. The windscreen and door glass are concours-corrected with Ford logos on them. The wiring loom is brand new. I sent all the gauges back to (the US) and they got them all restored for me. The original radio has (also) been done."
But at the moment the radio is about the only thing on the car to have been turned over.
"I haven't started it yet," he confesses. "Since MotorEx (in July) the car has just been stored. It doesn't have any brake fluid or petrol in it. I will drive it every now and then but because of the neatness underneath I don't want to use it too much."
She's a keeper though. "Somebody at MotorEx asked me if I would sell it. It owes me $140,000 so he offered me $140,000 on the spot. But I said no. I couldn't sell it.
"Then he asked me if I would build one for him. But with the time involved I could never get my money back. I would like to do this sort of work but the money is just not there. It's hard to get people to pay for the time involved."
Bugeja says this is not his last resto however. He has a Ford Ranchero ute sitting in the shed alongside his next project; an XR Falcon.
His dream project? That would be a '59 Cadillac Eldorado Biarritz or GT Falcon. But in the meantime the '57 Thunderbird seems to be ticking all of his boxes quite nicely.
SPECIFICATIONS
1957 Ford Thunderbird
BODY: two-door roadster
WEIGHT: 1530kg
ENGINE:  312ci V8
DRIVETRAIN: front engine, RWD
TRANSMISSION: two-speed automatic
POWER: 233kW (standard 201-213kW)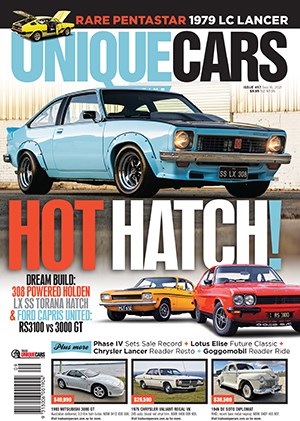 Subscribe to Unique Cars Magazine and save up to 42%
Australia's classic and muscle car bible. With stunning features, advice, market intelligence and hundreds of cars for sale.
Subscribe