FPV BF GT Cobra/Ford Falcon XC Cobra Review
---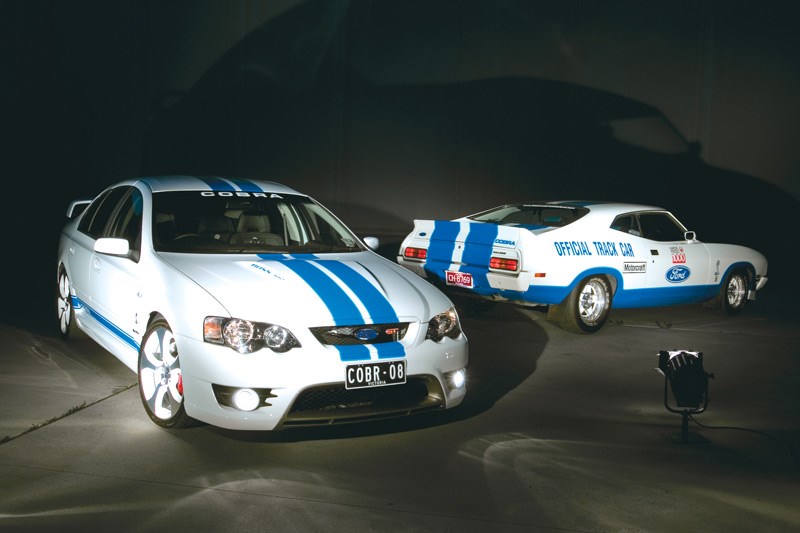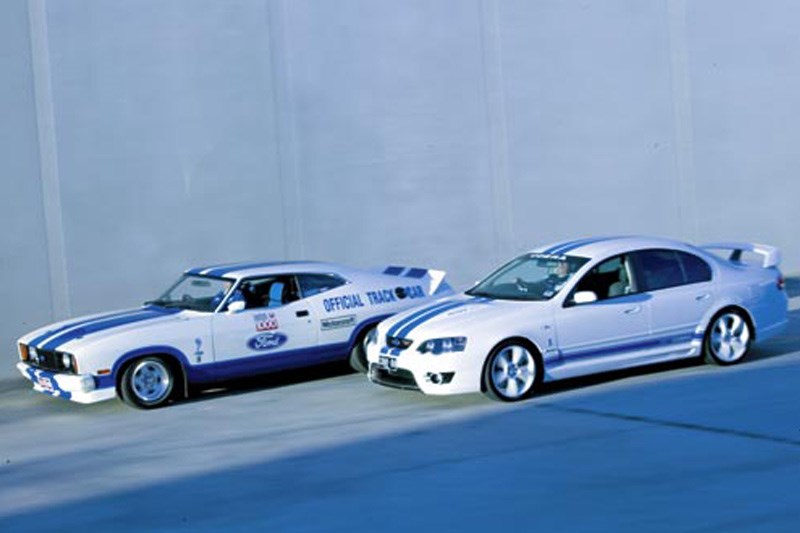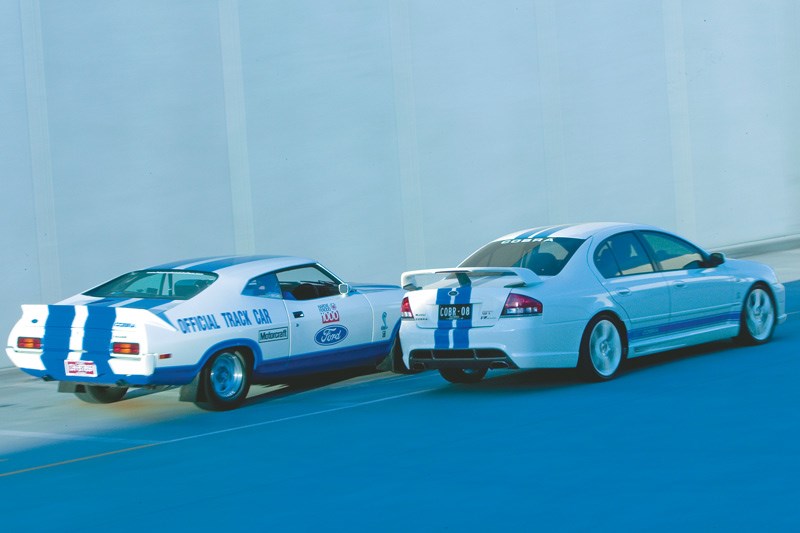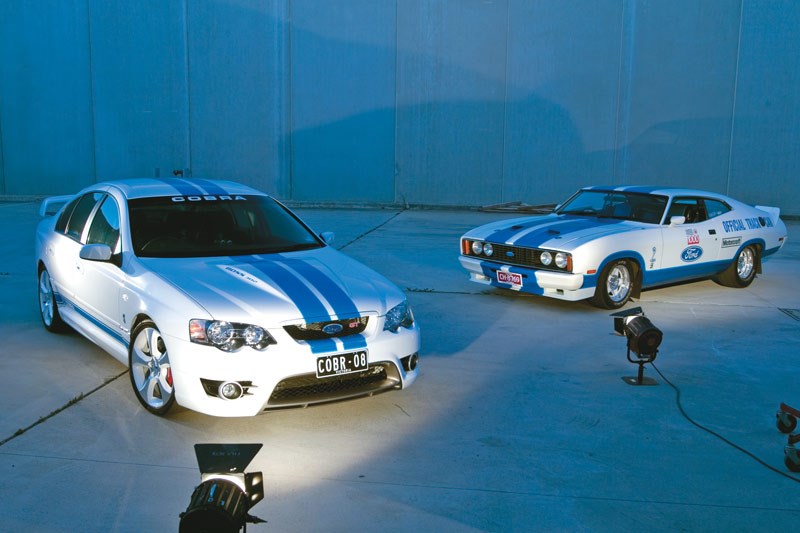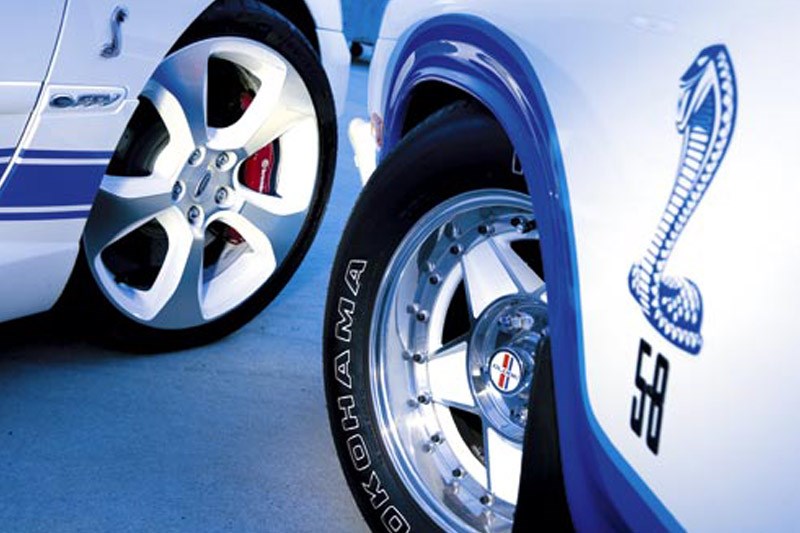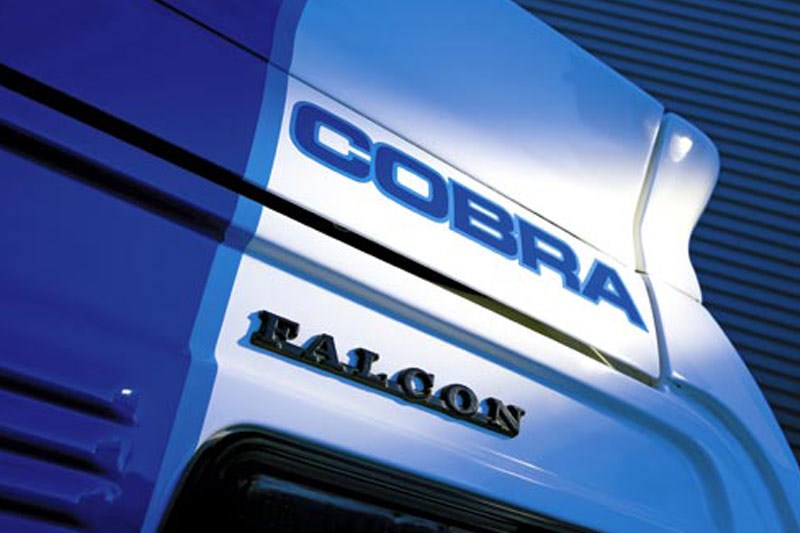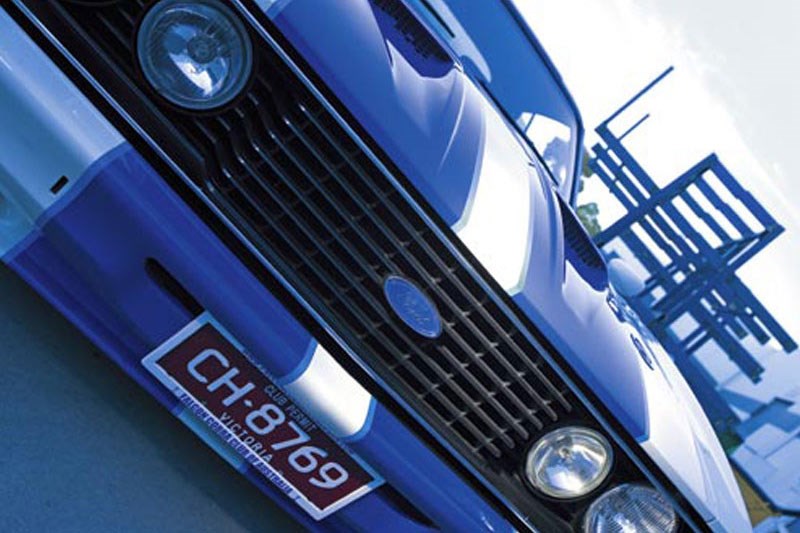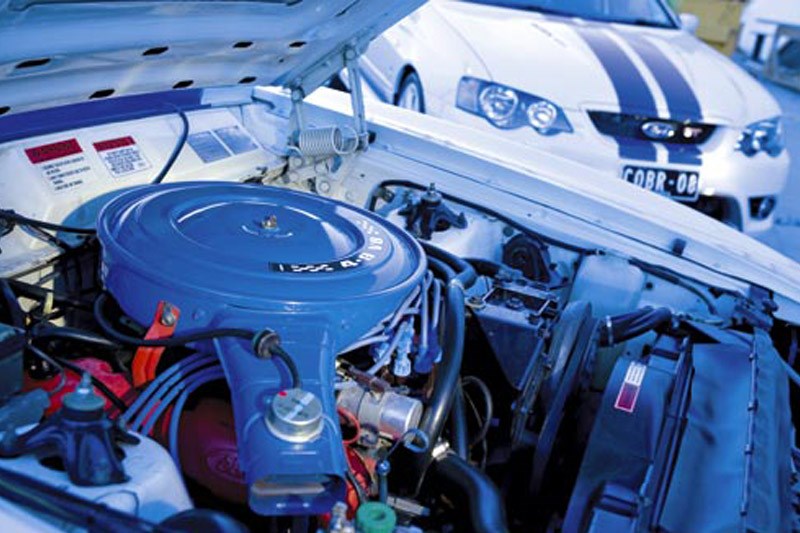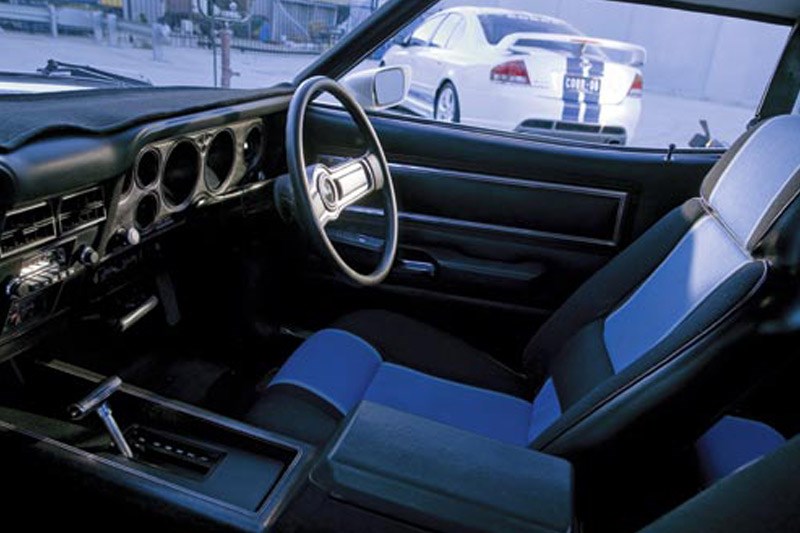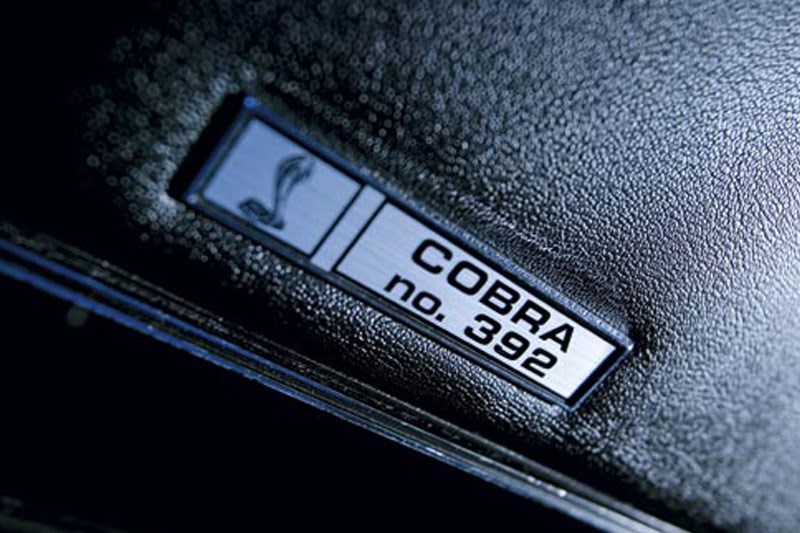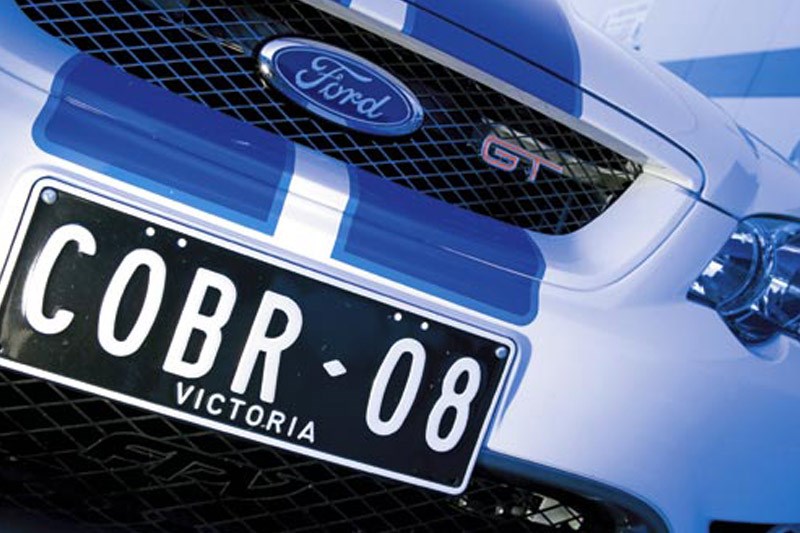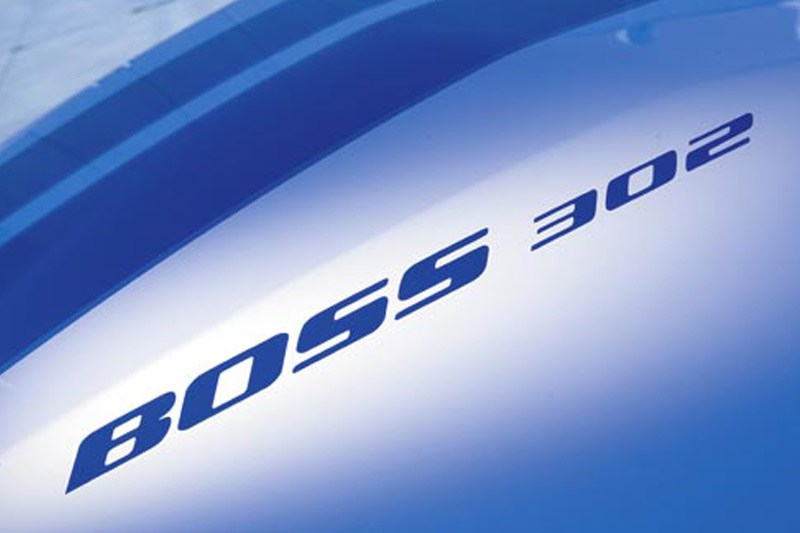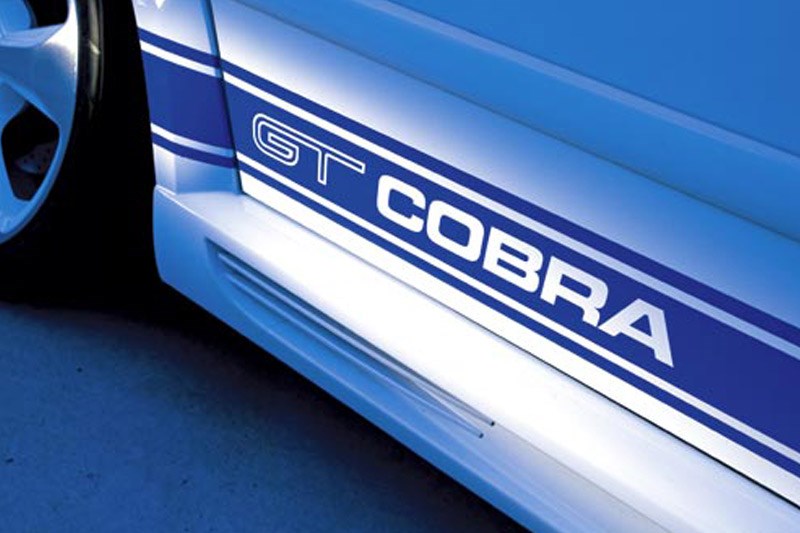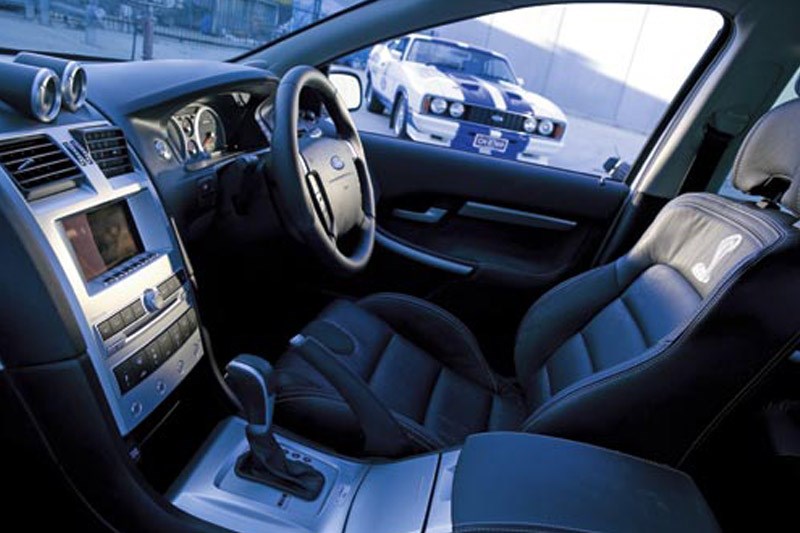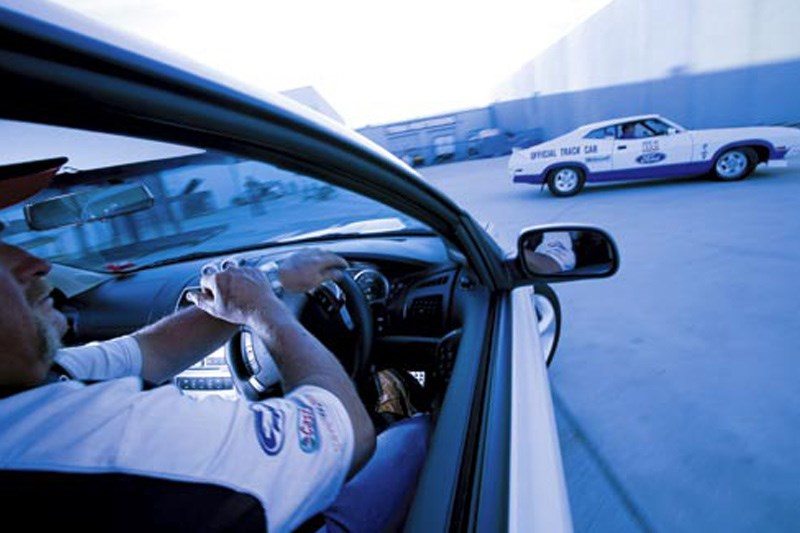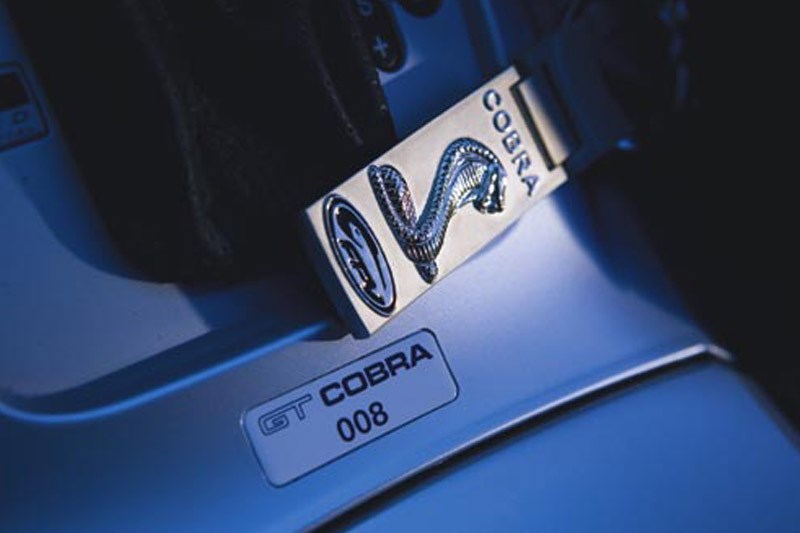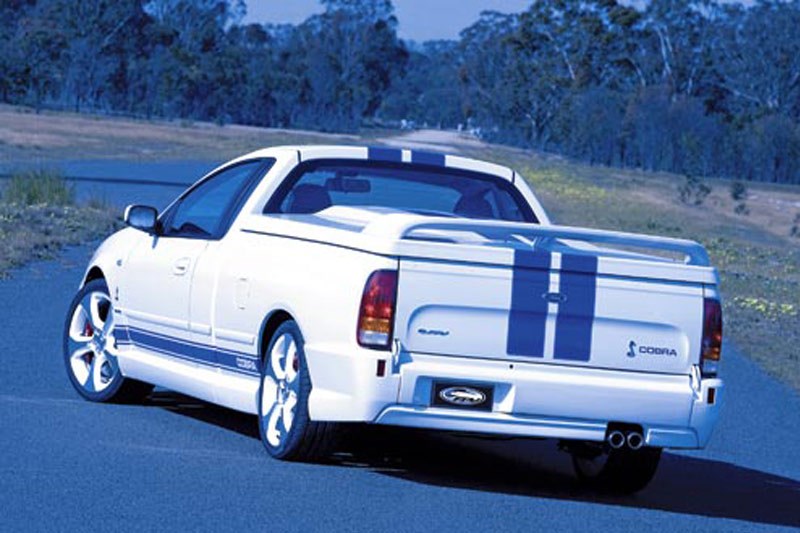 White heat: We check out the legendary FPV GT Cobra.
FPV BF GT Cobra/Ford Falcon XC Cobra
[Mar 2008] Officially they're gone. Every last one of them. All 400 sedans and 100 utes.

Just like the first XC Falcon Cobras back in the late-1970s, limited supply has meant that Ford Performance Vehicles' striking new special edition has once again caused a rush of Myer stocktake sale proportions.

But why? That Ford was going to do another Falcon Cobra was never in doubt. The whisper campaign started years ago, accelerated by website rumours and media speculation. Then there was the magazine 'scoop', the Bathurst teaser and the car's long awaited official unveiling at the Sydney Motor Show last October.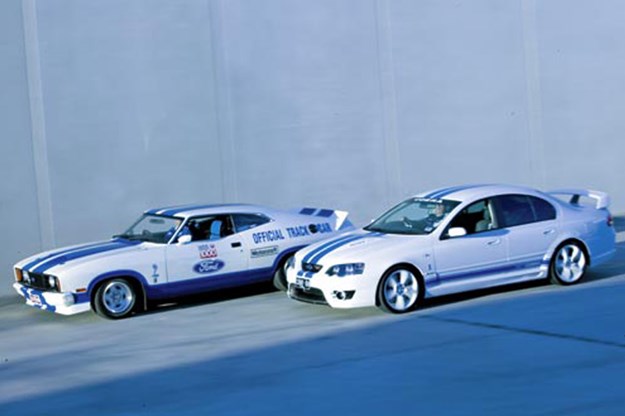 While a drip-feed of limited editions was inevitable in the run up to the new 'Orion' Falcon, it's clear now that it was the bold white-and-blue beauty that Ford fans were really hanging out for.

Within hours of the 'blink and you'll miss it' lap before Sunday's Bathurst crowd, all the cars were snapped up by FPV dealers, some of which had been holding deposits from anxious enthusiasts for several months.
With demand pent up, the first public sign of hysteria was the astounding $92,000 fetched for a brand-new Cobra at Shannon's Brisbane auction in February - $27,000 above its recommended retail and $6000 more than a 1978 Falcon Cobra went for at another Shannons auction in 2007.

 
A quick web search revealed 11 premium-priced new Cobras for sale - one for as much as $109,000! There were stories of owners with more than one, keen to offload spare Cobras onto the market for a tidy profit.
One Sydney Ford dealer bumped the price up to $80,000, while a Perth enthusiast offered matching-pair XC and BF Cobras; yours for a princely $200,000!

Meanwhile, the Falcon Cobra Club of Australia (Vic) had accepted with open arms a number of new Cobras into the club, while Unique Cars counted at least five spanking new Cobras blending in with the classic car crowd at the Picnic at Hanging Rock display in February.

So what's happening here? Has unprecedented demand for top-shelf classic Aussie muscle filtered down into the new car market? Or are cashed-up, Ford-lovin' baby boomers simply starved for exciting new product while waiting for the next GTHO to appear?


Or has Ford simply hit all the right buttons with its striking cosmetic makeover, suspension tweaks and special Boss '302' V8 that revives memories for some of those hallowed muscle car days of the '60s and '70s?

Intrigued and a little perplexed, Unique Cars went looking for answers…
THE INSPIRATION

Read the press release, and the FPV GT Cobra was introduced to commemorate the 30th anniversary of the XC Hardtops' "now famous 1-2 victory formation at the 1977 Bathurst 1000 race, which led to the release of the limited edition Cobra XC Hardtop the following year".

Truth be known, Ford Oz would have been itching for any excuse to re-release the Cobra, one of the most recognisable and admired of all homegrown Ford products.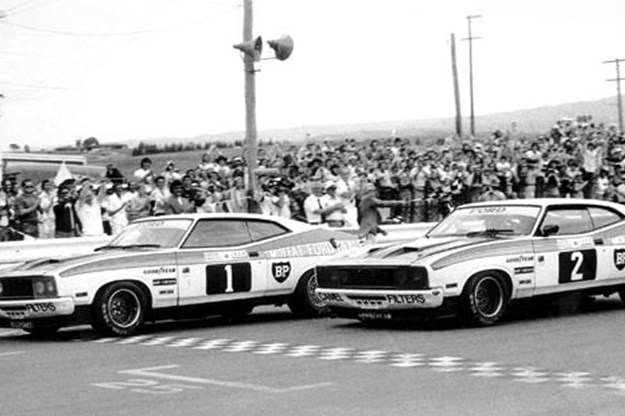 At almost every opportunity in recent memory the Broadmeadows' boys had rolled out some old Cobras for a promotional stunt. Remember the gathering of 50 Cobras at Ford's head office in 2003 for the model's 25th anniversary? What about Allan Moffat and Colin Bond squeezing back into their '77 winning steeds for some parade laps over the 2002 Bathurst weekend?

Ironically, it was an American that we have to thank for the first Cobra: then Ford Oz assistant Managing Director Edsel Ford II. Looking to offload a final batch of Falcon Hardtops, Edsel wisely ignored a proposal for a Playboy special and turned instead for inspiration to the famous Shelby Mustang and Cobra road racers of the 1960s.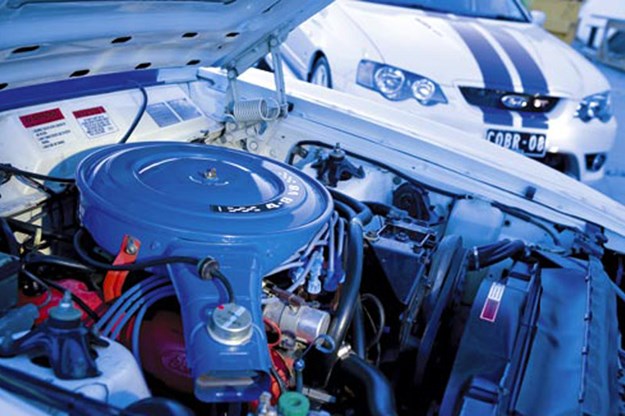 Fitted with 4.9 or 5.8-litre V8s, to set them apart visually the two-door Cobras got front-to-back blue and white livery, snake decals, front and rear spoilers, blue striped seats and a set of five-spoke Globe 15-inch alloys.

The 2007 version, to be expected, followed the formula pretty closely although with stick-on rather than painted blue stripes, 19inch five-spokers with white accents, and snake graphics. The new car's leather seats feature an additional Cobra emblem, but both versions have all-important build number badges inside the cabin.

The new car also gets a specially revised and more powerful 302kW version of the Boss 5.4-litre engine, and R-Spec suspension package for improved handling, both of which are only available in limited numbers.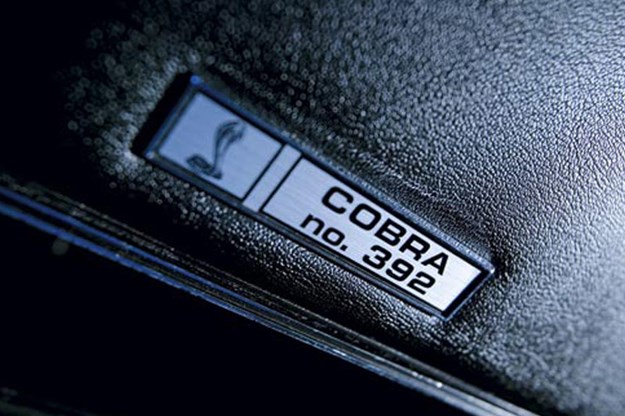 Ford has taken further liberties by also offering a muscular ute version, but this doesn't seem to have deterred buyers, many who have been watching closely the recent escalation in values of 30-year old-plus muscle cars.

Riding on the coattails of the mighty Phase III GTHOs, the old Cobras have hit the collector market big-time with 4.9-litre Cobras closing in on six figures while 'big tank' Bathurst versions could fetch as much as $200K.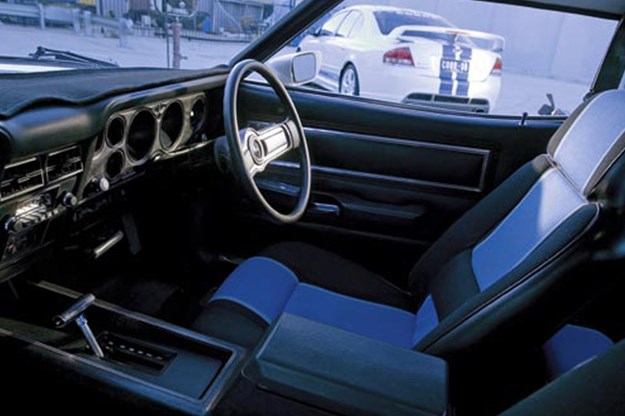 THE INSTIGATOR
Rod Barrett was just over two months in the top job at FPV when the new Cobra was sighted for the first time on Bathurst race morning, October 7.

"By Wednesday lunchtime all 500 cars had been wholesaled to dealers," Barrett recalled. "Some of the dealers were getting phone calls before the cars had finished their televised lap of Bathurst that morning. That's how passionate some people were."

A confirmed revhead, with a strong racing background including a stint at Ford Performance Racing, Barrett believes the new car was always going to be a winner. "I think the Cobra hit the nail on the head, right at the right time too."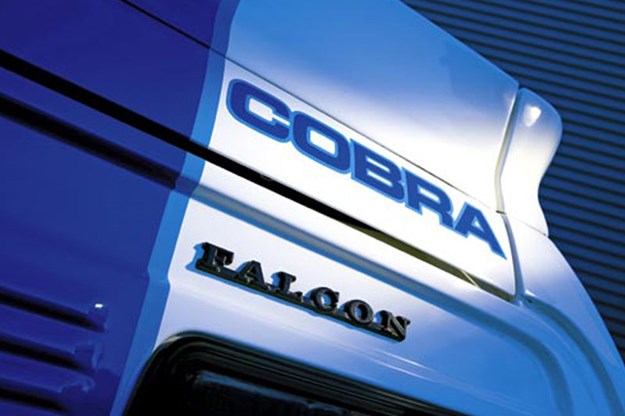 Barrett, 48, grew up during the heady days of touring car racing in the 1970s, and knew first hand what that golden era of motorsport meant to others of that generation. 

"I just knew the passion that was out there for the Cobra to be done. So it didn't surprise me at all. I think it surprised a few people at Ford, but it didn't surprise anyone in that muscle car market.

"What surprised us was the price some people were getting for them, and what they were prepared to pay for them," he said. 
Barrett said a host of nostalgic factors contributed to the car's success.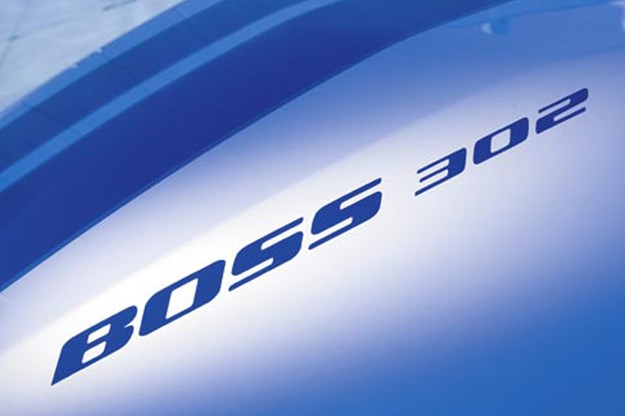 "I think (many buyers) are guys who either couldn't afford them (at the time) or were too young but it invoked that passion, and now they can afford them.

"I also think there's this whole retro image that is occurring in the motor industry globally with the Volkswagen Beetle, the Mini, and the Fiat 500 we're going to see at the Grand Prix."

Barrett, however, was keen to hose down any criticism of the timing of the new Cobra's release.

"I know some people have been extremely critical of us celebrating the 1-2 finish of the '77 cars that bore no resemblance to the Cobra that was released in '78. They missed the point. The (BF Cobra) is about celebrating a moment in Ford's history not necessarily reflecting the moment of the Cobra's arrival."

But while the Cobra's success "confirms that there is a market out there for retro fast Fords", Barrett said that a modern version of the legendary GTHO is "still a few years away yet".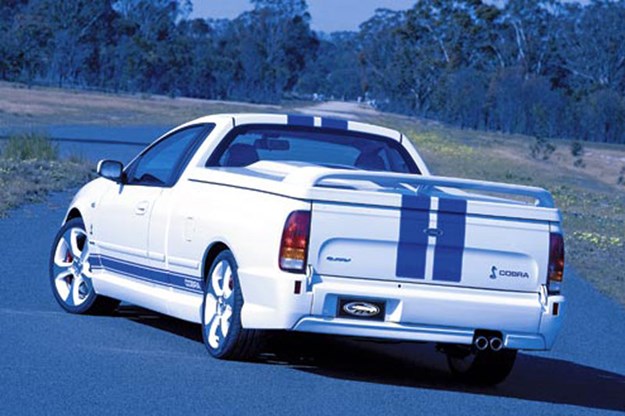 THE REVIEWER
Unique Cars' Joe Kenwright has driven thousands of kilometres in most recent FPV and HSV models, so he's in a good position to rate the latest Cobra against its performance car contemporaries.

"It is the best high performance local Ford ever, this side of a GTHO Phase III," he told CarPoint readers in late-November. "If public reaction is any indication, it also might be the most standout local muscle car since the Walkinshaw VL Group A arrived in 1988."

While Kenwright was quick to point out that the Cobra is overshadowed by current HSVs on most aspects by which modern performance machinery is judged, he said it fights back strongly in other important areas.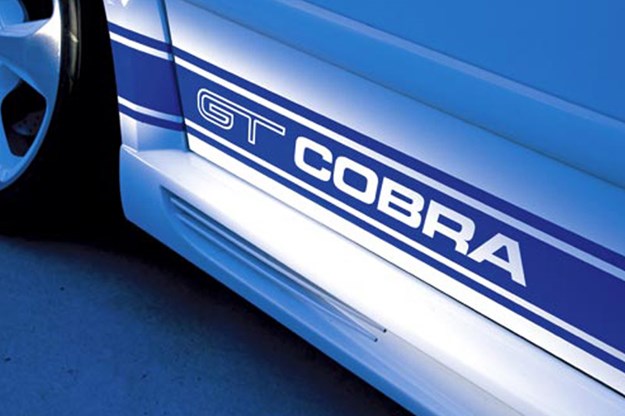 "From its dated cabin to its thunderclap looks, the Cobra carries a sense of occasion missing from a current HSV," he said. "The Boss 302 upgrade and R-Spec suspension then add a mongrel side not often seen in today's car.

"The firmer R-Spec suspension makes sure that the bonnet is constantly quivering and shaking over anything other than the smoothest roads - almost as much as the 'shaker' poking through the bonnet of an XY Falcon GT once did. In anything else, it would be dismissed as a fault but here it's a sign of life."

He said the Boss 302 provided extra urgency off the line, and upon reaching 4000rpm, "all hell breaks loose".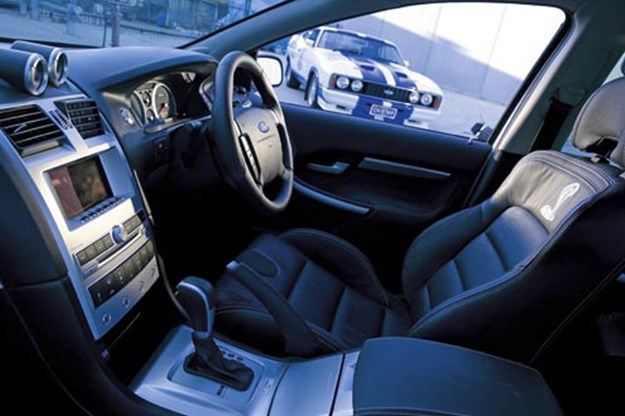 "HSV's seamless power delivery might be superior against the stopwatch but it's the Boss 302 that invites the driver to participate in getting the best out of it."

The only letdown was that FPV didn't go far enough with the 'sticker' kit. Nevertheless, Kenwright concluded: "That the Cobra Boss 302 is the best of all FPV GTs, is beyond doubt."
THE OWNER
In what sounds like the automotive equivalent of insider trading, Murray Brown acted promptly upon hearing news from sources close to Ford of the Cobra's imminent arrival.

"I went straight down to the local Ford dealer and put a deposit down (in mid-2007)," he admitted. "They knew nothing about (the Cobra); they wouldn't admit to anything, but they took my money and gave me a receipt!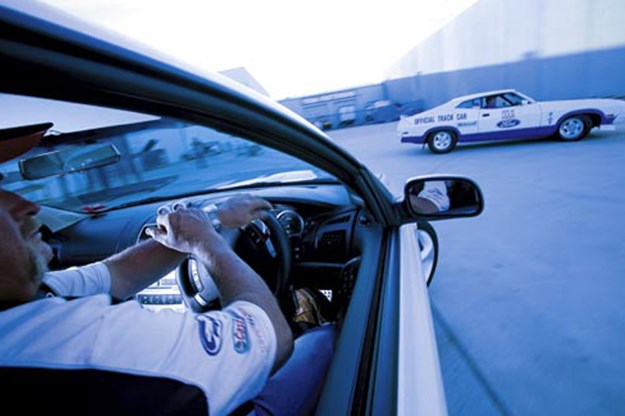 "To get (build) number 8 I must have been very lucky. I know the first one went to the Ford motor company, and number 400 they've kept too."

Brown said his FPV Cobra provided "an opportunity to buy a new one with modern technology, and have the muscle car history; they'll never do it again, this will be a one-off thing".

Brown previously owned an XR6 Turbo. "While it was a great car, it just didn't have the thoroughbred background of a muscle car. It didn't have any race history that goes with it."

Unlike the Cobra he said regular Falcon GTs, or even the 40th anniversary model, had left him cold. "Once you've had an older one, the later ones honestly just don't give you the same fat in the pants," he explained. "They're just not the same car; they don't do the things that an early muscle car does."

Brown has fond memories of the earlier coupes, servicing some of the big Fords while completing his mechanics apprenticeship in the late-1970s. "At the time they were completely and utterly out of my price range," he said.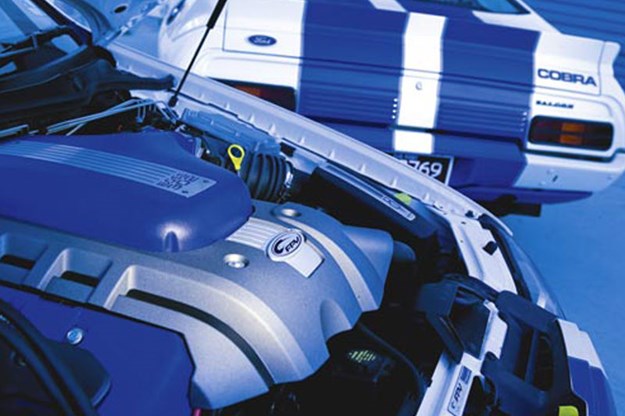 With blue blood in his veins, he's owned a string of Fords ever since his first car, a 1967 ZA Fairlane. He currently owns three classic Fords including a John Goss XB Coupe.

While he views the new car as a collectable, he still allows his wife to use it for transport. "But if they go up in price I'd be silly not to put it back in the shed."

Brown hasn't wasted any time adding some personal touches including additional 'Cobra' stickers and a 'COBR-08" rego plate. Just like other enthusiast car owners, he's been busy collecting associated memorabilia including Cobra press kits, posters and magazine articles.

"It's the 30th anniversary of the Cobra, it's the race history, the stripes, the look about it," he explained. "It hits you in the face when you see it coming down the road. You can even be a Holden freak and you love them."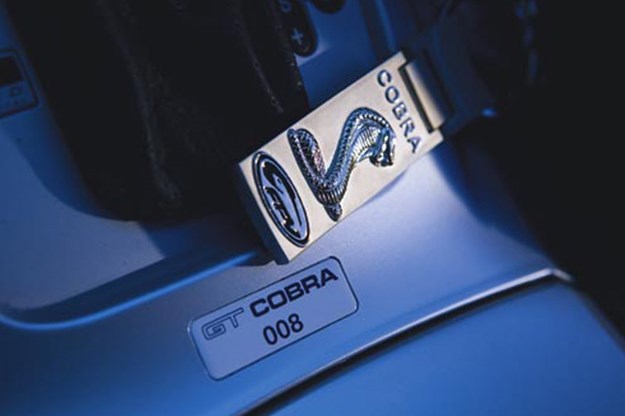 THE TRADITIONALIST
As an auction sales advisor with Shannons as well as the president of the Falcon Cobra Club of Aust (Vic), Rod Hansen has witnessed the new Cobra phenomenon from both sides of the fence. He said Shannons had the opportunity to auction at least five new Cobras at the Brisbane auction, before deciding to go with just one.

"I know one gentleman had one that he was keeping for himself," Hansen said. "It was the same build number as his original Cobra, and his 40th anniversary GT also had the same number. He bought an extra Cobra sedan and a ute, just to sell and make some money on."

Hansen, who owns XC Cobra #392, said the new cars had increased interest in the old ones, including within the club with four new Cobras accepted recently.

"Every time I drive my car it's just phenomenal," he said. "Ever since the new BFs have been out people have been tooting their horns and waving and giving me the thumbs up. It's just ridiculous."


Hansen's Cobra is a 4.9-litre auto, fully-optioned with air-con, power steering and electric windows. The unrestored car is his second Cobra, and it's also fitted with a long-range fuel tank.

The Globe-lookalike wheels fitted are wider 15x8.5 alloys, built specially for Jim Richards in the early-'80s when the Bathurst champ owned a Cobra.

Another neat touch is the 'Official Track Car' stickers Hansen added as a tribute to the officials' cars used at the 1978 Bathurst.

"I've driven Cobras for the last eight years and we're getting more notoriety now than we've ever had before and I put it down to the BF Cobras coming out and sparking a whole new interest in everyone."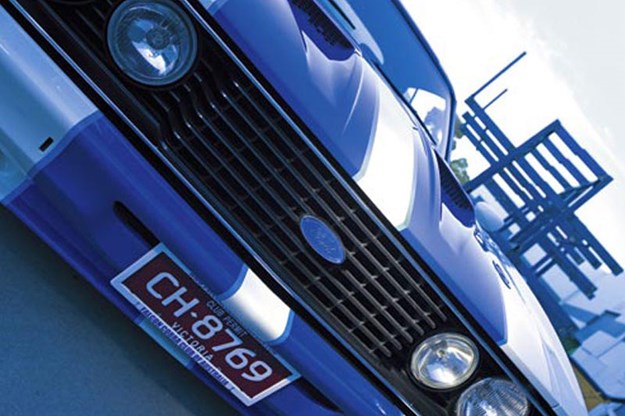 THE VERDICT
There's no doubt the FPV Cobra has given Ford fans a reason to get excited. While easily criticised as another opportunistic marketing exercise, the latest Blue Oval beast has caused a flurry of activity normally associated with older muscle cars with genuine race car heritage.

Interestingly, as sales of big Aussie sedans flounder, demand for hot-shoe Commodores and Falcons like the FPV Cobra is particularly strong.

We'll leave the final words to Joe Kenwright who, while giving the new car a big wrap, doubts it will ever match the 1978 model in long-term appeal.

"(The original) Cobra was the last Falcon Hardtop Ford is ever likely to build and most of its special features were not stick-ons."

Time will tell...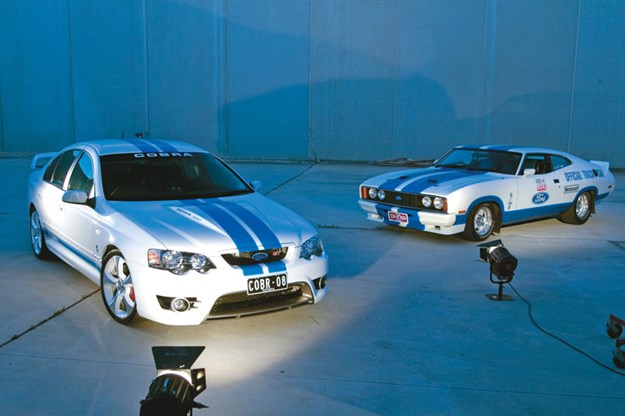 SPECIFICATIONS
1978 Ford Falcon XC Cobra/2007 FPV BF GT Cobra
BODY: two-door coupe/four-door sedan, two-door ute
PRODUCTION: 400/ 400 (sedans), 100 (utes)
WEIGHT: 1563kg/1855kg (sedan)
ENGINE: 4.9, 5.8-litre V8/ 5.4-litre V8
TRANSMISSION: four-speed manual, three-speed auto/six-speed manual, six-speed auto
POWER/TORQUE: 151kW/364Nm (4.9), 162kW/429Nm (5.8)/302kW/540Nm
PERFORMANCE: 0-100km/h - 8.9secs (XC Bathurst model)/5.9secs (est)
TOP SPEED: 175km/h (est)/250km/h (limited)
WHEELS: 15x7 alloy; 19x8 alloy
VALUE: $30-200,000 (est)/$65,110 RRP (sedan), $61,200 (ute)
Unique Cars magazine Value Guides
Sell your car for free right here
Unique Cars magazine Value Guides
Sell your car for free right here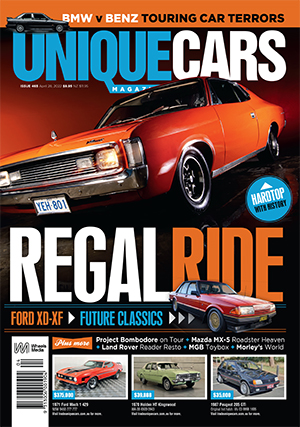 SUBSCRIBE TO UNIQUE CARS MAGAZINE
Get your monthly fix of news, reviews and stories on the greatest cars and minds in the automotive world.
Subscribe