Triumph 12/50 Review
---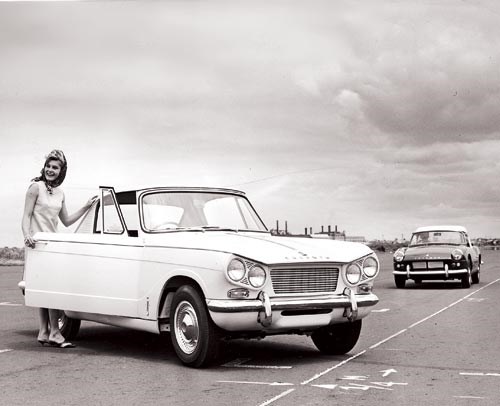 Triumph 12/50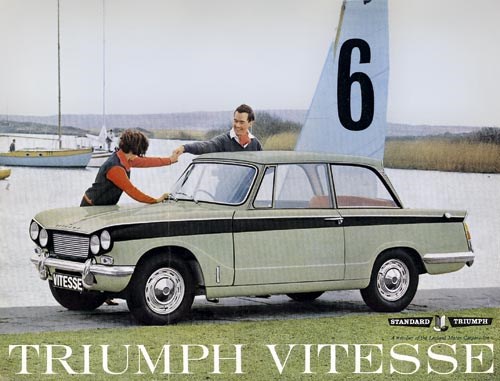 Triumph 12/50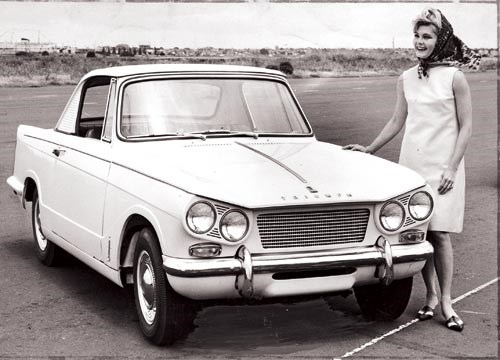 Triumph 12/50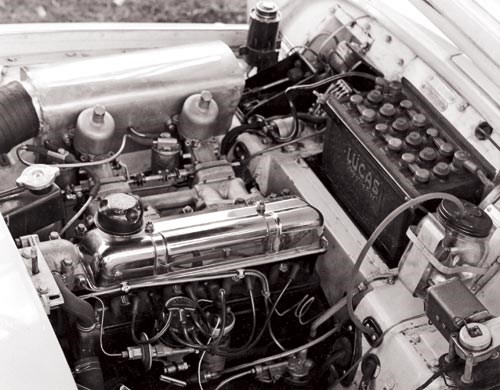 Triumph 12/50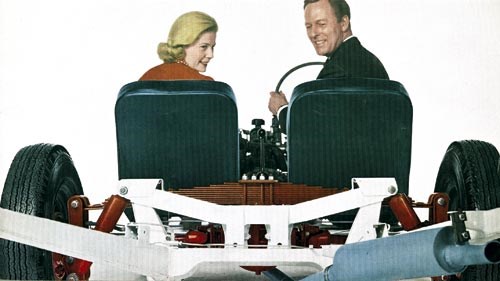 Triumph 12/50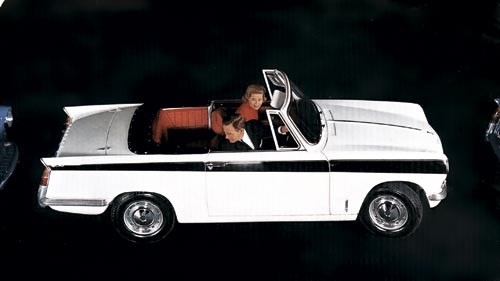 Triumph 12/50

Aussie Original: Triumph 12/50. Joe Kenright reckons the locally-produced version of this English car was a worthy effort
Triumph 12/50
Australian Motor Industries (AMI) was under greater threat than most by the credit squeeze that decimated local car sales in 1961. The much-needed six for its ageing Standard Vanguard was too little, too late, and local conditions had already exposed early Triumph Herald shortfalls.
To stay afloat, AMI sold its share in the hard-won Mercedes-Benz franchise back to the parent company, then staked its long-term future on the unknown Toyota brand while establishing its new Rambler franchise. But erasing the Herald taint from Triumph's cut-above sports positioning was a more immediate worry as the trusty Vanguard nameplate and range were about to disappear forever.
Before the game-changing Toyota Corona arrived, AMI had barely a year's headstart to launch a unique Australian version of the Triumph Herald. At its release in January 1964, that car was the world's best four-cylinder Herald.
Called 12/50, without a Herald badge in sight, it was much more desirable in areas where the Herald wasn't. Along with the Spitfire and TR4 sports cars, the new 12/50 was vital to fast-tracking Triumph credibility in preparation for the stunning Triumph 2000 that arrived hot on its heels. Even if the sales figures say otherwise, the 12/50 succeeded and changed the way Aussies perceived both the Herald and Triumph.
Launched initially as a 2+2 Coupe only, then heavily promoted as a blood brother to the Spitfire, it offered "sports car sparkle in a luxury coupe", according to AMI, for less than $2000, or just slightly more than a VW 1200 Beetle. It was followed by a four-seat Saloon version in April '64.
The British 12/50 was a tricked-up Herald, but the local 12/50 went far beyond that. Unknown to most Australians, Triumph UK had shoe-horned a tiny 1.6-litre version of the new Vanguard six into the Herald to create the Vitesse. Visually, the Vitesse was a class act after Michelotti, who styled the original Herald, came up with an aggressive new four-headlight front. The Vitesse pre-empted Holden's six-cylinder LC Torana by seven years, but it was a premium-priced wood-and-carpet model that would have cost $2700 - Holden Premier money - in Oz. That didn't stop an English woman, a Miss P Hay, from bringing one with her to Australia and impressing the Wheels team in 1963, who found little to criticise.
Barely six months later, the same aggressive styling emerged here on the Aussie four-cylinder 12/50 model for less than $2000. It was worthy of a Wheels cover because back then, quad headlights were still a top-shelf feature. Michelotti's Vitesse front drew on some heavy-hitters including the Gordon Keeble, the 'China Eyes' Rolls-Royce Silver Cloud III/Bentley S3-based coupes, and the Ferrari 330 GT. The 12/50 also delivered unprecedented headlight performance for its price, in a market where such things mattered.
Because the Herald's bonnet and front guards folded forward as a single unit, all AMI had to do was order its Triumph 12/50 CKD kits minus the front section, then attach the Vitesse bonnet during assembly. But the clever part was lifting local cabin, suspension and structural quality to somewhere in between the Spitfire and Vitesse. On paper and on the road, the 12/50 was the perfect curtain raiser for the imminent Triumph 2000, even if its lack of rear doors would ultimately kill sales.
The flood of cheap, well-equipped, four-headlight, four-door Japanese models, all with bigger engines and all due by the end of 1964, defined the 12/50's model life. For AMI, this was of no concern as it was the first and only Australian company that had this base covered. Locally-assembled Corona sales bolted as 12/50 sales faltered.
Just 27 Coupe examples were built late in 1963 for launch, followed by 93 in 1964 and 24 in 1965. The Saloon fared better with 202 built in 1964, despite its later arrival, then 80 in 1965 and six examples carried over into 1966, for a combined total well short of 500. Exclusivity was a given with the 12/50 and that is why this important model is all but forgotten today.
To appreciate what AMI achieved with the 12/50, it helps to know what they were working with. Its Herald starting point was AMI's 1959 replacement for the dependable local version of the old Standard 10. The Herald was an answer to the same question that produced the first Cortina, except Ford opted for a cheap but relatively tight unitary bodyshell.
Triumph built the Herald from bolt-together modules stacked on a basic square-section chassis, with multiple body styles that involved little more than swapping different roofs. Damaged body panels were easily unbolted and replaced, and the separate chassis avoided the rot-prone unitary box sections that were killing rivals, such as the Morris Minor, prematurely. The Herald's front suspension, rack-and-pinion steering module and its steering column were deemed good enough for the iconic Lotus Elan.
Mindful of global VW Beetle success, the Herald was given swing-axle rear suspension with a simple transverse leaf spring. Despite this design's tendency for the rear wheels to clap hands and roll the car during hard cornering, it worked better in the Herald thanks to the lack of a pendulum effect from a rear-mounted engine. General driving ease, vision, ride and handling were a revelation for a 1959 small car. Herald was an instant success. So what went wrong?
Triumph had to slash weight wherever possible to allow for the separate chassis. New fibreboard sections, too close to cardboard, replaced metal parts no longer important structurally. This included the dashboard. Because the Herald was built like a giant Meccano set, it had no chance of resisting the constant twisting and impacts that Australian roads fed into the car. This not only loosened the body, but exposed the cardboard parts to stresses and climate extremes they were never intended to face.
For an urban Australian in 1959, the Herald was a star with its perky performance, ease of maintenance, tight turning circle, great vision, Italian style and refined ride. But beyond city limits, it almost fell apart before your eyes - a disaster given the expectations of rural owners generated by the Standard 10 and Vanguard.
Adding Spitfire panels to this structure was simple, except by then Triumph knew it had to re-engineer the Herald chassis if it was going to survive sports-car stresses. Every supporting section was beefed-up and the suspension was strengthened and stiffened, especially the rear, to make it more resistant to camber change.
AMI simply specified the lot for the 12/50, including most of the Spitfire's upgrades for the 1147cc engine, close-ratio gearbox and front disc brakes. To maintain the Herald's exceptional fuel economy, a single carburettor was fitted. Power jumped from 39hp (about the same as a VW) to 51hp (more than a Cortina). For a sub-1.2-litre, these were adult horses, not Japanese ponies, so the 12/50 was quick, with stopping power to match.
Plusher pleated seats, extra carpet, a vinyl-covered dash, a proper heater-demister, separate gauges, full wheel trims, and headlight/high-beam controls mounted on the steering column all added to the cut-above feel. Apart from a subtle reversal in the front parking/indicator light sections, the local 12/50 was indistinguishable externally from a Vitesse. It was easy for a keen driver to maintain and upgrading it with a Spitfire engine or any number of versions of the Vanguard/Triumph six was simple too.
For Australians, the 12/50 was the car that many desired, but needs dictated a four-door Cortina, Corona or Morris 1100 - a process that would kill the Aussie-built Beetle a year later. It's why a good 12/50 (or Herald) will still generate interest today among those revisiting that choice.
Even if the 12/50 marked the end of small Triumphs built in Australia, its simple, bolt-together construction ensured that it lived on as a four-door in India.
Unique Cars magazine Value Guides
Sell your car for free right here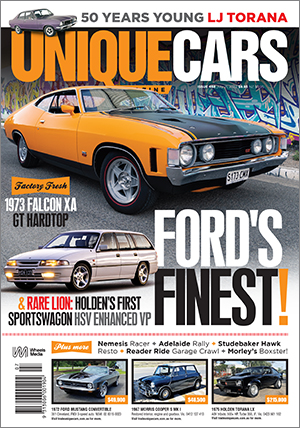 SUBSCRIBE TO UNIQUE CARS MAGAZINE
Get your monthly fix of news, reviews and stories on the greatest cars and minds in the automotive world.
Subscribe