Mercedes-Benz '71 300SEL/'78 450SEL
---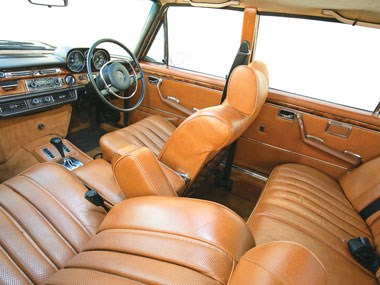 1970s Mercedes-Benz V8s: 300SEL 6.3/450SEL 6.9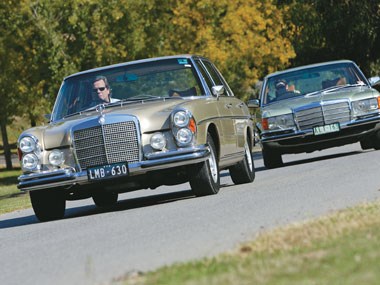 1970s Mercedes-Benz V8s: 300SEL 6.3/450SEL 6.9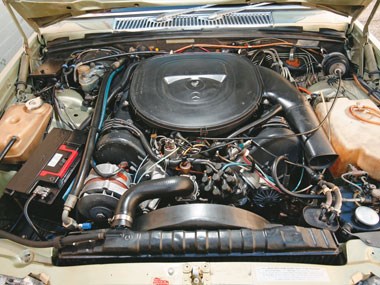 1970s Mercedes-Benz V8s: 300SEL 6.3/450SEL 6.9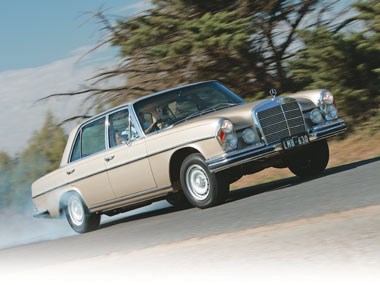 1970s Mercedes-Benz V8s: 300SEL 6.3/450SEL 6.9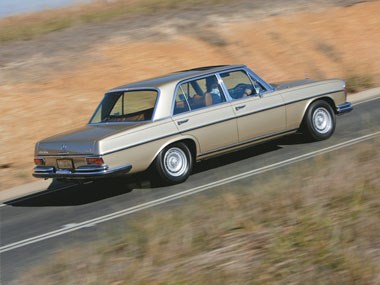 1970s Mercedes-Benz V8s: 300SEL 6.3/450SEL 6.9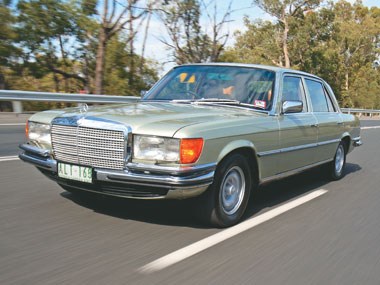 1970s Mercedes-Benz V8s: 300SEL 6.3/450SEL 6.9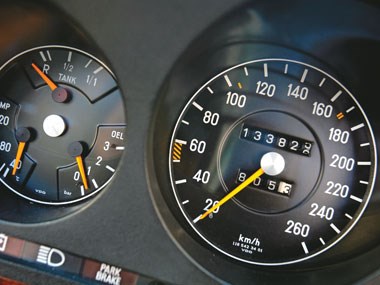 1970s Mercedes-Benz V8s: 300SEL 6.3/450SEL 6.9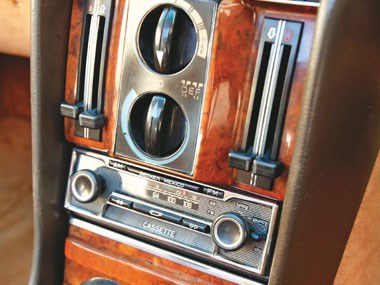 1970s Mercedes-Benz V8s: 300SEL 6.3/450SEL 6.9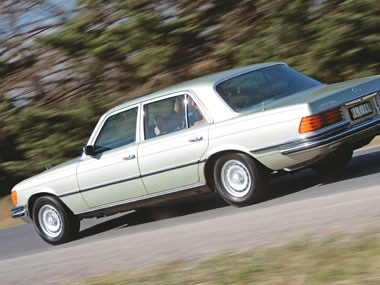 1970s Mercedes-Benz V8s: 300SEL 6.3/450SEL 6.9

Mighty Mercs: these V8 super-sedans from the 1970s were Germany's high-rolling equivalent of our Bathurst-conquering Falcon GT-HO.
FROM THE ARCHIVES: First published in Unique Cars #287, Jun 2008 
Mercedes-Benz 1971 300SEL 6.3/1978 450SEL 6.9
It was September 1978 and the media was gathered expectantly at Emu Bottom Homestead northwest of Melbourne to meet legendary five-time World Champion Juan Manuel Fangio.
The Maestro was in Australia to drive a Mercedes-Benz W196 Grand Prix car from the 1950s against the Repco Brabham V8 of triple World Champion Jack Brabham at Sandown. It was a motor racing match made in heaven that overshadowed the 1978 Australian GP and the Hang Ten touring car races at the same meeting.
After lunch at Emu Bottom, Mercedes-Benz invited the star-struck media to take a lap of the block with Fangio - not in the straight-eight W196 on display, but in a new 6.9-litre V8 450SEL saloon parked nearby.
Then-motoring editor of The Age, Christopher de Fraga, hopped in the back, behind front seat passenger, 1967 World Champion Denny Hulme.
"The car rocketed away at more than 180km/h on the back roads around Sunbury," de Fraga recalls. "Coming to one of those one-lane bluestone bridges, the driver of a VW Beetle coming the other way took one look at this big 6.9 with a very determined Fangio at the wheel, by now going even faster, and swerved off the road to let us through. Fangio didn't lift or even blink, he was in total control."
Within 12 months, another celebrity was at the wheel of that Thistle Green 450SEL 6.9, future Victorian Premier Jeff Kennett.
As a young man Kennett, who was then a Liberal Party backbencher and also running his own successful advertising agency, had always wanted to own a top-of-the-range 'Benz. It is believed he paid Lanes Motors around $69,000 for the privilege; more than the cost of his first home.
Launched in 1975 with a claimed top speed of 235km/h, the 450SEL 6.9 was the fastest Merc you could buy and Kennett was naturally curious. Myth has it that not long after acquiring the 6.9 he took it out to a deserted country road, unloaded the kids and tested the voracity of this claim, returning with a very satisfied smile.
Now I'm gripping the same large four-spoke steering wheel as Fangio, watching the same central 260km/h speedo that mesmerised a Premier and marvelling at the muted rumble of that magnificent fuel-injected 6.9-litre V8.
It wears the same family Three-Pointed Star on the bonnet, but the 6.9 is really nothing like its progenitor­ - the more raucous, more feral and in every evil sense more exciting 1971-model Mercedes-Benz 300SEL 6.3 saloon that is currently trying to bore a hole in my boot lid.
I have only just swapped steering wheels with Craig Tucker, the enthusiastic owner of these Teutonic twins, and the difference between them is immediate and profound. Craig had earlier explained it very colourfully: "The 6.9 seduces you gently, wines and dines you and then invites you home to stay the night," he said. "The 6.3 just says up front - how about it!"
As a member of the International M-100 Group, which exists exclusively for owners of the Mercedes-Benz 600, 300SEL 6.3 and 450SEL 6.9 models built from the 1960s to 1980 that all share the large capacity V8 M-100-series motors, he is in the enviable position to know.
His father Edwin purchased the beautiful Tunis Beige 1971-model 300SEL 6.3 that Craig now treasures from the owner of a Toorak, Melbourne pub in 1976. It was one of the last of the 6526 examples built by the factory, one of only 702 made in right-hand drive and amongst fewer than 250 examples to come to Australia.
It had cost nearly $27,000 new - almost double the price of its 'normal' 3.5-litre V8-engined 300SE sibling and around five times the price of a new Falcon XY GTHO Phase III, which in 1971 retailed at $5250. But against the stopwatch, the 300SEL 6.3 and the GTHO were almost equals.
Traditionally conservative Mercedes-Benz factory figures quote 0-60mph in 6.5secs, the standing quarter mile in 14.3secs and a top speed of 137mph.
By comparison, Wheels magazine in 1971 clocked an XY GTHO from 0-60mph in 6.4secs, the standing quarter mile in 14.7secs and saw a top speed of 141.5mph (with the standard 6150rpm rev limiter). Let's call it a draw.
PIGS CAN FLY
The W109 300SEL 6.3 started out as a private venture in 1966 by company engineer Erich Waxenberger.
Waxenberger's principle was simple: Take the powerful 6.3-litre V8 Mercedes-Benz M-100 engine from the luxurious  600 limousine and fit it into the regular  W109 S-Class model, which only had six-cylinder engines at that time. The result was a saloon weighing nearly two tonnes with performance similar to most dedicated sports cars of the era.
When invited to test drive the prototype, legendary Mercedes-Benz motor racing team boss Rudolf Uhlenhaut is said to have opened the bonnet at the first red light to find out how the big engine and its supporting equipment had been squeezed into the compact W109 engine bay.
Surprisingly, the rather conservative company went ahead and produced this car from 1968 onwards, in order to make better use of the M-100 engine production facilities.
AMG, which was then a small local tuning company founded by former Mercedes engineers, produced special versions of the car to compete in racing events, usually with the engine enlarged to 6.8 litres or more, however the car had an impressive but short-lived racing career due to the lack of suitable tyres.
AMG's 313kW, 6.8-litre 'Red Pig' finished second in the 1971 Spa 24-Hour race after being hampered by its high fuel consumption and tyre wear. It was said to accelerate from 0-100km/h in 4.2secs, 0-200km/h in 12secs and cover the standing quarter mile in 14.42secs. Now if that car had run at Bathurst… It was later sold to the French company Matra, which used it to test jet fighter landing gear.
The stock 6.3 Merc got its mumbo from its massive alloy-head, iron block V8 engine, which with the aid of mechanical fuel injection produced 224kW at 4000rpm and 500Nm from 2800rpm. Compare that with the GTHO's 5.7-litre race-tuned V8 running a four-barrel Holley carburettor that produced 276kW at 5400rpm and 515Nm at 3400rpm.
Unlike the Falcon, the 300SEL 6.3 came only with a four-speed automatic transmission, but with all that torque on tap and the relatively skinny 195/75-14 tyres of the era, even changing from third to fourth under full throttle could produce a healthy 'chirp'.
Craig Tucker acquired the car from his uncle in 2004 with 143,000 original miles on its odometer and found it in excellent accident-free condition with no rust. However the years had wearied it cosmetically, so he gave it a bare metal respray, had its front seats reupholstered in new Cognac leather and replaced its Palomino carpets. Impressively, the burr walnut dashboard and cappings were still in excellent condition and remain original.
Not long after its refurbishment he took it to Heathcote Dragway, emptied the boot, turned the air-conditioner off and on his second run laid down a quarter mile pass of 14.01secs at 94mph.
Signifying their special status at the time, 300SEL 6.3s were produced on a separate production line and were effectively hand-built beneath their series production architecture.
Craig Tucker's 6.3 runs a slightly derestricted exhaust, so the healthy rumble of that big mechanically-injected V8 is gloriously audible as soon as you turn the key. Getting quickly up to speed is a no-brainer - Craig said his uncle who lived in Bendigo was always confused between km/h and mph and so drove everywhere at 100. The car's speedometer reads in mph! So easily does the big 'Benz gather pace that the freer flowing exhaust is a welcome reminder of its pace.
Mercedes-Benz saloons have always offered benign handling that never surprises. The taut chassis rewards the enthusiastic 6.3 driver, who has ample opportunity to convert its naturally mild understeer into almost any degree of tail-wagging desired, particularly on slippery surfaces.
Air suspension adapted from the 600-series limousines was a special feature of the 6.3 and it produces a compliant ride, yet firms up reassuringly at speed when something more disciplined is required from a beefy supercar.
We do multiple passes for photographer Christian Brunelli's camera amidst the vines of Victoria's Yarra Valley, and then swap steeds.
SILKEN SLEDGEHAMMER
The biggest surprise about the 450SEL 6.9 is that it ever went into production at all.
The oil crisis in the early-1970s had deeply shocked the Western world; causing the planned launch of the 300SEL 6.3's successor to be postponed for nearly 18 months. But finally in 1975 Mercedes-Benz took its brave pills and launched the 6.9.
While many expected an even more feral development of the 6.3, they found instead a much more refined and gentle 'grand tourer' - one with all the accoutrements of a four-door luxury car. Unlike the 6.3, which was foremost a 'driver's' car, the 6.3 was popular with customers employing a chauffeur.
Hence great store was set by the comfort of the rear occupants, with electrically adjustable rear seats, seat heating and even a mobile telephone being optionally available. In reality, the 450SEL 6.9 was a halfway house between a 300SEL 6.3 and a 600 limousine.
The 6.9 was the first Mercedes-Benz to be fitted with the company's new hydro pneumatic self-leveling suspension system, unlike the 600 and 6.3 which employed air suspension. Not only was the system totally self-adjusting, but ride height could also be altered by up to 50mm by a dash-mounted push-pull knob under the speedometer.
However the real innovation from 1978 was ABS brakes - the first production application of this now almost-universal safety feature - but a mechanical 'downer' was the reversion to a three-speed automatic transmission. Mercedes-Benz wasn't comfortable with the ability of its four-speed automatic to handle the 6.9's then-prodigious 549Nm of torque.
The difference in temperament between these two Bahnstormers is immediate and overwhelming. While the 6.3 is an almost-nervous sports sedan, more akin to a GTHO or an HSV R8, the 450SEL 6.9 is more like an HSV Senator - a gloved sledgehammer that feels more relaxed and capable as speeds rise.
By today's standards, it's no longer the supercar it once was, but in 1978 - particularly with Fangio's hands on the same steering wheel - it would have been spectacular. No wonder Jeff Kennett was impressed, and when I asked if it was his family's car, he corrected firmly: "No, it was always my car," he said.
Kennett 'converted' to BMWs in 1999 when his Parliamentary career was over, but kept the 'Benz as an ungaraged family hack until late last year when he sold it to Tucker with less than 135,000km under its wheels. Now, after a needed repaint and other minor maintenance, it's on the market again in the high $20,000 bracket.
Perhaps you can buy its performance today for similar money, but you can't purchase its style, quality or sheer road presence. It's hard to describe the pleasure of driving this car in any other way except as a command performance. It feels solid, points well, handles predictably and despite having only three forward gears, really picks up its skirt and boogies when you play its song.
Like all Mercedes-Benz saloons until recent times, it leans into corners, but once its attitude is set, it stays faithful to its mild understeering traits, with the self-levelling suspension ironing out the bumps to ensure it never deviates far off course.
When the photos were all done, we had coffee in Yarra Glen before the invigorating drive back to Craig Tucker's Eltham workshop, where he keeps a few other classic 'Benz models, including the 1959 220SE 'Roundie' that the sale of the 450SEL 6.9 will make space and restoration funds for.
The keys were on the table, so which one would I choose? In Fangio's hands, the 6.9 sung like a great marriage, but in mine the 6.3 was the saucy blonde I just couldn't resist.
SPECIFICATIONS 
1971 Mercedes-Benz 300SEL 6.3/1978 450SEL 6.9
BODY: four-door sedan
WEIGHT: 1750kg/1985kg
ENGINE: 6.3-litre/6.9-litre V8
POWER/TORQUE: 224kW/500Nm; 213kW/549Nm
DRIVETRAIN: front eng, rear-wheel drive
TRANSMISSION: four-speed auto/three-speed auto
SUSPENSION: all-independent air/hydro-pneumatic self-leveling
BRAKES: discs/discs with ABS
PERFORMANCE: 0-60 mph - 6.5secs/7.4secs
TOP SPEED: 221km/h/234km/h
Unique Cars magazine Value Guides
Sell your car for free right here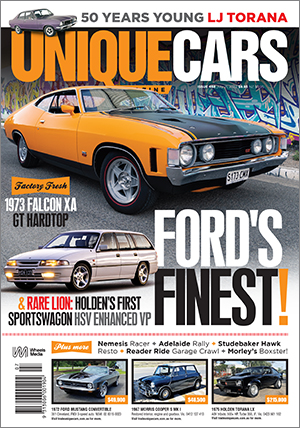 SUBSCRIBE TO UNIQUE CARS MAGAZINE
Get your monthly fix of news, reviews and stories on the greatest cars and minds in the automotive world.
Subscribe