1952 Ford Courier Review
---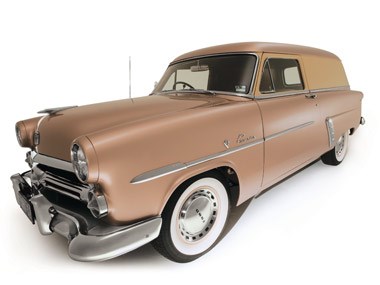 1952 Ford Courier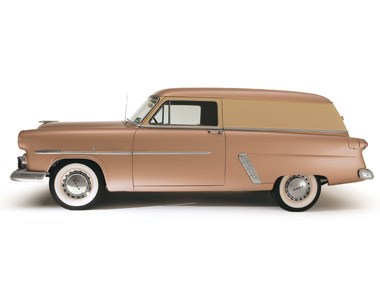 1952 Ford Courier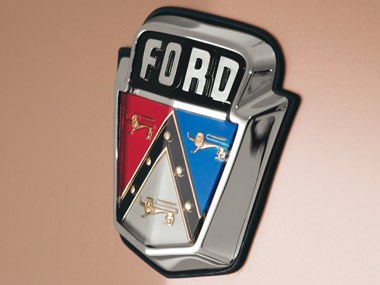 1952 Ford Courier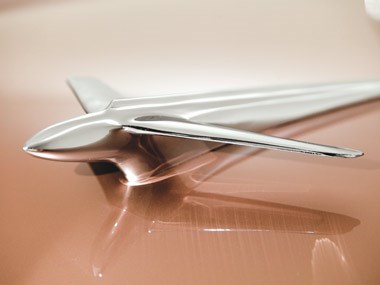 1952 Ford Courier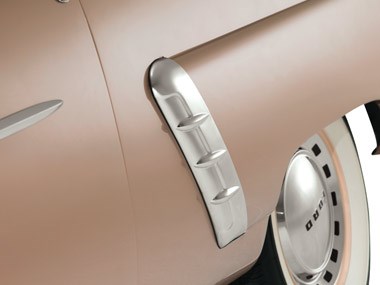 1952 Ford Courier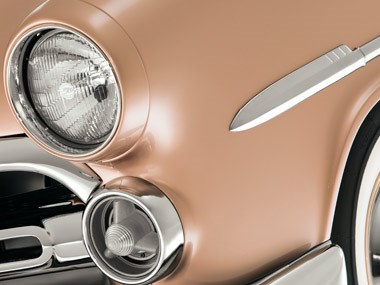 1952 Ford Courier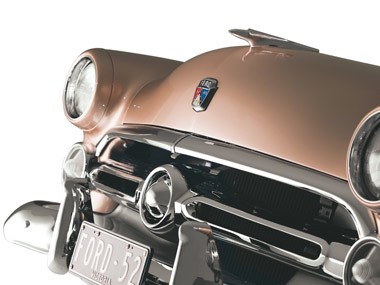 1952 Ford Courier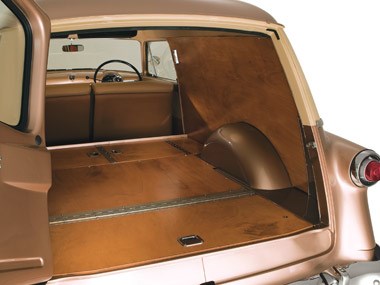 1952 Ford Courier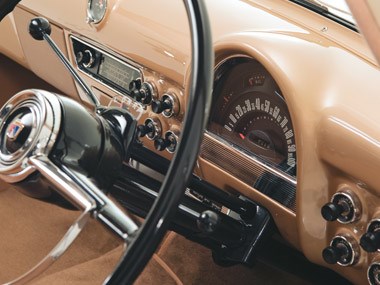 1952 Ford Courier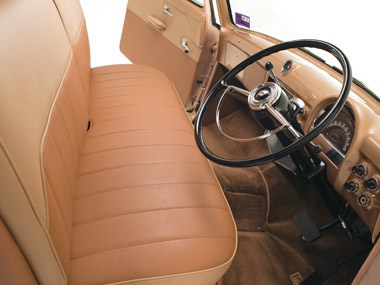 1952 Ford Courier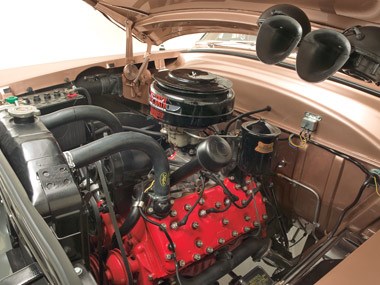 1952 Ford Courier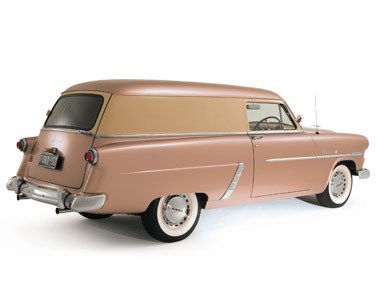 1952 Ford Courier

Ford Courier - it has a familiar name but this rare wagon beauty is a mere blip in America's automotive past.
1952 Ford Courier 
Think you know your cars? Then what's this stunning gold number? Alright, the badges and familiar front end give it away, it's a Ford, but what type of Blue Oval beauty?

You'd be forgiven for scratching your head because there are only three that we know of in Australia and Ford USA built just over 6000 of them the year this car was made, a miniscule amount in normal US production terms.

Stumped? It's a 1952 Ford Courier and Victoria's John Watson and his mates have done a beautiful restoration of this rare two-door model. "It's an unusual car," admits Watson, who has done a lot of research into the origins of this little-known vehicle.

"They were commercial vehicles and also known as Sedan Deliveries but the Americans didn't make a lot of sedan-based commercials; all their pickups were one-tonners as distinct from our utes," he explains. "Ford originally stopped producing them in 1946 and didn't make another one until 1952 when they started calling them Couriers. Ford also built two and four-door station wagons based on the same '52 body."

Not that you would have been able to find a Courier in vehicle brochures at Ford dealers in 1952; they weren't listed. It was almost like Ford didn't want to sell them.

"Ford didn't know where to pigeon-hole them," Watson explains. "There were only 6250 produced in 1952 and this car is very rare. Generally they were basic workhorses with a single bucket seat and no goodies. A lot were used as American postal vehicles.

"This car was produced - and I have a docket to confirm it - with a bench seat, automatic gearbox, V8 (many were sixes), factory heater and clock. A lot of people think it was hearse and don't realise it was built in the States. They think it was cobbled out of something here."

Watson doesn't know if his car was actually used as a delivery vehicle but thinks that, because of its 'luxury' options, a businessman bought it and also used it privately. A lot were used by dry cleaners and Watson thinks his car may have been used to deliver clothes.

Now semi-retired, Watson, 62, has been in the car industry most of his life, running dealerships and service stations. He's also been a lifelong Ford fancier and started building hot rods when he was 18. His first car was a 1958 Ford Anglia Convertible, which he bought for £20 then spent three years restoring it so he could get his licence in it.

"When I started building hot rods they were plentiful and roadsters and coupes were my favourites," he says. "I've always been interested in '30s Fords and I'm a foundation member of the Early Ford V8 Club, but it's only in the last 10 years that I've got involved in '50s Fords, which I find more suitable to drive in modern traffic."

Watson reckons he's owned just about every model year Ford from 1932 and his garage also houses a '53 Ford Victoria, '54 Convertible and a '57 Thunderbird. He reckons the 'newest' old Ford he's owned was a 1964 Fairlane.

But the Courier has to be the rarest. After spotting it at a Ballarat swap meet in 2001 he went toe-to-toe with the owner over the price but he wouldn't budge. Not to be outdone, Watson kept in touch with him and finally wore him down, paying what he'd initially offered for the car six months earlier.

What he bought was a complete car that had survived 14 years in an Arizona desert but virtually all its paint had been sandblasted off by natural weathering. As for the red devil, Watson reckons, "There was more rust than I expected but less than there could have been." However, he says, "Quarantine made a mess of the car. They hit it with steam cleaners and blew all the hood lining out and there were actually pressure washing marks on the paint, but it didn't matter because it all had to come to bits."

The Courier was deconstructed at Road Star Paint and the real condition of the body exposed. The rear three-quarter panel had a "nasty ding in it" and the rear door had to be repaired and some guttering and floor panels replaced, but that was the worst of it. John Robertson did a lot of the initial panel beating, realigning and refitting and John Kean also helped out with re-assembly.

"Other than that, the car was pretty sound, it just needed a lot of work. The sides and roof were in excellent condition, considering the car had sat out in the weather for so long; they are big areas (of metal) to make look good but they were good to start with."

Watson credits Peter Hibbert with doing a lot of the early ground work on the car. "Peter is a very good friend of mine and became involved in the restoration at an early stage. I was very busy and it looked like I was never going to get started so I handed the project to Peter and he put in a lot of time and effort sourcing parts and where to get work done. He had a lot to do with the early restoration work."

Watson got his hands dirty too. "To a certain extent; I can't paint and trim but I like to do mechanicals. I love disassembly and assembly and a major part of this car was in the assembly. I could have thrown it together but getting everything to fit properly is a different story; it's very time consuming.

"We stripped it completely, there is not a nut, bolt, screw, pin or washer that has not been replaced, retouched, repaired or refinished, even down to new brake drums. Because the Courier had 11-inch brake drums (sedans had 10-inch), they were basically unavailable so we had to source new brakes."

The left to right hand-drive conversion is seamless.

Most of the body mouldings are original but finding badges in good condition was a nightmare. "The Courier badges and the back door handle were the hardest things to find and both were purchased on Ebay; I was lucky to get them because they are very rare."

While other original components, like lights, were on the car, they just weren't in concours condition and Watson trawled the internet for replacements.

"Everything has been replaced. We were fortunate enough to buy new old-stock taillight assemblies but the rear door handle is the result of three separate handles because they were really badly pitted, as was the bonnet emblem. The one-piece bumpers came from about four or five sets so we could take the best parts from each. And the shortened over-riders were peculiar to the Courier and the Wagon to allow the doors to open."

The sleek two-tone body, with its encrustations of glistening chrome and funky Fordomatic badge is painted in what Watson thinks is Ford Grecian Gold and cream but a metallic has been added to the factory tint to freshen it up and give it more life.

The chassis and running gear are painted black and the underbody is in body colour. The car was at Road Star for nearly 18 months and received "a lot of coats" of paint.

That long stretch of sheet metal behind the side windows was a prime spot for advertising, and a selling point at dealerships in 1952. Indeed, Watson is still tossing up whether to have his car signwritten, perhaps with the masthead of an old Ford dealer. He thinks that will make the car look less chunky.

The large cargo area was also a big selling point and the Courier has a capacity of 2888 litres and measures 1.98m from the back door to the seats.

The interior is as painstakingly authentic as the exterior and was retrimmed by David McBride Trimming which put in a new full length headlining and clothed the seats and door trims in new old-stock tan vinyl, continuing the two-tone colour scheme. The original instruments and valve radio were rebuilt and a replacement steering wheel found and reconditioned; Watson still has the worn original. In fact, if you're looking for Courier parts he's got "boxes of stuff".

The cargo area was recreated using old brochures and features a wooden floor with a hinged opening for the spare wheel. The side panels are timber and had full hood lining.

All the glass has been replaced with the exception of the rear door glass, which is as rare as hen's teeth. By the way, the side-opening rear door was unique to the Courier and offered a low, wide load aperture; another good selling feature.

Like many other components on the Courier, Watson up-specced the original plain hub caps to the slicker optional '52 wheel trims and the car now runs whitewall radials instead of crossplies.

The reconditioned suspension is classic Ford; double wishbones, coils and shocks up front and semi-elliptical leaf springs and shocks at the rear but it still has king pins; ball joints arrived a few years later.

Under the expansive bonnet is the optional 239 cube, side-valve Stratostar V8, which was one of the last flathead Fords, originally introduced in 1932 and replaced by an overhead valve V8 in '54. It runs on unleaded and, with a two-barrel carby, makes a healthy 110hp (82kW), just 10 more than the standard straight six normally found in Couriers.

It's the original engine and was rebuilt from the sump up and probably makes a little more power now than when it was brand new. The dual exhaust was also a factory option in 1952 and Watson preferred it over a single system that was on the car, mainly for cosmetic reasons. The transmission is a 'two-on-the-tree' auto.

Rod Smith at Classic Wiring Looms did all the electricals and the car has been converted from six to 12 volts, again for improved safety (better lighting) and cold starting.

Watson stopped counting dollars once the restoration zoomed past $50,000 and reckons the total is probably closer to $80,000. He says it would take a lot more to make him part with it.

Finally finished in May, it had just 180 careful miles on the odo when Unique Cars photographed it. They were logged taking the car to its first Early Ford show, in Bendigo, where it won a major prize and attracted hordes of admirers. 

The Courier drives like a new car, Watson says, which makes sense because it is like-new. "It's very, very tight but it drives beautifully; there's not a rattle in it."

And how did Watson feel when he drove it on its maiden run? "Nervous. I didn't want to get it dirty or get any stone chips on it. But I'm very proud of the car, I'm like the biggest kid on the block when I drive it."
SPECIFICATIONS
1952 Ford Courier
BODY: two-door delivery wagon
ENGINE: 239ci (3.9-litre) side-valve V8
POWER: 110hp (82kW) @ 3800rpm
TRANSMISSION: two-speed auto
DIFF: Ford live rear axle, 3.54:1 CWP
SUSPENSION: Double wishbones, coil springs, shocks (f), semi-elliptical springs, shocks (r)
BRAKES: 11-inch drums (f & r)
COST: $80,000-plus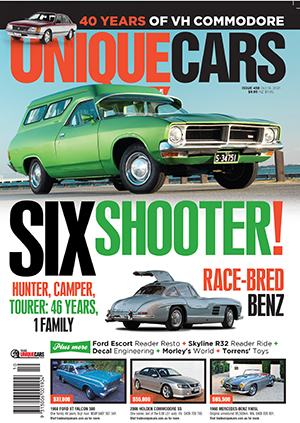 Subscribe to Unique Cars Magazine and save up to 42%
Australia's classic and muscle car bible. With stunning features, advice, market intelligence and hundreds of cars for sale.
Subscribe