Porsche 356a (1958) Review
---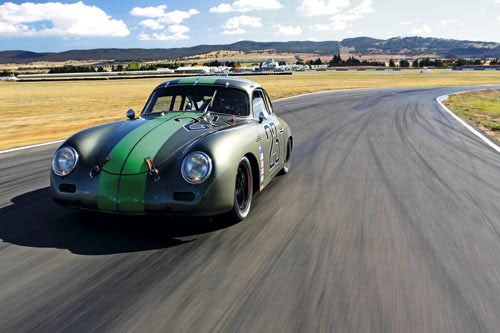 1958 Porsche 356a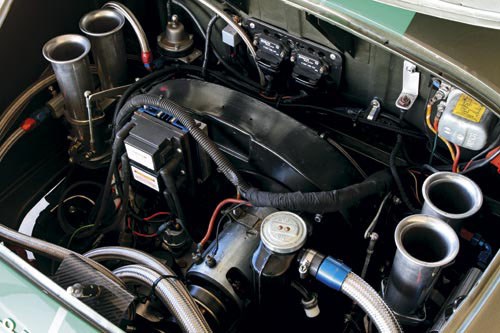 1958 Porsche 356a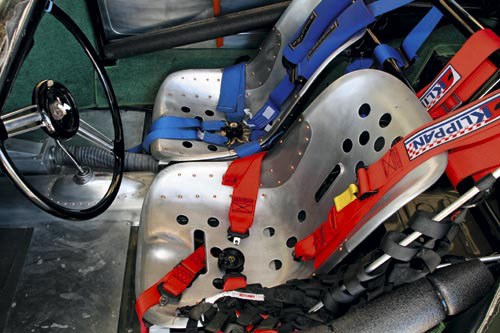 1958 Porsche 356a

Classic Metal: Outlaw 356. Though it has over five decades of racing history under its belt, this Porsche can still cut a hot lap
1958 Porsche 356a 
It's hard to believe these days but there was a time when Porsche's original sports model - the 356 - was a cheap second-hand buy for amateur racers, particularly in the US. Young enthusiasts would buy ageing road-going examples, strip them of fripperies like bumpers and rear seats, fiddle with the engine and suspension, then hit the track or boulevards. These were the Porsche 356 Outlaws.
Porsche purists today would see such messing around as sacrilege, but Outlaws have a decades-old culture and following all of their own. And as with this
comprehensively restored, race-prepared 356 Outlaw, a car that may have been consigned to the scrap heap, it has been not only saved, but turned into one of the most head-turning competitors on the domestic racing scene.
Despite the car's financial value, this 1958 356A's owner, Ron Goodman, is renowned for his flat-out driving style. But this is merely continuing the little car's well-travelled racing life. Notice the flags down its flanks? These are the countries it has competed in over its eventful 53 years, and after its recent rebuild, it shows no signs of slowing down in its new Australian home.
Australia has had a long relationship with Porsche, thanks to Melbourne entrepreneur Norman Hamilton's efforts in the early 1950s. Hamilton had 356s on sale in Australia two years before VW arrived.
Legend has it that just three years after Porsche produced its first road car, Hamilton was touring Austria in a lumbering Oldsmobile Rocket 88 when a little open-top sports car zipped by piloted by Ferdinand Porsche himself, and a smitten Hamilton gave chase to discover what it was.
Hamilton caught up with Porsche, the two men discussed ideas, and it was agreed that Hamilton would be Porsche's first Australian agent. As a result, in 1951 Australia received the first-ever 356s produced in right-hand drive.
Australia embraced the 356 from the day it arrived on these shores and today, 60 years later, enthusiasm for the model hasn't waned. It is not hard to see why. As a lightweight European sports car that simply oozes style, it has few rivals. Naturally, 356s are not the cheapest cars to get hold of but their incredible build quality and comparatively uncomplicated mechanicals mean they are an attractive proposition for those who enjoy driving classic cars rather than just polishing them.
Goodman is one such enthusiast. Alongside this 356A racer he has another track-prepared version nearing completion at his workshop, while his road-going 356s are a 1954 pre-A Convertible, a 1964 356C, and for many the holy grail of 356 ownership - a 1958 Speedster.
Many of the 356s Ron has owned were brought in from the US, often in a poor state and ripe for restoration. His racing Outlaw was no exception. "It was advertised on a website in the US, [so] I called them up and bought myself a Christmas present," Ron said. "I flew to LA and it was a very sad sight. The poor little car was out in the weather with no side windows and a lot of rubbish in it. I saw its potential, though, and now it's finished, it truly is the most fun car you could imagine."
According to the scant documents Ron received with the car, this 1958 Coupe 1600 began life in Germany as a road car raced at club level. It soon became a dedicated racer that competed worldwide for various owners - hence the commemorative flags of Sweden, Germany, Britain, US, Canada and now Australia.
The interior has historical nods too. There's a commemorative dash plaque showing it raced at Riverside Raceway in 1975, a Laguna Seca inspection certificate from 1980 and countless historical stickers. Porsche legend Vic Elford (Targa Florio, Daytona 24 Hours and Monte Carlo Rally winner) signed the glovebox after being shown documents proving that he'd once raced the little 356.
There was no doubt in Ron's mind that its racing life would continue on arrival in Sydney. It was treated to a new rollcage from Sydney Porsche racing specialist, PR Technology, prior to a complete rebuild to very exacting specifications.
Its Outlaw-style body with deleted bumpers is pure lust, lowered over skinny black 15-inch Fuchs wheels and changed from its original silver to Ron's company's own racing hue with signature green racing stripes through the car's middle.
Leather bonnet straps, racing numbers and Hoosier 185/65 racing tyres leave little doubt to where this 356's spiritual home is.
Inside, the front seats are aluminium Speedster items stripped of their coverings, the floor, centre console and door cards are all custom fabricated aluminium, and the rollcage has attractive leather protective headrests. Such measures give the car a fighting weight of just 760kg, so with a dyno-proven 123kW at the rear wheels, No. 23 has every right to display 'confirmed kills' silhouettes of modern Porsche GT3s on its body panels.
The rear shove has come courtesy of Vic Skirmants and his 356 Enterprises company, a hugely respected 356 engine builder based in Michigan, USA. An engine core from a 1964-69 Porsche 356C has been used, and headline oily bits include a Scat billet lightweight crankshaft, Carillo connecting rods, and a radical camshaft that apparently doesn't produce much power before 5000rpm, but after that goes a bit mad to 7500rpm. Much like your typical toddler, you're surprised that something so small can make so much damn noise!
An upgraded drivetrain is required for such a set-up, so a 356's 741 cog-swapper has been custom close-ratioed and allied to a lightened standard 356 flywheel, race-spec four-puck clutch disc and a limited-slip differential.
Suspension upgrades include hollowed-out torsion bars, strengthened arms with rose joints, and front drop-axles, while stopping is handled by disc brakes from a later Porsche 356C. For the racing this car does, drums simply wouldn't cut it. "When we build cars, we keep its heritage by introducing more modern technology without impacting the car's beauty," Ron said. The result is a breathtaking sight.
The Outlaw has phenomenal speed to match its exhaust bark, and to see experienced racer Ron at 10-tenths in such a valuable classic is a rare treat. "We've had a couple of outings at Wakefield and Eastern Creek," he said. "We had a second, a fourth, then a couple of wins. One of these we nearly lapped the entire field - I kept thinking I must have missed a yellow flag."
While owning and racing such valuable old Porsches isn't for everyone, Ron is refreshingly blasé about it all. He says the idiosyncrasies and costly maintenance bills are simply part of the whole classic ownership experience and the rewards of piloting such a competent and striking historical Porsche trumps even the finest computer-controlled modern machinery.
SPECIFICATIONS
1958 PORSCHE 356a
ENGINE: 1582cc flat 4, OHV, 8v, twin -barrel Solex carburettors
POWER: 123kW @ 5500rpm*
WEIGHT: 760kg
GEARBOX: 4-speed manual
BRAKES: discs (f/r)
WHEELS: 15 x 6.0-inch
TYRES: Hoosier 185/65R15
*at the wheels
Unique Cars magazine Value Guides
Sell your car for free right here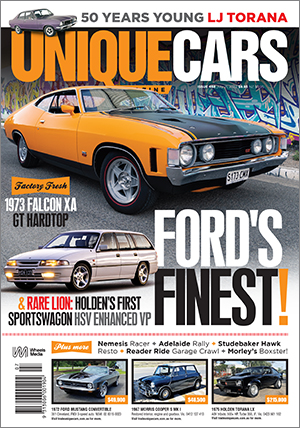 SUBSCRIBE TO UNIQUE CARS MAGAZINE
Get your monthly fix of news, reviews and stories on the greatest cars and minds in the automotive world.
Subscribe