Allan Moffat's 1983 Group C Mazda RX7 Review
---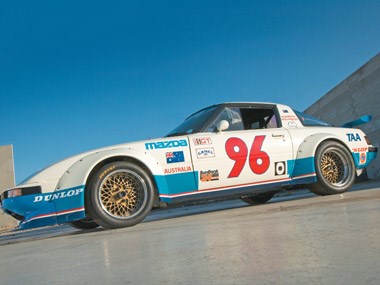 Allan Moffat's Mazda RX7 Group C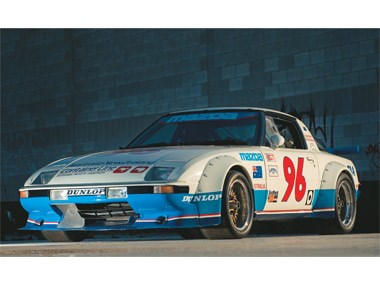 Allan Moffat's Mazda RX7 Group C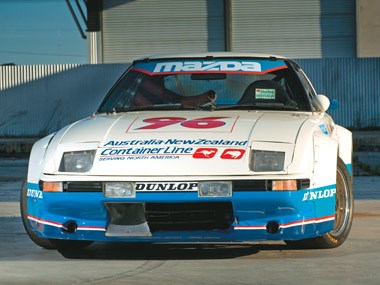 Allan Moffat's Mazda RX7 Group C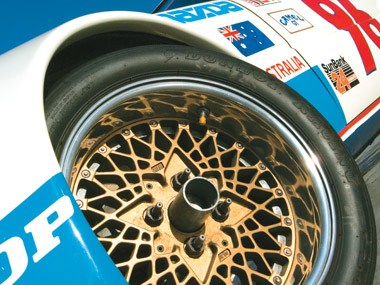 Allan Moffat's Mazda RX7 Group C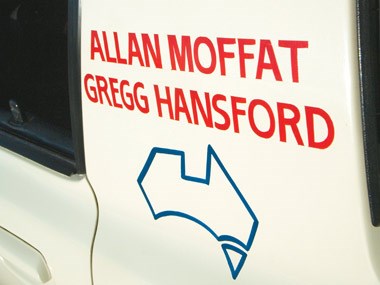 Allan Moffat's Mazda RX7 Group C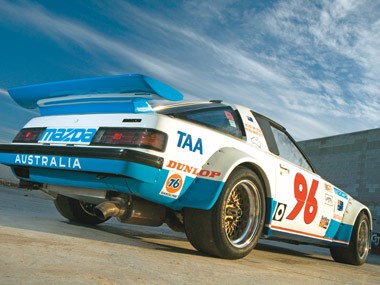 Allan Moffat's Mazda RX7 Group C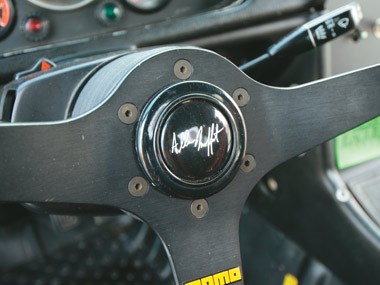 Allan Moffat's Mazda RX7 Group C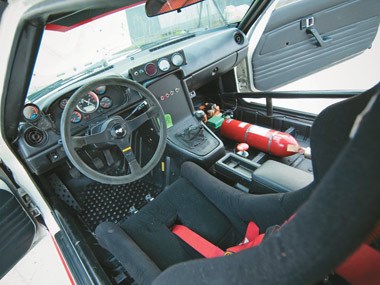 Allan Moffat's Mazda RX7 Group C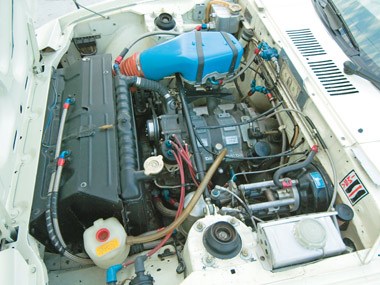 Allan Moffat's Mazda RX7 Group C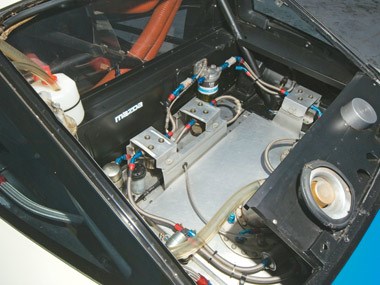 Allan Moffat's Mazda RX7 Group C

Moffat's Mazda RX7. This 'as raced', hard-revving rotary coupe has a very special story.
Mazda RX7 - Allan Moffat Group C (1983)
The garage door raised itself slowly, first revealing a pair of leather shoes, then denim jeans, a leather jacket with hands firmly planted in pockets, and eventually the highly recognisable face with trademark glasses. Standing there was one Allan Moffat, staring back at the potential car purchaser who'd just arrived at Allan's place in Melbourne, sent around the back by Mrs Moffat, who'd answered the door.
It was 1987 and, after flicking through the ads in the back of Auto Action, Peter Bowden had placed a call to the seller of a certain eye-catching Mazda, to be answered by a bloke with a distinctive Canadian accent Peter had heard many times before, watching Bathurst coverage and Group C touring car racing over the years. The car in question was the famous number 43 Mazda RX7 but in a different war paint, the last of the factory cars and now for sale, two years after cementing a chapter of Australian motorsport history on an international stage, but we'll get to that shortly.
Seeing Moffat standing in the garage certainly reinforced to Peter this car was the real thing, parked behind the four-time Bathurst winner who'd always had a reputation for innovation and attention to detail. Adding credibility to the scenario was the red Coca Cola Mustang tucked further away in a corner, a couple of flat tyres and a protective layer of dust on the duco. After a few pleasantries, the deal was done, and Peter had now become the owner of perhaps the most famous Group C Mazda in the land, complete with an international pedigree many are unfamiliar with.
Most lovers of all things Group C, irrespective of their feelings of adoration or loathing for Ford, Holden, Mazda, Brock, Johnson, Moffat et al, would be familiar with the Mazda RX7s, particularly in the Stuyvesant cigarette livery. They were hard to miss, given their true sporting shape contrasted with the usual modified four-door taxis that were the big bangers and, of course, they were rotary powered - something that caused a bit of controversy at the time. Add Allan Moffat into the equation, never a shrinking violet in pitlane, and you had a recipe for some spice in the series.
The RX7s came into being as Mazda decided to go Group C racing in Australia with Moffat at the helm. There were a total of four factory-backed cars built with Moffat, the first emerging in 1981 at Sandown after a gestation period of nearly two years. Success came comparatively quickly with a third in the '81 Bathurst and a win in '82 at Lakeside, then at Sandown. Meanwhile, Moffat had been lobbying hard for the larger 13B rotary powerplant to be allowed over the 12A, signaling further controversy amongst the paddock, but eventually getting the nod, and making it into the spec sheet from late-'83.

Peter's car, the last to be constructed, was built in 1983, run at a couple of rounds then rebuilt with the 1984 Bathurst in mind. It famously got punted up the wall off the start line by the Masterton Falcon, resulting in a frantic rebuild before expiring soon after. Moffat then jumped into the number 42 car of teammate Gregg Hansford, eventually finishing third in the 1000km race.
However, the 43 car wasn't quite done with yet, competing again at Lakeside, before Mazda decided on a spectacular parting gesture as it pulled out of Australian touring car racing as Group A arrived for '85, shipping the car to the USA for a tilt at the Daytona 24 Hours, one of the biggest international sportscar endurance events on the calendar. It would be the first all-Australian crew to compete there, in the first Australian built and raced car, and therefore the first all-Australian assault on an international sportscar event. Led by Moffat, co-drivers included Gregg Hansford, Kevin Bartlett and Peter McLeod.

Arriving with the team transporter for the February 1985 race, the RX7 underwent a minor refit to match the IMSA rules at the time, competing in the GTO class, scoring wing-type rear spoiler to replace the previous wrap-around variety, a full fire-bomb and a pair of spot lights in the bumper beneath the flush headlights. Interestingly, the car ran a six-speed gearbox there, still present in the car today.
Other than that, the only real addition was a transporter full of road traffic permits as the Victorian truck made its way through countless US states on its way to Florida.
According to race reports, the Mazda qualified 40th out of 79 starters before amazingly climbing to ninth outright, many laps in front of the local RX7s and behind exotic hardware including Porsche 962s and spaceframe V8 prototypes. However, the big His Master's Voice-sized air intake in the front bar sucked a rock through the motor, forcing an engine fix and dropping five hours. Managing to get back out, McLeod later hit a wall but continued, eventually finishing 24th having covered a total of nearly 3000km at race pace.
STILL READY TO RACE
Following the race, the car was effectively moth-balled back in Melbourne with Moffat, to retire in as-raced condition in its Daytona number 96 hand-painted livery, escaping the usual modifications and butchering most Group C cars received as they were converted and updated for subsequent second and third lives in sports sedan and club categories.
Lifting the long bonnet of Peter's car, the naturally aspirated 1308cc peripheral-ported 13B twin rotor hardly dominates the engine bay, as it's the sort of motor you could take on a plane as cabin baggage, compared with the big V8 lumps usually found in Group C race cars. It's a comparatively simple design, and matches the simple layout under the bonnet.
The motor's tucked very low, sitting about shin-height. Custom made aluminium swirl pots, catch-cans and overflow tanks are tucked neatly around the bay, with braided plumbing lines criss-crossing the big gaps. Even the brake master cylinder looks small, and it's a car that looks deceptively straightforward in terms of hardware and layout. It's definitely not a knuckle buster for access in there.
The dominant piece of hardware is the cold-air intake feeding the big 48mm Weber carburetor that replaced the early fuel injection system, the carby being preferred for reliability over long-race distances. Air arrives from a huge custom intake aperture built into the front bumper and spoiler assembly just left of centre, passing along a big diameter tube and into a sealed airbox directly atop the Weber. It's a short and straight path made possible again by the acres of space under the bonnet.
At the other end sits a pair of high performance fuel pumps sitting beneath the Perspex rear hatch, switchable as a back-up in the event of a pump failure, whilst a large aluminium endurance tank drops through the floor. There are a few other race car extras scattered about, including coolers for the engine oil and gearbox mounted front and rear, and even for the fuel, cleverly located beneath the wiper-valance in front of the windscreen. Twin exhausts (one per rotor) disappear beneath the car eventually emerging via a single tip, creating what I'm told is about the loudest wail you're likely to hear in this lifetime.
Power is fed through the six-speed gearbox to the live axle rear-end containing a Mazda Motorsports diff, utilising separate coil springs and shocks at the back. According to Peter, the Mazda gets its 296 rear-wheel horsepower (220kW) down well, despite the old-style set-up, with predictable rear-end manners that inspire confidence. Up front, adjustable MacPherson struts prevail. The track of the car is substantially greater than standard, hence the big bolt-on flare kit that covers the 285mm rear 16inch slicks and 265mm 15inch fronts, mounted on BBS racing rims.
The lightweight body has been stripped of all unnecessary lard, yet inside there's an amazing resemblance to the road car, with the original dash in place, as well as the door and roof linings, although the window winders are gone due to fixed perspex windows with plumbed ventilation.
Additional gauges replace the road items in the form of temperature for water, oil, gearbox and differential, plus oil and fuel pressure, with a huge tacho dominating proceedings, showing a potential of 12,000rpm although redlined at 11,000.
Apparently not much happens up to seven grand, but then the ears detect a significant aural shift and the old seat-of-the-pants gets assaulted by a rush of performance through to redline. It's classic rotary, captivating in a car like this, less so when replicated by P-platers in RX4s at 3.00am near your house.
The original Mazda full race seat and five-point Sabelt harness remain in place on the driver's side - the passenger seat was removed for Daytona for fire-bomb mounting. If the interior is from race cars of old, so is the roll cage, being smaller diameter and with far less cross bracing and triangulation than found on today's race fleet. In fact, there's less of it than on today's club-level cars! It's one area where things have come a long way.
Most importantly, however, for this number 96 car, everything is original, as raced. It's exceptionally rare nowadays to find such an example, as most Group C cars have had subsequent category-based modifications to go with them, meaning they are usually now restored to as-raced specification, but aren't literally original in all respects.
Peter's done very little with the car since purchasing it 21 years ago and giving it a birthday present paint touch-up early on, though all the original Daytona event stickers and livery remains.
"It's as it raced at Daytona," says Peter. "I've done maybe 10 laps in it at Waneroo raceway and a parade lap at the '87 Adelaide GP. When the car came up for sale I was interested because I'd always liked the Mazdas - I liked their shape, they were a bit different. It was a Moffat car, a piece of history and the only car to do Daytona."
"At the time, my family thought I was a bit crazy getting the Mazda. When I bought it, Moffat had its sister car, number 42 for sale also. Very tempting, but I thought if I bought that too I might as well not go home!"
It's a rare car indeed, and Peter's enjoyed having it. When he recently caught up with Moffat, the racing legend recalled the car and put in a strong request that Peter retain it in original condition, including the Daytona livery rather than its previous Bathurst incarnation. It's something Peter's keen to see maintained, though by a new enthusiast, as it's on the market for someone else to enjoy.
Whoever ends up with it will score not just a unique piece of motorsport history, but a fully functioning race car. Just don't fire it up early on a Sunday morning if you like your neighbours. Or early any morning really.
SPECIFICATIONS
1983 MAZDA RX7 GROUP C
BODY: two-door coupe
WEIGHT: 950kg
ENGINE: 13B twin rotor, peripheral ported 48mm Weber carburetor, cold air induction. Twin race fuel pumps, endurance tank, Avgas
POWER: 296hp (220kW) at 9200 rpm
TRANSMISSION: 6-speed manual, Mazda motorsports diff
SUSPENSION: MacPherson strut adjustable front; live axle coil, rear
BRAKES: Twin piston calipers, drilled and slotted rotors
WHEELS/TYRES: BBS race, Dunlop 285mm rear 16inch, 265mm front 15inch
Unique Cars magazine Value Guides
Sell your car for free right here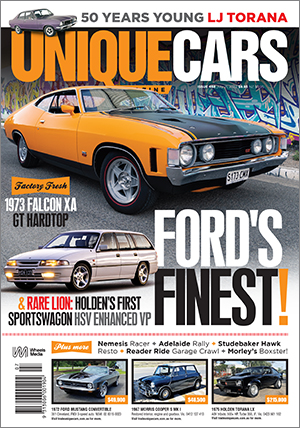 SUBSCRIBE TO UNIQUE CARS MAGAZINE
Get your monthly fix of news, reviews and stories on the greatest cars and minds in the automotive world.
Subscribe