Austin Healey 100/4 (1955) Review
---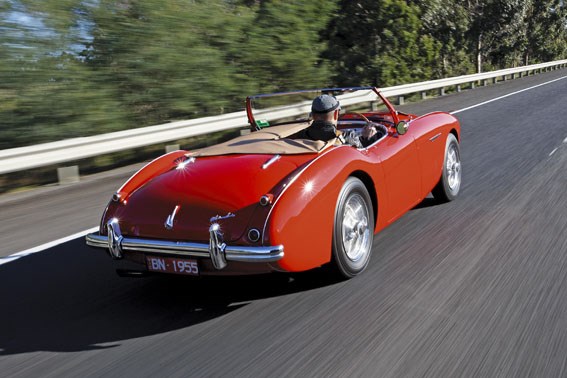 1955 Austin Healey 100/4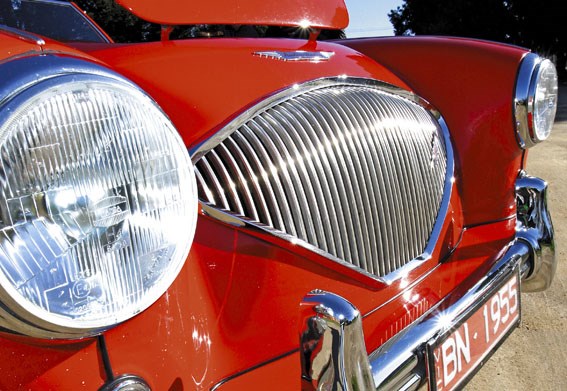 1955 Austin Healey 100/4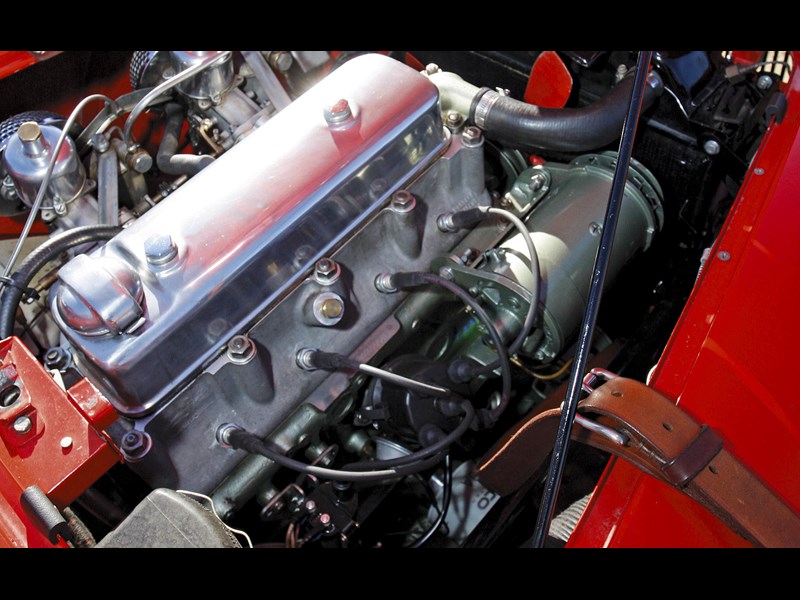 1955 Austin Healey 100/4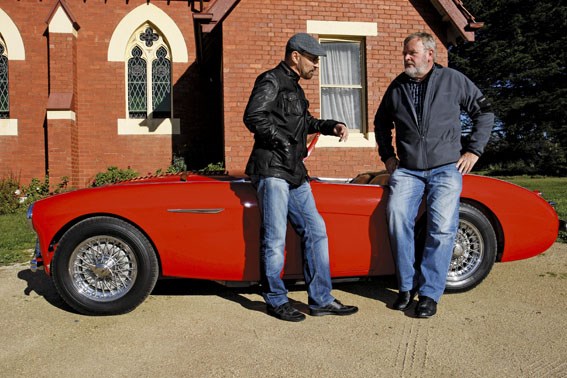 1955 Austin Healey 100/4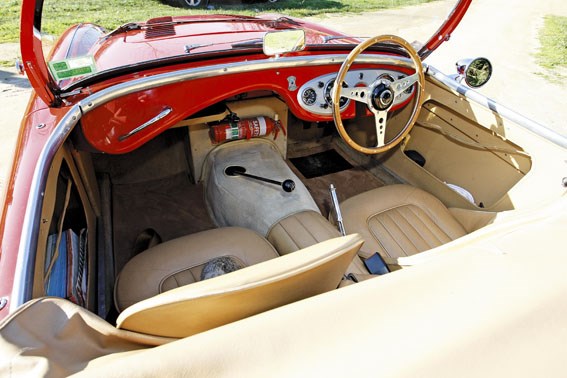 1955 Austin Healey 100/4

Classic Metal: Austin Healey. John Bowe gets to grips with an English icon
Austin Healey 100/4 
I've said before that when I was a little boy, my dad was quite a renowned Tassie tuner. It wouldn't be unusual for us to have four MGBs and three Healeys lined up in the driveway. Anyhow, dad would tell me stories about how I would fall asleep lying on the passenger side floor of an Austin Healey. He used to prepare one for its owner to race and the exhaust was on the passenger side, so obviously I was nice and warm down there. This was long before seatbelts and safety, of course!
So I had a great interest in again experiencing what these Healeys were all about - this time, from the driver's seat!
They were called Austin Healey 100 because they would, supposedly, do 100mph [161km/h] and you can't help thinking that cars the magazines drove back in the day that did the old ton were maybe a bit non-standard... But it was a modern, nice-looking motor car.
It was quite successful and they sold a lot of them. It was based on Austin A90 underpinnings - about as boring a sedan as you could find - but it was obviously a good donor.
Honestly, I love the look of it and these things have a great band of followers all around the world. I guess because I get a kick out of historic classic cars, it really appeals to me.
From the factory the Healey was fitted with a big 2.6-litre four-cylinder, but this particular one has been bored out to 3.0-litres, with Range Rover pistons, and has a few other tweaks such as an alloy head. That's a very big four-cylinder engine. Later on, Porsche had a 3.0-litre four in its 968 Clubsport but that had balance shafts and overhead everything - this is a pushrod unit out of an old English sedan!
So, I sit myself down in it and get a bit of a feel for things but I don't think the word 'ergonomics' was in the Oxford dictionary back then. There's two dials in front of you and you can't see either of them because of the steering wheel. The choke knob is about a metre away to the left so you have to stretch across the car to reach that… You do know what a choke is?
It has twin inch-and-three-quarter SU carbies on it - that's a Le Mans kit - with bigger carbies and a free-flow exhaust. It probably had a different cam and compression too, when it was new. The bigger engine in this car is nice and strong and probably a lot better than was possible back in the day, due to modern technology.
It runs beautifully, it's quiet, and has a four-speed gearbox with Laycock overdrive on top gear. I can remember my dad modifying the one he used to look after so the overdrive worked on all the gears.
It's only a small car and it's beaut to drive - it runs beautifully. Like all sports cars of its era, it's a bit breezy and you can't help but feel part of it. The seats are very upright but you can't complain about the comfort. The steering wheel is big and the gearshift is over to the left a little and the lever leans toward you. I reckon it's a gearbox designed for a sedan and they've put the linkages on the side of it.
First gear has no synchromesh but the engine has so much flexibility and the gearing is such that it's very happy to pull away in second gear. It's got a great exhaust note, reminiscent of an MGB but deeper. How did those Pommies make such nice exhaust notes out of such simple, basic engines back then? It has a lovely little purr.
I drove the Healey along freeways to get it out into the country, so I got to experience it in a few different conditions. It has all those classic 1950s characteristics: a bit of flex from the chassis, a bit of scuttle shake. But it's not the type of movement where you think 'oh gee, this is dreadful.' It has that indeterminable charm…
This one sits on more modern radials rather than the wobbly old crossplies but you don't chuck it around corners - something like a Hyundai Getz would go straight 'round the outside of it! But it feels great - it's involving. You're doing 60mph and you're smiling.
It needs that overdrive, especially on today's roads. Back when it was created, there weren't many freeways for cars to cruise along but it's a different scenario today, of course. I didn't drive it like a maniac. Like all these cars I'm so privileged to drive, I drove it like my own - except my racing Mustang of course!
The brakes are representative of the era - they pull the car up effectively but they're not the sorts of things you'd rely on if you were in a mad hurry. They gradually halt proceedings. They're drums and they always have a different feel and need a different level of respect to discs, but these drums are quite large and really fill those wire wheels. Even discs of the era needed a bit of respect. Take a look at an E-Type Jag. That thing was a supercar in its time and you could fry the discs off that in five minutes if you really wanted to!
This car has much better steering than you would expect. Many classic cars have been rebuilt or restored but often the steering box (the Healey has a box, not a rack and pinion) doesn't see anything more than a degrease or maybe some fresh oil is tipped in. This one has no straight-ahead slack, it answers the wheel beautifully and has a nice, linear feel to it. It's terrific. I actually commented on the good steering to the owner Mike and he told me the box has been totally reconditioned. After all, this was a restoration performed over a long time, not a weekend respray.
All the characteristics are there, like the louvres in the bonnet and the leather strap holding it down. Even the colour makes you feel good. This is just a lovely car from the era when the English were the undisputed leaders in sports cars. You know something? I can see myself getting into these Pommy sports cars!
SPECIFICATIONS
1955 AUSTIN HEALEY 100/4
ENGINE: 2660cc 4cyl, OHV, 8v*
POWER: 67kW @ 4000rpm*
TORQUE: 195Nm @ 2500rpm*
WEIGHT: 1041kg
GEARBOX: 4-speed manual with Laycock overdrive
WHEELS: 15 x 5.0-inch
BRAKES: Drums (f/r)
TOP SPEED: 172km/h (claimed)*
*Original specification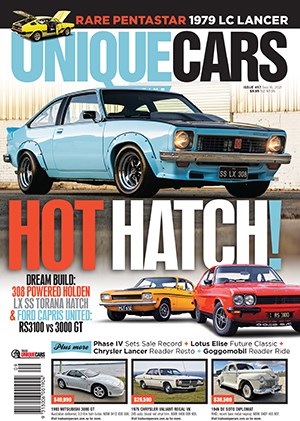 Subscribe to Unique Cars Magazine and save up to 42%
Australia's classic and muscle car bible. With stunning features, advice, market intelligence and hundreds of cars for sale.
Subscribe