Humber Imperial (1966) Review
---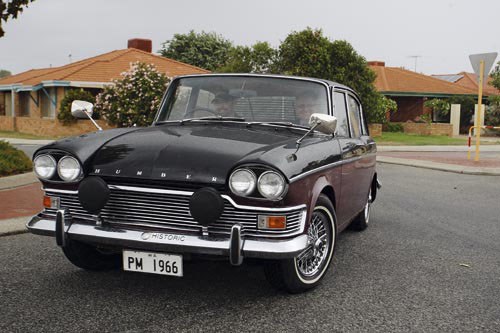 1966 Humber Imperial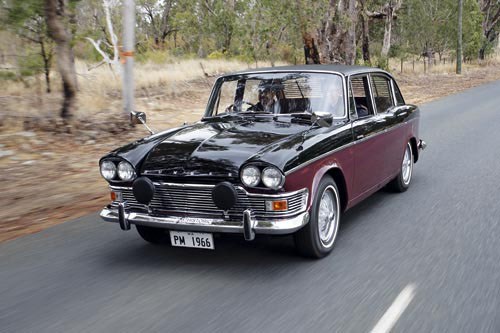 1966 Humber Imperial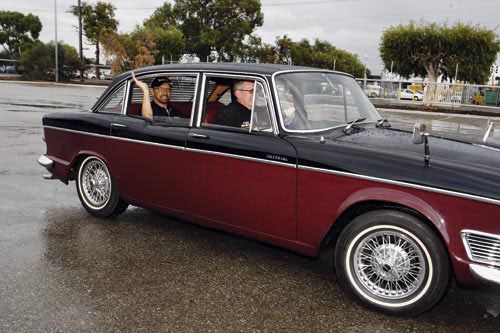 1966 Humber Imperial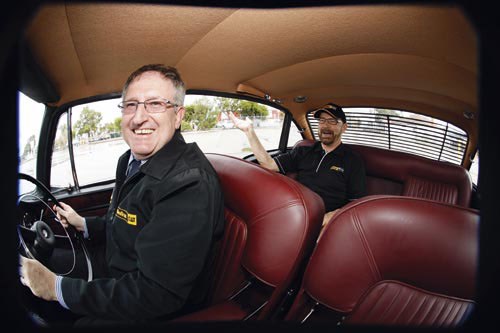 1966 Humber Imperial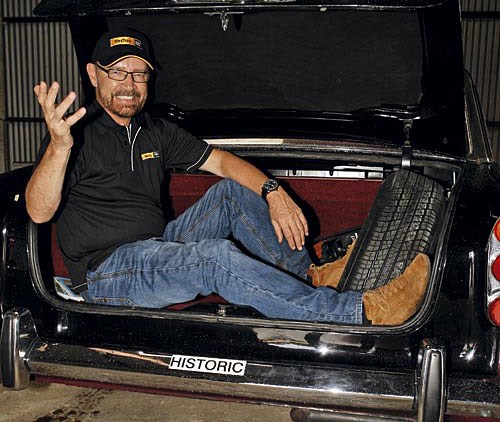 1966 Humber Imperial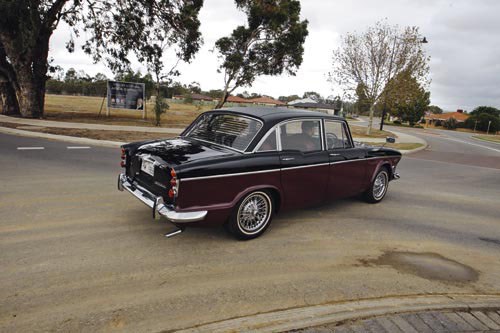 1966 Humber Imperial

Classic Metal: Humber Imperial. Supercar ace John Bowe samples a royal ride
Humber Imperial (1966)
Check this out! It's a Humber Imperial. This one is owned by a mate of mine, Jim Walker. He's a nut for English cars and is lucky enough to own a few.
Anyway, back when I was a kid, my dad traded a Humber. He was a Holden dealer in Tassie and he brought one of these Humbers home - a black one. This was in the era of the EH Holden but in the back seat of Jim's Humber there is drinks trays and the dash is a wall of polished wood.
Not many car nuts know about the Humber Imperial. There's an awareness of the Snipe and Super Snipe but not the Imperial. It was the top-of-the-range gentleman's carriage and the last of the line for Humber before Chrysler took over and started re-badging Hillman Hunters.
But you know what? I got a very pleasant surprise when I drove this car. Now, I have an E-Type Jaguar at home but I'm not what you'd call a British car lover, so I was almost shocked at what a lovely, refined car this is.
There's a saying that a Humber was 'the poor man's Rolls-Royce', which is a bit of a sledge really, but I've driven a few Rolls-Royces and I reckon these Humbers have weathered the test of time better than the Rollers have.
And here's why. The 1960s Rolls-Royces were very complicated cars. They had very complex systems on board, such as twin braking systems. The Humber didn't. Although it was a luxury car, there wasn't the complexity under the skin that the Rolls had - or that all top-line luxury cars of today have.
They're often the test bed for new technology and 20 or 30 years later, they become an owner's or restorer's nightmare! But the Humber isn't saddled with all that.
I reckon the stately Imperial is a good looking car - very 1960s in this instance, with the two-tone black and burgundy paint. It's not too big, either. It's a nice size.
Hop inside and it's sumptuous. It's just beautiful. The front seat is what you'd call a divided bench, lavished in beautiful burgundy leather. There's walnut on the dash and door cappings and the drinks trays and a beautiful felt hood lining.
It's like a gentlemen's club … or what I imagine a gentlemen's club to be [yeah, sure JB! - Ed]. I think it was comedian WC Fields that said: "I wouldn't want to go to any club that would accept me as a member!"
It isn't a stretch-wheelbase car but I had a joke with Jim that he could drive and I'd just lounge around in the back seat. So he did and I did! You can imagine a rich banker type of the '60s being driven to work in this by his 'man' - in aristocratic 1960s England, that term had a totally different connotation to now!
Technically, the engine is interesting without being complex. It's a cast-iron six - no big deal there - but it has a hemispherical head with inclined valves. When you first look at the engine you almost think it has two camshafts up top - it's very wide across the cylinder head. It has cross-flow heads, rare in the '60s apart from in cars like Lotuses and Fiats, so the Humber's big six was quite unusual.
I started the engine and it is so smooth and subdued that I couldn't hear it run. That might not be so unusual these days because with fuel injection and electronic ignition, things are so refined.
But back in the 1960s you could hear valves clattering and pistons slapping in many engines. This one has a big muffler for the air intake to help keep it quiet.
You could almost stand a cigarette end-ways on the engine and not have it fall over. That's not very 'PC' these days but there used to be advertising campaigns like that in the '60s! So the engine is smooth.
I'm sitting comfortably in the deep, soft leather seats. The steering wheel is very thin-rimmed as was typical in the 1960s - steering wheels began to get thicker in the '70s. The Imperial has power steering, of course, and although I didn't crawl underneath, I imagine the technology was just the same as what you'd have had on a 1960s Fairlane or Holden Brougham - a series of engine-driven hydraulic rams on the steering drag link.
Even with power assistance, the steering is very low geared so you don't drive this car, you guide it along. It's a column auto, a Borg Warner three-speeder that starts in second unless you select first. This is not a performance car so I didn't drive it like one.
It's very quiet and isolated from the road - very refined. Like I said, many people regard this as a poor man's Rolls-Royce and it has a similar luxury hush inside. These things were made as a monocoque, with a live axle at the back and subframe at the front, so keeping it quiet relied on big rubber bushes and it generates a lot of body roll. Let's face it, luxury cars of the 1960s like this weren't set up for handling!
I've driven a few American cars and in a similar way to Jags and Rovers of the time, the Humber has much better suspension than the typical American car of the same era. The damping control is far better.
I guess that's due to the car being designed for English country lanes rather than smooth, flat, and featureless American freeways.
This Humber was built in the death throes of the company's life but it has stood the test of time well. It's refined, incredibly well built and well fitted-out. The panel fit is really good, too. You close those doors and they just click rather than thud.
I think the Royal Family had some Humbers there for a while. I can tell you, I felt like royalty driving it!
SPECIFICATIONS
1966 Humber Imperial
ENGINE: 2965cc 6cyl, OHV, 12v
POWER: 96kW @ 5000rpm
TORQUE:  226Nm @ 2600rpm
WEIGHT:  1702kg
GEARBOX: Borg Warner 3-speed column shift automatic
SUSPENSION: Upper and lower wishbones, coil springs (f); live axle, semi-elliptic leaf springs (r)
BRAKES: discs (f), drums (r)
TOP SPEED: 163km/h
Unique Cars magazine Value Guides
Sell your car for free right here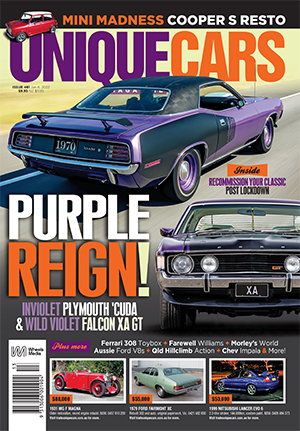 SUBSCRIBE TO UNIQUE CARS MAGAZINE
Get your monthly fix of news, reviews and stories on the greatest cars and minds in the automotive world.
Subscribe