Holden EH S4 (1963) Review
---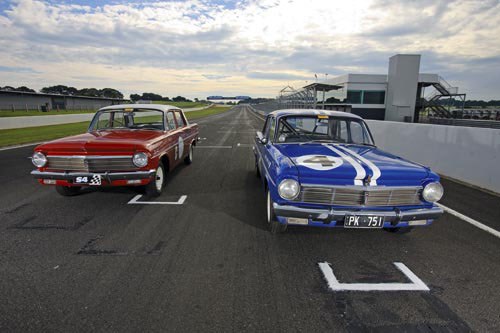 1963 Holden EH S4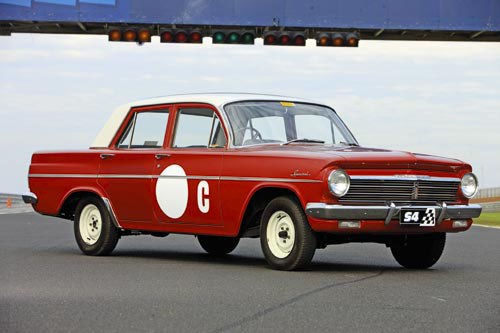 1963 Holden EH S4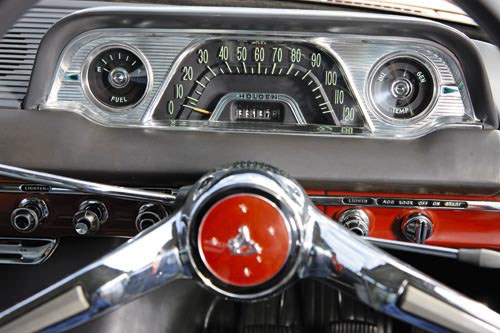 1963 Holden EH S4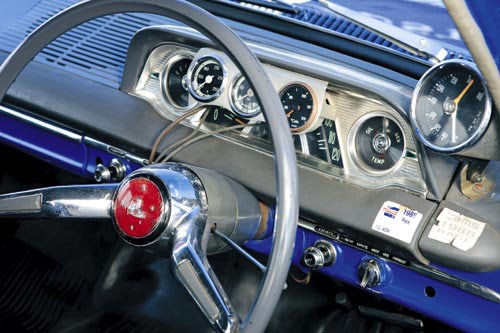 1963 Holden EH S4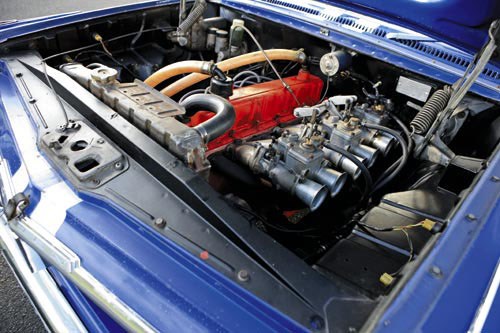 1963 Holden EH S4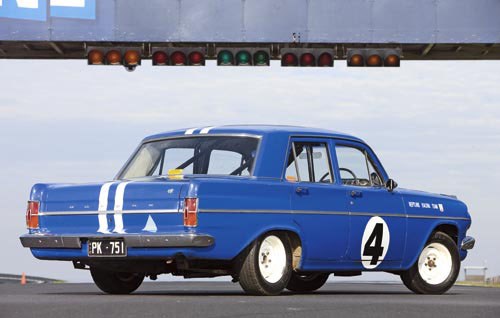 1963 Holden EH S4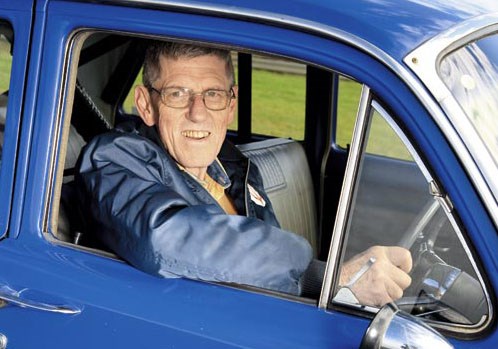 1963 Holden EH S4

Classic metal: Holden EH S4. Meet the original local supercar
1963 Holden EH S4
A fairly basic Holden EH Special sedan marked the beginning of the Australian supercar era in August 1963. Frankly, it was a humble beginning. This car - officially the EH 225 M-S.4 - had a pushrod 179 cubic-inch (2.9-litre) straight-six churning out perhaps 120hp SAE (90kW), three-on-the-tree, drum brakes, and steel wheels spanning all of 4.5-inches.
All that distinguished the S4 externally was a 179 badge on the boot, and even that was shared with any EH Hydra-Matic sedan equipped with the optional big-capacity 'red' six. After January 1964, when the 179 manual was officially launched, EH 225 M-S.4's future looked tricky, though we'll get to that later.
Oh, and the big fuel tank that serious S4 spotters can pick? It was how the current owner, Dick O'Keefe, identified the red-and-white car shown here.
It was no Jaguar, but the S4 (as it became known) was big news for fans of Australian cars. There was a price ceiling in the Armstrong 500 and the Jaguar Mark II 3.8 was ineligible. The S4 was intended to win its class and take the chequered flag, even though the race organisers did not officially recognise the first car to finish 500 miles. By the fourth Armstrong 500, the race had moved from Phillip Island to Mount Panorama, Bathurst and was beginning to attract manufacturer interest.
General Motors had a strict international no-racing policy so, by definition, any factory effort had to be subtle. What was needed was essentially an options pack, although the term was not in currency in the very different Australia of 1963. The extra equipment bestowed on Australia's favourite family sedan and taxi was surprisingly modest.
Most important was the manual transmission. Holden engineers believed the existing gearbox was not strong enough for the 179 engine and the unit pioneered in the S4 would subsequently be used in the 179 manual when it was introduced in January '64. So the factory workshop manual, printed before the special Special was cobbled together, did not list a 179 manual sedan. This led Australian Racing Drivers Club (ARDC) scrutineers to refuse entry to their prized event, Bathurst.
The EJ three-speeder was significantly upgraded with a new bell-housing and bolt pattern, stronger gears and a heavy-duty clutch. A thicker tailshaft and nodular-iron differential carrier were among a considerable list of drivetrain revisions.
The 'sintered metallic' brake linings were only good when hot and were aided by a Repco-PBR VH24 booster. Although they were still skinny, the steel wheels had the same stronger centres as Holden vans, and the larger radiator from the 179 automatic was an obvious upgrade.
At the heart of the S4 was the 179 engine with its forged steel crankshaft (early 179s only). It was painstakingly blueprinted and balanced. Despite a final drive of just 3.55:1 (the later 179M would run a 3.36), this was undoubtedly the first factory 100mph Holden. It seems probable that the car's true top speed would have been about 105mph (169km/h) and down Conrod the cars were pulling close to 110 (177), some five km/h slower than the fastest car, a Studebaker Lark.
A supplement to the workshop manual was hastily prepared to prove that customers could indeed order an EH S4 and scrutineers reversed their decision. GM-H also had to prove that at least 100 identical cars had been built, all of them before the official introduction of the EH range on August 31 - just six weeks before the first Sunday in October.
Here was a precedent indeed. The following year, Harry Firth's Cortina GT500 took it further, but the GT-HO Falcons and A9X Toranas were the supreme Bathurst specials and retail prices were kept low to guarantee the required number were sold. While researching the Phase IV GT-HO in 1987, I learnt that Ford Australia had ordered 125 sets of Globe Bathurst mags.
But Evan Green's story on "super-cars with top speeds up to 160 miles an hour" (The Sun-Herald, 25 June 1972) produced the furore, which led local manufacturers to abandon special cars they were building for the 1972 season and Bathurst, of course.
CAMS abandoned the Series Production formula in favour of Group C, which allowed far more extensive modifications, including wider wheels and Ford's Special Vehicles Operation quickly unloaded the surplus Globe mags. Many gratified owners of Phase IIIs were offered a brand new set complete with tyres for just $200. (We'd love to hear from readers who were beneficiaries of this incredible offer.)
From the S4 to the Phase IV in less than nine years represented astonishing progress.
It is difficult from a 2011 perspective to comprehend why so much mystery shrouded the S4 for so long and even more difficult to understand why so few of the 126 produced still exist, given the car's pivotal place in Aussie automotive history.
But it is much easier to identify the two most important surviving S4s, both of which are owned by Dick O'Keefe and grace these pages. They are a pigeon pair, two of just six built at Fishermens Bend (the other 120 came out of Pagewood in Sydney), body number 300 and body number 304. Both started life as Winton Red/Fowlers Ivory cars with grey trim.
Rumours persist that the Melbourne-built cars had some additional fiddles, extending perhaps to lightweight pistons. There was genuine NSW/Victorian rivalry in that era when beer didn't cross borders and the lines on roads north of the Murray were yellow. Curiously, only Sydney cars got S4 stamped into the build plate, which doubtless served to make things still more confusing.
A story in the October 1963 edition of Racing Car News provides fantastic context:
"A couple of weeks prior to the closing date of entries for the Armstrong 500 race, news filtered through to Sydney of a special Holden. Called the EH S4, this Holden was reputed to sell for under 1200 pounds (the Class C limit at Bathurst) and was reported to be much faster than the normal range of cars which were available only with the small motor [149ci, 100hp SAE] in the manual transmission car, or the big motor [179ci, 115hp SAE] with automatic transmission. The S4 had the big motor and manual 'box and a team entry was expected from the Victorian Holden Dealers.
"Enthusiasts in Sydney immediately tried to buy an S4 with varying results. Some were able to purchase cars at 1160 pounds, one dealer offered the S4 only with 200 pounds worth of optional extras which took it out of Class C, some dealers said they had never heard of the S4 despite the fact they had registered S4s in the back room. Lots of tempers were frayed.
"About a week before entries closed, the first S4 entry was received by the Armstrong organisers who discovered a few problems. Firstly, they could not obtain a printed 'Price List' from the dealers, who referred them to GM-H. GM-H would not furnish a price list either, which meant the ARDC left themselves open to protest should the S4 win its class.
"Secondly, no workshop manual was available so the organisers had no data from which their scrutineers could work. Therefore it was announced that the S4 could not be accepted, resulting in a lot of ill-informed criticism and different sets of tempers being frayed.
"The day before entries closed, GM-H furnished the necessary price list and furnished a workshop manual listing the S4. The organisers then announced that the S4 would be acceptable."
Six S4s were entered in the 1963 Armstrong 500. The Frank Morgan/Ralph Sach car finished second outright, sandwiched between the Cortina GTs of Harry Firth/Bob Jane and Bruce McPhee/Graham Ryan, two minutes and one second behind the winners. The best of the rest was seven laps down and fifth in Class C.
Initially identical, Dick O'Keefe's two S4s could now hardly be more different. Number 300 has always been better known as 'PK-751', the car spectacularly raced (with these number plates) by Stormin' Norm Beechey. The engine was developed by the man himself (remember Norm Beechey's Speed Shop on Sydney Road?) with Claude Morton and Jack Wilson. It was bored out to 3.5-litres, fitted with Chevrolet pistons and Mercedes conrods. Peak revs were perhaps 7700 and power was possibly as much as 230bhp.
This made PK-751 one of the fastest S4s in Appendix J (Group N), along with Brian Muir's red car. It was painted Neptune Blue with white stripes but the engine bay remained red. Since its glory days in 1963 and '64, it has been to hell and back and had numerous owners and lifestyles. By contrast, number 304 remains precisely as it emerged from the factory.
Dick's plan for the ex-Beechey car is to return it to the condition in which it was raced. While a Series Production EH could never have matched a Mark II Jag 3.8, Beechey's touring car was a different proposition and the sight of a local family sedan mixing it with aristocratic English machines delighted the fans.
So it will get 5.5-inch rims and the engine bay will be Winton Red. Currently, the car is very rusty and there's evidence that it may once have been painted a really crook metallic green. Dick hopes to convince the Sydney guru who built an EH limo to undertake the restoration on PK-751.
Beechey sold it to 'Fizzball' Collins who drag raced it. It was the first sedan to reach 100mph in the quarter mile. It was sold off before the end of the '60s and became a road car, passing through several owners before disappearing.
Gavin Sala, described by Dick O'Keefe as a "brilliant engineer and restorer", found it in Mildura in 1974 and paid $1500 for the most famous S4 in the world. It had a standard front end back in it, the floor was "rough as guts" and the rear end was "like a Swiss cheese" after many attempts to better locate the axle. Sala miraculously found the Beechey front end with its clever geometry and built a race engine for Group N. Later, Gary Smith bought the car and campaigned it as a sports sedan with some success.
Just 10 S4s are known to survive in good condition and there is a strong chance that all will appear at Bathurst in 2013 to celebrate 50 years of EH.
The S4 might seem almost laughable in comparison with the Bathurst specials that followed, but it is a truly significant sports sedan and one of the icons in Australia's great history of tin-top racing.
In due course, a good example will surely be worth significantly more than the five-figure sums for which Dick O'Keefe has his two cars insured.
SPECIFICATIONS
1963 HOLDEN EH S4
ENGINE: 2934cc 6cyl, OHV, 12v, Stromberg carburettor
POWER: 86kW @ 4000rpm
TORQUE: 237Nm @ 1600rpm
WEIGHT: 1119kg
GEARBOX: 3-speed manual
BRAKES: drums (f/r)
TYRES: Michelin X 165R13
TOP SPEED: 169km/h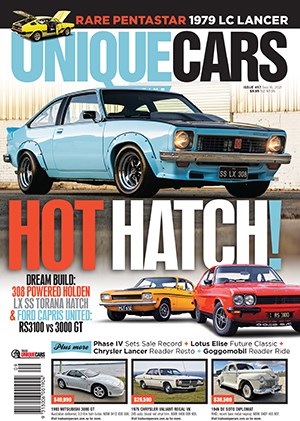 Subscribe to Unique Cars Magazine and save up to 42%
Australia's classic and muscle car bible. With stunning features, advice, market intelligence and hundreds of cars for sale.
Subscribe