Tatra T87 (1936-1950) Review
---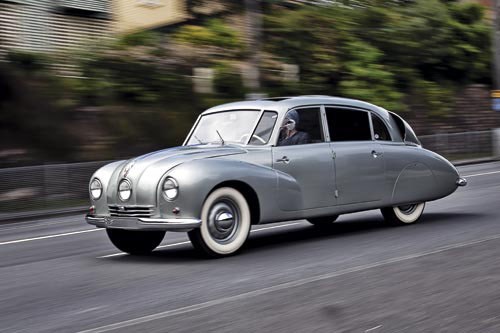 Tatra T87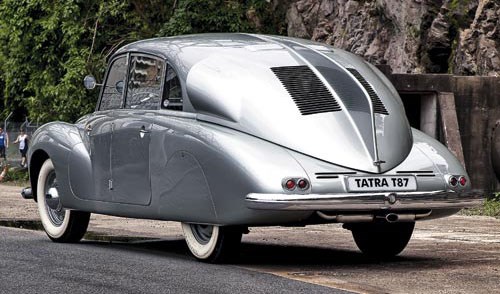 Tatra T87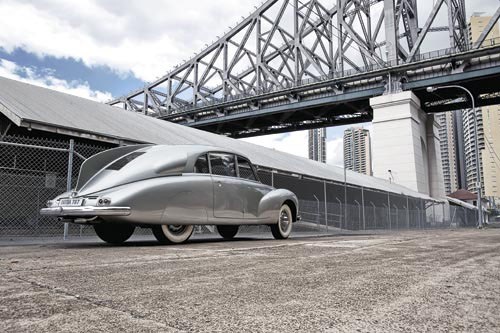 Tatra T87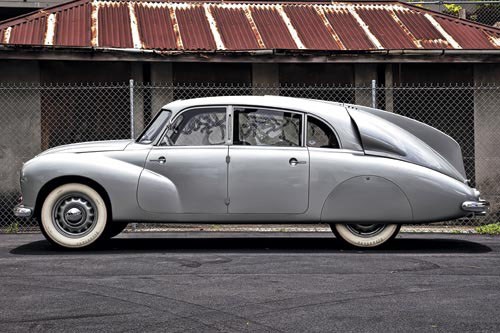 Tatra T87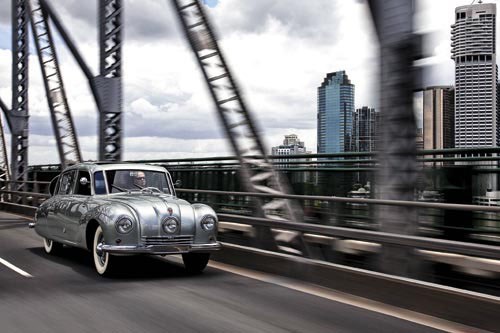 Tatra T87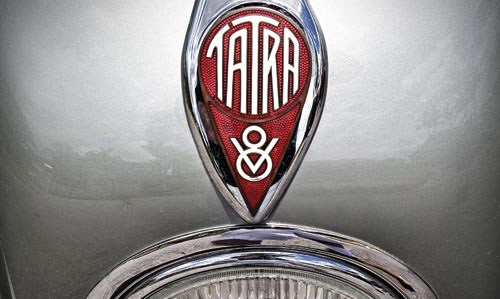 Tatra T87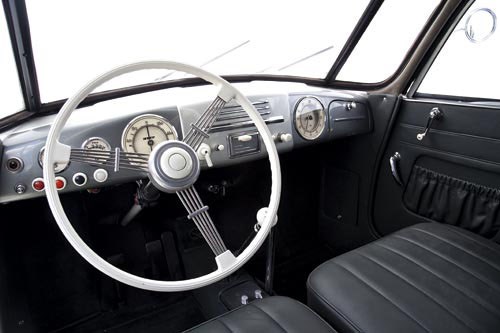 Tatra T87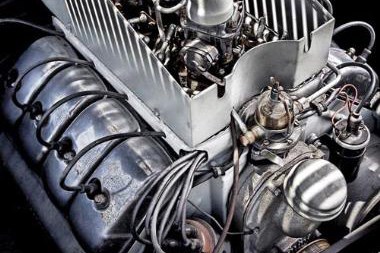 Tatra T87

Classic metal: Tatra. Did this marque save us from Hitler?
Tatra T87 (1936-1950)
Founded in 1850 as a carriage builder, Czech Republiccar company Tatra is the third oldest in the world behind Mercedes-Benz and Peugeot. While it may have failed to achieve the level of success that its German and French contemporaries enjoy, Tatra just might have saved us from Adolf Hitler.
That's right, during the height of the Third Reich's supremacy, this little car maker in Nazi-occupied Czechoslovakia was knocking-off German officers with its 'secret weapon' at such a rate that The Führer had to ban all officers from driving the Tatra in case the German war effort was compromised by the thinning numbers of ranking Nazis.
Produced from 1936-1950, the Tatra T87 was a hero to the Czech people for introducing many a German officer to telegraph poles and ditches via its tendency to lift-off oversteer.
But it wasn't just this propensity for lunching down Third Reich officers on their way home from the pub that endeared the T87 to the locals (and fans worldwide to this day). It was the Tatra's innovative design and engineering that made it special.
For a car conceived in the early 1930s, the T87 was incredibly futuristic, not only aesthetically but engineering-wise too, and represented the zenith of a collaboration between legendary Tatra engineer, Hans Ledwinka, and Zeppelin airship designer Paul Jaray. A pioneer of automotive streamlining, Jaray penned the preceding 1934 Tatra T77 upon which the T87 was based.
Ledwinka was the engineer responsible for much of the success Tatra enjoyed in the first half of the 20th century, but when compared to his old friend and rival, Ferdinand Porsche (more on Porsche later), Ledwinka remains to this day one of the least recognised masters of automotive innovation.
Testament to Ledwinka's ability and foresight survive in his many air-cooled, rear-mounted engine patents and his invention of the 'backbone' chassis - still a feature of modern truck design.
However, the greatest vindication of Ledwinka's transcendent automotive prowess is the fact that from the T77 of 1934 until the final Tatra road car - the T700, which ended production in 1999 - the layout of big Tatra passenger cars remained unchanged.
Amazing to think that for 65 years, there was always a Tatra luxury model with a rear-mounted, air-cooled V8. Porsche can only claim a 48-year history for its legendary 911...
FATHER TO SON
Ledwinka, along with his son Erich and engineer Erich Übelacker, led the Tatra charge into vehicle streamlining with the T77, subsequent T87, and the smaller T97, backing up breathtakingly beautiful and efficient aerodynamic cars with a technical competence that left competing companies trailing.
The T87 was the first Tatra that allied the Ledwinka-patented backbone chassis with swing-arm rear suspension and a 2970cc air-cooled, magnesium-alloy V8.
Under the twin-carburettors, hemispherical heads with a two-valve-per-cylinder layout allowed the escape of gasses, while twin cooling fans, slats, vents and scoops took care of engine cooling.
An interesting feature of the T87 is the rear slats on the engine cover that can be opened (for cold weather driving) or closed (in hot weather) manually.
The pace of the T87 owed much to Jaray's streamlining design principles and featured a claimed drag-coefficient (Cd) of 0.251 (based on a 1:5 scale model) and a top speed of 100mph (161km/h), despite the paltry output of 55kW (75hp) from that burbling V8.
While the claimed top speed was found to be accurate, wind tunnel testing in 1979 by Volkswagen found the T87 had a true drag coefficient of 0.36 - quite a feat considering that many new cars today still have higher Cd figures.
Famous T87 owners have included Felix Wankel (the inventor of the rotary engine), American writer John Steinbeck, Egyptian King Farouk I
and comedian Jay Leno, but the Tatra's initial role was serving as luxury transport for Czech government (and occupying) officials through the transformation of Czechoslovakia to communism after WWII once Nazi occupation ended.
The T87 was highly regarded for its compliant ride, speed and efficiency (12-13L/100km was the advertised consumption) but it was also respected for its tail-happy exuberance, which could make it a deadly weapon if care wasn't taken, especially in the wet.
POST-MODERN WORLD
Driving the car today is an interesting, if slightly unnerving experience, and not just because you are mixing a $200,000 classic with modern traffic.
As there is no engine up front, the cabin is airy and very cool, even in the high 30s of a Brisbane summer day, but the recalcitrant gearbox, 'Oh my God!' brakes and 'peeking-through-venetian-blinds' rear view are features to really make you sweat.
This, combined with a steering wheel on the left and an indicator switch on the dash that flings the 'floppy-eared dog' ambers out of their B-pillar alcoves, makes for a challenging driving experience.
First gear is a short 'mountain' ratio, making it possible to take off in second as the torque available is enough to pull away cleanly.
The long wheelbase and high-profile tyres combine to give the T87 a decent ride around town and some body roll in corners but not to the extent you would expect from a pre-war design.
The clutch isn't all that heavy and once up and running the T87 keeps up with traffic easily - its fantastic, but busy engine note reminding you that the Tatra is something very special. The sound is an eclectic mix of small block American V8 rumble overlaid with a cooling fan whir reminiscent of a 964 or 993 Porsche 911.
It's the mating of two truly great engine ideas in one package. Give the engine a rev and it sounds muscular, despite its small (for a V8) cubic capacity. The meaty throb coupled with the whoosh of the twin cooling fans makes for an unusually addictive aural signature.
As incredible as the history of the T87 is - from the airship-inspired design to Ledwinka's engineering acumen to the role of Hitler and Porsche in the history of Tatra - all is overshadowed by the sight and sound of that dolphin-finned rear end squatting under acceleration as the T87 cuts a swathe through 2011. Communism has never looked so cool.
SPECIFICATIONS
TATRA T87
ENGINE: 2970cc air-cooled V8, SOHC, 16v, twin carburettors
POWER: 55kW @ 3500rpm
GEARBOX: 4-speed manual
SUSPENSION: hydraulic shocks, coil springs (f); hydraulic shocks, cantilever springs (r)
BRAKES: discs (f &r)
WEIGHT: 1370kg
TOP SPEED: 161km/h (claimed)
---
Sign up to one our free weekly newsletters:
Receive more Unique Cars reviews and features here or get the latest unique and classic cars for sale here.
Subscribe to Unique Cars magazine
- Print edition
- Digital edition
Unique Cars magazine Value Guides
Sell your car for free right here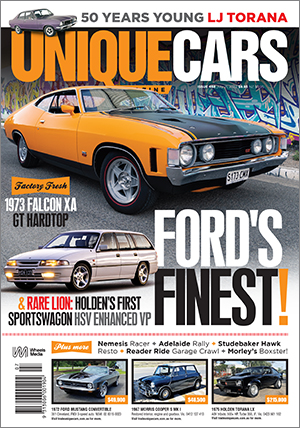 SUBSCRIBE TO UNIQUE CARS MAGAZINE
Get your monthly fix of news, reviews and stories on the greatest cars and minds in the automotive world.
Subscribe