Ford XY Fairmont 351 GS Review
---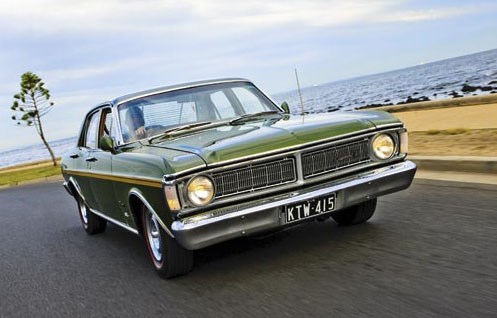 Ford XY Fairmont 351 GS

Ford XY Fairmont 351 GS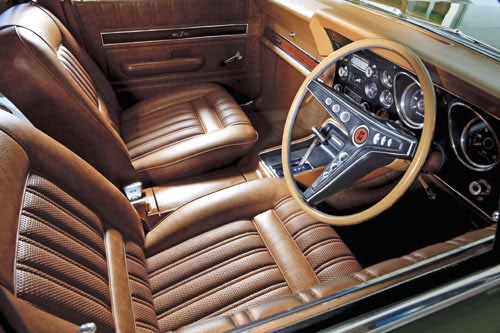 Ford XY Fairmont 351 GS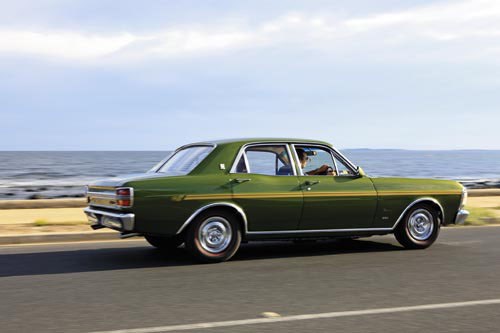 Ford XY Fairmont 351 GS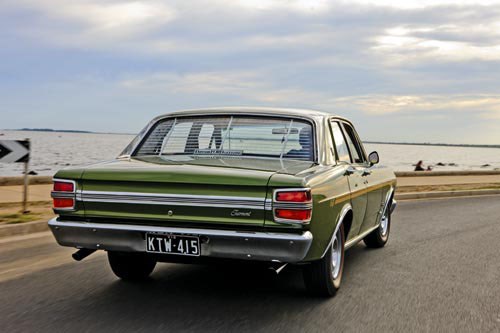 Ford XY Fairmont 351 GS

Classic metal: Ford Fairmont 351 GS. With GT prices and insurance costs out of reach for most, the Fairmont offered a great alternative
Ford XY Fairmont 351 GS
Among the challenges that the 1970s created for car manufacturers was a new generation of spoilt brat buyers. These people had mostly been born in the 1940s - the retroactively-labelled 'Baby Boomers' - and had no real memory of wartime austerity or 1930s deprivation.
Unlike their fathers, who ordered a new Holden with no guarantee of colour or even a firm delivery date, this generation wanted a vehicle that reflected their personalities and aspirations and wanted them right now.
Drawing on the experience of their parent companies in the US, Australia's 'Big Three' quickly learned that an extensive options list could deliver the diversity their clients craved, as well as a decent boost to manufacturer and dealer bottom lines.
Ford was a master of the options game and 1970s dealership car spaces were a smorgasbord of 'cooked up' company demonstrators, all ripe for quick despatch - at premium pricing - whenever a 'gotta have that one' purchaser demanded immediate delivery.
The car that was top of many a Boomer's mind was the shaker-fed XY 351 GT, but fulfilling that desire came at a more substantial cost than the GT's $4800 on-road purchase price. Insurers hated those two little letters - equating them to 'drive me so fast you'll undoubtedly crash' or 'steal me then drive me so fast...etc'.
Premiums quoted in magazine road tests of the day show GT insurance costs for the typical over-25, maximum no-claims driver were more than double the amount being charged for cover on a 351-engined Fairmont.
It took no time at all for buyers to realise that the insurer cash grab could be defeated with nothing more than a fresh pen and the FoMoCo options sheet.
The cars they created were colloquially known as 'sleepers' and 40 years later, they are the ones in hot demand with enthusiasts who can afford the insurance, but not raise the six figures needed for a very good XY GT.
The 'sleeper' term apparently had its origins in espionage - referring to operatives who live anonymously for years before being commissioned into action. The metaphor neatly describes Clem Giambattista's XY Fairmont GS, which has a pair of 351 badges decorating each front mudguard and playing their own role in a deception.
But just as Unique Cars' 2010 giveaway GT-HO came from humble stock, this GS left the Ford factory with a 4.1-litre, six-cylinder beneath its bonnet.
Open the door and inside is picture-perfect Saddle trim, the well-stocked GS dashboard with a scarce 'Super Fringe' radio, new carpets, centre console and a chrome-shiny T-bar shifter.
Appreciators of authenticity in automotive restoration peer respectfully until Clem spins the key and from beneath the car a small volcano erupts.
Heads swivel at the sound and suddenly the crowd is swelled by younger, horsepower-hungry newcomers, eager to discover how and why an innocuous old Fairmont is suddenly buzzing like a carrier jet ready to be catapulted into combat.
"It's got a C10 automatic with a 4400rpm stall convertor and it looks so stock, people really don't take much notice until you start it up," Clem laughed.
At 17, almost 20 years ago, he bought his first XY Falcon, a "three-on-the-tree six-cylinder Futura", which was quickly sold in favour of an RS2000 Escort that was "more fun and cheaper on fuel."
Since then, and with a growing family, the Giambattista garage has been home to a range of brands including Alfa Romeos but he has always harboured a desire to own a very special XY.
Four years ago, Clem found this car for sale in nearby Geelong. It had already been converted from the original engine to a 5.8-litre 351 but Clem's plans didn't include that particular interloper engine.
After driving the Fairmont for almost three years, attention was turned towards its transformation. With invaluable guidance from Michael Micelli of Mustang Alley in the Melbourne suburb of Williamstown, KTW-415's transition from mild to wild was underway.
"The engine was going to be the heart of the car, but it had to be usable and not lose its stock appearance," Clem said. "During the time I was driving it, I did a lot of looking at other cars and what people had done to them and that helped when the time came to start on mine."
A full body strip was rewarded by the discovery of minimal rust - half a left side doorskin and sill replaced, plus work to rectify the normal Falcon rust trap between the bootlid and rear window. A colour change from Monza Green to the more vibrant Jewel Green followed.
While body renovations were underway at Fitzroy Motor Body Panels, Clem was chasing down a few items that would add special touches to his gleaming Fairmont.
"I got a square-base radio aerial and the GT fuel-filler cap, then came across the rare Super Fringe radio."
The original GS pack driving lights and accessory bumper over-riders were removed to maintain the clean appearance of the XY nose and streamlined GT mirrors were fixed onto each front door.
Peeking under the bonnet, the only clue to the grunt harboured by this innocent-looking 351 comes via some serious Pacemaker extractors feeding 3.0-inch pipes. Even they slim down to a stock-ish 2.5 inches before reappearing beneath the rear valance. "The engine is where we really made this car something different," Clem reveals with pride. "The block was taken out by 30 thou with forged TRW pistons and a 4MAB nodular-iron crankshaft. We wanted it to be reliable but rev much harder than a standard 351."
Durability was also the reason for spending extra on a double-row timing chain, special connecting rods and bolts, triple valve springs and roller rockers.
Feeding fuel to the monster is a 750cfm Holley bolted to a Weiand manifold.
"The engine revs to about 7200rpm and puts out 450 horsepower (335kW), which is more than even the racing GT-HOs had, but it's still a really nice and easy car to drive," Clem said.
The only major departure from stock is four-wheel XC disc brakes that help overcome the well-publicised reluctance of high-performance XYs to stop.
"I'd like air-conditioning but fitting it like the factory setup is a big job and most of the time, it's just fine with the windows rolled down."
Those windows and old style door handles proved perplexing on the first day the Fairmont appeared in a driveway that had seen mostly modern cars.
"I was taking the kids for a drive and my eldest son stood at the passenger door wondering why it didn't open when I'd unlocked my side," he laughed.
"When he finally got in, he sat staring at the door and when I asked, 'what's wrong?', he said he couldn't find the window switch. At 10, he had never been in a car with window winders. Now they all love riding in the car they call the Green Machine."
Clem hopes that his children share his passion for the XY, but understands if their desires move in other directions.
"Cars are a very personal thing. They are what you grow up with and probably not too many kids today will have an XY as their first car. But I think they still appreciate old muscle cars just as much as I do."
Clem would like to thank Michael Micelli of Mustang Alley, Ross Camitti (paint), Sam Garretto of True Flow (mechanical work), Frank Amato and Robert Talevski, wife Rita and children Luis, Julian and Claudia.
PERFORMANCE PHASE
XY Falcons in every form owe their popularity and premium values to one variation - the GT-HO Phase III.
The brawny sedan with its 'shaker' air intake, chin and bootlid spoilers made mince meat of the opposition in its 1971 Bathurst 500 debut. Phase IIIs filled every podium position and Allan Moffat's factory-backed car won by over a lap.
In 1973, Moffat and the mighty Phase III were back and ready for a new battle to win the Australian Touring Car Championship under the new 'Improved Production' regulations.
With larger wheels carrying proper race rubber and a roaring side-exit exhaust, Moffat won five races to finish 23 points ahead of Peter Brock's XU-1 Torana and prove that the Phase III was much more than a 'Bathurst Special'.
TICK A BOX
Any new Ford bought in the 1970s came with a bewildering array of options and an even longer list of accessories. Under the bonnet of most XYs could be found one of five engines, with a choice of three transmissions, and bench or bucket front seats.
The up-spec Fairmont came standard with a 4.1-litre six, three-speed automatic transmission and front disc brakes. Many were ordered as 4.9- or 5.8-litre V8 automatics or with four-speed manual transmissions. Improved handling and better tyres frequently formed part of the package.
Power from the 2V 351 was down 18 percent on the 224kW offered by shaker-equipped GTs but a manual 351 Fairmont would still get within a second of GT acceleration times and cost hundreds less to buy and insure.
Dress-up items began with the GS pack, perhaps adding reclining front seats, a remote control door mirror and even the nifty sliding sunroof. For added security, a laminated windscreen made sense, as did a pair of additional seatbelts in the rear. Air-conditioning came in two forms - factory-installed with additional vents or dealer-fitted units with cumbersome under dash outlets.
In late 1971, an XY GT with basic options of a laminated windscreen and radio was list-priced at $4643.
At left is how the numbers would have stacked up for a buyer with the means and intent to create a Fairmont-based 351 sleeper like Clem's.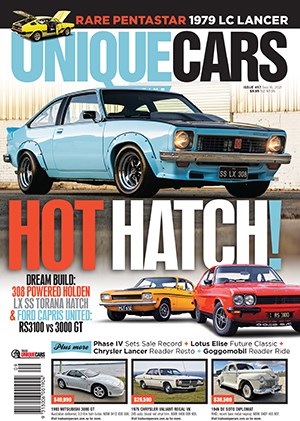 Subscribe to Unique Cars Magazine and save up to 42%
Australia's classic and muscle car bible. With stunning features, advice, market intelligence and hundreds of cars for sale.
Subscribe