Chevrolet Bel-Air (1957) Review
---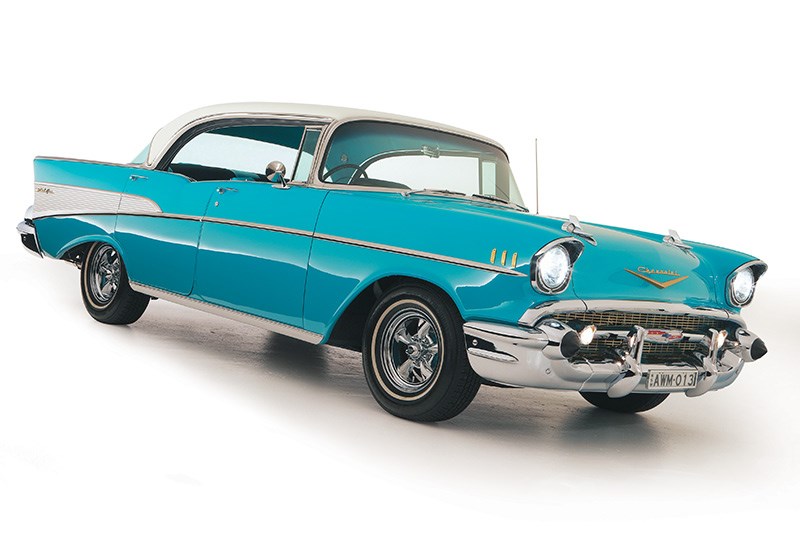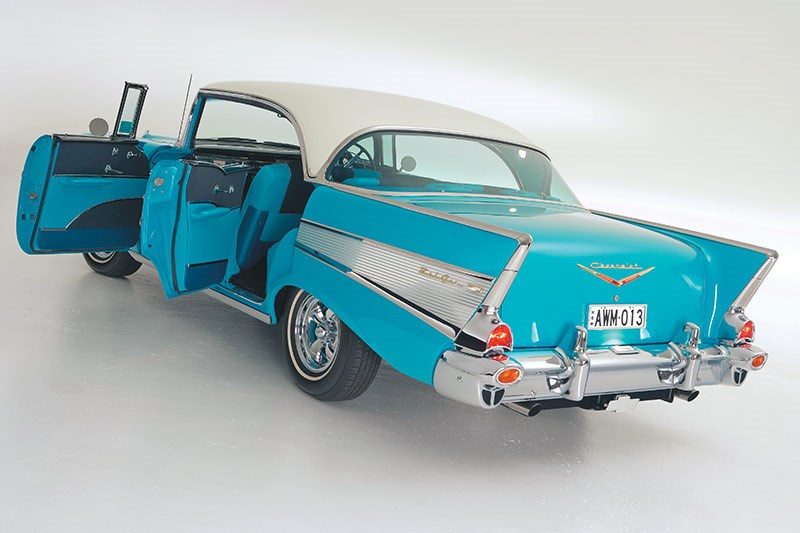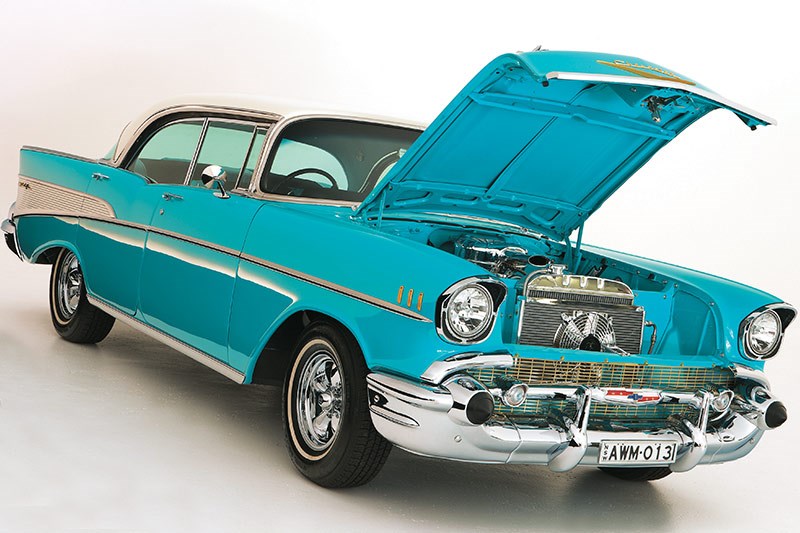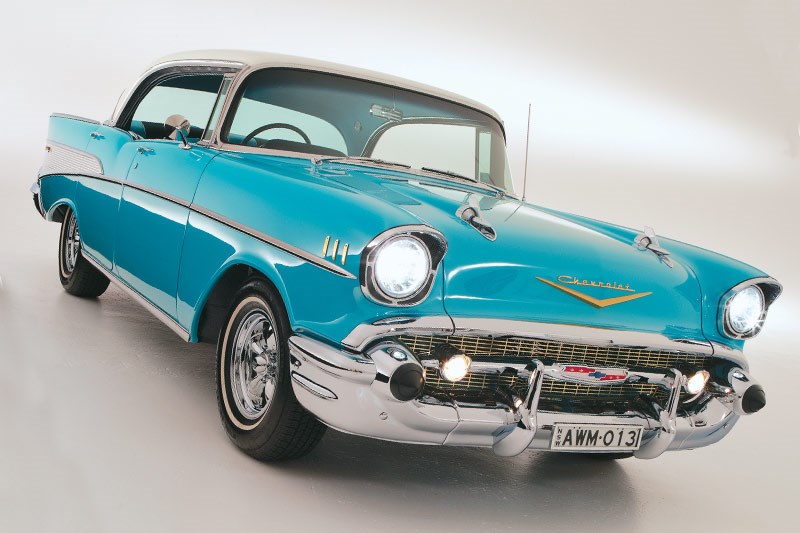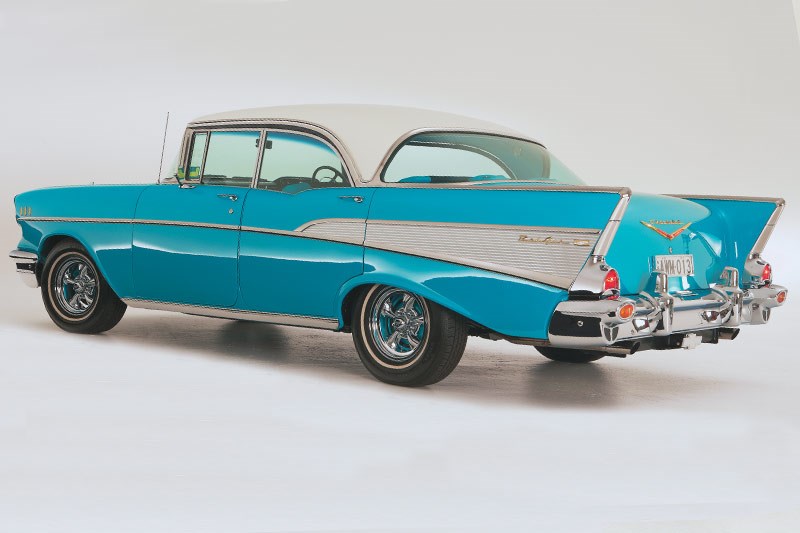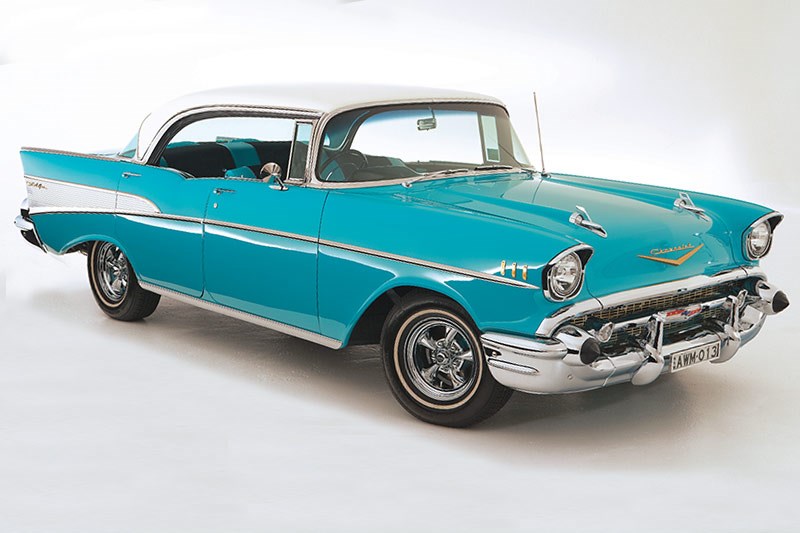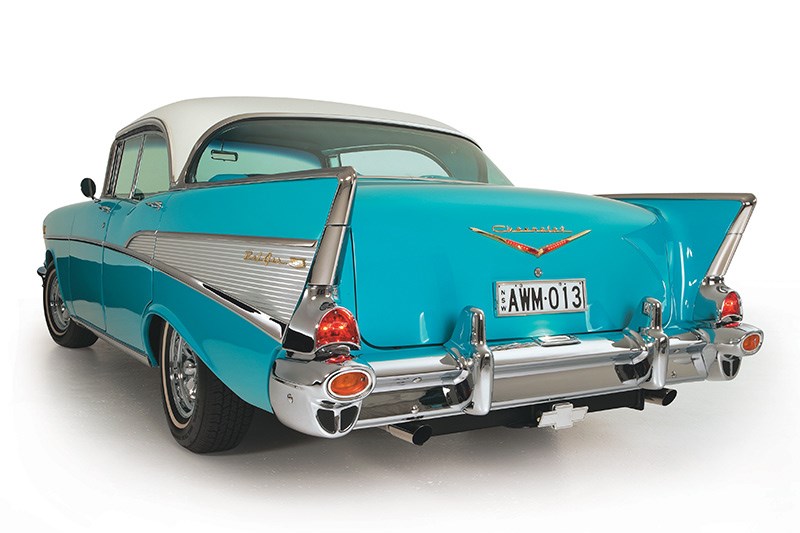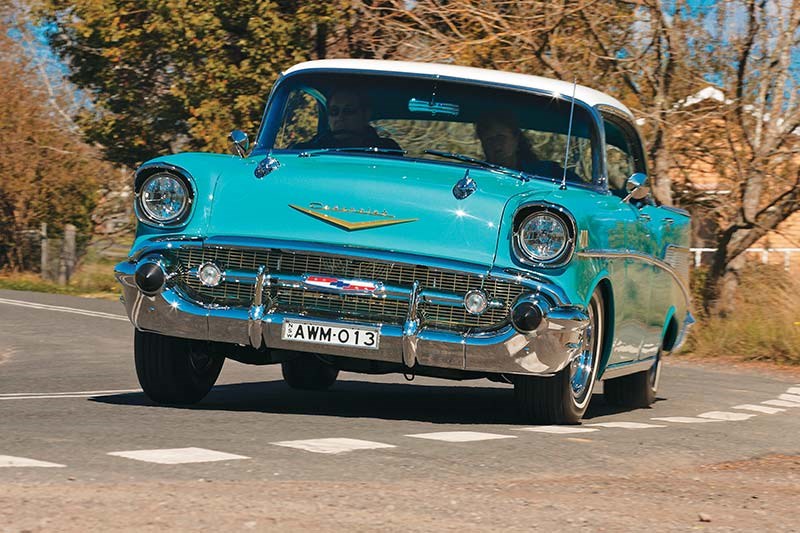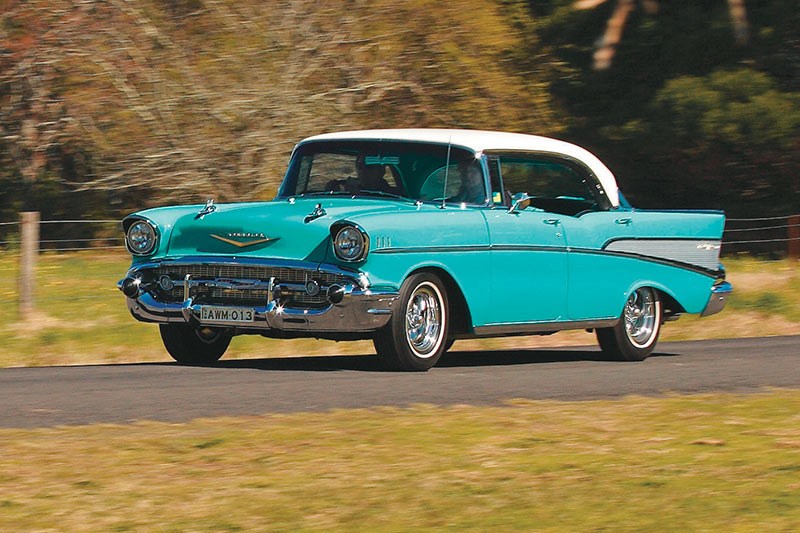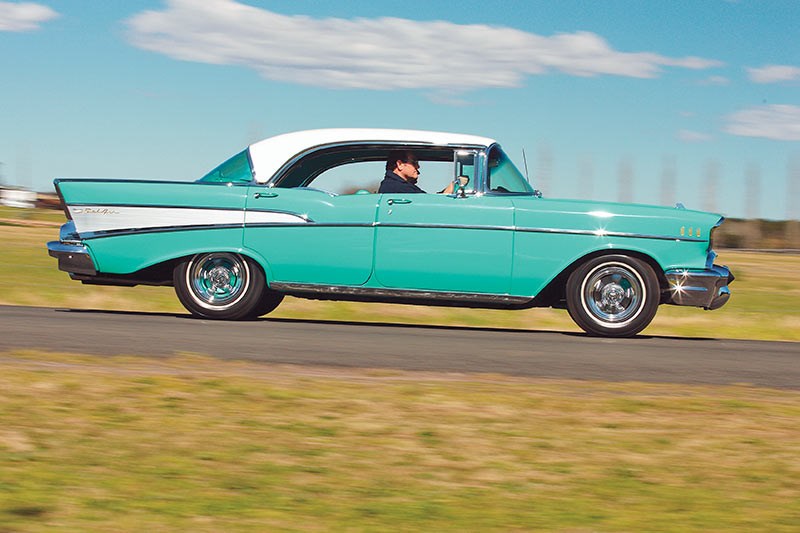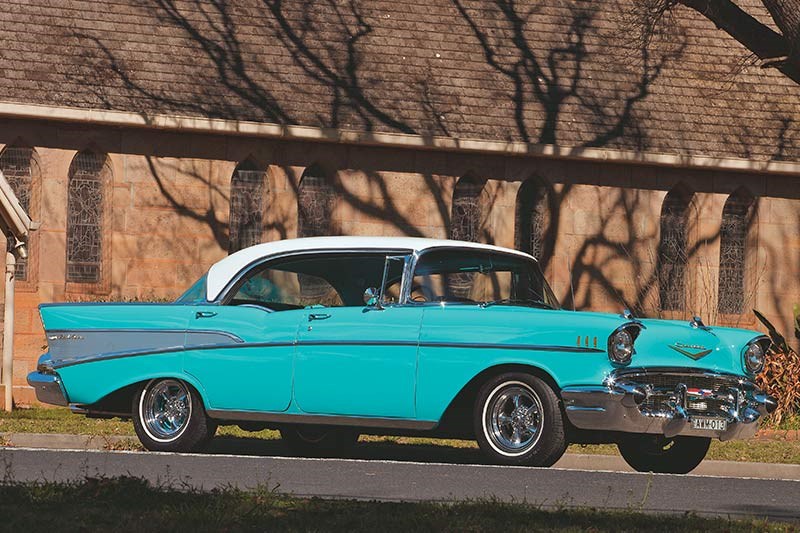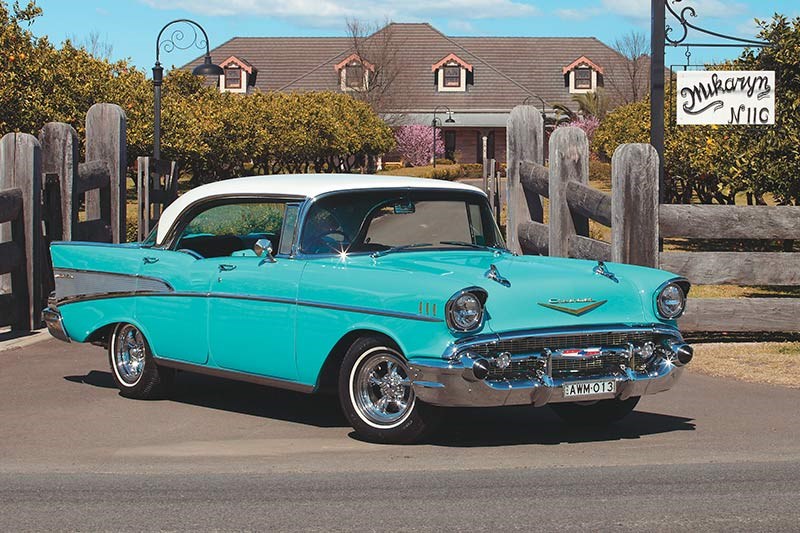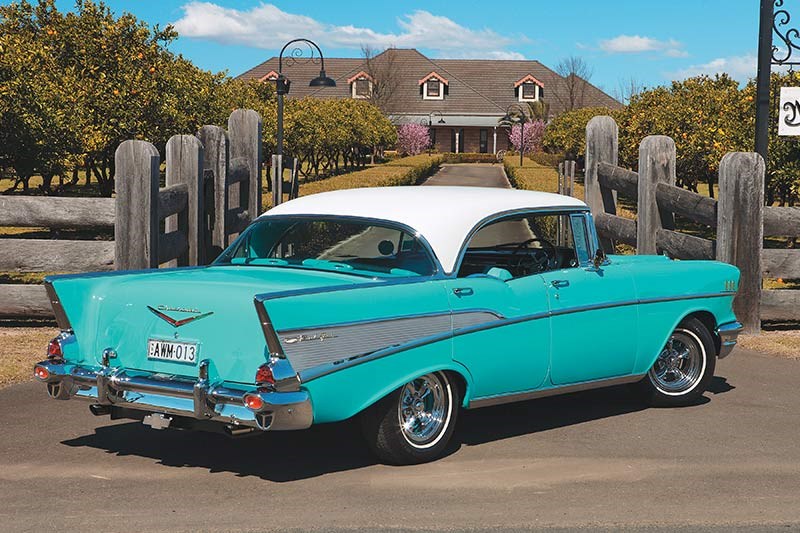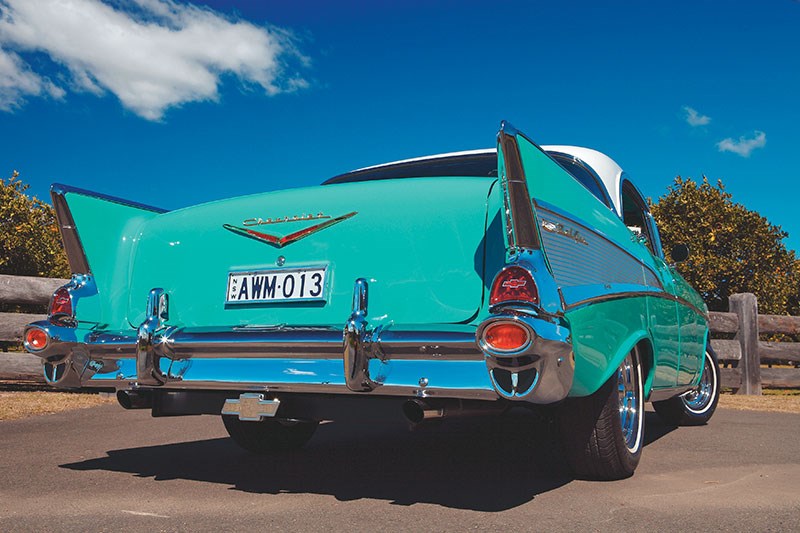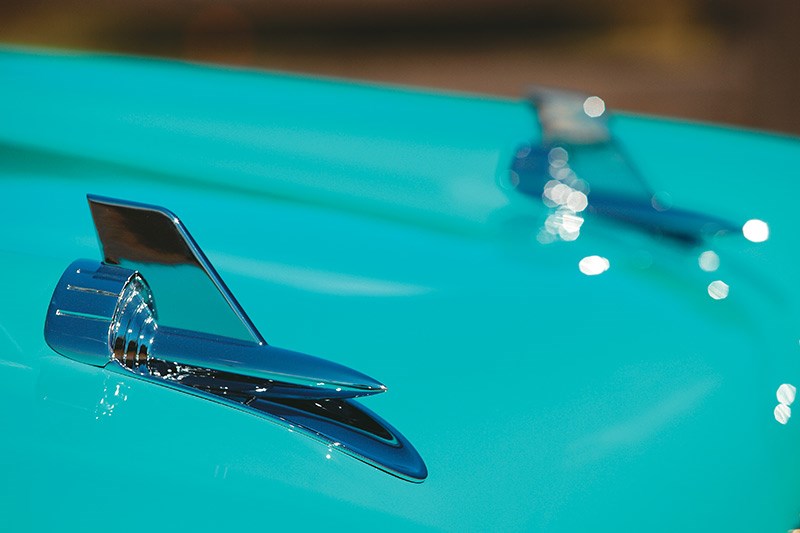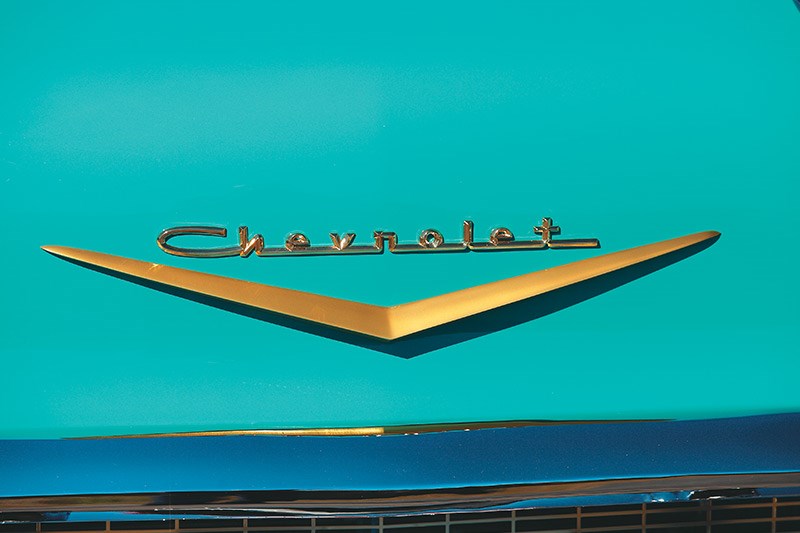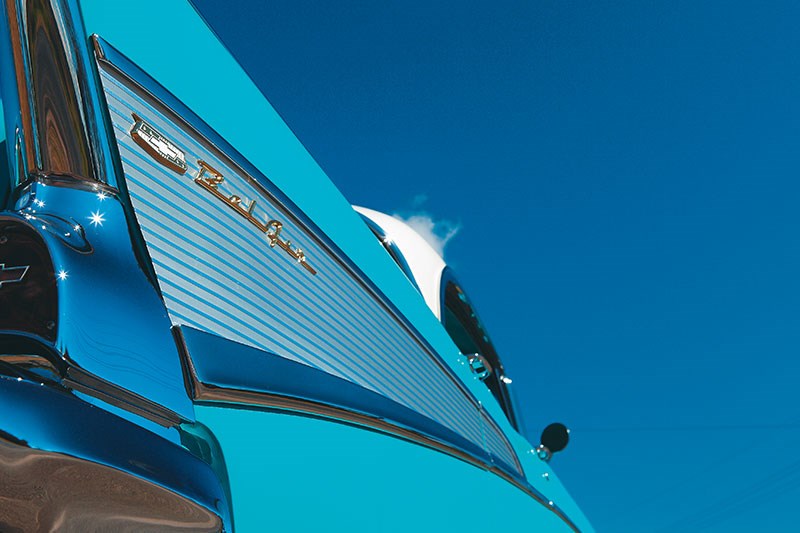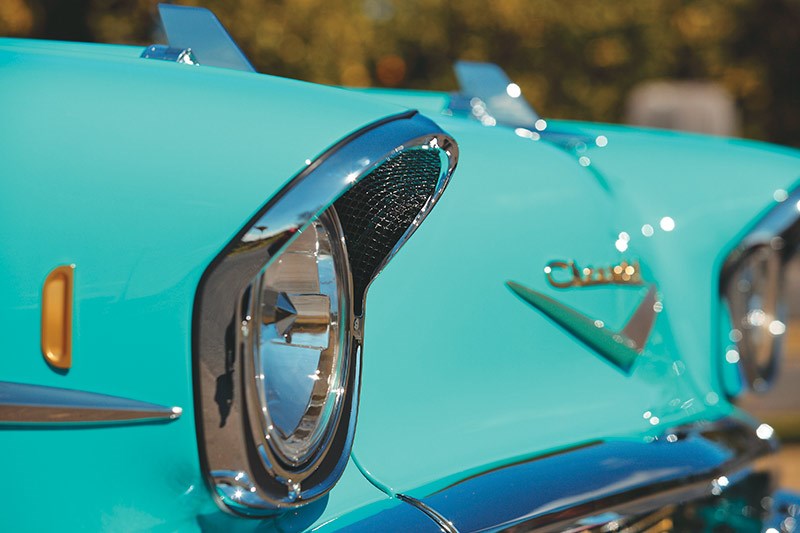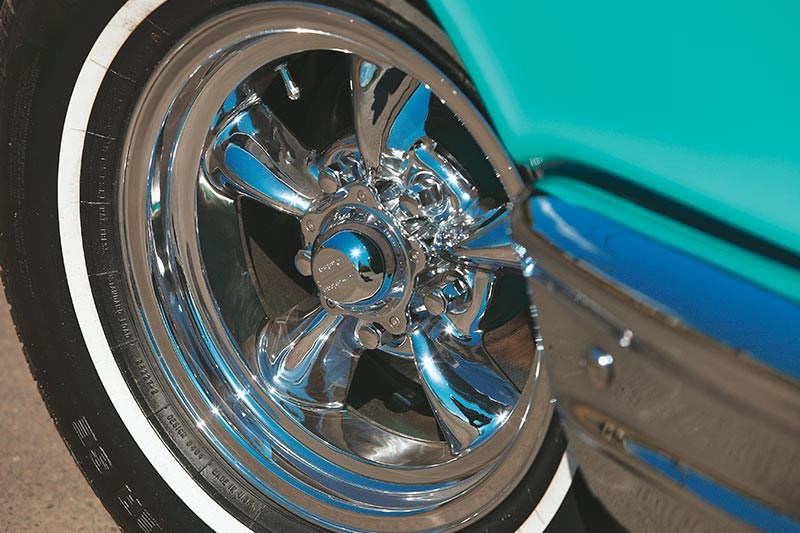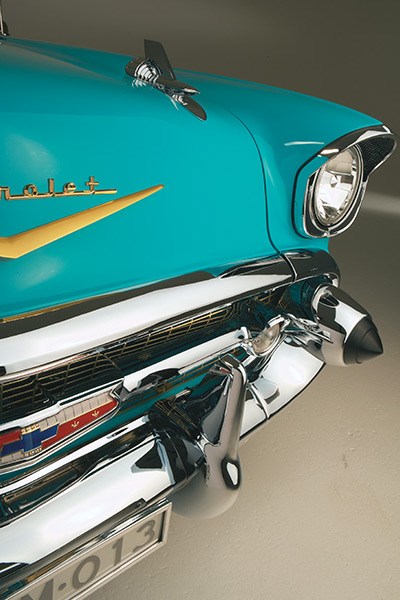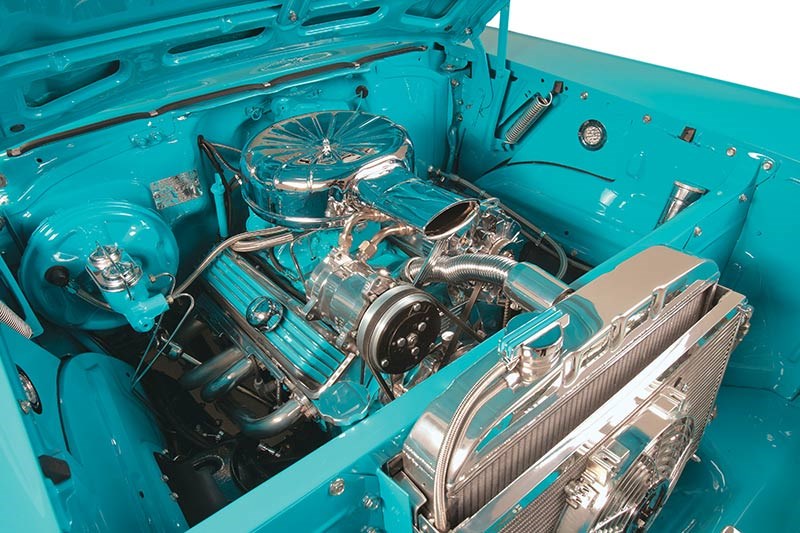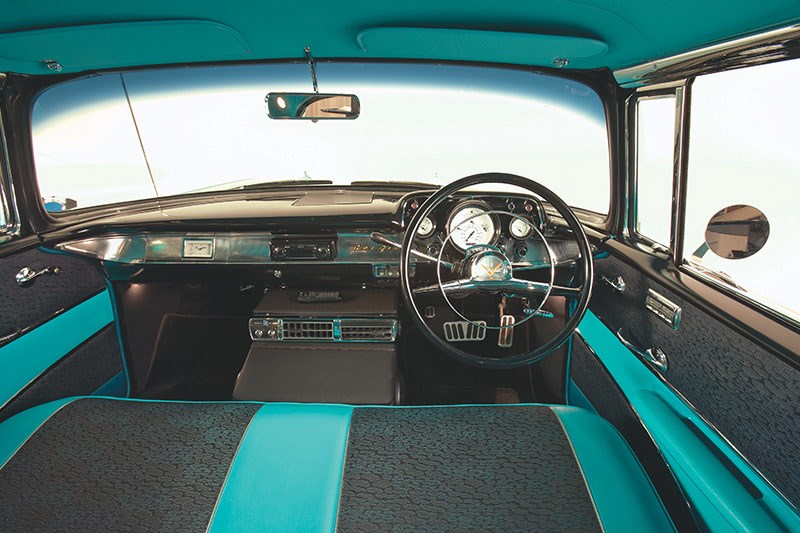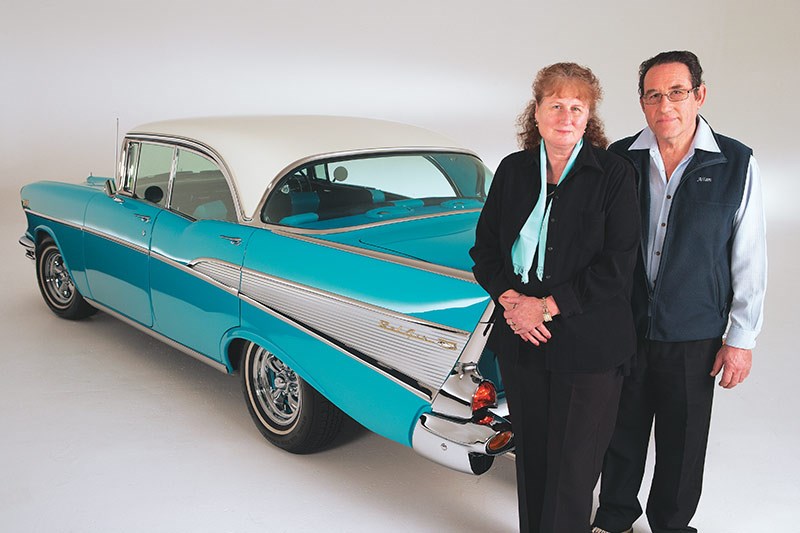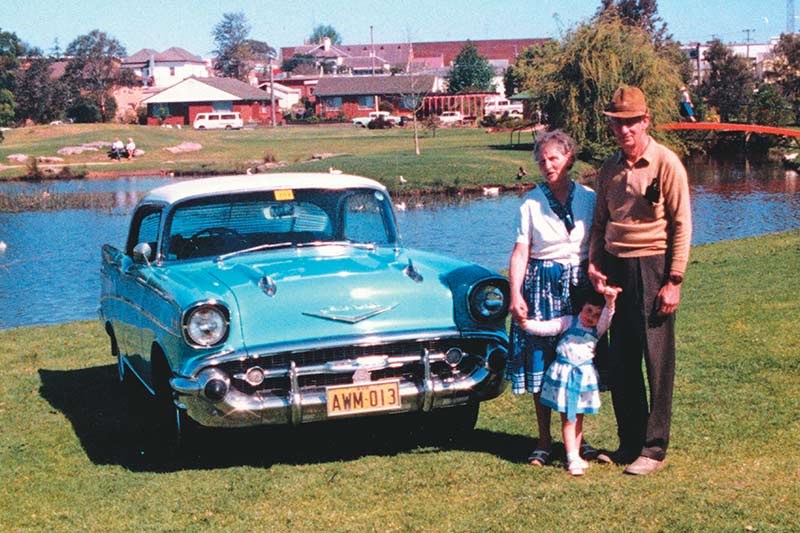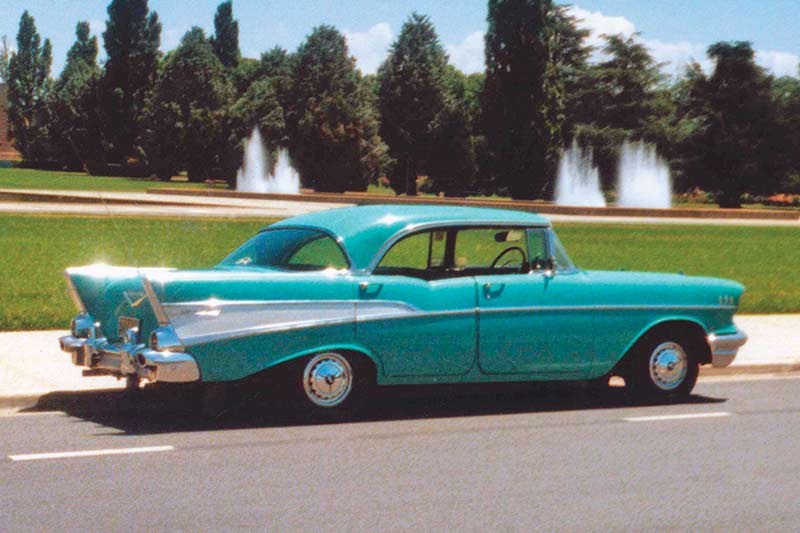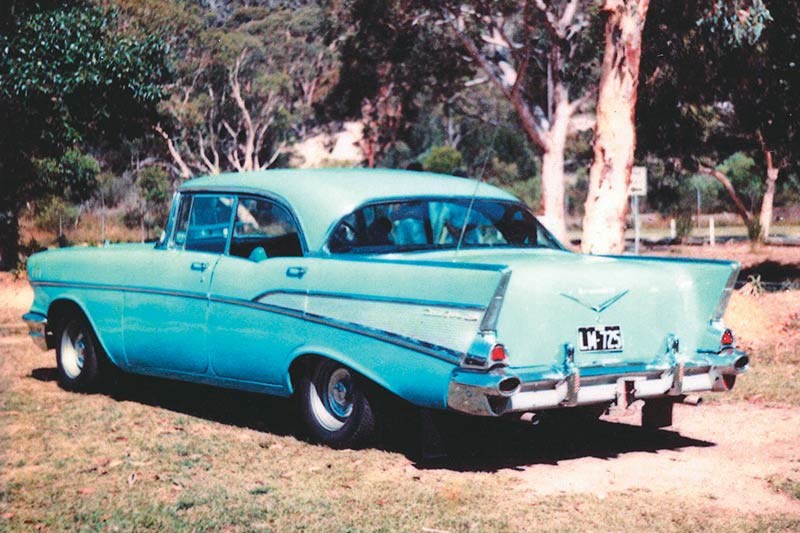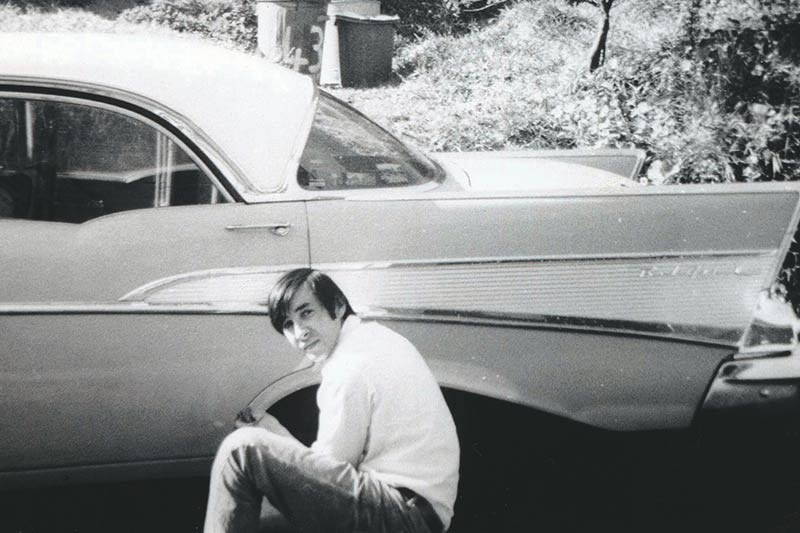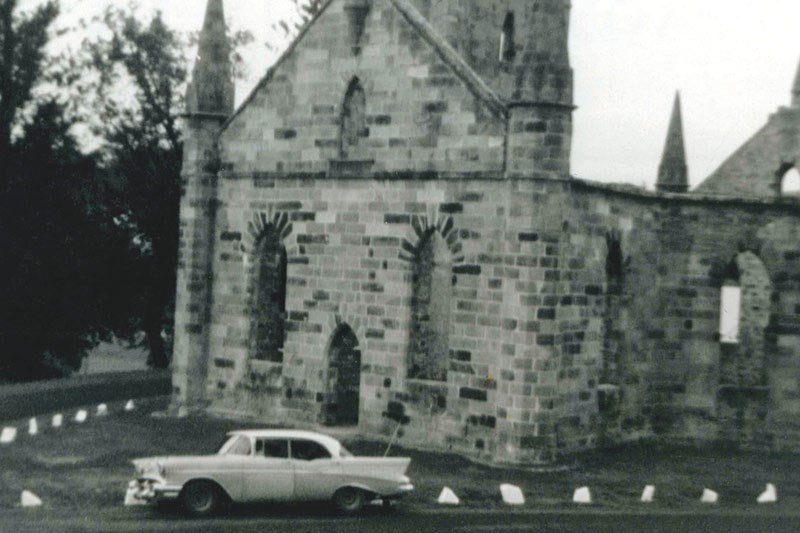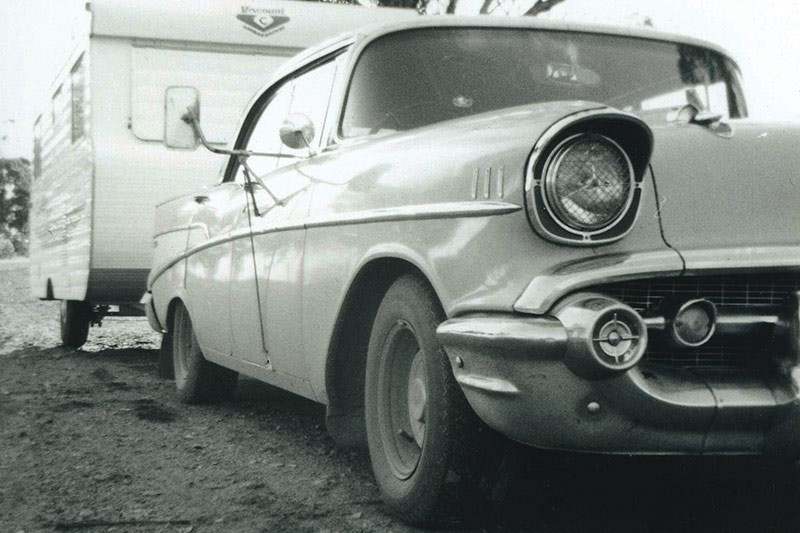 Marathon metal: '57 Chev. It's travelled more than half a million kilometres all over Australia – now this Chev is back better than ever!
1957 Chevrolet Bel-Air
If you're a thirty- or forty-something parent driving a Commodore Sportwagon or a Ford Territory these days, chances are you grew up jumping around on the rear seat of a Kingswood, Falcon or Valiant wagon.
Drive a Subaru Outback? Maybe your dad had one of those slightly awkward-looking Subaru Leone wagons - you know, the four-wheel drive ones that meant your dad could take you camping where your mates' dads couldn't. Park them with a Datsun 200B, a Chrysler Sigma and a Toyota Corona, and you have a typical Saturday at Coles New World in 1980.
But things were different for the McCoy family of Sydney. You see, during the 1970s and 1980s, they shunned the Big Three, turned their backs to the  Japanese onslaught and instead had a 1957 Chevrolet Bel-Air as a family car.
And they still do!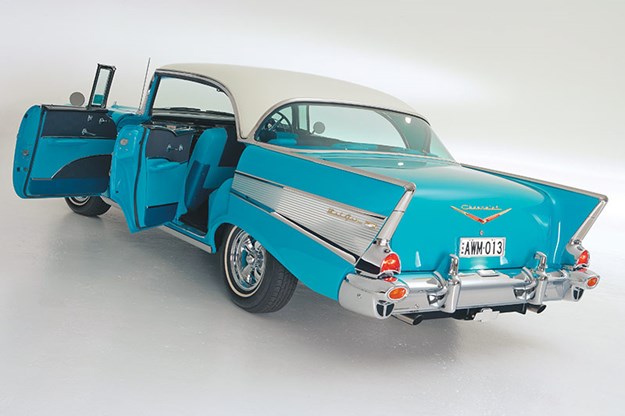 Remarkably, this Chev has been in the McCoy family since 1968 when Len McCoy bought it from a Sydney car yard where it had been traded on a new Holden Brougham. It's not widely known that Chevs were assembled in Australia (by Holden in Sydney) but this one hails from Michigan having been privately imported. Its owner had the car converted to right-hand drive in the USA (using the original left-drive steering box) before she emigrated in 1960. It was ordered new with the power pack option on the little 283ci V8 for a few more ponies and featured electric windows and seats. After the car and its owner arrived in Australia, it was on-sold to a couple of other owners, eventually arriving at the dealer where Len sighted it. He traded his '55 Pontiac on it.
"Then we took over the car when Len moved to the Northern Territory," says Irene McCoy. "He left it with Allan and I to fix up and sell. We fixed it up but we didn't want to sell it! Instead we did adeal with Len and ended up with the car."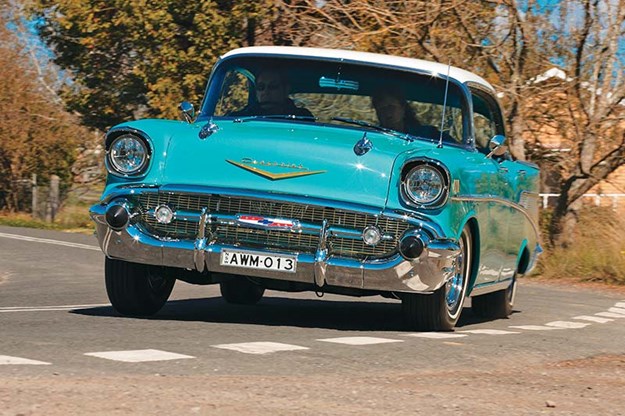 The McCoys were Chevrolet enthusiasts. Allan served his apprenticeship at Sydney Holden/GM dealer Stack and his first car was a 1939 Chev. They have been in the Chev Club of NSW for decades - sothe Chev was in safe hands. Rather than suffer the horrible fate of many other Chevs during the 1970s and 1980s - being big, thirsty and difficult to maintain, many were pushed of cliffs - the McCoys maintained it as family transport. It also went to plenty of Chev get-togethers Australia wide, plusother holidays, sometimes towing a caravan.
In 1980 the car received a fresh coat of paint. "It was a weekend job in the garage," explains Allan. "It was just to keep it tidy and looking good for rego. We didn't even take the mouldings off!" 
That quick weekend paint job lasted 30years! "When we put the paint on, it was supposed to last five years, justuntil our planned restoration in the mid-1980s. But we moved house, we hadanother child…we just got busy!"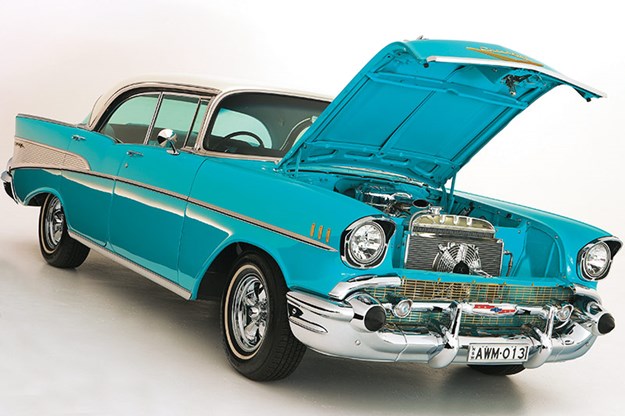 STRIPPED
By 2007 the car was looking well-worn.That's hardly surprising as it had travelled over half a million kilometres.Shopping; caravans; holidays… it had been used to teach the kids to drive. Weekday school runs, Saturday soccer; all had been part of the car's rich life.But it was starting to use oil; the upholstery was well worn and of course the dodgy - and now 27-year-old - respray was tatty.
"Hey! By then the car was 50 years old!"says Allan. "It was allowedto be tatty!"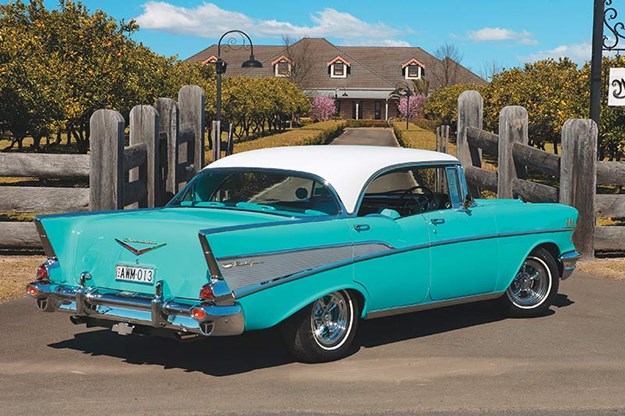 The McCoys decided the long-suffering Chev would be given its overdue freshen up. With plenty of experience in the McCoy family - there's a couple more Chevs and a VC HDT Commodore - plus plenty of encouragement from colleagues and mates, plans were made for the car's metamorphosis.
"It's done its duty as a family car but wejust wanted to keep it nice so we could cruise in it," said Allan. "We just wanted it to be comfortable."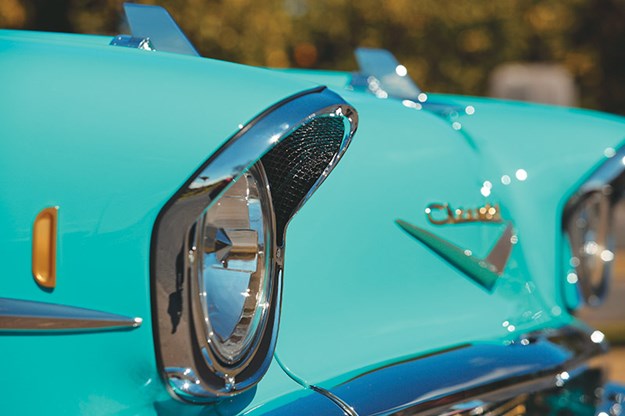 The car was stripped down at home in theMcCoy's three-car garage. These 50s era Chevs - in fact, all full-size USAChevs until the demise of the last rear-drive Caprice in the 1990s - had a separate chassis so the body came off the chassis and was supported on a rotisserie. Media blasting is one way of cleaning a shell but this body was laid bare with cans of paint stripper and lots of hard work. The bitumen on the underside - this was an American-built car, and would have had extra winter protection applied by the factory - was removed to reveal no major rust.
"There was a little in the base of both front guards but you'd expect that for something of this age," reckons Allan. "There weren't any patches in the floor or anything like that. It just had afew car park dents. Owning the car for as long as we have, we know the car and we knew exactly what were in for with the rebuild."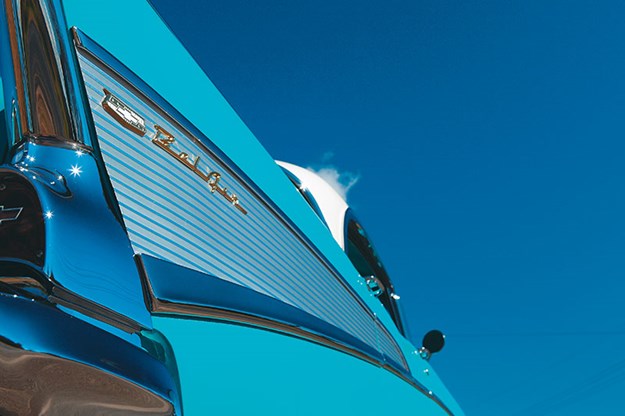 Allan performed much of the work himself using PPG product. "We have a series of hooks in the shed that we call 'the clothesline'" explains Allan. "We had panels hanging up everywhere! We have a young bloke working for us, Steve, who is a painter by trade. He's only been with us for about nine months; I had the car about 75 per cent done but he helped us finish it. I already had the turret done, the engine bay, the chassis and underside… He put the colour on around the shell."
Speaking of the engine bay, it's probably the most modded part of the whole restored car. Originally an industrial black, Allan chose to lift the underbonnet area from the depths of darkness by painting it in the same bright blue as the exterior. It looks great as a background to a stack of traditional 'hot rod' chrome parts.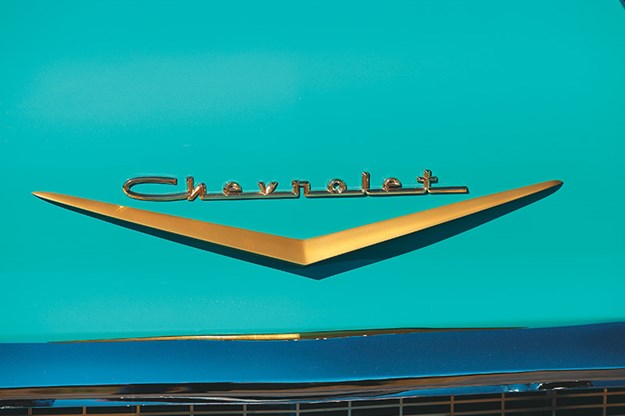 MADE-OVER MECHANICALS
Rather than update the car to a modern EFI Chev V8 - a popular modification with street machiners although one that upsets some restorers - the original 283ci engine has been reconditioned by Len (Allan's brother and the car's previous owner) to as-new specifications. Mechanically, it's received nothing more than a slight overbore and a set of extractors for a cleaner appearance.
It's a different story with the transmission: the original cog count being doubled with the installation of a GM TurboHydramatic 700 four-speed automatic gearbox in place of the original lethargic two-speed Powerglide. Familiar to many Aussies as the box from theVN-VP Commodore, the later-model slusher (this one is from a 1988 Camaro) has alock-up torque converter on its overdrive top gear. With the Chev's standard 3.55:1 diff retained - Allan reconditioned it about 25 years ago and changed the oil for this restoration - it offers good economy and a worthwhile reduction in cruising revs. So the torquey 283ci V8 lopes along at around 2000rom at 100km/h.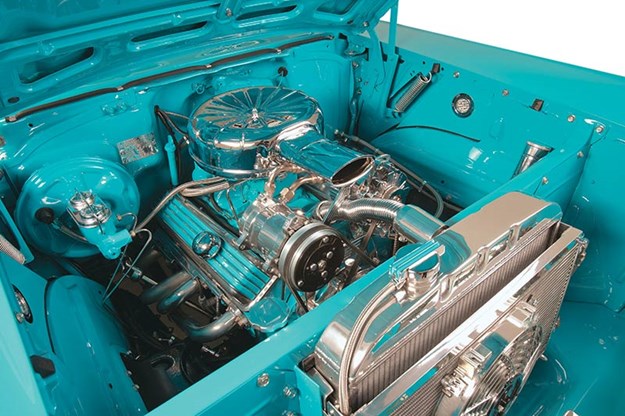 The car's interior has been replaced with the stitching done by Hy-Tone Motor Trimming at Riverstone in north western Sydney using plenty of product supplied from the US. "Back in 1980 we put in new [seat] inserts and carpet," says Allan. "But this time we've replaced everything, back to original, the way it was when it came from the factory. The only differences are the gauges and the console for the aircon."
The final touch was a complete reconditioning of the Chev's distinctive exterior trim. Allan, Irene and daughter Donna know this task well - together they run Moulding Repairs & Polishing, specialising in exterior trim restoration for classic and muscle cars.
The car was given the honour of being debuted and shown at the 2010 Meguair's Motorex in Sydney. But that is the one and only time the car will be on the other side of the bunting because Allan and Irene can't wait to get it back on the highways. As well as sunny Sunday cruises, there are plans to once again tow a caravan around Australia. It may have covered more than 500,000km over the last 50 years but life for this classic reborn has really only just begun!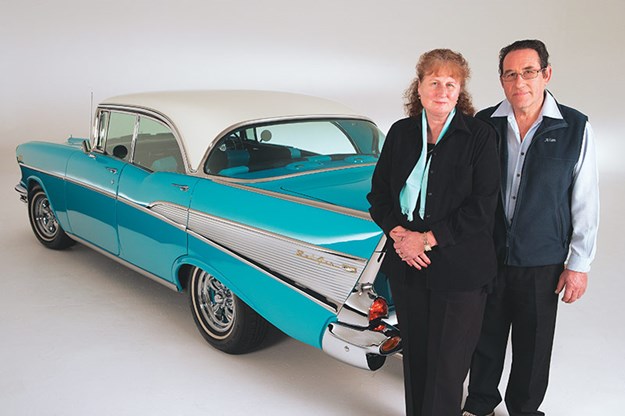 1957 Chevrolet Bel Air Sport Sedan specs
Engine: 283ci (4.6-litre) V8, OHV, 16v, 'power pack' four-barrel carburettor
Power: 164kW (220hp)
Weight: 1760kg
Transmission: 4-speed automatic
Wheels: 14 x 7.0-inch, 235/75 tyres
Brakes: HQ Holden discs (f), drums (r)
Top speed: "The high side of 100mph!"
Price: $1295 (second hand in '68)
From Unique Cars #319, Dec/Jan 2011
Unique Cars magazine Value Guides
Sell your car for free right here
Unique Cars magazine Value Guides
Sell your car for free right here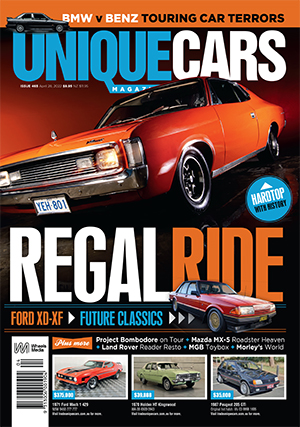 SUBSCRIBE TO UNIQUE CARS MAGAZINE
Get your monthly fix of news, reviews and stories on the greatest cars and minds in the automotive world.
Subscribe