1967 Chevrolet Corvette Sting Ray Review
---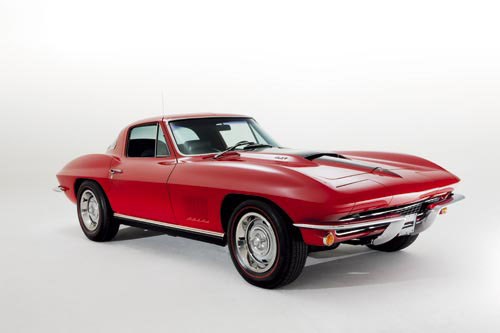 1967 Chevrolet Corvette Sting Ray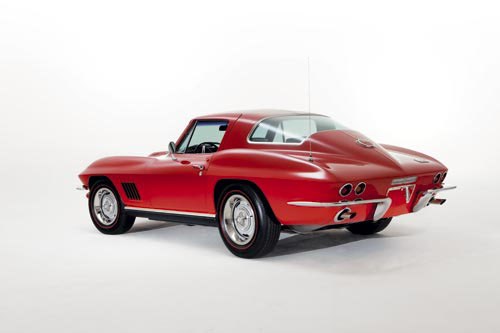 1967 Chevrolet Corvette Sting Ray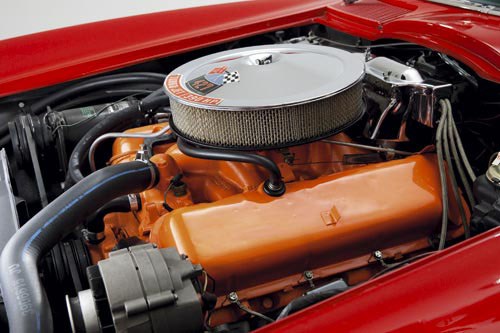 1967 Chevrolet Corvette Sting Ray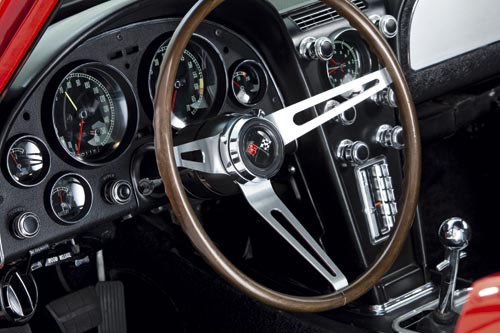 1967 Chevrolet Corvette Sting Ray

Jim Richards' Corvette: Race legend opens up his toybox
1967 Chevrolet Corvette Sting Ray
Jim Richards has owned or raced more genuine muscle cars than most of us could ever dream of and has a particular penchant for American cars with big engines. These days, a lack of space limits him from collecting too many cars and, apart from his Falcon Sprint and AMC Javelin racecars, the classic corner in his busy factory holds just two of the greats.
Pride of place goes to an immaculate red 1967 Corvette Sting Ray that he bought five years ago. Candidly, Jim says he bought it purely as an investment - he doesn't drive it, he just admires it, and it takes him back to his youth in New Zealand where he first saw one of these exotic coupes.
"I like really like the shape of that era Corvette" he says. "When I was a young fella I served my apprenticeship at a place called Speedway Auto Service in Manurewa, in New Zealand, and the boss was a keen car person. He used to race Midgets at Western Springs and had all sorts of cars: E-Types, Daimler SP250s, MGs and a red 427 Corvette the same as mine and it was the first one I saw."
Jim went on to race most of the hero cars of the era and these days he wishes he'd had the money to keep them.
"I raced a '69 Mustang, '69 Camaro, GT Falcons, 350 HT Monaros … muscle cars then weren't a lot of money when you say it now. I bought a virtually brand new Boss 302 Mustang for $5400, which is like $150,000 today. I didn't have the money to buy cars like that to keep or to cruise in. The only thing I could afford in the early '60s was my first racecar, a 105E Anglia that I bought on time payment."
The '67 427 Sting Ray is the most revered of the early Vettes and just over 14,000 coupes were built. The last of the second-generation Corvettes, it melds heart-stopping beauty with blistering performance for the ultimate automotive equation of style and substance.
Jim's car is pristine and unmolested, with the 390 horsepower, single four-barrel Holley carb version of the epic 7.0-litre big block V8, four-speed manual, six-slot Rallye wheels and optional air-conditioning and power steering.
"I bought it five years ago to keep in the hope that in five to 10 years it will be worth a lot more than what I paid for it," Richards says, fingers crossed. "It's exactly how it came from the factory when it was sold new by the original Chevy dealer and I've got the original build papers for it."
Amusingly, for all his vast car knowledge, he couldn't remember if it has four-wheel discs or drums (it has discs, Jim). Basically, he drove it to his factory and there it has sat until Unique Cars came calling. We trucked it to the studio.
Keeping the Vette company is his latest acquisition, a 1964 Galaxie 500XL 390-cube two-door that he bought last year to go cruising with Steven. Again, it's a car that takes him back decades.
"I had a four-door version about 30-odd years ago, which I bought from Brian Wood Ford," Jim recalls. "I always wanted a two-door but never really had the time or the inclination to find one. Finally I saw one that didn't need too much work and I thought, 'I'll have that'.
"All these cars are slowly becoming extinct and a good one is hard to find. Ten years ago people couldn't have cared less but nowadays there are more collectable cars in the US than there are in Australia.
"You pay huge money for a GT Falcon but there are cars in the US that are twice the car that you can buy for half the price."
SPECIFICATIONS
1967 Chevrolet Corvette Sting Ray
ENGINE: 7.0-litre V8, OHV, 16v, four-barrel Holley carburettor
POWER: 390hp (291kW) @ 5400rpm
TORQUE: 460ft lb (624Nm) @ 3600rpm
SUSPENSION: double wishbones, coil springs, anti-roll bar (f); independent with semi-trailing arms, leaf springs (r)
0-100km/h: 5.4sec
Top speed: 245km/h
Unique Cars magazine Value Guides
Sell your car for free right here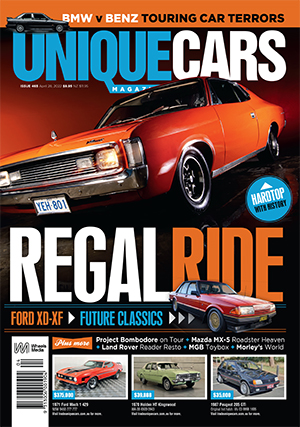 SUBSCRIBE TO UNIQUE CARS MAGAZINE
Get your monthly fix of news, reviews and stories on the greatest cars and minds in the automotive world.
Subscribe